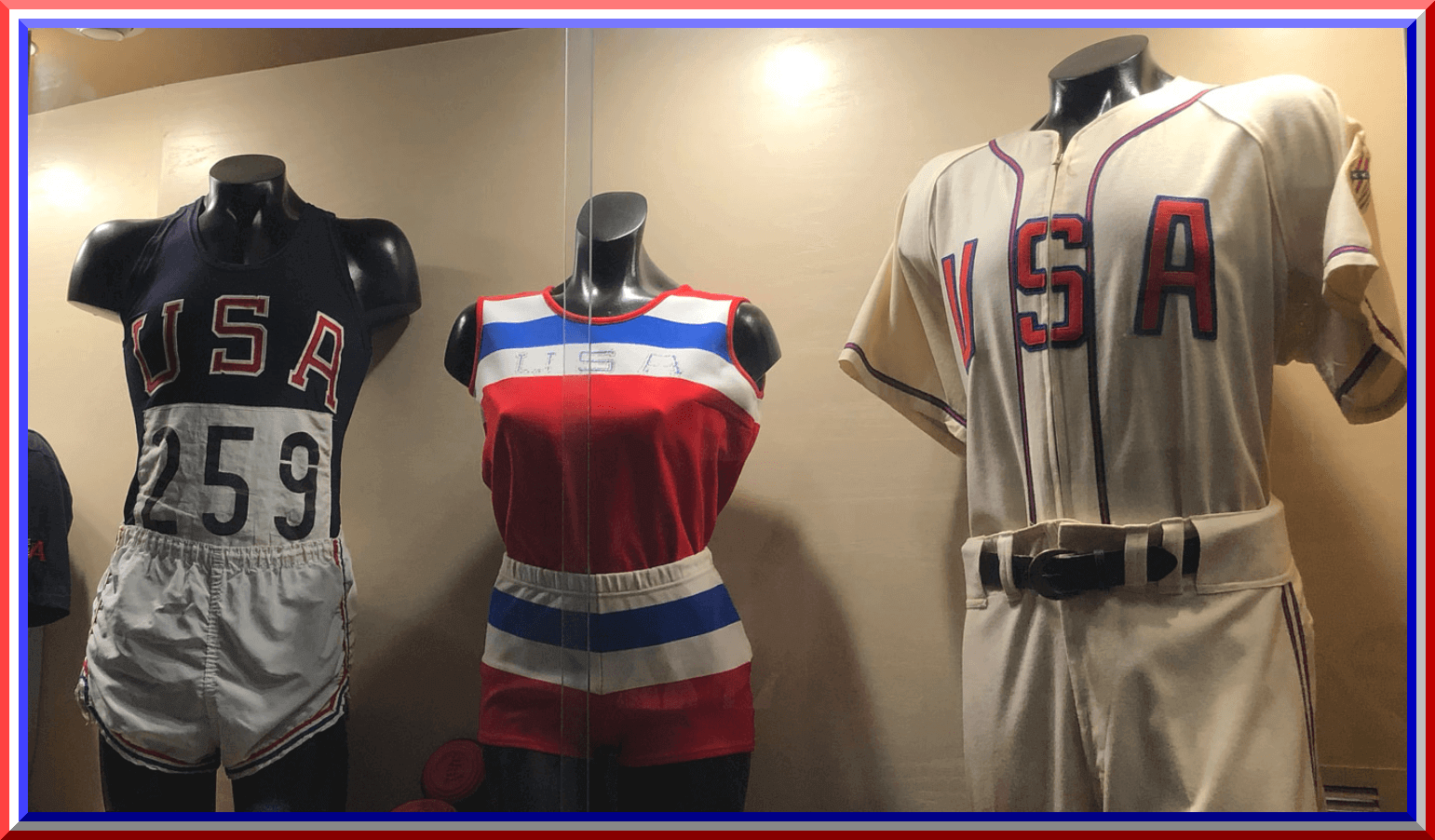 By Phil Hecken
Follow @PhilHecken

A little over a year ago, I ran a series of articles highlighting the incredible collection of memorabilia and assorted ephemera of reader Bill Hetrick (see here and here). There is *still* a ton of stuff Bill sent me we haven't seen too. But if you click on that first article, in my Q&A with Bill, you'll note this section:
UW: You said you were a real estate agent (actually an award-winning real estate agent) in real life, but you're also the co-founder of the Mississippi Sports Hall of Fame Museum. Can you tell me a little about that?

BH: When I left the Clarion-Ledger, I was hired by the Mayor of Jackson, Kane Ditto, to be a part of his staff. Along the way, the City and Hinds County collaborated on a bond issue to renovate Smith-Wills Stadium, the home of the Jackson Mets and then the Jackson Generals (Houston Astros' AA team) after the Mets moved their AA team to Binghamton. The Mayor appointed me in 1991 as chairman of the joint task force to oversee the renovations to the stadium, due to my background and knowledge of the Stadium, its tenants and their needs.

UW: That's obviously where the photo of you in a Jackson Mets mascot costume comes from.

BH: At the time, the City of Jackson operated the Dizzy Dean Museum near the grounds of Smith Wills. It was poorly run and poorly promoted and falling into disrepair. Long story short, as we planned for the Smith Wills renovation, the Dean Museum came up, and after deciding not to incorporate it into the Stadium renovation (a brilliant non-move in retrospect), the committee began a discussion of actually building a Mississippi Sports Museum, with a "Dizzy Dean Gallery" as a centerpiece of the Museum. That project came to fruition a year later, as several of the members of that committee and others founded the non-profit Mississippi Sports Foundation, and in 1996, we opened the Mississippi Sports Hall of Fame and Museum, across the parking lot for Smith Wills Stadium. The history of the Hall of Fame and the facility is a story unto itself.
Bill is back with just some of the exhibits contained in the MSHFM (Mississippi Sports Hall of Fame Museum). According to its website, "The mission of the Mississippi Sports Hall of Fame & Museum is to preserve, protect and promote Mississippi's rich sports heritage for this and future generations." The MSHFM is located in Jackson, Mississippi, and while the hall of fame was established in 1961, the museum opened on July 4, 1996. Bill was one of the original founders of the Mississippi Sports Foundation back in 1992. MSF is private nonprofit that runs the Museum. He served as its first President from 1992 through 1996, and has served on the Board of Directors ever since.
Today we'll look at a few of the exhibits — there are many — and that in turn will followed at some point down the road with even more from the Museum, including a "Wall of Memories" exhibit you won't want to miss. But first, here's Bill with just a few of the exhibits at the Museum (click any photo below to enlarge):
• • • •
Olympics Gallery
You can see more Olympics Gallery photos here.
The Museum's Olympics room highlights Mississippi's successes in the Games through the years. Bianca Knight was part of the 2012 4 x 100-meter world record-setting U.S. relay team at the London Olympics. She donated to the Museum much of her London Olympics memorabilia, including the bright red spiked shoes she wore and the flag she wrapped around herself during the gold medal celebration. All that is on permanent display in the Olympics Room. 1984 Gold medalist and former 100-meter record holder Calvin Smith and basketball gold medalist Ruthie Mae Bolton (gold, 1996, 2000) visited the Museum during their induction into the Hall of Fame in 2014.
• • •
Dizzy Dean Gallery
More Dean Gallery photos here.
Along with the plaques of the enshrinees, The Dizzy Dean Gallery is the centerpiece exhibit of the Mississippi Sports Hall of Fame and Museum. The impetus for the creation of the Museum in the mid-1990s was a desire to build a facility to honor the members of the Hall of Fame, and to create a space for Dean's memorabilia, which had been donated to the City of Jackson, MS after his death, by his widow. While Diz was from Arkansas, he and Pat lived in Wiggins, MS after this retirement from baseball. Among the items on display in the gallery are a number of his awards, photos and championship and hall of fame memorabilia.
Here's a bit more on the exhibit and a lot more on Dizzy!
• • •
Inductee Lockers
As each class is announced, lockers are set up in the entranceway for a year, until the next class is announced.
More photos here.
• • •
Inductees Room
Once a player is inducted, s/he is added to the Inductees Room. A list of all current MSHFM inductees is here
• • •
Walter Payton
This game worn Walter Payton jersey was donated to the Museum by his mother, Alyne, a former member of the Board of Directors.
• • •
Outstanding Player Series
The C Spire Outstanding Player Series: C Spire is the sponsor of the Conerly Trophy. Named in honor of the late Charlie Conerly, former Ole Miss and New York Giants quarterback. Conerly, a Clarksdale native, was an All-American at Ole Miss and a Pro Bowl standout for the Giants who led New York to three NFL Championship games and one NFL Championship. The award presentation is scheduled for the Tuesday after Thanksgiving.
Charlie Conerly exhibit, with game worn NY Giants jersey

__________________
Bailey Howell exhibit — National Basketball Hall of Fame member

Bailey Howell in action with the Celtics

The C Spire Howell/ Gillom Trophy is presented to the state's top men's and women's college basketball players, named in honor of Mississippi Sports Hall of Famers Bailey Howell and Peggie Gillom. Howell was an outstanding player at Mississippi State and in the NBA. He is a member of the Naismith (International) Basketball Hall of Fame. Gillom was an All-American at Ole Miss, played professionally and has coached in both college basketball, in the WNBA and in the Olympics. The Howell/Gillom awards presentations are in early March.
4-time Gillom Award winner Victoria Vivians of Mississippi State, with award namesake Peggy Gillom of Ole Miss

__________________
Boo Ferriss, former Boston Red Sox great and namesake of the Ferriss Award

The C Spire Ferriss Trophy is presented to the top college baseball player, and named in honor of Boo Ferriss, the former Mississippi State great and Boston Red Sox Hall of Famer and long-time Delta State University coach. The award presentation is held in mid-May.
• • •
Thanks, Bill. That's all the time we have for now, but I will have Bill back with the best exhibit in the museum — the "Wall of Memories" that includes, among other things, some absolutely killer AFL game worn uniforms.
[adrotate group="2″]
Rams Keep Singing The (Royal) Blues
We all know the Los Angeles Rams unis are a clusterfuck of the highest order — a mish-mash of styles and colors that looks awful when the team goes mono-white, and almost as awful when the team wears blue pants. Of course, the blue over white option is even worse, and well, the mono-blue? Maybe the worst uni in the league (and that's saying a lot).
But…
The Rams have a throwback uniform that is absolutely gorgeous, and they'd like to wear it more often that the current two-times-a-season limit proscribes.
Since the Los Angeles Rams made the move back to Los Angeles, part of the focus has been on the uniforms that the team will don while the new ones are in the process of being developed for the opening of the new stadium.
With that in mind, team CEO Kevin Demoff says the team basically hates of the dark blue (navy) version of the uniform and prefers the throwback royal & gold colorscheme.
According to Michael David Smith of Pro Football Talk…
"It was always with the idea that we'd be able to revisit it during the offseason when there's more time to plan," he said. "Hopefully, they recognize the challenge we have and appreciate the connection the fan base has to the blue and yellow. If we can avoid wearing our Navy jerseys next year, we will."
He's let the league know all about it:
"We have spent the year educating them on our fan base," Demoff told the Los Angeles Times. "We forwarded the [NFL] all of the fan complaints, the emails we get, so I think they're well aware of our fans' preferences."
Then, the plea:
"Hopefully, they recognize the challenge we have and appreciate the connection the fan base has to the blue and yellow. If we can avoid wearing our Navy jerseys next year, we will."
Demoff continues to ask the NFL for permission to wear the throwbacks more often. He requested the team be allowed to wear them on additional occasions last year, but were denied by league officials. He has tried again this year, but to no avail so far. He says he'll keep petitioning. Let's hope the No Fun League allows it. But I wouldn't count on it.
There is precedent for such a move, albeit a different time and under different circumstances. If you remember waaaaay back in 1994 when the NFL had its 75th Anniversary Season, most teams wore throwbacks at some point or other during the season. Several teams did petition to wear them extra times and the 49ers actually wore them all through the playoffs in through the Super Bowl. But those were league *mandated* throwbacks, and they weren't such hardasses about unis back then.
What I don't understand is why the Rams haven't been able to simply request to make the royal-and-gold unis the primary uniform and to designate the navy/metallic gold as the alternate. That way, they could wear them 8 times at home and any time they play a team wearing white at home when they're on the road. Off the top of my head, I can think of at least two teams who've gone from alternate to primary unis: the Atlanta Falcons (who went from black jersey primaries to red jersey primaries) and the Denver Broncos (who went from blue primary to orange primary). Maybe that's because it was more of a "jersey swap" for the other teams that the Rams can't (if they've even requested to make the royal/gold primary) change since that's more of a full uni?
We all know the Rams are going to introduce a new uni set when they move into their new permanent digs in Inglewood in 2020. So, they don't want to introduce a new uni now which they'll be required to wear for five seasons before any changes can be made. But the decision last year to remove the metallic gold elements from the helmets and the pants while keeping the primary jerseys was a very odd decision. Maybe they didn't want to look like the St. Louis Rams, but at least that uniform worked. The four non-throwback combos they currently wear all look like shite.
Let's hope the NFL realizes this franchise needs to look good on the field (since they returned to playoff contention last year, they're looking good on the field, but not in unis on the field); the simplest answer would be to permit them to wear the throwbacks full time. The team is trying to get 'er done. C'mon No Fun League, this is not the time or place to put your foot down — make an exception and don't worry about precedent. Let 'em wear royal and gold.
[adrotate group="2″]
Ugh. Well, I guess it's better than the whole uni… pic.twitter.com/FmCqYIPzoX

— Phil Hecken (@PhilHecken) May 8, 2018
MLB: The Pinkening 2018
The good news first: MLB will not be forcing teams to wear uniforms with pink elements this year. But you can be sure we'll still see plenty of pink bats, floral print arm sleeves, pink gloves, pink wristbands, pink shoes (with personal messages! … you get the idea.
This year, MLB has somewhat decided to tone it down, and all teams will only have pink caps, similar to the one pictured above. Our pal Chris Creamer had a really good breakdown of the Mom's day stuff, including all the caps — most are pink crowned with black or blue brims, although the Angels will have red, and the A's will have green brims. For teams who have white as a color in the cap logo, that will turn pink, while all other colors remain in tact. Jerseys will only feature a pink ribbon, and every team will wear white or gray — except the Angels, who will wear red tops. I don't know if solid pink socks are an option, but of course Stance has created special socks to further ruin the aesthetic.
I am like 99% certain clubs will wear the pink gear both today and Mother's Day (I asked Paul if he could confirm and his reply was "My understanding is that it's for the full weekend"). I think last year the Dodgers (and maybe one other team — doing this from memory) didn't play along for both days but most teams did, and all teams pinked out on Mother's Day. The Padres will be throwing back to 1998 this evening, so I'm pretty sure they will be pink free, but I don't know about the other 29 clubs.
I suppose we should be thankful that at least the uniforms (excluding caps, socks and other accessories) will be basically pink free (chest ribbon aside), but it's probably time MLB retired this one. Even the NFL cut out the pink stuff this past fall, but MLB continues to ratchet up the "special" day promos, turning them into weekend (and longer) affairs. It was kinda fun when just the bats and a few shoes were pink. Now it just feels so phony and forced.
We get it — MLB loves the tatas and hates breast cancer, and I'm sure they donate oodles of money to the cause. They could still do that without sullying the unis. But then, what good is a generous act if you can't have a "Look At Me" promotion to ensure everyone is aware of it?
[adrotate group="2″]

Kreindler's Korner
I had the distinct pleasure of featuring the wonderful artwork of artist Graig Kriendler on two occasions over the summer and fall of 2017.
For those who don't wish to click the links, Graig paints baseball heroes (and regular guys) from the past, and is an immense talent.
Occasionally, I will be featuring his work on Uni Watch.
Here's today's offering (click to enlarge):
• • •
Title: "Mighty Casey"
Subject: Samuel Winslow, 1885
Medium: Oil on linen
Size: 16″ x 28″

This painting was the end result of one of the more interesting commission requests I've received. The client, who happened to big collector of baseball artwork, had asked a number of people in the visual arts field to create their own interpretation of Ernest Thayer's "Casey at the Bat: A Ballad of the Republic Sung in the Year 1888."

Doubtless that most baseball fans are familiar with the piece in some way, be it through tales of DeWolf Hopper's performances on the vaudeville circuit, seeing Disney's animated short from 1946, hearing John Fogerty's lyrics in "Centerfield," or any of the various forms the narrative has taken in different media.

Personally, I'm not terribly into the idea of creating fantasy pieces. Since Casey is a fictional character, I just couldn't get myself excited to paint his real-life incarnation. However, I decided that painting the individual who was most likely Thayer's inspiration for the character felt just right. Many ballplayers of that era laid their claim as to being the basis upon which Ernest drew this Hercules, Mike "King" Kelly being one of the most well-known.

However, it was the writer's friend at Harvard, Samuel Winslow, who was supposedly the real point of origin. Thayer alluded as much to DeWolf Hopper when the two of them met in the early 1890s. The player captain of Harvard's baseball team in 1884-85, Samuel played both in the outfield and pitched, leading his club to a 27-1 record. He would later go on to become the Chairman of the Massachusetts Republican Party.

The piece itself was interesting enough because of the variations on the looks and textures between Winslow's skin, undershirt, wool pants, and each of the studio props. But to think that one could actually see the man who inspired that great work of art in this format was something I couldn't resist. I was honored to try and add a new flavor to the poem's origins.
• • •
Thanks, Graig! You can (and should!) follow Graig on Twitter.
[adrotate group="2″]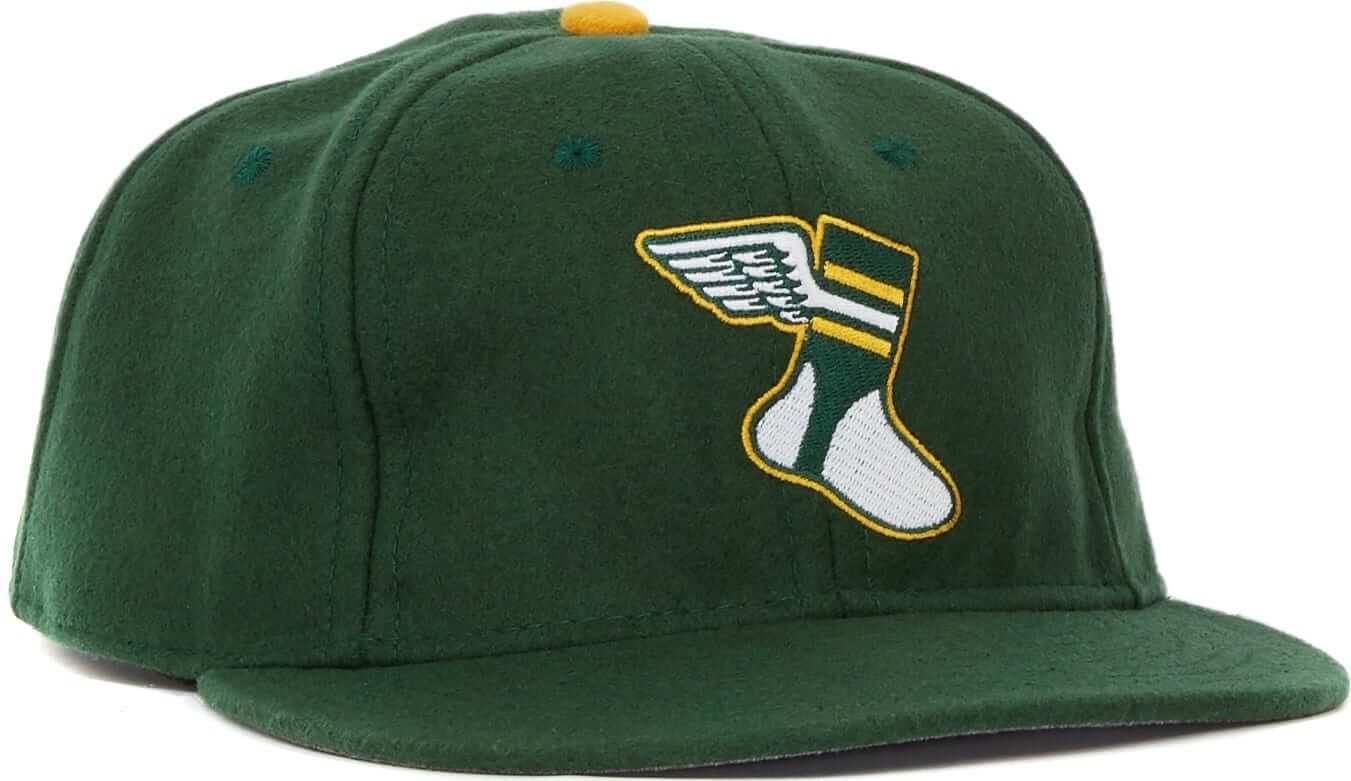 And now a few words from Paul: Hi there. In case you missed it on Friday, the first Uni Watch cap is now available from Ebbets Field Flannels. You can click on the photo shown at right to see the gorgeous embroidery detail. It's available in fitted sizes, or you can get it with an adjustable leather strap. Our Ebbets sales rep says it's their fastest-selling cap ever! A few sizes have already sold out, so move fast. Check that: All sizes have now sold out except for the adjustable caps.
Obviously, I underestimated the demand. I've already reordered all the the sold-out sizes, but it will take six weeks to get them back in stock. Sorry about that. If you want a size that's no longer in stock, use the "Email me when my size is available" link so you'll be notified when we have fresh inventory. Meanwhile, consider the adjustable option — we still have plenty of those.
Meanwhile: My latest ESPN column takes a look back at the Arizona Diamondbacks' original unforms, which get my vote for being one of the most misunderstand and mischaracterized uni sets of the past generation (and is also one of the rare purple uniforms that I approve of). Check it out here.
We now return you to your regularly scheduled Phil-osophizing.
[adrotate group="2″]
The Ticker
By Anthony Emerson, with a few items from Phil

Baseball News: Here's something I don't think we've ever discussed before: the late, great Rusty Staub (then of the Tigers) wore his home cap and helmet with his road jersey in the 1976 All-Star Game in Philadelphia, when the AL was of course the visiting team (excellent find by Ferdinand Cesarano). … Nats pitcher Sean Doolittle really likes the D-Backs' bullpen cart (from Tom Turner). … The Carolina Mudcats, affiliates of the Brewers, will wear powder blue Brewers-inspired unis this weekend (from @cheframbo78). … Also posted in the NBA section: The Lehigh Valley Iron Pigs and Myrtle Beach Pelicans are each "trying" to "convince" LeBron to come to Minor League Baseball in order for James to emulate or surpass Michael Jordan (from @phillyparttwo). … Mets reporter Steve Gelbs made a short video explaining how call-ups get unis and equipment so quickly (from @MrMet_CPA). … JC Flowers of FSU Baseball has a black C Flap with his garnet helmet (from @VictoryCB). … Good spot from Nik Streng who writes, "Never seen this before. A long skirt in softball. This one's on Melba's Michelle Riley." … Whoa. Check out Buster Posey losing his shoulder protector flap on foul tip (from Jean Lefebvre). … Interesting: Extra material sewn into Matt Joyce's right pant leg for sliding (from Matt Shevin). … Well, well, well — maybe he read Monday's Uni Watch: No personal Matt Harvey logo on his undershirt last night (from Joe Owen). … Last night, the Blue Jays Kevin Pillar broke his belt diving back into first and handed it off to the coach (from Jordan Mayblum). … Sometimes MLB gives the NFL a run for its "No Fun" reputation: Mike Clevinger's colorful cleats cause controversy, draw warning from MLB (from Jason Hillyer).

NFL/CFL News: The Steelers' rookies have received their uni numbers (from Andrew Cosentino). … So have the Eagles' rookies (from Blake Fox). … As have the Seahawks (from Tim Dunn). … Ravens animator Ben Rosen has created a set of humorous rookie cards for the newest Ravens (from Andrew Cosentino). … So…did someone forget that the numbers on football fields are supposed to, you know, measure things? That's a pic of the Steelers' OTA facility. Do the Steelers do this every year, and are we just noticing it now, or what? (from Jim Vilk). … The Bills got DE Mike Love and OT Gerhard de Beer together for an obvious photo (thanks, Alex).

College/High School Football News: In 1993, UNC celebrated its bicentennial, and the Heels' football team added the bicentennial logo as a sleeve patch (excellent find from James Gilbert). … Pitt did the exact same thing — only they did it in 1987 (from Jay Y).

Hockey News: Canada goalie Darcy Kuemper has some shoulder yoke weirdness going on. Compare his yoke to that of his teammates (from Mike Engle).
.

NBA News: The Hornets released their 30th Anniversary logo yesterday. Note that the logo only uses original Hornets design elements, from the font to the pinstripes to the logo (from Ryan Dye). … Cross-posted from the MLB section: The Lehigh Valley Iron Pigs and Myrtle Beach Pelicans are each "trying" to "convince" LeBron to come to Minor League Baseball in order to emulate or surpass Michael Jordan (from @phillyparttwo). … The AV Club had Baron Davis rate the jerseys he wore during his career in an amusing video (from @ChrisRichardsPD).

College/High School Hoops News: Whoa, check out the NOB on this Pitt basketball jersey! Would probably have to go double-decker on the newer Nike templates (from Matthew W. Wilson).

Soccer News: Spanish legend Xabi Prieto is retiring after the season, so his club Real Sociedad is replacing their crest with his name and an image of his face for his final match (from Donovan Shartswell). … Leicester City FC's new home kit has been leaked (from Josh Hinton). … Teams often produce double-sided scarves for friendly matches, but the ones produced for Detroit FC's friendly with German "kult" side St. Pauli are particularly cool (from Josh Hinton). … We got our first official look at Chelsea's new home kit in the ticker yesterday, but Tim Kraus noticed something we hadn't: Chelsea is switching its NOBs from flat to radially arched. … Odd cedille on Christiano François' jersey for the Pittsburgh Riverhounds. Looks like a "5" (from @redbuppy). … The Colorado Rapids are getting new socks for their derby match this weekend (from Brad Darby).

Grab Bag: Remember when Phil Mickelson wore a button-down shirt during a practice round? He's now signed a deal with Mizzen+Main which will see him wearing them during tournaments (from Adam Cole). … Adam has more Mick news: his belt buckle is engraved with his personal logo. … Still more golf news from Adam: advertising has spread to golf belt buckles, as Wesley Bryan wore a Taco Bell belt buckle back in April. … Alex sends along a good article about how graduation caps are becoming increasingly personalized. … New custom helmets ahead of the NCAA Tournament for Villanova Lax (from Maria Canales).
[adrotate group="2″]