Bob Andrews was the first of several readers who recently alerted me to some amazing footage that has just been posted to YouTube. It's from Opening Day at Yankee Stadium on April 14, 1931, when the Red Sox were in town. I definitely recommend watching the whole video (see above), but here are some choice visual details that I picked out along the way:
1. The Yanks were using what many people now call "the Red Sox font." The font is actually called McAuliffe, and has been used by many MLB teams over the years: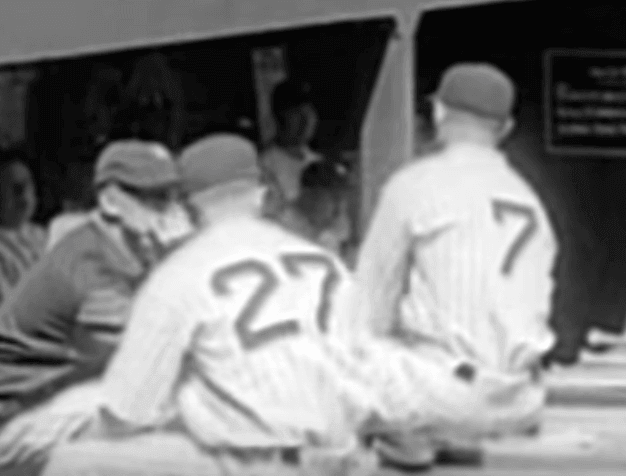 As for the Sox, here's the number font they were using at the time: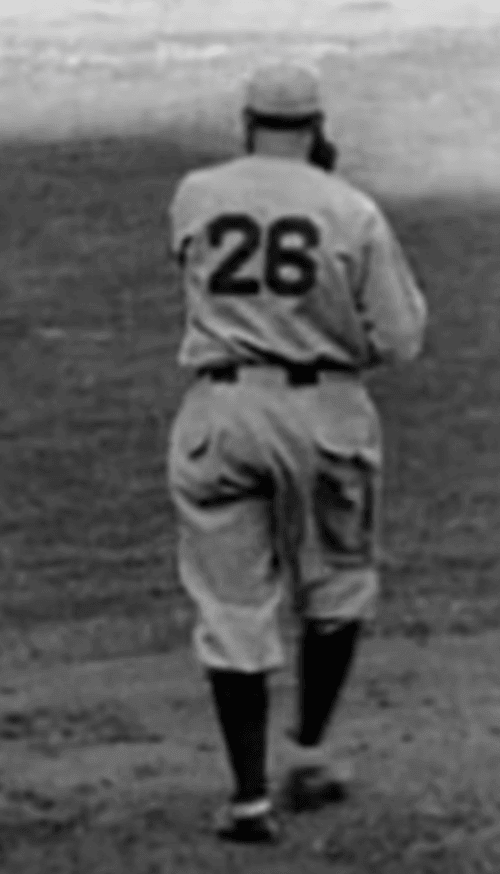 2. Here's a good pregame shot of the Yanks' Earle Combs, Tony Lazzeri, Lou Gehrig, and Babe Ruth. As you can see, their pinstriped jerseys were blank. The interlocking "NY" wouldn't be added until 1936. Also, note the centered belt loops, the grey and white undershirts, and the varying sleeve lengths.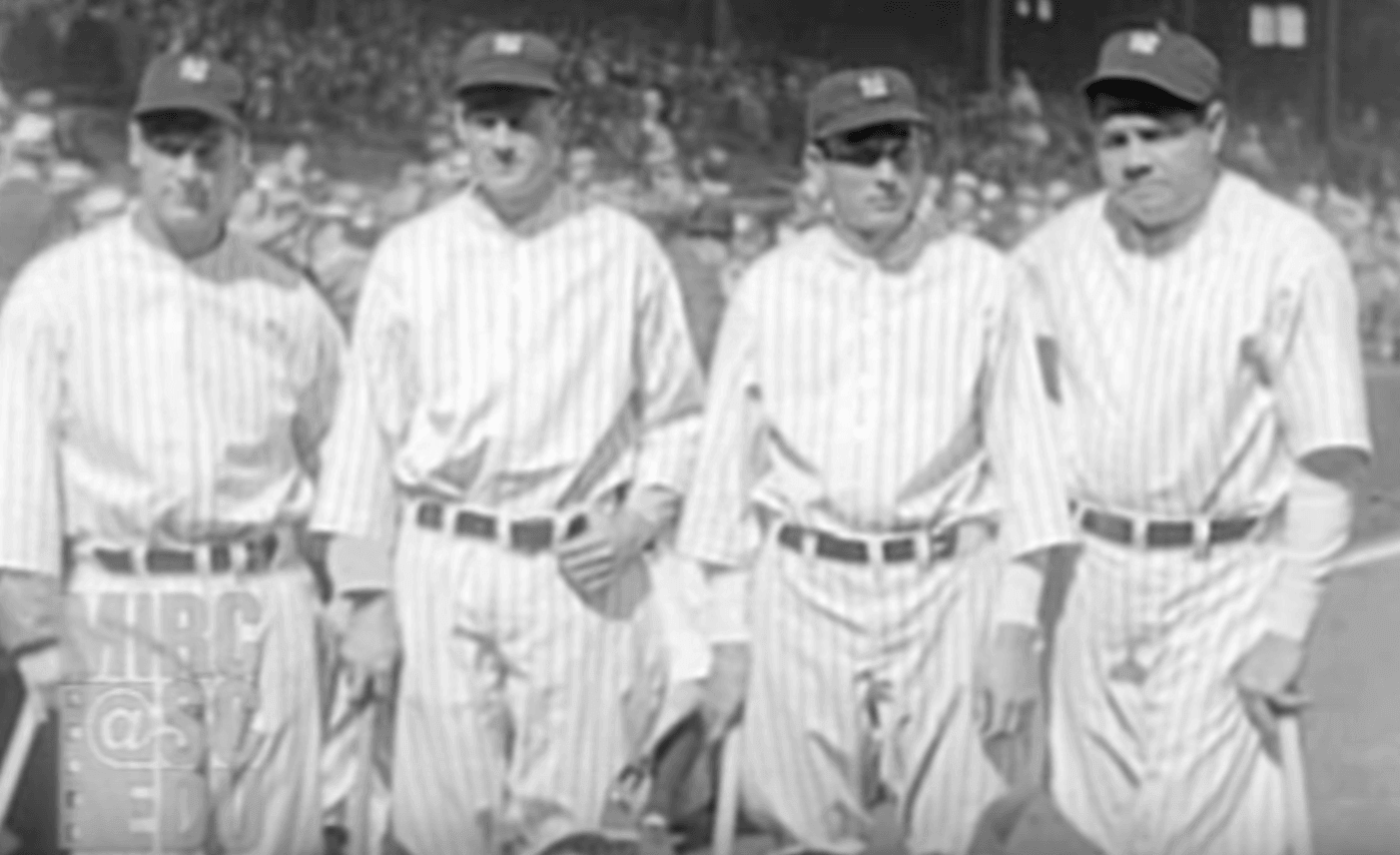 3. Here's a good look at the Red Sox cap (along with a nattily uniformed usher in the background). 1931 was the only year that they wore this cap design: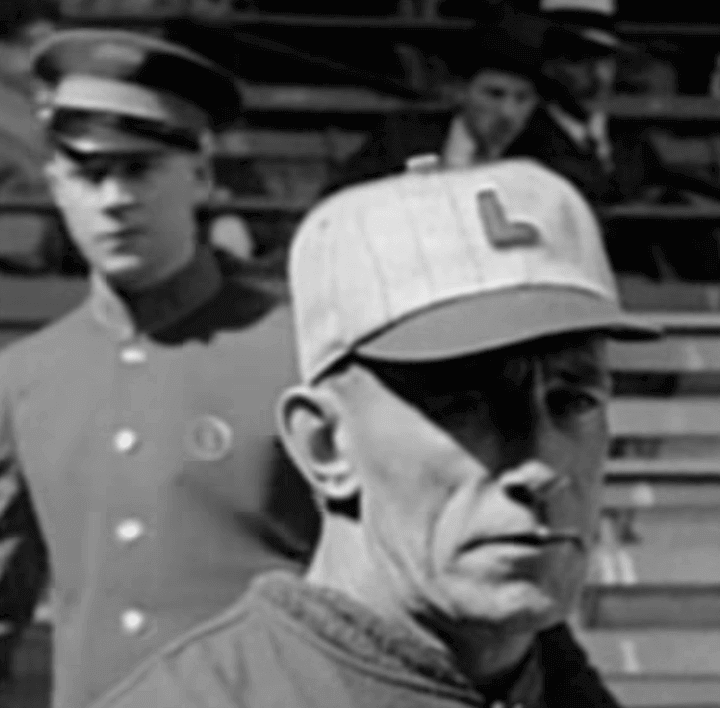 4. As for the rest of the Sox uniform, the video doesn't provide many good looks at it, but here's a decent shot, alongside the Dressed to the Nines mock-up for reference: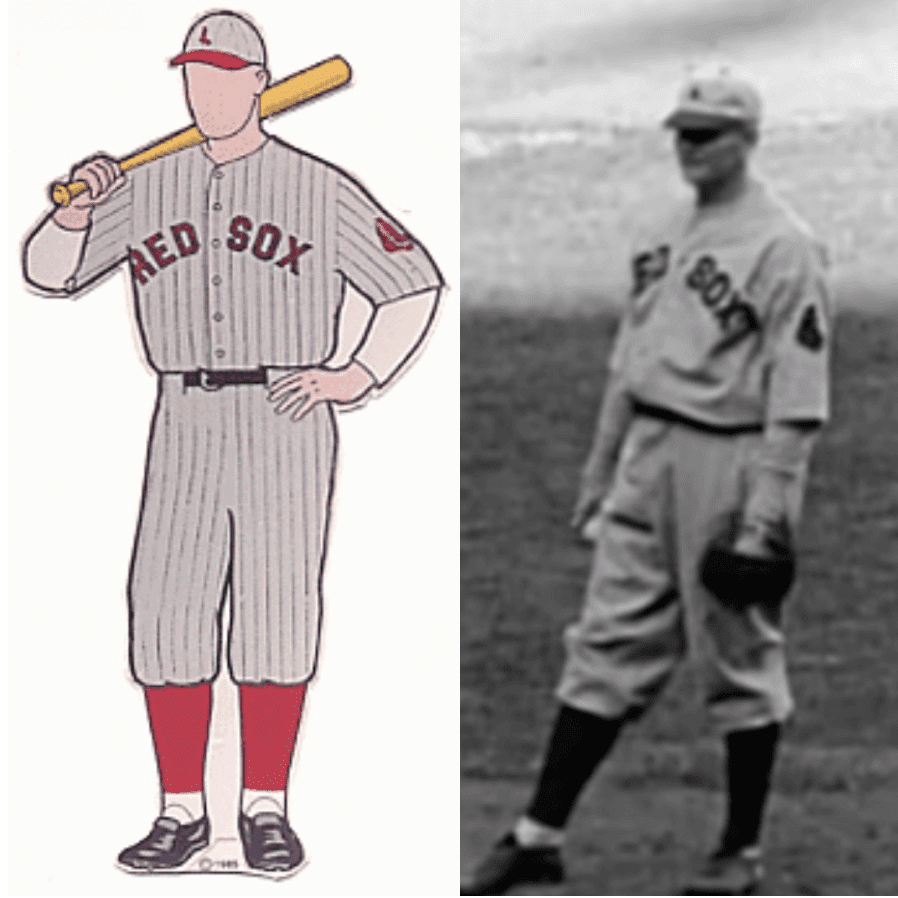 5. This is interesting: The video shows Babe Ruth taking batting practice — with a catcher! The catcher is wearing an unnumbered jersey.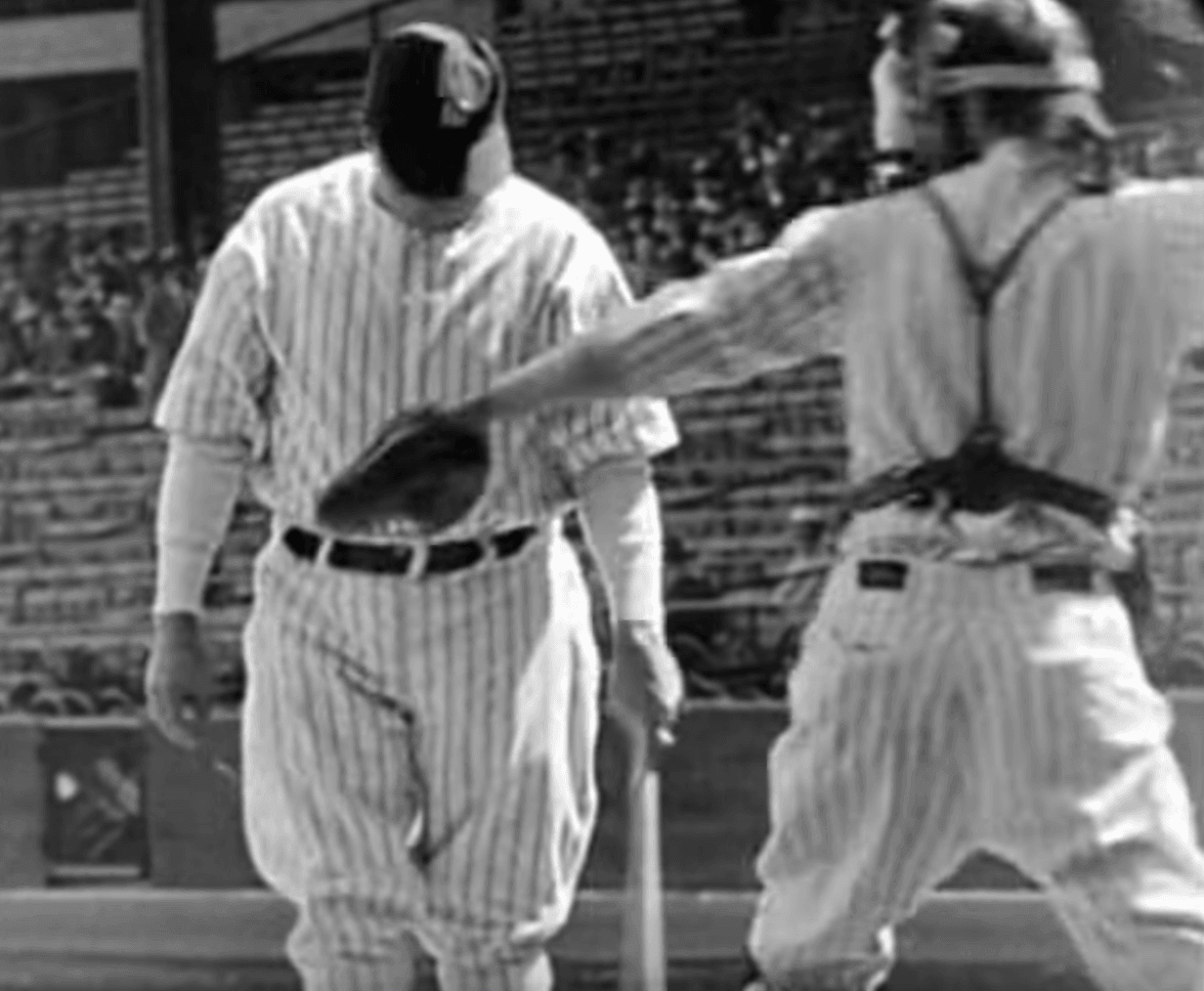 6. There are several shots that show the Yankees' first base coach wearing a dugout jacket: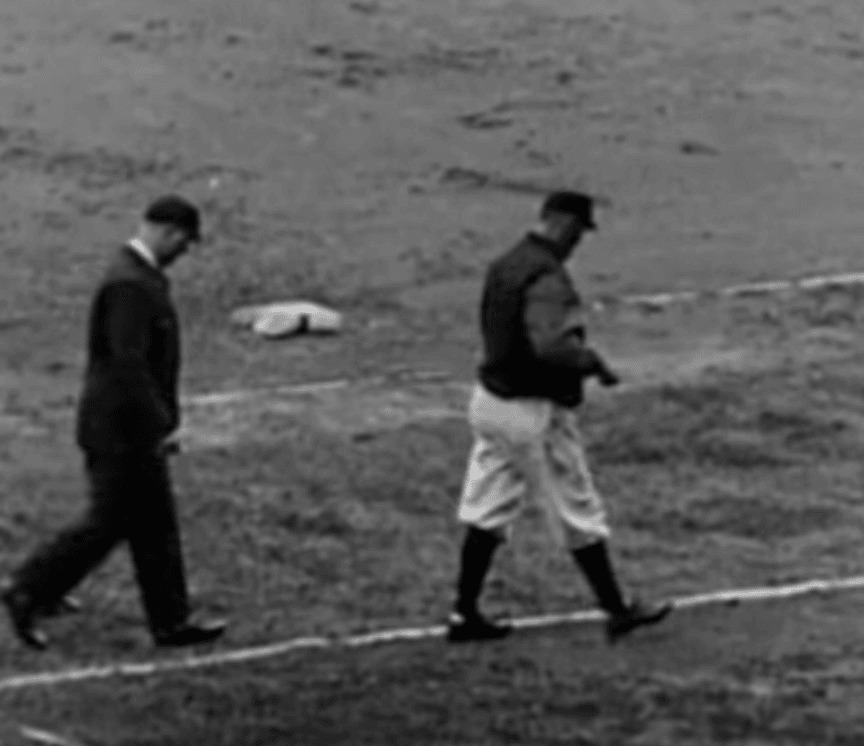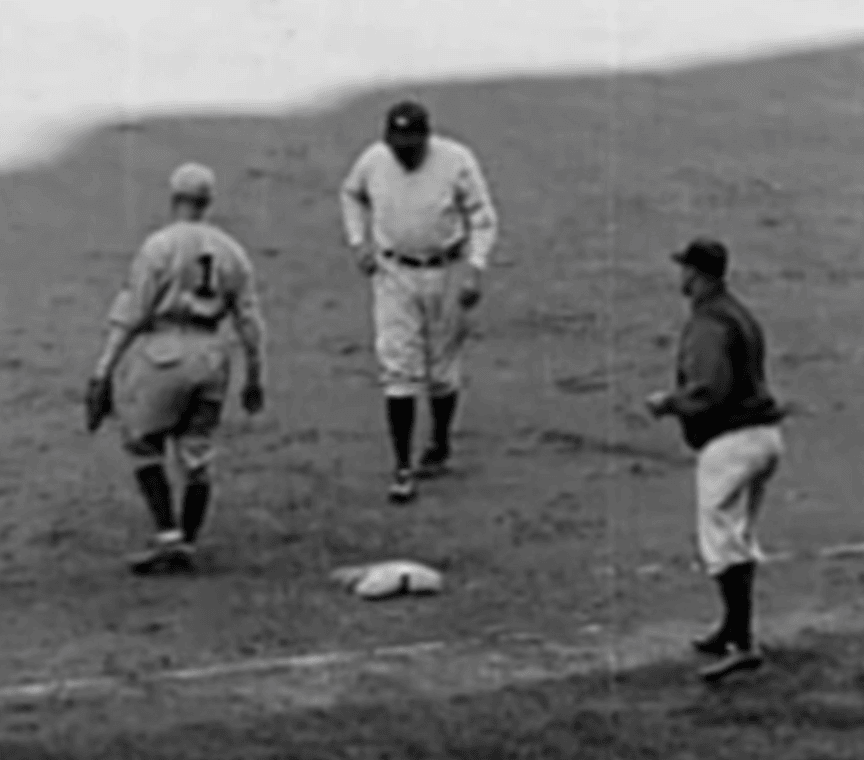 7. Speaking of jackets, in this next shot you can see Yanks pitcher Red Ruffing wearing a jacket on the bases as he advances from second to third. Nothing unusual about that, of course — we've all seen pitchers wearing jackets while running the bases — but it got me wondering when pitchers started doing that. Anyone know? Also, this shot shows that Yankee Stadium, like many ballparks of that era, had a dirt path from the mound to the plate.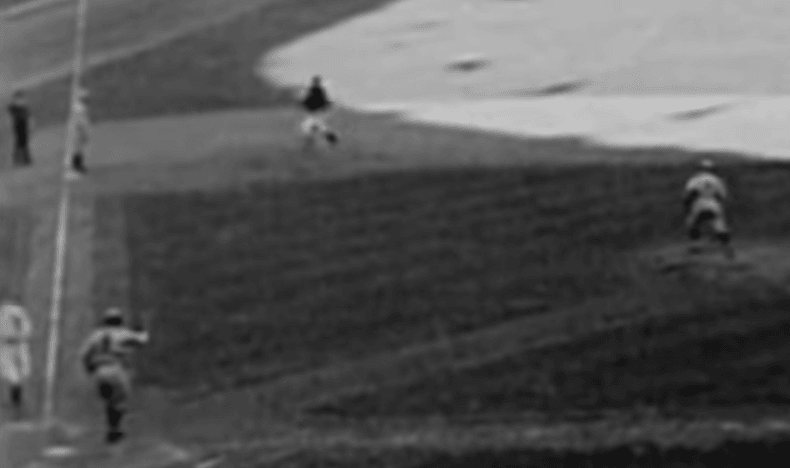 8. Prior to the start of the game, a brass band came out and played the national anthem while both teams stood at attention and the American flag was raised on a flagpole — all of which took place in deepest "Death Valley" reaches of centerfield. Yes, the flagpole was in centerfield:
Here are two more shots that show the flagpole. In the second one, you can see that the Yanks' first base coach removed his jacket later in the game: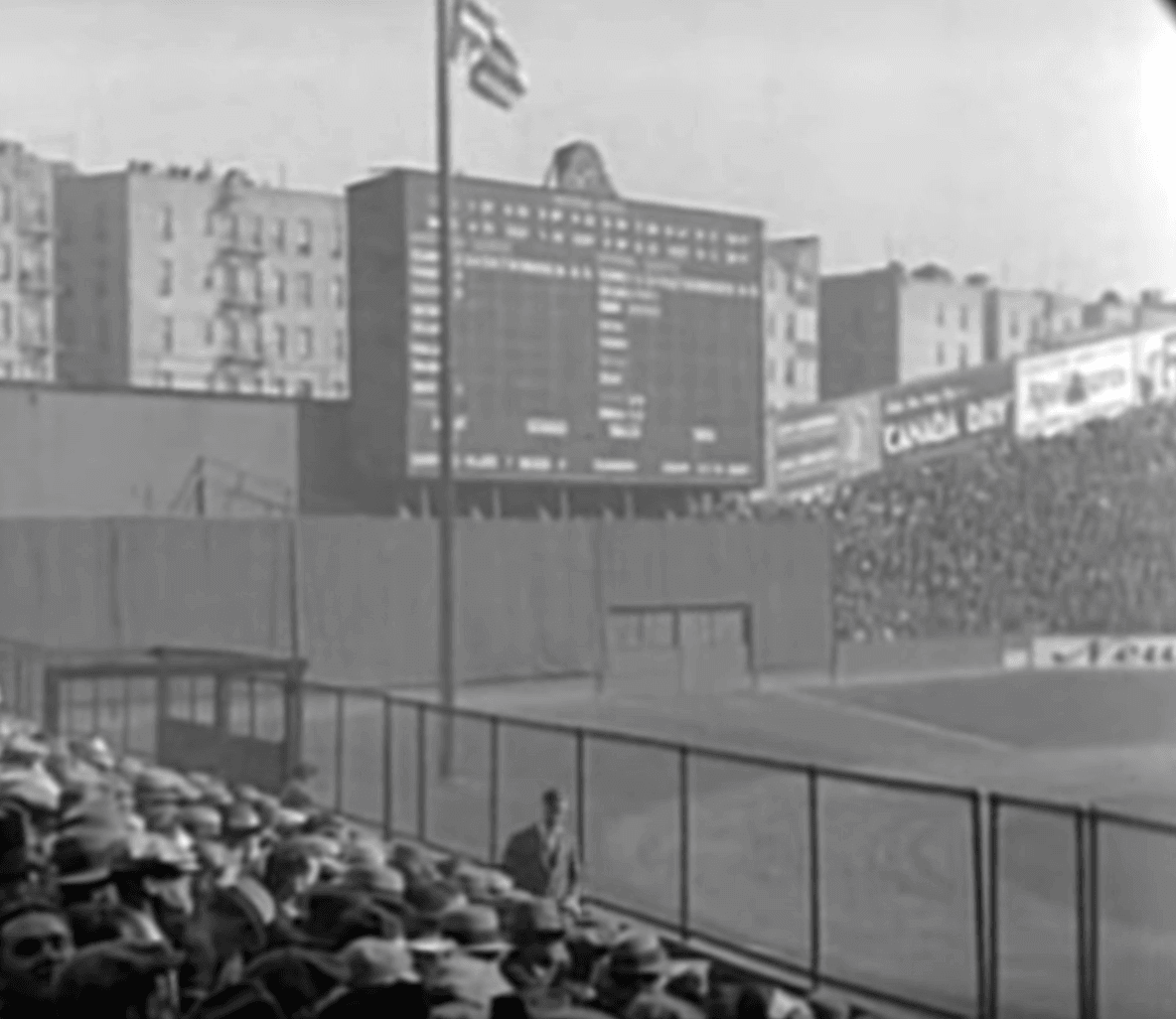 (The centerfield fence was later moved in a bit, and the monuments — which were in play — were added.)
9. Behind one of the dugouts — I'm not sure which one — there were some bigshots seated in what appear to have been "normal" chairs, rather than stadium seats: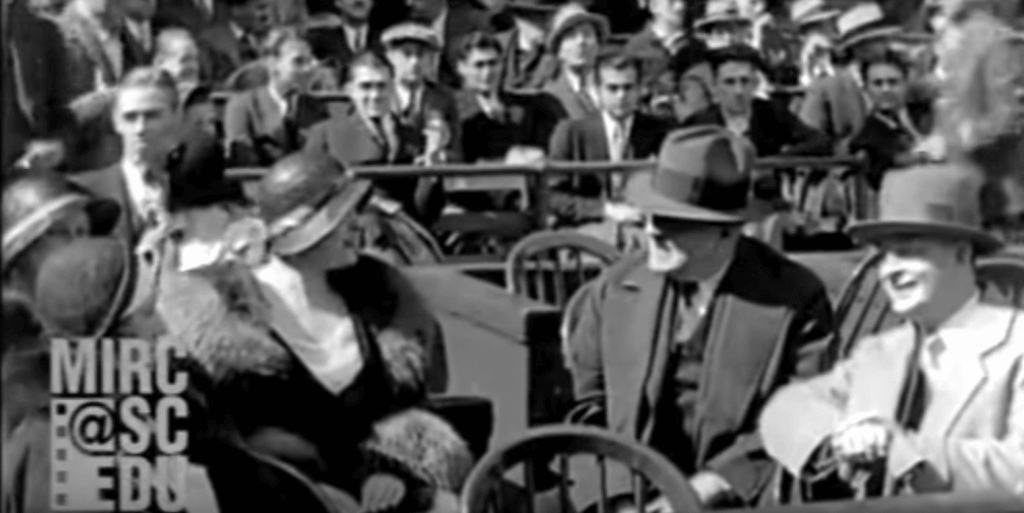 10. Finally, here's a shot of the crowd that shows two African American gentlemen in the foreground. When I spotted them in the crowd, it made me realize that old baseball crowd shots almost always show nothing but white people — something I hadn't thought about before. Interesting to see that these black men were there on Opening Day.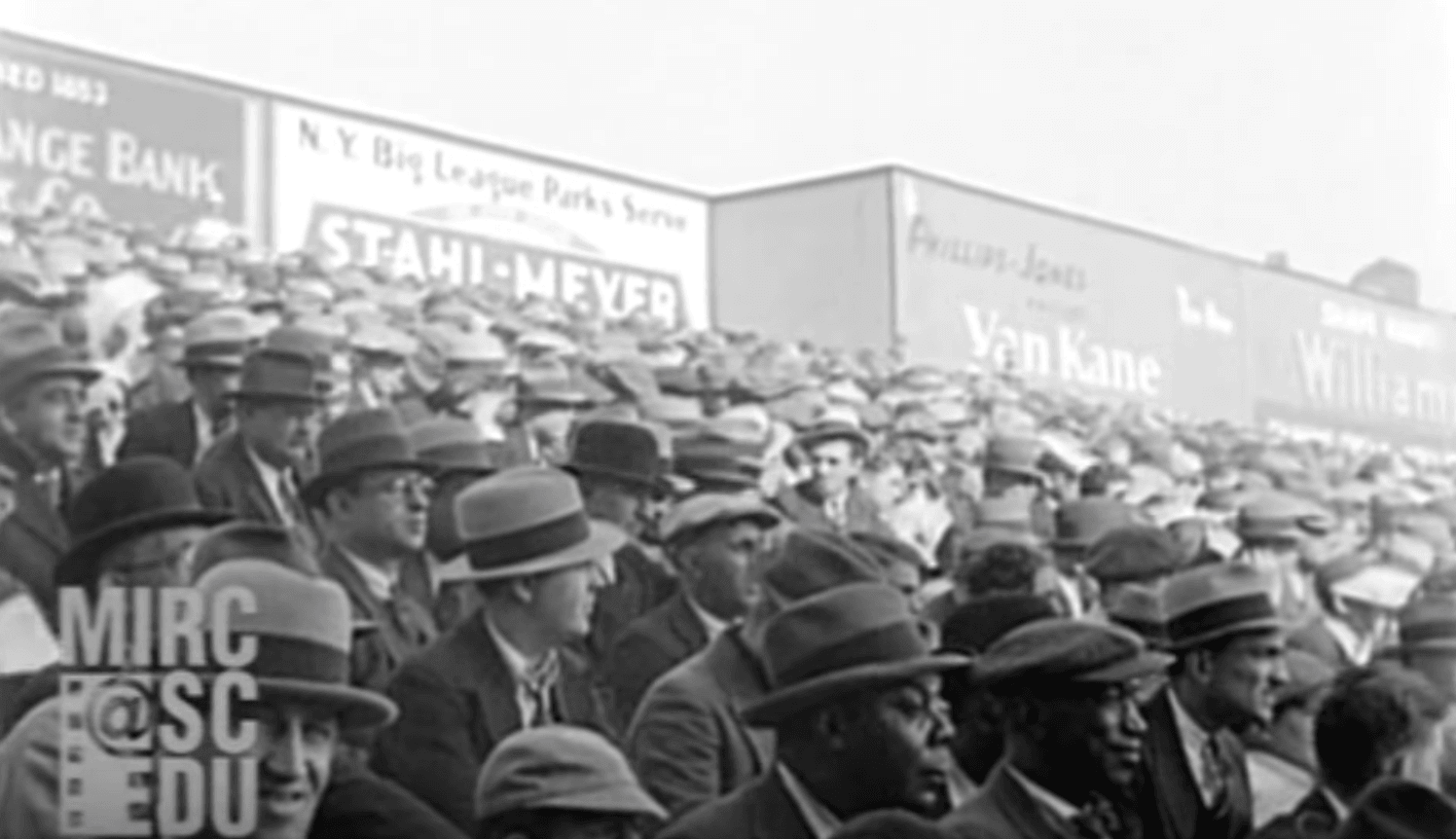 That's it. Again, I strongly recommend watching the whole video — great stuff. My thanks to everyone who brought it to my attention, and especially to Bob Andrews, who was the first to do so.
• • • • •
[adrotate group="2″]
• • • • •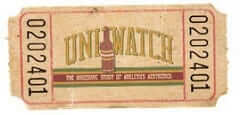 Raffle reminder: In case you missed it yesterday, our friends at Ebbets Field Flannels are raffling off a super-cool Santurce Cangrejeros T-shirt. Full details here.
While we're at it: As you may have noticed, Ebbets is currently running an ad in our right-hand sidebar, and they're partnering with us to create and sell the first Uni Watch cap, which should be available in about three weeks. They have great stuff — please consider them, and the rest of our advertisers, for your shopping needs. Thanks.
• • • • •
[adrotate group="2″]
• • • • •
The Ticker
By Alex Hider

Baseball News: Stance is releasing a new line of MLB mascot socks. We'll see if any of these designs actually make it on the field. … The good news? Yankees SS Didi Gregorius is getting his own commemorative bat day. The bad news? The Yanks misspelled his name on an ad behind home plate (from @njmaxrod and Chris Riz). … The Mets wore their blue road jerseys for the first time all season last night. That Rusty Staub memorial patch kind of gets lost, doesn't it? (From Tyler). … Mike Colvin spotted a DIY Gleyber Torres T-shirt at the Yankees game on Monday. … Jose Bautista is currently playing Triple-A ball in the Braves' system, and has been wearing a single-flapped Braves helmet with a Gwinnett Stripers logo. Minor leaguer helmets are normally double-flapped. MLBers can wear their single-flapped MLB helmets while they're on rehab assignments, but Bautista isn't rehabbing an injury — he's just getting into game shape (from Steve Vibert). … Brad Eenhuis has noticed that the Mariners' NOB lettering leads to some kerning issues. … Bryan Brunsell came up with a series of MLB concepts based on city nicknames. … At least a couple of Texas Southern players were wearing Tulane batting helmets when the two teams met last night (from Andrew Alvarez and  @MrCatsPatrick). … Penfield High School and Hilton High School in New York played each other on Monday in nearly identical black-and-red uniforms (from @kurtblumenau). … And that wasn't the only red/black-vs.-red/black matchup this week. Two high school softball teams near Lafayette, Indiana, also dressed similarly (from  @Jffdmrly). … Pleasure Ridge Park High School in Kentucky has added a memorial patch for the team's coach, who passed away on Monday (from Josh Claywell). … Jack 9 Baseball Magazine saluted this year's Hall of Fame class on its latest cover design but, oddly, chose a shot of Trevor Hoffman in a Marlins uni. … Angels rookie P Justin Anderson's left-sleeve team logo patch was missing last night (from Chris Cooper).

NFL News: This graphic about the NFL Draft chatter on Twitter uses a strange logo to represent the Bears. I believe this graphic took the logos from team Twitter avatars, but the Bears have since changed theirs. Anyone know what this logo is? (From Danny Pedroza.)

College Football News: Liberty University has a new logo to commemorate its inaugural season as an FBS program (from Noah Crouch). … This is one juicy Wisconsin jacket (from Tanner McGowen).

NBA News: Someone went full Larry Legend at the Celtics/Bucks playoff game in Boston last night (from Martyn Bailey). … Rapper Meek Mill was released from jail yesterday afternoon and subsequently rang the bell prior to last night's Sixers playoff game. According to Blake Fox, the Sixers usually give the ringer a customized jersey, but Meek Mill was presented with an Embiid jersey — probably due to the short notice.

Soccer News: Couple of 2018-19 kit leaks from Josh Hinton, including Dortmund's and Newcastle's home kits. … FC BATE Borisov of the Belarusian Premier League unveiled 2018-19 kits yesterday (from Ed Zelaski). … Still don't understand soccer's offsides rule? This scarf, made by supporters of Chattanooga FC of the NPSL, will help you out (also from Josh Hinton). …  The San Francisco Glens of the Premier Development League have a new jersey advertiser. …This podcast packs lots of soccer kit talk, and features Classic Football Shirt's Douglas Bierton and Museum of Jerseys's Denis Hurley. … Remember that time when Manchester City's Joey Barton had his shirt stolen by an opposing team's fan and couldn't enter the game? (From James Gilbert).

Grab Bag: All Blacks, New Zealand's national rugby team, are adding rainbow hues to their iconic black kits as part of a "Diversity Is Strength" campaign (from Michael Scebold). … The Melbourne Demons and Richmond, both Australian rules football team, wore uniforms commemorating Anzac Day — a holiday commemorating fallen Australian and New Zealander soldiers — during yesterday's match (from James G). … The Chicago Steel, a junior hockey team in the USHL, are keeping fans updated through the playoffs with a bracket that includes all the team's logos (from Steve Johnston). … The teams at Bradley-Bourbonnais High School in Illinois go by the Boilermakers, and they take plenty of inspiration from Purdue (from Jim Stone).