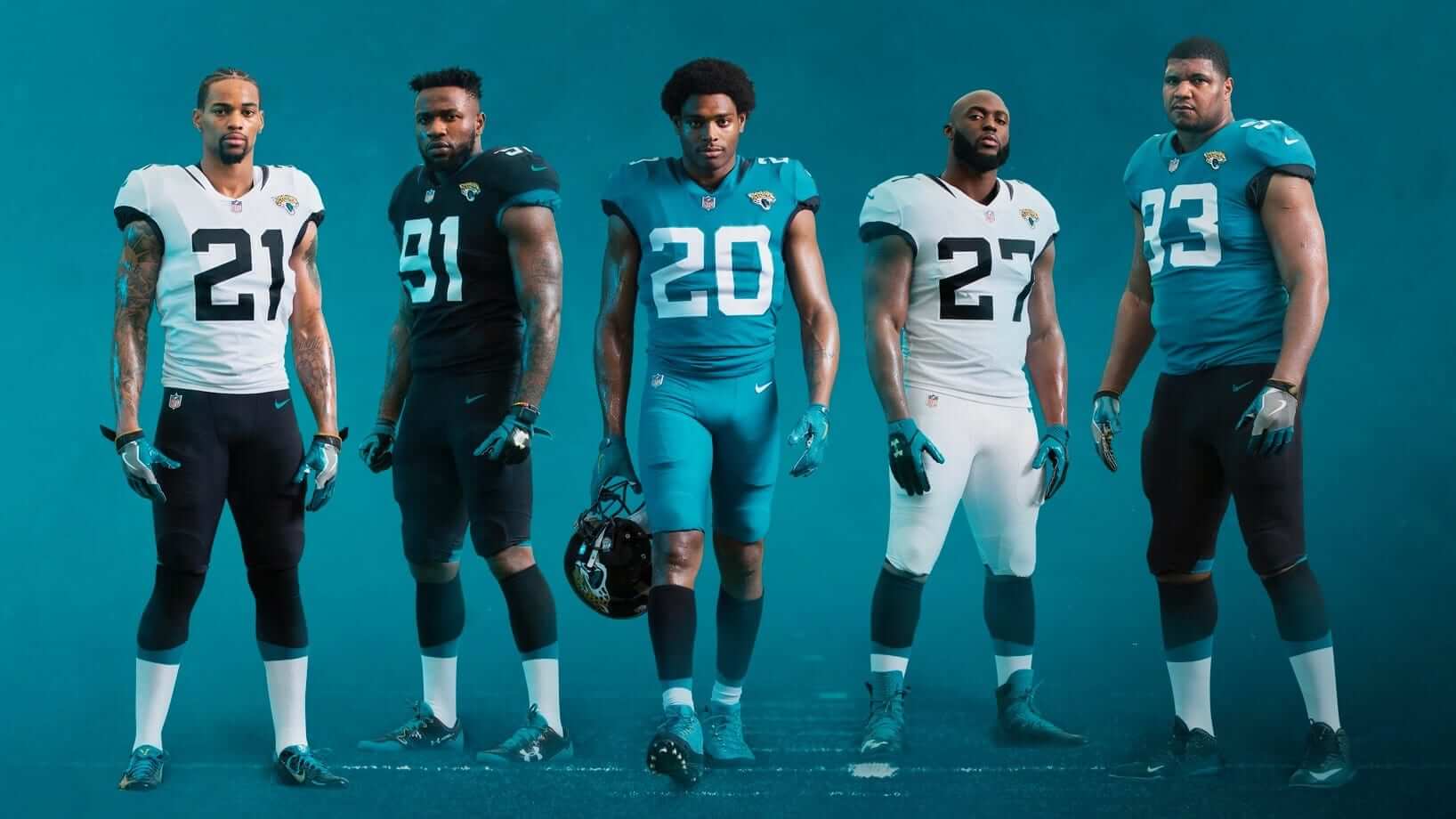 Click to enlarge
Well, it could have been worse — but it also could have been so much better.
That's the short version of my take on the Jags' new uni set, which was unveiled yesterday. The slightly longer version is that they improved almost every part of their uniform (especially the helmet, obviously), but the overall effect is very underwhelming, especially for a franchise that once had one of the best and most underrated looks in the league. The whole thing feels like an overcorrection, as if they realized they were too Oregon-y and made up for it by being too Penn State-y (I'm exaggerating in both instances, but you get the idea). You can get my full assessment in this ESPN piece, which was published yesterday afternoon, and you can see additional photos of the new uniforms here.
In addition, the Dolphins made two small chromatic changes yesterday — deepening their shade of orange and eliminating the blue outlining on their numbers, NOBs, helmet striping, and pants striping — and got a surprising amount of bang for their buck. You can see my assessment of that, including some side-by-side comparisons of the old and new uni elements, here.
I spoke yesterday afternoon with Surf Melendez, the Dolphins' Managing Director of Brand and Creative, and mentioned to him that it was unusual to see a team making such a small tweak in this era of flashy uniform unveilings and big, sweeping brand statements. He replied (I'm paraphrasing here), "Well, we like our uniforms, so we didn't feel the need to make a big change. But we thought we could make some improvements with the colors, so we did."
I don't entirely agree with him about their current uni set (the number font, in particular, really needs to go, but now we're stuck with it at least through 2022, because yesterday's tweaks reset the five-year clock), but it was refreshing to hear someone talk about small changes instead of big, sweeping overhauls. Also, while the Dolphins' changes are small, they nonetheless went the extra mile by producing this nifty interactive page, which among other things includes a fun slider mechanism that lets you compare the old and new helmet striping. Well done.
Meanwhile, here are two small details — one from each team — that didn't make it into my ESPN stories:
• I asked a Jags representative if there was any particular significance to the new curved/angled sock stripes. His response was priceless: "According to Nike, it's shaped like a 'jaguar's claw.' I left that out of the [press] release because I didn't really understand the significance of it, or 'how it is actually shaped like a jaguar's claw,' but I'd love for you to include it [in what you write]." And now I have. It's pretty hilarious when Nike's "storytelling" is too much even for the team/client, right?
• Although the Dolphins excised the blue from their uniform, several fans noticed that the blue outlining was still present in the rear helmet numbers that appear in the press photos. I asked Melendez about that, and he said, "We noticed as well. The decals are still in production. We made the call to keep them on for the photo shoot as opposed to not having numbers on the back of the helmet."
And that's a wrap. I hope the next two NFL teams to unveil new uniforms don't do it at the same time of the same day — that was seriously hectic!
• • • • •
[adrotate group="2″]
• • • • •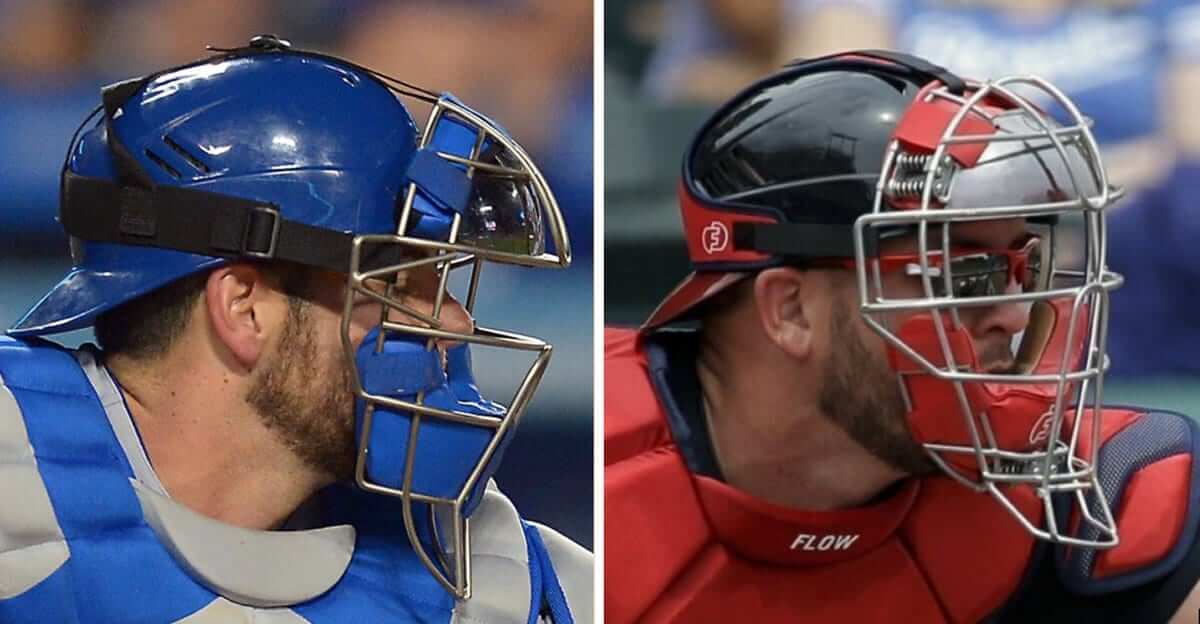 Click to enlarge
Meanwhile, over on the diamond: The catcher on the left is wearing a traditional mask. The one on the right is wearing a new-ish model called the Defender, which features spring-cushioned shock absorbers. You can see the springs at his temple, and there are additional springs at his chin and his other temple.
More and more MLB catchers are wearing the Defender, but it's a tricky situation, because the mask is manufactured by a small startup company and most catchers have lucrative endorsement deals with the big sportswear brands. I've written about this for ESPN today, and I think you'll find it really interesting — check it out here.
• • • • •
[adrotate group="2″]
• • • • •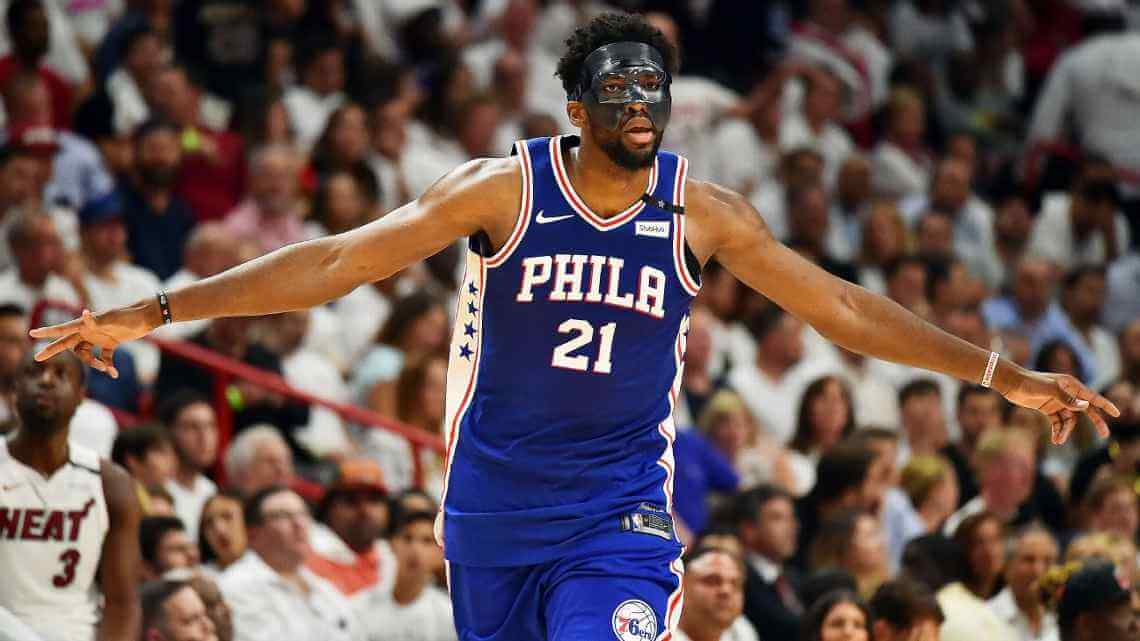 Click to enlarge
And speaking of masks: 76ers center Joel Embiid, who broke an orbital bone a few weeks ago, returned to action for last night's playoff game against the Heat and wore a mask. There was some controversy when the mask came off at one point and Miami's Justise Winslow appeared to go out of his way to step on it and break it:
Justise Winslow tried to break Embiid's mask. pic.twitter.com/K9aE91qy2h

— Yahoo Sports NBA (@YahooSportsNBA) April 20, 2018
Winslow did not get a technical foul, and Embiid simply got a new mask. He later said that he has about 50 of them.
(My thanks to Mike Chamernik for this one.)
• • • • •
[adrotate group="2″]
• • • • •
Click to enlarge
TBT: It was Throwback Thursday in the National League last night. First up were the Phillies, who debuted their new powder blue alternates. There were lots of inaccuracies and problems here: The original powder blues were zipper-fronts with vertically arched NOBs, while the current versions are button-fronts with radially arched NOBs; as you can see in that last photo, the side piping is broken by the belt tunnels, which is wrong; if they're going to wear maroon trimmed uniforms, they should get maroon undershirts and jackets to match; and of course there's the larger issue of wearing a road uniform at home. (Fun fact: They did that for one game in 1972, and it didn't go well.) Also, while this wasn't exactly an error, it seems like powder blue uniforms would be better on an Astroturf field, no? Still, it was fun to see the old look. Additional photos here.
Later on, in Arizona, the D-backs wore their inaugural-season throwbacks (part of their 20th-anniversary retro program), complete with the white caps! I think this set has aged surprisingly well, purple and all. Additional photos here.
• • • • •
[adrotate group="2″]
• • • • •
For all photos, click to enlarge
Too good for the Ticker: Reader Eugene Stolow recently visited a friend at the VCU School of Medicine in Richmond and saw this fantastic baseball uniform display in the school's library. The accompanying placard says the uni is from 1932. Note the skull and crossbones sleeve patch!
The chest lettering reminds me of the Red Sox's home jerseys and the Mets' road jerseys. Here's another view:
The placard explains that the team had a dismal record, owing in part to the time constraints placed on medical students. Also, check out the team portait, which shows a coach, or maybe a trainer, wearing a jacket with the skull and crossbones:
Sensational stuff. Big thanks to Eugene for sharing this one.
• • • • •
[adrotate group="2″]
• • • • •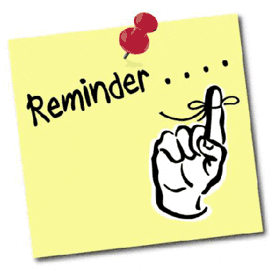 Assorted reminders: In case you missed it earlier this week, we have news on a variety of fronts. One at a time:
• Our friends at Ebbets Field Flannels are raffling off a New York Knights T-shirt to a lucky Uni Watch reader. Today is the last day to enter this raffle! Details here.
• There's updated news regarding the upcoming Uni Watch cap program, which will likely feature at least three different designs. Details here.
• And we also have news regarding the Syracuse Chiefs' upcoming Brannock Device Night promotion, where I'll be throwing out the first pitch. Details here.
• • • • •
[adrotate group="2″]
• • • • •
The Ticker
By Kris Gross

Baseball News: Mariners CF Dee Gordon looking good in stirrups last night (from Michael Rose). … The Mets have not worn their alternate jerseys yet this season (from JM Rondello). … Has anyone seen these Lego hats before? (from Brady Phelps.) … Scroll to the bottom of this article for a note stating that the Cubs broadcasts now include an advertiser for their uniform descriptions. Yuck (from Douglas Ford). … If you're in the Milwaukee area, get to the Brewers game on June 17 for a mini-bullpen car giveaway. … The Orioles have announced their list of theme nights (from Andrew Cosentino). … The Louisville Bats, Triple-A affiliate of the Reds, will become the Louisville Mashers on "Cheers to Bourbon Night" (from Caleb Jenkins). … The city of Amarillo, Texas, is getting a Double-A team, and there's a contest to name the team (from Bradley Maybin). … LSU softball will wear teal helmets tomorrow to show support for a Mississippi State player battling cancer (from Brian Ogden). … Sticking with a softball, here's a great-looking matchup between Utah and BYU from Wednesday (from Alex Allen).

NFL News: For the Win lists 10 teams that desperately need a uniform change (thanks Phil). … Check out this video showing the Eagles equipment staff getting the helmets and jerseys ready for the Super Bowl (from Joseph Wolper). … Some NFL inconsistencies spotted by @NFL_Journal: Seemingly different NOB spacing from this old Rams footage, and different fonts on these Saints sideline jackets. … This footage from a 1994 Bills/Broncos game features a Bucky Brooks FNOB. Head to the 0:26 mark (from @EichelTower615). … Awesome: Bucs LB Richard Wood wore a Batman elbow pad in 1979 (from Ray Hund). … As part of the NFL schedule release last night, the Bears created a superhero-style video to unveil their opponents, while the Vikings used team cleats (from RJL, Brinke Guthrie). … This article on the Steelers' website includes the following news from owner Art Rooney: The team will wear its mono-black uniform for a Thursday-night game against Carolina, and the team will unveil its new throwback uni at the end of May (from Jerry Wolper).

College Football News: LSU will celebrate 125 seasons with this logo, which will be worn as a jersey patch. You can read more about it here (from Griffin Smith). … In advance of their switch to Jumpman jerseys in the fall, Florida Photoshopped the Nike logo out of their latest season tickets promo (from Michael R Carroll). … Georgia Tech's spring game is today, and there are lots of changes, including a new shade of gold; fewer display options for the "GT" logo; a new color palette for the Buzz mascot; and a new wordmark. More info here.

Hockey News: The Nipawin Hawks, whose colors are black and yellow, continue to wear green helmets in honor of the Humboldt Broncos during the Saskatchewan Junior Hockey League Finals (from Wade Heidt).

Basketball News: Want to help choose Ohio State's new court design for the 2018-19 season? The Buckeyes have 10 potential designs in the hoppers and are inviting fans to vote for their favorite.

Grab Bag: Have you ever seen a tennis player wearing a uniform number? Jason DeDonato spotted Fabio Fognini wearing a No. 17 shirt at the Monte Carlo Rolex Masters. … Indiana has a long history of very creative high school mascots (from Marc Viquez).