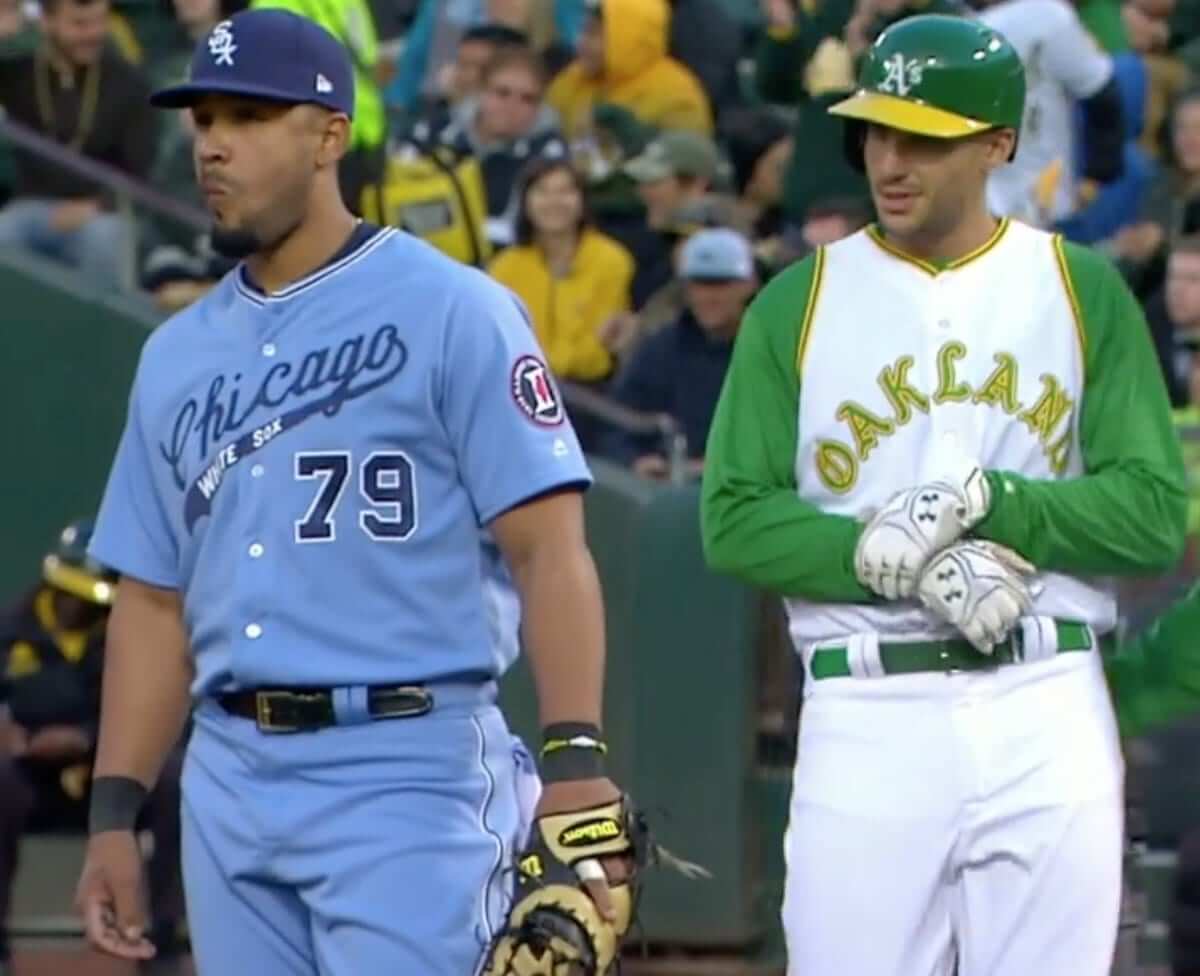 Last night was the 50th anniversary of the Athletics' first game in Oakland. To mark the occasion, the A's and White Sox wore 1968 throwbacks.
Generally speaking, it was a very good-looking game. Here are some details:
• The good news is that the A's wore true vests (not just regular jerseys without sleeves), tailored with large armholes and narrow shoulder straps. The bad news is that the Majestic logo — which for some reason was rendered in black — really stuck out like a sore thumb on those narrow shoulders: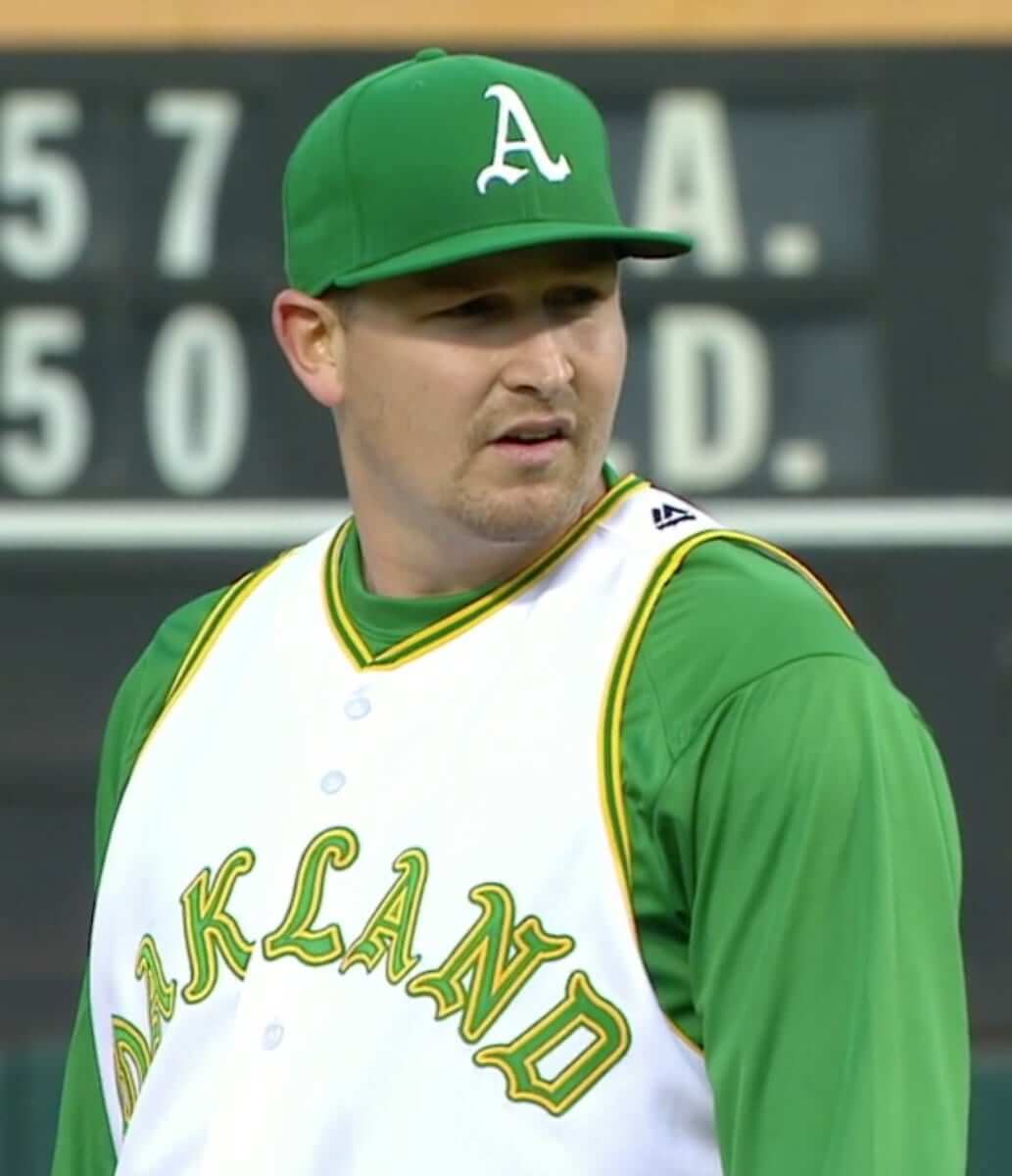 • The good news is that the Oakland manager and coaches wore period-appropriate white caps. The bad news is that the New Era logo looked particularly bad on the pristine white headwear (and also, get this guy a throwback jacket!):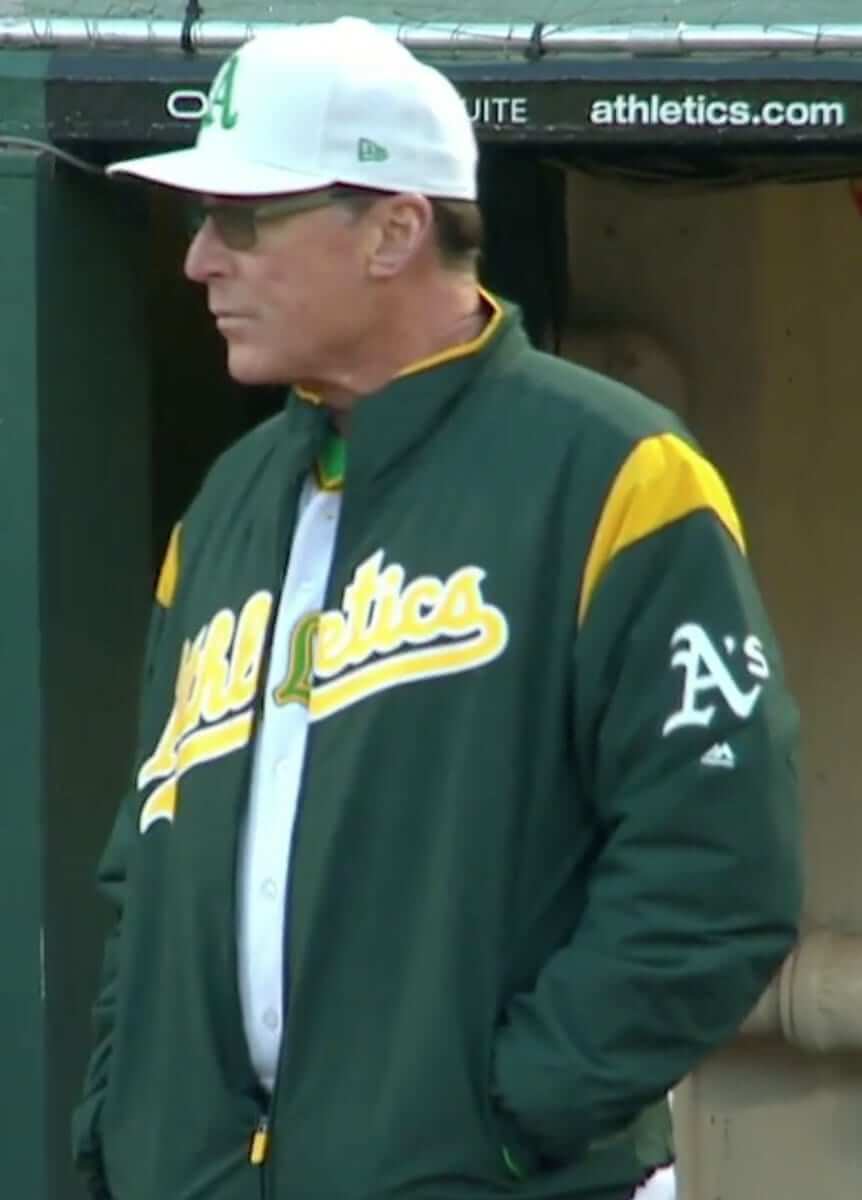 • Unfortunately, most A's players wore pajama pants. I saw only one person wear the classic 1968-style stirrups, and that was the right field ballboy: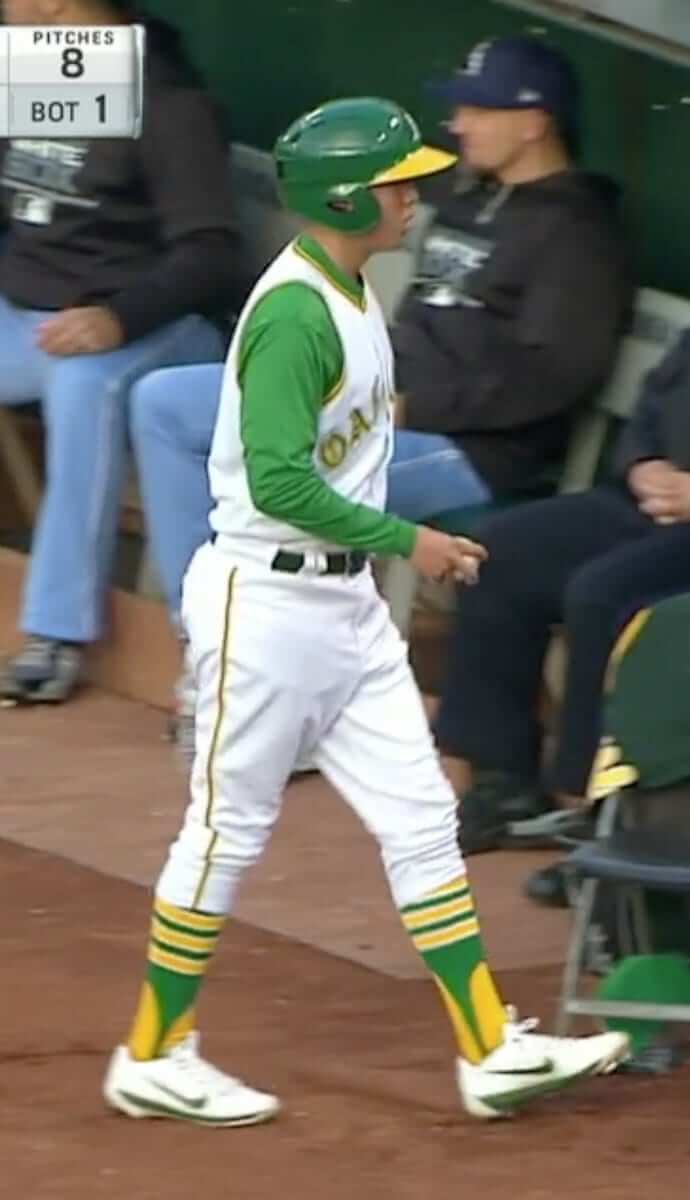 • A's DH Khris Davis went high-cuffed, but with brutal two-in-one faux stirrups: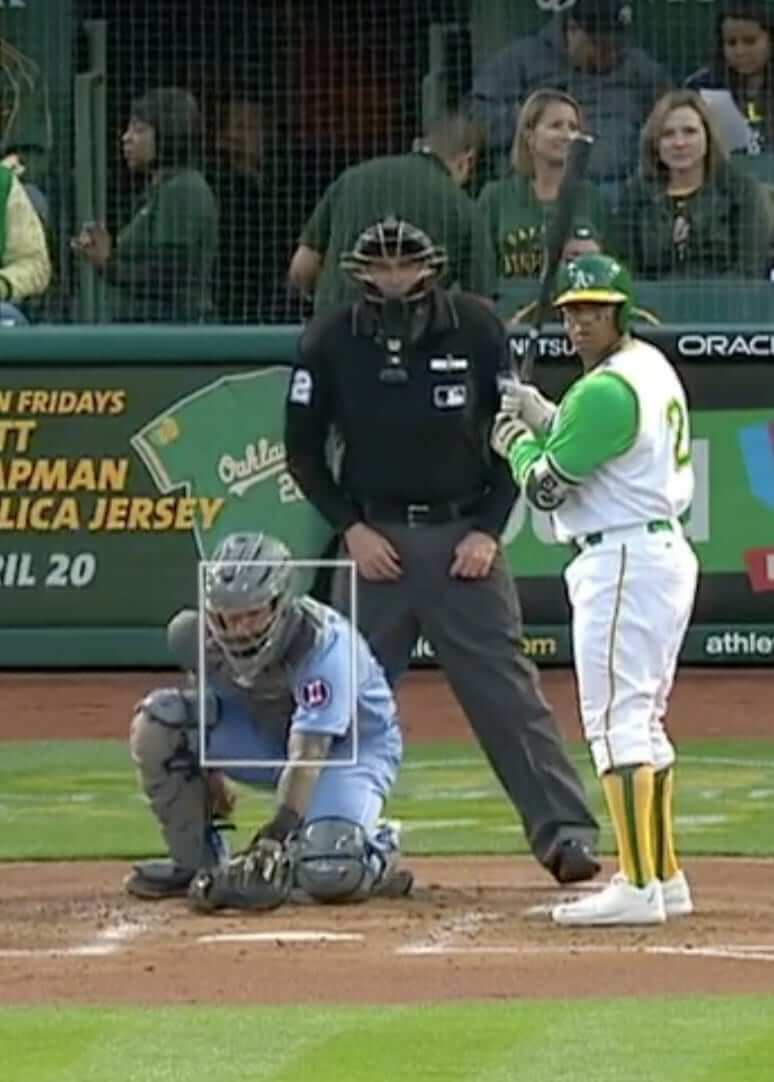 • Chicago's jerseys included an Illinois sesquicentennial throwback patch (which as I noted last week has the wrong text font):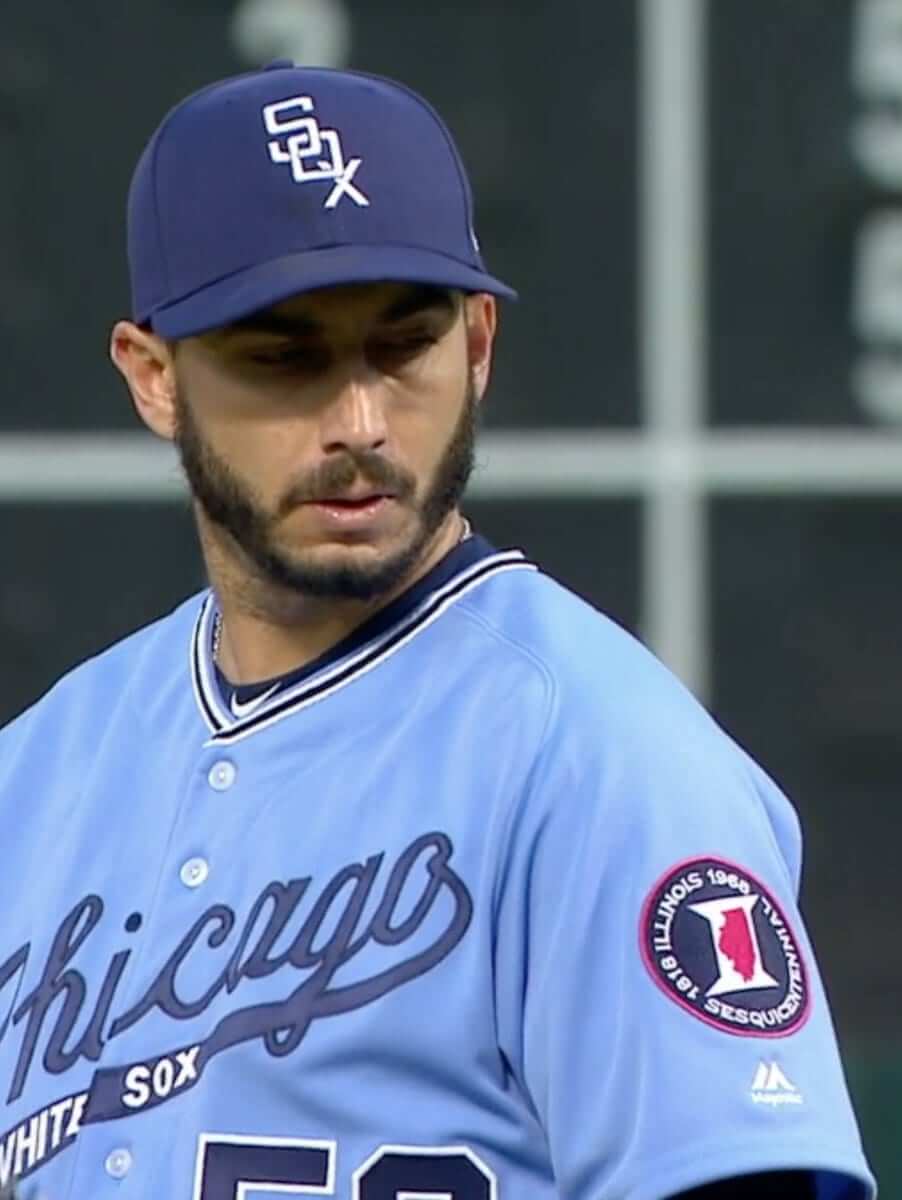 • Speaking of the wrong font, check out the Sox NOB and number typography compared to the original — looks like they used the numbers from the Braves' navy alternates: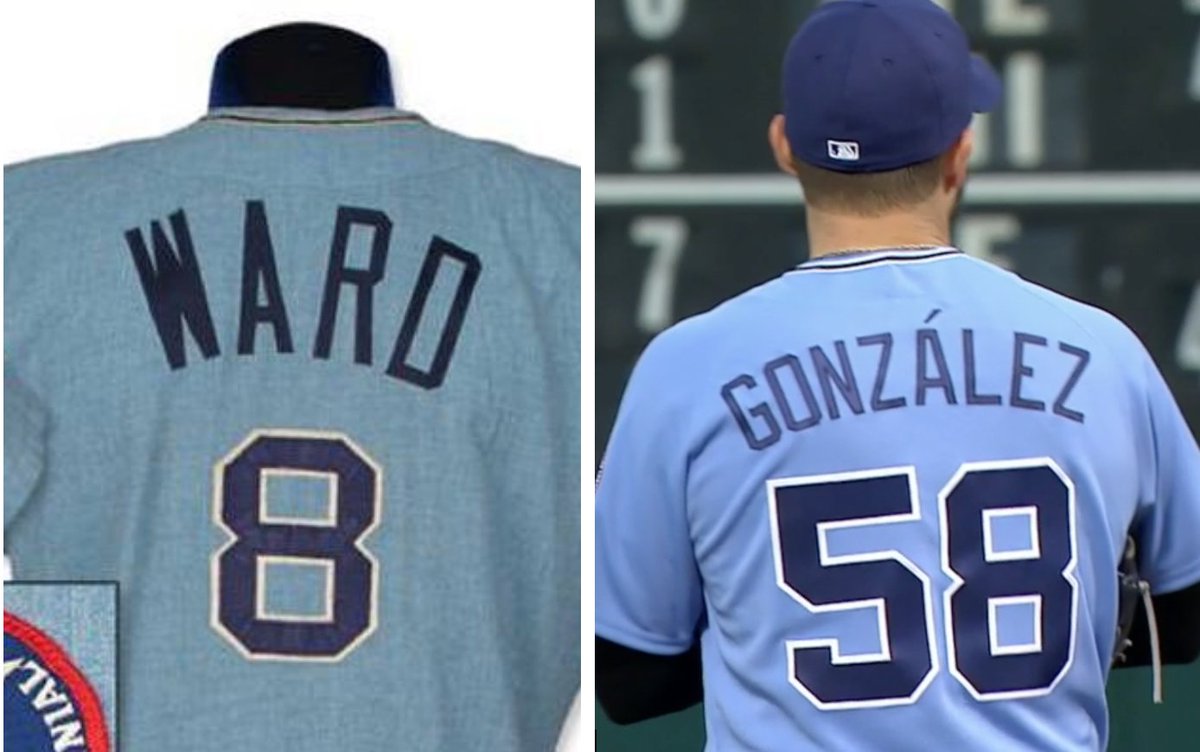 • Despite all of these little quibbles, the game was very easy on the eyes. Here's some video, so you can see the uniforms in action:
What better way to celebrate 50 years in Oakland than with a 5-0 lead in the first inning?#RootedInOakland pic.twitter.com/Vc6tbF50f9

— Oakland Athletics ⚾️ (@Athletics) April 18, 2018
• As you may have heard, there was no admission charge — tickets were free. Even better, some fans were sitting in the same seats where they sat 50 years ago:
50 years apart, a few dozen fans will enjoy the game from the same seats they sat in 1968. Be mindful of seats marked off as you enter the ballpark today. pic.twitter.com/Gu5Akj4Q2E

— Oakland Athletics ⚾️ (@Athletics) April 17, 2018
Nicely done, Oakland. Here's to your next 50 years.
• • • • •
[adrotate group="2″]
• • • • •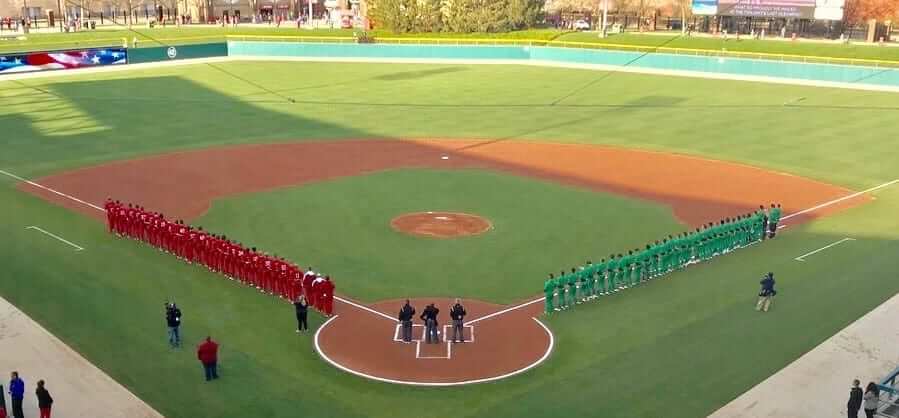 Click to enlarge
Christmas in April: Strange-looking ballgame last night in Indiana, as the Hoosiers hosted Notre Dame and the teams went mono-red vs. mono-green. It was like a replay of the NFL's infamous colorblind game.
Interestingly, both teams' Twitter accounts promoted the game with a #ColorRush hashtag. Given that (a) this was not a football game and (b) neither Notre Dame nor Indiana is a Nike-outfitted school, the hashtag offered depressing evidence of how Nike's marketing newspeak has spread.
There are lots of game photos available here.
• • • • •
[adrotate group="2″]
• • • • •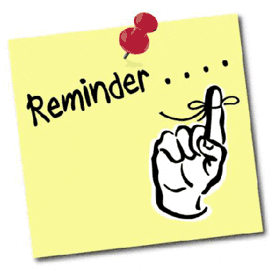 Assorted reminders: In case you missed it yesterday, there was news on a variety of fronts. One at a time:
• Our friends at Ebbets Field Flannels are raffling off a New York Knights T-shirt to a lucky Uni Watch reader. Details here.
• There's updated news regarding the upcoming Uni Watch cap program, which will likely feature at least three different designs. Details here.
• And we also have updated news regarding the Syracuse Chiefs' upcoming Brannock Device Night promotion, where I'll be throwing out the first pitch. Details here.
• • • • •
[adrotate group="2″]
• • • • •
The Ticker
By Alex Hider

Baseball News: Cleveland and Minnesota kicked off a two-game series in San Juan, P.R., and wore a patch on their caps to mark the occasion. … The Blue Jays wore Jackie Robinson No. 42 jerseys in the first game of yesterday's doubleheader after rainouts Sunday and Monday. The Royals wore their standard road greys. KC had also been rained out on Sunday, but that was for a home game — they only have white No. 42 jerseys on hand, not grey. They'll wear the No. 42 whites at a later date. … Speaking of, Jackie Day caused some number confusion, as Blue Jays P Joe Biagini was called up to pitch the second game and was briefly listed as wearing No. 42 by MLB.com. Biagini ended up wearing No. 31 (From Barry Katz). … Umpire Mike Estabrook has been wearing a black batting helmet, instead of a cap, behind the plate this season (from Chad Johnson). … The Royals entered the American League in 1969, the same year as the Seattle Pilots. Next Tuesday, the Royals will play the Pilots' descendants, the Brewers, and will give away a T-shirt honoring the birth of the two franchises (from Ignacio). … Here's an interesting look at how players' autographs change throughout their careers (from Michael Rich). … Marlins Man continued to take potshots at Miami ownership yesterday by wearing a Derek Jeter Marlins jersey to the Yanks/Marlins game in New York (from Kary Klismet). … Red Sox CF Jackie Bradley Jr. was wearing a blue undershirt this weekend against the Yankees. The rest of the team was wearing red (from Pete Clark). … Reds 3B Alex Blandino wore PF Flyer cleats on Sunday. Here's a better look at the shoes. … Add former Mets P Turk Wendell to this list of pin-wearing baseball players (from Alex Shuman). … The Chicago Sun-Times ranked White Sox uniforms over the years from worst to first (from Phil). … Looks like the Las Vegas 51s are planning a name change (from Mike Chamernik). … The Single-A Florida Fire Frogs wear hand-me-down Braves pants (from Joe Owen). … Ugh: South Alabama is selling the naming rights to softball players' lockers. Is it still a player's locker if it has someone else's name on it? (From Clint Richardson.) … Dennis Healy's retro MLB wallpapers now have their own website.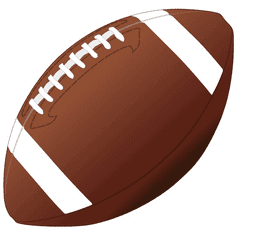 Football News: NFL Network photoshopped Louisville QB Lamar Jackson as a Patriot, but forgot to airbrush over Jackson's Louisville chin strap (from  @notthefakeCasey). … Broncos LB Von Miller attended Monday night's Colorado Avalanche hockey game Monday in a personalized jersey (from Kary Klismet). … Ryan Bower points out that former Steelers CB William Gay and San Antonio Spurs SF Rudy Gay both wear No. 22. Any other name/number coincidences out there? … Texans DL J.J. Watt was wearing a Houston Rockets cap with Chinese lettering during a press conference yesterday (from Ignacio). … The headline of this column (WaPo link) says it all: Adidas's Colin Kaepernick tease is a master class in corporate cynicism (from Phil). … Pro Football Journal sent a good shot of Rams WR Ron Brown's double-decker FNOB from the '80s. … A group of eighth graders in New Jersey have developed a sensor that can be placed in a football helmet and detect a concussion (from David Kendrick).

Hockey News: Philip Pritchard, the designated "Keeper" of the Stanley Cup, tweeted a picture of old cup carrying cases and added that it's "time to get a new one" (from Jerry). … Cross-listed from the football section: Denver Broncos LB Von Miller was at the Avalanche/Predators hockey game Monday in a personalized jersey (from Kary Klismet).

NBA News: Former Celtic Gerald Henderson once played a game in a neck brace — and wore a gold chain underneath! (From Brad Eenhuis.) … Cross-listed from the football section: Houston Texans LB J.J. Watt was wearing a Rockets "City" jersey cap during a press conference yesterday (from Ignacio). … Also from the football section: Ryan Bower points out that Spurs F Rudy Gay and former Pittsburgh Steelers CB William Gay both wear No. 22. Any other name/number coincidences out there?

Soccer News: Inter Milan players wore their Instagram handles on their NOBs yesterday against Cagliari (from  @True2Atlanta). … Tottenham and Brighton went blue-on-blue in a Premier League matchup yesterday (from our own Jamie Rathjen). … New logo for the Russian Premier League (from Josh Hinton). …  Currently, FC Cincinnati stands for Fútbol Club Cincinnati. But if the club earns an MLS expansion bid, it could change its name to Fussball Club Cincinnati, using the German translation for "soccer." Makes sense, given the German heritage in town and branding with the team and supporters clubs (from Andrew Cosentino). … Celtic FC will unveil their kits for the 2018-19 season next Monday (from Ed Zelaski). … New trophy design for the CONCACAF Champions League (from James Gilbert).

Grab Bag: Many think the composite sketch of the man who allegedly threatened Stormy Daniels to keep quiet about President Trump looks like Tom Brady. Personally, I think it looks like Nashville Predators C Mike Fisher. … Ford will change the body style of its NASCAR entries from the Fusion to the Mustang in 2019 (from Josh Hinton). … We've seen this before with other cities, but someone re-drew the Baltimore subway system but made the stations Subway sandwich shops (from Andrew Cosentino).