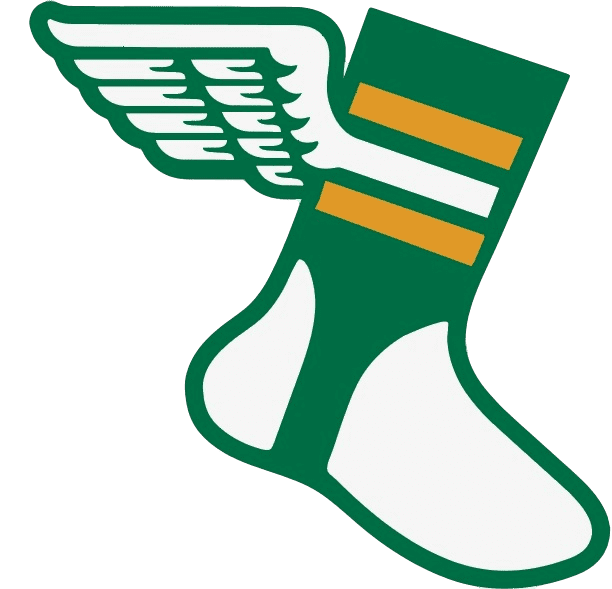 For years now I've wanted to have a Uni Watch baseball cap that we can offer for you folks to purchase, but I didn't know what to use as a logo. I knew I didn't want to use "UW," because those initials are so strongly associated with the Universities of Washington and Wisconsin, and I was reluctant to use our old magnifying glass standby, which felt a bit too much like an easy fall-back option. At one point I was going to hold a design contest to create a cap logo, but I never got around to it.
Then last year Bryan Molloy came up with the winged stirrup design that first appeared on the 2017 Purp Walk shirt and was then reprised a few months later on a shirt in standard Uni Watch colors. That logo, which was based on the New York Athletic Club logo, was a big hit with readers, and I really liked it too. So late last year I told Bryan that I wanted to use the winged stirrup as a cap logo. He readily agreed.
The version of the logo that appeared on the shirts had a lot of stippling and shading that wouldn't translate well to fabric embroidery, so Bryan has simplified it slightly to create the version that you see above. I'm envisioning it on a green cap (duh), but there are lots of details that still need to be finalized, and I'd like your input on that. For example:
1. The logo will need to have an outline. Should the outline be white, gold, or both? (Click to enlarge.)

[totalpoll id="94619″]
———
2. Should the squatchee be green or gold?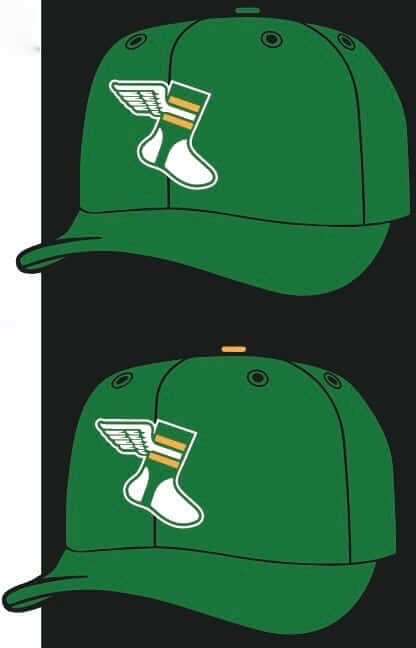 [totalpoll id="94622″]
———
3. If the squatchee is gold, should the brim also be gold, or should the brim stay green?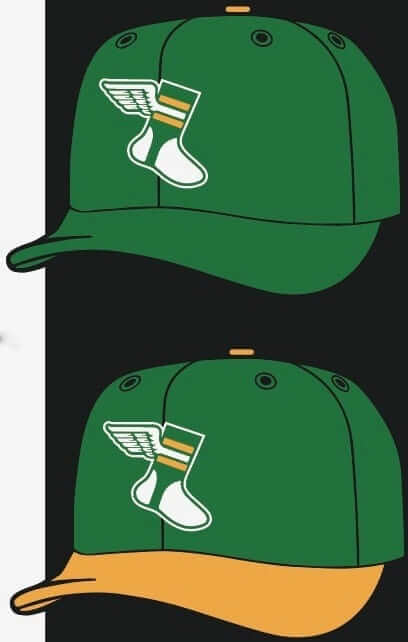 [totalpoll id="94625″]
———
4. What format should the cap be?
[totalpoll id="94628″]
———
5. Should the Uni Watch script (another one of Bryan's designs) appear on the back of the cap?

[totalpoll id="94632″]
———
6 What profile should the crown be?
[totalpoll id="94650″]
I don't yet know where I'm going to get the caps manufactured (I have a few ideas, but if anyone has tips, I'm all ears), so I can't guarantee that I'll act according to the results of the voting in every case, but I'll try. Obviously, I'll also do my best to ensure that the cap doesn't have a visible maker's mark. And I'm partial to grey underbrims, so I'm going to try to go that route as well.
I've never made or sold a cap before, so I'm not sure how long it's going to take to get everything set up. Also not sure how much it will cost, whether we'll need to take pre-orders, and so on. But I'll get it sorted out soon-ish. Your input on the squatchee, the brim, and all the rest will be very helpful.
If all goes well, we might even be able to offer an alternate cap at some point. But hey, one thing at a time.
I'm excited about this project. Thanks for your feedback.
(Big thanks to Bryan Molloy for coming up with the winged stirrup, and for working with me to create the cap mock-ups.)
• • • • •
Raffle reminder: In case you missed it yesterday, I'm currently raffling off a T-shirt and a pair of retro shorts from the good folks at 19Nine.
To enter, send an email to the raffle address by this Friday, 7pm Eastern. One entry per person. I'll announce the winner on Monday. Good luck!
• • • • •
Membership update: Four new designs have been added to the membership card gallery (including Brett Baker's card, shown at right, which is based on Nebraska's early-'80s mesh jerseys). The printed/laminated versions of these cards should mail out by the end of the week.
We've gotten a rush of membership orders over the past week, so I should have more designs to show you in the next day or two.
Remember, a Uni Watch membership card entitles you to a 15% discount on any of the merchandise in our Teespring shop. (If you're an existing member and would like to have the discount code, email me.) As always, you can sign up for your own custom-designed card here, you can see all the cards we've designed so far here, and you can see how we produce the cards here.
• • • • •
Click to enlarge
A little crabby: You may recall that last November I attended an oyster roast in Virginia, where I had my first encounter with pea crabs — tiny (and delicious) crabs that live inside the oysters. I was completely fascinated by them — so fascinated by them that I've now written an article about them for the food website Taste. It was really fun to work on (among other things, I went to the Grand Central Oyster Bar at 8am to interview their chef before the rest of the staff showed up for work), and I'm pretty happy with how it's turned out. I hope you'll check it out here. Thanks.
• • • • •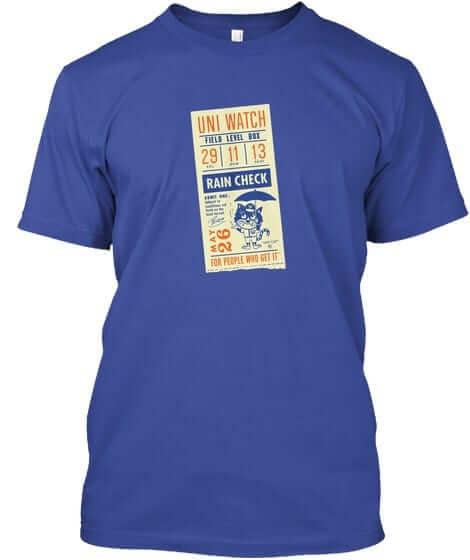 Going, going…: Today is the next-to-last day to get our latest limited-edition Uni Watch T-shirt, designed by the great Todd Radom. It comes in a wide range of colors (including deep royal, as shown at right; click to enlarge) and is available from now through this Thursday, March 15. You can order it here. If you want a color or style that isn't shown, get in touch and I can take care of you. My thanks, as always, for your consideration.
• • • • •
The Ticker
By Alex Hider

Baseball News: The Marlins took to Instagram yesterday to ask fans if the wordmark on the team's home jerseys should read "Miami" or "Marlins." Currently, only the team's orange jerseys have a "Marlins" wordmark (from Louis M. and Alejandro Areces). … Alejandro also put together his own Marlins redesign concept. Check it out here. … Yankees P David Robertson was wearing a standard cap yesterday, not the team's spring training cap (from Patrick Lavery). … The Nationals wore their regular home whites, instead of their spring training uniforms, for last night's game against the Mets (from Kenny Kaplan). … Phillies INF Mitch Walding's helmet logo was badly askew during yesterday's game (from Terrence Kuhns). … Did anyone else know that the Pirates had a facial hair ban for minor leaguers? Once prospects make the majors, they can sport a beard (from Jerry Wolper). … We missed this yesterday — the Astros made a logo for their White House visit yesterday (from Ignacio). … MLB is hosting a food festival in New York's Bryant Park in April, where each team will offer an item sold at its ballpark (from Jason Lefkowitz). … The Lansing Lugnuts will give away Michigan State-green jerseys on May 3. The jerseys will bear No. 3 in honor of former Spartans punter Mike Sadler, who died in a car crash last year (from our own Kris Gross). … Furman debuted new purple pullover jerseys last night.

NFL News: Free agent QB Sam Bradford signed with the Cardinals yesterday. As one Redditor pointed out, this is Bradford's fourth NFL team (the others were the Rams, Eagles and Vikings), but the first which wears its primary logo on its helmet (from Justin C. Cliburn and Ryan Bower). … 49ers FS Jimmie Ward has agreed to hand over No. 25 to his new teammate, CB Richard Sherman (from Brinke). … If you've never noticed this before, this might ruin your day: The outlining on the Dolphins NOB and numbers doesn't match. Though as Paul points out, if both matched, the NOB lettering may be a bit too clunky (from Eric Wright). … Free agent WR Allen Robinson wore a Chicago Bulls jersey to celebrate signing with the Bears (from Mike Chamernik).

Hockey News: The Wild wore St. Paddy's Day warmups yesterday (from Mike Chamernik and Kyle Minogue). … The Predators also warmed up in St. Paddy's unis, and in what is now a yearly tradition, changed their social media avatars into a le-Pred-chauns. … Jay Rupert was at the Capitals game the other night and noticed that the aisle seats at Capital One Arena have old Caps and Wizards logos on them. … The Ontario Reign of the AHL will wear St. Patrick's Day unis designed by Violent Gentlemen, a hockey-based fashion company based in LA (from Charles Eldridge). … ICYMI: Here are game shots of the ECHL's Cincinnati Cyclones and Indy Fuel in SpongeBob unis (from Ryan Bower). … Pro bowler Patrick Girard wore a Montreal Canadiens-themed shirt at the PBA Barbasol Championship on Feb. 25. Girard is from Quebec (from Steven Luft). Hip-hop artist Craig Mack, who passed away a couple days ago, was apparently a hockey fan. The cover photo of his debut album, Project: Funk da World, featured him wearing a Charlestown Chiefs jersey, and the video for his "Flava in Your Ear" single shows him wearing a Lightning jersey (from Landon Fried).

NBA News: The Pacers' arena will have a new name next year. … As of yesterday, former NBAer Brian Scalabrine's Wikipedia page said the Celtics, Nets and Bulls had all retired his number (from Joey Robertson). … Interesting coincidence: NBB, Brazil's pro basketball league, is using Jordan Brand uniforms with a black and white color scheme for its All-Star Game, just like the NBA did last month. … With the NBA moving toward standardized logos for the All-Star Game, the draft, the Finals, and so on, SportsLogos.net asked a bunch of designers what they think about that. … Cross-listed from the NFL section: NFL free agent WR Allen Robinson wore a Bulls jersey to celebrate signing with the Chicago Bears (from Mike Chamernik).

College and High School Hoops News: The jersey worn by Radford's Christian Lutete during last night's play-in game had clearly been used before (from Leland). … Both SB Nation and Yahoo gave bracket advice for the NCAA Tournament based on team's uniforms (from Phil and Cole Pessolano). … Meanwhile, here's a ranking of the scariest mascots in this year's tourney (from Andrew Hoenig. … Here's a good look at the NCAA Tournament through the years — a snapshot from each year the tournament has been held (from James Gilbert). … Color-on-color game in the Pennsylvania high school tournament game between Greater Johnstown and Sharon. The refs weren't amused, however — Johnstown (blue) was slated to wear white, and was issued a technical foul for bringing the wrong color (from Jerry Wolper, @CantankerousRex and @dougkeklak).

Soccer News: New kits for the Tulsa Roughnecks of the USL (from Joe). … The Tampa Bay Rowdies of the USL will unveil new kits on March 19 (from Kody Allenson). … Grand Rapids FC of the National Premier Soccer League unveiled new jerseys yesterday (from Ryan). … With Iceland's new kit set to launch tomorrow, here's a look at the history of their uniforms through the years. … Reggaeton singer J Balvin was performing at the Houston Livestock Show and Rodeo last night and was presented with a Houston Dynamo jersey. Note that the NOB includes a period after the "J," even though his official stage name does not include the period.

Grab Bag: Customs and Border Patrol in Texas is warning people against counterfeit sports merch (from Ignacio). … Gold medal curler Matt Hamilton is getting his own bobblehead— reportedly the first curling bobble ever produced (from R. Scott Rogers). … Delta Airlines employees will be getting new uniforms. Delta follows in the footsteps of Alaska Airlines, who announced uniform changes earlier this year (from Markus Kamp). … The Ohio Machine of Major League Lacrosse unveiled new home and road uniforms yesterday (from John Flory and Dan Siegel). … George Washington's women's lacrosse goalie has the DC skyline on her helmet (from Matt Eliot). … Purdue's marching band was sporting jackets with a '90s logo over the weekend in Ireland (from Marc Burgess). … New Mexico's new red and green chile license plates were named the best in the country by the Automobile License Plate Collectors Association (from John Muir). … Cross-listed from the hockey section: Pro bowler Patrick Girard wore a Montreal Canadiens-themed shirt at the PBA Barbasol Championship on Feb. 25. Girard is from Quebec (from Steven Luft).