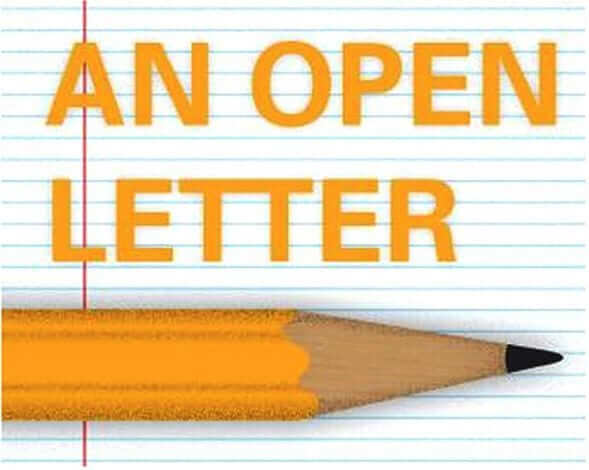 People, we need to talk. I apologize in advance for how long it's going to take, but I have a lot of stuff to discuss with you about the future of Uni Watch.
Let's start with this: Twenty-some years ago, some idiot got the idea that newspapers and magazines should give away their content for free on the internet. Ever since then, the journalism industry — the industry where I've made a career — has been in decline, and lately it's been in free fall. Almost every week now brings news of layoffs at newspapers, magazines, and websites, along with grim revenue reports. Thanks to that idiot who decided that content should be given away, the old business models that supported journalism for many generations no longer work. That's not just bad for those of us who work in journalism — it's bad for everyone, because a vibrant journalism sector is essential for a free and open society.
For a long time I've felt like I've been contributing to that state of affairs. This website has been supported by ad revenue, which allows me to give away the content for free. That's a nice deal for you folks, but it contributes to the devaluing of journalism (and of creative work in general). It sends the message that journalism is something you can have for free. With each round of layoffs in the industry — layoffs that have affected more of my friends and colleagues than I'd care to think about — I've felt increasingly guilty and conflicted, knowing that I'm essentially part of the problem.
In a related item, most of you know by now that I'm not a big fan of corporate advertising — but this website features a lot of corporate advertising. This has led some folks to accuse me of being a hypocrite. Those arguments are easy enough to refute, but I'm still uneasy about adding to the amount of corporate ad pollution out there, plus all the ads have made the site look too jumbled and chaotic.
Meanwhile, over the past couple of years, the economics of web advertising have been catching up with us here at Uni Watch. For those who don't understand how web advertising works, here's a very quick primer: Most of the ads on our site are delivered by ad networks that we subscribe to. Companies arrange with those networks to bid for spots on websites (the bidding takes place via software), and the resulting revenue is dictated by the bid levels and the site's traffic. In recent years, companies have been bidding less and less for ads on traditional websites like ours and bidding more for ads on Google and Facebook, which they've found to be more effective. Meanwhile, lots of readers are now using ad-blockers. So even though our traffic has remained strong and we have plenty of ad units on the site, our revenue has steadily declined. If we had a real staff that was paid a real wage, we'd be having layoffs just like everyone else.
As our revenue has declined in recent years, I've tried to compensate for it with things like the T-Shirt Club and other merch projects. (I ruled out higher-revenue advertising options like video ads, banner ads in the middle of our text, pop-ups, and sponsored content, because I hate the idea of having any of those things on Uni Watch.) Lately, though, as the Google/Facebook factor has kicked in, our revenue decline has been too steep for me to keep up with it. The last straw came a few weeks ago, when NASCAR — one of our longtime anchor advertisers, with their "Hey, Uni Watch Readers!" banner at the top of the site — decided not to extend their relationship with us this year. That was a big blow. They provided more than 15% of our ad revenue last year.
The site has never been super-lucrative, even at its financial peak, but that's always been okay, because ESPN pays me well. Still, while I don't need the site to be a huge money maker, I do need it to generate enough income to justify the considerable amount of time I spend on it. Most people close to me tell me that I work too hard, and a lot of that work is devoted this site, usually quite literally from the moment I wake up each morning and often well after midnight before I go to bed. Obviously, nobody's forcing me to do it, and for the most part I enjoy it, but the diminishing economics have reached the point where I have to ask myself if it makes sense to keep doing things this way. Also, I'd like to be able pay Phil, Brinke, Alex, Kris, Jamie, and Anthony more than the embarrassingly small amounts I currently (under)pay them.
All of which leads me to this: I've decided that Uni Watch will soon be changing to a paid content model.
Switching to paid content will address all of the concerns I've just spelled out. The site will no longer be complicit in the free-content giveaway that's ruining the journalism industry; it will no longer contribute to the spread of corporate advertising; it will no longer be dependent on a broken web-advertising model; it will look much better, without all the ad-based clutter; and — I hope — it will start producing enough revenue to justify all the work that the Uni Watch team puts into it.
I'm sure you have many questions. Allow me to anticipate some of them:
When will you start charging for content?
I'm not sure yet. Webmaster John Ekdahl, who created this site with me almost 12 years ago, was already working on a site overhaul when we made this decision about switching to a paid model. We're hoping the new version of the site will be ready to go by the end of April. That's a goal, not a hard deadline. We'll see how realistic it ends up being.
When you say "paid content," do you mean a straightforward paywall?
Again, I'm not sure. We have a lot of options here. We could do a strict paywall, like The Wall Street Journal. Or we could do a "X number of articles for free, and then after that you have to pay" system, like The New York Times. Or we could make the daily lede freely accessible but put the Ticker and other stuff behind a paywall. Or we could have different subscription levels, with the higher levels unlocking access to a newsletter. Or any of several other options. (If you have suggestions, I'm all ears.)
One way or another, though, you're going to have to pay for Uni Watch. That's the reality.
How much will you charge?
Figure somewhere between $5 and $10 per month, with a discount for a full-year subscription.
Will ads disappear from the site?
I will continue to accept a few ads from independent operations that I like and respect, like the Pillbox Bat Co., Tokens & Icons, and so on. I will also continue to run house ads for our own product (Naming Wrongs, mini-helmets, etc.). But the vast majority of ads on the site, which come from those ad networks I mentioned before, will disappear.
Will the site be the same as before, only not for free?
As I mentioned, we're working on a site overhaul. It will include a new feature that we've had waiting in the wings — a comprehensive NBA uniform database, which I'm very excited about. I'm hoping that will help soften the blow a bit.
What about including a podcast?
For a variety of reasons, I'm not in a position to do that at the moment. Down the road? We'll see.
I love Uni Watch, but I can't afford to pay for it.
I'm aware that some of our readers are students, or un- or underemployed, or low-income, and I feel very bad about moving to a system that they may present a hardship for them. Frankly, that's the main reason I've held the line against paid content until now. But our current system just doesn't work anymore. You might not be able to afford paying for Uni Watch, but I can't afford to keep doing things the way we've been doing them. I'm sorry.
I can afford to pay for Uni Watch, but I don't want to pay for it, and I'm not gonna do it.
That's totally up to you. I can't tell you how to spend your money. I can only make the best case for why I think Uni Watch is a good value, namely that we provide the best and most authoritative information on uniforms that you can find anywhere on the web, along with a great community of readers and contributors. I realize that won't be enough to retain all of our current readers, but I'm hoping it will be enough for us to keep moving forward with the site.
On the plus side, I figure this move will weed out most of the trolls.
There are ways to get around a paywall, you know.
Yeah, I know. But I'm betting that the number of cheaters will be small, and that the number of honest people will be large.
Why should I pay for Uni Watch? I can just follow you on Twitter and get most of the same information!
Actually, that's something I've been thinking about lately, because some readers have complained that a lot of stuff in the Ticker has already shown up the day before in my Twitter feed. So I've reduced my tweeting frequency, and I'll probably reduce it more when we switch to the paid model. This will not only cut down on the duplication of content but will also let me spend less time on Twitter, which seems like a win-win.
I'm totally willing to pay, but my wife will flip out if she sees a charge to Uni Watch on our credit card statement.
Time to get a new wife. The payments will go to an LLC that we're setting up. Not sure yet what it'll be called, but it won't be "Uni Watch." Of course, your wife may still end up saying, "What's this charge to [whatever the LLC ends up being called]?," but maybe it'll slip by without her noticing.
What if you don't get enough paying readers to make it worth your while?
If people don't want to pay, I might have to shut down the daily blog and restrict my uniform writing to ESPN. Then I'll suddenly have a lot more free time, which I could then devote to other projects (or idle leisure, hmmm, there's a thought). But I don't expect that to happen. I think enough of you will be willing to pay for what you read here.
If I pay for the site's content, will you throw in a membership card?
I'm not sure what all of this will mean for the membership program, but I do know that we're likely to end up with far too many paying readers to create membership cards for all of them (the process is fairly labor-intensive). I still have to figure out the best approach for this.
Why not just do a Kickstarter or GoFundMe campaign? That way, the people who can afford to pay will do so, and the people who can't afford it will still be able to read the site.
The reality is that crowdfunding and other fundraising campaigns tend to have fairly low response rates. That means lots of people who can afford to pay still choose not to pay. I mean, think about it: Do you chip in every time your local public radio station does a pledge drive? So even if we set and met a funding goal, there would be a lot of free riders, which means I'd still be perpetuating the mindset that journalism is something people can have for free — which, as I already explained, is a big problem that I'd rather not be part of. I prefer a system where you get what you pay for, which is a simple and sensible rule that most of us were taught when we were kids.
There are way more worthy charities for me to support than Uni Watch.
Oh, for sure. Uni Watch is not a charity, and I'm not pleading poverty or asking for a handout. If it comes down to paying for Uni Watch or donating to Doctors Without Borders, you should probably do the latter. But hey, maybe you can do both.
This is never gonna work. Everyone's trained by now to read the web for free, and you can't put that toothpaste back in the tube.
Maybe. But there are actually quite a few examples out there of successful subscription-based websites. Most of them offer either superior, world-class journalism or niche-driven coverage that can't be found anywhere else. I'd like to think Uni Watch falls into that second category.
Many of you have told me over the years that Uni Watch has become a staple of your daily routine (which is very flattering — thank you!). If that's the case, I hope you'll consider supporting Uni Watch now that our old funding model is breaking down. And while I don't want to go all NPR on you, it's worth pointing out that the monthly subscription fee we're talking about is about what you'd spend on two cups of coffee. Surely Uni Watch is worth that much to you, no?
I'm willing to pay a few bucks, but $5-$10 a month is too much. That's what I pay for things like nytimes.com or Sirius XM Radio, and you don't provide nearly as much content as they do.
Those bigger operations have advantages regarding economies of scale that we can't leverage. If you want to say that Uni Watch will not be as good a value as those other things, I wouldn't necessarily disagree. But that's the reality of small, independent ventures — they tend to cost more to produce.
This is just a cash grab!
If you're determined to think that, I can't stop you from thinking it. But I can point out that we've been providing free content almost every single day for nearly a dozen years now. Asking the readership to start paying a modest and fair price for that content seems reasonable to me. If you still think that qualifies as a "cash grab," we'll have to agree to disagree.
So what happens next?
For the next couple of months, nothing — the site will be the same as it's always been. But like I said, we're aiming for the changes to go into effect by the end of April.
That's it for now. Thanks for listening. If you have feedback, suggestions, questions, or even rants, I'm eager to hear them.
Cheers,
Paul
• • • • •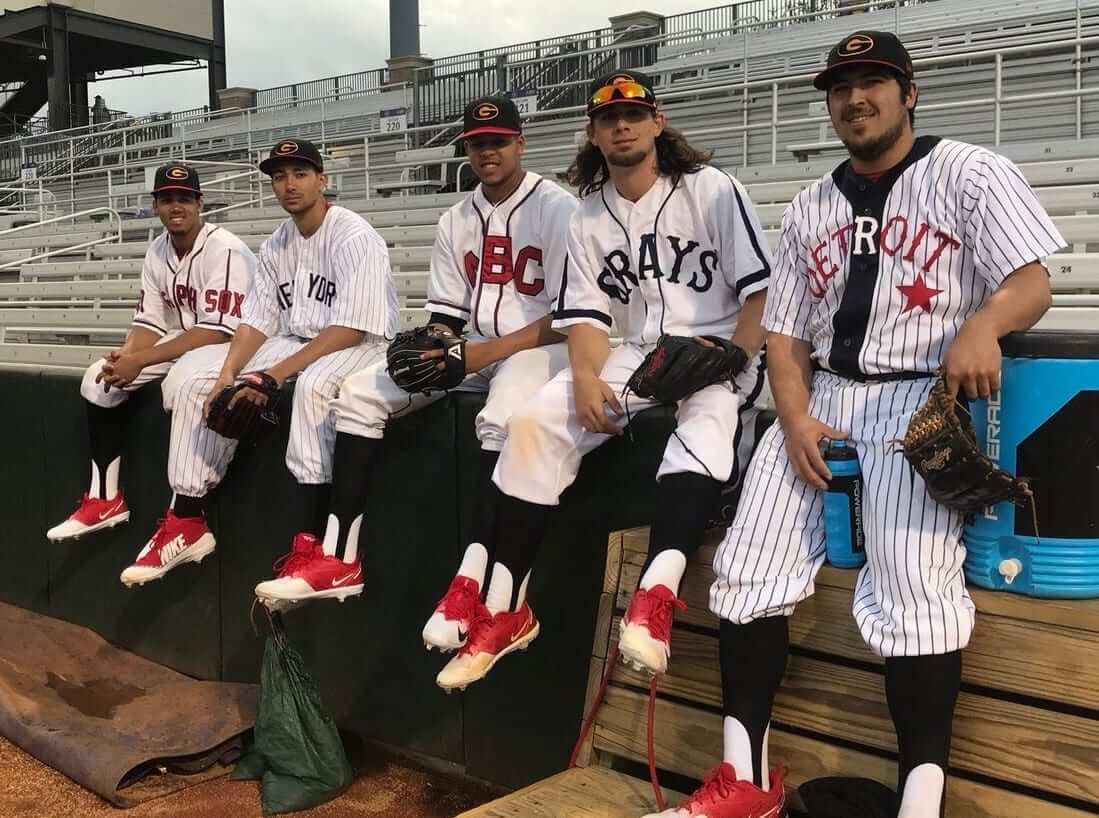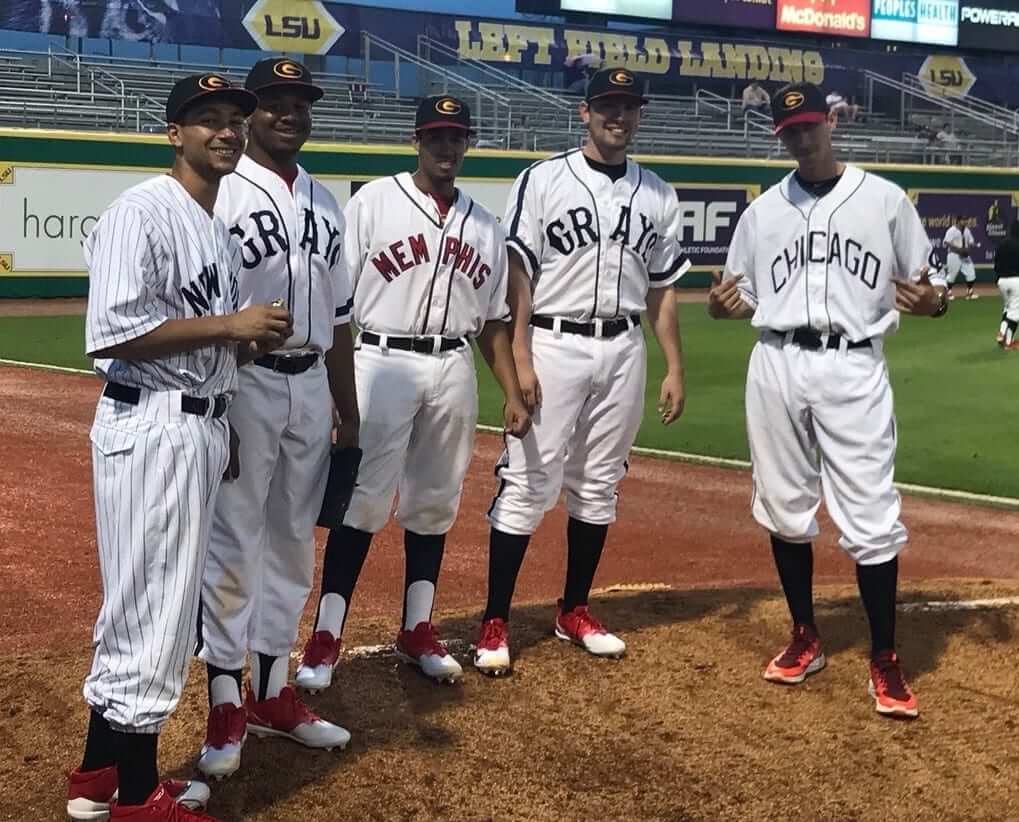 Click photos to enlarge
Non-uniform uniforms: You might think that the photos shown above are from an All-Star game. But they're not — those players all play for Grambling State, which wore an assortment of Negro League throwbacks for last night's game against LSU.
Have there ever been other regular season games, in any sport, with the players wearing non-matching uniforms? There probably have been, for some sort of wacky promotion, but I can't think of any off the top of my head. Anyone..? In any case, It's a really interesting approach — I like.
Here are some more photos showing the range of designs: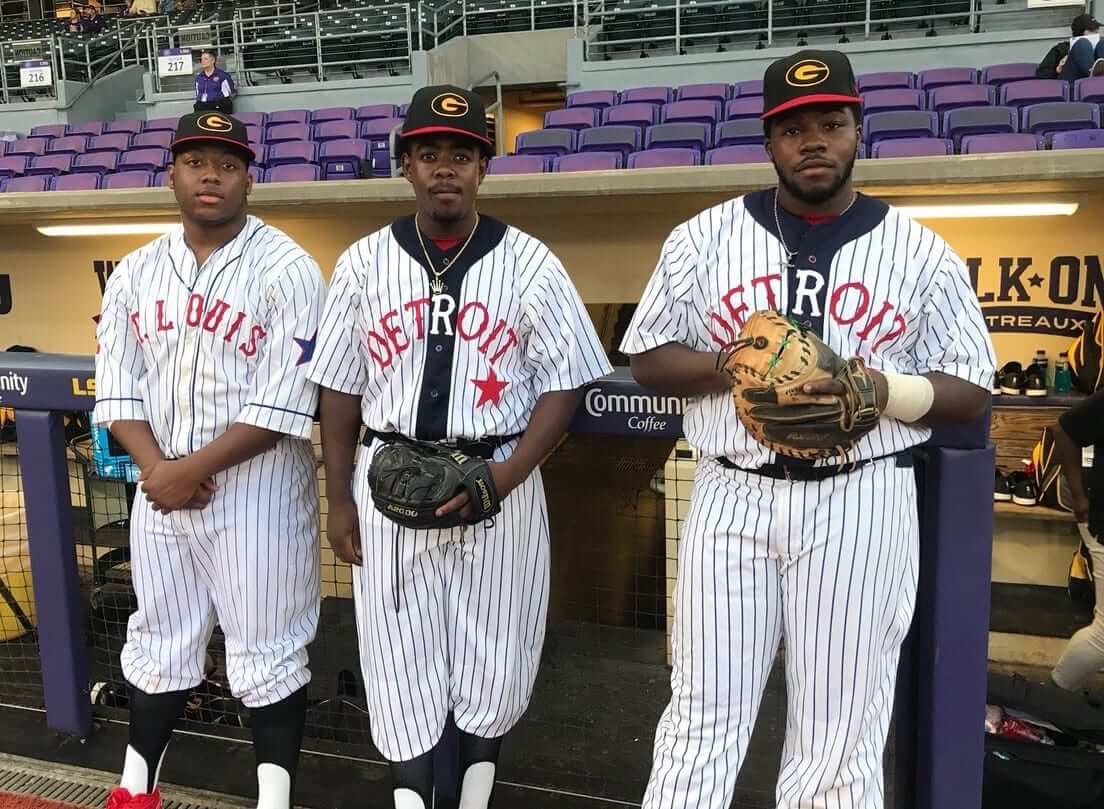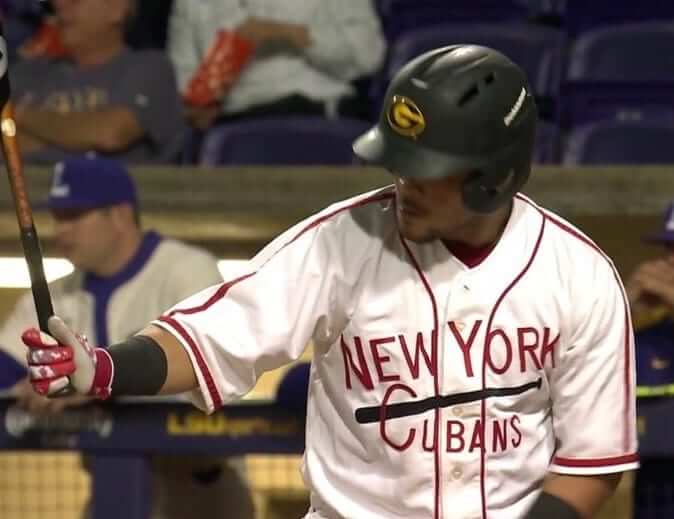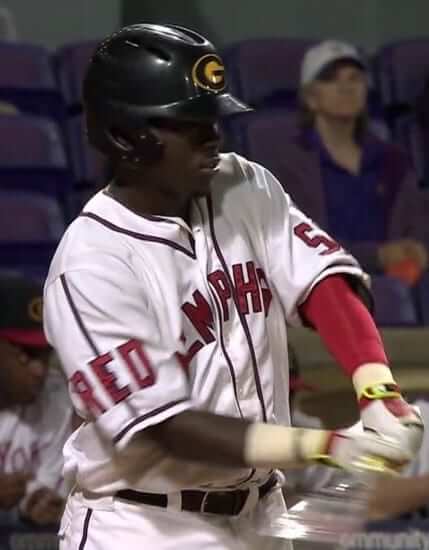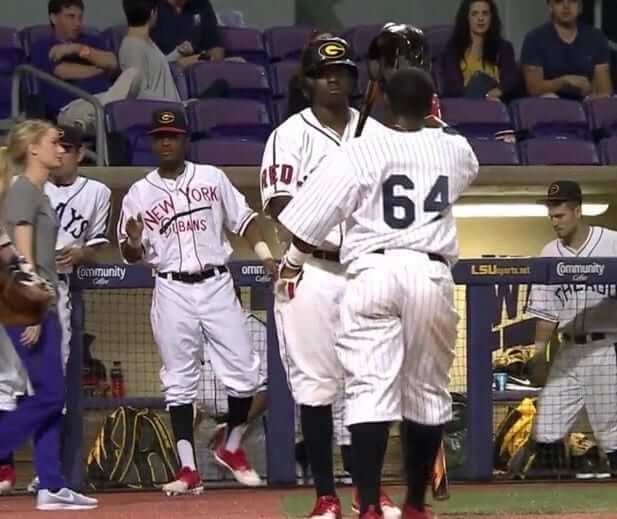 (My thanks to @valleyshook and our own Alex Hider for letting me know about this one.)
• • • • •
The Ticker
By Alex Hider (except 'Skins Watch, by Paul)

'Skins Watch: You can hear bigshot graphic designers Michael Beirut (who did some branding work for the Jets about a decade ago) and Jessica Helfand discussing the impending retirement of Chief Wahoo — and giving a nice shout-out to Uni Watch along the way — in this design podcast. That link should take you right to the proper spot; if it doesn't skip ahead to the 13:30 mark (from Laura Forde). … Here's what the D-League's Agua Caliente Clippers wore for Native American Cultural Night on Monday. The pattern is a traditional tribal basketweave design.

Baseball News: Looks like new Red Sox signee J.D. Martinez will be going FNOB this season — even though he's the only Martinez on the roster (from Ben and @aboutamoo). … A classic sign of spring: The Rockies, who train in Arizona, have changed their Twitter avatar to a logo with a desert motif (from Ryan Hess). … The Twins wore their regular season home whites during a spring training game last night (from Osterbuer Sellers). … Buried in this piece about Braves prospect Ronald Acuna: "The Braves want Acuna to wear his hat straight and maintain a professional appearance while in uniform" (from Mike Chamernik). … Giants OF Gregor Blanco was wearing a sock as a sleeve during yesterday's game (from Josh Miller). … Padres OF and former Cub Matt Szczur made this painting as a gift to Cubs owner Tom Ricketts. Szczur played for the Cubs during the 2016 championship season, though he was not on the World Series roster (from Mike Chamernik). … New Angels sensation Shohei Ohtani will continue using an Asics bat in the majors (from Ted Schwerzler). … Good stuff in this video: The 1971 Pirates discuss their then revolutionary sansabelt uniforms (from Brad Eenhuis). … The Buffalo Bisons will wear Star Wars jerseys on June 2 (from Joseph Pitirri). … Lots of notes about the the Altoona Curve: The team unveiled a new alternate uniform (from Shane), announced they'll wear camo/stars and stripes jerseys during Wednesday home games this season, and announced they'll be wearing  medical scrubs jerseys on May 16 (from Darian Somers). … In 1915, the White Sox took the Western Pacific railroad on one leg of their journey to spring training camp in Paso Robles, Cal. Here's a menu of food that was available to them on the train (from Sara Schieve). … If you like bullpen carts, you'll want this bullpen buggy T-shirt (from Dave Sikula).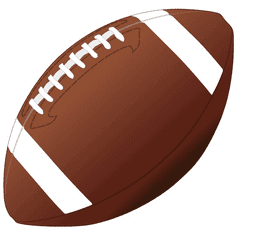 Football News: Six NFL players tried their hand at working retail at the NBA merchandise store in New York yesterday (from Tom Turner). … Papa John's is no longer the official pizza of the NFL after the company dipped its toe into the anthem protest controversy last season (from Brinke). … Here are the best logos in the Arena Football League, as conducted by an online poll (from Real Rovitz). … When you have too many letters for a vanity license plate, you have to get creative — like this LSU fan (from Benji King).

Hockey News: Despite now having two Nashes on the team, the Bruins are sticking with basic "Nash" NOBs (from Funhouse). … Vladislav Namestnikov, who wore No. 90 with the Lightning, was traded on Monday to the Rangers. Namestnikov will continue to wear No. 90, even though that number was already being used by backup G Alexandar Georgiev, who will now wear No. 31 (from Alan Kreit). … Speaking of No. 90, that's what former Red Wing Tomas Tatar will wear with the Golden Knights (from Mike Chamernik). … The Preds' sweaters usually feature a sublimated, twill NOB. But their newest acquisition, Ryan Hartman, had a sewn-on NOB for his first game with the team last night — probably because the team was on the road and had only a day to prepare a jersey for him (from Casey).

NBA News: Cross-listed from the football section: Six NFL players tried their hand at working retail at the NBA merchandise store in New York yesterday (from Tom Turner). … Here's an old shot of a Jazz player wearing what appears to be a knee pad on his elbow (From Zach). … The Cavs wore navy leggings last night for the first time this season. … Yesterday's Ticker had an item about a victim from the Florida shooting massacre being buried in a Dwyane Wade jersey. Last night Wade wrote the kid's name on his sneakers. More info here (from @MaxMetalFriar).

College Hoops News: A bunch of SEC teams got all jumbled up in an ESPN graphic last night (from Corbin Ceeds). … Miami went BFBS last night against North Carolina (from James Gilbert).

Soccer News: New home kits for Grêmio, a team in Brazil's Série A (from Ed Zelaski). … The Puma away kits that will be worn during the 2018 World Cup have reportedly leaked (from Rasheed Clarke). … From 1982-91, Barcelona used the same basic style for change (away) jerseys, first yellow and then alternating between blue and red depending on the opposition. … The Philadelphia Union's front office personnel will now be outfitted on game days by Levi's

Grab Bag: Yesterday, Nike defeated an appeal of a claim that the company stole the idea behind Jordan logo from a photographer (from Brinke). … Indie rock band O.A.R. had a few laughs during the Olympics about the "Olympic Athletes from Russia" moniker. Now, they're selling a T-shirt declaring themselves "Original Artists from Rockville (Md.)" (from Robert Hayes). … Clint Boyer's NASCAR and fire suit will have a Colorado State paint scheme this weekend in Las Vegas (from Blake Pass). … A school board in Delaware has rejected the proposed design for the high school's new band uniforms because they felt the design was too BFBS (from Ben Penserga). … A turnbuckle at a recent WWE event had an upside-down logo. … New shiny gold helmets for Williams College lacrosse (from Paul Friedmann).
• • • • •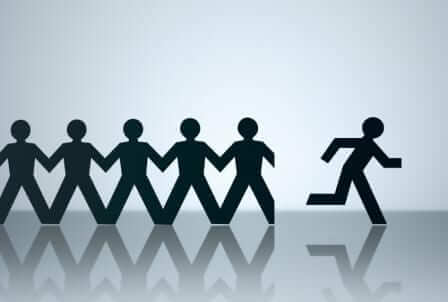 Emancipation Day: Twenty-two years ago today (well, it was actually Feb. 29, but that date doesn't exist this year), I walked out of my office at Billboard Books for the final time and began life as a full-time freelance writer. I'd been freelancing on the side for a little over two years and decided it was time to take the plunge. Giving up a secure job was a bit scary, but I had to at least give it a try, because I wasn't happy with my life or career up to that point and knew I needed to make changes or else I wouldn't be able to keep facing myself in the mirror each morning.
I haven't had a regular job since then. (Also haven't had employer-provided health insurance or most other job-related perks, but of course I knew what I was getting into in that regard.) As I like to remind people each year on this date — and also remind myself — the moral of the story is this: If you want to change your life or reinvent yourself, don't just sit around fantasizing about it. Make it happen. Even if it doesn't work out, at least you won't spend the rest of your life wondering about what might have been.
When I've run this item in past years, some of you have gotten in touch with me and said something like, "That's really inspiring. I'd like to reinvent myself too, but where do I start?" The biggest thing, I'd say, is to have a sense of direction. It's one thing to know that you want to make changes to your life; it's another to know what you want those changes to be. In my case, I had come to realize that I needed to be a writer. I wasn't sure I could be successful at it, but I at least needed to try. Twenty-two years later, as today's lede has made clear, I'm still trying.
Of course, maybe you already like your life just fine the way it is, in which case more power to ya. Either way, thanks for listening.