[Editor's Note: Today we have a guest entry by Dan Tarrant, who's examining an intriguing aspect of NBA court design history. Enjoy. — PL]
By Dan Tarrant
For the better part of the last two decades, court design has been an important part of each NBA team's visual identity. All 30 clubs play their home games on custom-designed floors painted in team colors, usually with the club's primary logo at center court.
But if you watch highlights from an earlier era, you may notice that this was not always the case. In fact, a good number of NBA teams, playing in municipally owned arenas or civic centers, would play on a floor where the lanes, center circle, and sideline areas were painted in colors that clashed with the home team's uniforms and logos. Presumably, this was because these arenas may not have had an NBA team as their primary tenant when they were built, and/or the city simply ordered a court that matched the color scheme of the arena itself, to be used for both college and pro games.
Let's look at some examples (with big thanks to SportsLogos.net message board member "kordinsky," who created most of the court images that follow):
Cleveland Cavaliers: The Cavs, from 1974 until 1982, played on a blue Richfield Coliseum court despite employing wine and gold as their team colors. The court did feature a team logo in the center jump circle, throwing the entire floor scheme somewhat out of whack:
Here's a shot from 1977 showing how bad the Cavs' gold uniforms looked against the backdrop of the blue court. Even more interesting is how, in this case, the uniforms of the visiting Buffalo Braves make it appear at first glance that the Braves might in fact be the home team:
In 1982, Cleveland changed to a blue and orange uniform combination and got a new court to match:
Detroit Pistons: During the 1970s, the Pistons played their home games in Cobo Arena, which featured an aqua-hued design despite the team sporting the same red and blue combo they have today.
From 1975 until 1978, the Cobo Arena court featured blue lanes and neutral sidelines with a yellow center circle:
In 1978, the Pistons moved to the Pontiac Silverdome, where they finally got a court painted in team colors:
L.A. Clippers: For the most part, the Clippers have played on floors that matched their red and blue (and now black) color scheme. But for a few years in the late 1980s, the floor of the Los Angeles Sports Arena included a garish center logo that didn't match the team's scheme at all:
L.A. Lakers: The Lakers are an interesting case. For as long as they have been in Los Angeles, they have played on a floor that featured the team's signature shade of gold. However, the look was marred by the Forum's red stripes and lettering, which clashed badly with the team's purple-accented logo and uniforms:
Even stranger, in 1991 the Forum featured a new paint job, with the out-of-bounds areas painted in purple. For reasons that are unclear, however, the red lines remained, making the court even more of an eyesore:
Thankfully, by 1995, somebody noticed the issue and replaced the red lines with black:
Sadly, the current Lakers' floor now features a red corporate logo, perhaps to remind us of the blistering motif of the past:
Miami Heat: The most recent example of an NBA team playing on a court with a totally different color scheme is the 1988 expansion Miami Heat:
As this photo shows, the Heat looked totally out of place on the blue and yellow floor, as if their home games were being played at a neutral site: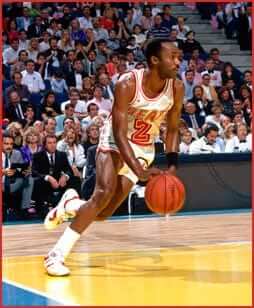 Fortunately, the team only had to endure this mismatch for two seasons before getting a customized court at Miami Arena in 1990:
Milwaukee Bucks: The Bucks, from 1977 to 1987, played on one of the most famous court designs in basketball history, the MECCA floor designed by artist Robert Indiana.
I suppose it's a matter of opinion as to whether this counts as a mismatch, since the Bucks at the time sported white home uniforms with green and red trim, which seemed to blend in nicely with the court design even if the hues were not technically the same:
Then, in 1988, the Bucks found themselves in another color quandary as they moved into the Bradley Center, which featured two mismatched elements: yellow lanes and navy Marquette wordmarks (the team was sharing the arena with a local university at the time):
New Orleans Jazz: Before moving to Utah, the Jazz played on a blue-and-red-themed floor at the Superdome for a few seasons:
The court was changed to gold and green for the 1978 season, better coordinating with the team's Mardi Gras motif.
Philadphelia 76ers: The Sixers played on a rather unique court during the 1980s, because while the design featured the team's trademark red and blue, the overall design seemed to emphasize the arena itself, rather than the team, right down to the "spectrum" of colors:
When viewed from today's perspective, it seems odd that an NBA team wouldn't either demand the court to be painted in team colors or ask permission to do it themselves. Maybe they didn't think it was worth the expense, or it simply wasn't a big deal; remember that college and pro football teams weren't really decorating their fields in team colors on a regular basis until perhaps the mid-1970s either.
———
Paul here. Excellent job by Dan on this one. Big thanks to him for illuminating an aspect of athletics aesthetics that I hadn't thought about before.
• • • • •
ESPN update: In case you missed it yesterday, here are the Jags contest results. My thanks to all who entered.
In addition, my piece on notable uniforms in Big East history is also available. Enjoy.
• • • • •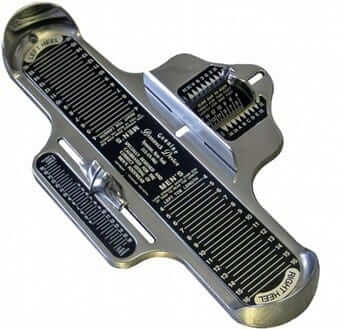 Brannock update! I spoke yesterday with Syracuse Chiefs GM Jason Smorol about the team's upcoming Brannock Device Night promotion, slated for May 31. Here's the skinny (and if you missed Tuesday's post and don't understand what I'm talking about, look here):
• Smorol said the team hasn't yet figured out what Brannock Device Night will actually entail (this is pretty standard for minor league teams, which often plan their promotions with a "broad outlines first, specific details later" approach). In fact, he said he hadn't yet spoken with the Brannock Device Company, although he and his marketing team plan to do that next week.
• I encouraged Smorol to rename the team for a day and go with Brannock-themed uniforms, and even suggested that we could have a design contest here on Uni Watch. He's not necessarily opposed to those ideas, although he said he'd have to get team ownership and the Brannock folks to go along with it. If they do end up going that route, he said the date of the promotion might need to be pushed back a bit, in order to allow enough time for the custom uniforms to be manufactured.
• Smorol liked the idea of having me throw out the first pitch. "Let's definitely make that happen!" he said. So, yeah — that's gonna happen.
As a longtime Brannock booster, this all feels like the culmination of, well, everything. Exciting!
• • • • •
Culinary Corner: We had a nasty winter snowstorm here in NYC yesterday (or at least it was supposed to be nasty; it ended up being just a few inches), so the Tugboat Captain and I decided to hunker down and make a stuffed pork roast. Here's how we did it (for all photos, you can click to enlarge):
1. First we made a stuffing from dried cranberries, diced dried apples, chopped walnuts, breadcrumbs, and some garlic, onions, and herbs, all of which we sautéed in a bit of butter:
2. I took a pork loin roast — I think it was about 3.5 pounds — and used a knife to butterfly it. The process is sort of like unrolling it. In the end, I was left with a flat piece of meat about one inch thick:
3. We spread the stuffing onto the butterflied piece of pork:
4. We rolled up the pork and used twine to tie it shut, creating a nice little log:
5. We put the stuffed pork in a roasting pan and surrounded it with a mix of potatoes, carrots, and pearl onions. Then we popped it in the oven.
6. While the roast was cooking, we made a glaze, consisting of apple cider, brown sugar, soy sauce, Worcestershire sauce, and mustard, which we periodically brushed onto the pork:
7. Et voila.
As you can see, the pork was a little bit overdone (I took temperature readings, but it's tricky with a stuffed roast because you often end up mistakenly measuring the temp of the stuffing instead of the meat), but it was still plenty good, especially with the pan gravy we made at the end:
• • • • •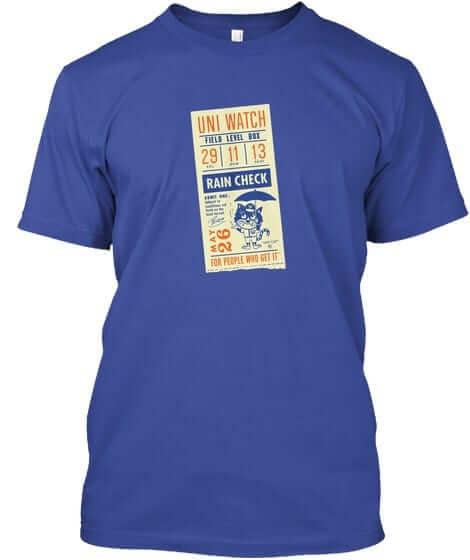 T-shirt reminder: In case you missed it yesterday, our latest limited-edition Uni Watch T-shirt, designed by the great Todd Radom, is now available. It comes in a wide range of colors (including deep royal, as shown at right; click to enlarge) and is available from now through next Thursday, March 15. You can order it here. If you want a color that isn't shown, get in touch and I can take care of you. My thanks, as always, for your consideration.
• • • • •
The Ticker
By Paul

'Skins Watch: Whoa: Waynesboro (Pa.) High School, whose teams are called the Indians, uses the original version of Chief Wahoo. hard to believe anyone would use that design today. The camouflage is a nice bonus, eh? (From Michael Trautman.)

Baseball News: Update from yesterday's Ticker: The Mariners' glossy helmets are only for spring training. They'll go back to the matte lids when the regular season starts. … Bo Baize recently took a tour of Miller Park and spotted this card certifying a fan's attendance at Warren Spahn's 300th win. Since the card indicates the game's final score, I'm assuming fans obtained it by mailing in their ticket stubs, or something along those lines. … Bo also recently visited the Walt Disney Family Museum in San Francisco and saw Mr. Disney's 1966 American League pass. … Good piece looking back on the White Sox's failed attempts to use bullpen carts (thanks, Phil). … Has a team ever done a shinguard giveaway before? The Mets doing one for Yoenis Céspedes this season. … The Pulaski Yankees want to wear their fans' best memes on their jerseys. … Buried within the piece about the Chattanooga Lookouts' 2018 promotional schedule is the news that they'll wear Hispanic Heritage Night jerseys on April 29, featuring flags from all over the world, and Star Wars jerseys on May 12. … The NBA's Phoenix Suns will give away a Diamondbacks shirt on March 20 (from @igTXSalazar). … The San Antonio Missions are asking fans to vote on three jersey options for fiesta-themed jerseys to be worn on Autism Community Network Night (thanks, Phil). … Padres P Carter Capps had thoracic outlet surgery, which entails the removal of a rib, so he had the rib turned into a necklace (from Mike Chamernik).

NFL News: Reader Bo Baize recently visited the Packers Hall of Fame in Green Bay, which has info on the team's multiple tailoring cuts for jerseys and pants. … Bo also visited the LBJ Presidential Library in Austin, Texas, which has LBJ's NFL/AFL lifetime pass. … Here's something I didn't know: According to this piece, "The Lions were one of the first NFL teams to embrace player-tracking technology when they had RFID chips sewn into players' jerseys and sensors installed around the practice field at their Allen Park training facility in 2014." … More reports about the Browns updating their uniforms, probably in 2020.

Hockey News: More Don Cherry-themed uniforms, this time for the Kelowna Rockets. … The Bruins wore Irish Heritage Night pregame jerseys two nights ago. … Whoa, check out the uniforms worn by the 1908 Pittsburgh Bankers (big thanks to Jerry Wolper). … Holy moly, check out the 1928 MIT team, which had a stripe-o-rama design and a crest featuring a beaver gnawing a tree (big thanks to Phil Johnson). … Check out this late-'40s shot of Rangers G Charlie Rayner wearing a different jersey than the ones worn by his teammates (from Chris Mayberry).

NBA News: Heat fans can now sleep overnight at the team's arena. … Rockets G James Harden may have leaked the logo for the upcoming video game Call of Duty: Black Ops 4. … A Lakers fan is trying to recruit LeBron James via a series of billboards around L.A. … Demolition has begun on the old Cincinnati Gardens, former home of the Cincinnati Royals, who are now the Sacramento Kings (from our own Alex Hider). … The Heat's D-League affiliate, the Sioux Falls Skyforce, will wear Corn Night uniforms on March 17 (from Joe Millar). … Cross-listed from the baseball section: The Suns will give away Arizona Diamondbacks shirts on March 20 (from @igTXSalazar). … TNT's score bug for Tuesday night's Clippers/Pelicans game showed the Clippers score in red and the Pelicans in blue, but that was the opposite of what the teams were wearing (from Ryan Bower).

College and High School Hoops News: The girls' team at Bowling Green High School in Kentucky has some pretty wild shorts (from Josh Claywell). … Two schools facing off in the Louisiana High School Athletic Association boys basketball state tournament had a pretty unusual uniform matchup on Tuesday (from David Steinle). … UNC players wore "Woody" NOBs on their pregame shooting shirts last night, in memory of longtime radio man Woody Durham, who passed away earlier in the day (from James Gilbert).

Soccer News: New logo for CONCACAF — that's the Confederation of North, Central American and Caribbean Association Football (from Ed Zelaski). … New jerseys for the NSWL's Houston Dash (from our own Jamie Rathjen).

Grab Bag: This faaaascinating article about bricklaying (NYT link) includes lots of photos of bricklayers wearing something akin to uniforms for the Spec Mix Bricklayer 500, the world's largest bricklaying competition. Teams consist of a mason, wearing blue, and a tender, who wears black, plus there are sleeve numbers, caps, etc. … The United States Bowling Congress Open Championship will be taking place in Syracuse from March through July. "They just finished building a 48-lane facility in the convention center, which will then be removed once the tournament is completed," says Rick DiRubbo. … Cycling's world governing body has decided not to scrap the phenomenon of "podium girls," although some cycling tournaments have already decided to do so. … A contestant on The Price Is Right yesterday had what might be the longest name tag in the show's history. … Stanford University nixed a request from the school's branch of the College Republicans to print their logo on T-shirts because the logo features the American flag, which is contrary to the school's trademark guidelines. … Players on a Pakistani cricket team hate the team's neon green uniforms. … One reporter's opinion: The Fort Worth Invitational golf tournament has the PGA's worst logo. … Interesting story about a new camouflage pattern that confuses the human brain. … A McDonald's in California has flipped the golden arches on its sign upside-down, forming a W, for International Women's Day. McD's social media accounts also sport the upside-down logo today. … Here are the Indy Car liveries for the season-opening race (from Tim Dunn).