Today we should finally have the results of the Jaguars redesign contest over on ESPN. One of my favorite entries was Nick Tringale's, shown above, which went heavy on the animal print pattern, to excellent effect. Link coming soon, and in the meantime you can look at all the entries that were submitted.
• • • • •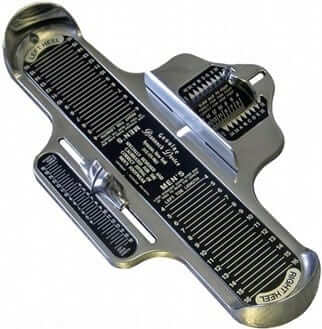 Oh. My. God. As some of you are aware, my Very Favorite Object Ever is the Brannock Device, which most of you know as "that thingie they use to measure your shoe size." I love it (a) because it's a gorgeous piece of design, (b) because it's so functionally specific, a perfect example of what it was meant to be, and (c) because everyone knows what it is but almost nobody knows what it's called, so it's simultaneously ubiquitous and anonymous — a very potent combination. I've written about it many times, I made sure it appeared on the cover of my 1997 book, I have one hanging on a wall of my bedroom (plus a miniature one that I keep in a display cupboard of tchotchkes), and I even got a tattoo of it on my 39th birthday.
So you can imagine how excited I was when MiLB promo maven Ben Hill reported last night that the Syracuse Chiefs — Triple-A affiliate of the Washington Nationals — will be having a Brannock Device Night promotion on May 31, when they host the Toledo Mud Hens. (If you're wondering, "Why Syracuse?," the answer is simple: The Brannock Device's inventor, the late Charles Brannock, was a lifelong Syracuse resident, and the devices that bear his name are still manufactured just outside of Syracuse.)
It's not yet clear what Brannock Device Night will entail. The Chiefs' promo schedule simply says, "Branock Device Night: Have you ever measured your foot in the metal device at shoe stores? Well, that device was invented right here in Syracuse!"
I'll call the Chiefs today to find out more. Maybe I can convince them to let me throw out the first pitch.
• • • • •
NBA Uni Tracking
By Collin Wright
Here's our latest weekly chart (click to enlarge):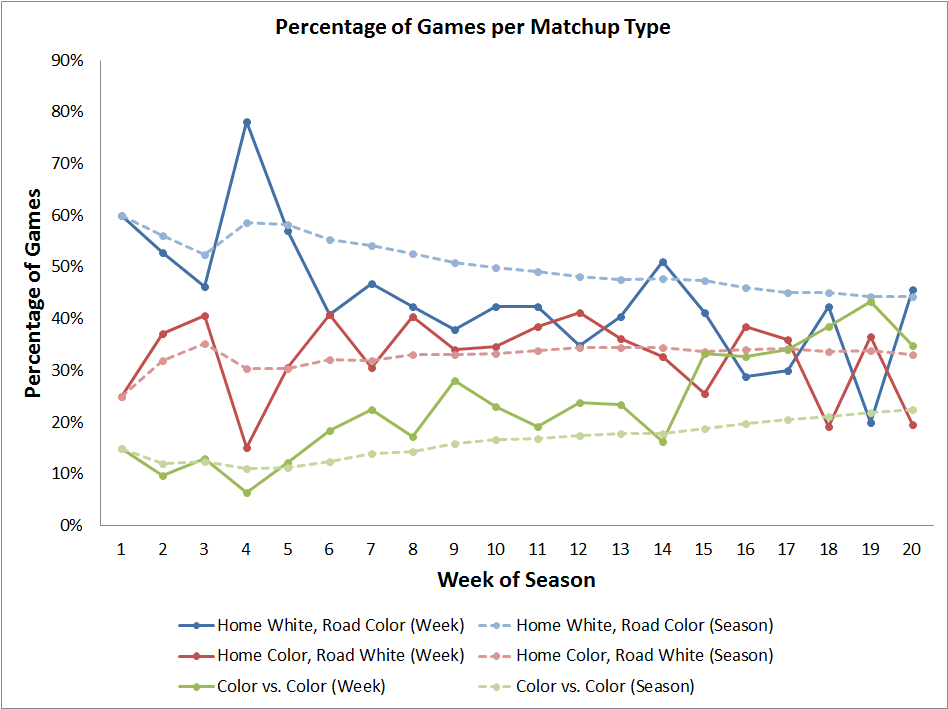 The three types of games were fairly evenly distributed in the month of February. Color-vs.-color games were the most common, occurring in 56 games (35%), traditional games (home team in white) and "inverse" games (road team in white) each accounted for 52 games (32.5%). This marked the first month that traditional matchups were not the most common.
As for the past week:
• We had our 200th color-vs.-color game of the season on Feb. 28, when the Mavericks hosted the Thunder.
• The Celtics wore green leggings and socks with their black uniforms for the first time all season.
• The Grizzlies are now the owners of the most losses in a single uniform without a win. They're 0-9 in their light blue design. The Mavericks are hot on their heels, at 0-8 in their black set, and the Lakers are 0-7 in purple.
• The Hawks have worn a dark-colored uniform in 17 consecutive games, dating back to Jan. 26. That's two shy of the longest such streak of the season (19), held by the Rockets between Nov. 14 and Dec. 28.
• The Heat have worn their "Miami Vice" alternate uniform in 10 consecutive games. That is tied for the longest such streak this season with the Pistons, who wore their white set in every game between Oct. 23 and Nov. 12.
• • • • •
Take that, Suzy Chaffee: Apologies if you've heard this story before: When I was six years old, I reached into a box of Corn Flakes and pulled out this card of 49ers running back Ken Willard. He instantly became my favorite NFL player, and the Niners became my favorite NFL team (and they still are today, nearly half a century later).
Willard was a first round draft pick (No. 2 overall in 1965) and had a decent career, but he was never a big star. I rarely come across photos or references to him when researching this or that. 
Yesterday, however, I was poking around on eBay and came across this (click second image to enlarge):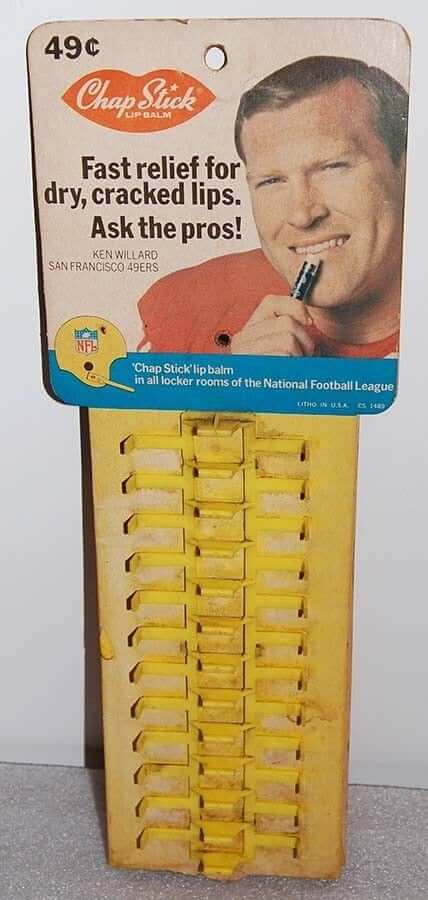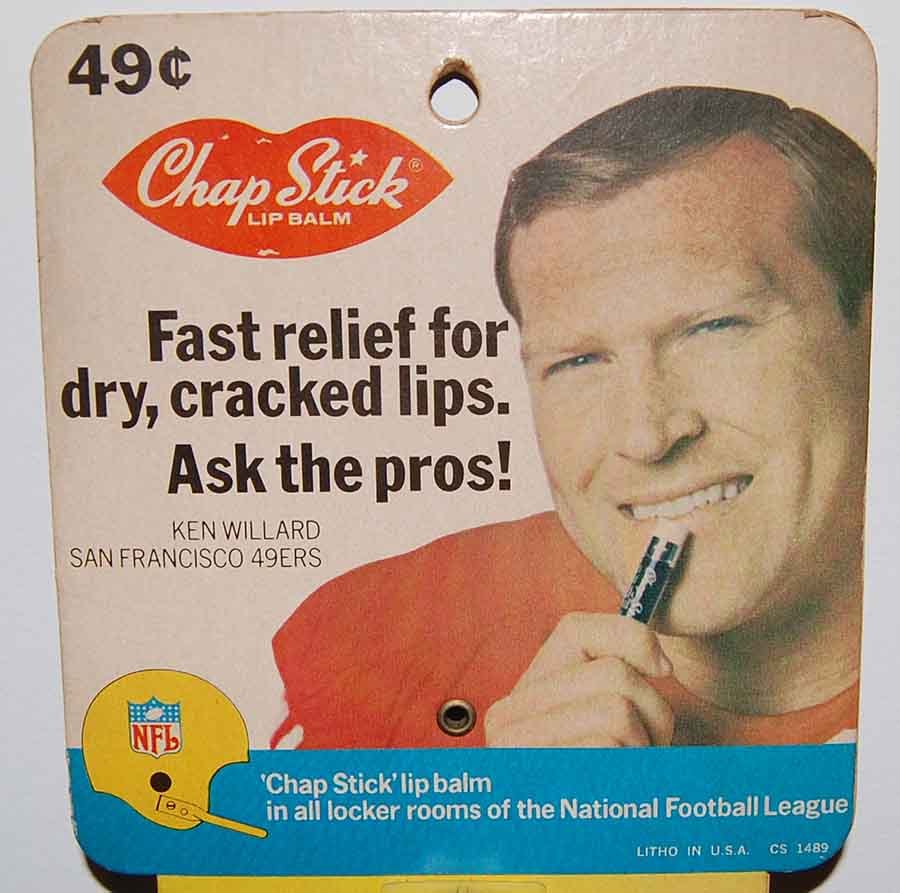 There's something hilarious about the rough, tough NFL boasting that it had ChapStick "in all locker rooms." And no matter how often you see someone using ChapStick (I use it regularly myself), there's no getting around the fact that it looks like someone applying lipstick.
I wondered if there were similar retail displays featuring other NFL players from that era. I couldn't find any, although I did find two print ads — one featuring Cowboys defensive lineman Bob Lilly and another featuring Bears center Mike Pyle. I guess ChapStick and the NFL had a good partnership back in the late 1960s.

As for the Willard display, it's inexpensive, and I'm tempted to bid on it, but I already have too much crap in my house, so I'll probably pass. Still, it's fun to know this item exists.

Finally, note that the Willard display features a gold helmet with the NFL logo — similar to what players wore in the Pro Bowl from 1966 through 1970. Willard himself made the Pro Bowl four times during that period, although there's no indication that that's why he was selected for the promotion.
• • • • •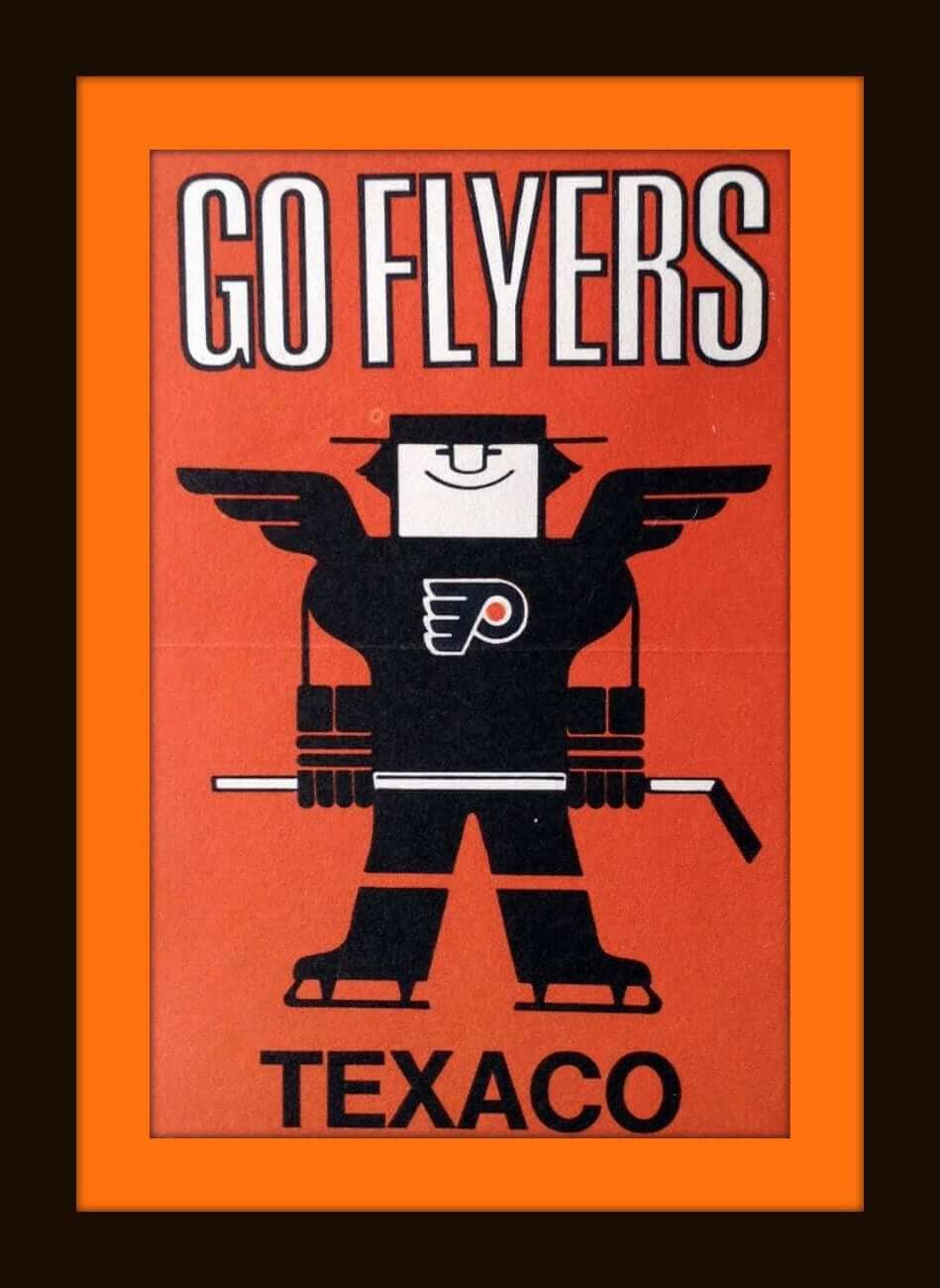 Check out this 1970s Philadelphia Flyers "Freddy Flyer" sticker from Texaco. It kind of anticipates the Flyers' black jersey, which wouldn't make its on-ice debut until 1997!
Now for the rest of this week's picks:
• This Texas Rangers logo shown on these patches were a uni-landmark for me. When I moved to Dallas in the early 1970s, the Rangers were just coming to town. I loved this logo, and as soon as the merch started arriving, I snagged myself a cap and shirt. Why was this so big? Look at the bottom of the "R" in Rangers. There's a little sheriff's badge there. I was fascinated by that one little attention to detail. Even at 11 years of age, I Got It™ .
• And even though I Got It™ , I have to admit it took me years to notice that the B on this NBA Buffalo Braves WBEN Radio 930 bumper sticker was a feather, just like the ones on the Atlanta Braves softball tops of the mid-1970s. Of course, I didn't know that was a horn on the Vikings' helmets, either (I thought it was just some random swirly thing). Not proud of either of those things, but there you are.
• Terrific artwork on this 1970s Atlanta Flames poster, with one of the greatest (IMO) logos in history prominently displayed.
• Can't say that I have ever seen an NFL fedora — in this case, from the Bengals — before.
• This 1970s Minnesota North Stars embroidered patch is still sealed in the bag.
• The 1970s Milwaukee Bucks thought their fans were "fan-tastic," as it says on this button.
• Big-sized team logos to be found on these 1960s-70s NFL bed sheets.
• How about these officially licensed 1970s Green Bay Packers "N.F.L. Wide Receiver's Gloves."
• Nice-looking 1970s NFL helmet stickers. The seller thinks these may have been from a mail-in premium thing.
• See this 1960s Chargers gumball helmet? This one always drove me nuts. Why was the bolt so far off the mark? Don't hold me to this, but I thought I read once that the team didn't want to give them the license or something, so the helmet makers went with this look. Might've been the same story with the Bengals, too — their font was way off. Does anyone know the for-sure story on this?
• Snap this 1970s Atlanta Falcons bicycle reflector onto your spokes for safer nighttime biking.
• • • • •
T-shirt launch: Last Friday I showed you three color options for a new Uni Watch T-shirt designed by Todd Radom. Blue/orange was the overwhelming winner, so the shirt is now ready to order in that color scheme. We're making it available in a variety of shirt and hoodie colors, including but not limited to the ones shown here (click to enlarge):
You can see the full range of options on the ordering page. If there's a shirt color you want that isn't shown there, let me know and I can set up a separate listing for you. Also, if you want one of the two other colorways that didn't fare as well in the reader voting, I can help you out with that too.
This limited-edition shirt will be available through next Thursday, March 15.
Meanwhile: When I showed the three color options last week, some of you asked if this design might be made available as a print. We're considering that, and we might set it up so that each print would be signed by Todd and myself. Stay tuned.
My thanks to Todd for the fun of collaborating with him once again, and my thanks to all of you, as always, for your consideration.
• • • • •
The Ticker
By Alex Hider

Baseball News: Former Giant pitchers Matt Moore and Tim Lincecum are both on the Rangers now. Moore is currently wearing No. 55 — Lincecum's old number. Some are speculating he may give the number up (from Brinke). … The Tigers have two players at spring training named Norris — Daniel and Derek. Though their first names both start with D, Derek Norris goes FIOB. I'm assuming this is because Derek is a non-roster invitee, while Daniel is listed as being on the 40-man. Could be something to keep an eye on if they both make the team (from Jean Lefebvre). … Did you know that the Blue Jays have their own pattern of plaid registered with the Scottish Register of tartans? (From JD.) … The Aberdeen IronBirds will change their name to the Star-Spangled Banners and wear stars-and-stripes unis for Sunday home games. … The Hillsboro Hops, a Class A affiliate of the D-Backs based in Oregon, will wear Portland Mavericks throwbacks for five games this season (from Max G.). … LaSalle has some pretty bold socks — stripes galore! (From Al Cummings.)

NFL News: NFL prospect Mike McGlinchy had some number issues with his jacket at the NFL combine (from @_TheBooRadley). … The Teyran War Eagles, an amateur American football team based in France, uses a modified Atlanta Falcon as part of its logo (from Pierre-Louis Baudry).

Hockey News: The Flyers will reportedly have black alternate jerseys next season (from Phil). … Also from Phil: The Saskatoon Blades will wear Don Cherry-themed uniforms on Saturday. … From Saturday: The Capitals used these skate guards during their Stadium Series game against the Maple Leafs (from Marc Elo). … With Seattle rumored to be the NHL's newest franchise, this designer took a stab at coming up with a brand concept — the Seattle Metros (from Cedric P.). … The Oilers and Devils will open the 2018-19 regular season by playing a game in Gothenburg, Sweden, while the Panthers and Jets will face off in Helsinki, Finland. Here are the logos for those games, which will presumably be worn as jersey patches, as has been the case for similar games in past seasons. In addition, the Devils and Oilers will play exhibition games against European teams. Here are the logos for those games. Additional info here.

NBA News: SportsLogos.net is reporting that the Nuggets will have a new logo and color scheme next season, with the Grizzlies also making some minor tweaks. … Speaking of the Grizzlies, they signed Xavier Rathan-Mayes to a 10-day contract yesterday. During last night's game, he appeared in a No. 26 NNOB jersey. He'll wear No. 22 when the team returns from their road trip Friday (from Allen Willis). … More Clover Watch from Bryan Martin Firvida: A number of NBA merch items are also using a four-leaf clover instead of a shamrock. … Here's a first look at the WNBA's Atlanta Dream's new practice uniforms, as modeled by coach Nicki Collen (from @TheSkyShowCHI).

College and High School Hoops News: Northern Illinois wore Chicago Bulls-inspired uniforms last night in the MAC Tournament against Kent State, who went GFGS (from Hustle Belt). … Piggybacking off yesterday's post, Ed Kalas attended Georgetown Prep, which is affiliated with Georgetown University. The prep team always wore the college's jerseys from the year before and replaced the NOB with the team's logo. … Arlington High School in Indiana sports a unique sleeved look, and also wears pinstriped shorts (from Derek Linn).

Soccer News: Sporting Kansas City wore their road kits at home on Sunday against NYCFC, who wore light blue — the color of SKC's home kits. Very confusing (from @powerandfinesse). … Kyle Buckholder has the MLS uni tracker up and running for 2018. Here's the 2017 tracker for reference.

Grab Bag: Over the weekend, the United States and Uruguay played a navy-on-light blue match in the Americas Rugby Championships. Even stranger is that the United States usually wears white as its primary kit (from Ed Kalas). … Also this weekend, the US sevens rugby team wore unbranded kits while winning the Las Vegas Sevens tournament. USA Rugby usually wears Adidas uniforms, and the fifteens team wore Adidas in the Americas Rugby Championships. … Speaking of rugby, here's the logo for the Seattle Seawolves of Major League Rugby. The league is scheduled to launch next month (from Dean E. S. Richard). … Keiser University in Florida has added a memorial decal for Stoneman Douglas High School to its lacrosse helmets in the wake of February's school shooting (from @ItsPaoloni).  … Alabama won the seventh annual Darius Rucker Intercollegiate golf tournament, and were awarded a guitar with a South Carolina golf ball painted on it. Rucker is a noted Gamecocks fan (from Griffin Smith). … Green Airport in Providence has a Tennis Hall of Fame display featuring some great vintage ball cans (from Paul Bastia). … A French artist claims Disney plagiarized his work with their movie posters for Solo: A Star Wars Story (from Kary Klismet). … The Trump family's business organization may have violated the law by ordering golf tee markers with the presidential seal.