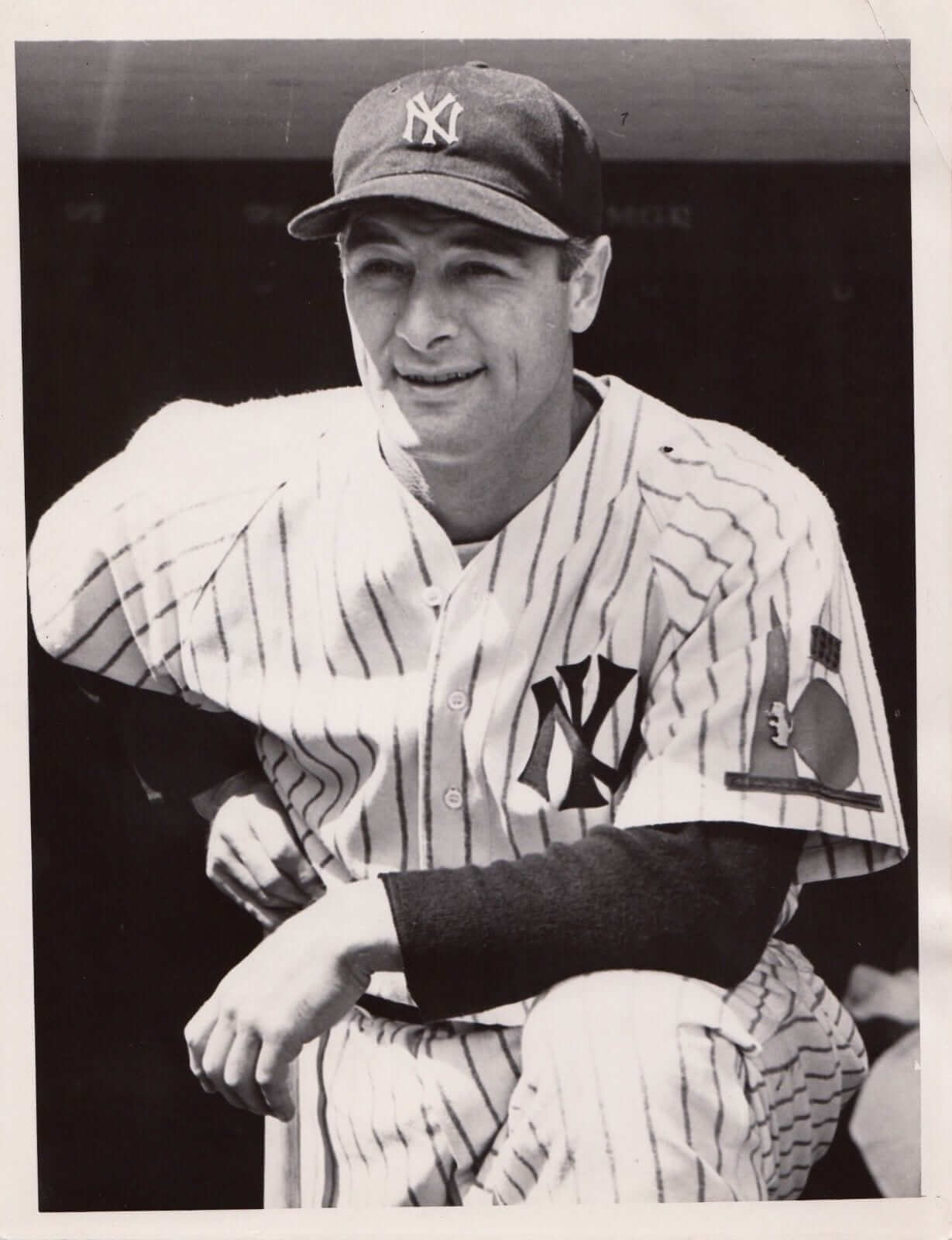 Click to enlarge
A fascinating little MLB mystery unfolded yesterday on Twitter. It began when Matt Dahlgren (author of the baseball memoir Rumor in Town) posted the Lou Gehrig photo shown above. We can tell that the photo is from 1938 because Gehrig's left sleeve has the World's Fair sleeve patch that all three New York-based MLB teams wore that season. But what is that little pin on the patch?


Let's take a closer look: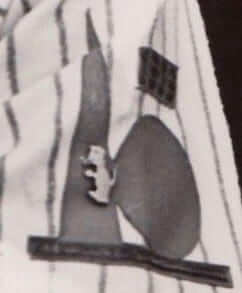 Dahlgren, who said he first spotted the photo on eBay, tweeted the photo at uniform designer/historian Todd Radom, who said he'd never seen Gehrig wearing the pin and had no idea what it was. I had no idea either.
Fortunately, one of my Twitter followers, Greg Kasprzak, recognized the pin — it's Eugene the Jeep: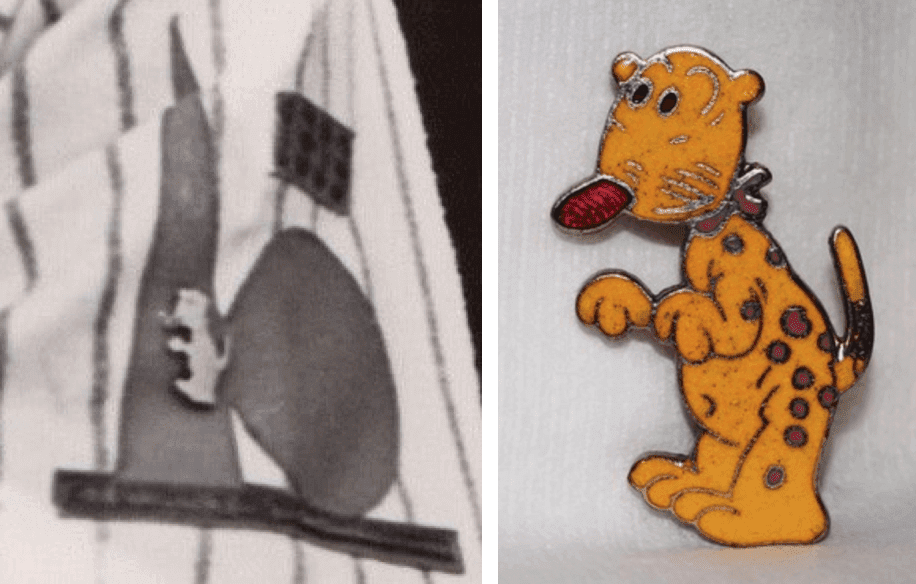 For the uninitiated, Eugene the Jeep is a character from the old Popeye newspaper comic strip. A fun-loving dog-like animal from a "fourth dimensional world," the Jeep (whose entire vocabulary is the word "Jeep!") was introduced in 1936 — two years before the Gehrig photo was taken — and soon made the jump to Popeye animated cartoons, as seen here (although the second video looks dead, it's not — trust me):
I've always loved the Jeep character and really should have recognized it when I saw the Gehrig photo. The bigger question, of course, is why Gehrig would be wearing a Jeep pin in the first place. Todd Radom noted that Gehrig starred in the movie Rawhide in 1938 and wondered if it might be some sort of Hollywood studio promotion, but @BeautyOfAGame responded that Rawhide was made by 20th Century-Fox while the Popeye cartoons were done by Paramount, so there's no connection there. Hmmmm.
In any case, Gehrig now joins the list of MLBers who've worn pins on their uniforms, a roster that includes Manny Ramirez, Nomar Garciaparra (more info here), Joey Cora, Reggie Jackson (more info here), Craig Biggio (more info here), several members of the 1983 Giants (here's a closer look at that pin; additional info here), Billy Martin, and Bucky Dent. Am I missing anyone?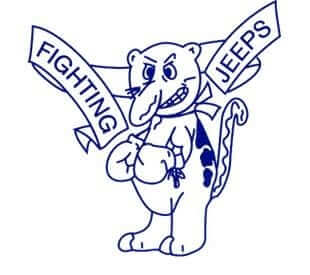 Meanwhile, Wikipedia informs us that there are two high schools that use the Jeep as their mascot! One of them is Northeast Dubois High School in Indiana, whose teams are known as the Fighting Jeeps. Somewhat predictably, they've given the Jeep a snarl and a furrowed brow, along with a pair of boxing gloves:


Sure enough, the word "Jeeps" appears on the school's baseball jerseys, track and field jerseys, and varsity jacket patches. There's also a costumed Jeep mascot character. Naturally, there's "Fear the Jeeps" merch, and a local campaign to keep the school district solvent via a property tax increase used the slogan "Save the Jeeps."
The other school to adopt the Jeep as its mascot is South Webster High School in Ohio. They've left the Jeep in his more cuddly original state, although they've colored him red:
According to this page, South Webster began being associated with the Jeep in the 1940s. It's a complicated story — read that full page to get the details. (Another Indiana school, in the town of Wheatland, also used the Jeep as its mascot, but that school no longer exists.)
Not a bad rabbit hole for a simple black-and-white photo, right? Just goes to show that there's always new stuff to learn and new mysteries to unravel, even for someone as famous as Lou Gehrig.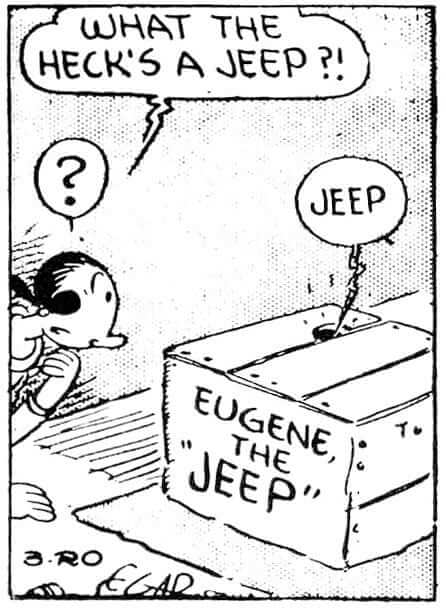 (My thanks to Tara K — aka @pennyfore — for letting me know about Matt Dahlgren's tweet of the Gehrig photo.)
• • • • •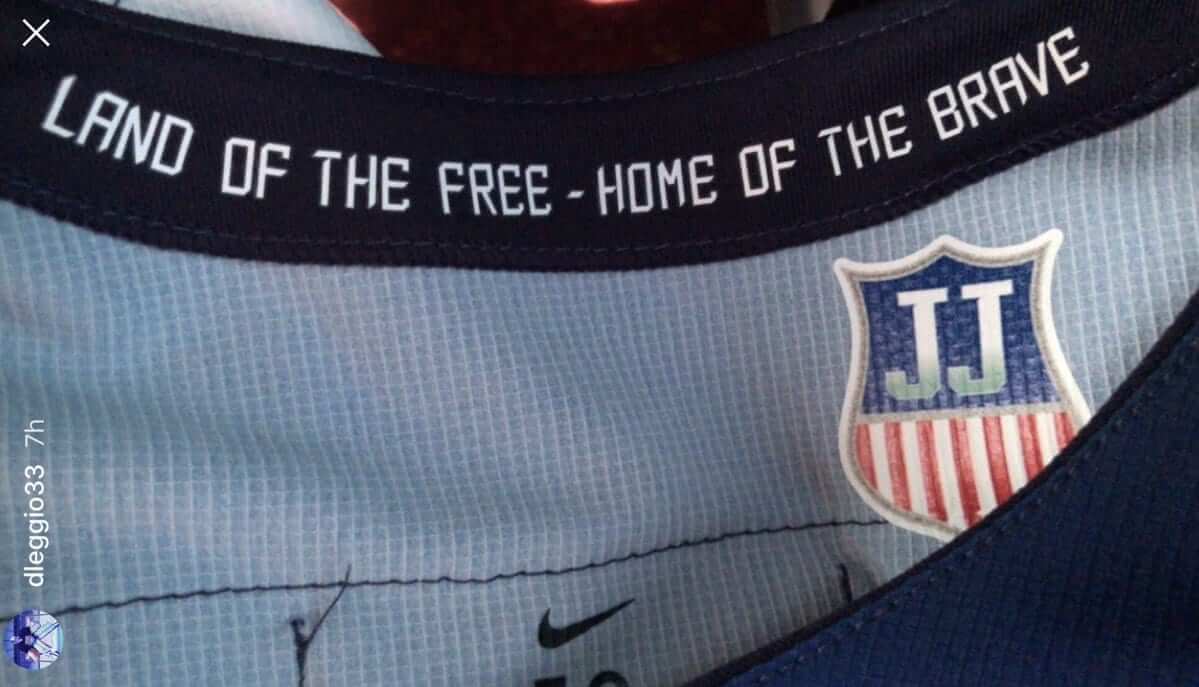 Click to enlarge
Subtle tribute: Interesting move by the Team USA Olympic hockey team, which has added a little inner-collar memorial patch for former player and USA Hockey exec Jim Johannson, who passed away in late January.
The interesting thing here is the patch's placement (which I assume is due to some IOC rule that forbids memorial patches and/or late-breaking uniform changes). Has there ever been an inner-collar memorial patch before? If so, I can't think of one. Anyone..?
(Big thanks to @TheGoalNet and our own Alex Hider for this one.)
• • • • •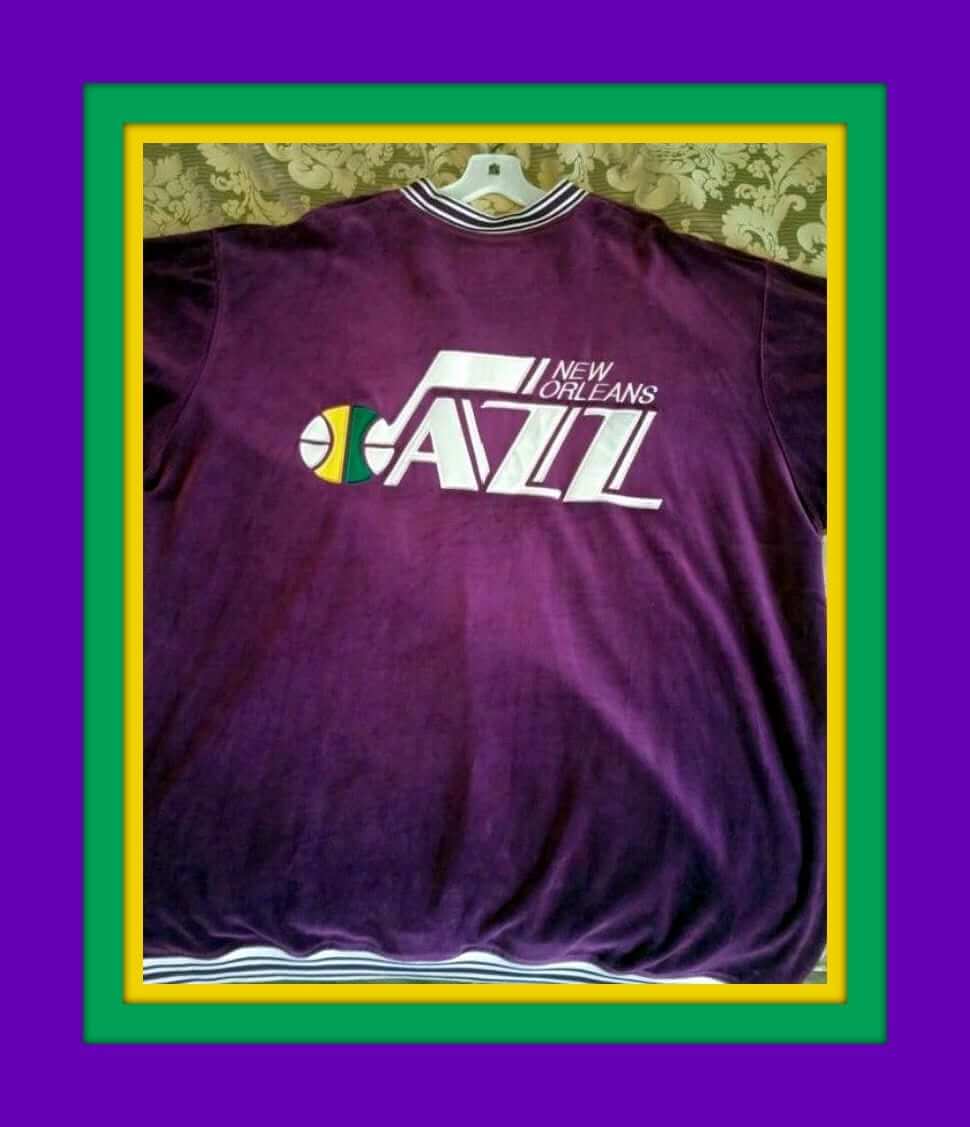 Collector's Corner
By Brinke Guthrie
Today happens to be Mardi Gras in New Orleans, so we're starting off this week's Collector's Corner with something from the New Orleans Jazz. (Yes, kids, they were in New Orleans first. The team name made a lot more sense in that city, right?) This purple suede pullover looks like it has a zip front and is would fit right in at any Mardi Gras parade.
Now for the rest of this week's picks:
• Your Valentine's Day "Can be a home run" tomorrow with this set of MLB Valentine's cards and poster.

• This display contains two dozen MLB team lighters from Feudor.
• This Cliff Engle Bears sweater isn't the same design that Coach Ditka wore, but still cool anyway. Nice pinstripes.
• Boy howdy, this Cincinnati Bengals helmet buggy is in great shape. I attended every Bengals home game from 1973 through 1977, and I don't think there was ever one of these at Riverfront. We did have "BenZoo" the tiger on the sidelines, though. 
• Check out this vintage NFL gumball helmet set. The listing says this was a mail-order deal from Sears. It can't be any older than 1976, due to the presence of the Bucs, and that facemask for the Cowboys is questionable. The seller also says 1968 for the set, but that might just be the copyright date, since this is obviously not a 1960s set.
• Dodgers Fever…Catch It! reads this 1970s team button.
• Nice set of 1980s NHL logo pucks. Looks like the Bruins one has taken a few too many slapshots.
 • Note the graphics on this set of 1970s NFL Sears bedding.  These images were used for several different products. For example, I have the Bengals art shown on a light switch plate that I got back in 1972 or so. I'd use it now but we don't have any light switches like that!
• The distinctive look of former SuperSonic Slick Watts is shown on this T-shirt.
• Apple Watch? Who needs an Apple Watch? In the 1970s, this Dallas Cowboys digital watch was state of the art, people.
• • • • •
The Ticker
By Alex Hider

Baseball News: The Blue Jays will retire No. 32 in honor of the late great Roy Halladay on Opening Day. They'll also wear a "32" memorial patch for the entire season (from Mike Chamernik and Moe Khan). … It appears that the Giants' and Blue Jays' St. Patrick Day caps have been leaked (from Niko Goutakolis and Kevin Mann). … The Nats are holding spring training in Florida this year. However, this New Era ad includes a Washington hat with an Arizona spring training patch (from Kevin). … Not sure if it's new or not, but it looks like Dodgers OF Yasiel Puig has his own personal logo (from Kary Klismet). … It appears Mets C Travis d'Arnaud is now wearing Nike cleats. He's worn Under Armour in the past (from Wes). … Due to a slow offseason, a number of MLB free agents remain unsigned as spring training approaches. The MLBPA has offered these players a Spring Training session to keep them fresh, so designer Jesse Alkire gave these players their own team name and uniforms (from Mike Chamernik). … The Class A Tampa Tarpons unveiled their new uniform set yesterday. More photos here (from Kara Adrienne). … New softball uniforms for Auburn (from Clint Richardson). … Max G. came up with a North Korea concept jersey for the World Baseball Classic. … New home uniforms, with an unusual sleeve design, for West Virginia (from Travis Embacher). … Olympic speedskater Jonathan Garcia, who's from Houston, wore an Astros cap for training yesterday. … The Marlins' makeover continues: Having already fired the guy who plays Billy the Marlin, they've now scrapped the team's sea creature race.

NFL News: The Jags announced yesterday that they will remove the tarps from the upper decks of their stadium for all regular season games next season (from Robert Hayes). … A 1967 guide to NFL home uniforms shows the Saints as the only team wearing white. The Gridiron Uniform Database's listing of teams wearing white at home, the Saints did indeed wear white in 1967, but so did several other teams, including the Browns, Cowboys, Giants, Rams, and Steelers. That's nearly half the league.

College Football News: A housing development in a Des Moines suburb called "Hawkeye Estates" has a large statue of the University of Iowa's mascot, Herky, at its entrance (from Kary Klismet).

Hockey News: Last month, a couple of Canadian radio hosts discussed whether NHL teams should consider dying the ice a different color. Brad Pramberg says he remembers the ice at the Islanders' Nassau Coliseum used to be "a shade of blue" in the early '90s, but doesn't have any pictures to corroborate. I know the Predators once dyed the ice at Bridgestone Arena yellow for an open house event, and lots of minor league and junior teams have done "pink in the rink" promotions. Any other examples of colorful ice? … Speaking of the Preds, yesterday marked the 20th anniversary of the unveiling of their original uniform set. …  Charles Barkley dropped the puck at last night's Coyotes game in a 'Yotes sweater (from @OlegKvasha). … Check out the lengths the Mighty Ducks and Teemu Selanne went to not cover up the makers' mark with his helmet logo in the late '90s (from @JBeck132). … Ken Murray sends along a photograph of a WHA matchup between the New England Whalers and the Minnesota Fighting Saints. Note the top-to-bottom plexiglass boards in the Minnesota arena. … The link in Rangers LW Chris Kreider's Twitter bio is a Korean pop music video featuring a bunch of singers wearing his jersey (from Al N. Kreit).

Basketball News: This is a good recap of NBA jersey retirement ceremonies through the years (from Mike Chamernik). … They've begun to assemble the NBA All-Star Game court in L.A. (from Moe Khan).

College Hoops News: Bucknell and Colgate played a wild maroon-vs.-orange game last night (from Chris Mycoskie). … Texas Tech will wear throwback uniforms tonight against Oklahoma (from Phil). … The University of Utah is honoring members of the 1998 Final Four squad this weekend by giving each player a pair of custom-painted Under Armour shoes. As @QuinneyUte points out, the '98 Final Four took place 12 years before Under Armour began selling basketball shoes. … Towson wore light-blue unis on Saturday for Autism awareness (from Drew Harrah).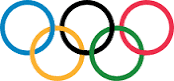 Olympics News: Curling cartoons? Yes, please. … A Chicago TV station mistakenly used a "PF Chang" graphic instead of a PyeongChang graphic during an Olympics story (from Griffin Smith). … There was some talk that the goalies for the US women's hockey team might be forced to remove the Statue of Liberty from their masks, as the IOC was viewing Lady Liberty as a "political symbol," but the mask designs have now been approved and will not have to be altered. Team USA goalie Mike Richter had worn his Rangers Liberty mask without incident at a previous Olympiad. … Meanwhile, Korea's goalie had to remove the image of a Korean naval commander from his mask (from @teebonemike). … It appears the IOC has loosened the restrictions on makers' marks appearing on hockey equipment (from JR Boucicaut). … US figure skater Marai Nagasu had either USA printed on her stockings or USA KT tape on under her stockings on Sunday night (from Harry M. Roth. … Cross-listed from the baseball section: Speedskater Jonathan Garcia, who's from Houston, wore a Houston Astros cap for training yesterday. … American snowboarders have a list of English-to-Korean translations sewn into their jacket linings (from Miles Johnson). … Great Britain's skeleton team is wearing revolutionary new suits that were originally developed for the British cycling team. The suits can supposedly shave as much as a full second off of a skeleton run (from Mark Coale).

Grab Bag: The John Hancock Center, one of the most distinctive skyscrapers in Chicago, is getting a new name (from Darren Rusakiewicz). … Soccer fans should look out for this book when it goes on sale in May: True Colours: International Football Kits, will feature 1,300 illustrations of more than 20 team's kits dating back to the mid-60s (from Josh Billman). … Municipal officials in Houston will vote today on a $105 million proposal to renovate the Astrodome, which has been vacant for a decade (from @igTXSalazar). … Last but definitely not least: This Twitter thread about an old WWI uniform is incredible — absolutely worth reading all the way through (from Michael Planey).