Click to enlarge
In August of 1966, NFL commissioner Pete Rozelle sent a confidential memo to each team in the league. The memo had been written two weeks earlier by Buddy Young, an executive in the commissioner's office. And although Rozelle's cover sheet (shown above) carried the bland subject line of "Player Relations," Young's original memo, underneath the cover sheet, had a different subject line: "Some Observations on the NFL and Negro Players."
This memo, which is of major historic significance, has never been made public — until today. I've written an article about it for The Undefeated, ESPN's site devoted to the intersection of sports, race, and culture. It's one of the most fascinating stories I've ever worked on, and probably one of the most important. I hope you'll check it out here.
The memo, incidentally, came my way via longtime reader Tom Jacobsen, who shared it with me after he found it in some old NFL files that he acquired. (As you may recall, I recently wrote about an old stadium uniform brochure that turned up in those same files.) When I was traveling last week, it was to visit Tom and spend some time going through the files with him. We found tons of noteworthy stuff, including some fascinating paperwork regarding Super Bowl I. I've written an ESPN piece about that, which will run tomorrow or Saturday. I expect to be writing several more times about the files, both for ESPN and here on the blog, in the weeks and months to come.
But the Buddy Young memo is the big fish. Again, you can read about it here. And here's a photo of Tom posing with it last week in his Colorado home (click to enlarge):
• • • • •
Naming Wrongs update: We've added three new shirts for the Pavilion — Boise State's basketball arena. They're available in blue, orange, and grey: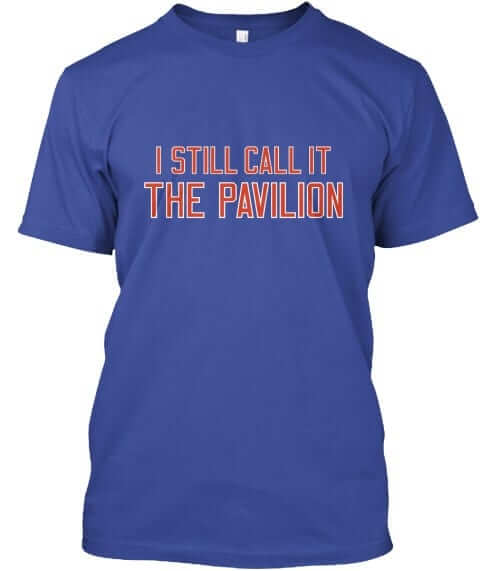 We'll also have L.A. Coliseum shirts shortly. Still finalizing the design, which will be more than basic type.
These designs are now available in the Naming Wrongs shop. They're also cross-listed in the Uni Watch shop, where card-carrying members can get 15% off. (If you're a member and need the discount code, send me a note and I'll hook you up.) My thanks, as always, for your consideration.
• • • • •
"What's It Worth?" reminder: In case you missed it last week, I announced a new partnership with Grey Flannel Auctions. If you have a potentially valuable collectible, GFA will appraise it at no charge, and with no obligation. Think of it as an online version of Antiques Roadshow. Full details here.
• • • • •
Beefsteak update: I'm the guest speaker tonight at a beefsteak event taking place at the Museum of Food and Drink in Brooklyn. It had been sold out, but I'm told that four tickets just opened up. Grab 'em fast!
• • • • •
The Ticker
By Paul

'Skins Watch: A new exhibit at the National Exhibit of the American Indian features everyday objects with Native American imagery, including 'Skins merch (from David Goodfriend). … Despite the impending removal of Chief Wahoo, an Ontario activist wants to continue with his human rights-based legal action against the Indians. … interesting Wahoo perspective from the director of Major League (from Kary Klismet).

Baseball News: Oscar Gamble, known for having MLB's biggest and best afro back in the 1970s, died yesterday. Here's a shot of him wearing a Yankees uniform and Royals batting gloves, even though he never played for KC (good spot by Matt Shevin). … More Gamble antics: Here he is wearing Cleveland's 1972 jersey with a '73 cap. Maybe a '73 spring training shot? (Good find by Paul Soter.) … The photo isn't great, but this shot shows that UNC was wearing tequila sunrise-style jerseys as early as 1978. Also, in the foreground of that shot you can see a batboy with a "CWS Batboy" NOB (from James Gilbert). … All 30 MLB ballparks will have extended netting next season. … Maybe not the best look: George Brett went high-cuffed with no socks at Royals fantasy camp (from @gimmethewooby). … Check out this screen shot of Yanks reliever Ron Davis wearing his initials and uni number — "RD 39" — on the front of his dugout jacket during Game Five of the 1981 ALDS. None of the other Yankees appear to have anything besides the "NY" on their jackets (from Rich Gagliano). … New scoreboard for the Rockies (from Uni Watch alum Mike Chamernik). … Check it out: a Pez-sponsored junior team from 1955. That photo's on display at the Pez visitor's center in Connecticut (from Wayne Jones). … Here's some great footage from a 1950 night game at Ebbets Field in Brooklyn (from Jay Jones).

NFL/CFL News: Really fun piece on how "Hut!" became a key part of football signal-calling (NYT link). Highly recommended. … With Chiefs QB Alex Smith reportedly on his way to Washington, Matt Wise notes that Smith — who broke in with the Niners before going to KC — will maintain his unbroken streak of wearing red or burgundy accented by yellow or gold. … Also: There are only two NFL teams with blank nose bumper panels. Smith is leaving one of them and moving to the other one. And since he wears the Vicis helmet, which has a larger bumper panel, that means he'll still have that big blank space on his forehead area. … Also-also: With Smith going to Washington, three of his last four teams, including his college squad, have had Native American themes (from @Werd_27). … Meanwhile, the Smith trade means Washington QB Kirk Cousins will be playing somewhere else in 2018. ESPN Photoshopped him into a bunch of other NFL uniforms and projected how he might fit in. Scroll through that piece to get the full effect. … The Thursday-night Color Rash program is heading to Fox. … Funny story about Eagles fans who sold or discarded their old Nick Foles jerseys before Carson Wentz's injury restored Foles to the top of the team's depth chart. … Bart Alazio was going through some of his grandfather's stuff and came across some fan giveaways from the first game at Giants Stadium. "Interesting that they gave out replica programs from opening day at the Polo Grounds," he says. … A giant sign from the Saskatchewan Roughriders old stadium is up for sale (from Wade Heidt). … Several Eagles players wore Mexican wrestling masks during yesterday's media session (from @PhillyPartTwo). … Good article on NFL rebrandings redesigns before and after the Nike changeover.

Hockey News: Game of Thrones-themed jerseys this Saturday for the Macon Mayhem (from Jeff Vinton). … New uniforms, including a great Jayhawk-crest sweater and a Rangers-knockoff design, for Kansas. … Will Leslie overheard the following last night on Hockey Night in Canada: "Elliotte Friedman stated that Lou Lamoriello (Toronto GM) made rookie Travis Dermott change from his No. 3 (Lou's old number) to No. 23 – but rookie Justin Holl got called up that same day from the AHL Marlies and was given No. 3. Both rookie defensemen scored their first NHL goals in Wednesday night's game against the Islanders." … Interesting piece, including X-ray photos, on how modern equipment has transformed goaltending. … The Golden Knights and the U.S. Army appear to be in the process of settling their trademark feud.

NBA News: Kings C Willie Cauley-Stein has designed a pair of Kings baseball caps. … Two weeks ago we ran an old photo showing James Worthy of the Lakers wearing a NNOB double-zero jersey. Yesterday I heard from Joe McGrath, who said, "I work with James at Spectrum Sports in LA. He's not sure, but he thinks his regular jersey was stolen that night."

College Hoops News: The Slippery Rock women's team had a white-out yesterday, and even coach Bobby McGraw got in on the act (from @CantankerousRex). … Butler and Marquette went black vs. blue last night, while Texas and Texas Tech went burnt orange vs. charcoal (from Andrew Cosentino).

Soccer News: The Colorado Rapids will unveil their new kit on Feb. 8 (from @7_8_9_Orten). … New jersey advertiser for Los Angeles FC (from Ed Zelaski). … Check out Brazilian great Paulo Borges playing for the 1967 Houston Stars at the Astrodome (from @gabehurl). … West Brom will wear Cyrille Regis memorial jerseys on Saturday (from The Boot Room).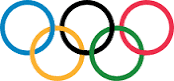 Olympics News: Bit of a kerfuffle in Norway, as the national skiing team's sweater design includes a rune that has recently been claimed by neo-Nazis. "Some say the team shouldn't use the rune, due to its use by fascists, while others say the country shouldn't let skinheads claim ownership of any part of Scandinavian culture and heritage," says R. Scott Rogers. … The Swedish company Craft has created a Nordic skiing suit that reportedly weighs only seven ounces! Additional info here.

Grab Bag: Netherlands field hockey captain Carlien Dirkse van den Heuvel has a really compressed NOB (from our own Jamie Rathjen). … The Louisiana Dept. of Agriculture has released a new logo to be used on products made in the state. … Here are some thoughts on the symbolism and messaging behind what people wore at the State of the Union address (NYT link).