Click to enlarge
Big news yesterday out of Detroit, where the Tigers announced that they will no longer have separate versions of the old English "D" on their caps and home jerseys. The cap version will now be used on the jersey, and the cap logo is also being enlarged. The jersey version has been mothballed. I've known about this move for months but wasn't at liberty to talk about it.
In case you need a quick refresher course: The Tigers have had literally dozens of "D" logos over the years. The current cap mark has been used since 1968, and the now-discarded jersey mark since 1934. Here's a side-by-side comparison:
(If you want to learn more, designer/historian Todd Radom has written extensively about the various "D" logos — look here, here, and here.)
Some thoughts on yesterday's announcement:
• The cap mark became the team's primary logo in 2016, so on some level it's not surprising that that's the one they chose to keep.
• It is, of course, ridiculous that a Major League Baseball team would have such a glaring logo inconsistency — and that's precisely what I loved about it. It was a bizarre eccentricity that over the course of a half-century had become baked into the team's DNA. Standardizing the "D" makes sense from a variety of practical standpoints, but sometimes things can become too standardized, too sterile, too rote. It feels like something charming has been lost.
• If they had to go with one logo, I would have preferred seeing the jersey logo retained and used on the cap, not the other way around. I've always thought that the jersey logo looks more elegant, while the cap mark looks more pinched and severe.
• As for the enlargement of the cap logo, my initial thought is that I like it, especially for the road cap. I've always felt that the orange road "D" didn't quite "pop" enough against the navy cap and that the logo looked a bit too small as a result. Let's compare the old version with the newly enlarged version:

Did they go overboard and make it too big? Eh, maybe. But I want to see it on the field before passing final judgment.
• Of course, the Tigers aren't the only team with logo inconsistencies. The Yankees have three distinct logos on their jerseys, caps, and batting helmets. Personally, I'm hoping they keep it that way.
• • • • •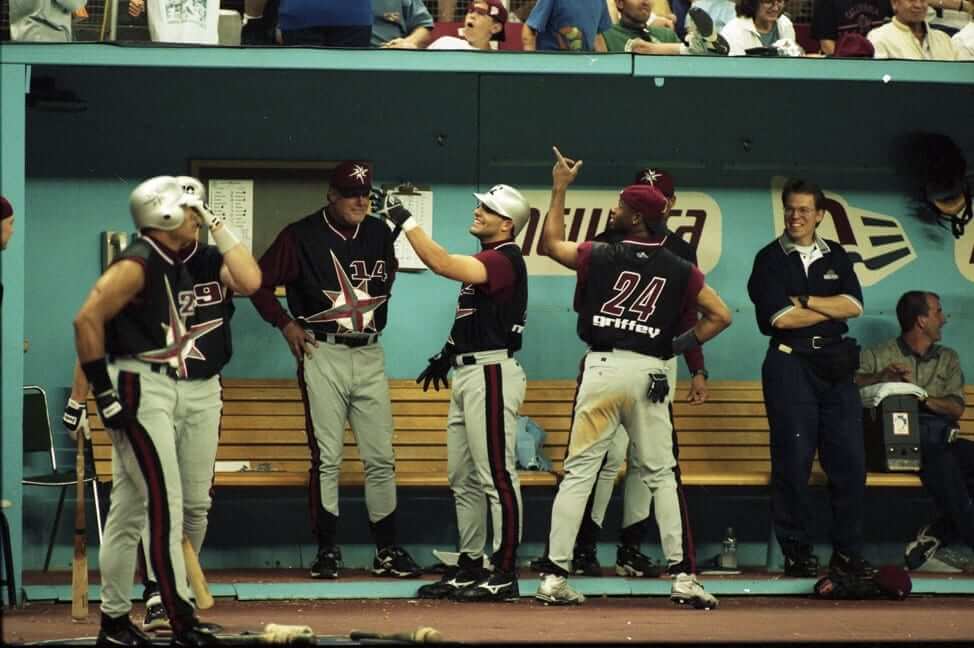 Click to enlarge
Back to the Future: Most of you probably know that MLB's infamous "Turn Ahead the Clock" promotion, featuring teams in garish "futuristic" uniforms, took place in 1999. But you may not know or remember that the 1999 program was based on a one-off futuristic promotion by the Mariners in 1998. (For more info on that, check out this ESPN column that I wrote back in 2008.)
So this season will mark the 20th anniversary of the Mariners' original TATC night, and they're celebrating with a "Back to the Future" Night, when they'll reprise the futuristic unis that they wore for that game in 1998. Or to put it another way, they're doing a throwback promotion for a futuristic promotion. TBTC to TATC! Good stuff.
The game will be on June 30, when the M's will be hosting the Royals — the same team that was in town for the original TATC game in 1998. Here's what the Royals wore in that game:
Even the broadcasters seem unsure about the futuristic look back then pic.twitter.com/IehDNEK3Io

— Kansas City Royals (@Royals) January 25, 2018
Unfortunately, they won't be reviving that design for this year's TATC rematch. Instead, they'll wear this:
And while the original uniforms from 1998 definitely made a statement, we'll pay homage to them in more tasteful take on a futuristic uniform on June 30 in Seattle. Check out a sneak peek… pic.twitter.com/viU32igj5I

— Kansas City Royals (@Royals) January 25, 2018
Is that design "more tasteful," as described in the tweet? Sure. But the whole point of TATC is that good taste goes out the window. Disappointing that the Royals aren't holding up their end of things.
Still, it should be a fun game. Now let's hope MLB does something similar for the 20th anniversary of the 1999 league-wide TATC promotion next year.
• • • • •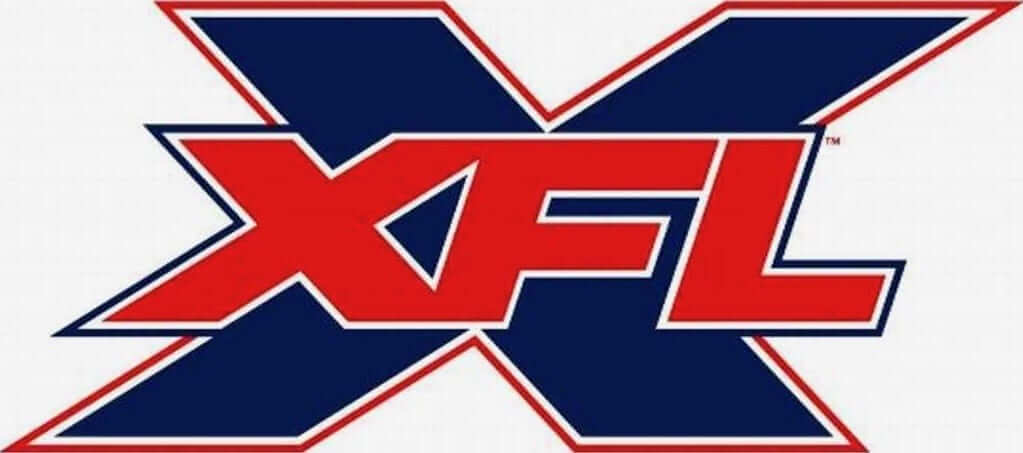 Xciting news: As you've probably heard by now, Vince McMahon is bringing back the XFL in 2020. Some quick thoughts on that:
• The advance word had been that McMahon was going to launch a new football league but that it wasn't clear whether he'd revive the XFL name. I figured he wouldn't resurrect the old moniker because (a) the original XFL failed and, more importantly, (b) the whole "X" thing that was prevalent in popular culture back in 2001 (Generation X, The X Files, blah-blah-blah) feels terribly dated now. So I'm surprised he opted to go that route.
• That said, the new XFL logo, shown above, is miles better than the original one from 2001.
• McMahon says this version of the XFL won't be as gimmicky. For example, they might not allow nickNOBs. And while they haven't yet announced what the team names will be, here's hoping they do better than last time, when it seemed like their guiding principle was to make every team sound like a bunch of sociopaths (Orlando Rage, Memphis Maniax, Los Angeles Xtreme, etc.).
• I'm curious to see which company does the uniforms. Like, if you're Nike or Under Armour, do you want to be associated with the XFL? (Side question: If you're Nike, does your NFL contract preclude you from outfitting the XFL?) And in case you can't recall, the XFL's original outfitter was Champion.
• • • • •
"What's It Worth?" reminder: In case you missed it yesterday, I announced a new partnership with Grey Flannel Auctions. If you have a potentially valuable collectible, GFA will appraise it at no charge, and with no obligation. Think of it as an online version of Antiques Roadshow. Full details here.
• • • • •
The Ticker
By Kris Gross

Baseball News: The new Hall of Fame inductees received their Hall of Fame jerseys. As you may recall, a bunch of Uni Watch readers came up with good proposals to redesign those jerseys about a year ago (from Patrick J. Williams). … In honor of some of those Hall of Famers, the Padres will wear a Trevor Hoffman patch for a weekend, and the Angels will use this Vlad Guerrero logo throughout the season, although so far there's no indication that they'll wear it as a patch (from Brady Phelps). … Vlad said he will wear an Angels hat on his plaque, making him the first player to ever do so. … Pete Rose put together a basketball team made up of Reds players after the 1969 season. They toured the Cincinnati area playing games to raise money, and their jerseys had sleeves! (From our own Alex Hider.) … The Braves have released their 2018 promotional schedule. … The Colorado Springs Sky Sox, Triple-A Affiliate of the Brewers, will wear six different throwback uniforms this season. … The Charlotte Knights, Triple-A affiliate of the White Sox, are changing game times from 7:05 to 7:04 for the 2018 season. Why? Because the Charlotte area code is 704 (from Mike Chamernik). … New uniforms for Arkansas and Nevada (from Damon Hirschensohn, Matt Snyder). … Kentucky will debut new blue and BFBS jerseys this season. … Former Mets P Doc Gooden showed up for an online Q&A session wearing a New York Giants Lawrence Taylor jersey (from Alan Kreit). … New uniforms for the Rakuten Golden Eagles.

NFL/CFL News: It appears that the Super Bowl will retain the Vikings' number font for the line markers (from Jeff Stark). … Reader John Kuhl found a construction truck with various NFL and college helmets attached to the back rack. … We know who Ben Franklin is rooting for in the Super Bowl (from Blake Fox). … Twitter account @CFLinHalifax is dedicated to CFL jersey and logo concepts (from Moe Khan). … Cross-listed from the baseball section: Former New York Mets P Doc Gooden showed up for an online Q&A session wearing a Giants Lawrence Taylor jersey (from Alan Kreit).

College Football News: UCF used to have a half-human, half-orange mascot called the Citronaut. Info on the school's name and mascot changes here (from Noah DuPont). … Boise State WR Cedric Wilson has an old BSU logo on his helmet at the Senior Bowl (from @bsuorganecrush). … Cross-listed from the NFL section: Reader John Kuhl found a construction truck with various NFL and college helmets attached to the back rack. … Boy, this 1947 New Mexico media guide is plain (from Frank ).

Hockey News: The Coyotes have 29 sweaters hanging in their arena (from @TheRealBirdGang). … The Watertown Wolves of the Federal Hockey League wore jerseys featuring newspaper clips from their 2014 championship season as part a night sponsored by the local paper last night. More info can be found here (from Gordon Block). … Loyola University Chicago's women's team has a new look.

NBA News: We got our first official look at the All-Star jerseys last night, and they're exactly what the earlier leaks had shown. More info here (from Pritni Sandhu). … The Heat wore the "Miami Vice" alternates last night (thanks Phil). … The Mavs will debut their black alternates tonight. … Viceland's Desus and Mero hit on Cavs F LeBron James reaching 30,000 points earlier this week, and they used outdated logos for both the Cavaliers and Spurs (from Jay). … Sticking with outdated logos, Jim Jeitler was renewing his passport when he noticed the State Department used an old Warriors logo in their testimonials section. … Here's a behind-the-scenes video touring the Hornets' facility. The video mentions Charlotte will have white throwbacks next season (from Joshua Edney). … Check out this old Sporting News cover photo that shows Magic and Kareem wearing mismatched jerseys. … Warriors G Steph Curry ran a Twitter poll asking fans which color tights the team should wear with its new "The Bay" alternate uni.

College Hoops News: Here are the gorgeous throwbacks Pitt will wear tomorrow (from Alan Saunders). … University of Arkansas Little Rock will wear 1980s throwbacks next week. … The Kansas women will wear 50th-anniversary throwbacks on Sunday (from GJ Melia). … Some serious, some joke designs for an NBA-style alternate for Syracuse (from Andrew Pregler).

Soccer News: The Philadelphia Union revealed their new kit and badge yesterday (from Ryan Schwepfinger). … Here are the kits for Bugeaters FC of the UPSL (from Ed Zelaski). … Stevenage FC is letting fans vote on the team's 2018-19 home and road kits (from The Boot Room). … AIK has switched to Nike and put out an all-black shirt inspired by what the team wore in 1901. "Worth noting that there's no advertiser on this new shirt," says Ed Zelaski. … New kit for Real Salt Lake (from Ed LeBaron). … "You mentioned earlier this week how Arsenal's new signing Henrikh Mkhitaryan would have to wear two different numbers because of the rules governing European competitions," says Denis Hurley. "While it's a rare phenomenon, there are some other instances of it happening."

Grab Bag: In honor of their head coach, who likes to wear sweater vests, Nebraska's wrestling team is giving away sweater vests on Sunday (from Aaron). … Major League Rugby, a new rugby circuit, released its inaugural set of home and road kits (from Eli Davis).