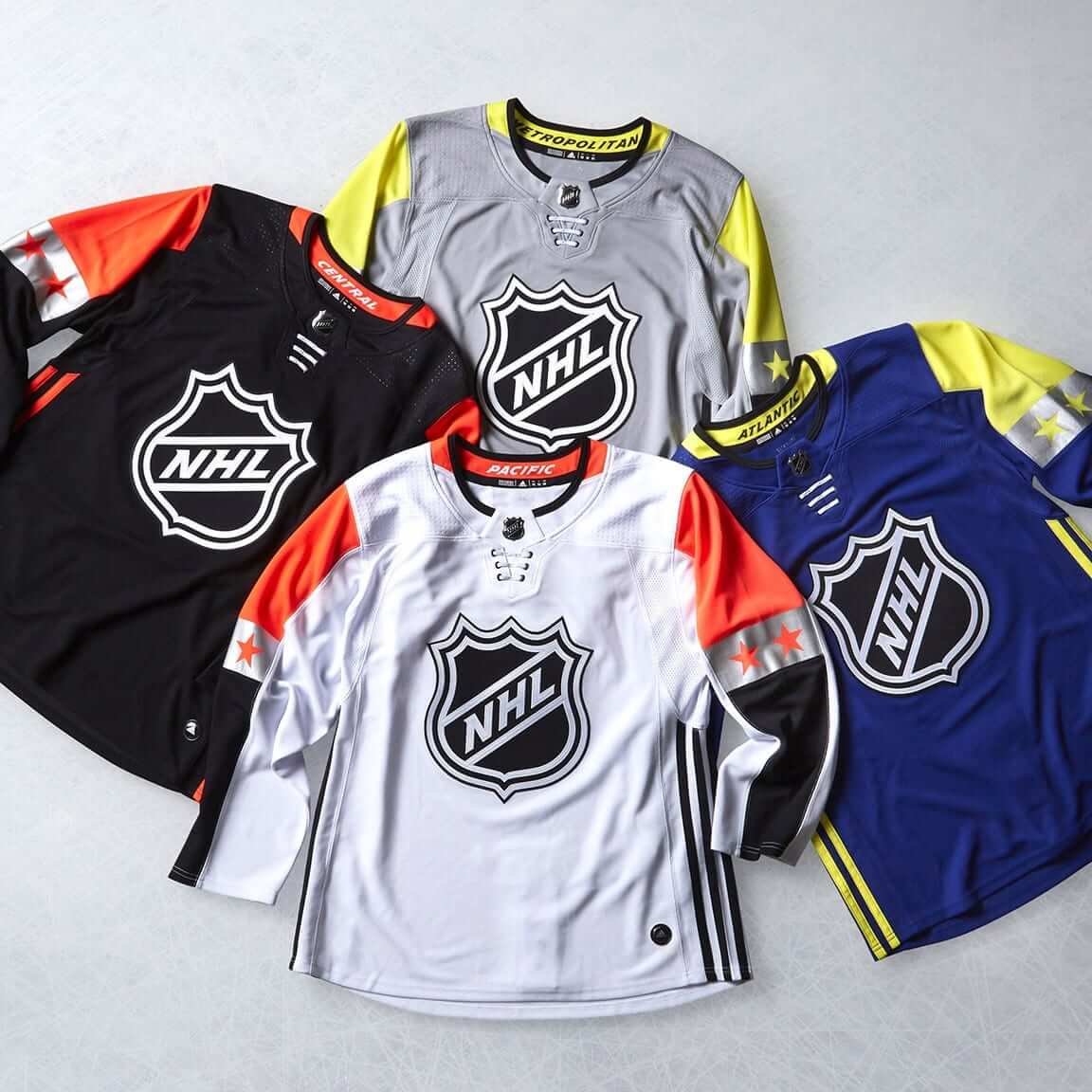 For all photos, click to enlarge
The NHL unveiled this season's All-Star jerseys last night. They're once again going with the four-team format, so there are four separate designs — one for each division. Here's a closer look at the front and back of each one: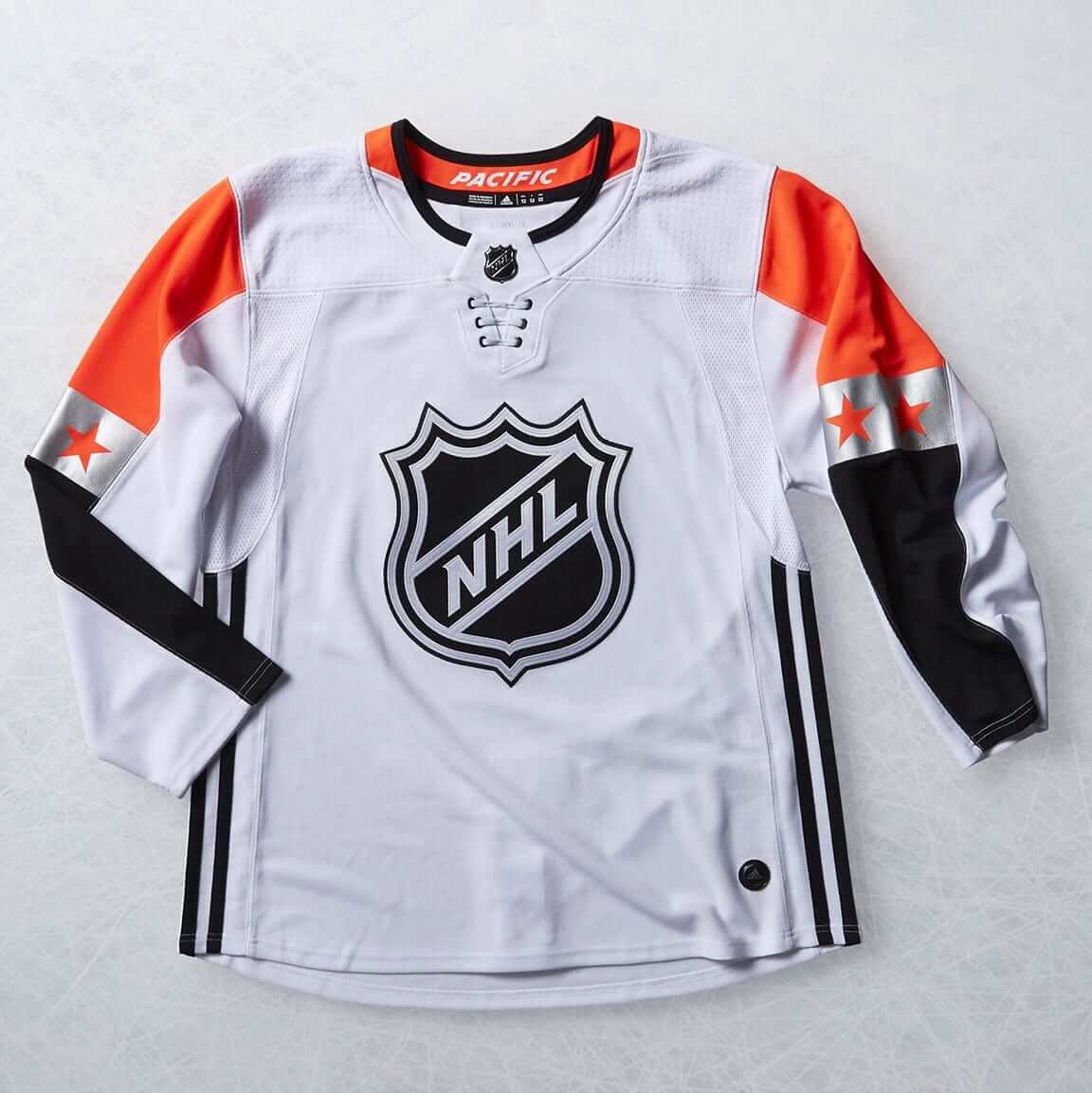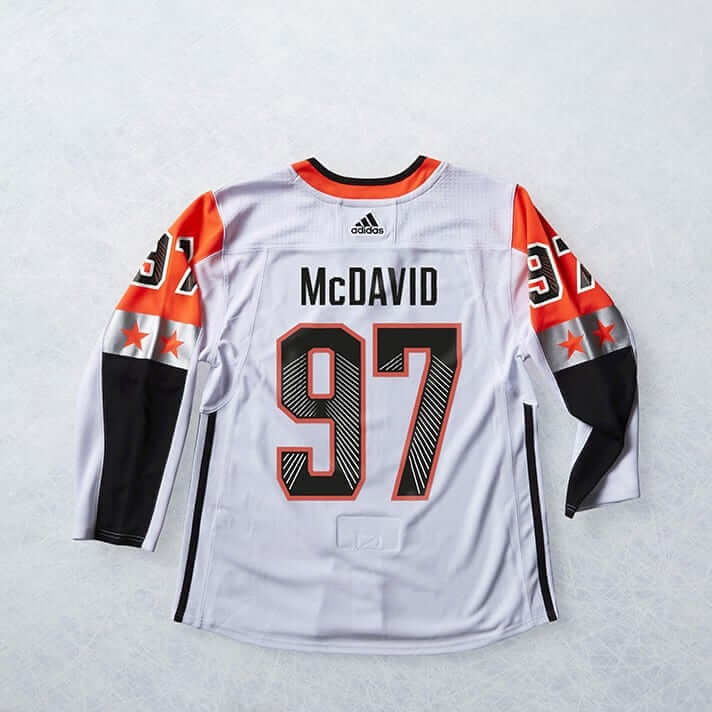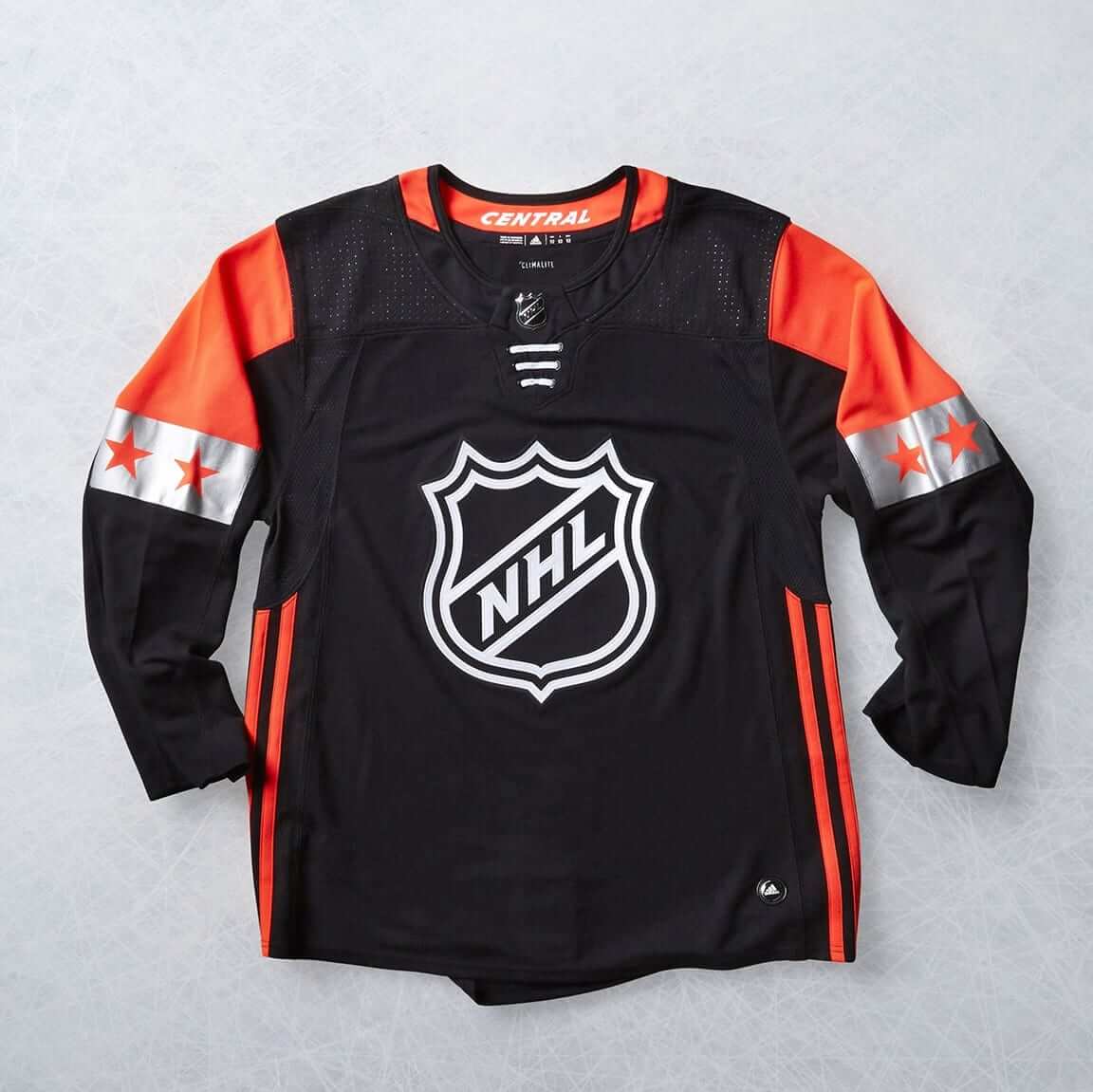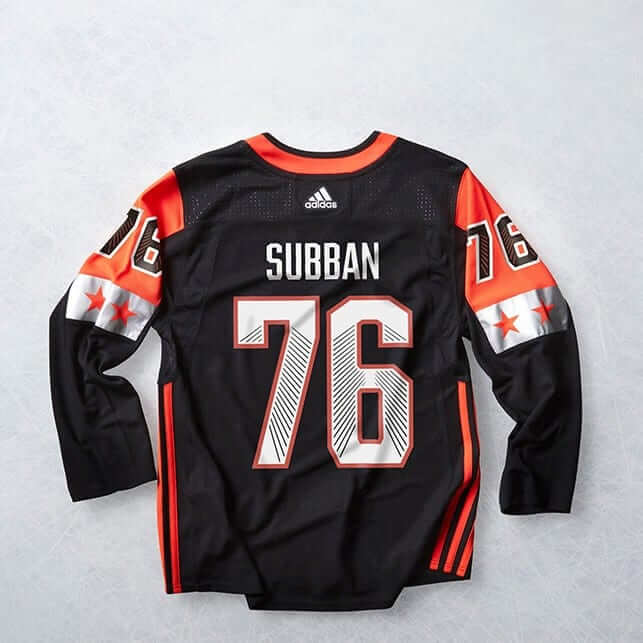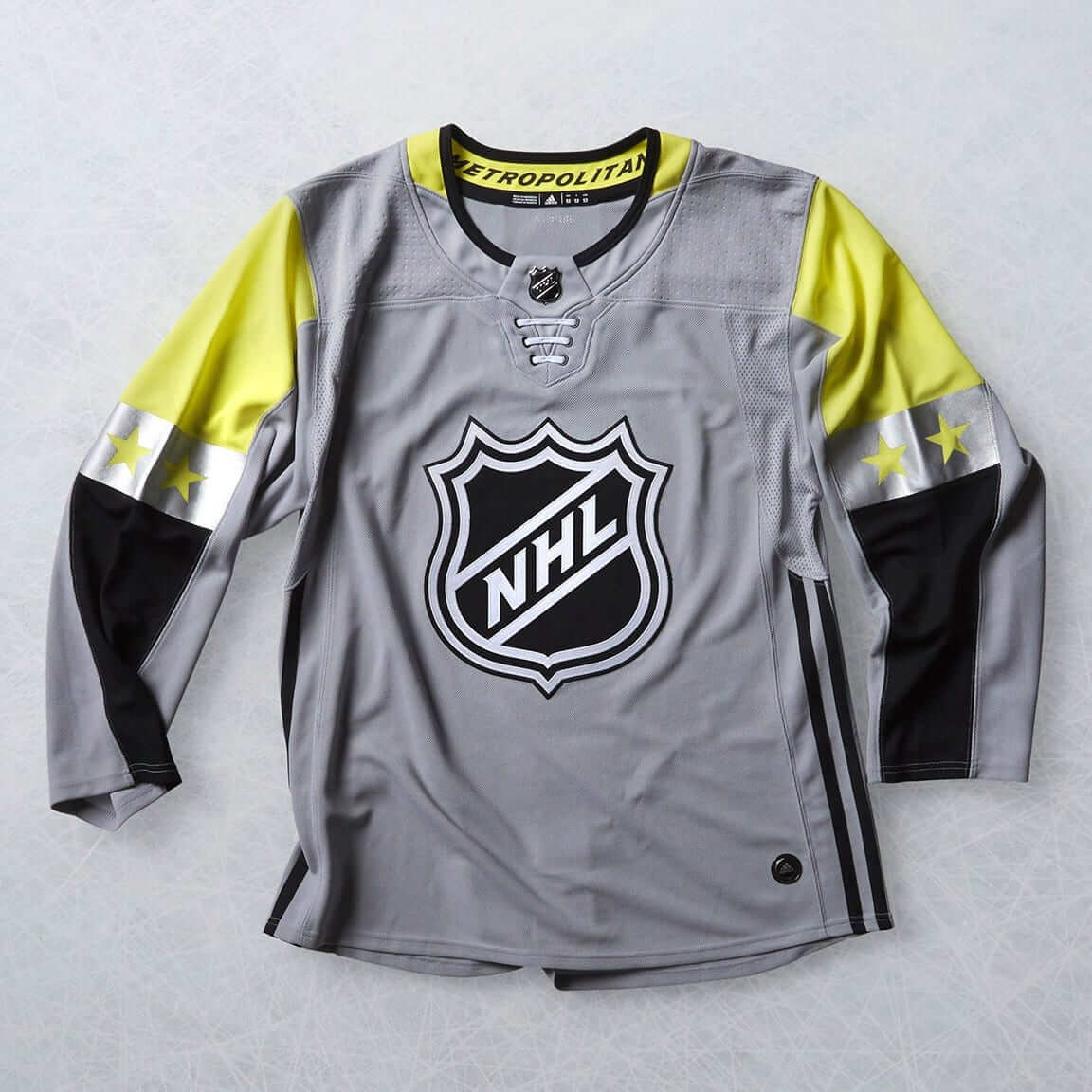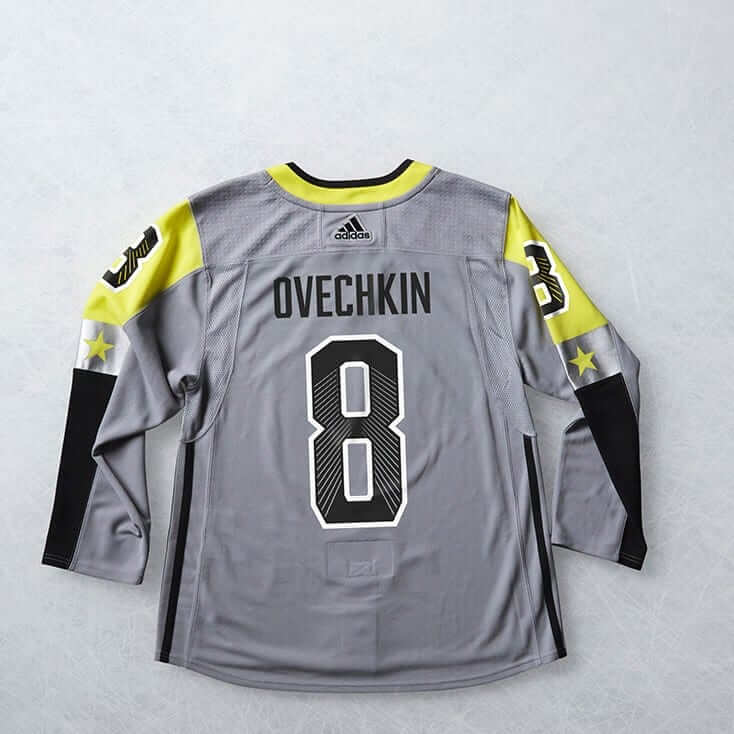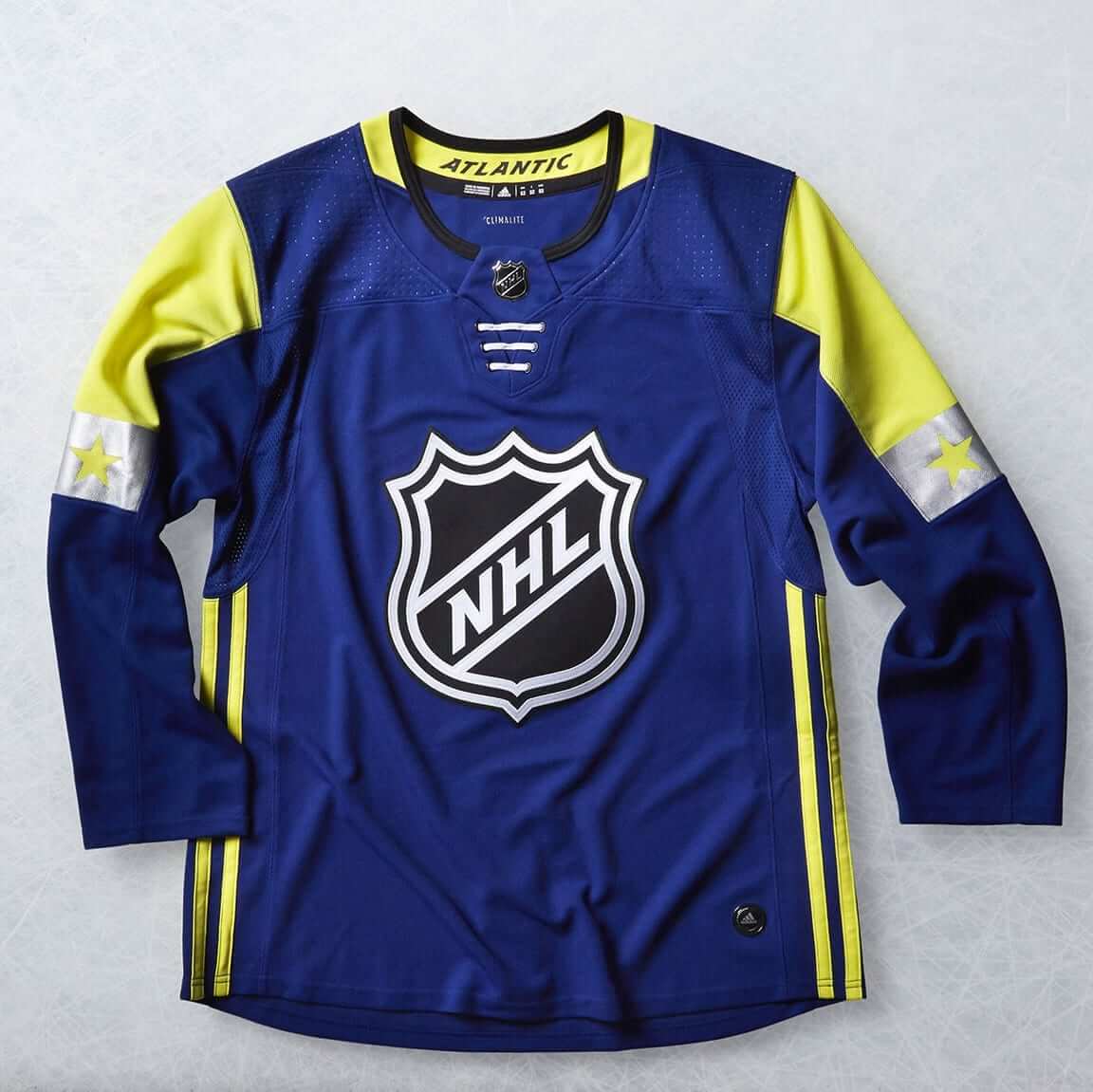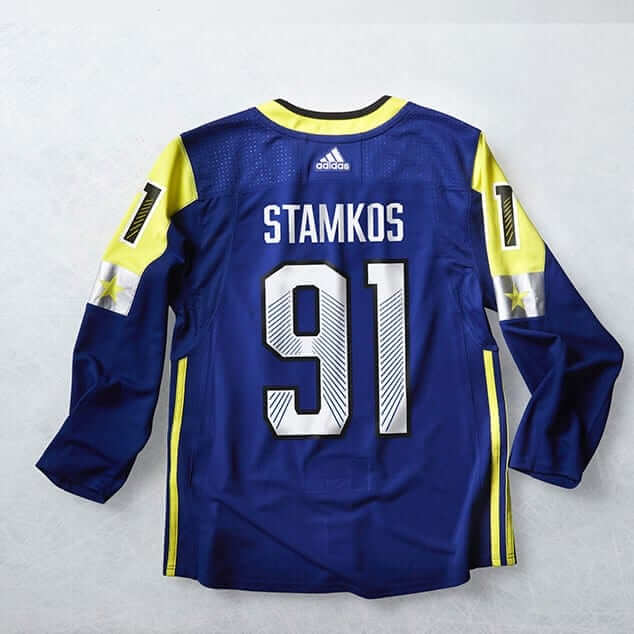 Some quick thoughts:
• The white and black ones aren't terrible. But the other two, with the neon accents, are brutal. And man, neon and grey? What a disaster.
• I kinda like the linear treatment on the uni numbers.
• The three-stripe treatment up the sides isn't really a surprise, since Adidas did something similar for NBA All-Star uniforms in recent years, but it's still disappointing and unacceptable. This is supposed to be the NHL All-Star Game, not the Adidas All-Star Game.
• As is becoming increasingly common, they only revealed the jerseys, not the full uniforms. I asked an Adidas rep if images of the pants, socks, and accessories were available, and he said no. This not only makes it impossible to fully assess the design but just reinforces the notion that the only point of this exercise is to sell merch. Again, disappointing.
• In a related item, I note with a raised eyebrow that the jerseys in the promo photos all have that annoying little Adidas logo thingie down toward the front-left hemline. That thingie only appears on retail jerseys, not game jerseys. So they are promoting the All-Star Game uniforms by showing merchandise, not uniforms.
The game will be played on Jan. 28.
• • • • •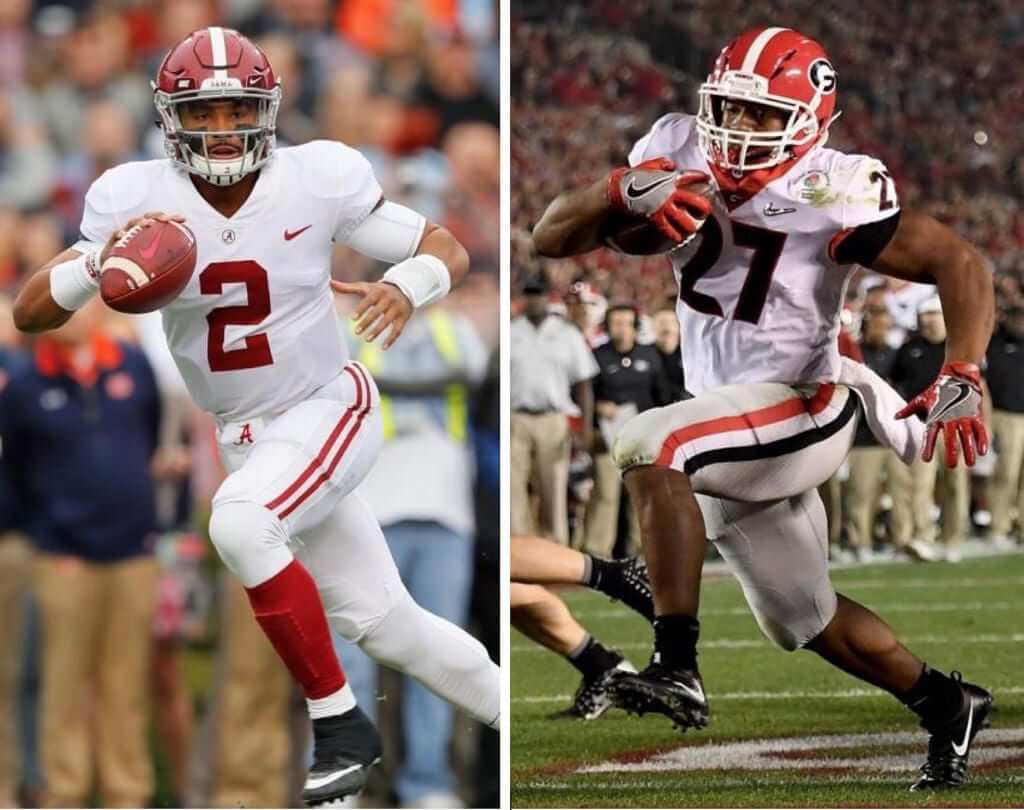 CFP preview: Today I have a new ESPN column that explores a simple question: We're always hearing that teams need flashy, over-the-top uniforms to appeal to top recruits, so how come most of the College Football Playoff teams over the past four years (including Alabama and Georgia, shown above, who'll meet in Monday night's national championship game) have had fairly traditional uniforms? Check it out here.
• • • • •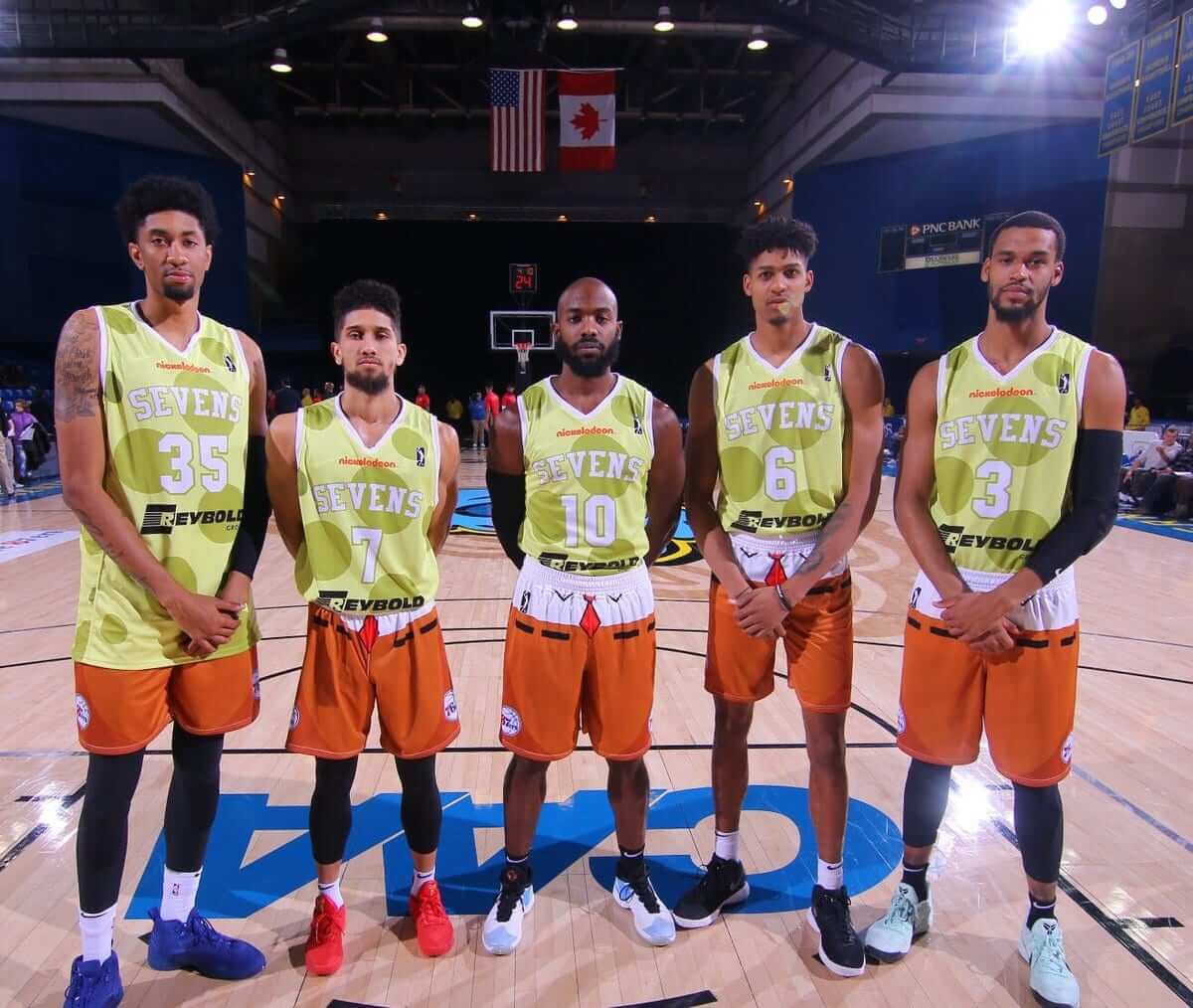 Click to enlarge
I'm ugly and I'm not so proud: These very thrilled-looking gents were the starting five last night for the Delaware 87ers, who wore Spongebob-themed uniforms. Their faces and body language appear to be saying, "Man, I knew I should've signed with that Italian team instead of going with this D-League shit, or G-League, or whatever the fuck they're calling it this week."
Here's a closer view at the jersey and shorts. And how did they look on the court? Thanks to the miracles of modern technology, you can see the entire game (which the 87ers lost by a single Spongebob-themed point) in the viewer below:
• • • • •
Membership update: If your New Year's resolution was to finally sign up for a custom-designed Uni Watch membership card (like Johnny Garfield's, shown at right, which is based on the late-1980s Saskatchewan Roughriders), there's no time like the present.
Remember, a Uni Watch membership card entitles you to a 15% discount on any of the merchandise in our Teespring shop. (If you're an existing member and would like to have the discount code, email me.) As always, you can sign up for your own custom-designed card here, you can see all the cards we've designed so far here, and you can see how we produce the cards here.
• • • • •
Buttery suede for sale: For reasons not worth explaining, I find myself with a beautiful vintage Western-style suede jacket that I'd like to sell. I could list it on eBay or Etsy, but I'd rather see a Uni Watch reader end up with it (for all the photos that follow, you can click to enlarge).
The specifics: It's a light-tan suede jacket with brown leather trim. Four-button front with reinforced buttons and high lapels. Western-style pockets and yoke. Two buttons on each sleeve cuff. Fully lined with gold rayon or acetate.
The back has a Western-style yoke and a center vent:
Although tagged as a size 42, it measures 20.5″ across the chest, so it's really a 41. Measures 32″ from the back collar to the hemline, which is the main reason I'm selling it — it's too long for me.
Just so you can get a sense of how it drapes, here are two really awful photos of me wearing it — one buttoned and one unbuttoned:
It's in excellent condition — almost like new. All the stitches and buttons are in great shape. The only defect I can see is a small mark on the right sleeve that looks like ballpoint pen. I haven't tried to clean it. Dime provided for scale:
It's substantial, supple, and very warm. You want? Yours for $50 plus shipping. Get in touch if you're interested, or if you have any questions. Thanks.
• • • • •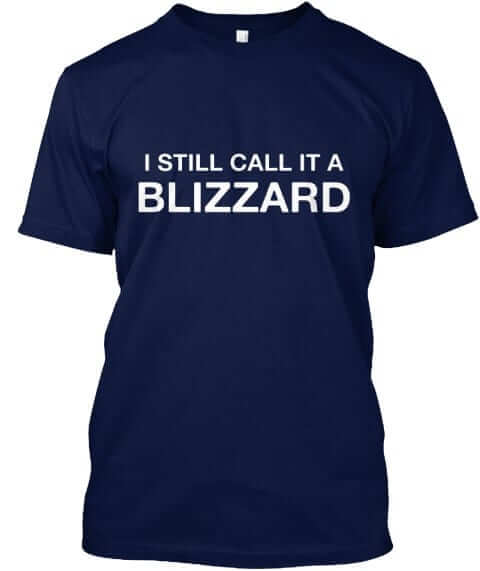 Bomb this: As you are probably aware, Uni Watch HQ and the rest of the eastern seaboard are currently being pelted by a winter storm, which has been dubbed a "bomb cyclone" — a term that, as reader John Vivino pointed out to me yesterday, is "in essence a way to market a blizzard." John suggested a Naming Wrongs response, and I readily obliged with the mockup shown at right.
I don't really expect anyone to buy this shirt. But if someone out there wants to, it's available here. I'll donate any proceeds to disaster relief.
• • • • •
The Ticker
By Paul

Baseball News: Most of this year's new MLB sleeve patches have already been unveiled, but a little birdie provided me with some video game screen shots showing how the patches will look for the Dodgers (60th anniversary in L.A.), Giants (60th anniversary in S.F.), A's (50th anniversary in Oakland), D-backs (20th anniversary), Rockies (25th anniversary), Rays (20th anniversary), Royals (50th season), and Nats (All-Star Game). … Following up on yesterday's entry about certain uni numbers making a player seem faster or taller or whatever, here's former Phillies SS Jimmy Rollins talking about how he wore No. 11 because it made him look taller (from @wBlinty). … A Houston artist has made a portrait of Astros 2B Jose Altuve out of Lego (from @igTXSalazar).

NFL News: Dolphins C Mike Pouncey likes the team's throwback uniforms because they look "meaner" (from Tony DiRubbo). … Looks like the Bills will wear white over blue for Sunday's playoff game in Jacksonville (from Sujan Vyas). … When the Browns beat the Jets in a double-overtime playoff game 31 years ago yesterday, Browns K Mark Moseley and holder Jeff Gossett had grey facemasks while the rest of the Cleveland players had white (good spot by Robert Hayes and Mike Styczen). … Chargers owners Dean and John Spanos were spotted wearing Chargers-style hard hats at the site of the team's future stadium (from Moe Khan and Andy Garms). … Not exactly a news flash, but the Panthers will wear white for Saturday's playoff game in New Orleans. The bigger question is whether the Saints will go mono-black. Hope not. … The Vikings use their weird jersey font for the yard markers on their field, which brings up an interesting question from Joseph Adams: "Will they keep that font for the Super Bowl [which is being played in Minnesota this year], or do they change to the typical stencil font?" Hmmmm.

College Football News: UCF, which went undefeated in 2017 but wasn't invited to the CFP because the school isn't in a Power 5 conference, will raise a national championship banner — so there! … Looks like the national championship game will once again have black end zones this year (from @BassinDawg).

Hockey News: The Rangers and Bruins went on a European exhibition tour at the conclusion of the 1958-59 season. Here's a souvenir program and poster from that tour (from Kevin Vautour). … Reprinted from yesterday's comments: The term "color rush" is spreading to the AHL. … "Not many pro hockey players were wearing helmets in 1973-74," says Wade Heidt. "But Jim Cardiff of the WHA's Vancouver Blazers had a pretty cool CCM helmet with flames on it. Had not seen that before." … Red Wings C Andreas Athanasiou was still wearing the NHL centennial patch last night. It was supposed to have been removed in mid-December. … Here's some pretty hilarious video of Jeremy Roenick talking about how he didn't have an NOB when he scored his first NHL goal (from @@just___james405).

NBA News: After a month of voting from Chinese fans, the Mavs have chosen their Chinese nickname, which roughly translates to "Lone Ranger Heroes." More about the process by which the name was chosen here (from our own Kris Gross). … A few years ago the Lakers added the years of their championships to their floor design, but they used backwards apostrophes. Happily, they've now fixed them (great spot by Cork Gaines).

College Hoops News: Color-vs.-color games are now fairly common in the NBA, but they're still a relative rarity in college ball. UNC and FSU went that route last night, however, and so did Rutgers and Purdue (from James Gilbert and Robert Baker, respectively).

Grab Bag: New logo for Sly Fox Brewing. … Pro golfer Rickie Fowler will have "Aloha"-themed apparel for the Tournament of Champions, which tees off today in Hawaii (from Zach Loesl).