Back in the fall I received an interesting note from reader Scott Crawford, as follows:
I was watching the highlights for the Georgia's recent win over Tennessee. One of the video clips showed Georgia running back Sony Michel, who wears No. 1 [as seen above], running over a Tennessee defensive back. Coach Kirby Smart commented that many people make the mistake of thinking Michel is a small running back because he wears that 'skinny' number. I believe Coach Smart was referring to the physical size of the number, not its numerical value.

That got my mind racing. Is there anything to it? I think of big running backs who wore big numerals across the chest, such as Herschel Walker or Earl Campbell, both of whom wore No. 34. On the other hand, I remember Christian McCaffrey wearing No. 5 at Stanford and Reggie Bush wearing No. 5 at USC. Did the single-digit number make them look faster?
This is an interesting question. We've often discussed how certain uniform numbers feel more appropriate for certain positions, but I don't know if we've ever discussed how certain numbers might make a player seem faster, or bigger, or whatever. Hmmm.
Regarding Sony Michel, who we'll see more of in next Monday night's national championship game, I'm more of an NFL fan than a college football fan, so the idea of a running back wearing No. 1 seems odd to me. But having now looked at some photos and video clips of Michel, the number does make him seem like more of a sprinter than a bruiser, at least to me. Part of it, I'm sure, is that I'm used to seeing kickers wear No. 1. Double-hmmm.
What do you folks think of all this? Can a number make a player seem faster (or slower) or bigger (or smaller) than he really is? Can that kind of thing be leveraged for a competitive advantage? Can it apply to other sports besides football?
Discuss.
• • • • •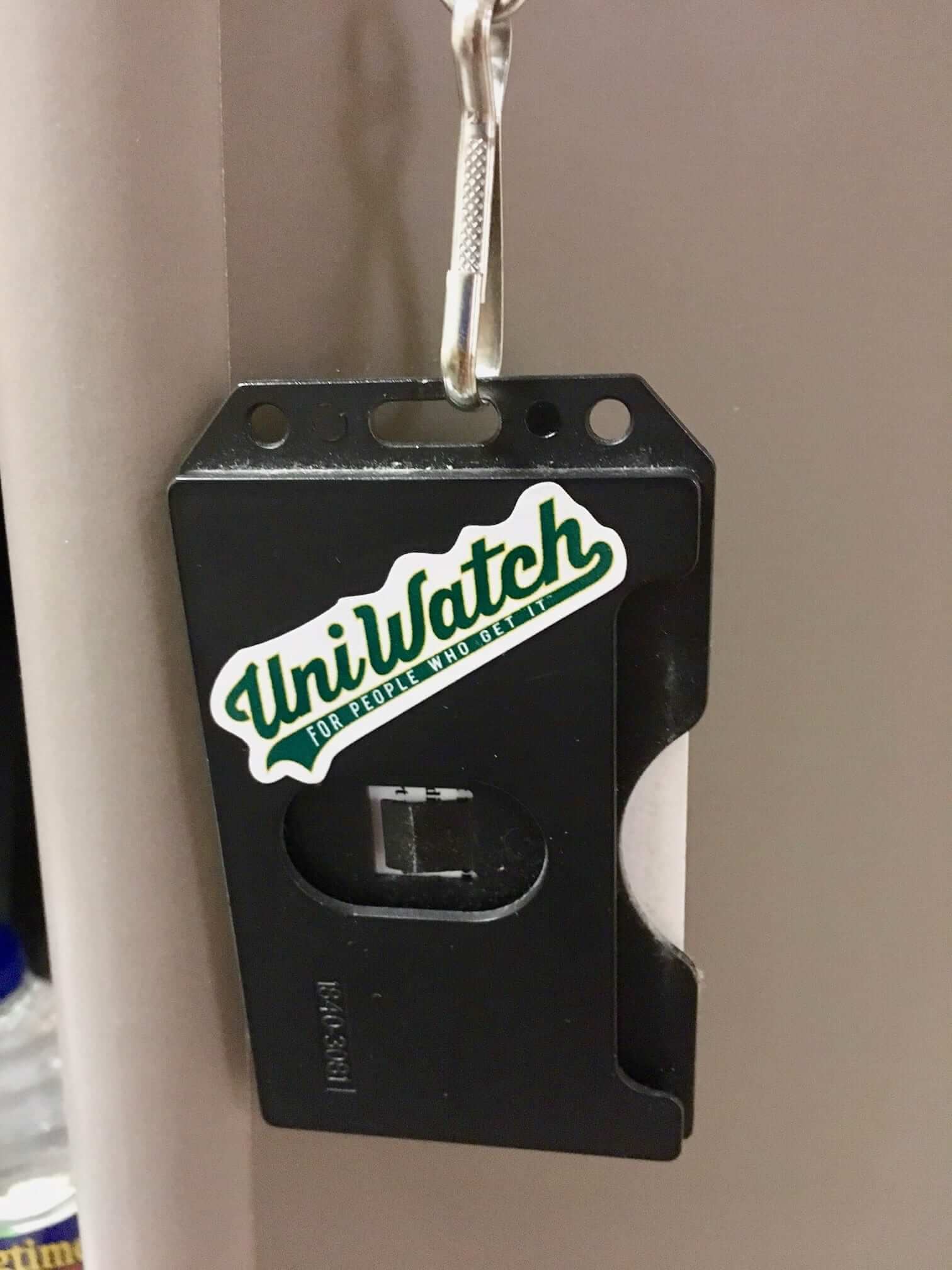 Sticker sighting: Got a nice note yesterday from reader Greg Allred, who works at a hospital in Alabama. Take it away, Greg:
I ordered some of the Uni Watch stickers a few weeks ago and put one of them on the back of my hospital ID [see photo at right; click to enlarge]. I was recently riding the elevator to the 10th floor, which is where the majority of my patients usually are, and a young lady pointed to my name tag as she and her husband/boyfriend exited the elevator and said, "Look, he gets it." I grinned, but we didn't have time to carry on the discussion.

They were both wearing Atlanta Braves jackets, so I assume they probably were familiar with Uni Watch, based on the way she said it. Cool moment.
That's pretty awesome. If you'd like to experience something similar, you can buy Uni Watch stickers (and magnets!) from our friends at StickerYou.
• • • • •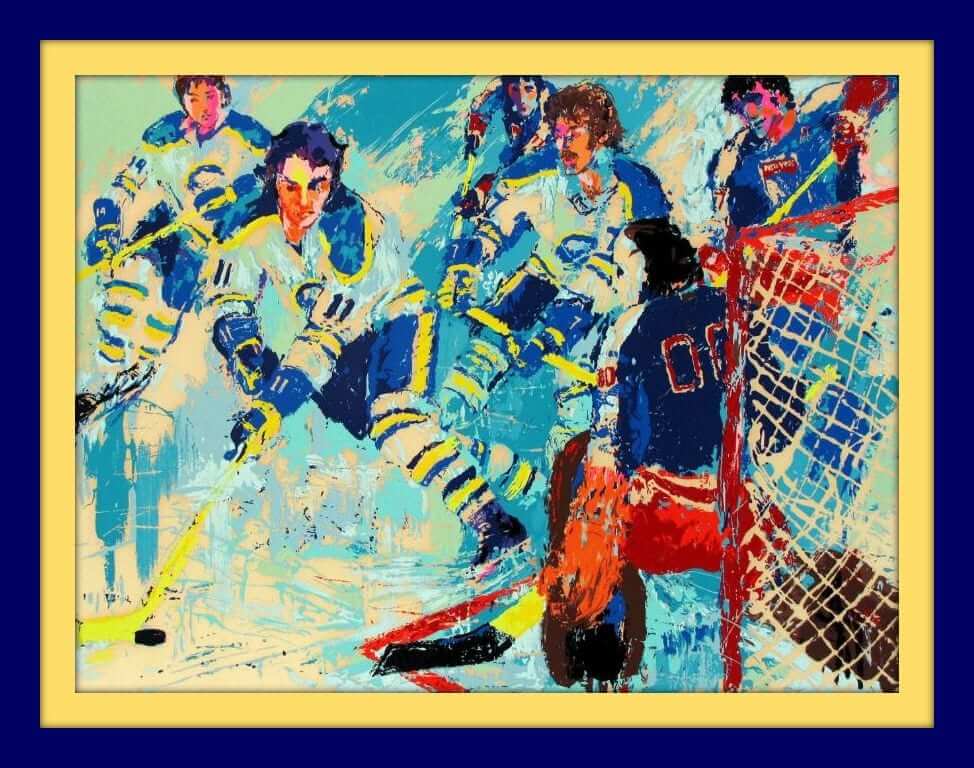 Click to enlarge
Collector's Corner
And we're back with the first Collector's Corner of 2018! We're leading off with hockey today, in honor of the Winter Classic earlier this week between the Rangers and Sabres. So here's a 1977 print by legendary sports artist LeRoy Neiman, featuring the Sabres' famous "French Connection" line of Perreault/Robert/Martin. ​
Two years later, there was an event held at Madison Square in February of 1979 called the NHL Challenge Cup — NHL all-stars faced off against the USSR national team (the Miracle of Lake Placid was still a year off). Neiman produced this beautiful poster art for the event.
Now for the rest of this week's picks:
• This seller has several excellent early-1970s NBA posters to choose from.
• This 1970s L.A. Lakers gear bag is done up in grey and red. No purple/yellow anywhere.
• They went with generic football artwork on the cover of this 1967 NFL preseason program for a game between the Pats and Jets in Bridgeport, Conn.
• Looks like someone's mom took his 1970s mail-order MLB patches and sewed 'em on a shirt, and now that shirt has ended up on eBay.
• Here's a nice selection of 24 NFL team pins from the 1970s.
• Good golly, this is one fine vintage Vikings zip-front kids' sweater from the Sears "Put-On Shop." And here's a Vikings jacket, too.
• Nice-looking 1960s Detroit Lions plaque from Acrometal.
• Ah, will you look at the sleeves and socks on Dandy Don, gracing the cover of this 1967 Dallas Cowboys season preview magazine.
• These used to be quite popular with baseball fans way back when: Slurpee-issued MLB team cups, like these for Pirates stars Richie Hebner and Steve Blass.
• This patch is for the Memphis Tams, an ABA team from 1972-74. "Tams" was an acronym for "Tennessee-Arkansas-Mississippi," and the green-gold mimicked the Oakland A's, as the team was owned by Charlie Finley.
• • • • •
Advertiser shout-out: After a brief absence, the jersey-rental operation Rep the Squad is back as a Uni Watch advertiser. They've added a bunch of NBA teams to their inventory, and they're still offering a two-week free trial.
If you don't like the idea of shelling out big bucks for overpriced polyester shirts, Rep the Squad is a good option. My thanks, as always, for considering them and all of our advertisers.
• • • • •
Culinary Corner: The Tugboat Captain and I rang in the new year on Monday with an unconventional form of surf and turf: some fresh-shucked oysters and a pernil, or Puerto Rican-style pork shoulder.
Here's the pork shoulder, which weighed in at just over nine pounds and had a gorgeous covering of skin on one side (for all of these photos, you can click to enlarge):
We made a paste/marinade by following the recipe shown here (NYT link), but we changed the prep method in two key ways: First, we slathered the pork with the paste the night before, and we also cut lots of holes in the pork and worked the paste into those channels. So the paste wasn't just on the outside of the meat — it was also on the inside.
We cooked it in a very low oven (250º-ish) for about six hours. Here's how it looked when it came out of the oven, along with some of the oysters we shucked. As you can see, I scored the skin in a honeycomb pattern, which resulted in some excellent cracklins:
We invited a few friends over and served the pernil with two sauce options: a bowl of pan drippings and a Cuban-style mojo sauce (orange juice, lime juice, a shitload of garlic, paprika, cayenne, cumin, olive oil, and maybe one or two other things I'm forgetting).
My friend Sujan took this photo of her plate, featuring pork with mojo sauce, cracklins, and some collard greens with bacon that the Captain made as a side dish. Sujan's beverage was my very last glass of this year's batch of Irish cream, with a bit of fresh nutmeg grated on top.
It all made for an excellent start to the year. Hope your 2018 had a similarly auspicious beginning.
• • • • •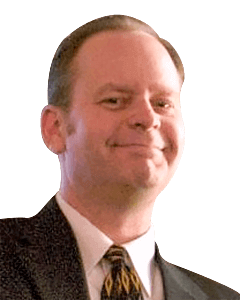 Birthday boy: Please join me in wishing the happiest of birthdays to our own L.I. Phil Hecken (who's turning 39 yet again — he's really good at it!). In addition to holding down the Uni Watch fort every weekend, Phil is the most loyal and supportive friend a fella could ask for, an excellent curling skip to boot, and pretty much the nicest guy in the world. Here's hoping you get everything you wish for when you blow out the candles, buddy!
• • • • •
The Ticker
By Alex Hider

Baseball News: The Reno Aces (Triple-A affiliate of the Diamondbacks) teased their 2018 Theme Kit yesterday (from Vince Ruffino). … Ferdinand Cesarano was watching a 1983 Rodney Dangerfield special that featured Robert Urich in a strange Cubs uniform, with generic white pants a red belt, and red stirrups. Watch the whole thing here.

NFL News: It was a season to forget for Browns fans, but there are already amusing T-shirts being sold to commemorate Cleveland's 0-16 season (from Jason Hillyer). … Joey Greenstein was watching Super Bowl XXVII recently and noticed Bills lineman Howard Ballard wearing a helmet decal honoring Jets DE Dennis Byrd. Earlier that season, Byrd suffered a spinal injury which left him paralyzed. … Texans special teams coach Larry Izzo was fired yesterday, and many media outlets used this photo of Izzo in a mystery jersey. Brian Spiess did some research and discovered Izzo was wearing a Patriots jersey. … Here's a new logo/uniform concept for the Los Angeles Rams. … The Broncos' stadium still has signs from a corporate naming advertiser, even though that advertiser — the Sports Authority — went bankrupt and no longer exists. Now the signs are finally coming down (from Brinke). … Marc Swanson was poking around in his basement and found a Nov. 1981 issue of Pro! magazine that includes a good article about the Bengals' then-new uniforms.

College and High School Football News: Here's a time lapse video that shows workers at Raymond James Stadium preparing the field for the Outback Bowl hours after a Tampa Bay Bucs game (from James Gilbert). … Marion Local (Ohio) High School lets its players do whatever they want with their merit decals. Some players even used them as helmet numbers (from Tom Pachuta). … Joel Berry II, a point guard for the UNC basketball team, warmed up in an Alabama football jersey the other day (from James Gilbert).

Hockey News: The fans have spoken and chosen the Blackhawks' current uniforms as the best of all time, edging out the classic Whalers set and the jade and eggplant Mighty Ducks 0f the '90s (from Joshua Tretakoff). … Maple Leafs players warmed up in No. 1 Johnny Bower sweaters last night. Bower, a four-time Stanley Cup champion goalie with the Leafs, died on Dec. 26 (from Mark Coale). … Here's a blog that offers every NHL arena a nickname (from Bryan Palmer). … Kieffer Bellows is a winger on the US's World Junior Championship team and the son of former Minnesota North Star Brian Bellows. Last night, Bellows scored a goal and skated in front of a fan wearing his father's jersey (from Rich Franklin). … Fanatics is selling a version of the Rangers' Winter Classic jersey without the NY/Shield chest patch (from Tim Baker). … The Edmonton Oil Kings of the WHL debuted new alternate uniforms on Monday (from B.Q. G).

Basketball News: The Delaware 87ers, the G-League affiliate of the Sixers, will wear Spongebob Squarepants uniforms for Nickelodeon Night tonight. … The Kansas City Tornadoes will open their inaugural season tonight with a logo that contains an apostrophe catastrophe (from Scott Nuzum). … When Rockets G Gerald Green was signed by the team last week, he borrowed teammate Trevor Ariza's shoes for his first game (from Mike Chamernik). … Repost from the college football section: North Carolina PG Joel Berry II warmed up in an Alabama football jersey the other day (from James Gilbert). … Northwestern will be sporting some new shoes for the new year. … Spurs G Patty Mills, who's from Australia, wore shoes last night that celebrated the Australian Mabo Day holiday (from @ThatTallRussian).

Grab Bag: Formula One driver Valtteri Bottas is holding a contest to design his new racing helmet (from Kenny Ocker). … North Carolina is hosting a wrestling meet against Duke at an on-campus performing arts center in February (from James Gilbert). … Speaking of North Carolina, the school's archives shared this photo of some awesome old letterhead (also from James Gilbert). … New promotional kit for Providence City FC, an amateur soccer club (from Ryan). … Sneakerheads will enjoy this New York Times Q&A with some of the industry's biggest names from Sneaker Con (from Tom Turner).