With NFL season about to start, let's look at the NFL logo. Here's how it's evolved over the years. pic.twitter.com/PUuPfvi9sU

— Paul Lukas (@UniWatch) September 6, 2016
In September of 2016, I did an ESPN piece about the various ways in which the NFL logo has appeared on team uniforms. As part of that piece, I included a tweet that showed the logo's three iterations over the years (see above).
I got those date ranges from SportsLogos.net's page for the NFL logo. That site is usually pretty reliable for this type of thing, but not this time. It turns out that there was a fourth version of the shield — a variant on the middle design — and I'm pretty sure of the date ranges are wrong as well. (Update: Chris Creamer has now updated that SportsLogos.net page in response to this Uni Watch entry.)
First, let's look at the proper chronology of the shield's evolution, with the missing version now added (click to enlarge, and ignore the washed-out colors on the second shield):

As you can see, version No. 2 is sort of the missing link between the first and third versions. It has a thinner blue border, much like the first version, and also has outward-flared tips at the upper corners, also much like the first version. The third version thickened the blue border and straightened out the flared tips.
This may seem like a very subtle variation, but No. 2 was used throughout the 1970s and early '80s. Its final appearance appears to have been Super Bowl XVIII (Raiders vs. Washington) in January of 1984. That was the Supe featuring Marcus Allen's famous 74-yard touchdown dash. Here's a shot of Allen crossing the midfield logo, clearly showing the flared tip and thinner border: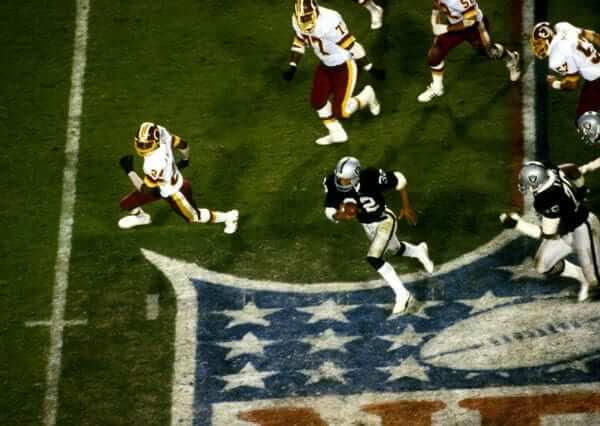 You can get a better view of the entire logo in this video clip showing Allen's run (sorry, this video isn't embeddable).
One year later, in Super Bowl XIX (49ers vs. Dolphins), the logo had changed to No. 3 — thicker blue border, no more flared tips. Here's a shot from that game, followed by video that provides a clearer view of the full logo: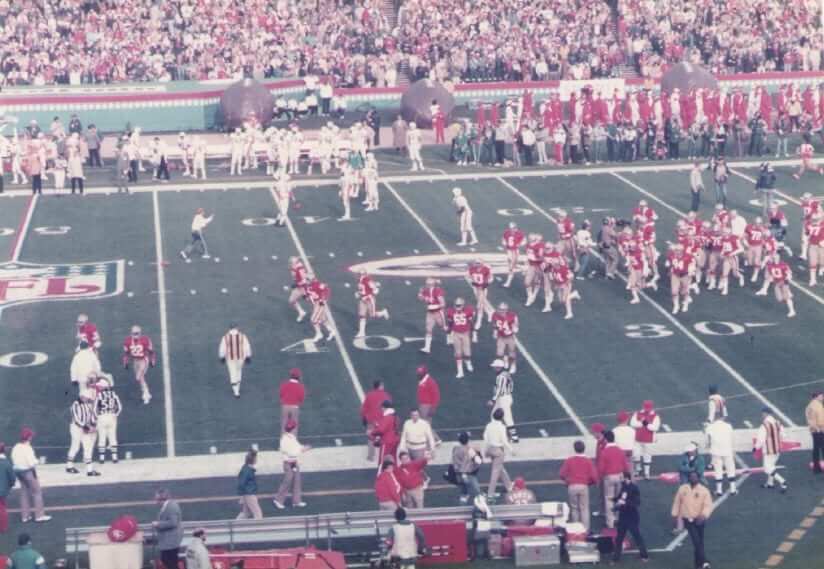 Once I became aware of the distinction between the second and third designs (and I'll tell you how I became aware of it in a minute), I realized that No. 2 appears on all sorts of old publications and memorabilia that I own. It's the version I grew up with. But I somehow never noticed the subtle change between Nos. 2 and 3 until now. Chris Creamer over at SportsLogos.net apparently never noticed either.
Even stranger, the NFL itself has sometimes erased No. 2 from the league's historical narrative. As you may recall from recent years, NFL broadcasts used to include a copyright notice that included an animation showing the shield morphing from one version to the next. But the animation only showed three versions, not four, presumably because the difference between the second and third versions is so subtle. So they just skipped the second version:
Maybe you all knew about this "missing link" version of the shield, but I didn't become aware of it until it was brought to my attention by a guy named Jim Noel. He's an attorney based in Seattle, but back in the early 1980s he was the in-house attorney for NFL Properties. He recently told me that the transition between No. 2 and No. 3 was executed by Dave Boss, who ran Properties at the time. He said Boss did this largely on his own, although presumably in consultation with then-commissioner Pete Rozelle, and that Boss announced the logo change to the league staff via a matter-of-fact memo, apparently sometime during the 1984 offseason.
(Noel, incidentally, is an intriguing guy with some very interesting stories to share. I'll have more on that in the near future.)
So now we know that No. 2 was replaced by No. 3 in 1984. But when was No. 2 introduced? SportsLogos.net says 1970, but that can't be right. Take a look at these ticket stubs from Super Bowls I, II, and III, which took place in 1967, '68, and '69 — they all show logo No. 2 (click to enlarge):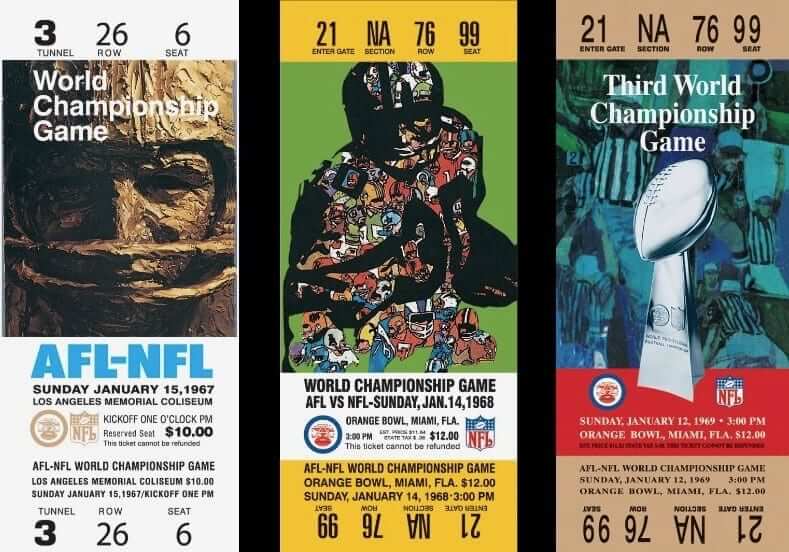 So No. 2 was in use at least as early as 1967. If we go back a bit further, we can see that No. 1 was used on this ticket stub from the 1963 NFL Championship Game. So the transition from No. 1 to No. 2 apparently took place somewhere from 1964 to 1967. I haven't yet found anything to narrow it down, but I'm sure it's out there. Anyone..?
And when did No. 1 debut? SportsLogos.net says 1960, but I have reason to believe it may be earlier than that. Again, anyone..?
Moral of the story (and not for the first time): Don't automatically believe something just because it's listed in an online database.
• • • • •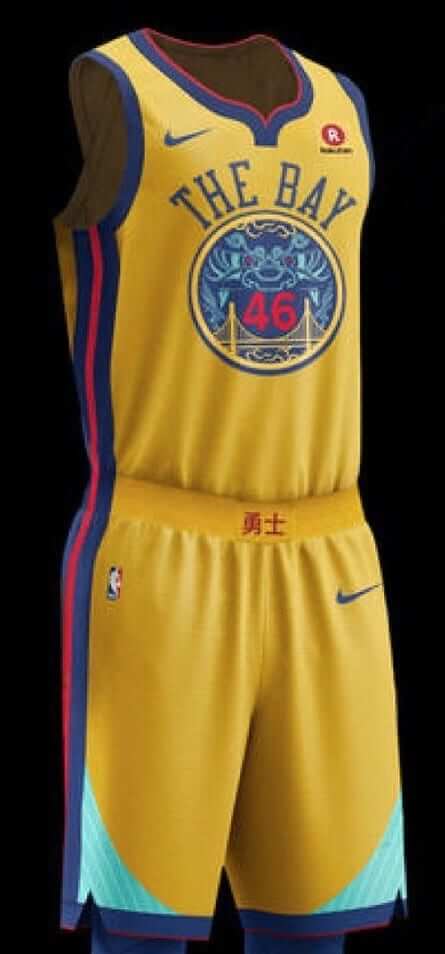 ESPN/NBA update: The NBA finally revealed most teams' second alternate uniforms yesterday (including the Warriors' excellent design, shown at right). I've ranked and graded them all in a new ESPN column, but it didn't get published until late yesterday afternoon, so you may have missed it. Here's the link.
In addition, my ESPN colleague Zach Lowe has done a deep dive on the Lakers' and Jazz's new designs.
These "City Edition" alternates are not built to last. They'll all be used only for this season and then will be replaced next year by a new set of merchandise uniforms. So even if you think, say, the Jazz's design is a brilliant salute to the southern-Utah landscape, or if you love how the Bulls' design evokes the Chicago city flag, they'll have to come up with new concepts next season, which seems like a recipe for diminishing returns.
The Lakers have already figured out how they'll address that problem: Each year they'll use their second alternate to salute a great player from their past. This time around it was Kobe Bryant; next year it'll probably be Magic, or Kareem, or Jerry West; and so on. They have a pretty deep bench of all-time greats, so they can probably riff on that concept for a while (or until Nike abandons the idea of having a new second alternate every season and comes up with a new gimmick).
It's not clear whether some of this year's second alternates might be redesignated as one of the team's other uniforms, but that wouldn't surprise me. For example, maybe the Jazz's "City Edition" will replace their current "Statement Edition" next year. The labels have always been meaningless anyway, so it doesn't much matter which design gets categorized with which rubric.
• • • • •
Membership update: Four new designs have been added to the membership card gallery (including David Hoag's, shown at right, which is based on the throwbacks that the 49ers wore in 1994). If you had promised yourself that you'd finally sign up in 2017, you only have a few days to make good on that!
Remember, a Uni Watch membership card entitles you to a 15% discount on any of the merchandise in our Teespring shop. (If you're an existing member and would like to have the discount code, email me.) As always, you can sign up for your own custom-designed card here, you can see all the cards we've designed so far here, and you can see how we produce the cards here.
• • • • •
The Ticker
By Kris Gross

Baseball News: Reader Joshua Benson recently moved to Israel, where he found Yankees band-aids. "They appear to be licensed by MLB, and as far as I can tell, all of the logos are correct." … Due to the record snowfall in Erie, Penn., on Christmas Day, the Erie Seawolves are asking for retweets to change their name to "Erie SnowWolves" for a game next season (from Alex Cheremeteff). … Roger Clemens showed up to the Texas Bowl in a burnt orange Astros cap (from Ignacio). … After the NBA's Washington Wizards unveiled their new "The District" alternate uniforms yesterday, Nationals OF Bryce Harper said he wants "The District" jerseys for the Nats. … A football player on the cover of… Baseball Magazine? (Thanks, BSmile.)

NFL News: The Bills will wear throwback unis in their matchup with the Dolphins this weekend (from Bill Schaefer). … With the Dolphins wearing throwbacks as well, this will be the first time we've seen this uni matchup since 1972, says Robert Hayes. … The Titans are opting for mono-navy again (from Lee Wilds). … New Patriots LB James Harrison will wear No. 92, which was given up by DE Geneo Grissom, who will now wear No. 96 (from Mike Chamernik).

College Football News: Florida State went mono-garnet in the Independence Bowl. … FSU RB Jacques Patrick lost his Nike logo in that game (from William Cho). … Texas DE Breckyn Hager usually wears No. 44 but instead wore No. 60 during the Texas Bowl last night in honor of former Texas LB Tommy Nobis, who passed away a few weeks ago, As you can see in that photo, however, Hager still had No. 44 on his helmet. All other Texas players wore a "60" helmet decal for Nobis (from Mike L). … Players were switching from cleats to sneakers because the field was frozen at the Pinstripe Bowl. … Speaking of the Pinstripe Bowl, one of the scoreboards at Yankee Stadium still had the Yankees and Astros listed. The Yanks lost this past season's ALCS to the 'Stros. … Virginia will wear a helmet decal for former coach George Welsh, who also coached at Navy (thanks Jamie). … Not a small jersey patch for Michigan State in the Holiday Bowl. … Cross-listed from the baseball section: Roger Clemens showed up to the Texas Bowl in a burnt orange Astros cap (from Ignacio). … A ref at the Independence Bowl had and off-brand uniform instead of Under Armour (from Tim Fletcher). … Clemson's team bus has the playoff and Sugar Bowl logos (from Brad Darby). … Interesting NOB style for Arizona OL Berhard de Beer.

Hockey News: NHL ref Eric Furlatt normally wears No. 27. But he had to wear a No. 35 jersey while working last night's Penguins/Blue Jackets game, because his luggage was lost in transit. According to this list, no NHL on-ice official currently wears No. 35.

NBA News: Rockets G James Harden will wear "Free Meek" shoes tonight in support of jailed rapper Meek Mill. … Lakers television analyst and former NBA journeyman Stu Lantz "carries around an old NBA program to remind himself and other of crazy schedules of the past," Michael Hersh says. Check out the old logos! … Here's an old ad featuring Clyde Frazier in a backwards jersey. "I assume Frazier had to wear it backwards because they couldn't use NBA team logos," says Steve Flack.

Soccer News: It appears the La Liga ball for the 2018-19 season has leaked (from Josh Hinton). … This 46 minute video details the history of soccer kits in the UK (from Roger McCann).

Grab Bag: Take an inside look at how Madison Square Garden hosted three sporting events in one day (from Josh Hinton). … Brother's Taco in Houston supports all Houston teams, including some from the past (from Ignacio). … Some hero takes to the streets of the United Kingdom at night fixing grammar mistakes on business signs (from Anthony Burke).
• • • • •

What Paul did last night a few days ago: Last weekend I saw a new movie that, from what I can gather, has generated exactly zero buzz: Hostiles, a western set in 1890s New Mexico and Colorado and starring Christian Bale. I really, really liked it — good story, good themes, good acting, spectacular camerawork. The violence is realistic and disturbing, the way violence should be. Really great U.S. Army uniforms, too — a feast for any uni-savvy viewer. One of the better movies I've seen this year. Here's the trailer (they've pandered by using a shot of a gun-toting Rosamund Pike as the video still, looking all rootin'-tootin' and Annie Oakley and so on, but that image isn't particularly representative of her role or of the movie's general tone):
As of now, Hostiles is only playing in New York and L.A., but it will open in some additional cities next Friday and will go nationwide two weeks after that. Recommended.