Inexplicable move last night by the Eagles, as they wore their mono-black alternates for last night's game against the Raiders. Seriously, if your primary team color is green, isn't that what you'd want to wear on Dec. 25? Okay, so it's also what you'd want to wear on the other 364 days of the year, but especially on Christmas, right? Jeez (lots of additional depressing photos here).
• • • • •
NBA Uni Tracking
By Collin Wright
Over the past three weeks we've seen the number of games with the home team in a colored uniform and road team in white level off at 33%. There's continued to be a decrease in the number of traditional matchups, and an increase in color-vs.-color games (click to enlarge; stats do not include yesterday's games):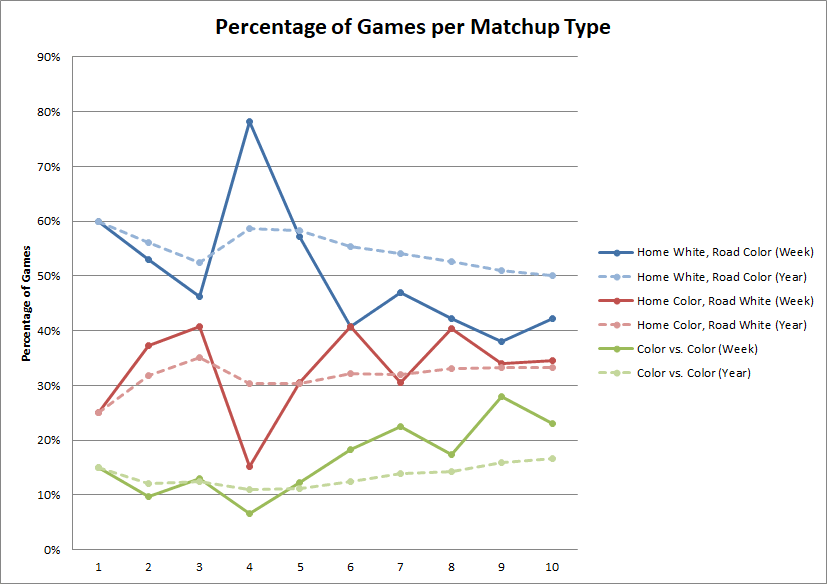 A few other notes:
• Most teams are expected to unveil their fourth uniforms tomorrow, Dec. 27. A few teams jumped the gun and revealed theirs over the weekend, including the Grizzlies and Jazz.
• The Hawks finally unveiled their throwback, which they'll wear four times, beginning on Jan. 20.
• The Heat have also continued to show that their preferred uniform is their throwback set. They've worn the black '90's-era uniform a total of 16 times, or 49% of their games played. By contrast, their "new" black set has only been worn three times (9%) and not at all since Oct. 28, which was their fifth game of the season. According to their newly released uniform schedule, they'll wear the black design again on Jan. 14.
• • • • •
Sorry, no Ticker today. We'll get back to regular content tomorrow.
In case you missed it yesterday, here are the year-end raffle winners. Have a great Boxing Day and I'll see you back here in tomorrow morning. — Paul