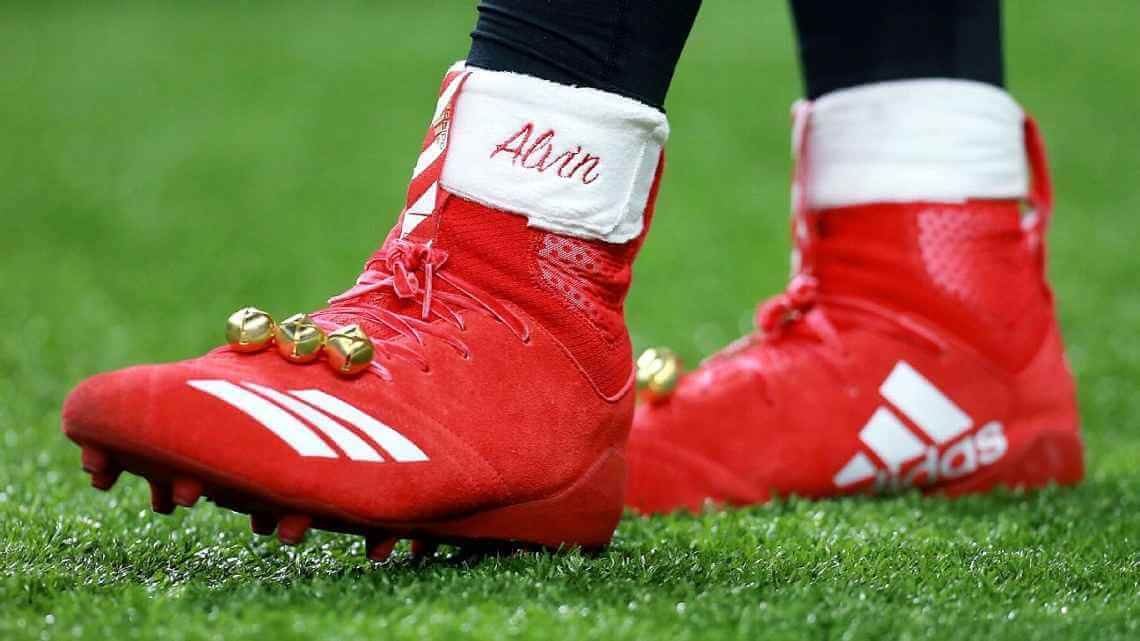 Click to enlarge
Saints running back Alvin Kamara got in the spirit of the holiday yesterday by wearing personalized red cleats with jingle bells (although the bells seemed to have been removed in the game photos I saw). Afterward, he joked about how league officials would be "the Grinch" if they fined him.
Meanwhile: Santa's leaving something extra under the tree for 40 lucky Uni Watch readers — the winners of our annual year-end raffle. Here are this year's winners, and the prizes they've won:
1. Uni Watch membership card — Johnny Garfield*
2. 1958 Army football helmet — Josh Paster
3. Painted bat from Mitchell Bat Co. — Mike Perrin**
4. "Roots of Seattle Hockey" T-shirt — Rand Martin***
5. BobbleDugout — Bill Kellick†
6. Asgard Press calendar — Matthew Hayden††
7. Asgard Press calendar — Michael Fagan††
8. Asgard Press calendar — Spencer Seaner††
9.  Alltimers VIP Lounge hockey jersey — Jack Brennan
10. Alltimers VIP Lounge hockey jersey — John Weiss
11. New York Rangers cap — John Koziol
12. Harlem Globetrotters jersey — Matt Doyle
13. Jacob deGrom giveaway jersey — Robert Hoekstra
14. Jacob deGrom giveaway jersey — Hunter Gold
15. Uni Watch socks — Allan Labanowski
16. Hartford Whalers socks — Oliver Young
17. StripeRite sock prototypes — Kevin Burns
18. Adidas low-rise socks four-pack — Kyle Kalkwarf
19. Mets "New York" giveaway T-shirt — Mason Norris
20. Jose Reyes giveaway T-shirt — Adrian Kang
21. Jacob deGrom giveaway T-shirt — Matthew Eggen
22. Purple Amnesty Day shirt — Douglas Ceane
23. SportsLogos.net 20th-anniversary patch — Brian Baker
24. Adidas running shorts — Brandon Sexton
25. "The Mets" snapback baseball cap — Alex Rachmiel
26. Mets script T-shirt — Dave Fisher
27. Pair of "9" front-jersey numerals — Alec Jokubaitis
28. Dodgers 3-D batting helmet logos — Mark Notterman
29. Patriots scrapbooking mini-uniform set — Alex Rubin
30. Falcons scrapbooking uniform set — Todd Willis
31. Hari Mari gift card — Eli Lourie
32. Adidas backpack — Bryan Dik
33. Jim Palmer giveaway throwback jersey — Jack Daley
34. Orioles "My Home, My Team" T-shirt — Pete Manzolillo
35. Orioles Machado/Schoop T-shirt — Bryan Duklewski
36. Capitals rally towel — Nicholas Schultz
37. Bowling alley service manuals — Dustin Jensen
38. Adidas zip-front hoodie — Pete Mapes
39.  Richmond Flying Squirrels T-shirt — Julie Streeter
40. Ardillas Voladores T-shirt — Dustin Edberg

*Let me know what you want for your membership card.
**Let me know which bat design you want.
***Let me know which T-shirt you want.
†Let me know which 16″ BobbleDugout you want.
††Let me know which calendar you want.
A few of the prizes have already shipped out; the rest should go out in the next few days. Congrats to all the winners and thanks to all who entered.
That's it for today. I have to cat-sit for two friends this morning, and then I'm driving to Queens to pick up my big brother, Roy. It's his birthday today! From there we'll drive to Long Island to spend the day with our mom. Whatever your plans are for the day, please accept my best wishes for a great holiday. Peace. — Paul