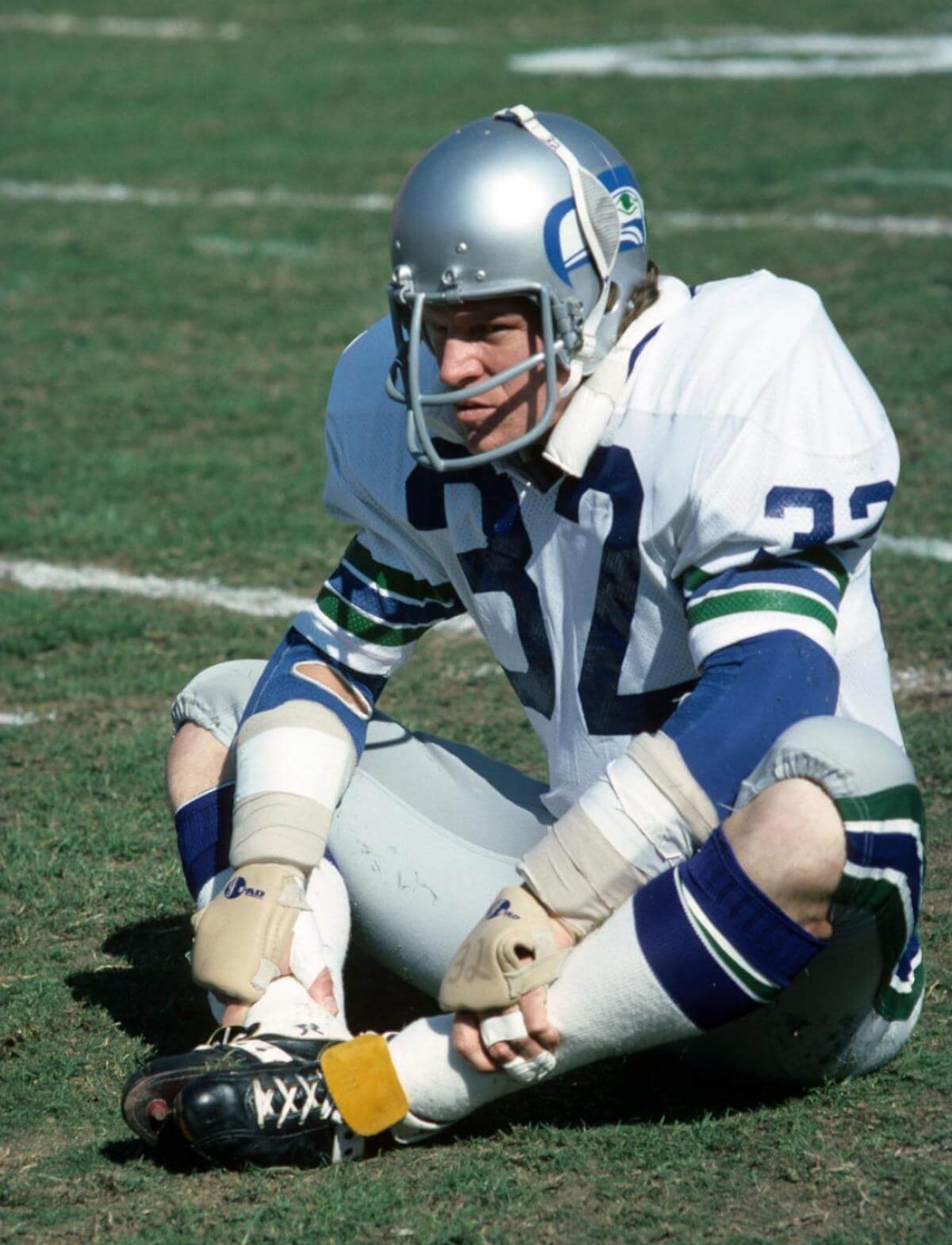 Click to enlarge
Reader Jon Solomonson recently brought something interesting to my attention: Former NFL linebacker Mike Curtis, who was best known for his time with the Colts but also played for the Seahawks, used to wear his chinstrap on top of his helmet during practices or while standing on the sidelines. In addition to the photo shown above, you can see him doing it in several of these shots and in this video footage.
I was intrigued. Did Curtis arrange to have a snap installed on his helmet crown (sort of like Sterling Sharpe used to have)? If so, was it put there by the equipment staff or by the helmet manufacturer?
Curtis is now 74 years old and lives in Florida, where I recently tracked him down for a phone interview. Here's the very quick transcript:
Uni Watch: How did you start wearing your chinstrap on top of your helmet?
Mike Curtis: I started doing that so I wouldn't have to deal with the strap while we were practicing. There's a hole up there on the top of the helmet for air circulation, and I could stick the end of that thing [he apparently means the snap or buckle — PL] in there, in the roof of my hat. I only did it in practice, not in games.
UW: So you didn't have a snap or other piece of hardware installed up there? You just used the ventilation hole that was already there?
MC: Yes.
UW: Was this your idea, or did you see other players doing it and get the idea from them?


MC: Just something I did myself.
UW: I've only seen photos of you wearing the strap this way when you were with the Seahawks. Did you also do it with the Colts, or even in college?
MC: Yep, always did it.
And there you go.
Also: If you go back and look at the full-size version of the photo at the top of the page, you can see that Curtis had his uniform number written on his chinstrap. I've only known of two other teams with uni-numbered chinstraps: the Chargers and Chiefs.
(Special thanks to Michael Princip for his assistance in tracking down and contacting Mike Curtis.)
• • • • •
The Ticker
By Kris Gross

Baseball News: The Toledo Mud Hens, Triple-A affiliate of the Tigers, are giving away Kirby Puckett bobbleheads this upcoming season. The only issue? They can't determine which uni number Puckett wore during his 21 games in Toledo in 1984, so they're asking fans for help (from @Dascenzo). … Here are Phil's Nos. 3 and 4 picks in his Negro League uniform rankings. … Nice photo of Dodgers legends Jackie Robinson, Roy Campanella, Pee Wee Reese, and Gil Hodges building a snowman at Ebbets Field (thanks BSmile). … Also from BSmile, these 1946 Cleveland Buckeyes unis featured a patch for winning the 1945 Negro League World Series. … Alabama C Sam Praytor has "Exodus 20:15" embroidered onto his catcher's mitt. That's the Bible verse that says, among other things, "Thou shalt not steal."

Pro Football News: Looks like the Eagles will wear black on Christmas Day. It's an odd color choice, because they'll be playing the Raiders (from Blake Fox). … The Cardinals will go mono-red on Sunday against the Giants (from Josh Pearlman). … In preparation for Sunday's game against the Chiefs, the Dolphins posted footage of a 1971 playoff game between the two teams. Check out the Miami jerseys, with no sleeve stripes! (From Russell Goutierez.) … These Steelers had some seriously dirty uniforms after a very muddy loss to the Browns 35 years ago (from @PGH_Sports_Date). … The Charlotte Checkers of the AHL wore jerseys last night designed by Panthers QB Cam Newton, featuring Newton himself (from Scott Leighty). … Following an incident in the Cowboys/Raiders game Sunday, the NFL told officials not to use index cards to measure first downs. … Interested in a Cowboys-branded gym? Cowboys Fit is the place for you (thanks Brinke). … Looks like pro wrestling mogul Vince McMahon, who founded the ill-fated XFL back in the early aughts, may be looking to get back into the world of pro football.

College Football News: Auburn helmets will have raised "War Eagle" lettering on the back bumper for their Peach Bowl game. … The Eastern Michigan football equipment staff celebrates the holidays with a tree made of helmets and footballs. … It appears helmets for Rockdale High School in Texas have two different shades of gold (from Glen Brockenbush).

Hockey News: The Kalamazoo Wings, EHCL affiliate of the Canucks, will celebrate 25 years of The Mighty Ducks with these jerseys tonight. … The Orlando Solar Bears and Wilkes-Barre/Scranton Penguins are getting in the holiday spirit with their jerseys (from Mike Slavonic). … Cross-listed from the football section: The Charlotte Checkers of the AHL wore jerseys last night designed by Carolina Panthers QB Cam Newton, featuring Cam Newton (from Scott Leighty). … TheGoalNet.com did a review of goalie gear trends in 2017. … A new museum exhibit on the history of ice skating in New York (NYT link) includes some archival NHL gear.

NBA News: Knicks G Jarrett Jack was missing the Nike logo on his jersey last night (from Ryan Spies). … A Reddit user created NBA jersey concepts based on ugly Christmas sweaters (from Jeremy Hartman). … The Sixers went with the bell logo design at center court last night. That court design was supposedly going to be used with the team's second alternate jersey, which hasn't yet been released. The team wore its standard blue uniforms last night (from @CtownManly). … The Warriors released their jersey schedule for the rest of the season (from @seanwc92). … Apparently Nike's replica NBA jerseys have issues too, as the numbers apparently peel off very easily. Check out the reviews here (from Michael Curry). … The Timberwolves' website now allows fans to purchase their tickets based on which uniform the team is wearing (from F.K. Yaaj).

Soccer News: New home and away kits for Atlantic City FC of the NPSL (from Ed Zelaski). … Scottish Championship team Greenock Morton FC has new home kits for the 2018-19 season. The shirt was designed by a fan and won a fan vote (thanks Jamie).

Grab Bag: This local uniform shop in Miami Township, Ohio makes band uniforms for schools across the country (from Liberty Bowman).
• • • • •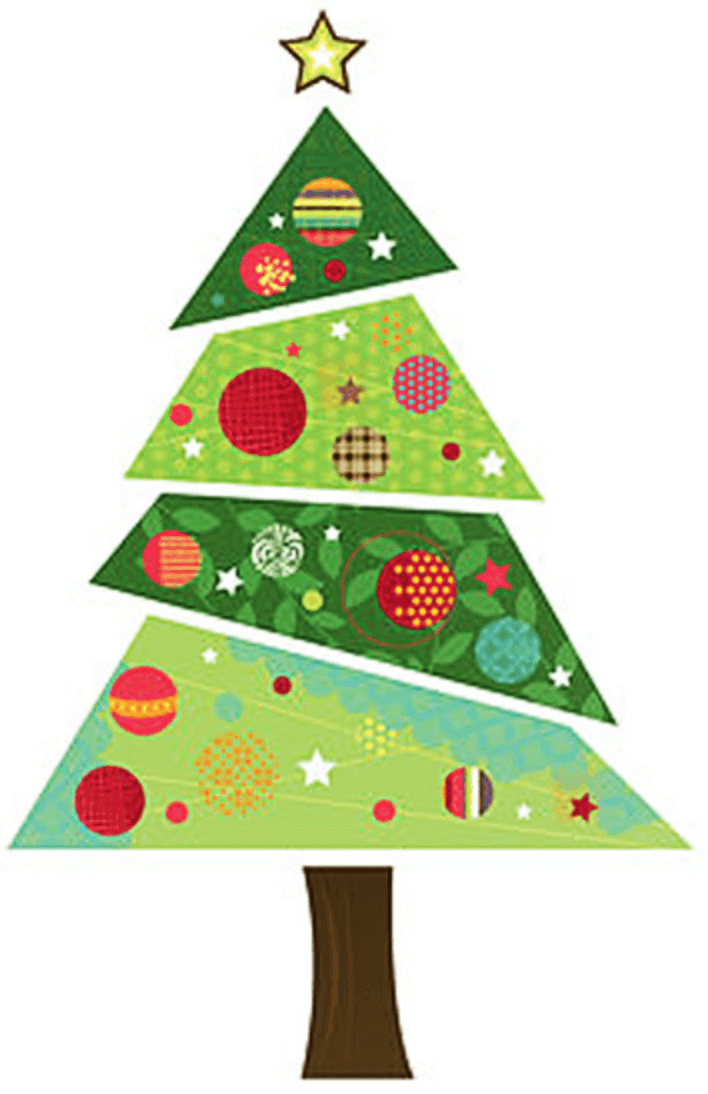 Phil will be here tomorrow and Sunday with his usual weekend extravaganza. I'll be back on Monday, which is Christmas Day, with the winners of annual year-end raffle.
If you're traveling this weekend, travel safe. If you're working, thanks for keeping the world spinning while the rest of us are holiday-ing. And if the Christmas is a bummer for you for whatever reason, as it is for many people, please accept a hug from me. Peace. — Paul