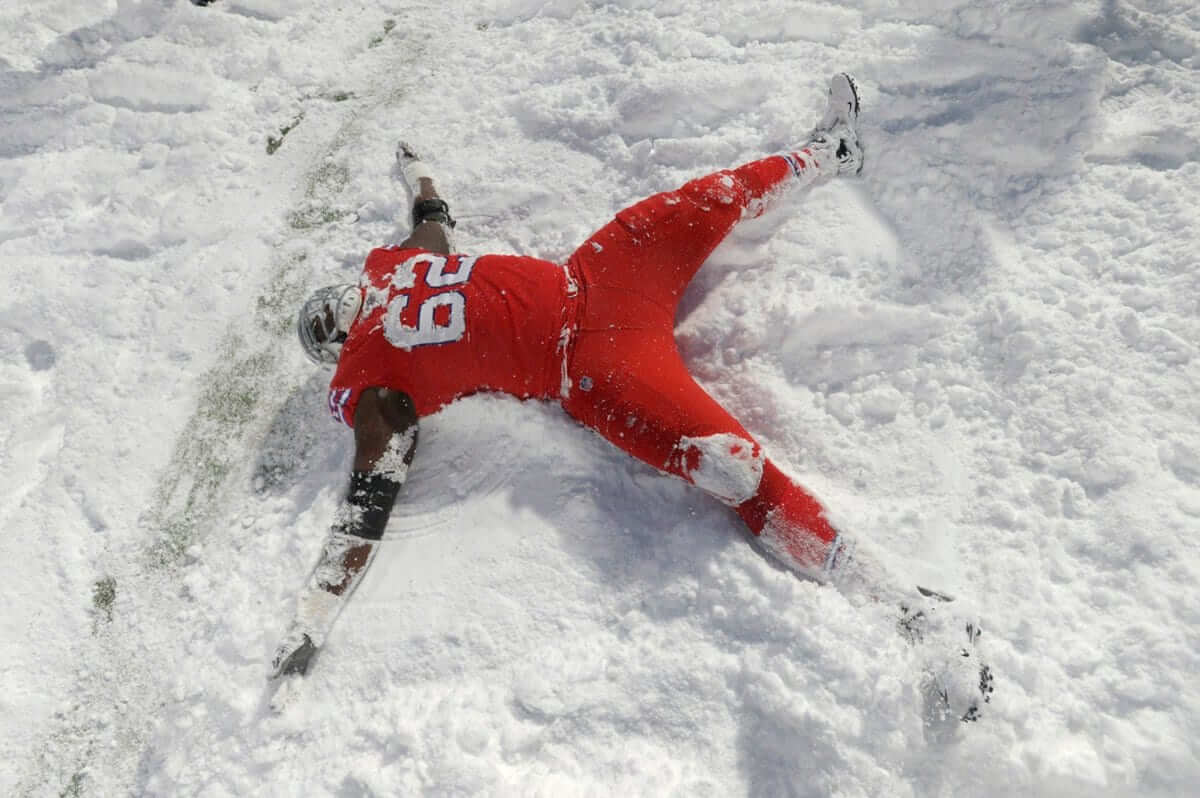 The Bills wore their mono-red Thursday-night uniforms for a Sunday-afternoon game yesterday. That turned out to be a good thing, at least from a visibility standpoint, because this was a snow game for the ages. Meanwhile, the Colts wore their usual mono-white road uniforms, which at times rendered them almost invisible:
Snow. Drag. Swag.#INDvsBUF #GoBills pic.twitter.com/u6JOXQwGdz

— Buffalo Bills (@buffalobills) December 10, 2017
Shady in the snow. #INDvsBUF #GoBills pic.twitter.com/V2o0C7G55U

— Buffalo Bills (@buffalobills) December 10, 2017
Chris Milton wasn't letting that ball go anywhere. #INDvsBUF pic.twitter.com/VxfsKq9yi8

— Indianapolis Colts (@Colts) December 10, 2017
If you want still photos from this game, there are lots of them available here.
Speaking of the Colts, running back Frank Gore was apparently wearing trainer's tape on his pants:
@UniWatch Frank Gore wearing trainers tape on his pants pic.twitter.com/x0PNBnZKOW

— KG (@killerkg) December 10, 2017
In other news from what was a very uni-eventful day around the league yesterday:
• Interesting-looking game at the Meadowlands, as the Giants wore their mono-white Thursday-night uniforms at home, complete with the Parcells-era helmet logos and the white facemasks, while the Cowboys paired their navy jerseys with their white Thursday-night pants (lots of additional photos here). It wasn't a bad look for Dallas, but I prefer their silver pants.
• The Cowboys/Giants game also featured two of the five players in the league who are now wearing the Walter Payton Award jersey patch (if you missed that news late last week, look here). Here's how it looked on Giants quarterback Eli Manning:
And here's how it looked on Cowboys tight end Jason Witten (click to enlarge):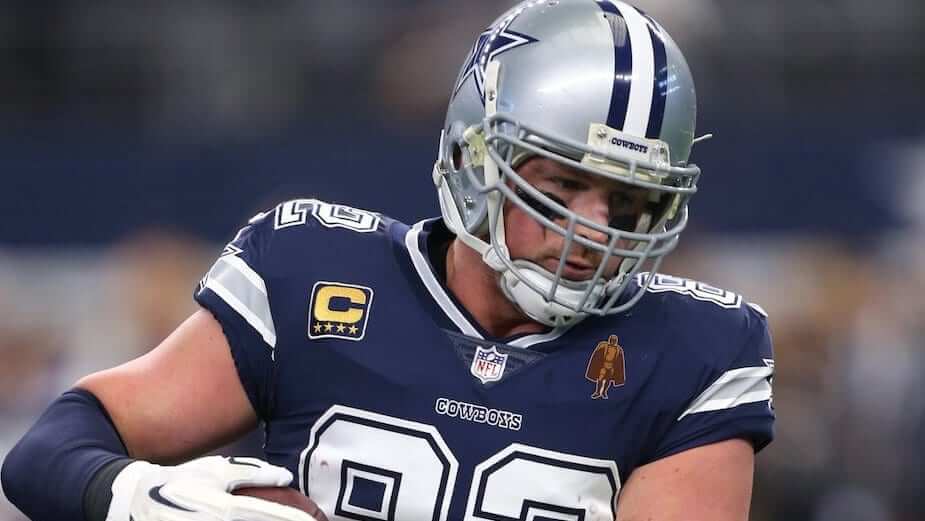 • In addition to Manning and Witten, Panthers linebacker Thomas Davis and Cardinals wideout Larry Fitzgerald wore the Payton patch for the first time: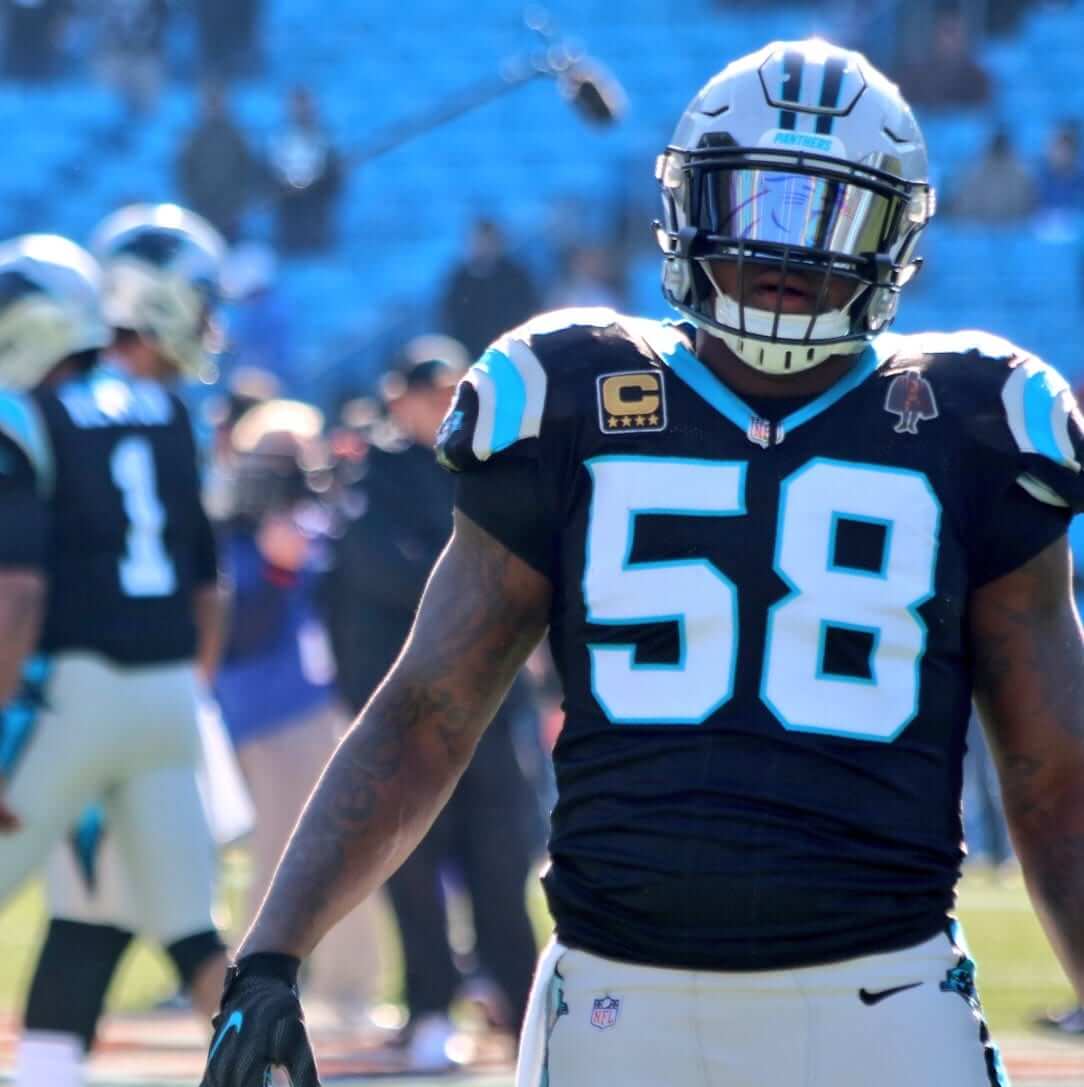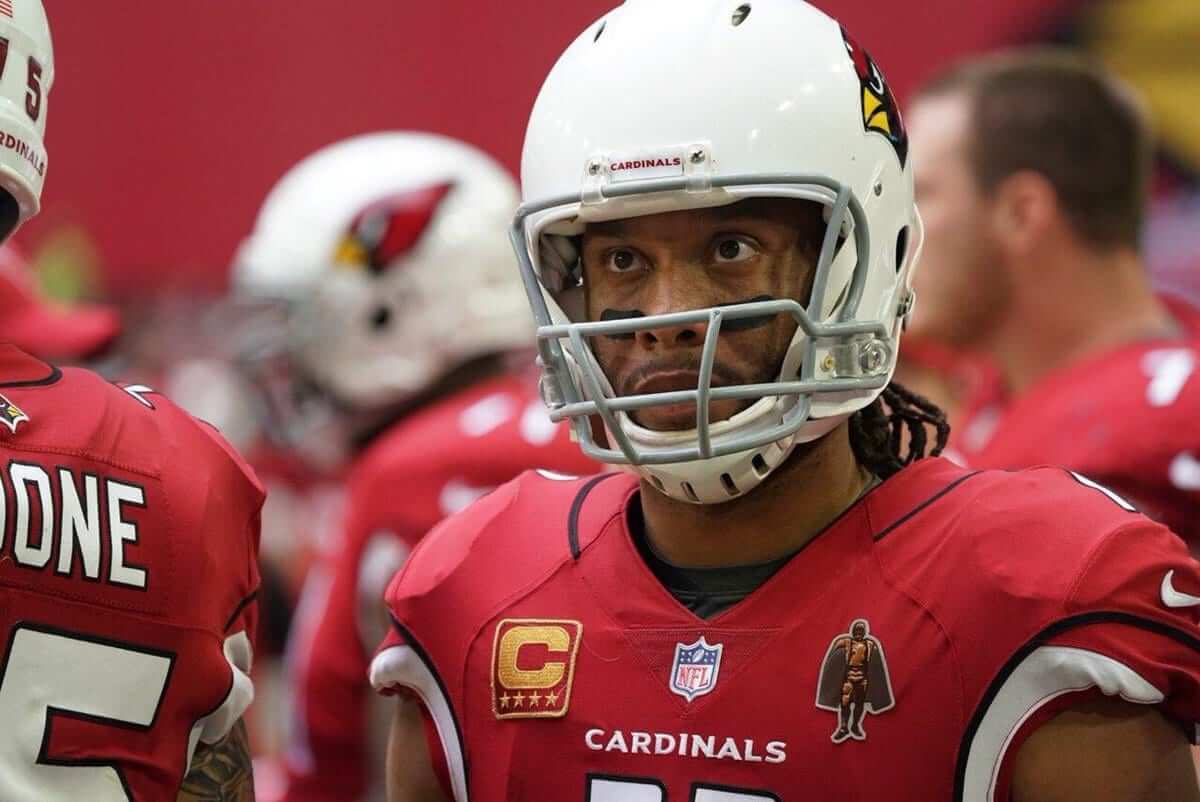 • Also, all 32 nominees for this year's Walter Payton award — one from each team — wore helmet decals. Here's how a few of them looked (if you can't see the slideshow below, click here):
• The Texans wore their red alternate jerseys:
• The Broncos wore their navy alternate jerseys:
• The Jaguars wore their teal alternate jerseys:
• One week after going mono-royal, the Chargers followed up by going mono-navy:
• The Bengals went mono-black:
• The Steelers saluted injured teammate Ryan Shazier, who is still hospitalized after undergoing spinal stabilization surgery following a collision in Monday night's game, in various ways. First, 15 players wore Shazier-themed cleats during pregame warmups. Here's a sampling (additional info here):
Embed from Getty Images
Also, several coaches wore pullovers emblazoned with Shazier's No. 50 as part of their sideline attire:
Embed from Getty Images
Also-also, linebacker Vince Williams wore Shazier's No. 50, instead of his own No. 98, on the back of his helmet (which is similar to Bengals defensive back Pacman Jones wearing No. 15 on his helmet as a tribute to Chris Henry):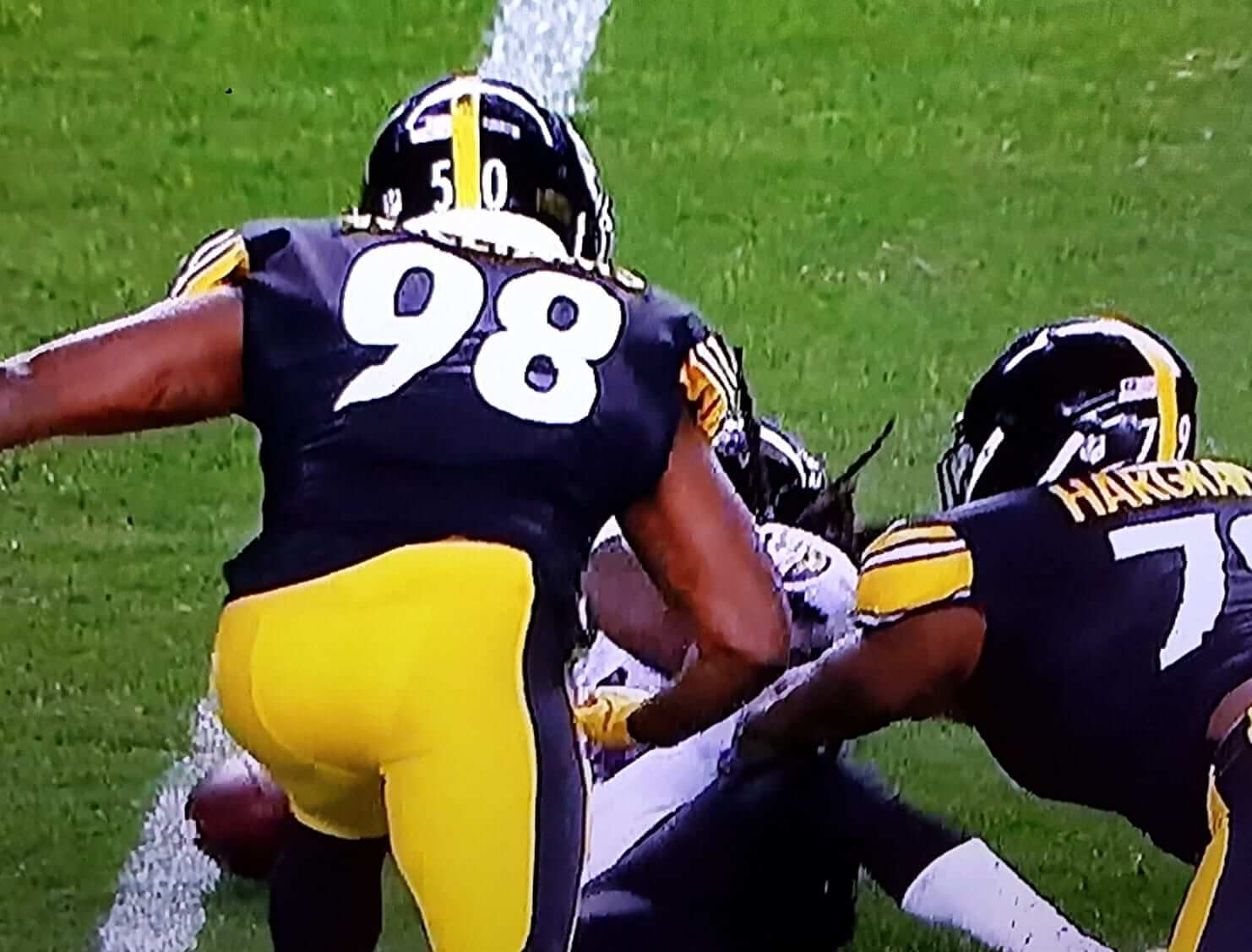 • Speaking of the Steelers, running back Le'Veon Bell's NOB appeared to be off-center, and he also had thigh pads with the Steelers' logo and his uni number:
@UniWatch @PhilHecken NOB looks a bit off-center. pic.twitter.com/W0nBK83t6C

— Frank McGuigan (@FrankMcGuigan) December 11, 2017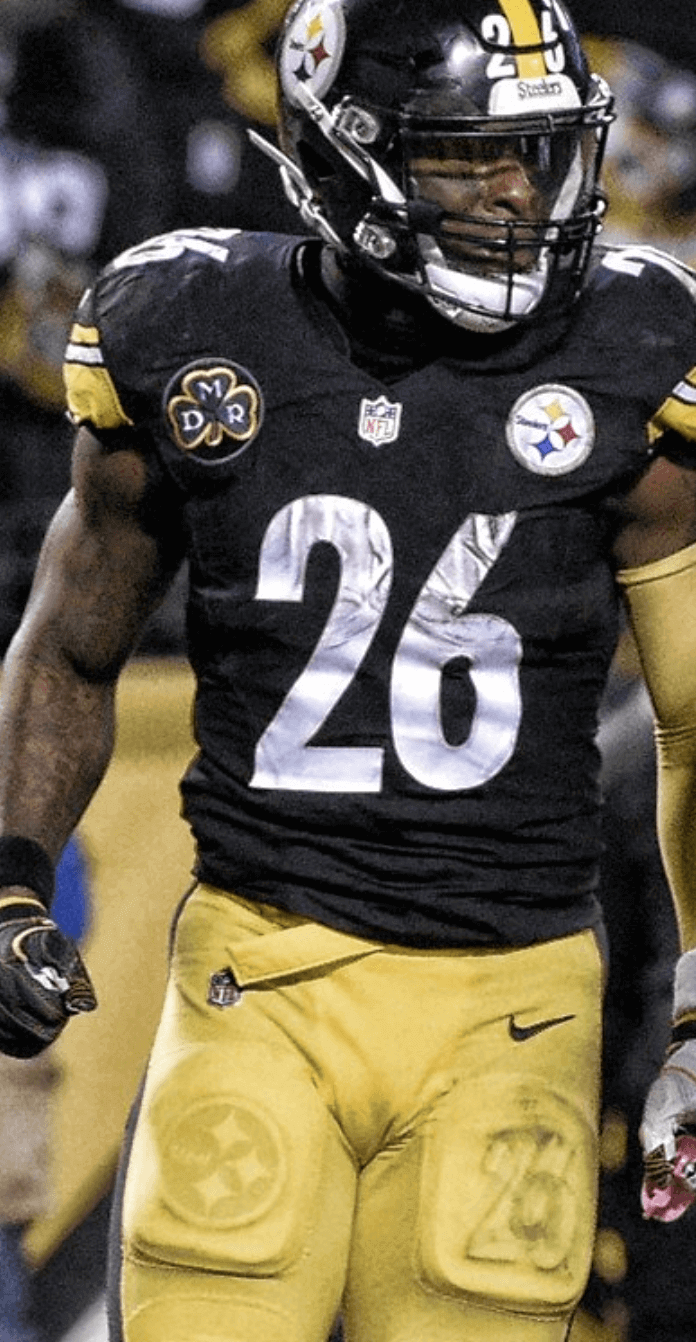 • Ravens tight end Vince Mayle had hand-warmer pockets sewn into his jersey, instead of wearing a strap-on pouch.
• Ravens linebacker Terrell Suggs had a very unusual facemask design: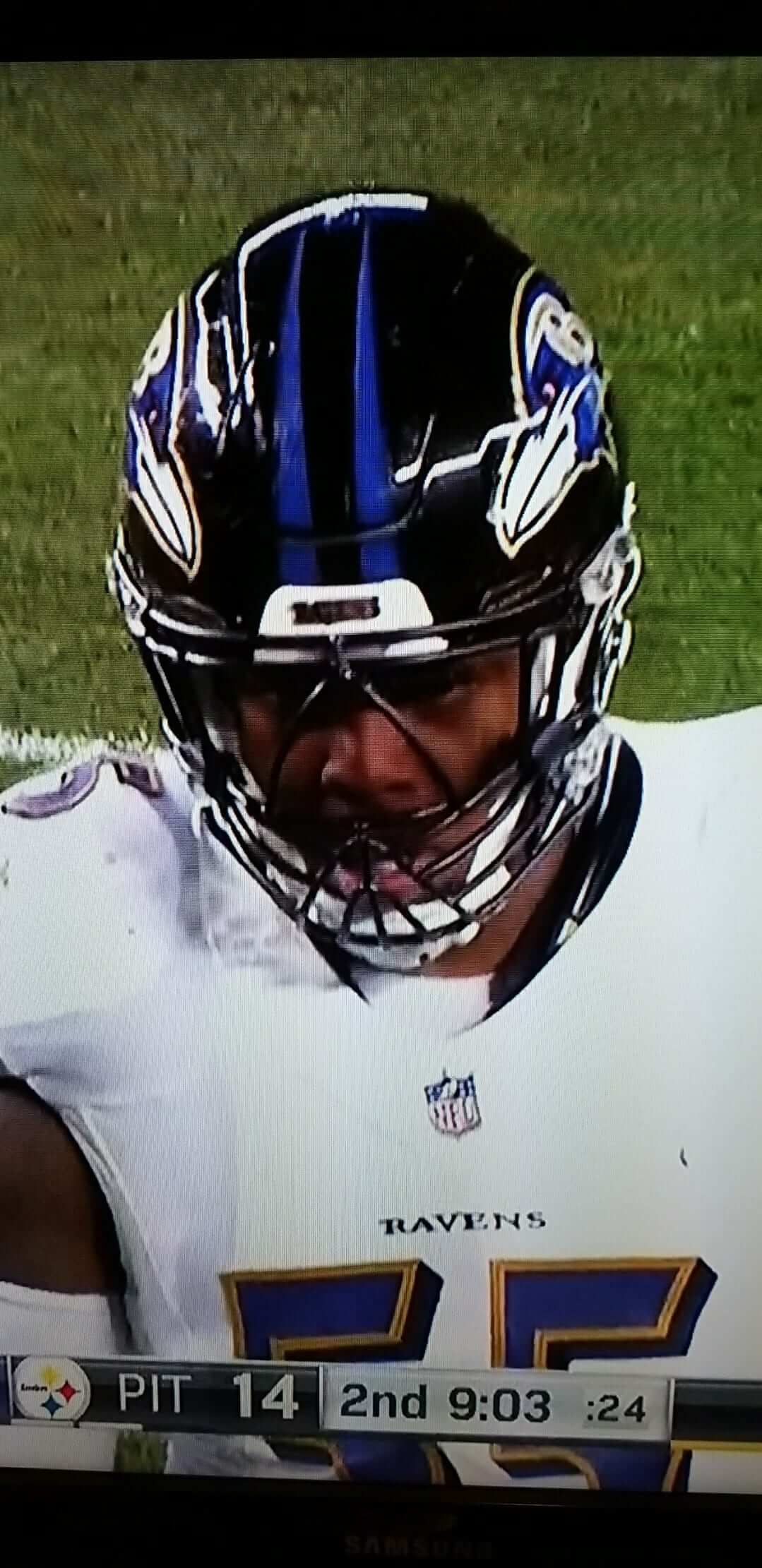 Suggs has apparently worn that mask before for pregame warmups, but not in a game:
Ravens LB Terrell Suggs is using a custom facemask for pregame warmups, he returns to his usual SF-2EG-II mask once play begins. pic.twitter.com/f9P2TpDuXt

— Helmet Stalker (@HelmetStalker) October 16, 2017
• Two teams wore white at home: the aforementioned Giants and the Rams.
• Here's a list of players who protested during the national anthem.
(My thanks to Addie Berube, Andrew Cairns, Andrew Kurzawski, L.J. Sparvero, and Ryan Ziegler for their contributions to this section.)
• • • • •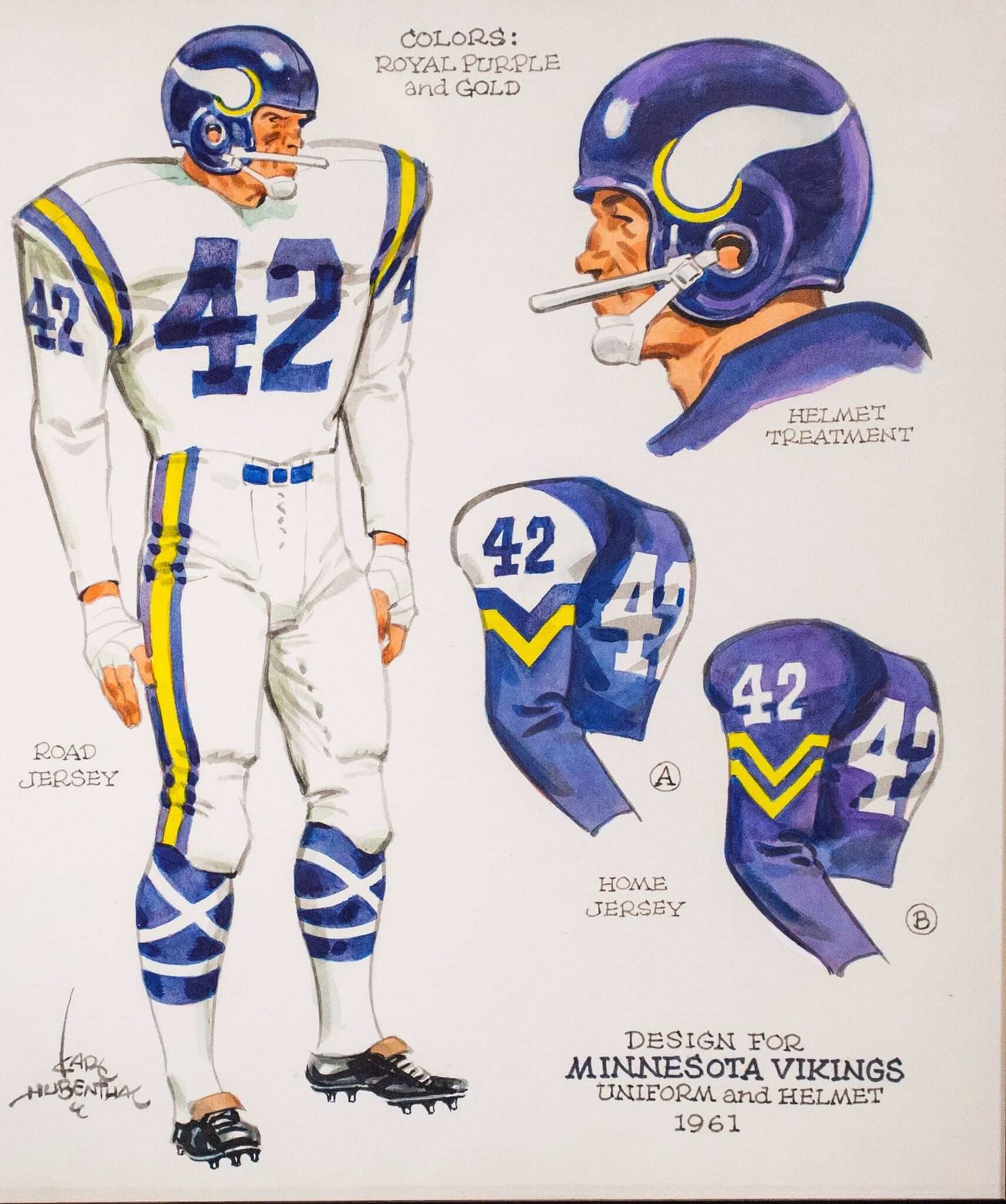 ESPN/Vikings reminder: In case you missed it last Friday: Remember my recent ESPN piece about how cartoonist Karl Hubenthal designed the Vikings' uniforms, and how he used purple and gold because those were the colors of GM Bert Rose's alma mater, the University of Washington?
Several Vikings fans responded to that piece with counter-narratives — stories that contradicted the one I reported. So I went back and did a bunch of additional reporting (including an interview with former Vikings coach Bud Grant, who's now 90 years old), in an attempt to sort which stories were accurate and which ones weren't.
The result is a new ESPN follow-up column, which I think you'll find very interesting. Check it out here.
• • • • •
NBA Uni Tracking
By Collin Wright
This past week had the second-lowest percentage so far this season (42%) of games with the home team in white. (41% in week six was the lowest.) Season-long averages still show that home teams are choosing white most often, but that number has decreased for the past four weeks (click to enlarge):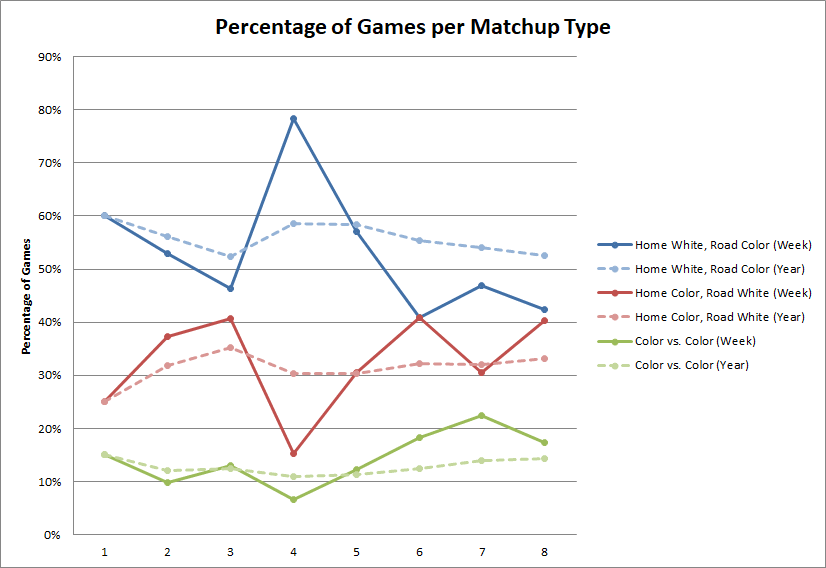 One uniform made its first appearance this week, when the Kings wore their black alternates last night at home against the Raptors. That means only the Pistons, Timberwolves, and 76ers have yet to wear their alternates. The Timberwolves are scheduled to wear theirs this Saturday at home against the Suns.
On the color vs. color front, the Rockets and Celtics have both played nine such games, going 8-1 and 7-2, respectively. The Kings and Knicks are the only two teams yet to play in a color vs. color game.
• • • • •
The Ticker
By Jamie Rathjen

Baseball News: The New York Post created a mock-up of Marlins RF Giancarlo Stanton in a Yankees jersey — but if you look carefully, the jersey has a 2009 Yankee Stadium inaugural season patch (from Eric Hoey). … Here's one of the best looks ever at the facemask worn by Orioles OF Gary Roenicke after he got beaned in 1979. According to this story, the O's staff went into the Colts' locker room at Memorial Stadium and took the mask off of quarterback Bert Jones's helmet (from Joanna Zweip). … Also from Joanna: The Reds gave former OF Reggie Sanders a No. 50 jersey for his 50th birthday. He never wore that number during his career. … Reader Tom Pachuta saw a clip of a 1967 Red Sox-Athletics game in which A's 3B Sal Bando was wearing a white cap. The team usually wore green caps during their time in Kansas City. [A's players also wore white caps in this 1967 game against the Tigers, which I wrote about back in 2011. — PL]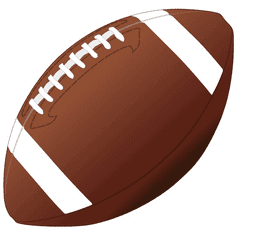 Football News: Here's a look at the bowl patch for Virginia Tech (from Andrew Cosentino). … Ohio will wear mono-white for the Bahamas Bowl (from Ed Żelaski). … Former Patriots LB Willie McGinest's rookie jersey had an unusual McNOB treatment.

Hockey News: The Canadiens have part of the team's motto, "Nos bras meurtris vous tendent le flambeau" ("to you from failing hands we throw the torch") inside the collar of their jerseys this season. The motto is a French translation of a line from the poem "In Flanders Fields." It's on both the red and white jerseys and (look carefully) the NHL 100 Classic jerseys. … In the Champions Hockey League (the hockey equivalent of the UEFA Champions League), the top scorer on each team wears a jersey with a blue back that doesn't have a number, but does have several more advertisements (from @rpw822). Another league that does this is the Swiss National League, which adds a flaming yellow helmet. … The Senators don't use a consistent font for the tarps covering their nosebleed seats (from @Jay_Pea_R). … The Panthers will retire No. 37 for team founder H. Wayne Huizenga on Jan. 19 (thanks, Paul).

NBA News: Reprinted from yesterday's comments: Dan Tarrant was listening to a Hornets game on the radio and heard that the team's final alternate uniform will be unveiled on Dec. 17 and worn later this season.

Soccer News: Bundesliga team Borussia Mönchengladbach have worn their black-and-white "third kit" for every home game bar one this season. As a result, this week's opponents Schalke 04 ended up wearing Gladbach's usual all white against them. … On the topic of black third kits, Scottish Championship (second tier) team St. Mirren have worn one several times, both home and away, for their 140th anniversary. … Staying in Scotland, Celtic used their 2016-17 third kit as their fourth (!) kit of this season. As I've mentioned before, Celtic's clash kits this season are inexplicably both green, making their trips to yesterday's opponents Hibernian a problem (Josh Hinton sent in more pictures as well). … If you like snow sports, you may be interested in the 1. FC Köln-SC Freiburg match from yesterday. Unlike other leagues that use full-time yellow balls in the winter, the Bundesliga's orange snow ball only appears if it's actually snowing. … Fans in the UK have a special disdain for match-commemorating "half and half" scarves, where each half is one team's color. Accordingly, the Greater Manchester Police jokingly threatened to arrest anybody wearing a half and half United-City scarf at Sunday's Manchester derby (from Willard Kovacs). Look here for an overview of the many issues with half and half scarves. … David Cooper followed up on his submission (see below) of a kit with mismatched socks: Scotland's 2005-07 kits had a vertical stripe on only the right sock, and an accompanying stripe at the bottom of the shorts on the same side. … New home shirt for League of Ireland First Division (second tier) team Drogheda United (from Ed Żelaski).

Grab Bag: The Byron (Minn.) High School Bears celebrated the 50th anniversary of the wrestling program with 50 years of singlets (from Aaron Murray). … English rugby union team Harlequins' prop Joe Marler had his socks on the wrong feet. The team has two different colored socks; note how they're reversed from what his teammates are wearing (from David Cooper). As a bonus, that game was played in snow. … Wade Heidt has more NLL news: the Rochester Knighthawks' colored uniforms are now purple; they used to be teal. … Calvin Klein's chef was reportedly under instructions to match the color of Klein's coffee to a Pantone swatch (from James Gilbert).
• • • • •
Click to enlarge

What Paul did last night Friday night: On Friday night the Tugboat Captain and I went across the river to Jersey City. Our first stop was Razza, a restaurant that New York Times food critic Pete Wells recently declared to have the best pizza in New York (even though it's actually in New Jersey). We got a margherita and a pepperoni (see above) — both excellent. Was it the best pizza ever? Eh, maybe not. But it was very, very good.
Then we walked up to the avenue to Monty Hall, where we had tickets to see the always-amazing surf-rock band Los Straitjackets, who were resplendent as ever in their matching suits and non-matching Mexican wrestling masks. It was their annual holiday spectacular show, so they did Straitjackets versions of various seasonal standards, the best of which was their interpretation of the Vince Guaraldi classic "Linus and Lucy." I didn't record it, but here's a video that shows them performing the song about two years ago:
After an hourlong set, the great rocker/songwriter Nick Lowe came out. He's been collaborating a lot with Los Straitjackets in recent years, and he led them through four more songs. I've seen him many times over the years, but never in such a small room. Pretty cool to be just a few feet away from him (click to enlarge):
On the way back to the subway, I noticed that Jersey City has some really cool bike racks. I'm interested in bike rack design, and even wrote an article about it a few years ago, and I really like the simplicity of the Jersey City racks (click to enlarge):