Click to enlarge
The photo shown above was taken during the Saints' inaugural season, 1967. Take a look at the two players in the center — quarterback Gary Cuozzo and running back Jim Taylor. As you can see, their jersey numbers are much thicker than the ones being worn by the two other players (and yes, Taylor's helmet striping is inverted, but we've discussed that issue before so let's not worry about it today).
According to reader Russell Goutierez, Cuozzo and Taylor were the only two Saints to wear the thicker numbers that year. By coincidence, those two players also appeared on this famous Sports Illustrated cover (which is famous in part because of the plain white helmet stripes):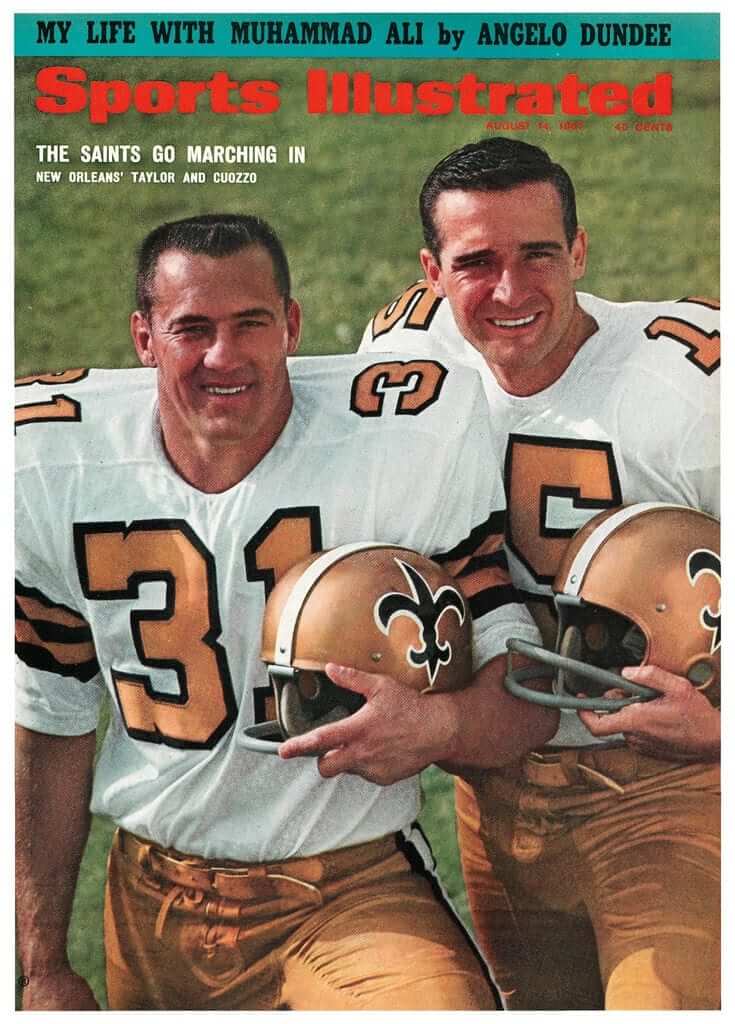 "Every other Saint I've ever seen in pics or video from 1967 (and I've looked at a lot of them) wears the 'thin' number font," says Goutierez. I did some photo research, and he appears to be right. Here's a 1967 shot that shows a bunch of Saints wearing the thin number, and here's shot showing Taylor with the thick font and a defensive lineman with the thin font: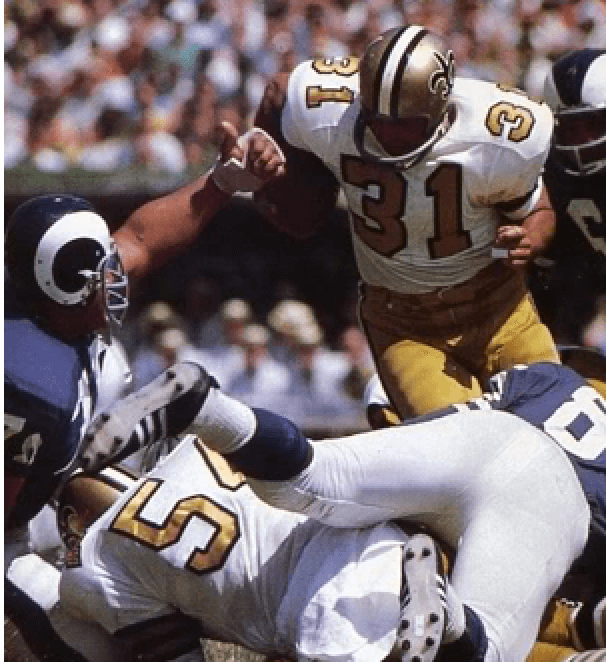 This would all be just a fun historical footnote except for one thing: The Saints will be wearing their mono-white Thursday-night uniforms for tonight's game against the Falcons, and those uniforms use the thicker font (click to enlarge):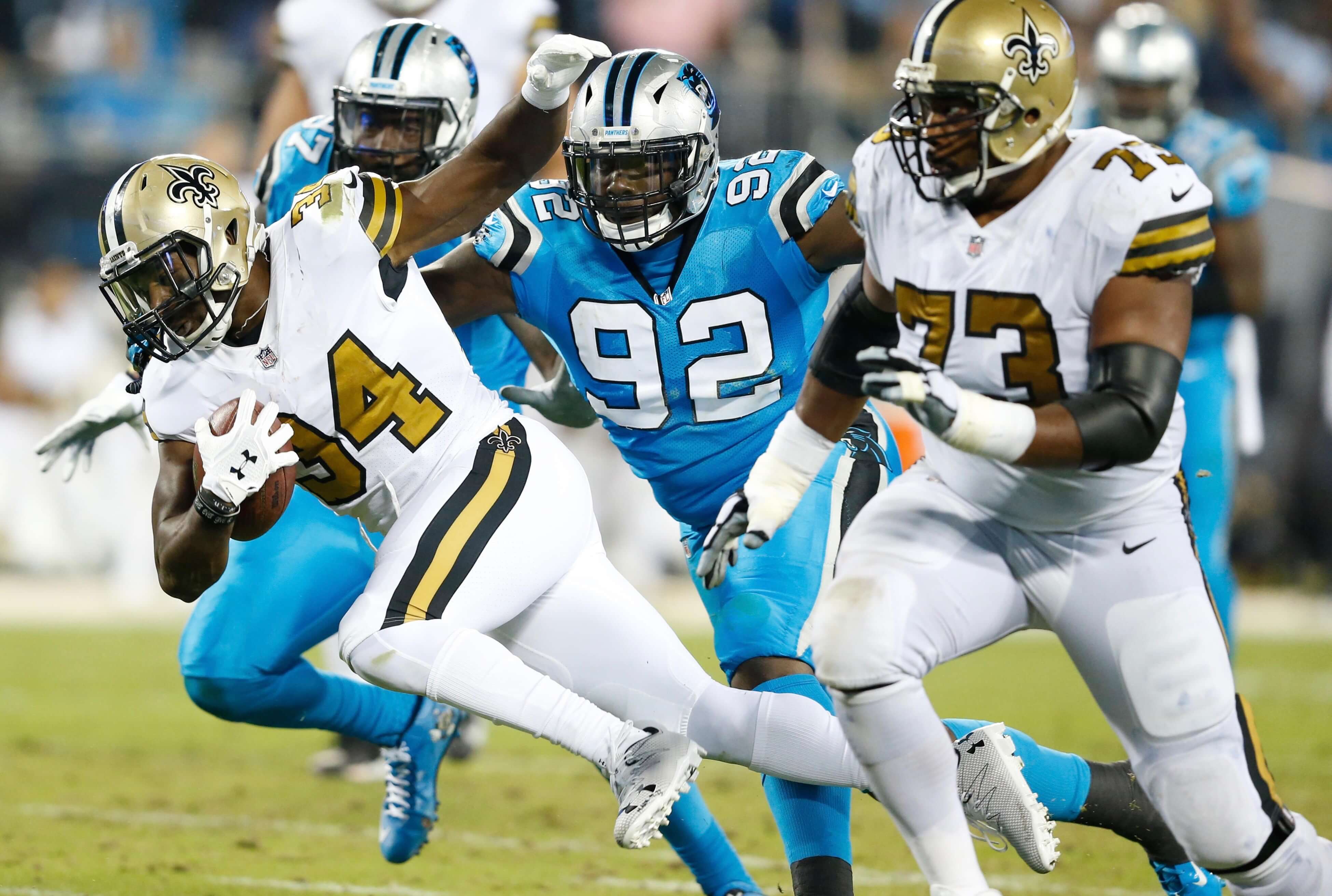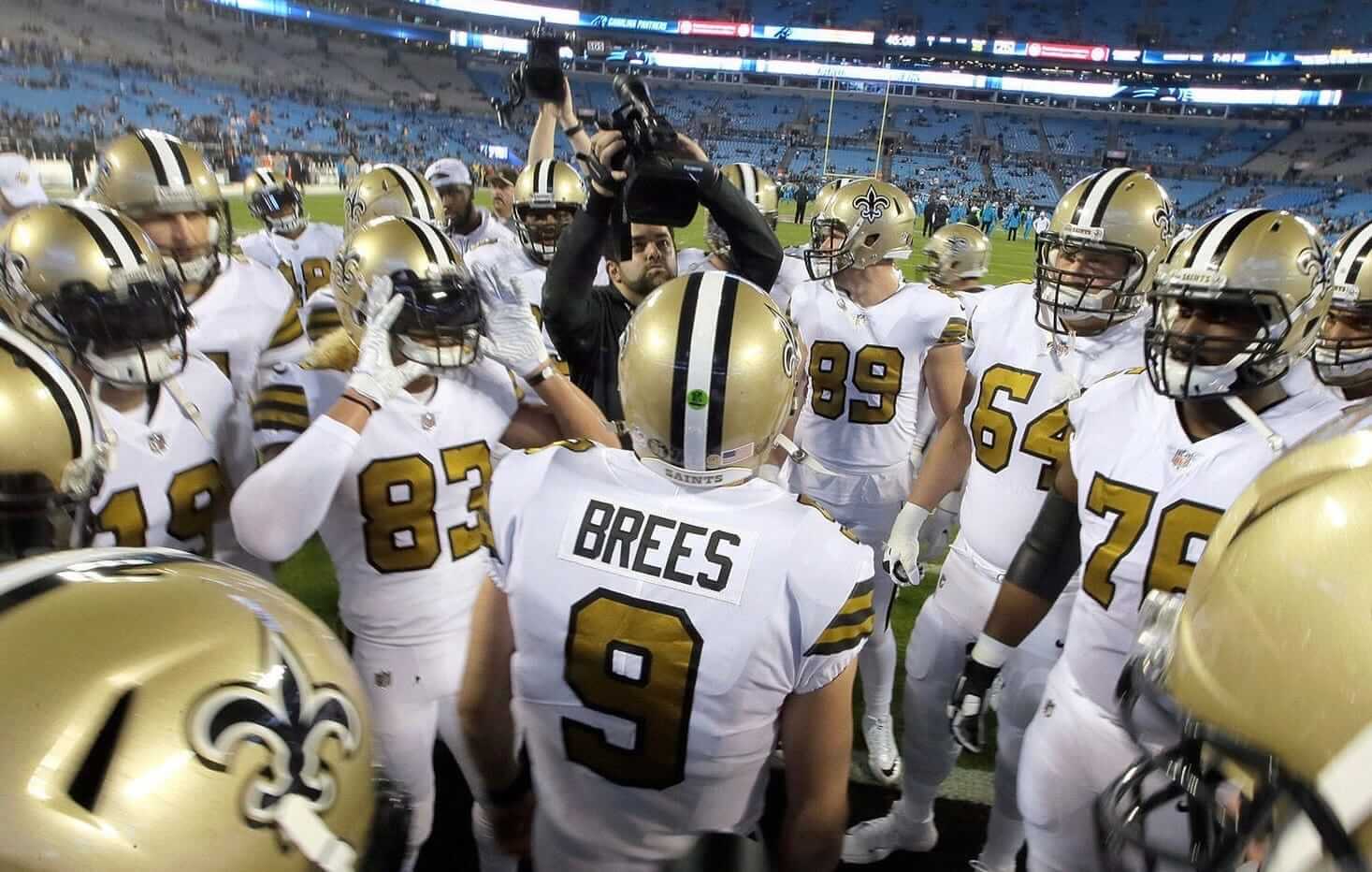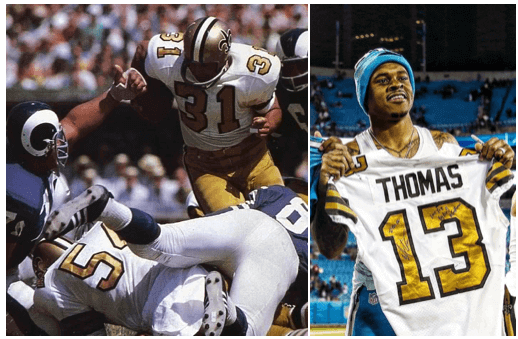 So the Saints are basing their Thursday-night uniforms, which are supposedly a nod to their early history, on a number font that was worn by only two players. Seems odd, no?
• • • • •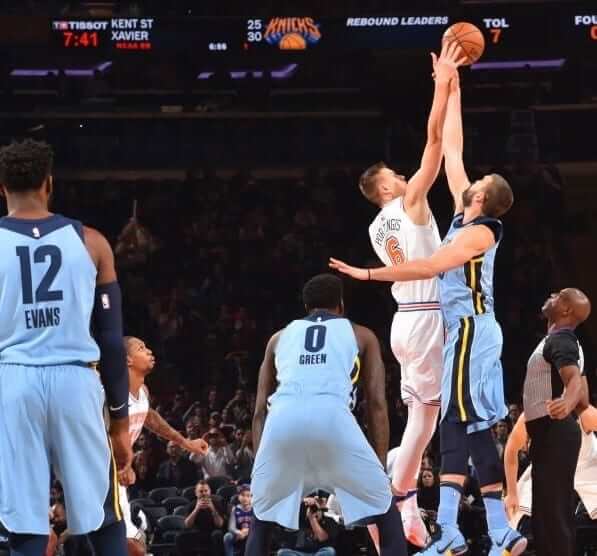 Heading south: Notice anything unusual about this shot from last night's Grizzlies/Knicks game? As you can see, the Memphis players had drop-down NOBs on their light-blue alternate uniforms. But when this uni design was revealed a few months ago, it showed a conventional radially arched NOB.
The Grizzlies had worn this uniform one previous time, on Nov. 26 against the Nets, and sure enough, they had the drop-down NOBs in that game as well. That was during the Thanksgiving weekend and I must have missed it. Interesting development!
(My thanks to Collin Wright for bringing this one to my attention.)
• • • • •
Cats are so fucking weird: I recently found an old blanket in the back of my closet. I think I bought it at a thrift shop more than 10 years ago, and then it got buried under a bunch of other stuff and I forgot about it.
I initially put it at the end of my bed, where Uni Watch mascot Caitlin immediately curled up on it. Turns out she loves it — no matter where I put it, she ends up on it (for all photos, you can click to enlarge):
So territorial! What a cutie.
• • • • •
The Ticker
By Paul

Baseball News: New logos for the Single-A Augusta GreenJackets. … Check out this great old aerial photo of City Island Ball Park in Daytona, Florida (now known as Jackie Robinson Ballpark). Ya think any foul balls made it into the water?

NFL News: It wasn't uncommon back in the day for football coaches to wear football pants during practices. But here's an old shot of former Giants head coach Steve Owen wearing what appears to be baseball pants. Ditto in this shot. While we're at it, here's a shot of Owen wearing a cap and jacket with a Yankees-style "NY" insignia (all this from Jamie Burditt). … The Chargers will go mono-navy this Sunday (thanks, Phil). … Colts DB Malik Hooker bought a new set of basketball uniforms for his hometown high school in New Castle, Pennsylvania. Additional pics here and also gave out five autographed footballs (from Michael Conn). … The NFL has a new line of team merch designed by students at the Fashion Institute of Technology in NYC. Additional info here (from Tommy Turner). … Giants WR Sterling Shepard wishes the team's Color Rash uniforms were red instead of white.

College Football News: Good work by James Gilbert, who is charting all the field designs for UNC's stadium. … The National Bobblehead Hall of Fame has released a line of limited-edition college football bobbles. Additional info here (from Jason Hillyer). … Also from Jason: Newly named Arizona State coach Herm Edwards, who'd been away from the coaching ranks for a decade couldn't believe how small modern jerseys have become. … This photo, apparently from 1908, shows Pitt players wearing uni numbers that appear to be pinned to their jerseys (from Robert Hayes). … I don't much care about corporate theater, but this piece about whether Under Armour hates Auburn is pretty funny (from David Wilson). … Here's how a UAB jersey looks with a Bahamas Bowl patch. … Anyone know what's written on Holy Cross QB Peter Pujals's undershirt? It looks like he had "Holy Cross" there in previous games (from Matt Simpson).

Basketball News: Cross-listed from the NFL section: Indianapolis Colts DB Malik Hooker bought a new set of basketball uniforms for his hometown high school in New Castle, Pennsylvania. Additional pics here and also gave out five autographed footballs (from Michael Conn). … A current State Farm commercial features an ice sculpture of Rockets G Chris Paul, including the maker's mark on his sneakers. "Gross," says Chris Perrenot).

Soccer News: Keaton Parks re-upped with Portuguese side Benfica B through 2022 and was presented wtih a No. 2022 jersey for the occasion (from Mike D).

Grab Bag: The University of North Dakota has extended its apparel deal with Adidas through 2025. … The French cycling team FDJ will be called Groupama-FDJ next season, thanks to a new corporate partnership. … Here are some great manhole cover designs from Japan (from @gondokc). … A New Jersey ice cream shop has been getting complaints about its logo, which features a sexualized dairy cow. … USF's athletics dept., which has been outfitted by Under Armour in recent years, is switching to Adidas (thanks, Alex). … A food contractor's sign at McCarron Airport in Las Vegas uses the old Star Trek font (from Ed Hughes). … Here are the six candidates for the 2020 Olympics and Paralympics mascots (from Jeremy Brahm). … I'd better enjoy 2017 while I still can: Pantone picked a shade of purple as its color of the year for 2018. Ugh.
• • • • •

What Paul did last night: Last night I saw the new movie The Shape of Water, which is about a romance between a mute woman and a sea monster. It's a sweet story, and gorgeously shot, although almost completely predictable and unchallenging. What really interested me was the movie's fixation on my favorite color, green. In addition to the green sea creature who lives in brackish green water, there are green custodial uniforms, green wall tiles, green hand soap, green buses with green seats, green pie, green Jell-o, green candy, a green car (a car salesman describes it as "the color of the future"), and even a character who apparently develops gangrene.
I imagine this was all meant to be a subliminal (or maybe liminal) environmental message, but for me it was just a visual treat — a movie saturated with various shades of my favorite hue. Mmmmm, green.