It was old-school vs. new-school yesterday in Atlanta, as the Falcons wore their fauxbacks against the Bucs (additional photos here). As you can see above, Falcons wideout Julio Jones marked the occasion with some sock-stripe shenanigans, which actually looked pretty good. You can see additional views of him here, here, here, and here.
In other news from around the league yesterday:
• Brutal-looking game in Cincy, as the Bengals paired their orange alts with their black pants (a terrible idea — that jersey should only be worn with white pants) against the Browns (additional photos here):
• Speaking of the Bengals, they invited a bunch of the top players in franchise history for a 50th-anniversary ceremony. Interestingly, they all wore No. 50 jerseys, instead of the numbers they wore during their playing careers: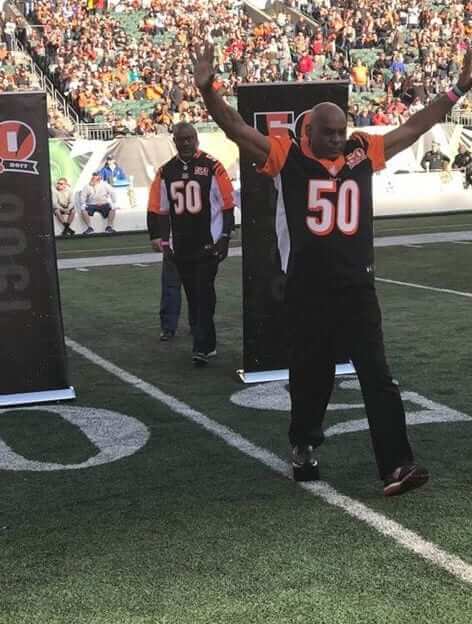 • Another rough-looking matchup was the Jags/Cards game. Among their many other problems, these two teams have particularly bad pants (additional photos here):
• On the plus side, I love when the Seahawks go white over navy. Their game against the 49ers looked very nice indeed (additional photos here).
• Another game that was very easy on the eyes: Bills vs. Chiefs (additional photos here).
• Unfortunate move by the Jets, who went mono-green. I realize their team nickname is Gang Green, but this is way too much (additional photos here).
• One team wore white at home: the Rams.
• Here's a list of players who protested during the national anthem. There's talk that the league may opt to keep the players in the locker rooms during the anthem next season, which is how things were handled up until 2009.
Coming next week: the "Cleats for a Cause" promotion, back for a second year. But unlike last year, when there was a lot of chatter about the various custom-painted shoe designs, I haven't heard much buzz this time around. Have you?
(My thanks to Brinke Guthrie for the Bengals anniversary jersey item.)
• • • • •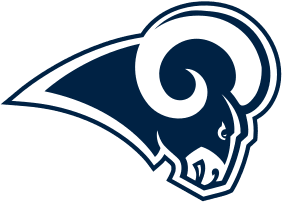 Silence of the Rams: The Rams are now 8-3 and sitting atop of the NFC West. People are starting to project how the team and its mismatched uniforms will look in the postseason.
Let's start by stipulating that there's a big difference between the Rams' white-jersey look, which has just a bit of gold, and their blue-jersey look, which is a train wreck. Is there any chance that they'd wear the blue jerseys in the postseason?
The Rams wear white at home, so they'd wear white jerseys for any potential home playoff games. Looking at their potential postseason opponents in the NFC, the only other team that wears white at home even some of the time is Carolina. So if the Rams faced the Panthers in Carolina, it's possible that L.A. would have to wear the blue jerseys.
Ah, but what about the big enchilada — the Super Bowl? The AFC is the designated home conference this season, and all of the AFC teams currently poised to make the postseason routinely wear color at home, so that would seem to guarantee that the Rams will wear white if they make it to the big game. The only rogue element there is that the home Supe team sometimes opts to wear white if it has worn white throughout its postseason run (as the Broncos did in Supe 50, for example). So there's a slight chance of that happening, which would force the Rams to wear blue. But if, say, the Patriots make another run to the Supe? You can bet they'll wear blue, so the Rams would wear white.
In short: It's possible that the Rams' worst look could get a postseason showcase, but it's not likely.
• • • • •
NBA Uni Tracking
By Collin Wright
The big news is that teams began wearing their third/alternate uniforms after Thanksgiving. Through Sunday's games, 29 teams have played post-Thanksgiving games (all but the Lakers), and 15 of them wore their newly available third jersey in their first game after Thanksgiving. What's more, 19 teams have played at least one home game over those three days and thirteen of them wore their new uniform in the first home game they played. Six teams debuted the new alternate uniform on the road, four of them against home teams wearing white.
Of the 30 alternate uniforms, 29 of them are colored (all except the Knicks'). So as teams begin wearing these uniforms, we're seeing a bump in color-vs.-color matchups. Here are the updated numbers:
[table id=37 /]
The numbers are somewhat deceiving. If we look only at the games since Friday, when the third/alternate uniforms entered the rotation, seven of 23 games (30.4%) were color vs. color. By my estimation, four of those games could not have been color vs color without the third sets, and only one of them (Bulls in red vs. Heat in throwback black) did not feature at least one team in the third set. In short, expect to see a spike in all-color games now that teams are dipping deeper into their wardrobes.
Fifteen teams still haven't debuted their alternate sets, and the Hawks still haven't worn their throwback set. So that makes 16 more uniforms that will likely debuted before the next set of alternates is made available around Christmas.
• • • • •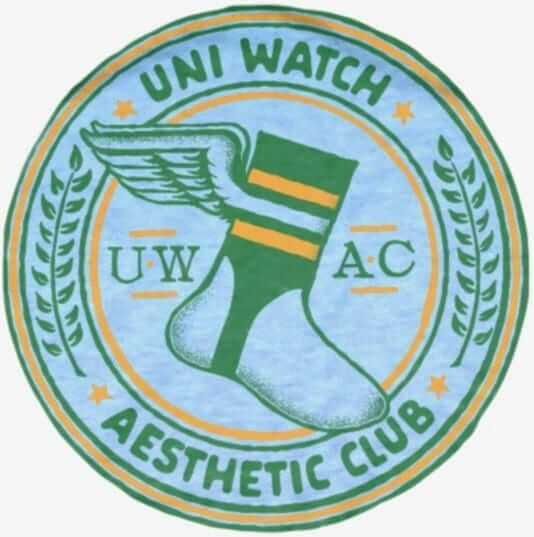 LAST CALL for the UWAC shirt: In case you missed it last Friday, we have a new limited-edition shirt, designed by Bryan Molloy, available only until midnight Eastern tonight. It's a doozy of a package, with front and back designs, a custom hangtag, a sticker, and a custom mailer, and, for the first 40 orders, a magnet. (Update: We've now passed 40 sales and are fresh out of magnets.) Full details here, or just go straight to the ordering page. Again, this shirt is only available until midnight Eastern tonight.
• • • • •
ESPN reminder: In case you missed it during the Thanksgiving shuffle, my latest ESPN column tells the lost story of how the Vikings' original uniforms were created. Check it out here.
Speaking of ESPN, my annual Uni Watch Holiday Gift Guide should be out this Wednesday.
• • • • •
The Ticker
By Jamie Rathjen

Baseball News: We've seen this before, but it's worth repeating: The early-'80s Giants used the same number-in-streetcar treatment on their warmup jackets that the Golden State Warriors used on their "The City" uniforms (thanks, Phil). … Back in the early '90s, the Reds sent Christmas ornaments to their season ticket holders.

NFL News: This vintage (ca. 1970s) NFC seat cushion was spotted after Saturday's Georgia Tech/Georgia by Jeff Flynn. … A few excerpts from the book Tales From the San Diego Chargers Sideline, by the team's former equipment manager Sid Brooks: When QB Johnny Unitas played for the team, they painted his shoes to resemble Adidas shoes, because the team had a contract with that company. Also, submitter Gene Sanny sent us the origin of the team's 1988-2006 blue jerseys with white bolts.

College/High School Football News: A group of South Carolina fans who wore body paint on Saturday included a hand-drawn Under Armour logo in the usual maker's-mark spot (from Chris Perrenot). … Minnesota had Goldy the Gopher helmet decals against Wisconsin, but some of the parts had trouble staying on (from Brent Kivell). … Reader Mike Raymer sent us a picture of the Troy (N.Y.) High School Flying Horses. "Has to be the only team on the planet with that nickname," he says.

Hockey News: On Saturday the Hamilton Bulldogs (OHL) debuted alternate uniforms that throw back to the 1924-25 edition of the Tigers, the city's only NHL team (and who got their name and colors from a predecessor, also called the Tigers, of the CFL Tiger-Cats). Submitter Wade Heidt tells us Hamilton's opponents, the Ottawa 67s, wore barber-pole alternates, making for a very colorful game. … A fan of the Cardiff Devils (in the UK's EIHL) laced up his jersey with the rainbow shoelaces given out during this weekend's Rainbow Laces campaign (see the soccer section for more on that). … Maple Leafs G Curtis McElhinney switched blocker pads between periods against the Caps on Saturday (from @TheGoalNet45). … Two color-on-color games to be seen this past weekend: First, in the ECHL between the Atlanta Gladiators (in yellow) and the Jacksonville Icemen (from Chris Treft). Second, in the AHL between the San Diego Gulls (in black) and the San Jose Barracuda (from Ethan Kassel). … New alternates for Notre Dame on Saturday (from Terry Mark). … Not uni-related but still plenty interesting: 100 years' worth of NHL history can be traced through five players (from Robert Hayes). … Available on eBay right now: a game-worn Austrian hockey jersey with a "Lukas P." NOB. The seller even references Paul and Uni Watch in his listing text (from Craig Bates).

Soccer News: A rundown of some of the visuals for English soccer's Rainbow Laces campaign can be found here. Women's teams are included in the campaign, but next week, as they're on an international break. Some clubs promoted equality in another way by posing their men's and women's captains together (here, Tottenham Hotspur's Hugo Lloris and Jenna Schillaci) wearing the rainbow captain's armband used this weekend. … In Saturday's English Championship (second tier) game between Barnsley and Leeds United, Leeds goalie Felix Wiedwald was facing the sun and was given a hat by one of the Leeds fans behind his goal. … In Spain, speaking of fan-player interactions, Valencia striker Rodrigo scored against Barcelona and was duly given an orange wig by a fan for his celebration.

Grab Bag: Reader @mhgatti brought to our attention a tweet asking if any men's sports have butt advertisements like those on the Netherlands and New Zealand women's field hockey teams at yesterday's Hockey World League final. Thanks to cycling, the answer is yes, and for what it's worth, the Netherlands' ads are small in comparison. Other sports besides cycling include some European ice hockey leagues, such as the Swedish Elite League, but that's the result of an avalanche of advertisements more than anything else. … Formula 1 has a new logo (from Sandy Dardick and @GKG_77). … If you want to make your own (very generic-looking) logo, this site will help you do it.
• • • • •
I don't know about you, but I had a really good Thanksgiving weekend, with lots of fun cooking, good eating, some road-tripping, and more. I'll have more to say about all of that, and about my recent trip to Virginia, later this week.