By Phil Hecken & The Sunday Morning Uni Watch Crew
Follow @PhilHecken

Oops. They did it again.
For the second time this season, THE Ohio State University wore an alternate uniform, and like their previous alternate, this one was decidedly lacking in their classic scarlet. In fact, the only scarlet in the scarlet and gray was found on their pride stickers and shoes. It wasn't a bad uniform — it just didn't look like The Ohio State University.
I'm not going to turn into an old man screaming at clouds or pointing a shotgun at you if you step on my grass, because the alternate uniform craze left the barn decades ago. I do have one problem, though. YOU DON'T WEAR A COSTUME AGAINST YOUR BIGGEST RIVAL (OK, so maybe I'll scream at the clouds after all). I wasn't alone in this opinion, either (if you click the tweet below, you'll see lots of agreement):
I don't hate these unis, but dammit, WEAR YOUR CLASSIC UNIS in a rivalry game pic.twitter.com/LFUsjJvTCI

— Phil Hecken (@PhilHecken) November 25, 2017
(BTW, Herbie agrees with me.)
I don't get why, in their biggest game (arguably) of the season — and certainly against their biggest rival — they feel the need to break out alternates. It's not the first time they've done it either. In fact, it's happened more often than not over the past eight years. Here's how they've dressed in…
2009

2010

2012

2013

2016

At least most of those included the colors scarlet and gray. But hey, the kids like them, right? Oh, and OSU's record when wearing alternates against Michigan? Un-de-feated.
If it ain't broke…
And now, here's TJ with the rest of your…
• • • • •
Sunday Morning Uni Watch
By Terry Duroncelet, Jr.
Rivalry Week. A time where school pride, emotions, and playoff push grit are at an all-time high. Let's get right into it.
From Tuesday:
• You can't see from this photo, but Eastern Michigan wore decals with the numbers of their graduating seniors within the 'E'. I like this A LOT.
From Friday:
• Some of the Virginia players have a barbell/dumbbell decal on the back of the helmets, while others don't. Does anyone know more about this? [The answer is here — PH]
• UCLA Bruin Kenny Young wears #42. You can sort of consider him kind of like their own Mariano Rivera, because come his final game this season, no Bruin in any sport will be issued #42 until the end of time, as UCLA will be retiring it school-wide in honor of Jackie Robinson.
• UCF players wore decals of themselves in their game against USF (each helmet was unique to each player, more here), which is an upper echelon of EXTRA, and I love the idea more than I care to admit. Also, Felix Cruz-Montanez/@TheOneFelixCruz spotted these area code decals.
• More scorebug hits keep coming and they don't stop coming (PC: Seth Austin/@SethAustinOM).
• The Mizzou/Arkansas tilt was –as it's been for the last few years now– color vs color.
From Saturday:
• Given that refs don't wear classic britches anymore, this is the best zebra uni display I've seen in a while.
• In "The Game", which actually isn't "The Game", but is also "The Game", Ohio State wore the same uniforms they wore against Penn State, but in white. Ah yes, nothing like watching the Maize* and Blue go up against the Scarlet Snow White and Grey… and a little black for good measure. Pray for Harbaugh to bring the HarBurn sooner rather than later, because as it stands, the Buckeyes are undefeated against the Wolverines while wearing some type of alternate uniform. Also, great spot on the part of @bparsons22 for spotting JT Barrett IV's Bible scripture-inclusive wristband. Lastly, as you've heard by now, Ohio State alum Terry Glenn passed away recently, and the Buckeyes wore decals in his memory.
• Rutgers wore white helmets against Michigan State.
• Really loved Indiana's look against Purdue.
• SMU in BFBS combined with chrome red helmets against Tulane? ROUGH.
• Michael Blake Raymer spotted Georgia Bulldog Aulden Bynum wearing helmet #42 while wearing jersey #70. At first, I thought he grabbed Jake Skole's helmet in a rush, but upon further inspection, it turns out that Bynum wears both #70 AND #42.
• While I'm not too keen on mono red with white lids for any team, let alone NC State, at least both schools wore school colors, and considering what THE and My Little PonyUpTempo wore that same day, that's about as much as we can ask for these days.
• Penn State vs Maryland is about as stark of a difference as you can facilitate. It's like in the tournament from G Gundam, where Chibodee Crocket (who pilots Gundam Maxter, and represents the U.S.) enters the arena ON A FREAKIN' HOVERBOARD, boldly and proudly ready to fight, while Domon Kasshu (who pilots Burning Gundam, representing Japan) just walks right in with the most zen you will see. Huh, that's the second consecutive year that I've made a G Gundam reference, and both involving Maryland, at that!
• There were a handful of games featuring footballs with the College Football Playoff logo in some fashion on them. Apparently, some teams have been using them all season (including Ohio State and Auburn, respective to the links).
• I'll try to be a little nice to Kentucky and Louisville for the chrome v chrome matchup, because these days, Christmas begins the very Friday after Thanksgiving at 12:00:01am, and goes all the way until the first few champagne-blurred days into the new year, so the Wildcats and Cardinals were merely getting into the holiday spirit by channeling their inner Christmas ornaments, and how can you fault them for that? Well, there's also Kentucky's lack of fashion sense (this is their chrome/coal/blue look, possibly the worst non-BFBS look they've ever worn), plus getting a little friendly with the enemy, if you catch my drift (PC: Scott Charlton/@Scott_Charlton).
• Okay, so the Los Angeles Rams Lite looked better this week due to the mono-white –which is already void of yellow, collar logo and sleeve slivers notwithstanding– than they did last week against Texas.
• I personally blame College Gameday for the Iron Bowl's outcome (PC: Dwight Ternes/@D_white_T).
• Utah's helmets were truly "HANDcrafted", huh? *sigh* Go on, let me have it, that was a terrible pun. Here's another view, plus the video for context.
• Ed Orgeron is the head coach of the LSU Tigers, who play in the… Sun Belt Conference??? Actually, the headset is sponsored by a company by the name of Sunbelt Rentals. Credit for the headset shot goes to Patrick Murphy/@p_murph_22.
And that'll do it for an action-packed Week 13. Hope everyone had a wonderful Thanksgiving, and I'll see you next time.
.

.
Joe Ringham's 5 & 1
Following in the footsteps of the original "5 & 1," Jim Vilk, and Catherine Ryan after him, Joe Ringham is back again for 2017 to make his "5 & 1" (five good looking and one stinker) uni-vs-uni matchups. Sometimes he'll have some "honorable mentions" and sometimes there will be more than one "bad" game. You may agree and you may disagree — these are, after all, just opinions and everyone has one. Feel free to let him know what you think in the comments section.
Here's Joe:
. . .
Good Sunday, everyone! The final weekend of the regular season usually gives us most all of the best rivalries in all of college football which, in turn, means some of the best-looking games of the season. So, let's see who makes the cut for the final time this regular season…
5) Appalachian State at Georgia State — This was one of those games that just kinda snuck up on me, and looked great in doing so. App State looked great in gold/white/gold on the road in Atlanta, a look I haven't seen them go with. It matched up pretty awesomely against the white/mono-blue Georgia State went with at home.
4) Virginia Tech at Virginia — Caught some of this game on TV Friday night and immediately liked it a lot. Loved VA Tech going maroon/white/maroon on the road, one of their best looking road looks. It matched up excellently against the white/navy/white UVA went with at home in Charlottesville.
3) Florida State at Florida — This rivalry game is always one of the better-looking games of the last weekend of the season. This year was no different. Absolutely loved the Gators going white/orange/white at home in the Swamp, probably their best use of the orange tops. Match it up against the gold/white/gold road set of the 'Noles, and you have a fine-looking game in Gainesville.
2) Iowa at Nebraska — Two schools with simple, basic uniforms that, when put together, look fantastic. Some may call this game boring to look at. But I call it beautiful.
1) Southern Mississippi at Marshall — As soon as I saw this game, while searching through the Saturday slate after coming home from running an errand, I knew this would be tops on the list. Southern Miss looked ridiculously good in black/white/gold. The Herd looked ridiculously good in white/green/black at home. Put those two together and you have one ridiculously good-looking game that seemed to match up perfectly.
Honorable Mention: Kansas at Oklahoma State, Washington State at Washington
And, finally…
+1) Northern Illinois at Central Michigan — There's just something about white/white/red going up against maroon/maroon/gold that just doesn't look appealing at all.
Have a great week, and I will see you for Conference Championship Weekend next week!
• • •
Thanks Joe! You can follow Joe on the Twitter and let him know what you think of his choices or make a 5 & 1 suggestion of your own!
.

.
NCAA Uni Tracking
Uni Watch will again track the uniform combinations worn by the "Power 5" conferences. All of the 2016 trackers are back!
We've got Rex Henry (tracking the ACC), Dennis Bolt (tracking the PAC-12), Kyle Acker (tracking the Big XII), and Ethan Dimitroff (tracking the B1G AND the SEC). Rex, Dennis, and Kyle and are all returning from 2015, and Ethan is back after joining the NCAA Uni Tracking last season. Ethan has stepped into the dual role of both the B1G and the SEC.
Here are the Uni Trackers for the Power 5 Conferences:
+ + + + + + + + + +
Rex is up first today (ACC):
• • •
ACC

More Here.
Follow Rex on Twitter here.
• • •
And now, here's Dennis with the PAC-12:
PAC-12

More here.
Follow Dennis on Twitter here.
• • •
And here is Ethan, with the SEC:
SEC

And be sure to check out Ethan's WVU Mountaineer Tracker.
Follow Ethan on Twitter here.
• • •
And here is Kyle with the Big XII:
Big XII

Follow Kyle on Twitter here.
• • •
And here's Ethan with the B1G:
B1G

.

.
Welcome to the 2017 Oregon Ducks Uni Tracker. This little project was originally begun way back in 2008-09 by Michael Princip, who retired after several seasons, whereupon the project was continued by Tim E. O'Brien. He, too, retired from the tracking, but the project has been ably kept up by the man who also tracks the Pac12, Dennis Bolt.
Here's this week's Uniform Combo for the Ducks (you can click to enlarge):
You can read about this uniform, and MUCH MORE, by checking out the Duck Tracker here!
Thanks Dennis!
.

.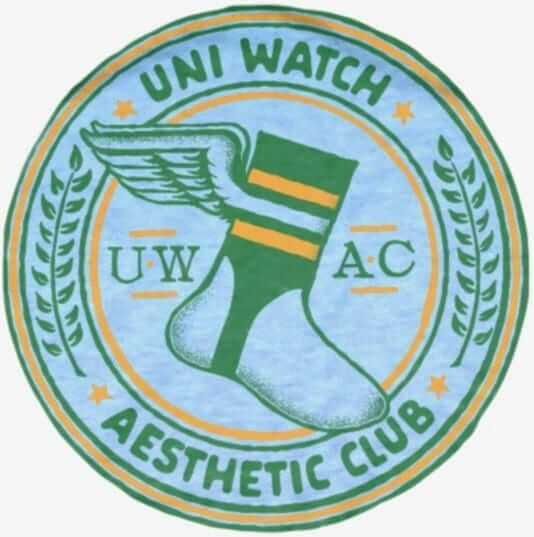 And now a few words from Paul: Hi there. In case you missed it on Friday, we have a new limited-edition shirt, designed by Bryan Molloy, available only through next Monday. It's a doozy of a package, with front and back designs, a custom hangtag, a sticker, a custom mailer, and, for the first 40 orders, a magnet. (Update: We've now passed 40 sales and are fresh out of magnets.) Full details here, or just go straight to the ordering page.
Also: In case you missed it during the Thanksgiving shuffle, my latest ESPN column tells the lost story of how the Vikings' original uniforms were created. Check it out here.
.

.
Uni Watch News Ticker
By Phil

Baseball News: Over in Japan, they're already showing off next years new duds: "Hanshin Tigers unveils the 2018 model uniforms," says @BigDaddy45. "Pinstripe jersey is home(left), and black jersey is road(right)." … There are a few jerseys I'd wear that Jimmer Vilk wouldn't be caught dead in. Here's one of them — that from the Danville Braves. … To celebrate his third Cy Young Award, a local bakery made a special cake for Max Scherzer (thanks, Brinke). … If we haven't addressed this already, here's another All-Star Game oddity (this one from 1989): Harold Baines in a blank (logoless) ChiSox helmet (from Justin Hicks). … CROSSOVER ALERT (also posted in hockey)! You know you've always wanted to see Wayne Gretzky wearing a fabulous "Cobra Kai" coif and headband, and sporting a #99 Dodgers jersey, didn't you? (major find by @OldTimeHardball). … I'm not 100% sure (more like 98.6%) that this is a fashion cap, but the Colorado Rockies have a solid white "BP" cap and I gotta say…it looks pretty sweet (from Benjamin Domenico).

NFL/CFL News: Tweeter Sunny Moon notes Derek Witt of the Chargers was missing the NFL logo on his jersey Thursday. … You'll recall in yesterday's ticker, there was a photo of Alex Singleton wearing a cowboy hat. Well, "Eskimos' Mike Reilly one ups Stampeders' Alex Singleton, by accepting his CFL Most Outstanding Player award in an amazing top hat," (from B.Q. G). … The Falcons will break out their black fauxback uniforms today against the Buccaneers. … Nike's contribution to the NFL will soon extend beyond Color Rush uniforms and two-tone helmets. The shoe and apparel giant is working with HP to develop shoes that can be manufactured by NFL teams with 3D printers (thanks, Brinke).

College/High School Football News: Reader Tim Dunn wonders if Cal is making a political statement on their helmets: "Helmet shown by Cal when advertising the new uniform for 2017. US Flag and California flags are presented correctly (if you apply the flag code to this image); US Flag on the left; California flag on the right. Looking at the Stanford CAL images from last week and watching the UCLA CAL game (Friday) night, the flags are switched, with the California flag has precedence over the US Flag, a violation of US Flag code." Tim continues, "As late as the October 14, 2017 game with Washington State, the flags appear to be correct." … @BackAftaThis notes After Kenny Young's last game this season, no UCLA player in any sport will ever wear #42 again. It's being retired in Jackie Robinson's honor. The odd thing is, Robinson never wore 42 for football (or baseball, or any sport) at UCLA (I knew this, but h/t to John Thorn). … West Bloomfield High School had several players with paint problems on their helmets at the Michigan High School championships (from Tod Hess). Here's a better look, and another.

Hockey News: "The Prince Albert Raiders threw it back to the early 1980s on Friday night," says Wade Heidt. "Jersey features the number on the front. They kept it consistent to the old one by not having numbers on the sleeves. Except there is the 100th Anniversary Memorial Cup logo on the sleeve that every team is wearing." Here is a shot of the way it was back in then (white version). … A twitterer who goes by @conejo_ape found these very sweet sweaters upon his return home for the holidays. … I think we've commented on these before, but damn, the Michigan hockey squad has some sweet-ass unis (from @goatjerseys). … On the opposite side of the spectrum is the Indy Fuel, who wore some Star Wars-themed unis (from Jeff Tasca). … CROSSOVER ALERT (also posted in baseball)! You know you've always wanted to see Wayne Gretzky wearing a fabulous "Cobra Kai" coif and headband, and sporting a #99 Dodgers jersey, didn't you? (major find by @OldTimeHardball). … Along with his new white based set of pads, Carey Price is back in last season's mask too (from The Goal Net). … It's a good thing Paul wasn't watching: Don Cherry sports an all-purple suit while Ron MacLean has a more subdued purple tie for #HockeyFightsCancer on Hockey Night In Canada's Coach's Corner (from James Beattie). … I know they have similar colors, but this Flyers/Ducks beanie is a pretty egregious fuckup (from drew mcclintock).

NBA News: The Golden State Warriors debuted their "The Town" uniform on yesterday. They have also added a special The Town decal to their court (from @loneranger58). You can read more about that here. They wasted no time in putting up fan versions for sale. To get an idea of how well these were received on Social Media, check out the comments here. … The Utah Jazz broke out their all-new all gold unis last evening. Here they are in action.

Soccer News: MPLS City (Minneapolis City Soccer Club) will have new
home and road jerseys this season (from Ryan Keberly). Ryan adds, "I dig the gingham/flannel away shirt!" … This graphic breaks down the kit suppliers for each team in Europe's top five leagues [Premier League (England), La Liga (Spain), Bundesliga (Germany), Serie A (Italy), Ligue 1 (France)]. Submitter Josh Hinton adds, "Also includes individual domestic league breakdowns plus the Champions League kit manufacturer breakdown."

Grab Bag: A good article in the New York Times notes that despite President Trump's "Buy American" push, many of the U.S. Secret Service uniforms are made outside the United States, with many of them being made in Mexico. And it's not just the Secret Service unis (thanks, Paul). … This is interesting — the 1940 Winter Olympics would have been held in Garmisch-Partenkirchen, Germany, but were cancelled due to Nazi invasion of Poland. According to James Gilbert, they had been moved from Japan to Germany prior to being canceled. … Even mascots are wearing face guards in Japanese volleyball (from Jeremy Brahm). The Suntory Sunbirds have a player wearing one.
.

.