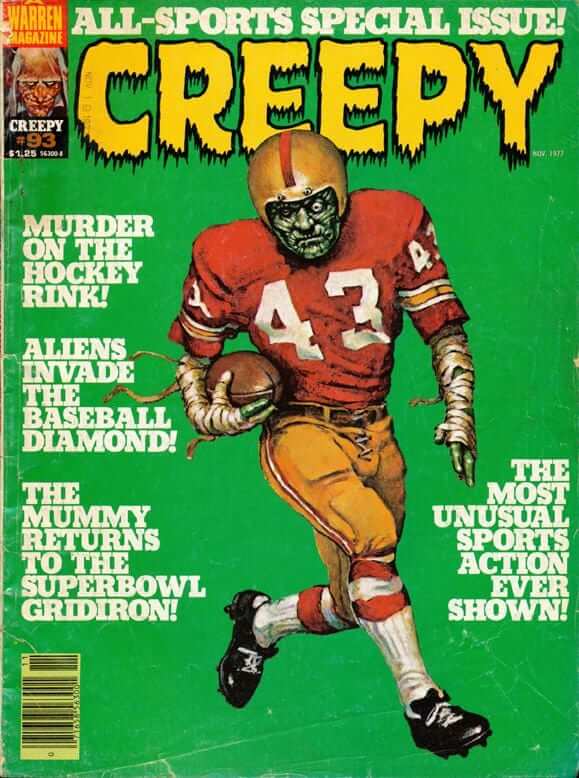 Happy Halloween, kids. I laughed when I saw this vintage magazine cover in a friend's Facebook feed the other day — in part because it's goofy, but also because it's so obvious that they based the illustration on a photo of Washington running back and former NFL MVP Larry Brown:
I mean, couldn't they have changed the number, or the helmet color, or something?
Of course, if you really want to talk Halloween and uniforms, you pretty much have to talk about this: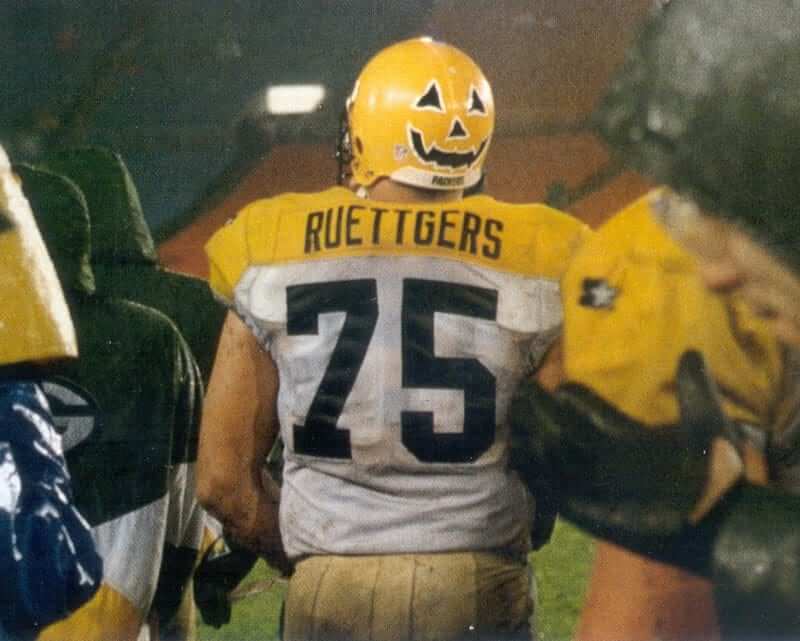 That's Packers offensive lineman Ken Ruettgers during a Monday Night Football Game that took place on Halloween, 1994. You can get the full story over on the excellent Packers Uniform Database.
Did you ever dress up as a ballplayer (or hockey player, or whatever) for Halloween? When I was in eighth grade, I was feeling like I was too old for trick-or-treating, so I didn't bother with a costume. But I was on a rec league football team at the time, and we had practice after school on Halloween. By the time I left practice and started biking home, it was dark — and I was hungry. I still had my shoulder pads on, and I had my helmet with me, so I stopped at a few houses, where the grown-ups eyed me sort of dubiously (they could apparently tell that I hadn't exactly put a lot of thought or energy into this "costume") but nonetheless put candy in my helmet when I held it out toward them.
Over on the baseball diamond, tonight will mark the fifth time — all since 2001 — that a World Series game has been played on Halloween (the other four are listed here). I usually prefer to see white vs. grey in the Fall Classic, but wouldn't it be cool if the Astros wore their orange pumpkin-colored jerseys for the occasion? Probably too much to hope for, but a kid can dream.
Meanwhile, over on the ice, the Rangers wore orange and black practice gear yesterday. Not sure if other NHL teams did that. Anyone..?
One final thought: As many of you know, I donate blood every two months. My latest appointment is this afternoon. First time I've ever donated on Oct. 31. I'm hoping the staff at the donor center will be dressed up as vampires.
• • • • •
[Editor's Note: Next up is a guest sub-lede from Tom Konecny, who's made some interesting World Series observations. — PL]
Dodger Stadium, Then and Now
By Tom Konecny
The Dodgers are in the World Series this year — their first appearance in the Fall Classic since 1988, a 29-year dry spell. Most MLB teams have gotten new stadiums in that time period, but not the Dodgers. Dodger Stadium is still there, and is now the third-oldest MLB ballpark, trailing only Fenway Park and Wrigley Field.
In some ways, Dodger Stadium is the same as it ever was. But in other ways, there have been a lot of changes since the team's last World Series appearance. Take a look at this stadium photo from Game Two of the 1988 Series, followed by a shot from last week: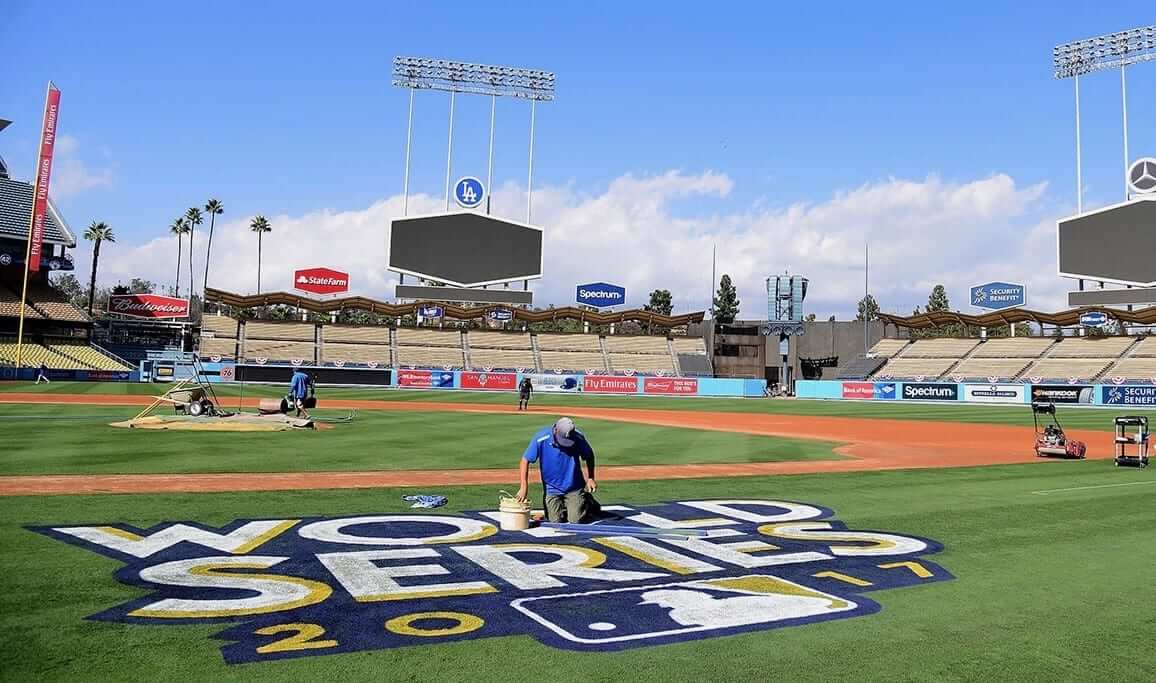 In the first photo, there are no ads on the outfield wall, no signs along the sides of the scoreboard atop the bleachers, no outlandish advertising ribbon at every level of the ballpark, no ads on the tarp, dugout facing, or foul pole. What stands out is the beautiful bunting.
Fast forward to today and you'll find a stadium overloaded with advertisements — and that's not even counting the virtual ads that are digitally projected during TV broadcasts (sometimes to disastrous effect). Compare the centerfield-camera view from 1988 to today (click to enlarge):

Now let's look at a shot of a home run being hit over the right field wall (click to enlarge):

And now let's compare shots of the managers in the dugouts:

It all pretty much speaks for itself, doesn't it? Let's hope the spread of advertising on uniforms, which has now begun in the NBA, doesn't follow a similarly invasive pattern.
• • • • •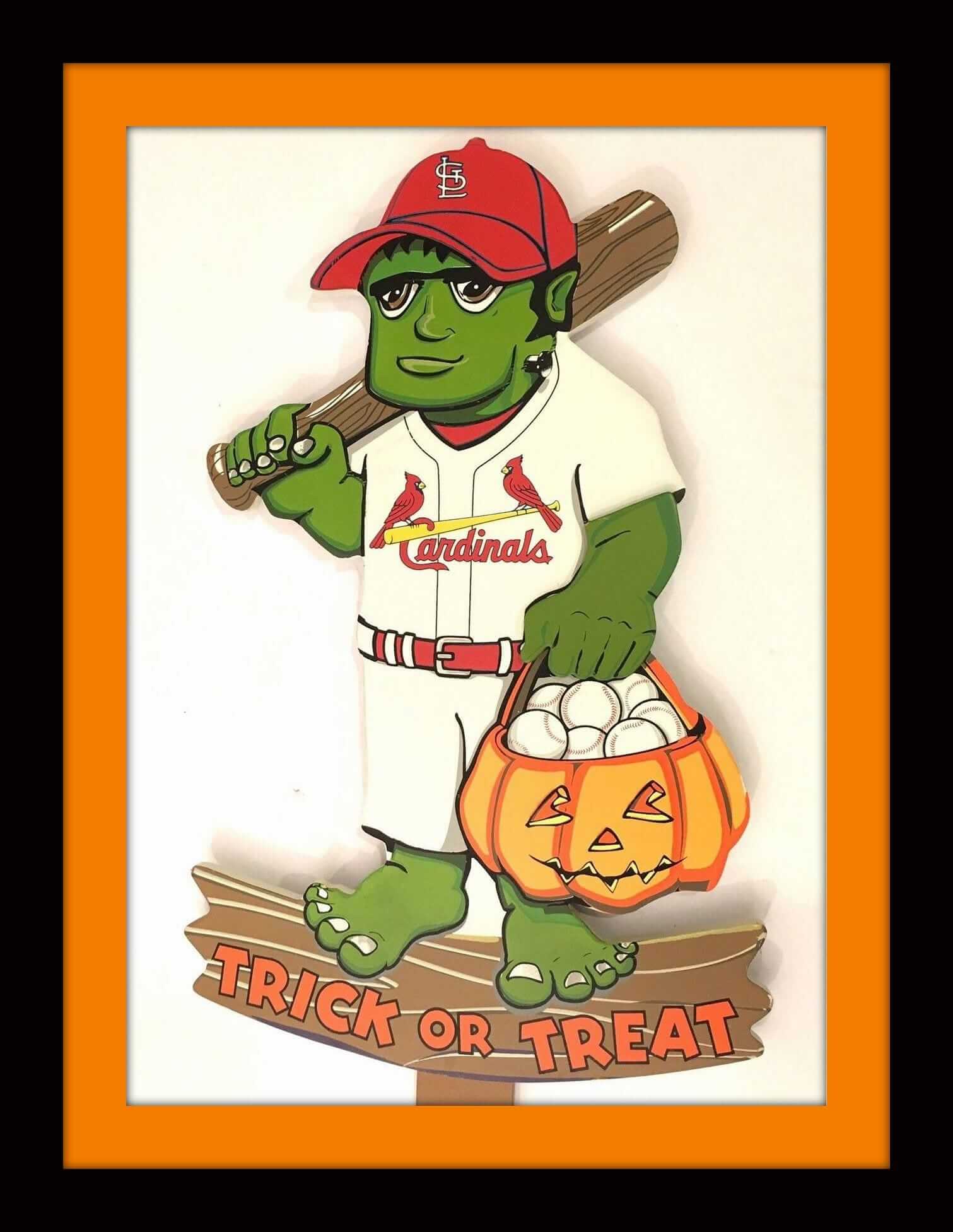 Click to enlarge
Collector's Corner
By Brinke Guthrie
Time for the Halloween edition of Collector's Corner. Since the trick-or-treating starts in mere hours, it's too late for you to get any of these items for this year, but maybe they'll give you some ideas for 2018, right? Let's kick off with this nifty Halloween yard sign perfect for all you St. Louis Cardinals fans. Got a few scratches and dings, but the real Frankenstein's monster wasn't a real looker, either.
Now for the rest of this week's spooky picks:
• Here's something every Red Sox fan needs for their desk this time of year — a Red Sox Halloween pumpkin mini-snowglobe. It's just a few inches tall, so no light-up display or scary music, or even "Sweet Caroline."
• Of course, this hockey mask is just right if you're going to a Halloween party as Jason.
• I can't imagine why anyone would want a Miami Dolphins Halloween Zombie figure, but if you do, you're in luck.
• The Colorado Rockies offered this pumpkin lapel pin back in 1994.
• This little plush bat figure is a fan of the Green Bay Packers. Who knew?
• The Arizona Diamondbacks had this Halloween pennant for their 1998 inaugural season.
• Turning to the NHL, the Columbus Blue Jackets gave away Halloween-themed pucks during the 2007-2008 season.
• The Ottawa Senators also did the puck thing, giving away this Halloween puck during the 2014-2015 season.
• Go trick-or-treating with this Milwaukee Brewers candy ghost bucket.
• Oakland A's fans can put the team's "A" logo on their pumpkin with the help of this carving kit.
Also, on a personal note … Last week Paul mentioned Earl Shore's latest salute to the golden age of electric football, The Electric Football Wishbook, and I'd like to put in the good word for it as well. It's packed with the pages that the various department stores (Sears, J.C. Penney, Montgomery Ward) ran to advertise the games. Tons of detail in this one, folks. Check it out here.
• • • • •
Helmet/shirt reminders: In case you missed it Friday, I had a prototype Uni Watch mini-helmet made (shown at right; click to enlarge). Full details here. The response to this has been very positive, so we'll definitely be making this available for sale, possibly as soon as this week. If you want me to email you when we're ready to take orders, let me know.
Also: Some folks asked if I could sign/autograph their mini-helmets. I'd be happy to do that, but I won't be making/shipping the helmets myself. They'll be produced and shipped by Casey Tierny (aka MiniHelmetGuy), who's based in Texas. But if you want to send your helmet to me after you receive it, along with a couple of bucks to cover the return shipping, I'll gladly sign it and send it back your way.
Meanwhile, also from last Friday, we have a bunch of new Naming Wrongs shirts for the Hive, Nassau Coliseum (don't scoff, at least not until you see the awesome designs!), the Hartford Civic Center (now available in UConn colors), Reunion Arena (we'll have Mavs colors available later this week), and Brendan Byrne Arena.
And from earlier last week, in case you missed it, we also launched new shirts for the L.A. Forum, the Hoosier Dome, the Salt Palace, and RFK Stadium (now in DC United colors).
Okay, end of sales pitch. Thanks, as always, for your consideration.
• • • • •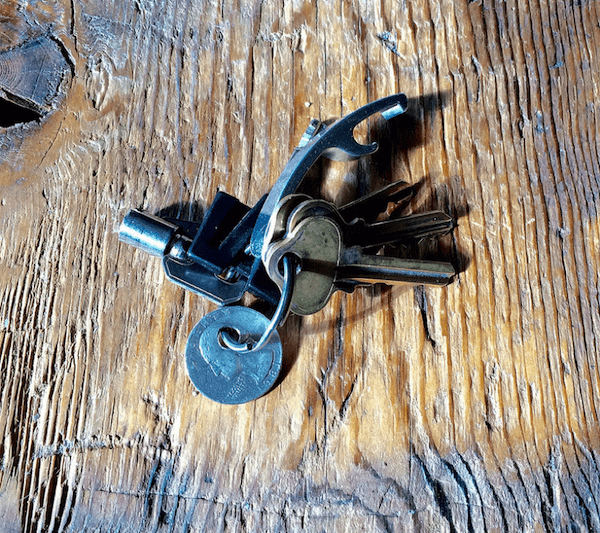 KRC redux: It was 30 years ago today — Oct. 31, 1987 — that I was given a quarter with a hole drilled throughout it during the Greenwich Village Halloween Parade. I put that quarter on my key ring, and it eventually became the basis for my ongoing "Key Ring Chronicles" project. If you don't know the full story (or just want to see it again), it's available here.
I first wrote about the quarter here on Uni Watch. It was reader Jeff Barak who suggested turning it into a crowd-sourced project — an excellent idea for which I'll always be grateful. You can see the full archive of KRC entries here.
• • • • •
The Ticker
By Alex Hider

Baseball News: Jose Altuve and Justin Verlander of the Astros are such good pals that they've made BFF T-shirts (from Kary Klismet). … Great New York Times piece on the history of the champagne-soaked celebrations in MLB locker rooms. [As an aside: I have a champagne cork that a writer friend of mine scooped up off the floor of the Mets' clubhouse after they defeated the Cardinals in the 2000 NLCS. No way for me to prove its provenance, of course, but it's still one of my cherished objects. — PL]

Pro Football News: A store at the St. Louis airport is still selling Rams merchandise — nearly two years after the team moved away (from Joel Reagan). … A club ice hockey team is poaching the old Jags logo (from Tom V.). … Vote on the best uni matchup of week eight here (from Uni Watch FB Page). … It's still October, but the Broncos were wearing G.I. Joevember captain's patches for last night's game against the Chiefs. Lots of camouflage sideline gear, too (from Phil). … Would football be safer without helmets and pads? A semi-pro league thinks so.

College Football News: Kent State will wear mono-gold tonight against Bowling Green, including a new helmet (from Kevin D. Riley). … Rutgers will be going mono-black on Saturday (from Michael Romero). … Oklahoma and Oklahoma State will both wear decals raising awareness to the opioid crisis this weekend during the Bedlam game this weekend … NC State has two players wearing two initialed-NOBs, both of which are in mixed case (from Rex Henry).

Hockey News: Just in time for Halloween, ESPN has this great list of the top 15 spookiest goalie masks of all time — but it didn't include Mike Chamernik's pick of Rogie Vachon's smiley mask. … Staying in the crease, Rangers G Henrik Lundqvist has a new mask (from Al N. Kreit). … A referee must have had a helmet issue during last night's Islanders/Golden Knights game in Brooklyn, as John Muir caught the Isles' equipment manager working on a black helmet. … ICYMI from the NFL section: A club hockey team on Long Island is using the old Jacksonville Jaguars logo with one notable exception — a red tongue (from Tom V.). … The Edmonton Oil Kings of the Western League will wear Star Wars unis on Saturday (from Steven Schapansky).

NBA News: Timberwolves SG Shabazz Muhammad says he will legally change his first name to Bazz (from Mike Chamernik). … LeBron James's torn jersey from the Cavs' season opener sold for $45,000 at auction, with the proceeds going to hurricane relief (from Rich Mueller). … The baskets at the Rockets' arena — and practice facility — still bear the Adidas logo (from Andy Scianc and Amaan).

College Hoops News: New unis for Navy. The pattern on the shorts this year mimics the footprint of the team's home arena. … Pitt will reportedly sport a new white throwback uni at some point this season (from Phil). … New uniforms for Williams College (from Thomas Adams-Wall). … The women at Bethel College in Kansas have a new uni set (from Drew Johnson).

Soccer News: Las Vegas Lights FC, a new USL expansion team, unveiled a sharp new crest yesterday inspired by the neon lights of Vegas. … Following up on yesterday's post: Just like Leicester City, Burnley and Newcastle are wearing their Remembrance Day poppies unusually close to the makers mark on their jerseys. All three teams wear Puma kits. … Speaking of poppies, a fan at the Leicester/Everton game on Sunday wore a poppy suit (from Mark Coale).

Grab Bag: South Korea has unveiled its bobsled and skeleton uniforms for the upcoming Olympic games (from Phil). … Mark Campbell sends along a few updates from the Rugby League World Cup: Scotland's Kane Bentley has socks so short they're almost non-existent. Also, France and Lebanon played a match in remarkably similar kits. … Calling all designers: The Los Angeles Bike Coalition is looking for someone to develop a logo for the coalition's 20th anniversary. More info on that here. . … Auto racing is notorious for squeezing in as much advertising as possible, but I don't think we've ever seen this before — a watch company is advertising on Formula 1 racer Lewis Hamilton's gloves (from @FunkyColdMattina).