Interesting move yesterday by the Saints, who added a memorial decal for New Orleans native Fats Domino. It's not unheard of for a team to uni-memorialize a cultural figure — lots of Minnesota teams did so for Prince, for example — but it's still fairly uncommon, especially for someone like Domino, who'd essentially been retired for years. Really shows what a beloved figure he was in New Orleans.
Saints coach Sean Payton went further, adding a memorial inscription on his sideline jacket:
A Dallas sportswriter, still upset about how the NFL wouldn't allow the Cowboys to wear a helmet decal in memory of slain Dallas police officers during the 2016 preseason, wondered aloud why the Saints get to salute a local musician while the Cowboys were told they couldn't salute local cops. It's a fair question. I've never understood why the NFL wouldn't allow that one.
In other news from around the league yesterday:
• In a surprise move (at least to me), the Lions decided to go mono-blue. Not a good look:
Oh, that's just Glover❗️ pic.twitter.com/IZAPcpTzQL

— Detroit Lions (@Lions) October 30, 2017
• Good-looking game in Buffalo, as the Bills wore their white "standing buffalo" throwbacks against the Raiders (additional photos here):
• Speaking of the Bills, they honored local first responders prior to the game, and linebacker Lorenzo Alexander donned a firefighter's helmet for the occasion:
• Washington wore its fauxbacks (additional photos here):
• The Bengals went mono-black:
• The NFL's handling of games in the UK continues to baffle. When the Dolphins and Saints played in London on Oct. 1, both teams wore "NFL International Series" jersey patches. But the other London games, including yesterday's Browns/Vikings tilt, have been patch-free.
• Cowboys defensive back Orlando Scandrick had his captaincy patch partially torn off of his jersey:
@PhilHecken @UniWatch Captain patch malfunction. pic.twitter.com/xMAekbzGeA

— Ƒunhouse (@BackAftaThis) October 29, 2017
• Three teams wore white at home: the Bucs, Bills, and Browns (who were the designated home team in London).
• As you may have heard, Texans players were angry with team owner Bob McNair for describing them as "inmates running the prison." At one point, there was some talk of them removing the team logos from their helmets for yesterday's game — something I was definitely rooting for, because it would have looked so interesting — but they ultimately decided against it. Instead, a majority of the team's players locked arms and took a knee during the national anthem.
• Aside from the Texans, here's a list of players throughout the league who protested during the anthem.
(My thanks to Nik Streng and Phil for their contributions to this section.)
• • • • •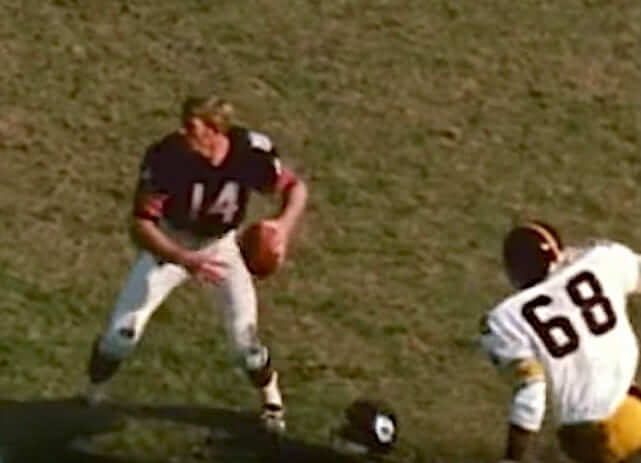 You knocked my block off: Quick, who was the last quarterback to play without a helmet? As you can see above, it's a trick question. That's Bears quarterback Bobby Douglass in a 1969 game against the Steelers (in a screen shot submitted by reader Bob Gassel). His helmet was apparently knocked off — you can see it there on the ground next to him — but that didn't slow him down.
I had a vague memory of having seen this play before, possibly with a better photo, so I began looking for it. What I found was that Douglass actually had his helmet knocked off in a separate incident, during a 1972 game against the Packers: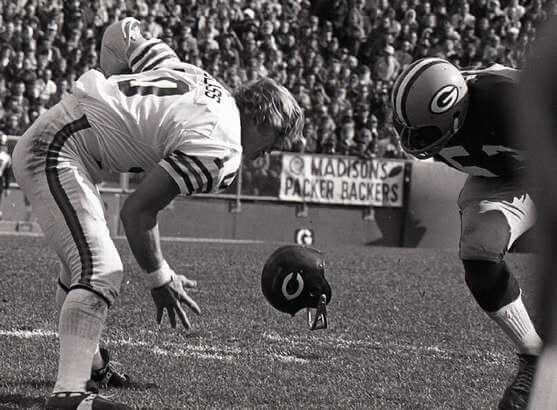 Maybe Douglass should have invested in a better chinstrap, eh?
Another weird thing: If you look at those two photos, you can see that Douglass changed his uniform number from 14 to 10 — unusual for an NFL quarterback. According to ProFootballReference.com, he only wore 14 during his rookie season in 1969. (Update: Contrary to my assertion, it turns out that NFL QBs change numbers all the time. Scroll down to today's comments for lots of examples.)
And as long as we're talking about Douglass: While looking for photos of him, I came across this shot showing him with a windbreaker under his jersey and some very oddly painted shoes (or at least I think it's paint — doesn't really look like spatting tape):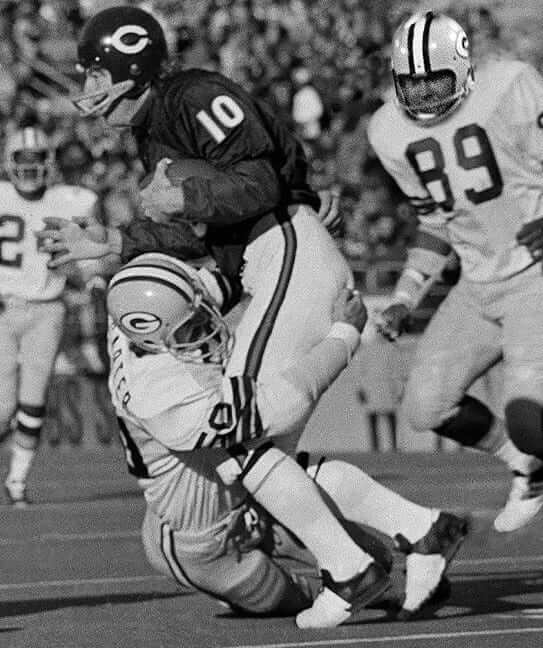 • • • • •
NBA Uni Tracking
By Collin Wright
There was an uptick in home teams wearing dark jerseys during the second week of the NBA season, but most games are still following the familiar white-at-home format. And color-vs.-color games continue to be rare:
[table id=33 /]
Some interesting observations from around the league:
• Although each team unveiled an alternate "Statement" uniform prior to the start of the season (all of which are colored except for the Knicks'), none of those uniforms have appeared on the court so far. The only alternates we've seen are the throwbacks for Warriors, Lakers, Bucks, and Suns.
• The Kings are the only team to have worn the same uniform (purple) in every game so far.
• Forty-three of the 91 games played so far — that's 47% — have been white vs. blue. That's been the most common matchup by far.
• Although this isn't a team-matchup issue, it's worth noting that the Lakers became the first team to wear compression tights that did not match their uniform and sock color when they wore yellow tights with their powder blue throwbacks on Oct. 25.
(Collin Wright's NBA tracking updates will appear each Monday.)
• • • • •
(Still) Too good for the Ticker: Last Tuesday I showed a photo of the Kodak Park team that won the 1936 world amateur softball championship in Chicago, and I asked if anyone wanted to take a shot at colorizing it. Reader Gary Chanko stepped up to the plate, and the results are spectacular. Here's the original photo, followed by Gary's colorization (for both, you can click to enlarge):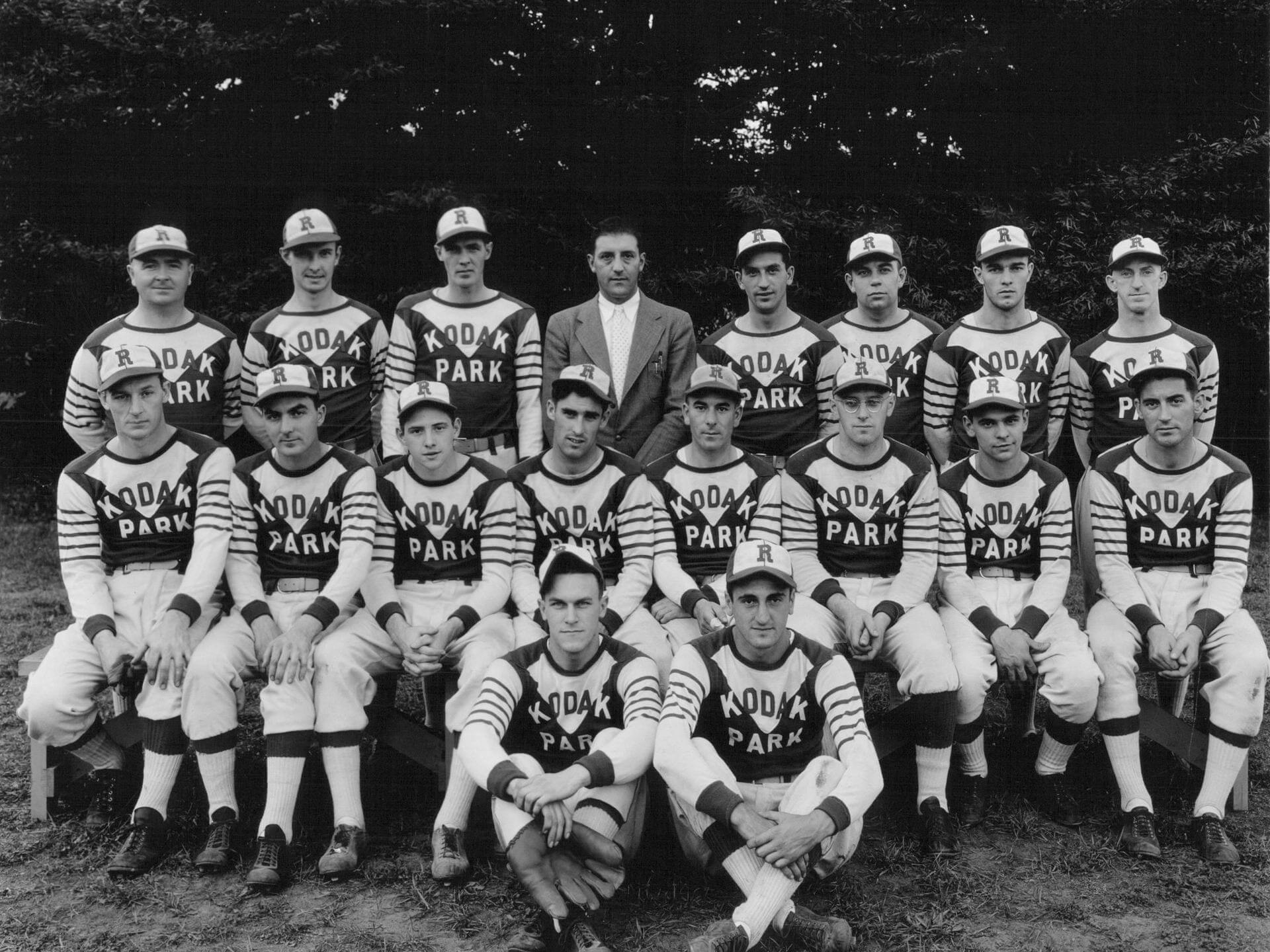 Great job, Gary — thanks for doing this!
• • • • •
Helmet/shirt reminders: In case you missed it Friday, I had a prototype Uni Watch mini-helmet made (shown at right; click to enlarge). Full details here. The response to this has been very positive, so we'll definitely be making this available for sale, possibly as soon as this week. If you want me to email you when we're ready to take orders, let me know.
Also: Some folks asked if I could sign/autograph their mini-helmets. I'd be happy to do that, but I won't be making/shipping the helmets myself. They'll be produced and shipped by Casey Tierny (aka MiniHelmetGuy), who's based in Texas. But if you want to send your helmet to me after you receive it, along with a couple of bucks to cover the return shipping, I'll gladly sign it and send it back your way.
Meanwhile, also from last Friday, we have a bunch of new Naming Wrongs shirts for the Hive, Nassau Coliseum (don't scoff, at least not until you see the awesome designs!), the Hartford Civic Center (now available in UConn colors), Reunion Arena (we'll have Mavs colors available later this week), and Brendan Byrne Arena.
And from earlier last week, in case you missed it, we also launched new shirts for the L.A. Forum, the Hoosier Dome, the Salt Palace, and RFK Stadium (now in DC United colors).
Okay, end of sales pitch. Thanks, as always, for your consideration.
• • • • •
Uni Watch Hit Parade: I was listening to some stuff on Spotify yesterday when I came across a five-year-old track by the California guitarist/songwriter Chuck Prophet. It's a rocking party of a song, and there's a vague sports connection because it includes the very enjoyable nonsense rhyme "She got so excited / Manchester United." Enjoy.
• • • • •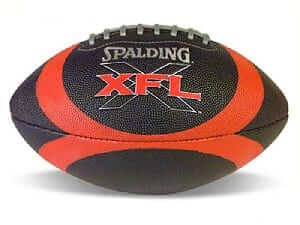 Going, going …: We're getting down to the deadline for Phil's latest jersey design contest, which is to reimagine a team from the XFL if the league were still operational today. The deadline is midnight tomorrow. Full details here.
• • • • •
The Ticker
By Jamie Rathjen

Pro Football News: The Jaguars will wear their teal alternates on Sunday (from Phil) … "The bad weather at Sunday's Jets/Falcons game reminded me of the Pittsburgh Maulers vs. Jacksonville Bulls [USFL] monsoon game, so I looked it up and check out what the refs were wearing!" says Jeff Flynn. … Reader John Przebieglec found this lime green Seahawks helmet in what looks like a store display. … Back when the Cardinals were still in St. Louis, you could go bowling at your local lanes with this Cardinals ball carrier. Seems like the kind of thing that was probably available for every team at the time (from @mrmichael21). … Bob Gassel sent in this clipping from the Jan. 30, 1966, Tallahassee Democrat revealing that the Dolphins decided on their current colors over black and blue. … A photo displayed yesterday at Twickenham Stadium in London yesterday showed Rams RB Todd Gurley with a blue facemask. So much better.

College Football News: Iowa will wear mono-black alternates next weekend against Ohio State (from multiple readers). … A few paragraphs down in this article: Central Florida coach Scott Frost called Nike's Phil Knight to get his team uniforms that would be "more appealing to the young players" being recruited. Knight owed Frost one, as the latter, who was Oregon's offensive coordinator before coming to UCF, used to let Knight into the coaches' box (thanks, Phil).

Hockey News: The friend of a Jets fan who was killed in a car crash last year is having a memorial jersey travel to all 31 NHL arenas this season as it is passed around between fans and, in some cases, the Jets themselves. … Speaking of Winnipeg, captain Blake Wheeler had a mysterious Oakley logo on his sweater. Paul notes that it likely fell off the side of his visor (originally spotted by @Jay_Pea_R). … The Panthers will wear camouflage warm-up jerseys prior to playing the Blue Jackets on Nov. 2 (thanks, Paul). … Goalie Scott Wedgewood was traded from the Devils to the Coyotes this weekend before they visited the Devils. His mask got a quick white cover-up job so that it looks like the Coyotes' white helmets (from James Beattie). … The Greenville Swamp Rabbits will wear Lego-patterned jerseys on Friday. It's a regional pride design, as explained here (from Scott Trembly).

Basketball News: Heat forward Justise Winslow hinted at an upcoming "Miami Vice"-themed alternate uniform (from @christianr_5101). … If you want to buy a Raptors ad patch, they're apparently available for sale. … New white and green uniforms for Dartmouth.

Soccer News: The annual wearing of poppies begins about two weeks before Remembrance Day (Nov. 11) in the UK and Commonwealth. Roughly half of the Premier League, including Swansea City, West Bromwich Albion and Manchester City, wore poppy decals. West Brom's Irish midfielder James McClean refuses to wear the poppy due to the British Army's actions in Northern Ireland, something he did this year with less controversy than in the past. … More poppy action from Josh Hinton: Leicester City were the only team not to place the decal in the upper center of the shirt; instead it went in a weird place next to their maker's mark. While we're on the subject, Leicester wore warm-up shirts in support of the Royal British Legion, the charity behind the poppy drive. … As you can see in those pictures, the Premier League changed from the white to the yellow version of its ball. The changeovers coincide with the end and beginning of European daylight saving.