By Phil Hecken and the SMUW cast & crew
Follow @PhilHecken

In what turned out to be a less-than-awesome "throwback," the University of Nebraska wore 1997-tribute uniforms yesterday, meant to replicate the "mesh" style that team wore. In one sense, the throwbacks were pretty accurate — it was difficult to tell, even in closeups, that those uniforms were made of mesh. It was easier to tell when the unis were soaked in sweat, as you could see the full pads underneath. Yesterday's uniforms were "normal" fabric, but the numbers were screen-printed to replicate the look of the numbers on a mesh jersey. Back in the day, it was difficult to tell from distance the numbers were on a mesh jersey — yesterday it was also tough to tell. So in that sense, it was mission accomplished. They seemed to get all the details correct, including the patch, but it just didn't scream "mesh" to me at all. That's probably a very good thing.
OK — here's TJ Duroncelet (who was battling tropical storm force winds from Hurricane Nate yesterday!) with the breakdown of Week 6 of the NCAA Season:
• • •
Sunday Morning Uni Watch
By Terry Duroncelet, Jr.
Before we begin, a little note: in efforts to find photos for last week's post (sometimes, it proves to be more difficult for no clear reason), I completely dropped the ball on an important game from last week, and that was Southern Miss wearing their 1997 throwback uniforms against North Texas. The unis were in honor of the 1997 team that went 9-3, won the Conference USA championship, and beat Pitt in the Liberty Bowl. Sometimes, I will miss a game or two, but I wanted to point out this game for how sharp the Golden Eagles looked last week. My bad. OKAY! On to October football, which was Homecoming week for a lot of schools.
From Thursday:
• HO-LEE SMOKES, NC State took their Week 5 look and took it a level beyond a Super Sai— oh, who am I kidding? It's not THAT bad (compared to what they wore last week, at least). You know how –as proven with UCLA's last few years with Adidas since 2010 (first year of the Laffy Taffy togs)– the moment you think things can't possibly get any worse, you're almost instantly proven wrong? The Wolfpack kind of went the opposite direction for Week 6. In addition, given that Halloween is basically celebrated all-month long these days, it's an excellent costume that encompasses the holiday spirit. "Costume" being the operative word, of course. That said, I want to talk about the Northwestern stripes that look like something Piccolo would wear: several people accused Adidas of class-S logo creep, but if that were the case, all three stripes would be thin and equal to each other in size (we can use literally any soccer kit made by Adidas for reference, or a lot of the past NBA All-Star uniforms). I think Paul said this a long time ago, but sometimes, three stripes are just three stripes.
From Saturday:
• A player from Northwestern was ejected for targeting, and a handful of readers spotted that the Wildcats were still using the old Big Teneleven logo (PC: J. Colbert) from years back on the doors at the end of the tunnel off the field, and I think I know why: it's hard to see, but if you look at this photo provided by Jerry Kulig, you can sort of make out '1995 CHAMPS' and '1996 CHAMPS', which were the back-to-back years that Northwestern were indeed Big Ten champions (co-champs in '96), so the logo is most likely a reflection of what was used at that time. Speaking of which, they wore purple/black/purple in their Homecoming game against Penn State. I swear, they're one of the few (if not only) teams that can wear black and purple (no grey or anything else apart from white), and actually look good doing it.
• Oklahoma wore the all-crimson version of their alternate home uniforms against Iowa State, who wore white/white/cardinal: a fine look for the Cyclones. As for the outcome, let's just say that the Sooners dressed for the occasion, because they were definitely seeing red.
• Temple wore black gradient helmets and black pants against East Carolina, who wore mono-BFBS. The numbers are incredibly bland, and seem out of place in context with the rest of the uni.
• In the Battle of the Piney Woods, Stephen F. Austin and Sam Houston State wore their home uniforms (as usual). That's the best photo I could pull up unfortunately, but as you can see, the Lumberjacks wore white/purple/white, and the Bearkats wore all-orange.
• North Carolina wore white/blue/white against Notre Dame.
• Akron wore these throwback helmets in their Homecoming game against Ball State.
• Fonty McFontFace/@thefontsavant spotted an interesting NOB treatment in the Boston College/Virginia Tech game. That's Eagles Senior kicker Maximilian Schulze-Geisthovel, who hails from Germany. In addition, VT wore white facemasks with (IMO) their best road look in that same game. They also wore these decals in honor of the victims of the recent events in Las Vegas.
• Conversely, UNLV wore these decals over black jerseys and white pants in honor of the victims.
• Ohio State wore pink accessories for Pinktober in their game against Maryland.
• Wisconsin wore white facemasks (normally red) against Nebraska, who wore their retro uniforms honoring their 1997 championship team. Of course, some Huskers screwed the pooch by not wearing the compression shirts with the striped sleeves.
• UAB wore these uniforms in honor of Children's Harbor, which has two locations in Alexander City, AL, as well as nearby Birmingham. Each athlete wore the names of the children they spent time with earlier in the week.
• These days, what's old is new again. S/O to Benji King/@benjiking for the photo.
• Kentucky in dark grey is nothing new, but I think that this is the first time that they've worn matching facemasks (closer look).
• Michigan State wore all-white against the Wolverines.
• Utah wore their hybridback uniforms for their Homecoming game against Stanford.
• Washington wore their normal gold helmets in warm-ups, but come game time, they broke out some (presumably) new purple chrome lids for their Purple Reign campaign. Erik Gambord/@ErikRGamborg says it best.
That'll do it for Week 6! For those in Tropical Storm/Hurricane Nate's path, I hope you all stay safe, and I'll see you next week.
• • •
Thanks, TJ — glad you're safe! OK, now on to the rest of the SMUW…
.

.
Joe Ringham's 5 & 1
Following in the footsteps of the original "5 & 1," Jim Vilk, and Catherine Ryan after him, Joe Ringham is back again for 2017 to make his "5 & 1" (five good looking and one stinker) uni-vs-uni matchups. Sometimes he'll have some "honorable mentions" and sometimes there will be more than one "bad" game. You may agree and you may disagree — these are, after all, just opinions and everyone has one. Feel free to let him know what you think in the comments section.
Here's Joe:
. . .
Good Sunday, everybody. Let's get right to the list for this 6th week of the college football season…
5) Albany at Richmond — We head to the FCS to start this week. The gold/white/gold of Albany contrasted wonderfully against the white/red/white of the Spiders. Such an eye-pleasing game.
4) Central Michigan at Ohio — Not gonna lie, I had a feeling this one might be on the wrong side of this list based on the Chips going with their maroon/mono-gold look (a yearly +1 fixture for me). But, upon seeing the Bobcats going white/green/white, this falls into the "so bad it actually looks good" category.
3) Minnesota at Purdue — When searching through some of the mid-afternoon games, this one really stood out strong. Loved the Gophers going maroon/white/maroon on the road in West Lafayette. Pair that up against the Boilers traditional gold/black/gold home uni, and you have one fine-looking game on an October Saturday in the Big Ten.
2) Notre Dame at North Carolina — I had a feeling at the beginning of the week this would look good, and it didn't disappoint. The simple, classic road look of the Irish matched up excellently against the white/Carolina blue/white the Tar Heels went with at home (a favorite of mine).
1) LSU at Florida — Always one of the best looking games of the season, and always a favorite of mine.
And, finally…
+1) Washington State at Oregon — Is it fair to ask if the Ducks have jumped the shark when it comes to their uni choices?
Enjoy your Sunday, everyone. I'll see you all next week!
• • •
Thanks Joe! You can follow Joe on the Twitter and let him know what you think of his choices or make a 5 & 1 suggestion of your own!
.

.
NCAA Uni Tracking
Uni Watch will again track the uniform combinations worn by the "Power 5" conferences. All of the 2016 trackers are back!
We've got Rex Henry (tracking the ACC), Dennis Bolt (tracking the PAC-12), Kyle Acker (tracking the Big XII), and Ethan Dimitroff (tracking the B1G AND the SEC). Rex, Dennis, and Kyle and are all returning from 2015, and Ethan is back after joining the NCAA Uni Tracking last season. Ethan has stepped into the dual role of both the B1G and the SEC.
Here are the Uni Trackers for the Power 5 Conferences:
+ + + + + + + + + +
Rex is up first today (ACC):
• • •
ACC

More Here.
Follow Rex on Twitter here.
• • •
And now, here's Dennis with the PAC-12:
PAC-12

More here.
Follow Dennis on Twitter here.
• • •
And here is Ethan, with the SEC:
SEC

And be sure to check out Ethan's WVU Mountaineer Tracker.
Follow Ethan on Twitter here.
• • •
And here is Kyle with the Big XII:
Big XII

Follow Kyle on Twitter here.
• • •
And here's Ethan with the B1G:
B1G

.

.
Welcome to the 2017 Oregon Ducks Uni Tracker. This little project was originally begun way back in 2008-09 by Michael Princip, who retired after several seasons, whereupon the project was continued by Tim E. O'Brien. He, too, retired from the tracking, but the project has been ably kept up by the man who also tracks the Pac12, Dennis Bolt.
Here's this week's Uniform Combo for the Ducks (you can click to enlarge):
You can read about this uniform, and MUCH MORE, by checking out the Duck Tracker here!
Thanks Dennis!
.

.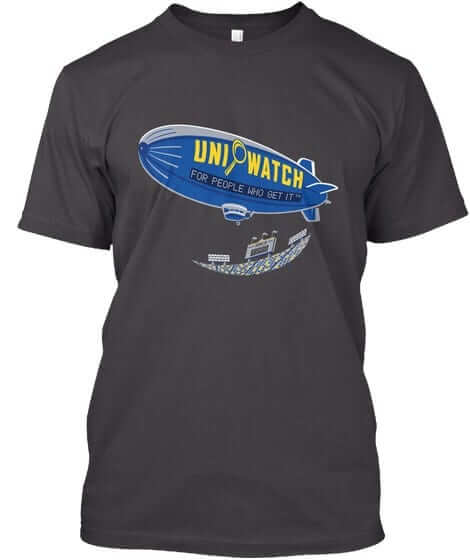 And Now a Quick Word from Paul
Hi there. Just a few days left to get our latest limited-edition shirt from the Uni Watch Artist's Series, designed by the great Sean Kane (shown at right; click to enlarge). It's available here through this coming Monday, Oct. 9. Additional info here.
We now return you to your regularly scheduled weekend content.
.

.
Uni Watch News Ticker
By Phil

Baseball News: Check out this neat old can of White Sox beer, found by Matt Bond. … Here's a neat colorization of Pepper Martin giving a hitting lesson at the World Series (October 7, 1931). As Bruce Menard says "Great STLCards uniforms!" … When you hear the name Duke Snider, you think Dodgers, maybe Mets, right? But (and I didn't even know this), @UniformCritic unearthed this photo of Duke Snider as a Padre (supposedly a coach). Here's the tweet. However, according to Wikipedia, "Following his retirement from baseball, Snider became a popular and respected TV/radio analyst and play-by-play announcer for the San Diego Padres from 1969 to 1971." No mention of him coaching, but it's doubtful a PBP guy would don a uni, right?

NFL/CFL News: It started with Robert Griffin III, when the Heisman Trophy winner was at Baylor — wearing RNOB (Roman Numberal on Back). Now, the trend has spread (like a plague) throughout the NFL (I found this but it was also sent in by Mike Chamernik). … Though there is no more Pinktober in the NFL, it is back for in the CFL for the month, as displayed in Friday's game in Winnipeg (from Wade Heidt). He adds, Winnipeg Blue Bombers backup quarterback Dominique Davis had to come into the game. "He was wearing an older navy blue handwarmer which would date back to their uniforms before 2016. This can be seen near his left hip in this photo." … The Bengals will be wearing orange tops over black pants today. They are very successful (4-0) when wearing this combo. They are also 19-6-1 when wearing orange tops overall. … WHOA — check out former Ohio State football star Howard Kriss modeling the Cleveland Bulldogs amazing skeleton uniform (also posted in College Football). From Bruce Menard. … The cleats the Jaguars' Jalen Ramsey will wear today list the names of the victims of the Vegas massacre. He'll auction off cleats with money going to the victims' fund (via Paul). … Looks like the Colts didn't go with the period-appropriate font for the retirement of Peyton Manning's number (from Josh Claywell). … David Dearing has some additional observations on the Peyton statue. … The Seattle Seahawks have revealed their uniform combo for today's game against the (throwbacking) Rams: white over white. … Robert Hayes is wondering if there will be any Pinktober shenanigans at today's Browns game. … You've always wanted to see Queen's Freddy Mercury in a Seattle Seahawks jacket, right? Of course you have (thanks to Rob Spalding).

College Football News: Ole Miss students are endorsing the landshark as the school's new sidelines mascot. In a statement Friday night, student government President Dion Kevin III said 81 percent of more than 4,100 students voted to replace the current black bear with the landshark (thanks to John Alexander). For those unaware, in 2003, the Rebels retired Colonel Reb as sideline mascot, and replaced him with the current black bear. That could all change again. … WHOA — check out former Ohio State football star Howard Kriss modeling the Cleveland Bulldogs amazing skeleton uniform (also posted in NFL). From Bruce Menard.

Hockey News: The WHL Regina Pats will host two outdoor hockey games as part of their 100th anniversary celebration – Feb. 17 and 18, 2018. Wade Heidt notes they will be at the new Mosaic Stadium in Regina. The All-Star Celebrity Classic on Saturday and a WHL regular season game against visiting Moose Jaw Warriors on Sunday. … The Hershey Bears will honor former Hershey CEO Ken Hatt with a decal on their helmet.

NBA News: Sad News from yesterday: Connie Hawkins (7/17/42-10/6/17) passed away at 75 (check him out in this classic Suns uni) He was "One of the great leapers in basketball history; a forerunner to Dr. J & MJ" (from NBA History). … Hawkins' Minnesota Pipers warmup jacket is amazing. (He apparently hated it though.) From Casey Common.

College Hoops News: I'm not 100% sure, but it looks like the Oklahoma State Cowboys will be getting new uniforms for this season, based on that tweet (thanks, Paul). It appears they'll be revealed on October 13th. For reference, here is the current orange uni.

Soccer News: Do you like old soccer programs? Well, Jay Jones was "Cleaning out the bookshelf & found these gems." Now those are some classics! … "I mentioned in (yester)day's ticker that Italian keeper Gianluigi Buffon helped unveil Italy's new World Cup kits, but that it was unlikely he'd ever wear the kit in a match because of rule prohibiting keepers and outfielders from wearing the same kit," says our own Anthony Emerson. "Yesterday, the Italian national team dressed in white, and allowed Buffon to wear the blue home kit he helped unveil (from commenter Kmcwil)."

Grab Bag: This is interesting: Josh King asks, "was this ever the primary logo for #WVU". Our resident WVU scholar/alum Jason Bernard replies, "Never a primary logo, and never used on any unis to my knowledge. Used to see it around campus but now it's all Flying WV." … Check out this chair covered with Cricketer Kevin Pietersen's old kit tops (from Jimmer Vilk). … "Here's a first look at Virginia Tech's volleyball court," says Andrew Cosentino. He adds, "Obviously, it'll double as the basketball court."
.

.
.

.