Every Sunday, Brinke Guthrie sends me his weekly "Collector's Corner" column, and each Monday morning I edit it. I enjoy seeing all of the vintage items he turns up, but every now and then he includes something that merits further investigation.

That was the case last week, when his column included an eBay listing for a 1980s collectible sticker showing mock-ups of the Tampa Bay Bucs' creamsicle uniforms (shown at right). Not only that, but I recognized the style of the mock-ups — they were taken directly from the NFL Style Guide. (Here's an old Uni Watch entry showing a 1980s NFL Style Guide for comparison.)
Trading cards — okay, trading stickers — based on uniforms? That seemed like major news! How had I not known about this? I wanted to learn more, so I removed that item from Brinke's column and began a trip down a very interesting rabbit hole.
I should begin by saying I purchased that Bucs creamsicle uni sticker on eBay, along with similar stickers for the Bears and 49ers. I also found similar stickers for MLB (I purchased an Expos sticker) and the NHL (I purchased a North Stars sticker). Here are the five stickers I acquired, with a coin included to show scale (click to enlarge):
As you can see, the stickers are small — 2-1/8″ by 3-3/4″ — but they show a decent level of detail for each team's uniform set. What's the story behind these things? After a bit of research and reporting, here's what I've learned:
1. The stickers were manufactured by an Italian company called Panini. I'd never heard of Panini before, but Wikipedia says they've been around since 1961, and they're apparently a big deal in the sticker biz (which I know nothing about). They continue to make sports stickers today.
2. The NFL uniform stickers were part of Panini's 1988 NFL set, which primarily featured player photos but also included one sticker for each team's uniform set, another for each team's helmet, and yet another for each team's wordmark. These three stickers — and only these three — had a foil background. (Here's a blog post that shows all three of those stickers for the Browns.) The full NFL set, which numbered 433 stickers, could be assembled in an album — which, like the stickers, is available on eBay.
Additional info on the 1988 Panini NFL stickers comes from the Beckett Price Guide, the most authoritative source in the trading card world:
This set of 433 different stickers (457 different subjects including half stickers) was issued in 1988 by Panini. Panini had been producing stickers under Topps license but, beginning with this set, Panini established its own trade name in this country separate from Topps.

The stickers measure approximately 2 1/8″ by 2 3/4″, are numbered on both the front and the back, and are in alphabetical order by team. The album for the set is easily obtainable. It is organized in team order like the sticker numbering. On the inside back cover of the sticker album the company offered (via direct mail-order) up to 30 different stickers of your choice for either ten cents each (only in Canada) or in trade one-for-one for your unwanted extra stickers (only in the United States) plus $1.00 for postage and handling; this is one reason why the values of the most popular players in these sticker sets are somewhat depressed compared to traditional card set prices.

Each sticker pack included one foil sticker. Team name foils were produced in pairs; the other member of the pair is listed parenthetically. The team name foils contain a referee signal on the sticker back, the helmet foils have the team's stadium on the back, and the uniform foils include a team "Huddles" cartoon card on the back [click to enlarge].
3. That same year, Panini also produced an MLB sticker set that included uniform mock-ups for each team, like the Expos sticker that I purchased. The artwork came straight from the MLB Style Guide. (Here's a Uni Watch entry that shows an early-1980s MLB Style Guide for comparison.) The MLB stickers had a sales pitch for World Series and All-Star Game baseball on the back. Once again, the stickers were meant to be put in an album, and the album is readily available. Unsurprisingly, the mighty Fleer Sticker project has written about this.
4. Panini also produced a 1988-89 NHL sticker set, and that too included a uniform sticker for each team, like the North Stars sticker that I purchased. I've never seen an NHL Style Guide from that period, so I can't say for certain if that's where the graphics came from, but I'd say it's a pretty strong bet. The back of the NHL stickers had instructions on how to get more stickers — in English and French! Once again, these stickers were meant to be placed in an album.
5. Panini also did a 1988-89 NBA sticker set, which of course included uniform stickers. I did not find any individual NBA uniform stickers available for purchase, but here's the entire set (click to enlarge):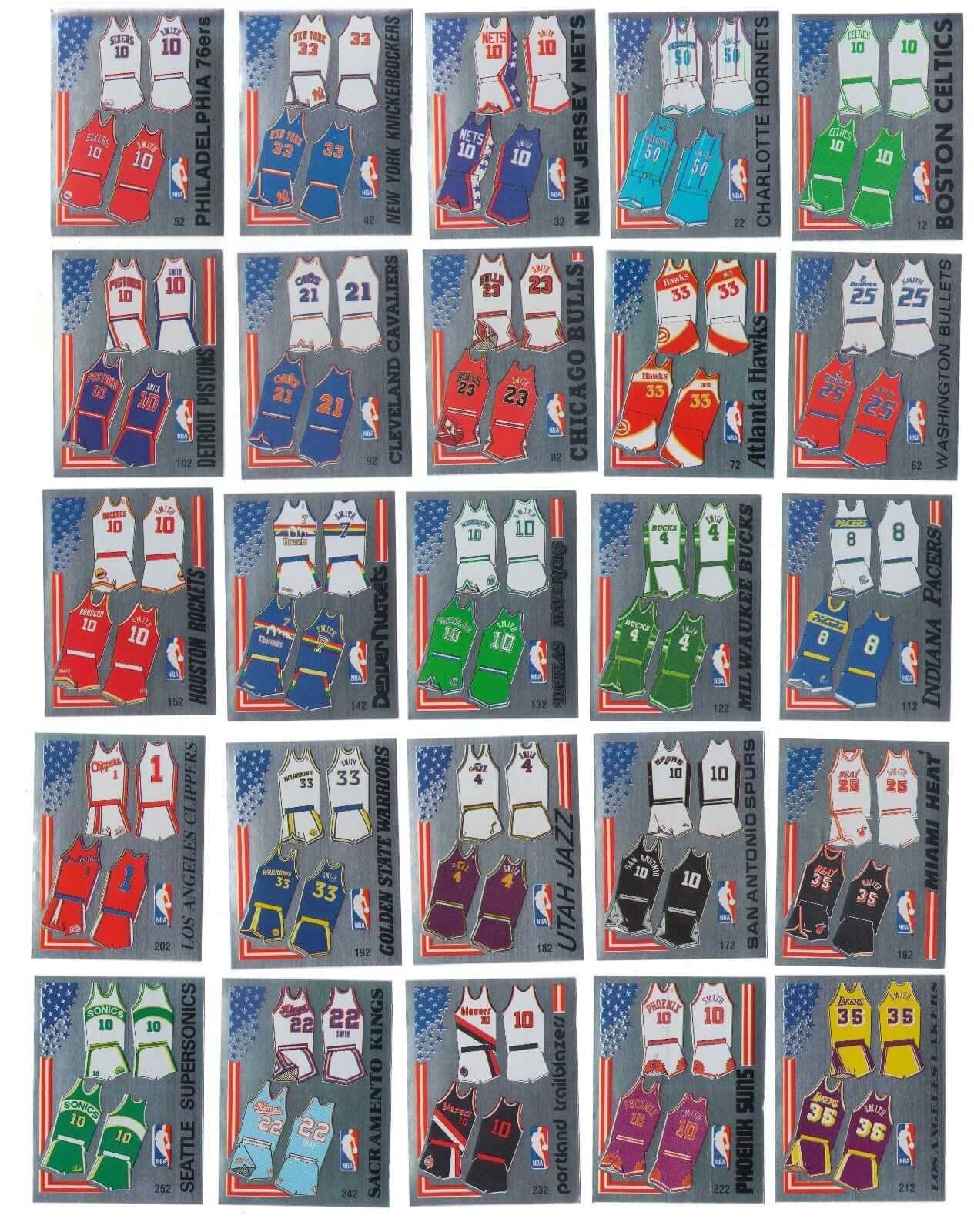 I've never seen an NBA Style Guide from that period, so, again, I can't be sure if the guide was the source of the graphics, but I strongly suspect that it was.
6. Based on my admittedly preliminary research, it appears that 1988 was the only year that Panini included uniform designs in its sticker sets.
7. You can see more of the stickers by simple Googling.
8. If you want to purchase some of the NFL, MLB, and NHL uniform stickers, they're inexpensive, typically ranging between $1 and $3 apiece. You can find a bunch of them by going to eBay and searching on "Panini uniform sticker."
9. Burbank Sportscards, one of the big retailers in the card biz, has mistakenly eBay-listed a bunch of the NFL uniform stickers as "1983 Huddles stickers." This is because the back of the NFL uni stickers shows each team's Huddles character with a 1983 copyright date. So if you go to eBay and search on "Huddles sticker uniform," you'll see all of Burbank Sportscards' listings for the NFL uni stickers. Free shipping, too. (I spoke with Burbank Sportscards owner Rob Veres as part of my research for this piece. Very nice guy. Said he had no idea when or how they acquired the uni stickers and knew nothing about them. "We've got over 40 million cards here, and frankly I've never ever seen these before," he said.)
10. I have not seen any eBay listings for individual NBA uniform stickers, but the entire set of team logo and uniform stickers is available here.
That's about it. I love the idea that someone was making uniform trading cards (or stickers, whatever). Why didn't Topps ever do this? If they did, I might still be collecting baseball cards today, just to get the uni cards!
If anyone knows more, feel free to enlighten us in the comments.
(Big thanks to Brinke Guthrie for discovering the tip of this iceberg, and also to Rob Veres of Burbank Sportscards, Brian Fleischer of Beckett, and Jon Helfenstein of the Fleer Sticker Project for their research assistance.)
• • • • •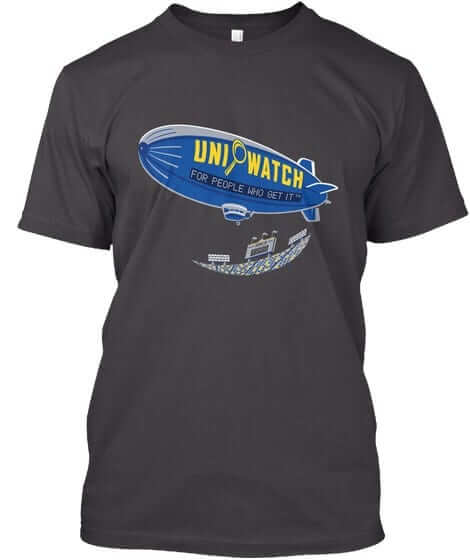 T-shirt reminders: In case you missed it last week, our latest limited-edition shirt from the Uni Watch Artist's Series is by the great Sean Kane (shown at right; click to enlarge). It's available here through next Monday, Oct. 9. Additional info here.
We also have a bunch of new Naming Wrongs designs. Check those out here.
• • • • •
The Ticker
By Alex Hider

Baseball News: One Twins player had his jersey almost completely unbuttoned during last night's American League Wild Card game (from Jack Gioffre). … In that same game, Yankees P David Robertson's Postseason cap patch was peeling off. … Speaking of the Postseason cap patch, here's what it looks like on a Cubs cap (from @Lincolning). … Eight teams had three players wear the same jersey number throughout the 2017 season, but none could top the Yankees, who had seven different players wear No. 30 this season. Also, 11 individual players wore three different numbers this season (from MLB Jersey Numbers). … Cool project by Trevor Milless, who recorded the Mariners cap he wore for every game of the 2017 season and then turned it into a video. … These are the top-selling player jerseys in the MLB this season (from Andrew Cosentino). … Good piece on a sports merchandising company that makes the rally towels that teams provide to fans in the playoffs (from Mike Chamernik). … As if we needed another excuse to imagine the Padres in brown, here's a mockup of a potential Padres road uni (from Jeff Walton). … An increasing number of MLB players are wearing NBA socks (from Phil).

NFL News: The Patriots will wear all-white, including a new set of white pants, for Color Rash this Thursday. … The Rams will be wearing their gorgeous throwback unis this weekend (from Phil). … The Bengals will wear their orange alts on Sunday (from Phil). … RB Randall Cobb and WR Davante Adams forgot to wear white-bottom socks for the Packers' team photo yesterday (from Duncan Platts and Brett). … Speaking of the Packers, this is a good oral history about how the team ultimately ended up in Lambeau Field (from Mike Chamernik). …  Here's another example of an ad featuring team uniforms that don't include the NFL logo, this time with the Packers in an ad for a local bank (from Brian Anderson). … Erving spotted this awesome Bears bicycle in the suburbs of Chicago.

College Football News: UNLV will add a red ribbon decal to its helmets honor the victims of Sunday night's concert shooting. The opposing team, San Diego State, will also wear the ribbon decal (from Phil and @CouvillierMax). … Nebraska will wear their 1997 throwbacks (featuring faux-mesh numbers) this weekend against Wisconsin (from Phil). … NC State will go BFBS against Louisville on Saturday (from ACC Tracker). … If this mannequin is any indication, Iowa State will be going white/white/red this weekend (from Zach Sills). … Coastal Carolina will be going mono-teal this Saturday (from @Westside Firefly). … Louisville's practice uniforms have some drop shadow inconsistencies (from Eric Wright). … Whoever is counterfeiting tickets to Saturday's Michigan/Michigan State game isn't doing a very good job. … The ACC Tracker has been updated for week five. … Following up on yesterday's lede on the use of merit decals prior to 1968: Notre Dame used stenciled stars (not quite the same as decals but the same basic concept) in 1964 (from Dan Cichalski).

Hockey News: The Senators will wear a memorial decal on their helmets in honor of former GM and coach Bryan Murray, who recently passed away (from Josh Ghouls). … The Preds retired No. 7 for "The Seventh Man" years ago, but they've just replaced the banner with a new one that includes the names of season ticket holders. In addition, here's a first look at the team's 2017 Western Conference Championship banner, which will be raised on Thursday (from Lee Wilds). … The Vancouver Giants will wear jerseys inspired by Don Cherry's suits on Saturday night (from Phil). … Here's a video on the making of the Penguins' Stanley Cup rings. The ring design features a "5" in place of the penguin's eye, to mark the team's five championships (from Jerry Wolper).

NBA News: The league announced Tuesday that it was changing up the All-Star Game format and going to a playground-style draft. That means we probably won't see "East" and "West" on the jerseys this year. No indication yet on what the uniforms will be. … Taj Gibson of the Timberwolves will become the first player in NBA history to wear No. 67 when he takes the court this season (from Mike Chamernik). … According to this thread, the Bucks are having a hell of a time differentiating between 2s and 5s  (from Nicholas). … We got a sneak peak of the T-Wolves's new court yesterday (from @JunkWaxTwins). … SB Nation is celebrating jersey week, and yesterday they broke down the sublimated, teal-shaded, ornately-trimmed jerseys of the '90s (also from Mike Chamernik). … Someone mocked up some NBA concept jerseys for Italian soccer teams (from Kyle K.). … ICYMI from the baseball section: More and more MLB players are wearing NBA socks (from Phil). … A Fox Sports ad poking fun at the Knicks lasted one day before fan outrage prompted its removal.

College Hoops News: Xavier's "new" throwback jerseys look an awful lot like last year's throwback jerseys. … Louisville's student paper got creative with the Adidas logo in one of their recent stories about Rick Pitino.

Soccer News: ICYMI from the NBA section: Someone mocked up a bunch of Serie A basketball jersey concepts (from Kyle K.). … New uniforms for the Baltimore Blast of the Major Arena Soccer League (from Jim Vilk). … This is wild: One of the Russian stadiums slated to host games during the 2018 World Cup wasn't large enough, so a giant section of stands was added outside the stadium. It appears they also removed one of the walls from the stadium so fans will have a full view of the pitch. … Ed Zelaski sends along this history of the modern soccer boot.

Grab Bag: Here's what Team Canada will be wearing during the Opening Ceremonies of the 2018 Winter Olympics (from Ted Arnold). … Georgia Tech is close to choosing a consistent shade of gold that it will use across all its teams (from Michael Rich). … Jimmie Johnson and Dale Earnhardt, Jr. had an autograph mishap yesterday (from David Firestone). … The iWireless Center in Moline, Illinois will now be known as the TaxSlayer Center (from Mike Chamernik). … A trucking company is using a version of Wisconsin's Bucky the Badger logo on the mudflaps of its trucks (from Ted Chastain). … Here's an interesting piece that looks at the uniforms and other attire worn by workers at New York City's Fulton Fish Market (from Tommy). … Here's an in-depth piece about a killer whale hat made by the Tlingit tribe of the Pacific Northwest, and the controversy surrounding a replica of the same hat (from Adam Herbst).
• • • • •
Click to enlarge

What Paul did last night: I've been a huge fan of the radical British illustrator Sue Coe for about 25 years now. The funny thing about that is that Coe, who grew up next to a slaughterhouse, has devoted much of her career to promoting vegan revolution, while I'm a major carnivore. Despite the seeming contradiction, I love her stuff, which is full of dark, shadowy, nightmare indictments of the meat industry and capitalism in general. It's super-powerful and super-disturbing, and I mean that in the best way. (If you're not familiar with her stuff, you can see some of it here, here, and here.)
I'd never seen Coe in person until last night, when she gave a presentation at the Parsons School of Design to promote her latest book, The Animals' Vegan Manifesto, which is basically a retelling of George Orwell's Animal Farm but with a happy ending. She was smart, poignant, angry, sad, hilarious. At the end, I bought a copy of the book and got her to sign it. Afterward, I went with the Tugboat Captain and our friend Nate to a nearby Spanish bar, where the complimentary meatballs were a guiltier-than-usual pleasure.