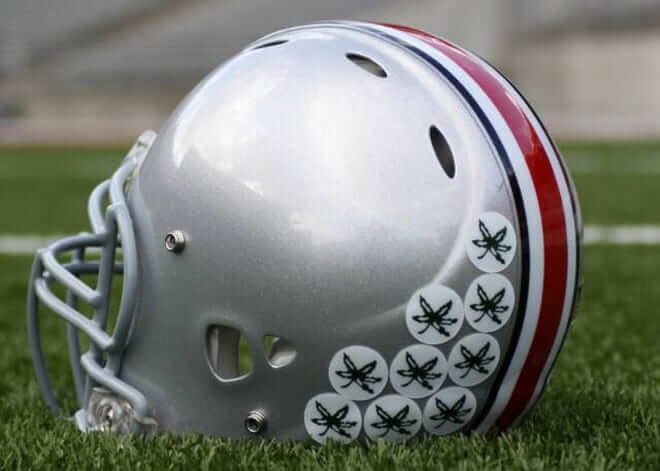 There was an item buried in Friday's Ticker that you may have passed over without a second thought. It read, "Did merit stickers start at Rutgers, not Ohio State? This article says yes." I want to take a closer look at that item today.
First, some quick background. The party line for many years was that merit decals began at Ohio State in 1968. I said as much in this ESPN column in 2005. Another ESPN.com writer (whose surname, by odd coincidence, was Lukacs) said the same thing in 2008.
In retrospect, the claim that Ohio State came up with the idea for merit decals appears to have originated with Ohio State itself. The school's website used to have a page devoted to how coach Woody Hayes and trainer Ernie Biggs came up with the idea (although I can't find that page now — maybe it's no longer active), and I foolishly took their word for it in my 2005 piece. So did lots of other journalists and fans.
That claim has now been debunked many times over. For starters, Ohio State wasn't the only school giving out merit decals in 1968. According to helmet researcher Curtis Worrell of Helmet Hut (who knows more about this stuff than anyone I've ever encountered), Iowa rewarded big plays in '68 by affixing letters that spelled out "Hawk" the back of the helmet. If a player earned more than four decals, they started over from the beginning of the word (photos from Helmet Hut):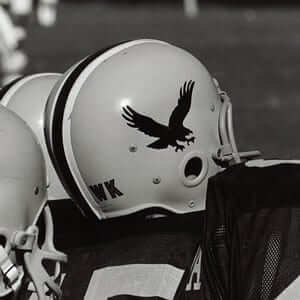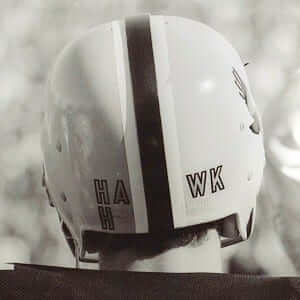 In addition, Iowa's 1968 helmets were blank on the sides, but players could "earn" a black hawk right-side logo by virtue of excellent performance. Here's a shot showing some players with blank helmets and some with the black hawk: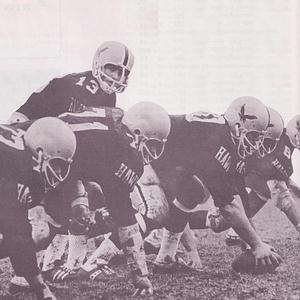 Further explanation comes from this Helmet Hut page:
The Iowa helmet … was augmented, for 1968 only, with award designations for outstanding play that consisted of one-inch Green Bay gold H-A-W-K letters that were trimmed in black, and black "Flying Hawk" award decals. The "HAWK" award letters were placed at the rear of the helmet and the "Flying Hawk" award was placed only on the right side of the helmet for those earning them.
So Ohio State wasn't a lone pioneer in 1968. More importantly, though, there were also several schools that awarded merit decals before 1968. Here are the ones I'm currently aware of, although there may be more:
• 1966: According to Worrell, the Helmet Hut guy, Wisconsin players were rewarded for big plays by having letters added to the backs of their helmets, eventually spelling out "Badgers." Here are some photos Worrell provided to me: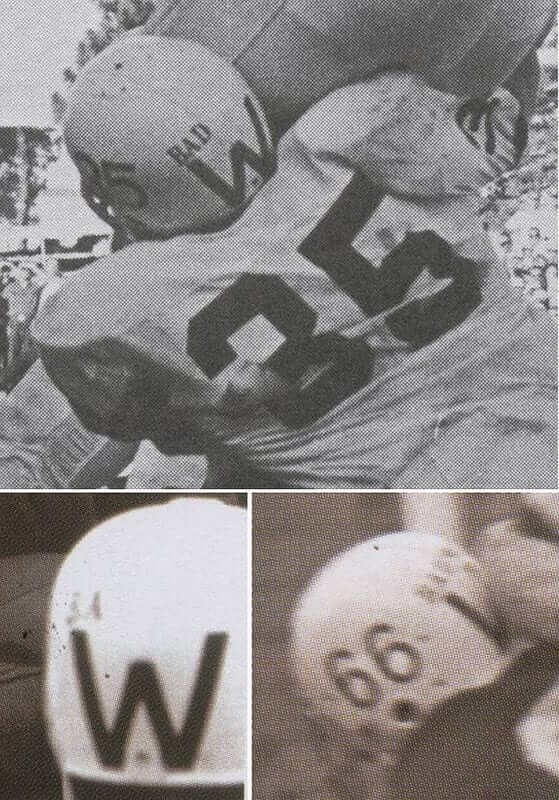 • 1965: Miami of Ohio wore tomahawk decals. Ironically, Miami's coach at the time was Bo Schembechler, who would later coach at Michigan and become Woody Hayes's arch-rival. Here's a photo: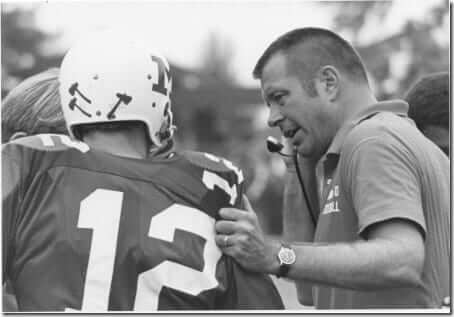 There's additional info on the Miami decals here. And according to this Wikipedia page, ESPN eventually gave credit to Miami as well. Unfortunately, the 2014 ESPN video clip cited as a reference is no longer functional.
• Early 1960s: Illinois awarded star decals for big plays. Here's a shot that shows Dick Butkus (No. 50) with two stars, a player in the background with one star, and two players with no stars (click to enlarge):
And here's another shot of Butkus, this time with four stars: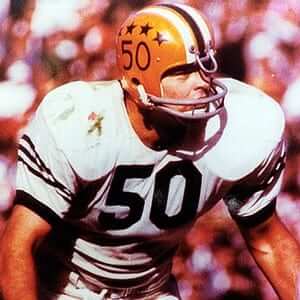 It's difficult to know exactly which year(s) Illinois wore the stars. Butkus played there from 1962 to '64. According to Getty, which is notoriously unreliable regarding photo dates, the larger shot shown above is from 1963, but that seems unlikely, because Sports Illustrated used it as a cover photo in 1964. So it seems we can safely say that Illinois used the stars in '64, with the earlier years being a subject for further research.
It's also not clear whether all players were eligible for the stars, or only defensive players.
1960-67: This is the situation chronicled in that Ticker item from last Friday. Rutgers awarded star decals to defensive players who made an interception. And the stars weren't added after the game — if a player picked off a pass, a coach would add a star to his helmet right there on the sideline during the game. The stars were first awarded in 1960 and the protocol continued through 1967. The Ticker-linked article is excellent — strongly recommended. Here are some photos (if you can't see the slideshow below, click here):
This is the earliest visually documented instance of merit decals that I'm aware of. However…
1956-59, maybe: When Butkus and other Illinois players wore the stars in the early 1960s, their coach was Pete Elliott. But in 1956, he was the head coach at Nebraska (at the age of 29!), and then he was the head coach at Cal from 1957 through '59. Elliott is now deceased, but in a 2007 interview he discussed one of his Nebraska assistant coaches, Gene Stauber:
Elliott: Gene Stauber … coached pass defense and during the war he had been with a unit that wrote citations for war valor and so on. Every guy that intercepted a pass, he would write a citation and give them a star. Put it on his helmet. Everybody on the team after a while wanted to read what he said. (Laughs) He wrote it up like a war story. "In the heat of battle during the fourth quarter with the score being so and so and the game on the line, the defensive back, whatever their name was, made an exceptional effort in driving through the man, leaped high to intercept the pass to save the day for Nebraska and so on and so forth." … I think a lot of teams put stars on their helmets for various things but that was the first time I had ever heard of it and Gene was the guy that did it.

Interviewer: Maybe Ohio State copied it?

Elliott: Could be. They have their buckeyes and they put them on. We did at Cal. We put them on. The players loved it.
So according to that account, the 1956 Nebraska team and Elliot's late-'50s Cal squads all wore merit stars. I've so far been unable to turn up any photo documentation, but that's another subject for further research.
Those are all of the pre-1968 examples that I know about, although it wouldn't surprise me to learn that there were others. Frankly, I had been unaware of most of these entries on the historical timeline until I saw that Rutgers article in Friday's Ticker, which sent me down the rabbit hole.
• • • • •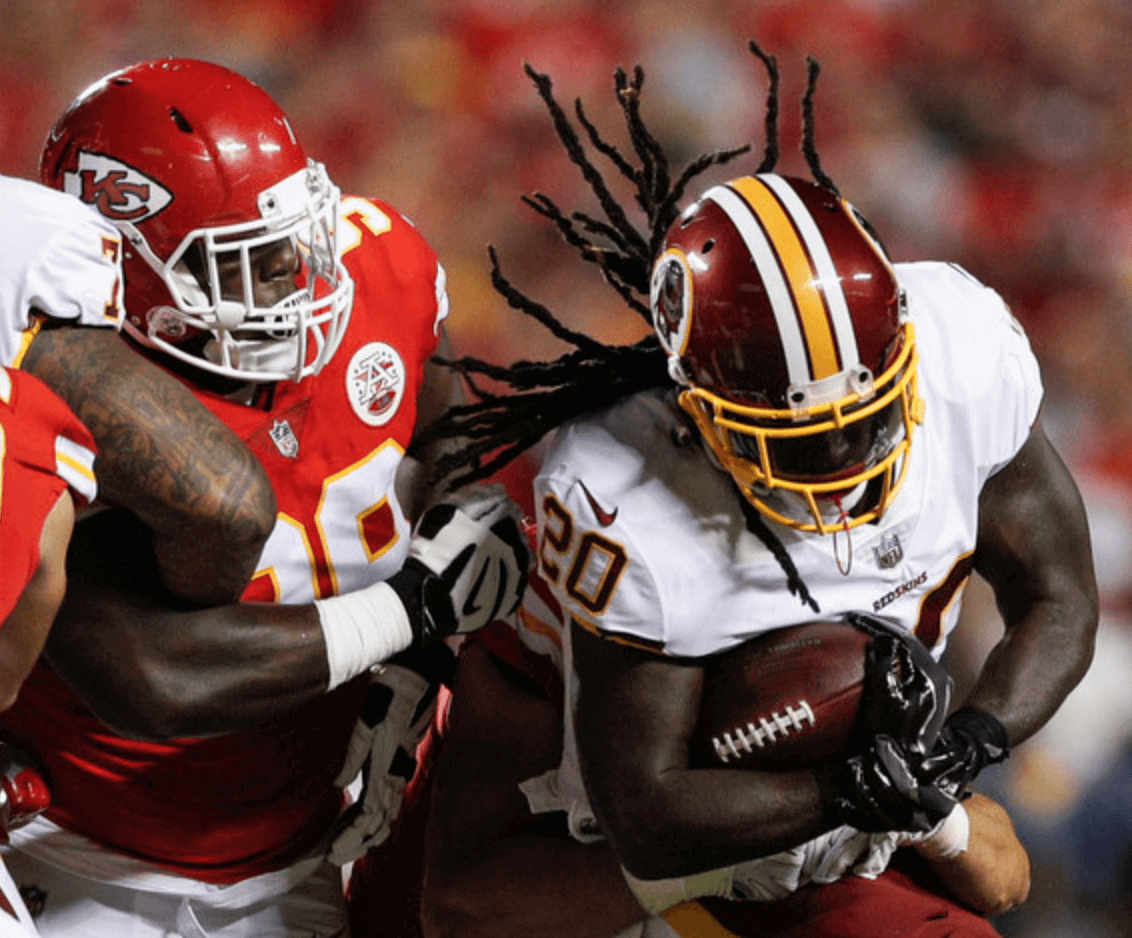 Click to enlarge
Blank generation: Quick quiz: What did the two teams in last night's Monday Night Football game have in common from a uniform perspective (aside from the unfortunate Native American thing)?
Answer: As you can see above, they are the only two NFL teams with blank nose bumpers. Every other team has a logo in that spot.
But there's an asterisk, which I hadn't been aware of until reader Michael Geddes (who happens to be the assistant equipment director at Villanova) pointed it out to me last night: The Chargers use a wordmark on their bumpers — except on their Riddell SpeedFlex helmets, which have blank bumpers. Weird! You can see both styles in this photo (click to enlarge):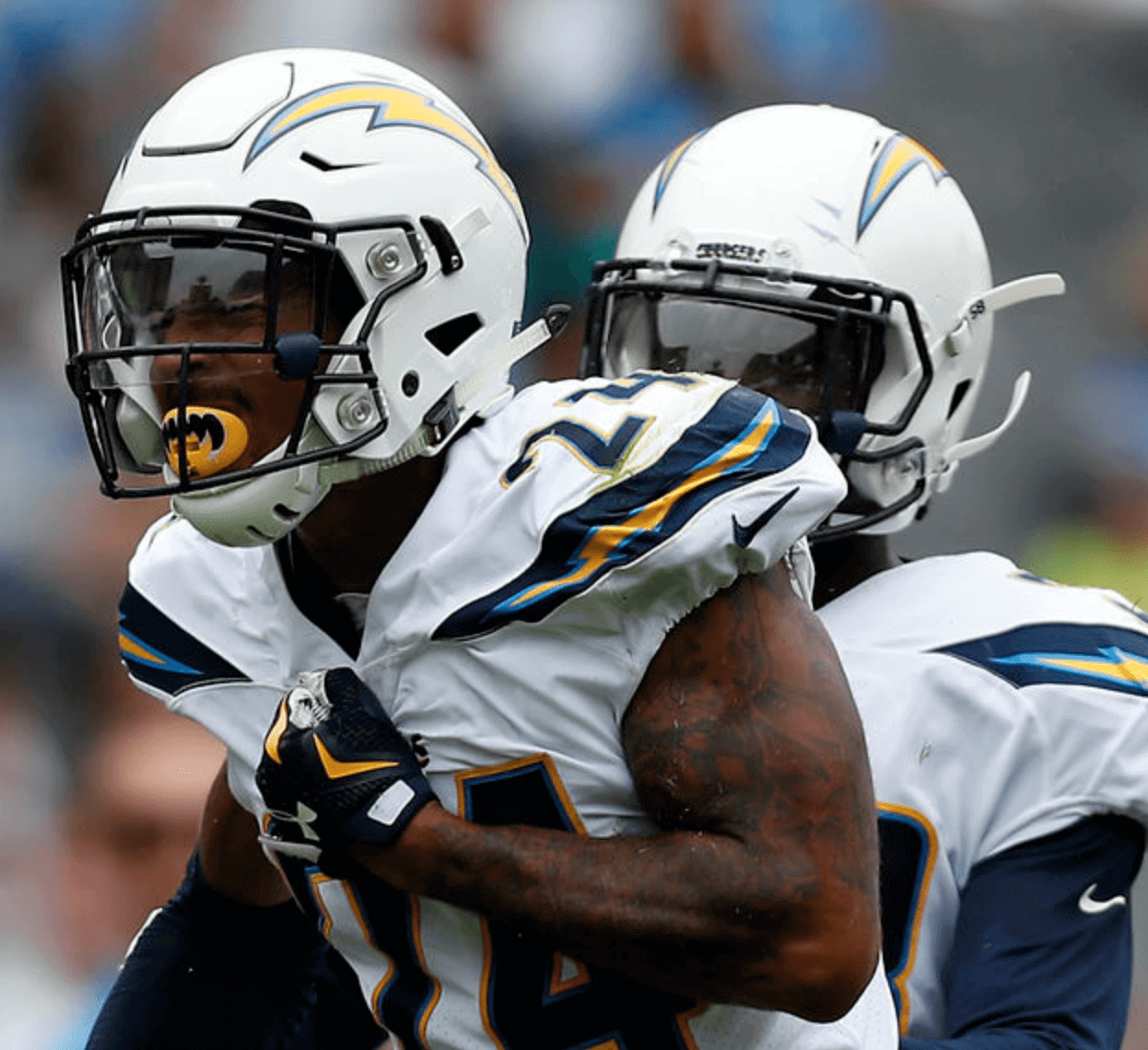 • • • • •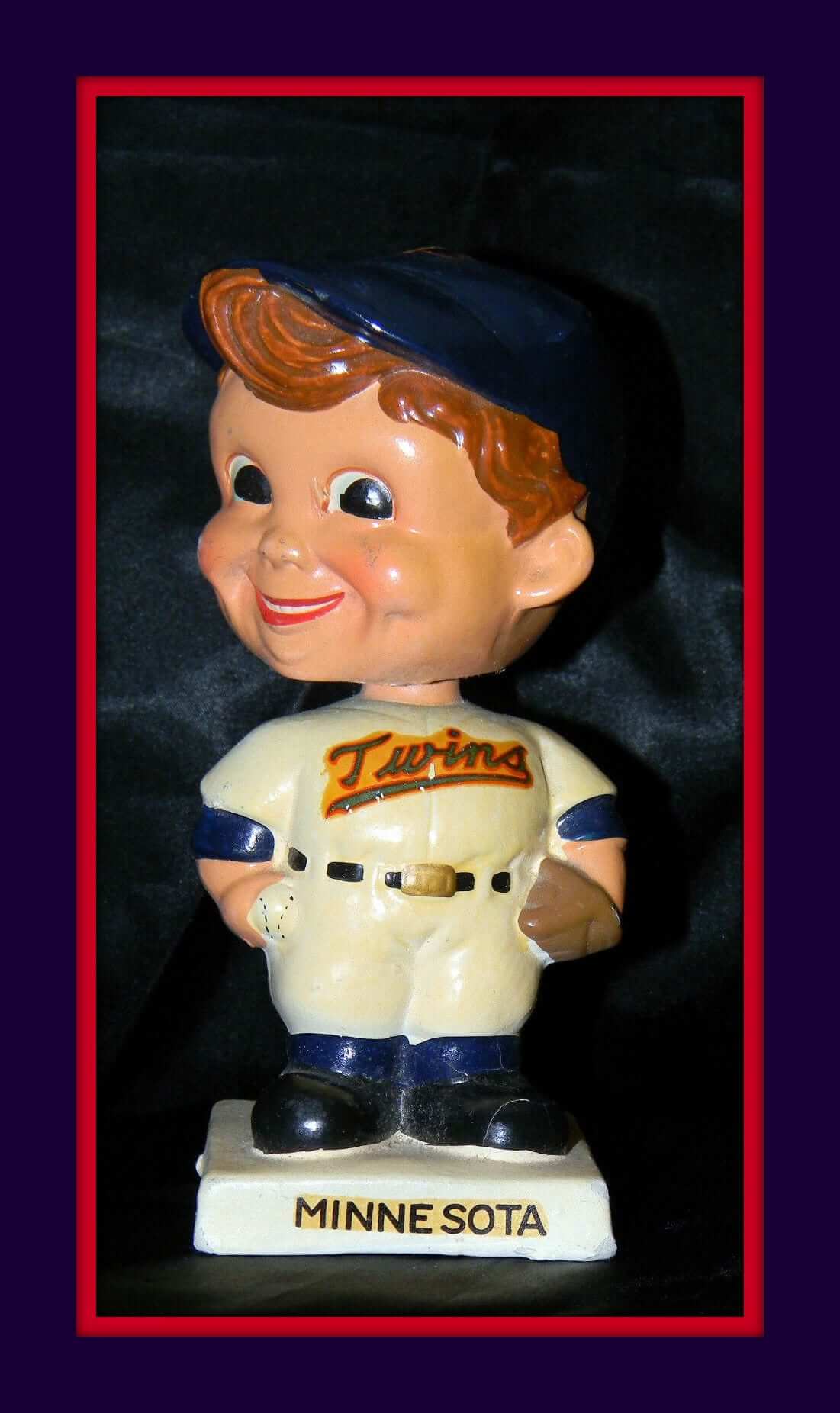 Click to enlarge
Collector's Corner

By Brinke Guthrie
The Twins play the Yankees tonight in the American League Wild Card Game, so we're leading off this week's edition of Collector's Corner with this nifty 1960s Minnesota Twins bobblehead. Can't see any cracks or creases on him, which is rare given his age.
And just to give equal time to the Yanks: Way back in the day (1950), you'd wear this Tip-Top Bread (With That New Good Taste) sun visor to (the old) Yankee Stadium to watch the Bronx Bombers play.
Now for the rest of this week's picks:
• This is an excellent 1970s Denver Broncos "XXL" three-quarter-sleeve T-shirt. This one is made by Champion, and it is guaranteed to be comfortable, 'cause (along with DeLong) they always were. It says XXL on the chest, but in fact is an L.
• This is, according to the seller, an early- to mid-1970s Dallas Cowboys sideline jacket from Sand-Knit. I remember Staubach, Morton, Reeves and the guys wearing this style, for sure!
• Got a nice-looking Riddell TK-2 Kra-Lite LA Rams helmet lamp here. The seller does mention a company name label on the underside of the base, so it's apparently not a DIY.
• Here's another 1970s NFL helmet for you, this one in the form of a plaque for the Los Angeles Rayduhz.
• These 1970s-1980s "Team NFL" Steelers gloves from Wells Knit look nice.
• One more from the Stillers: This 1970s gear bag shows the facemask in yellow. The side of the bag itself is yellow, so they just left the mask as is. Don't you think Steelers helmets would look good with a yellow mask?
• This is a 1970s NFL coin purse. Has to be later in the decade due to the Bucs and Seahawks. (Fourteen more teams on the other side.) Got a little tear on the corner there, but all in all looks good.
• Classic-looking 1970s Packers ski cap from Sears right here.
• This Reebok-era Patriots sideline jacket was team-worn and comes with a certificate of authenticity.
• Check out the helmet artwork on these mid- to-late-1970s NFL stickers.
• • • • •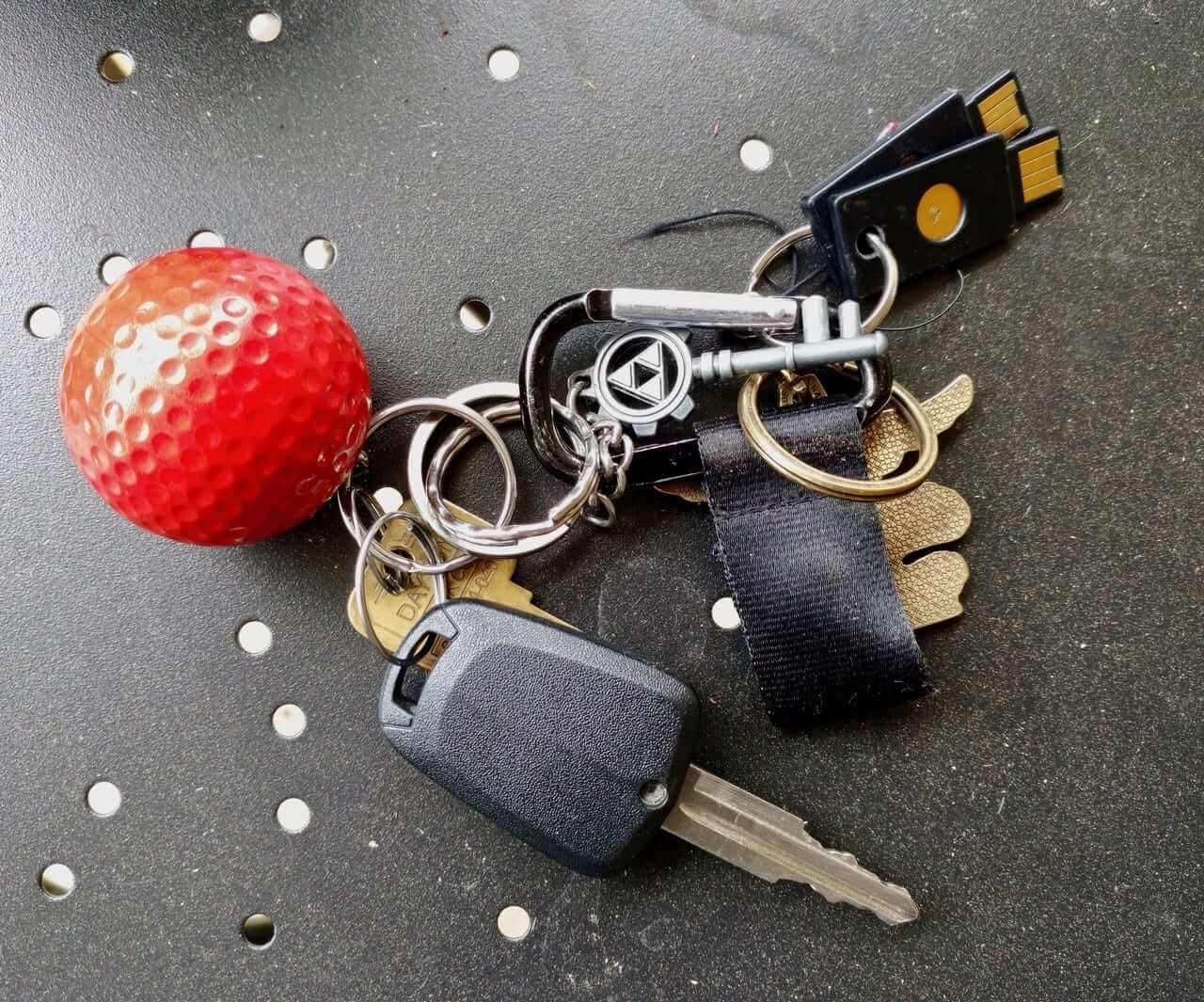 Click to enlarge
KRC update: The latest installment of Key Ring Chronicles is about a guy who keeps a red golf ball on his key ring. There's a really nice story behind that — check it out here.
• • • • •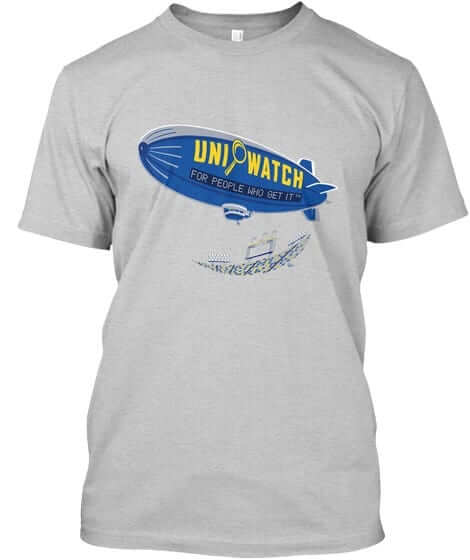 T-shirt reminders: In case you missed it on Friday, our latest limited-edition shirt from the Uni Watch Artist's Series is by the great Sean Kane (shown at right; click to enlarge). It's available here through next Monday, Oct. 9. Additional info here.
We also have a bunch of new Naming Wrongs designs. Check those out here.
• • • • •
The Ticker
By Alex Hider

Baseball News: The Braves' letterhead doesn't quite match the team's jersey script (from @Phixated). … With Jeffrey Loria set to sell the Marlins, many fans were concerned the "Bobblehead Museum" at Marlins Park would be gone. However, the Museum will stay in the ballpark, and the rest of Loria's 900 bobbleheads will be donated to Cooperstown (from Brinke). … TCU and New Era are giving away three caps made of old baseball jerseys to fans who share their baseball memories with TCU Athletics on Twitter.

NFL News: Lots of Washington players were wearing socks with upside-down striping during last night's game. The burgundy stripe is supposed to be on top, as seen here (from @SteveBCreations). … Washington QB Kirk Cousins appears to have some sort of mesh covering on his ear holes (from Mike Cooper). … A woman at Sunday's Rams game — reportedly Rams coach Wade Phillips's sister — was wearing an interesting T-shirt that included the names of all of Phillips' former teams, with all but the Rams crossed out (from Ignacio). … A few Panthers players appear in an ad for Bojangles wearing jerseys without an NFL logo (from Jay Clink). … The NFL "Salute to Service" jackets this year include a thin stripe evoking military medals that is modeled after team jersey/pants stripes (from Frank Barber).

College Football News: Yesterday was the 79th anniversary of Michigan wearing the winged helmet for the first time (from Josh Claywell). … Many of my fellow Ohio Bobcats know that Nelson Dining Hall on campus just got a facelift, but Noah Wolf reports that some decorations are already falling down. He also sent along photos of old early aughts jerseys hanging in the dining hall. … This is how a real equipment manager proposes. Congrats to Pat Swoboda, the University of Central Missouri's equipment manager (from Clint Richardson).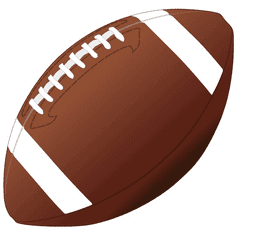 High School Football News: Update from yesterday's post: Larry Kamenec has an explanation as to why the referees could have forced a team to wear pinnies in a green/purple matchup. He says his father-in-law is colorblind and has trouble differentiating between green and purple. It could be at least one official was colorblind on the same spectrum, although you'd think being colorblind might be dealbreaker for being a football official. … Color-on-color matchup last weekend between Long Beach Poly and Wilson High Schools of California (from @Serstylz2).

Hockey News: A Golden Knights fan updated his jersey by adding a beverage accessory to the crest. I mean, Vegas is a party city (from Eric Juergens). … The NHL regular season begins tomorrow night. If you want to brush up on what you'll be seeing out on the ice, here's Paul's season preview column from last week.

Basketball News: Here's a good breakdown of which schools are outfitted by which companies for the major college hoops conferences (thanks, Brinke). … New uniforms for Valpo? Could be (from Joel Mathwig). … No pics of new game jerseys, but it appears that College of Charleston will be wearing Under Armour uniforms this season (from @willchitty4). … New unis for UMass Lowell (from Kyle Knox). … We got a sneak peak of the Heat's new throwback jersey yesterday (from @SJZIP1).

Grab Bag:  The University of Louisville's $160 million contract could be in jeopardy due to the FBI's ongoing bribery investigation (thank Phil). … Check out this awesome poster that gives the standings of all divisions of the English Football Association from 1965-66 (from Ron Duany Derksen).
• • • • •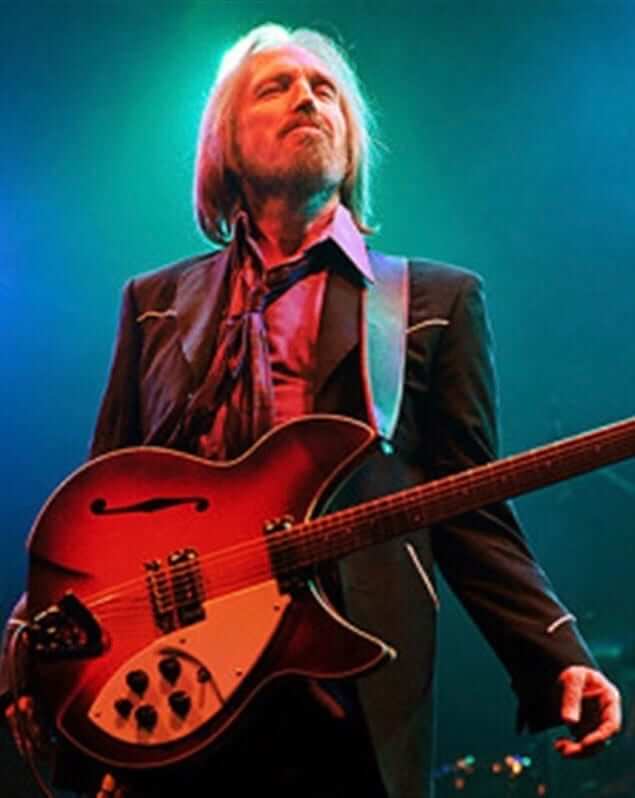 Breakdown: Tom Petty died yesterday at the age of 66. He'll always be special to me because the first real rock show I ever saw (i.e., not a cover band in the high school gym or something like that) was a Petty show at the Nassau Coliseum in 1981. So when it comes to live rock and roll — something that's been a significant part of my life — you could say I lost my virginity to Tom Petty.
In an industry where so many of the lifers are assholes, Petty was, based on what I've heard over the years, a decent guy. He had his limitations as a songwriter, but his basic approach to his music was always honorable, and I still like several of his radio hits. A shame that he died so young. RIP. — Paul