Introducing the Nike @NBA Connected Jersey.

Learn more at https://t.co/j10gHf22o3 #NIKExNBA pic.twitter.com/gcJ7DGWDGb

— Nike (@Nike) September 16, 2017
As most of you know by now, I generally don't concern myself with the retail scene. As I often say, I cover what the players wear, not what's for sale. Uniforms, not merchandise.
But I have to admit, the new NikeConnect "smart jerseys" feel like a potential game-changer, because they collapse the distance between what's for sale and what's happening on the field — or, in this case, on the court.
In case you missed it over the weekend, NikeConnect allows a fan who buys an NBA player's jersey to scan the jersey's jock tag with a smart phone app, unlocking highlights, stats, and other features relating to that player, along with a code that enhances the player's performance in the NBA 2k18 video game and, of course, special access to limited-edition sneakers. And it's a two-way platform — a player can send a message to fans who've bought his jersey. (There's additional info in the video embedded above, and in this article.)
Look, I don't buy jerseys, I don't play video games, and I'm not particularly interested in communicating with athletes unless I'm interviewing them for a story. But I totally get that this probably seems very, very cool to a lot of fans. I'm usually the first to roll my eyes when Nike describes everything it does as "innovative," but this seems genuinely innovative. And if they're doing it for NBA jerseys, it seems like they'll probably do it for NFL jerseys as well, right?
Meanwhile, as the tech site Ars Technica points out, this is all a marketing-data bonanza for Nike, because a customer who registers for the app and then scans the jock tag will essentially be saying, "This is who I am, this is where I live, this is how much I spent on the jersey," and so on.
But there's one thing that puzzles me: What's to stop a fan from downloading the app and then heading to Modell's, walking over to the rack of NBA jerseys, and scanning the jock tags from all his favorite players' jerseys? Stealing a jersey is hard, but stealing a swipe of a jock tag seems like a piece of cake. Am I missing something? (I must be, because I figure it can't be that easy.)
Even though I usually don't care about retail jerseys, I'm curious about this latest development. For those of you who buy jerseys (which is, I figure, most of you who are reading this), does NikeConnect sound intriguing? Exciting? Boring? Other?
Discuss.
• • • • •
LAST CALL for the Whalers raffle: Today is the last day to enter the raffle for some cool Hartford Whalers memorabilia. Full details here.
ESPN reminder: In case you missed it yesterday afternoon, my latest ESPN column takes a look at the best and worst of the NBA's newly released alternate uniforms. Check it out here.
• • • • •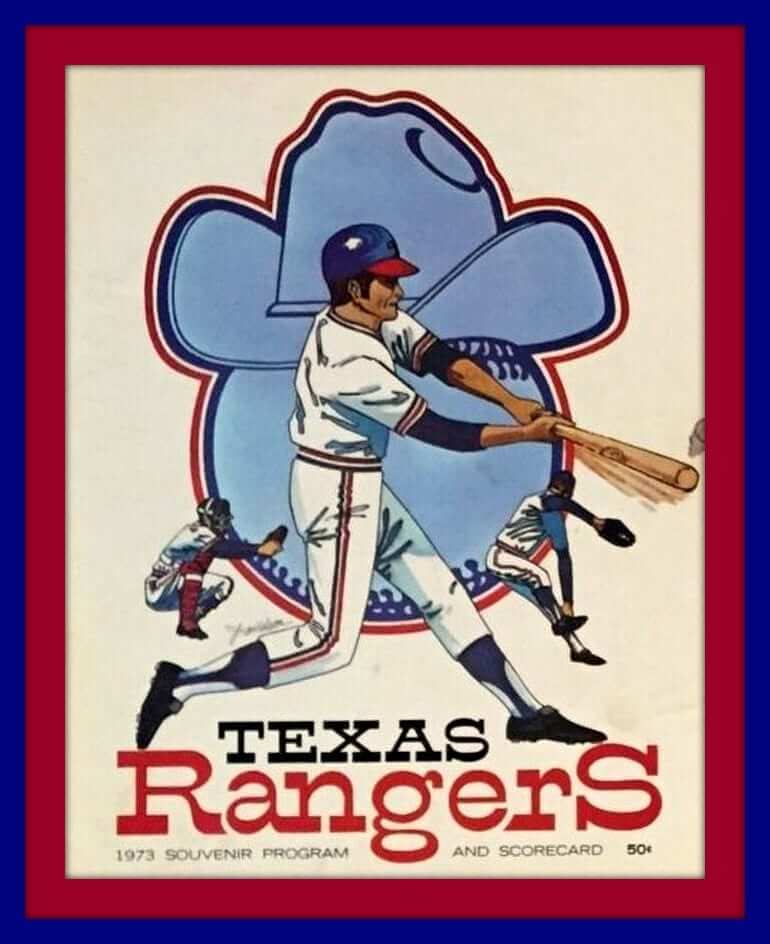 Click to enlarge
Collector's Corner

By Brinke Guthrie
Nice artwork on this set of early-1970s Texas Rangers programs, one of which is pictured above. Boy, that era of the team's history takes me back a bit. As a side note: This Rangers cover was from their second season in Arlington, 1973. My family moved from Texas to Cincinnati in the fall of 1972, so it's unlikely I would have ever seen this cover when I drew this. But there are similarities!
Now for the rest of this week's picks:
• Terrific helmet artwork on these 1970s-1980s NFL school spiral notebooks.
• The blue and yellow on this 1970s Chargers pennant really pop. Their powder blue is the best, but this Air Coryell color scheme was terrific, too.
• These are called "NFL cloth patches" from the 1960s, but they sure do resemble the Chiquita banana NFL stickers from the early 1970s.
• Here's a 1970s Tarkenton Vikings jersey by Rawlings. Not quite like the one Mary wore, but close.
• Look at the box art on this 1960s electric football game from Gotham, which was Tudor's main competitor. Notice no NFL markings — even in the early 1960s, it was all about licensing.
• This is called a "Sportscan." Apparently this was supposed to be a pint-sized water bottle for kids, and this one is adorned with a Patriots sticker. To me, it kinda looks like one of those little plastic lemons filled with lemon juice you get at the store.
• This 1970s Bengals promotional plastic mug was sponsored by Dr. Pepper and Sonic. I never saw these growing up in Cincinnati, as Sonic wasn't in our market.
• The 1970s Great NFL Fun Book is a must-have. How can you miss with a full-color section devoted to all 28 NFL helmets and uniforms?
• Luv Ya Blue! We've got a 1970s blue-helmet Oilers helmet buggy here, along with a regular silver helmet.
• Note the spelling on this 1980s minor league Louisville Redbirds pin. It says, "Louavull luvs the Redbirds." If you live in Louisville, that's how you say it, or just drop the "a" and say "Luh-ville." Non-residents tend to use the standard "Lou-ee-ville." (Also: The eBay listing says this item is from the 1970s, but the parent Cardinals didn't move their AAA team from Springfield, Illinois, to Louisville until the 1982 season.)
• From reader Jim Ransdell: An old black Saints helmet, like the ones they wore in the 1969 preseason.
• And from reader Brett Thomas: Here's a Pittsburgh Penguins T-shirt with Burgess Meredith, who played the Penguin on the TV version of Batman, as part of the logo.
• • • • •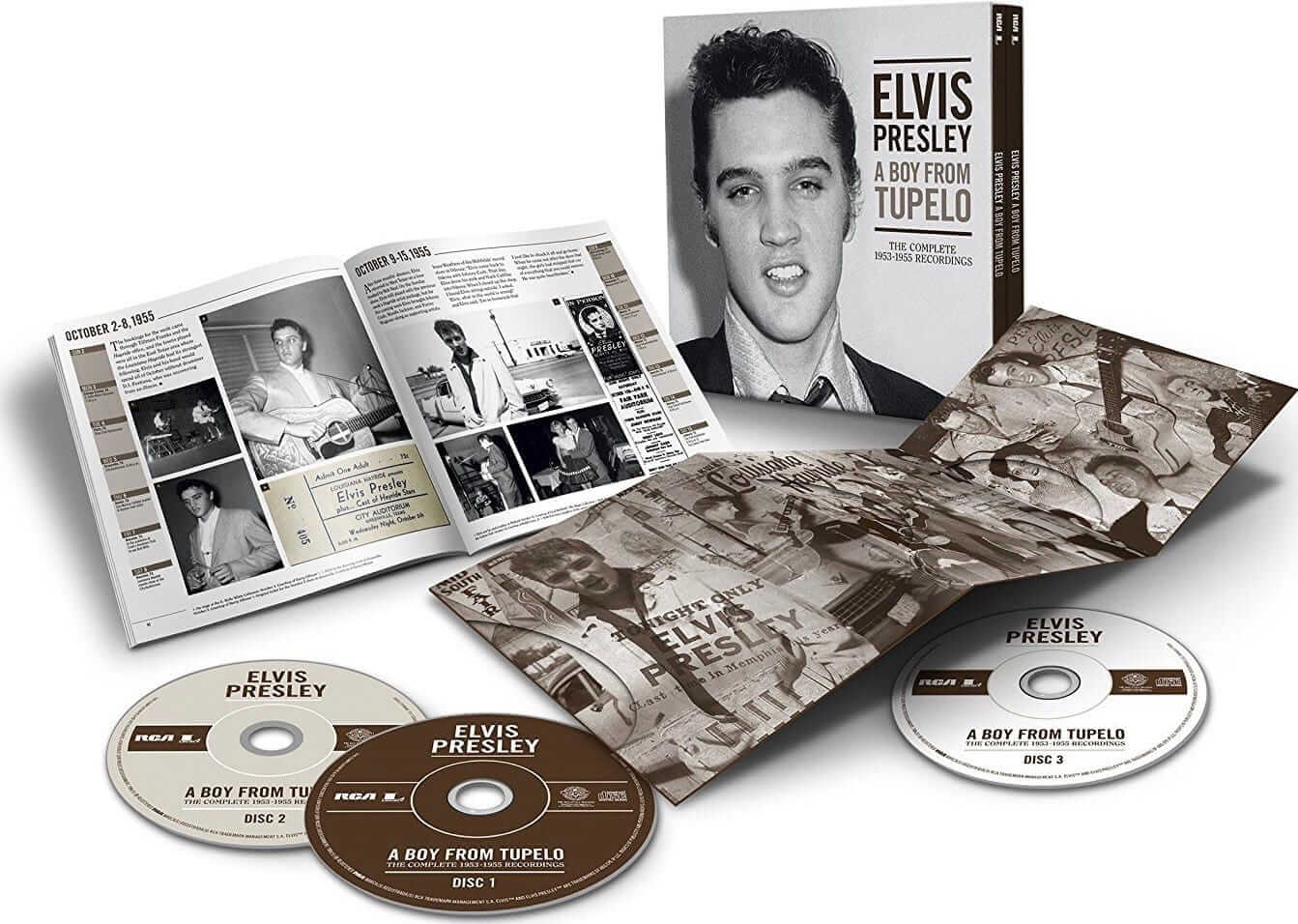 Click to enlarge
It's good to be (or buy) the King: Any Elvis fans out there? For reasons not worth explaining, I have an extra sealed copy of the new A Boy from Tupelo box set, which covers Elvis's earliest recordings. It features three CDs and a gorgeous 120-page book, and recently received a five-star review in Rolling Stone.
You can get it on Amazon for $25 plus shipping. I'll go two bucks lower: $23 plus shipping. You want? Let me know. First come, first served. Thanks.
• • • • •
KRC update: The latest installment of Key Ring Chronicles is a tale of addiction, depression, shoplifting, and a Walgreens discount card. Check it out here.
• • • • •
The Ticker
By Alex Hider

Baseball News: The U.S. Navy will no longer issue its "blueberry" work uniforms beginning Oct. 1. That could have implications for the Padres, who used the blueberries as the inspiration for their blue camo jerseys (from Chris Weber). … Yesterday's Ticker included a shot of Dodgers SS Chris Taylor wearing a cap with the New Era maker's mark on the right side and blank on the left side– presumably a Sept. 11 cap with the flag removed. Sure enough, Matt Ryburn had snapped this photo of Taylor last Wednesday, showing what appears to be adhesive residue where the flag used to be. Matt also sent along this photo of Dodgers C Austin Barnes's two-in-ones. … The Angels will give away these Angels/Anaheim Ducks winter hats tonight for "Ducks Night" (from Ignacio). … Casey's Corner is a hot dog stand at Disney World's Magic Kingdom. The baseball aesthetic for the restaurant apparently came from an 1890 Spalding Baseball guide (from Ben).

Pro Football News: A local TV station in Detroit is still using old Lions helmets on set (from Jason Berger). …University of North Carolina basketball players went to the Panthers/Bills football game this weekend, and matched the Panthers' color scheme by wearing their BFBS jerseys to the game (from James Gilbert). … The Montreal Alouettes went GFGS this weekend against Ottawa (from Wade Heidt).

College and High School Football News: Love these 1899 Claflin University football unis (from Jacob Lipp). … In 1979, high schooler Dan Marino signed to play at Pitt. Check out how scuffed up that football is! Couldn't they have gotten a nicer ball for the photo op? (From Tris Wykes.) … Here's a look at the step-by-step process that the Arkansas equipment staff used to create the helmets for this weekend's Cowboys-style uniforms. … The Rose Bowl — the stadium, not the game — may sell off the naming rights to its field to a wealthy donor. Key quote: "If the Pasadena City Council approves the motion, the field would be named 'Tod Spieker Field at the Rose Bowl,' though broadcasters reportedly would not be required to refer to it this way" (from @PoeyJost).

Hockey News: New mask for Islanders' G Jaroslav Halak (from John Muir). … Joshua Tretakoff found this print for sale of hockey jerseys through the years. … ICYMI from the Baseball Section: The Anaheim Angels will be giving away these Angels/Ducks winter hats tonight for Ducks Night at Angel Stadium (from Ignacio).

NBA News: Along with jerseys and shorts, Nike is also taking over as the NBA's sock provider. Here's how they'll be handling the hose this year. … The NBA will have new logos for both the playoffs and Finals this season. … Kobe Bryant was wearing a shirt with an interesting 8-24 logo in a video posted to social media recently (from Joel Swedlove). … Was Hakeem Olajuwon moving too fast on this DVD cover? Or did the producers not want to pay for the right to use Rockets logos? (From Ed). … Former NBAer Derek Fisher wore a rhinestoned Lakers-style jersey on Dancing with the Stars (from Mandy Lopez). … New court for the 76ers (from @deadendnights).

College Hoops News: New road uniforms for USC. The old version had lots of white outlining (from @grant3young). … New white uniforms for Oregon State (from @khamballer22). … Doesn't look like there will be many changes for Gonzaga this year, other than a "Zags" emblem below the collar (from Sam Falcone). … ICYMI from the NFL section: North Carolina players went to the Panthers/Bills football game this weekend, and matched the Panthers' color scheme by wearing their BFBS jerseys (from James Gilbert).

Grab Bag: Good story about a kid in England who caught a striping mistake on soccer club Everton's kits in 1997 (from Chris Cruz). … Rob Golden found this wall of old Air Force squadron emblems at the National Museum of the United States Air Force. … Whoa, look at this cap that McDonald's employees used to wear! Two all-beef patties, special sauce, lettuce, cheese, pickles, onions — plus a brim and squatchee (from BSmile). … Adidas has vaulted into second place in sneaker sales, passing the Jordan brand.