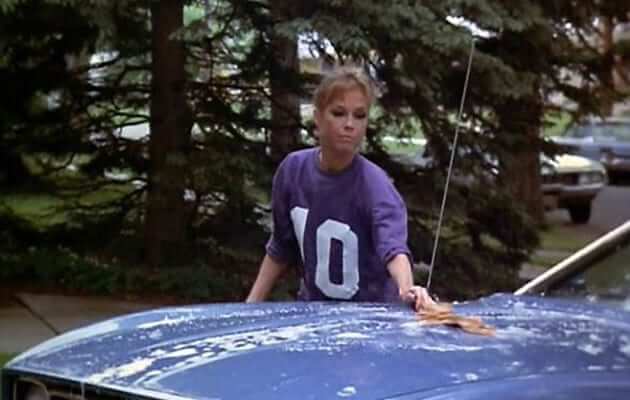 Mary Tyler Moore died yesterday. For those of us who grew up watching her eponymous sitcom, which was set in Minneapolis, one indelible image of her will always be the bit in the opening credits where she's washing her car while wearing a what appears to be a Vikings jersey with No. 10 — Fran Tarkenton's number.
The scene goes by really fast. It lasts only two seconds, or maybe just a second and a half. To see what I mean, click on the video below — I've configured it to start five seconds before the car-washing scene:
Don't blink or you'll miss it, right? But that scene nonetheless had a big impact on people, in part because licensed retail jerseys were somewhere between rare and non-existent back in the 1970s. So the sight of Moore wearing a Vikings jersey — or at least something that signified as a Vikings jersey — was pretty cool. It apparently had a big effect on my longtime ESPN.com pal/colleague Jim Caple, who wrote the following in 2003:
I was a huge Vikings fan back then [in the 1970s] and desperately wanted a Minnesota jersey, but the only one I ever saw that wasn't worn by an actual Viking was the Fran Tarkenton jersey Mary Tyler Moore donned while washing her car during her show's opening credits. I wanted that Tarkenton jersey so badly that if Mary had ripped it off her body and handed it to me personally, I would have been too busy slipping it over my skinny body to even bother looking at her naked chest.

True, she must have gotten the jersey from somewhere and, had I lived in the Twin Cities, I might (and I stress the word "might") have been able to find one, too. But I didn't. I lived 1,500 miles from Minnesota and there was nowhere for me to buy that Tarkenton jersey. … [B]ack then, if you didn't live in the city where the team played, you simply were out of luck when it came to buying any gear with a team logo.
The car-washing scene wasn't part of the original opening sequence when the show debuted in 1970, incidentally (nor would it have made sense then, because Tarkenton was playing for the Giants at the time), but it was added in 1973 and remained through the show's conclusion in 1977. It's clearly not a legit Vikings jersey — no sleeve stripes, no TV numbers. But purple and No. 10 with a Minnesota backdrop still communicated the message loud and clear.
One thing that's apparent from that brief video snippet is that the jersey does have an NOB. It's impossible to make out what it is (believe me, I've tried), although it looks like it might not be "Tarkenton":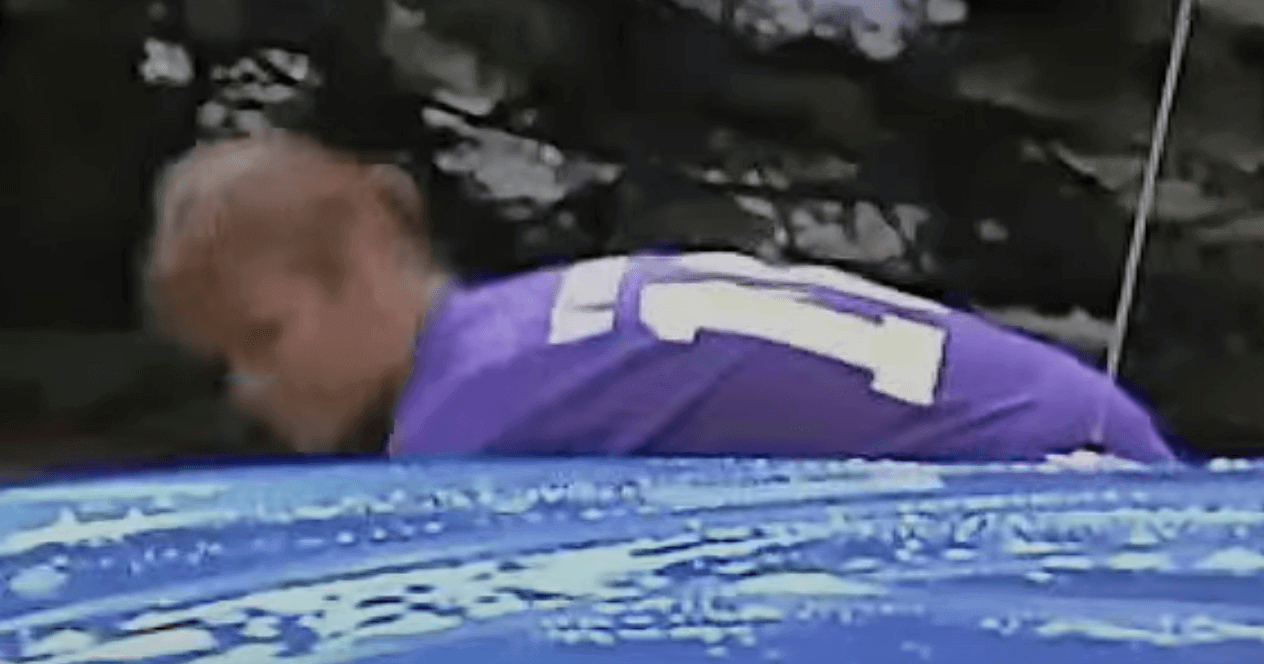 Update: Reader Ken Gelman has provided a behind-the-scenes video that shows the car-washing sequence being filmed, and there's a clear shot of the NOB. Here, I'll let you see for yourself:
(I'm told that the video isn't jumping to the right spot for some people. If that includes you, the NOB is "Vikings.")
The Vikings weren't the only Minnesota team whose jersey Moore wore. She once threw out the first pitch at a Twins game while wearing the team's jersey — and, of course, then threw her cap in the air. Nicely done. RIP.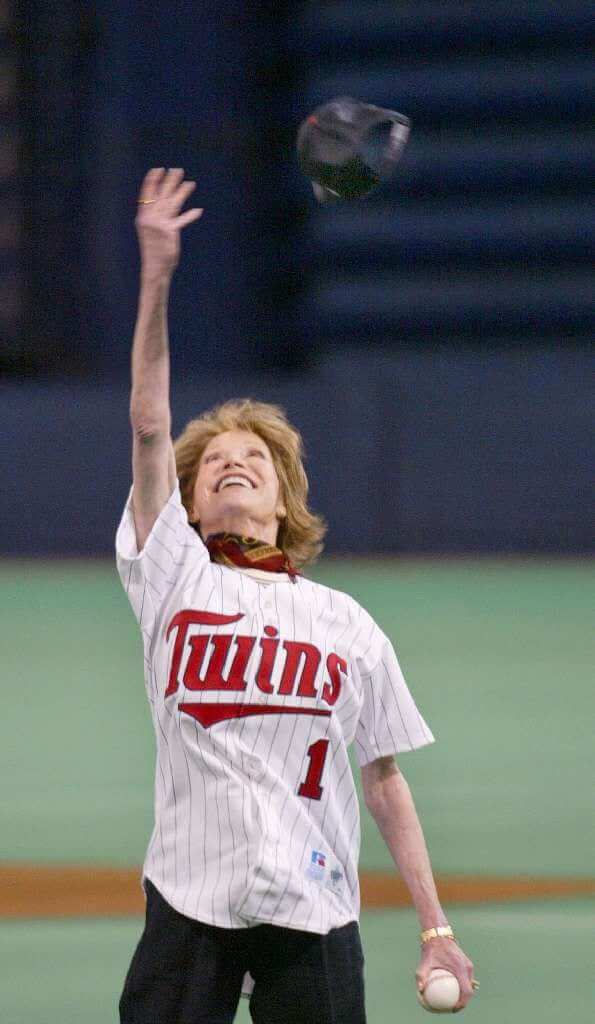 (My thanks to Willard Kovacs for the Twins jersey shot.)
•  •  •  •  •
Chargers-redesign contest results: Very recent history notwithstanding, it's entirely possible to successfully merge a lightning bolt and the letters "LA." Take the design shown above, for example — it was created by reader Chip Harris. It's one of many uniform and logo designs that are showcased in my latest ESPN column, which has the results of our "redesign the Chargers" challenge. Link coming later today. Sorry, was just informed by my editor that this has been pushed back to next week. Dang.
•  •  •  •  •
Celtics/GE update: In case you stopped by the site before 10:45am Eastern yesterday (or didn't stop by at all), we now know how the GE advertising patch will look on the Celtics' home and road uniforms. Here you go — and if you click on these, you'll get really big versions (all pics from @KyleClauss):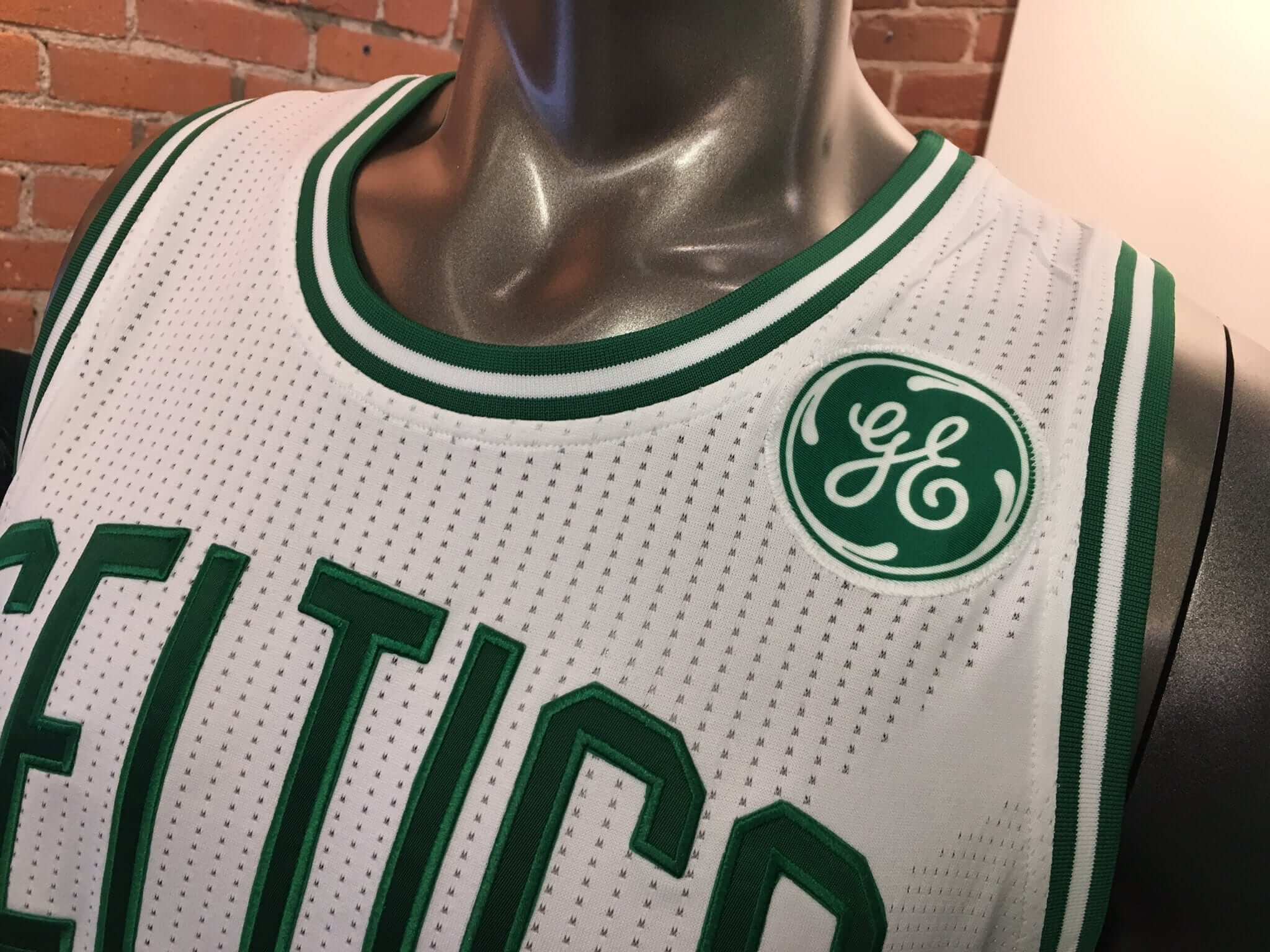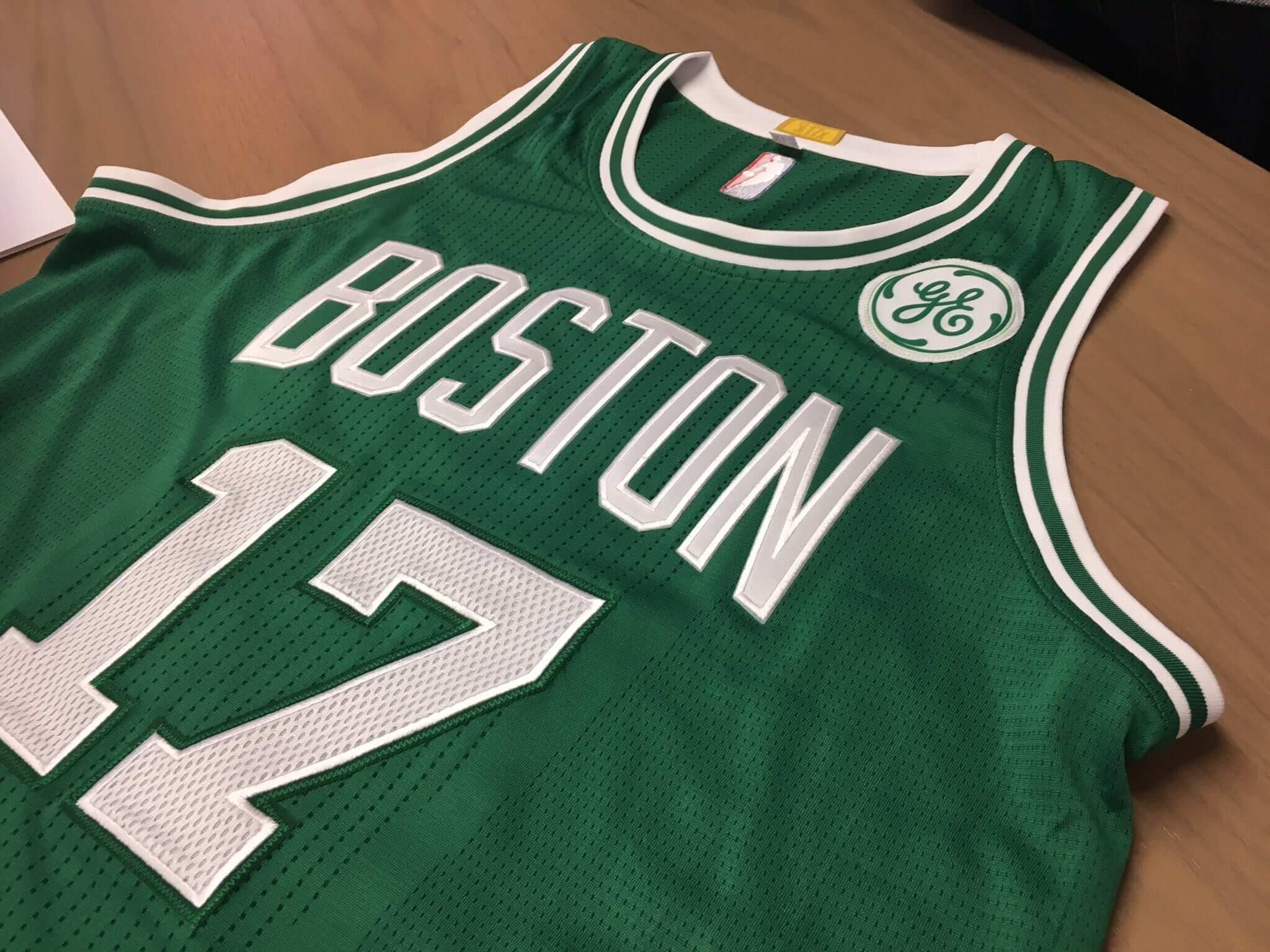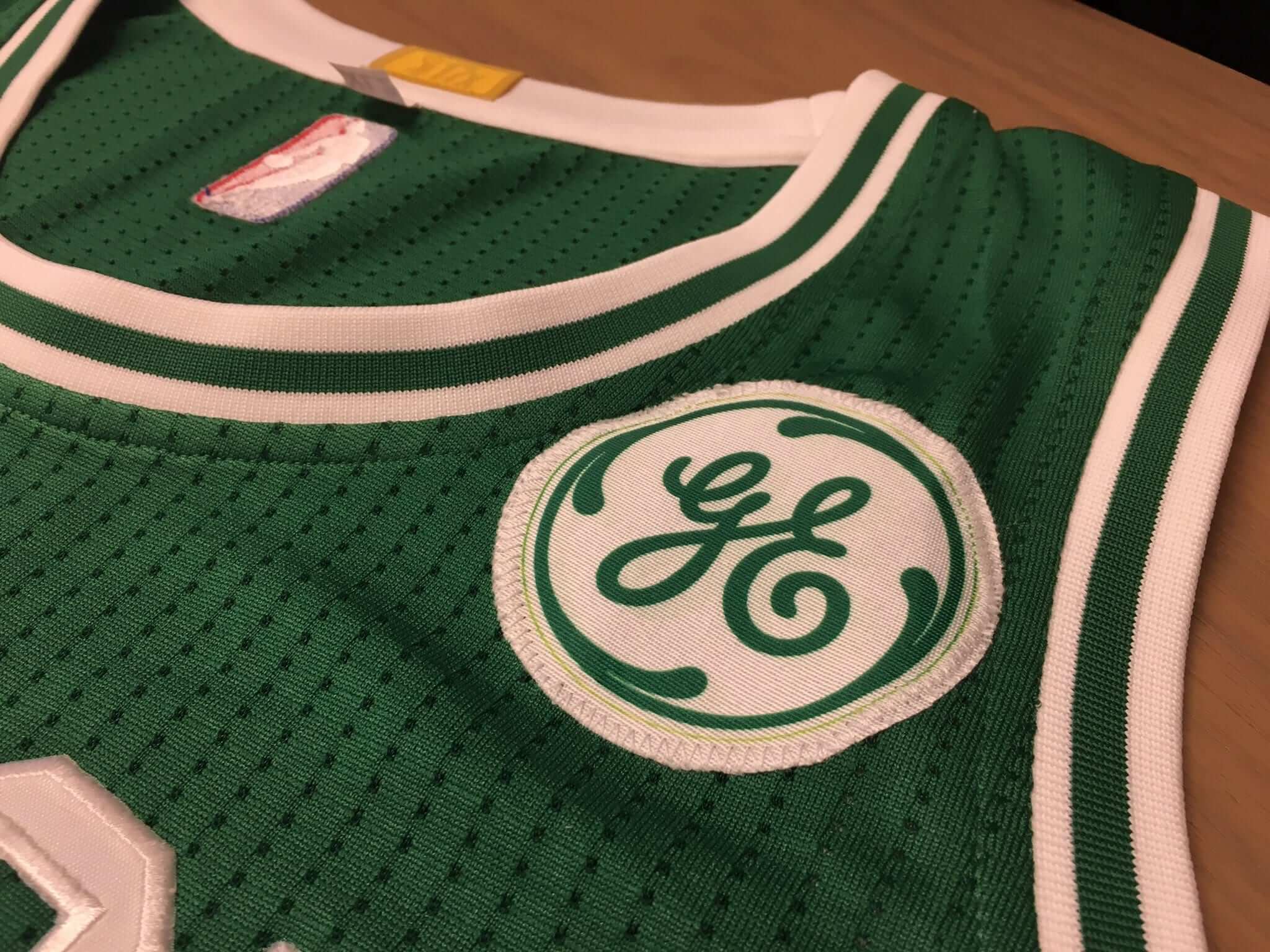 The most interesting thing is that the GE logo is rendered in the Celtics' team color, instead of GE's signature blue. Still looks awful, though.
Based on some of the response to yesterday's news, a short FAQ session might be useful. So:
Why don't those jerseys have the Nike logo?
Because Nike doesn't take over the NBA's uniform contract until next season.
Yeah, but the GE patch won't be there until next season either, and they had no trouble showing that.
They can show the GE logo without violating someone else's contractual rights. As of now, Adidas is still the NBA's outfitter. Teams can't show the Nike logo on their uniforms, even at a press conference, until Nike takes over.
But here's something interesting that reader BHayd spotted: The Adidas jock tag was apparently removed from the jersey at yesterday's press conference. Check it out (click to enlarge):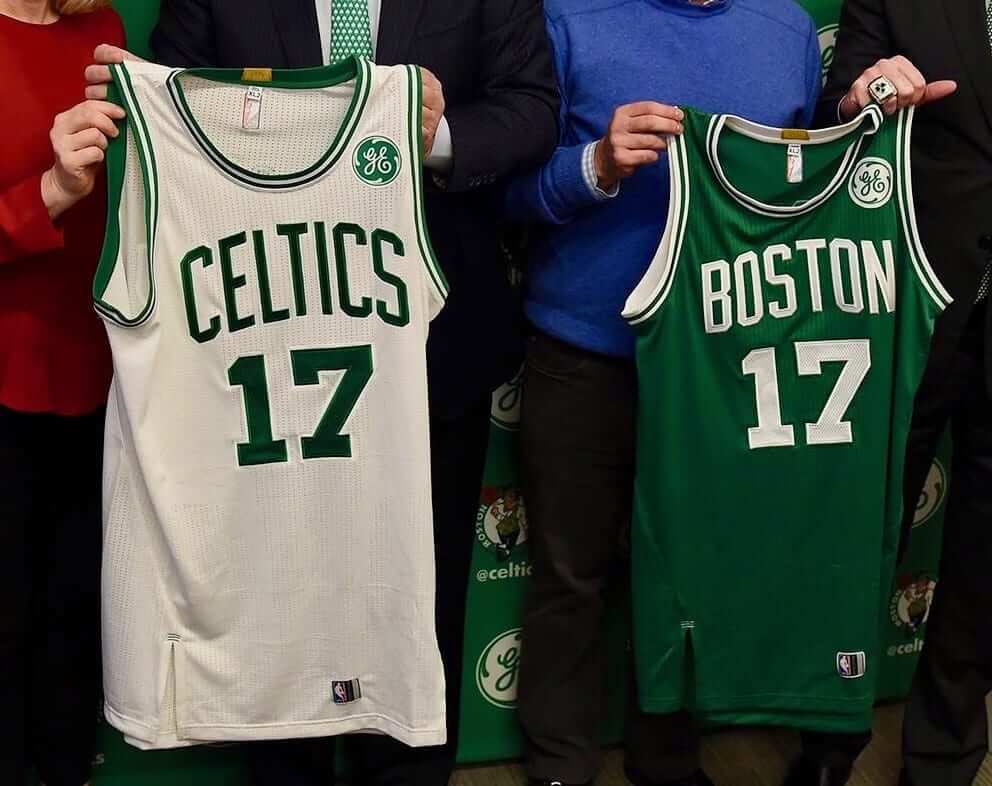 So while they can't add the Nike logo just yet, they're not exactly giving Adidas a big good-bye hug either.
They didn't show the GE patch on either of the Celtics' two alternate jerseys. Does that mean those won't be used next season?
I have no idea. But it's worth remembering that we've only seen the Blue Diamond Almonds ad on the Kings' home jersey. I'm fairly certain this doesn't mean that the Kings are scrapping the rest of their uniform program.
Could Adidas or Under Armour try to troll Nike by signing a deal to be an NBA team's uniform advertiser?
No. Certain companies are not permitted to advertise on NBA uniforms. Alcohol and tobacco brands, for example, are not allowed. I'm sure competing lifestyle brands are also blacklisted. And even if they weren't, why would a team want to piss off its new uniform supplier by inking a deal with one of the supplier's competitors? Things don't work that way.
Could the Yankees try to troll Boston by signing up to be the Celtics' uniform advertiser?
You're really overthinking this. Or maybe underthinking.
So now I have to buy a jersey with a stupid GE patch?
Actually, you don't have to buy any jersey at all, with or without a patch, ever. But if you insist on purchasing an overpriced polyester tank top, most of the ones available next season will not have the ad patches. The teams will have the option to sell ad-inclusive versions as well if they want, but the ad-free versions will be available for all teams.
I hate these ads! Isn't there anything we can do to stop them?
No, unfortunately.
Don't you think having the patch in team colors makes it less objectionable?
Not to me, no. It's still an advertising patch, and advertising patches don't belong on a team uniform. As for this one, could it be worse (like if it wasn't rendered in team colors)? Sure. It could also be a whole lot better. For example, it could not exist at all, which is really the only acceptable solution.
Soccer and rugby already have uniform ads. What's the big deal?
Sorry, we're not gonna go through that again.
I don't understand all the fuss. These teams and companies are in business to make money. How can you object to that?
Here, read this.
Okay, I think that covers it, at least until the next NBA team announces its jersey advertiser and we have to do the whole thing over again.
•  •  •  •  •
This week on #WarehouseWednesday…the Bullpen Car! Plus RT to win a pair a tix to #BrewersOnDeck! RULES: https://t.co/BBD6YtDogD pic.twitter.com/eJ850FWoke

— Milwaukee Brewers (@Brewers) January 25, 2017
Alliteration Situation: Brewers Bullpen Buggy
By Mike Chamernik
Each week the Brewers post a "Warehouse Wednesday" video, in which they go through their archives and show off some of their old stuff. Yesterday they gave us a look at their super-cool bullpen buggy. It was used back in the 1970s (note the Barrelman-era hat logo, which even predates the classic "mb" ball-in-glove mark) and is brought out these days for promotional events. As was noted in the video, the cart doesn't have a motor anymore, so it needs to be pushed wherever it goes.
As neat as the buggy is, the Brewers once had something even better: During the mid-1990s, the team's bullpen vehicle was a Harley-Davidson (the company is headquartered in Milwaukee) with a sidecar for the pitcher to sit in. Unfortunately, I've yet to find any photos or videos of the motorcycle or sidecar. Does anyone have anything?
If you want to learn more about bullpen buggies, motorcycles, and so on, Paul wrote a good ESPN story about them in 2007, and ESPN writer Jerry Crasnick recently explored the question of whether they should be brought back.
(Thanks to Nicole Haase for the heads-up.)
•  •  •  •  •
The Ticker
By Mike Chamernik

Baseball News: The Louisville Bats will wear special jerseys and give out these hats for Muhammad Ali Appreciation Night on June 3. Ali was from Louisville and the night is exactly one year after his death (from several readers). … The Chiba Lotte Marines revealed a new uniform yesterday that features a snakeskin-like pattern on the pants and cap brim. … Mariners P Felix Hernandez had a 2000 Yankees World Series ring stolen from his house last November. It's a mystery as to how he got the ring. … A total eclipse will occur this year on Aug. 21. The Lexington County Blowfish will wear an eclipse-themed jersey that day (from Jeff Suntala). … The Mariners have a dual M's and Marlins Ichiro bobblehead night planned this year (they play Miami at home in April). "Notice correct colors and even correct hosiery lengths!" says David Sperino. … Missouri State will have four hats and six uniform combinations this season (from @stlcards109901). … Chickasaw Bricktown Ballpark, the home of the Triple-A Oklahoma City Dodgers, will have a 20th-season logo (from Alex Freedman). … This piece of trivia is a few years old but still appears to be true: No player on the Nationals, Astros, Indians, or Red Sox ever had the last name Washington, Houston, Cleveland, or Boston, respectively (from reader Coinside). … With all the gun violence in Chicago, President Trump is threatening to "send in the Feds." Hey, they've been gone for 100 years (from Charles Dettmann). … The Nationals will not introduce FDR as a racing president (from Tommy Turner). … The Asheville Tourists will wear tie-dye and become the Hippies for one night in June. The name is the result of a lost bet with the Greenville Drive, a rival Class-A team. … The Hartford Yard Goats are planning a Hartford Whalers weekend this summer.

Football News: Ravens FB Kyle Juszczyk's Pro Bowl shirt has a misspelled NOB, as Mark Johnson notes. Consider this a mini-Question of the Week: What was the worst way your name was ever misspelled? Mine is a tie between "Sharminick" and "Chirmiak." … The name, logo, and uniforms were announced and revealed for the Baltimore Brigade, the newest Arena League team (from several readers). … A writer for a political publication says that the NFL should embrace nostalgia, including throwback uniforms, to make the Pro Bowl better (from Anil Adyanthaya). … The U-18 USA national team unveiled new uniforms (from Sean Vanderbrook).

Hockey News: The Ducks wore Angels-themed warm-ups last night. … The promotional hat from Tuesday night's Penguins game has four stars in the 50th anniversary emblem, not four Stanley Cups like the official logo (from F.J. Skupnik). … Speaking of the Pens, jerseys in their team shop have the Centennial Patch in the wrong place. It should be below the sleeve numbers (from Daniel Levy). … Tris Wykes found a shot of the Hartford Whalers practicing in short-sleeve jerseys, or maybe just T-shirts.

NBA News: The Hornets wore teal at home last night against the Warriors, who wore white on the road, and the Mavericks wore their navy alternates at home against the Knicks, who wore white on the road. … The Kings and Cavs went color vs. color in Cleveland. After winning the game, the Kings had a little fun with the Cavs' logo. … The Spurs will give fans hats in Texas, Texas State, and UTSA colors during a few upcoming college spirit nights. … Depending on how you read it, Celtics coach Brad Stevens either skirted a question on the team's new GE jersey ads, or he gave a subtle dig (from Brian Schmidtke). … Although the GE ad won't appear on Boston's uniforms until next season, a new GE ad has just been added to the team's backboard post (from Zachary Loesl). … Also from Zachary: "Wednesday was Australia Day for the Bucks, so the team celebrated by giving away Matthew Dellavedova bobbleheads, and Dellavedova himself wore  sneakers in Australia's national colors." … And one more from Zachary: The Trail Blazers honored their 1977 championship team and coach Terry Stotts wore a retro outfit for the occasion.

College Hoops News: Arizona State wore throwbacks last night (from Cole Streeper). … Providence wore fauxbacks last night. … Michigan will wear pink Jordans tonight for Coaches vs. Cancer week (from Megan Brown). … The North Carolina men's team was informally known as the White Phantoms from the 1920s through around 1951. Newspapermen gave the team the name due to its white uniforms (from James Gilbert).

Soccer News: Arsenal's trainer had tape over the Champions League logo on his med bag during a Premier League game the other day (from @MrSack4).

Grab Bag: New logo for the Division II Pennsylvania State Athletic Conference. The redesign includes a specific color scheme (PDF) for each school (from Vaughn Johnson). … Lacoste unveiled the uniforms for the U.S. and International teams for the 2017 Presidents Cup (from Phil). … Tiger Woods signed with TaylorMade and will play the company's metal woods, irons and wedges (from Brinke). … New spacesuit for NASA. Additinal info here (from Kyle Martinek and Brinke). … President Trump is very strict about his staff's attire. … The Japanese outdoor apparel company Montbell supplied an Osaka shrine with branded white robes (from reader Greg).