Click to enlarge
The latest design-related arms race involves NBA courts. Several teams have had two court designs (the Bucks, for example, have a green one and a black one, depending on which uniform they're wearing, and Golden State has used standard and throwback designs), but the Kings are now poised to become the first team with three distinct floor patterns.
First they'll have their basic purple-themed design — a carryover from last season — which they'll use when wearing either their white or purple uniforms (remember, the home team can now wear whichever uniform it wants). They'll have a new black-themed design, shown above, when wearing their black alternate uniforms (the Nike-updated version of which is expected to be unveiled very soon), and they'll have a third court design to go with their final alternate uniform. That court/uni combo will be revealed later this year. The idea is to create a unified design presentation for each game, literally from the ground up.
Regarding the new black design: If you look in the top-right and lower-left corners, you'll see the team's crown logo rendered with Chinese characters. There's also a version with the logo rendered in Hindi. Those logos will be used for the team's Lunar New Year and Bollywood theme nights. More info on all of this can be found here.
Personally, I like the idea of matching the court to the uniform. If the team can handle the logistics of it, why not?
• • • • •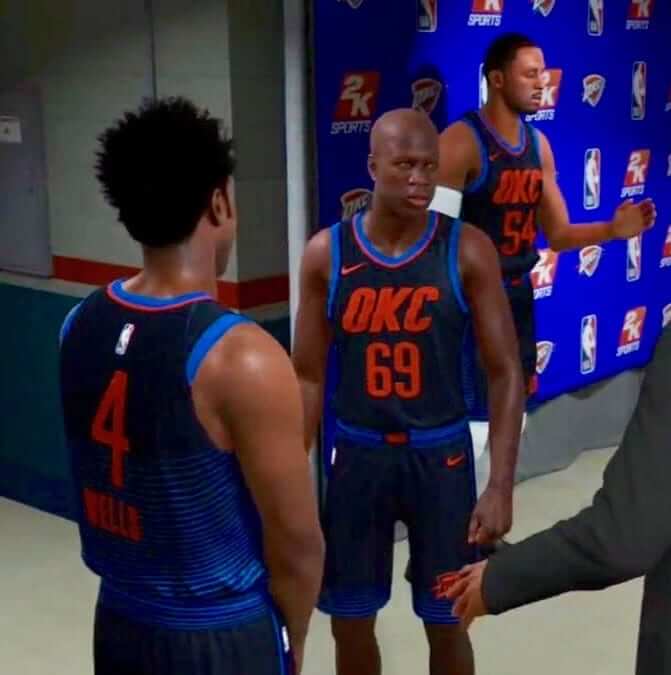 Click to enlarge
Meanwhile, here are the latest NBA leaks: The photo you see above, showing what appears to be a Thunder alternate uniform, began circulating yesterday. It matches the design shown in the video screen shots that were posted two days ago on SportsLogos.net. So this photo not only confirms the Thunder screen shot but also lends added credibility to the remaining screen shots.
Late last night, this video began circulating as well:
First Look at the OKC Thunder Alternate in #NBA2K18 these jerseys are insane #ThunderUp @okcthunder pic.twitter.com/UJgWnwruJC

— Travis Singleton (@SneakerReporter) September 15, 2017
Personally, I don't care for this design at all. Don't like the color scheme, don't like the big honking "OKC" on the chest. That said, there are some noteworthy elements:
• I kinda like the gradation, which appears to be only on the back.
• Subscript NOBs are always interesting, although I don't know that there's a real point to it here.
• See how the "OKC" lettering looks jaggy? You can get a better sense of it in this video game shot. I assume this was intended to evoke, you know, thunder and lightning. But given that Oklahoma has been experiencing an unprecedented rise in earthquakes due to fracking (more info here), maybe fractured lettering wasn't the brightest approach.
And while we're at it, yesterday Suns point guard Tyler Ulis posted a photo of what appears to be the team's upcoming throwback uniform on Instagram. Here's a look at that one: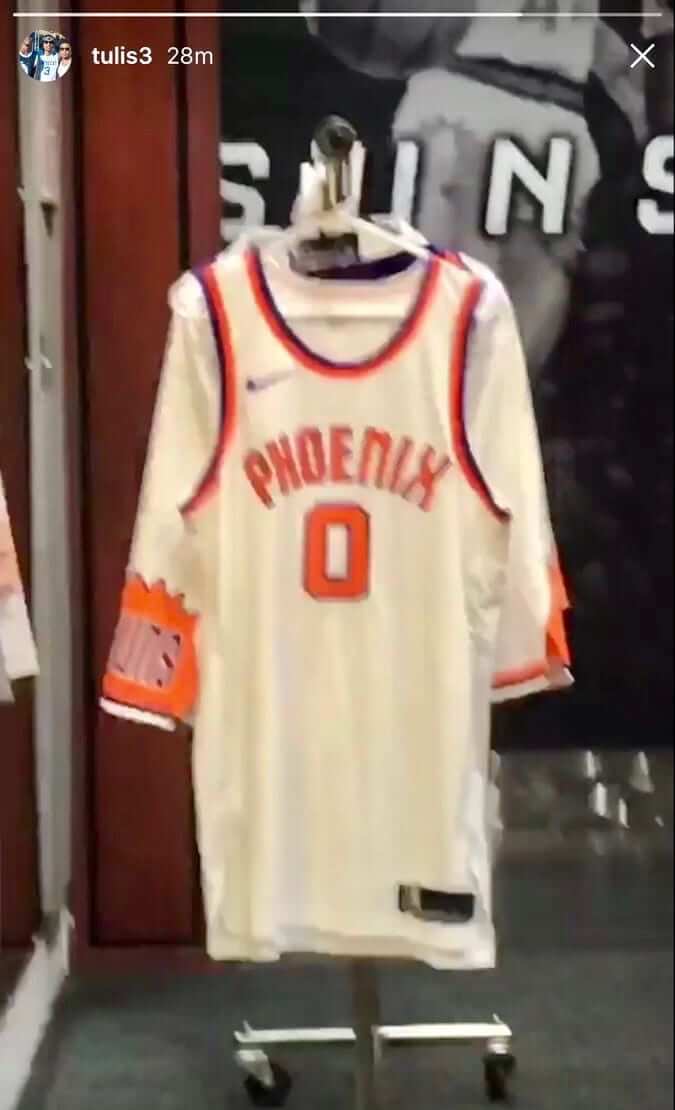 That design is apparently based on this one. Not bad, although we'll need to see more in order to assess it properly.
(My thanks to Colin Butler, who was the first to alert me to the Thunder photo, and Conrad Burry, who first tweeted about the Suns photo.)
• • • • •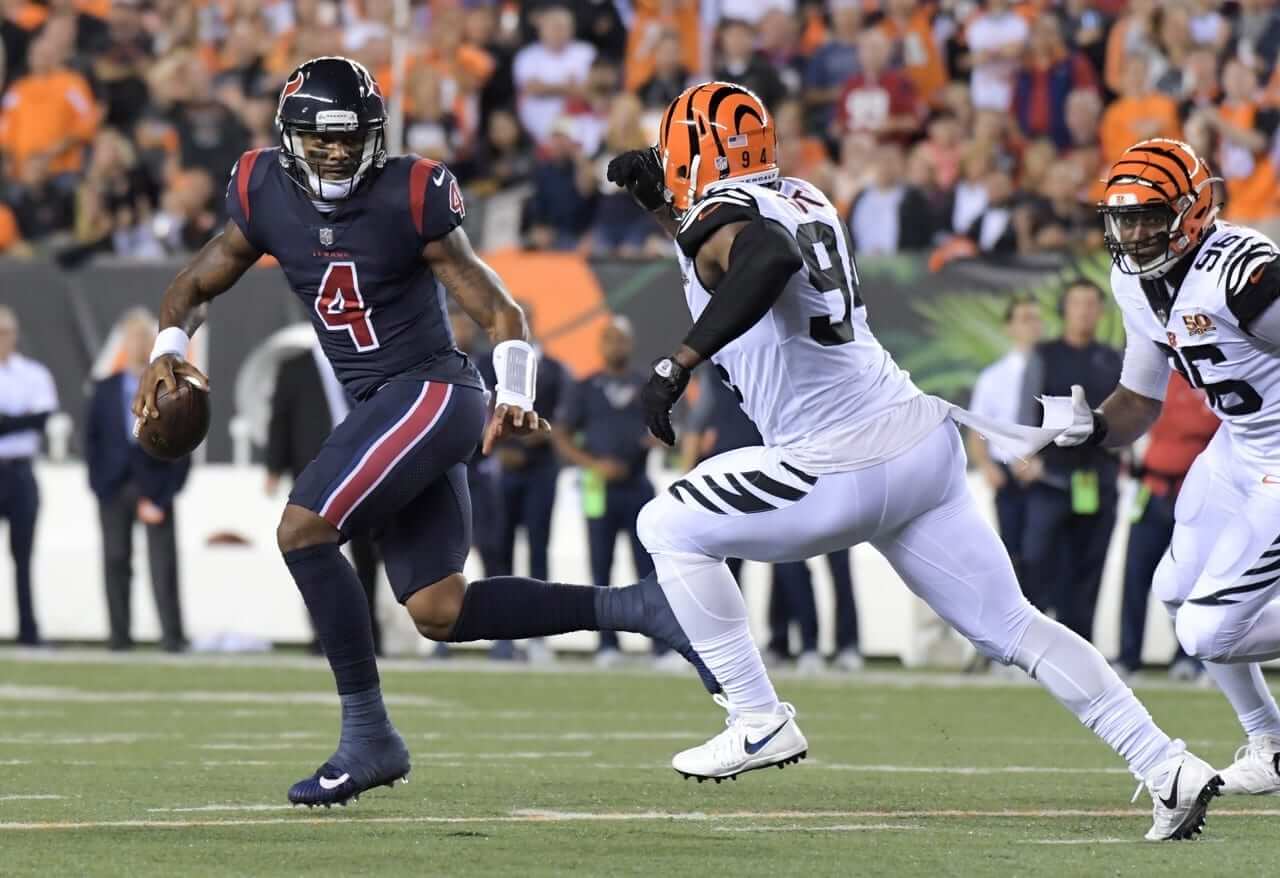 Click to enlarge
Rash is fading: Last night was the first Thursday Night Football game of the NFL season. Well, not counting the season opener between the Pats and Chiefs, which took place on a Thursday but for some reason doesn't count as Thursday Night Football. And neither do the games on Thanksgiving, which will happen on a Thursday but also don't count as Thursday Night Football. And for some reason the Thursday Night Football schedule includes three Saturday games and a Monday game, which I guess means the NFL has created a time warp or something, which is pretty rad when you think about it.
But I digress.
As I was saying, last night was the first Thursday Night Football game of the season, which means it was also our first matchup of solid-colored uniforms. Which in turn means that the mono-uni season has started without any hype. No big announcements, no press releases showing all the week-by-week color pairings, no hype photos showing the mono-blue team playing on blue turf.
Maybe they think it's sufficiently well-established that they don't need to hype it anymore. Or maybe they realize it's been a bust, what with so many of the games featuring a team in mono-white, and are soft-pedaling it. Either way, I'm grateful for the more restrained marketing approach.
Meanwhile: Can you spot the uni-notable detail in this screen shot of Bengals defensive back Adam Jones?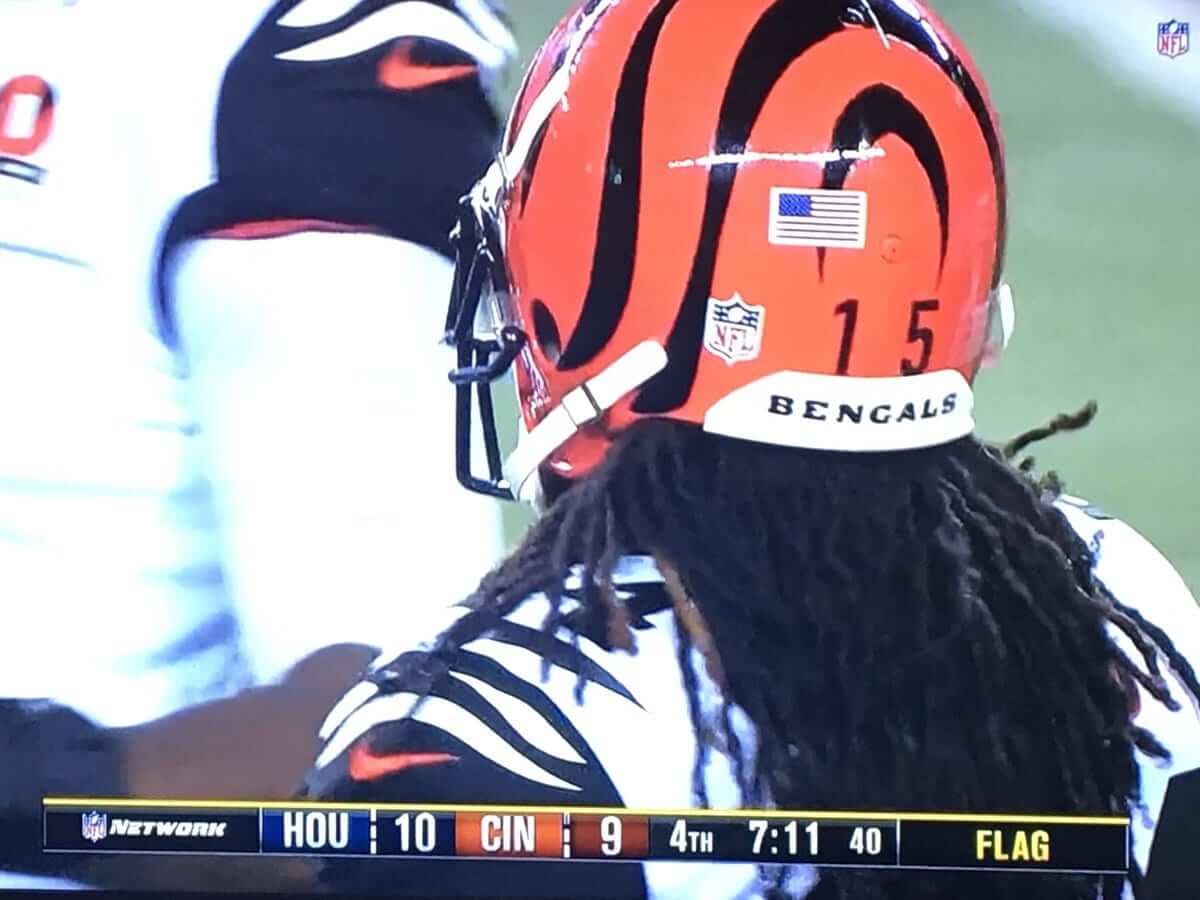 If you said, "Hey, his jersey number is 24 but his helmet number is 15," that would be what my 11th grade math teacher liked to call "the right wrong answer." Jones has been wearing 15 on his helmet as a tribute to Chris Henry since at least 2015, so that's old news (although that didn't prevent approximately eleventeen jillion people from asking me about it during last night's game).
No, the more interesting detail in that photo is that the Bengals wear the American flag and NFL logo decals on the same side of the helmet (and it's not just Jones — it's a team-wide thing). The typical format is to have them on opposite sides. That's the right right answer.
• • • • •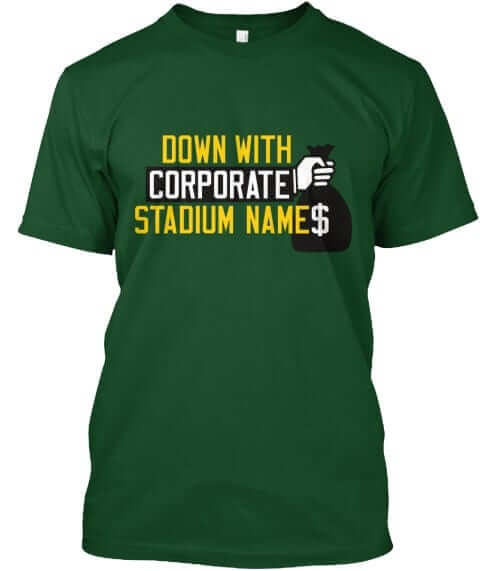 Naming Wrongs reminder: In case you missed it yesterday, we have some new Naming Wrongs shirts. They're all based on the design shown at right (which you can click to enlarge), with lots of different color combos. Get the full scoop here.
September call-ups reminder: Also from yesterday, we have three new additions to the Uni Watch team. Meet them here.
Raffle reminder: I'm currently raffling off some cool Hartford Whalers memorabilia. Full details here.
• • • • •
The Ticker
By Kris Gross

Baseball News: Last night Twins wore red caps with their regular home whites for the first time this season (from Jordan Oster, @TwinsPics). … Here's a look at this year's "Postseason" cap patch compared to last year's (from Josh). … The Brewers will wear their home uniforms as the "road team" this weekend after their series with Marlins got moved to Milwaukee due to Hurricane Irma (from Johnny O). … Angels DH Albert Pujols will wear "Strike Out Slavery" cleats this weekend, part of an anti-human trafficking endeavor. Additional info here. … Here's a great comic from the Big Book of the 70s on "baseball's most out-of-control decade," the 1970s (from Ray Hund). … The St. Pius X High School (Kansas City) Quiz Bowl team uses a modified throwback White Sox logo (from Brick Barrientos).

NFL News: Texans DE JJ Watt wore Texas flag-themed shoes last night. … Bengals CB William Jackson III, who's a Houston Native, wore "Houston Strong" cleats last night. … The city of Atlanta has unveiled their Super Bowl LIII host city logo (from Douglas Ford). … Enjoy the covers of Pro! magazine's 1972 NFC and AFC previews (from Ray Hund).

College Football News: Boise State went full orange last night, and we had a shoulder stripe malfunction — note how the stripe angles don't match (from Tim Cross and Tyler Novak). … Iowa State will wear mono-white on Saturday (from Tyler Gross). … Here are this week's uniform combos for North Carolina, West Virginia, Northwestern, and Texas State for the weekend (from James Gilbert, Broc, Craig R, and @stallionjockey). … TCU will wear white jerseys and pants and have white end zones for their "white out" against SMU. … Each week Virginia Tech head coach Justin Fuente picks a special teams player to wear No. 25 to honor Frank Beamer. This week, it's Greg Stroman Jr. (from Andrew Cosentino). … Wayne State is celebrateing their 100th anniversary with new uniforms. The NOB will honor Medal of Honor recipients (from Ryan Keberly). … Arkansas State will go all red (from Tice Singleton). … Columbia helmets this season feature the New York City skyline (from Joe Sibley). … Here is an archive of North Carolina media guide covers from the past half-century (from James Gilbert). … 47 years ago this weekend, we had the first college football double-header, with Xavier vs. Miami and Cincinnati vs. Dayton (from Kevin). … ESPN's Gamecast uses blue turf for Boise State home games (from Tom Whitfield).

Hockey News: Some number changes for Bruins this season (from Shane Bua). … The Rockford IceHogs, a Blackhawks affliliate, have new grey alternates (from Jason). … The Saskatoon Blades of the WHL unveiled their new jerseys (from Wade Heidt). … Also from Wade: The Lethbridge Hurricanes' mascot announced his retirement.

Basketball News: A new look for Baylor's practice court (from @BearDroppingsBU). … Check out former Bulls player Norm Van Lier sporting old warm-ups from "1973-ish" (from Ray Hund). … The California Bearcats, a San Diego club team, are about to become the only team outside of LaVar Ball's club to sport the Big Baller Brand logo. There's a manufacturing partnership between the team owner and LaVar Ball.

Soccer News: Tottenham Hotspur added a third kit (thanks, Jamie). … A great story here about the 1990-91 Chelsea team that wore five different shirts and eight jersey combos when three different kits was the norm (from Dennis Hurley).

Grab Bag: Tennessee announced the return of the Lady Vols name and logo for all of the school's women's teams (from Lee Wilds). … Baltimore City College High School unveiled four redesigned logos (from Darryl Carver).
• • • • •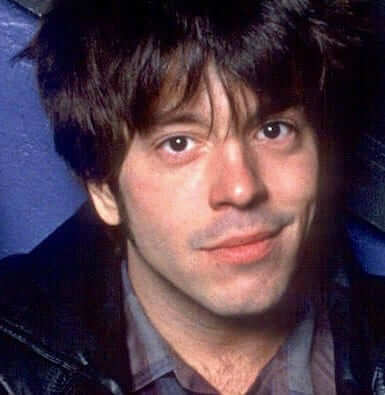 Pink turns to blue: Last week I wrote about the death of Walter Becker, co-founder of Steely Dan, which was my favorite band for most of my time in high school. Yesterday, in an eerie coincidence, word came down about the death of Grant Hart, co-founder of the Minneapolis hardcore trio Hüsker Dü, which was my favorite band through most of my time in college.
I saw Hüsker Dü twice during those years — once in some basement shithole in Syracuse in the fall of 1984 (they were very, very good) and once in an auditorium on the campus of my college, SUNY-Binghamton, in February of 1986 (honestly, I thought they were only so-so that night). I also played their records incessantly, wrote about them a lot for our college newspaper, talked about them a lot with my friends and girlfriend, encouraged people to buy their records at the campus record store that I managed, and generally obsessed over them. It's not going too far to say they changed my life, or at least had a major impact on one chapter of it.
A few hours prior to that Binghamton show, I had the chance to hang out with Hüsker Dü in their dressing room. I was more interested in talking to their other songwriter, Bob Mould, who was one of my heroes at the time, but I was embarrassed to face him because I had done a fairly awful phone interview with him two weeks earlier for an article I was writing (it was my first time interviewing someone I admired, and I was all nervous and flustered). So I figured I'd talk to Grant Hart instead. I can still see him there, sitting on a table, barefoot, his big mop of hair all mussed up, a smile on his face. He looked like a friendly teddy bear.
I approached him, and he immediately asked if I had any drugs or knew where to get some. I was this record-collector dweeb who at that point had never dabbled in anything stronger than alcohol, so I mumbled, "No, sorry," and then kinda slunk over to the corner of the room, where I stayed for a bit until I excused myself to go watch the opening band.
Hüsker Dü broke up the year after that. I soon learned that Grant Hart asked a lot of people for drugs over the years. I also learned that he was gay, which was a surprise, because he'd written a lot of songs about female romantic partners. (He's hardly the only gay songwriter to have done that, of course.) He continued to make music in other bands and under his own name, although none of it was as special as his work with the Hüskers, and stories began circulating about how he was a bit of a mess. I never met him again, but I have several friends in the music biz who dealt with him in various capacities, and they all agree that he was a gentle soul, a friendly soul, a troubled soul. I think I got all of that in that brief encounter 30 years ago. I wish I'd found a way to talk with him for a bit.
As songwriters, Mould and Hart were a punk version of Lennon and McCartney. Mould usually (but not always) wrote the darker, more introspective songs, and Hart usually (but not always) wrote the poppier, catchier tunes. The push-pull between those two sensibilities was part of what made Hüsker Dü such a special band. On balance, I always preferred Mould's stuff — like I said, he was my hero (I've always preferred Lennon over McCartney, too) — but Hart's best tunes were every bit as good as Mould's. I'm embedding a few of them below. Here's hoping that troubled soul is now at peace. RIP.