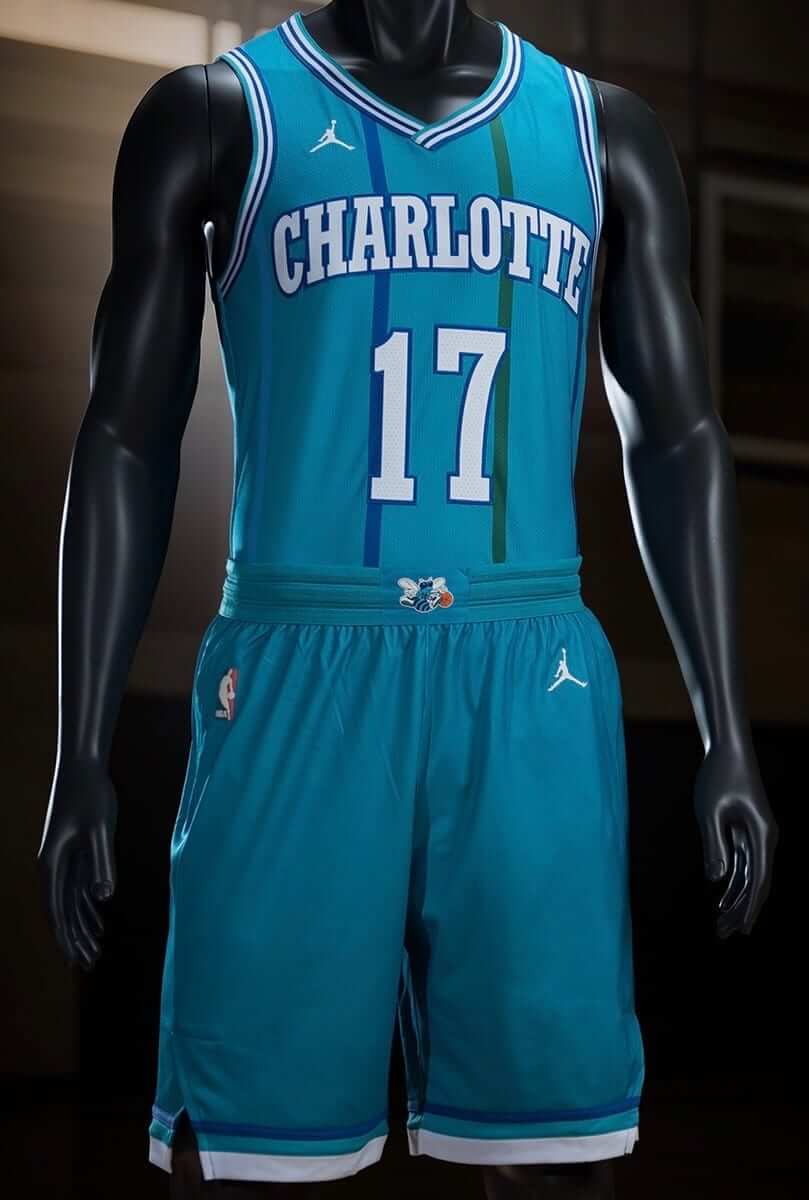 Click to enlarge
Lots of NBA news yesterday, kids. One thing at a time:
1. In a move that had been widely expected, the Hornets became the second team to announce a throwback for the upcoming season (the first was Milwaukee). As you can see above, the new rendition takes a few liberties with the Alexander Julian-designed original, most notably by making the stripes signifcantly thicker. Here's a side-by-side comparison — original design on the left, throwback on the right (click to enlarge):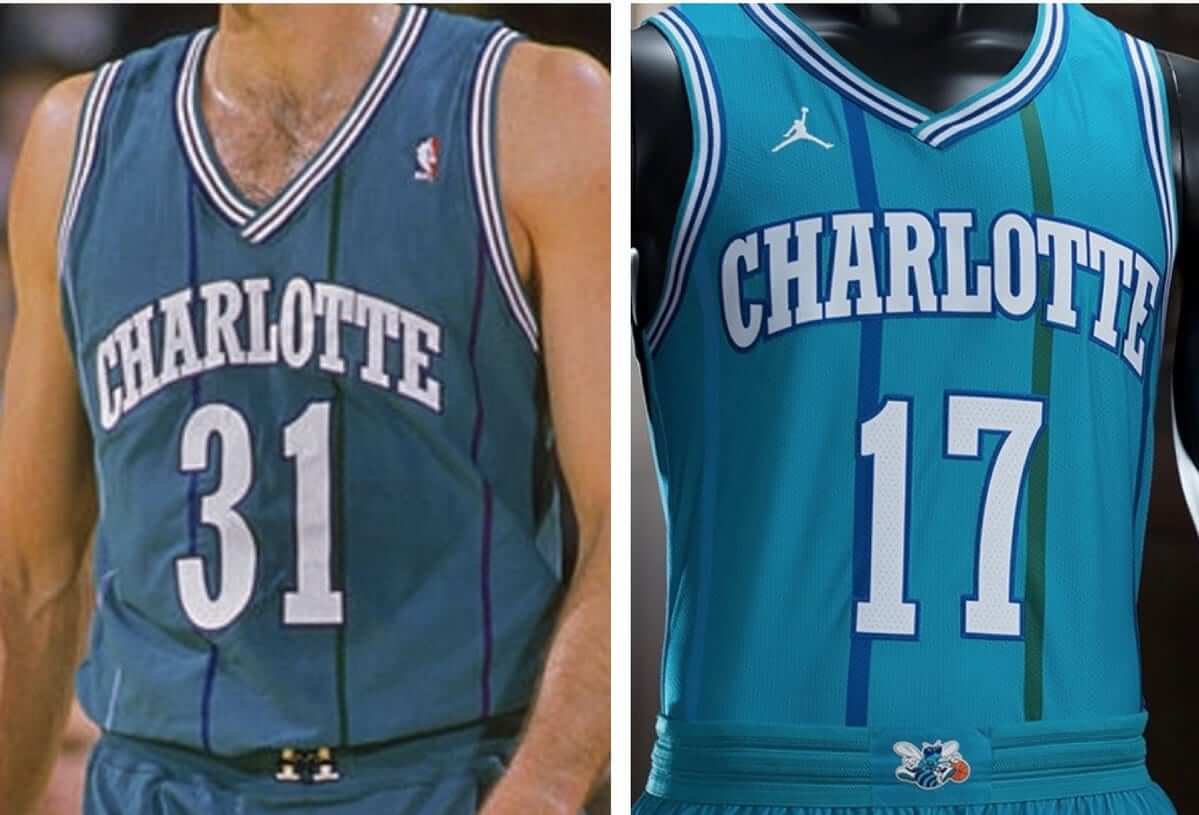 Personally, I've never liked this design. I don't like the asymmetry of the stripe pattern, plus I hold this uniform responsible for igniting the purple and teal Dumpster fire of the 1990s. But it's been made very clear to me over the years that Charlotte fans love this uniform, so good for them — now they'll get to see it again. (Additional photos here.)
But they won't get to see it very often, because, the Hornets plan to wear the throwback only three times: Nov.15 against the Cavaliers, Dec. 23 against the Bucks, and Jan. 13 against the Thunder. I guess that's what happens when you have so many other jerseys to sell wear.
2. NBA uniform sleuth Conrad Burry posted a video game screen shot of what was purported to be a red alternate jersey for the 76ers:
JUST IN: Via 2K, confirmation of the Sixers red alternate uniform design. I like it better than my two ideas. Nice (h/t @JMoneyMikita) pic.twitter.com/0H22F56nlR

— Conrad Burry (@conradburry) September 13, 2017
That got the attention of the Philly-centric sports blog Crossing Broad, which promptly posted photos — real photos, not video game screen shots — of the same red jersey. It's not clear where they got them or how long they'd been sitting on them. Here's the front shot (you can see the rear view and the shorts in the Crossing Broad post):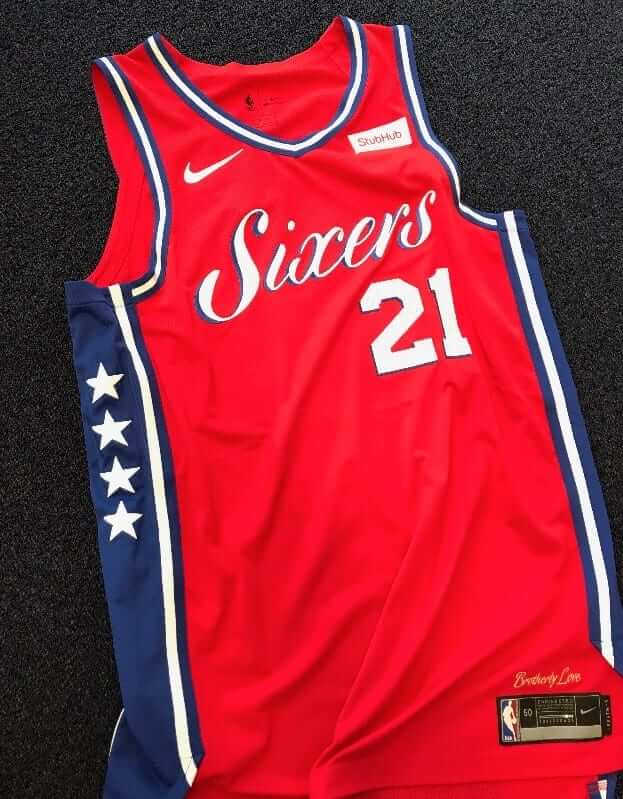 The team hasn't confirmed anything. But given that the photos match the screen shot, I'm inclined to believe that this is legitimate. Some quick thoughts:
• This design has the same thin drop shadow and "Brotherly Love" hem embroidery that we saw with the Sixers' blue and white uniforms, which were unveiled last month.
• The script looks a lot like the Christmas designs from the past two years.
• Speaking of the script: What the hell is that extra prong between the "i" and the "x"? Look: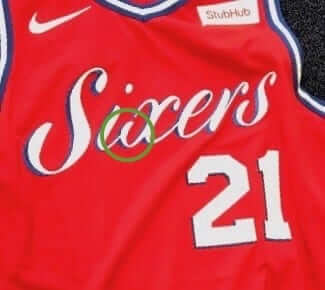 Okay, so we all know cursive writing is going the way of the dinosaurs, but that's a bizarre way to connect those two letters. Let's compare it to that Christmas design:

Now, which one of those looks better? Even worse, which one looks like "Sixers" and which one looks like "Suxers"? Come on, people — what were you thinking?
3. And then came the mother lode: That Sixers screen shot — the one that Conrad Burry posted — was originally tweeted at him by a gamer in Australia who apparently got his hands on NBA 2K18 ahead of everyone else. The gamer also posted shots of alternate designs for the Celtics and Raptors:
@conradburry boston statement jersey pic.twitter.com/m0rytYMo6T

— Josh (@JMoneyMikita) September 13, 2017
@conradburry raptors statement jersey pic.twitter.com/BxaR17SXxW

— Josh (@JMoneyMikita) September 13, 2017
So Burry asked the gamer if he could provide similar shots for all of the other teams, and the guy obliged. Burry then posted all 30 of them on SportsLogos.net — a great scoop on his part.
Ordinarily, I'd be at least a bit skeptical of video game shots. But the fact that the Sixers design appears to be legit suggests that the others probably are as well. We'll know for sure soon enough, because the Suns are planning to unveil their alternate design tomorrow, and I'm hearing that there may be other unveilings tomorrow as well.
As you can see from those Celtics and Raptors jerseys, the screen shots indicate these alternates are a mix of new designs and old ones that teams have already been wearing. Some of the new ones are fine, and one is outstanding; some of the others aren't so hot. You can see all of them in Burry's post. I'm going to hold off on assessing them until we know for sure that they're legit.
Also: As Burry notes in his piece, we were originally told that these alternates would be listed under the rubric of "the Athlete's Mindset," but the video game has them listed as "Statement Uniforms." Those two terms are cringeworthy in roughly equal measure, so we'll just keep referring to them as alternates.
• • • • •
ESPN reminder: My latest ESPN column has the results of our Titans-redesign contest. Check it out here.
Raffle reminder: I'm currently raffling off some cool Hartford Whalers memorabilia. Full details here.
• • • • •
Uni Watch roster update: As you may recall, I recently put up a "Help Wanted" sign so I could hire a new Ticker intern in the wake of Mike Chamernik's departure from the site. I'm happy to report that we had so many excellent applicants that I ended up hiring three of them. Meet Jamie, Kris, and Anthony: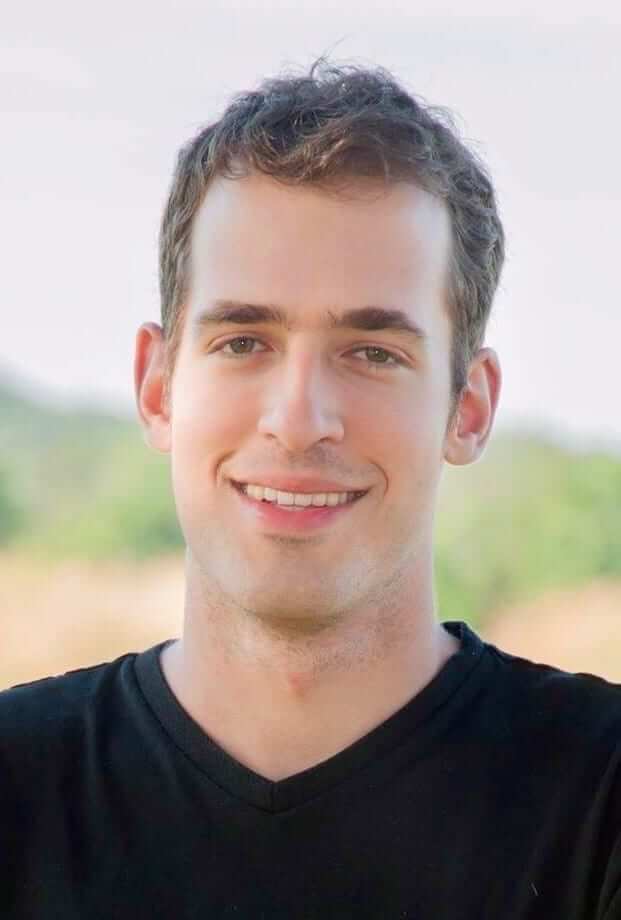 Jamie Rathjen
I'm from Centreville, Virginia, in the Washington, D.C. area, a recent graduate of the University of Virginia with a degree in English, and a longtime Uni Watch reader who had never submitted anything to the Ticker until last Thursday. That was a good time to start, I suppose.
My favorite sports are hockey, soccer (men's and women's), football (college and pro), and college basketball. I don't actually play a sport (although I tried out for the UVa quidditch team), but I enjoy running and cycling. My other interests besides sports include reading, writing, music, video games, history, geography, and trivia.
———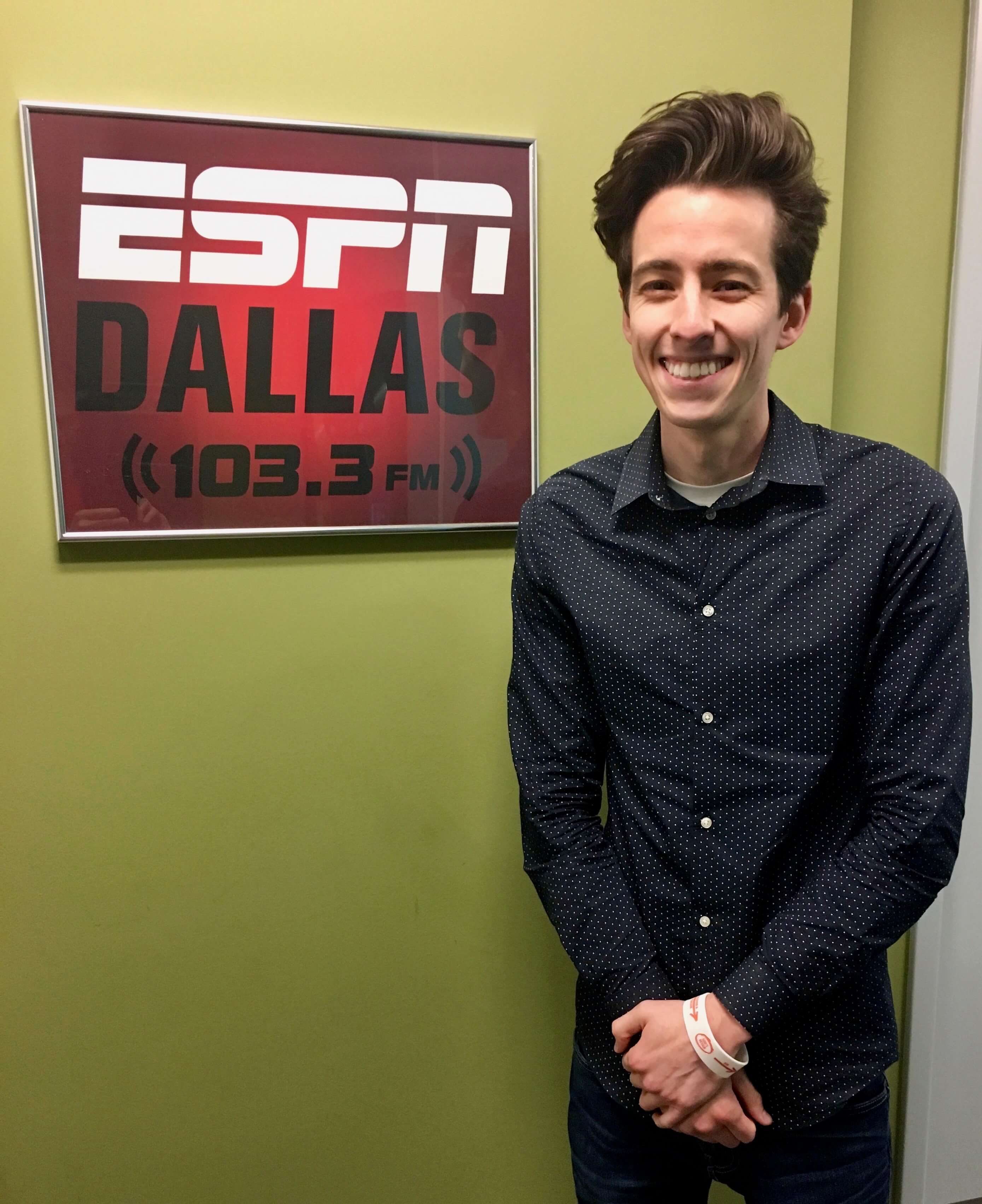 Kris Gross
I am a 24-year-old board op/producer working for ESPN Radio in Dallas. I also work part-time with the Dallas Cowboys TV department.
I am a uniform enthusiast with a passion for purple jerseys (sorry, Paul) and a disdain for white pants. I graduated from TCU in 2014 with a degree in Sports Broadcasting, and I'm getting married to a girl way out of my league on Oct. 21.
[It's a measure of my belief in Kris's potential that I didn't let the purple thing get in the way. — PL]
———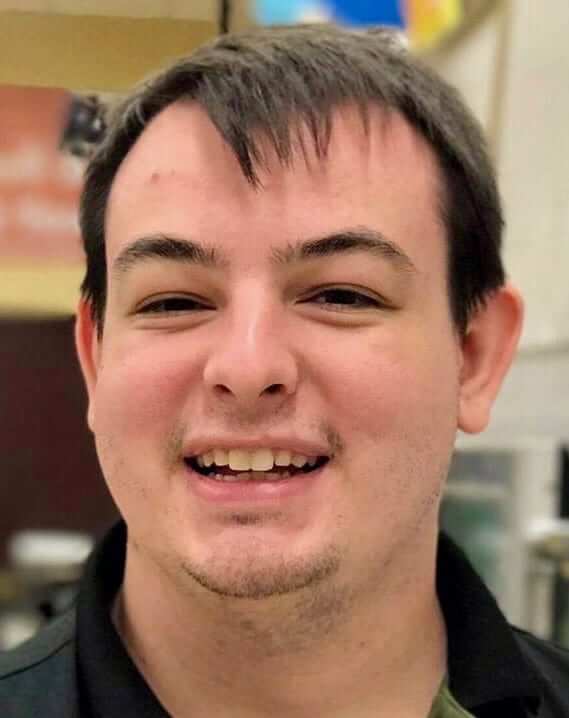 Anthony Emerson
I'm a 22-year-old English student at the University of Southern Maine in Portland. You may know me from the handful of soccer pieces I've written with Phil over the years. Soccer is indeed my favorite sport. I first got into Uni Watch via the ESPN column and then the blog, which I've been reading religiously since I was a teenager. I'm proud to be a part of the team.
———
Jamie, Kris, and Anthony all did extremely well in their Ticker auditions, and I'm confident that you'll see no drop-off in quality when they're on duty. With these new team members in place, and with deputy editor Phil Hecken and assistant editor Alex Hider still on board, we've reshuffled the Ticker assignments. Effective immediately, the Ticker will be authored by the following people on the following days:
Mondays: Jamie
Tuesdays and Wednesdays: Alex
Thursdays: Me
Fridays: Kris
Saturdays: Anthony
Sundays: Phil
I'm extremely happy to have these new additions to our roster. Please join me in welcoming them to the Uni Watch family.
• • • • •
Naming Wrongs update: Scott Turner and I have been wanting to create an all-purpose design that would apply to all corporate-named stadiums. We briefly dabbled with a design that said "I Hate Corporate Stadium Names," but the use of "hate" seemed a bit extreme, plus we felt we could come up with something more creative. And now we have (click to enlarge):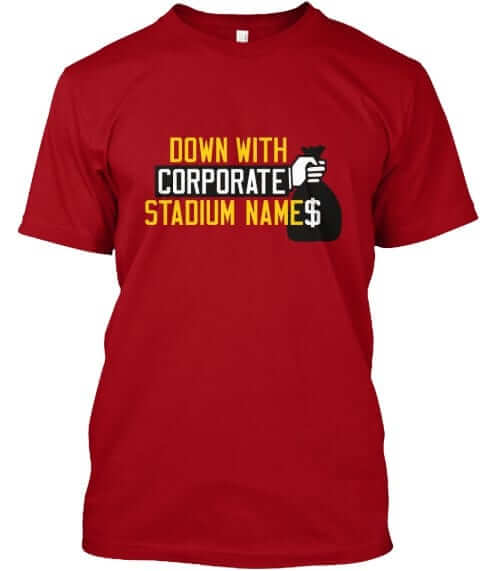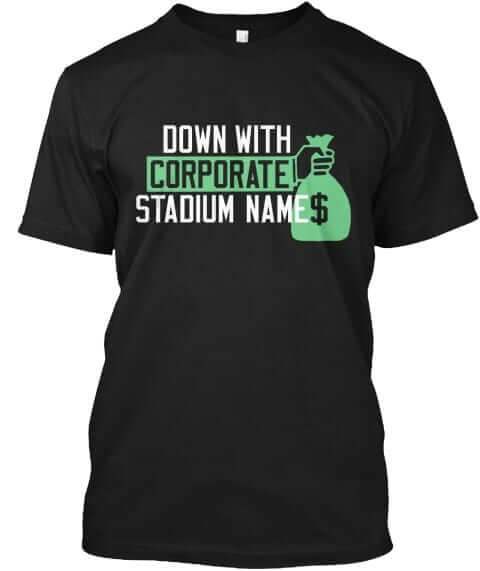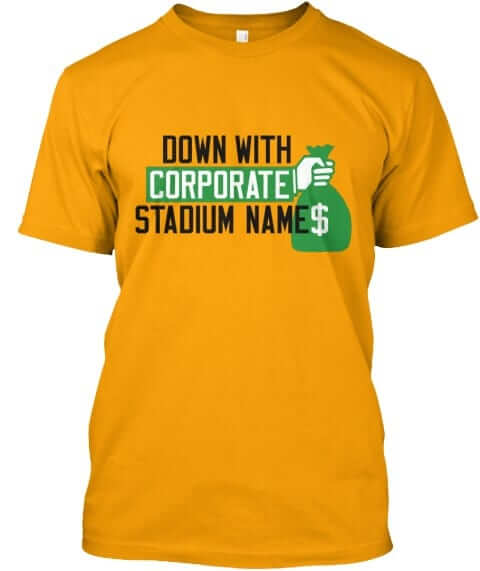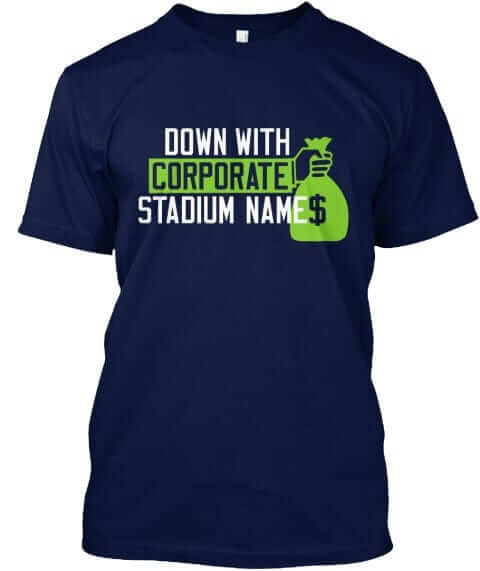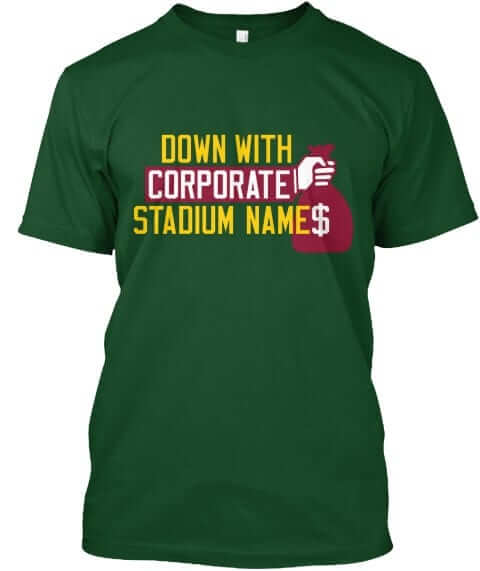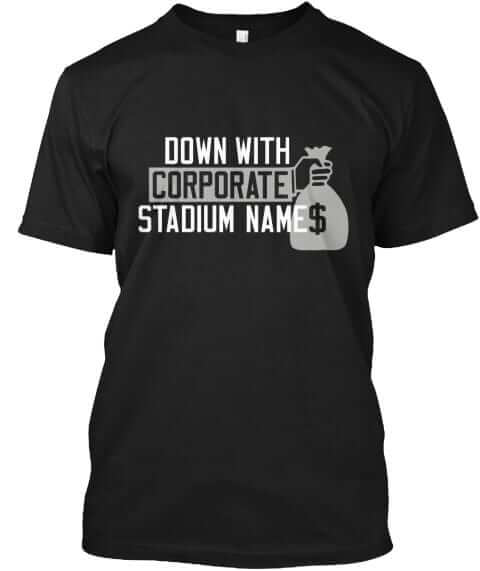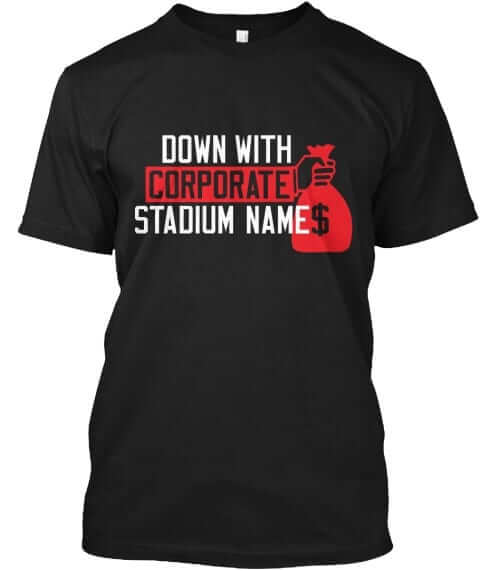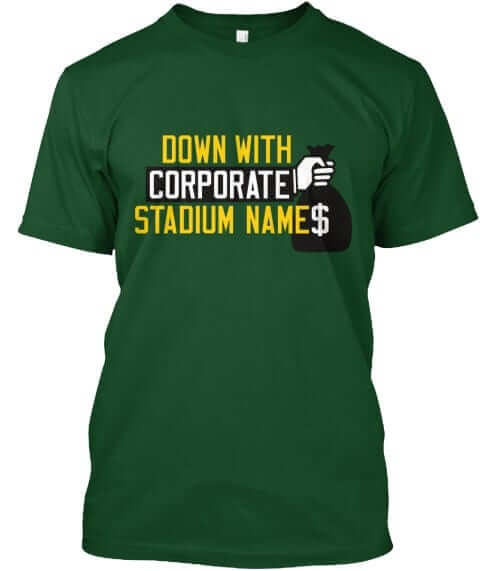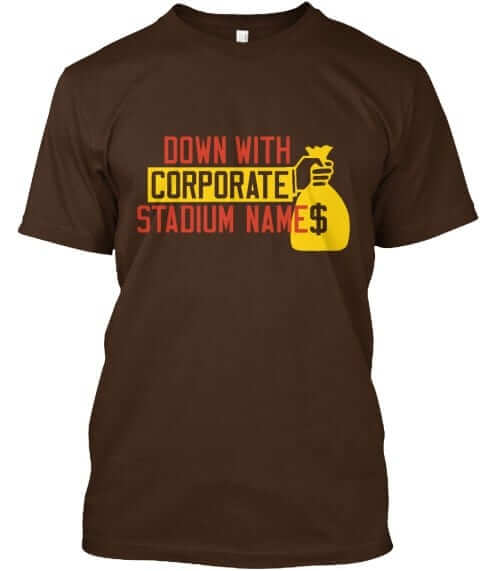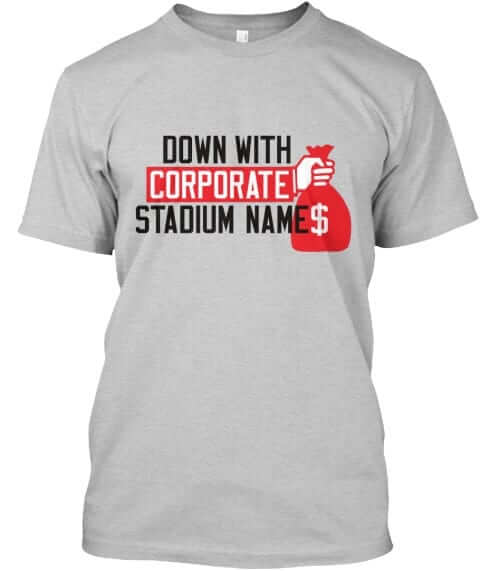 Not bad, right? We can do this in just about any color combo. If you have specific requests, just ask. We'll also be adding versions with the word "Stadium" replaced by "Arena."
All of these designs are now available in the Naming Wrongs shop. They're also cross-listed in the Uni Watch shop, where card-carrying members can get 15% off. (If you're a member and need the discount code, send me a note and I'll hook you up.)
• • • • •
The Ticker
By Paul

'Skins Watch (now running on Thursdays): The city of Montreal, moving toward reconciliation with indigenous people, has added an Iroquois symbol to its flag and will rename Amherst Street, which had been named after the British general who advocated giving smallpox-laced blankets to Indigenous tribes (from @PureLipschitz).

Baseball News: I remember when this happened: Pirates OF Dave Parker had to wear a helmet in the field in Montreal because fans were throwing stuff at him. … The excellent Threads of Our Game website, which chronicles pre-1900 uniforms, has recently turned up some good info on designs from 1891. … A tweet from A's exec Chris Giles indicates that the team will be moving back to kelly green. Maybe so, but I can tell you that it isn't happening in 2018 (from Kyle Brown). … Speaking of kelly green, look at this! That's the Single-A Eugene Emeralds. Yes, the stirrups are backwards, but still. Here's another shot (from Wade Heidt). … Good spot by Jeff Walter, who noticed a sleeve logo inconsistency in a 1996 Reds game. … Durham Bulls P Mike Broadway was victimized by a NOB font inconsistency (from Casey Hart). … Check out the Phillies' locker room nameplates: The lettering font matches the jerseys, but the number font doesn't (good observation by Frank McGuigan). … Here's our best look yet at the "Postseason" cap patch (from @frankie2pants).

Pro Football News: Here's another article about the Colts' seamstress, who's been getting a lot of attention lately (from Mike Miller). … The CFL is eliminating pads from regular season practices. Current NFL policy limits teams to 14 padded practices during the regular season, although some teams don't use them. … Back to school special: The mighty Fleer Sticker Project has a great post on old NFL and AFL textbook covers. … This is pretty funny: Taylor Nicolaisen has a blog devoted to spotting crooked Broncos logos.

College Football News: Here's this week's uni combos for Vanderbilt (here's a closer look at the gold helmet), Virginia Tech, and Illinois. … The 1938 Tulane/UNC game might win the prize for weirdest program cover design (from James Gilbert). … Here's a breakdown of the uniform outfitters for all 130 FBS teams (from @VictoryCB). … Here's a good look at the Tulane equipment staff getting helmets ready for a game (from Ryan Doyle). … Here's a good look at Purdue's college football centennial helmet logo from 1969 (from Pro Football Journal). … As you know, I'm not a fan of commingling sports and corporate logos. But I have to admit that Ball State wearing the Ball jars logo would be pretty good. … Penn State freshman now have to earn the stripes on their practice helmets (from Jerry Wolper). … An alum has written an entertaining plea for the Columbia football team to wear Columbia blue uniforms. … Houston plans to scrap their regular NOBs for Saturday's home opener and instead go with the rarely seen SNOB — that's school name on back. … You knew this was coming: Florida is adding a new helmet decal for Hurricane Irma (from George Mangrum). … New mono-white road uniform for Northern Illinois (from @AVKingJames).

Hockey News: Some new uni number assignments for the Rangers (from Alan Kreit). … Speaking of the Rangers, look how their torso striping looks on the new Adidas road jersey — ay-yi-yi. That looks more like an Islanders fisherman jersey than a Rangers jersey. … New center ice design for the Capitals. "The buried lede of the whole situation is that they also changed the stripe pattern of the red line, from white stars to red stars within a red outline," notes Zach Spencer. "I think the stripe looks way better and cleaner this way." … The Canucks' new practice jerseys use the team's retro logo (from Ryan Wetstein). … New Ron Hextall-inspired mask for Flyers G Brian Elliott (from Patrick Thomas).

Soccer News: Nike's soccer jerseys are making too many teams look the same (thanks, Alex). … UK soccer team logos reimagined through a Simpsons filter? Sure, why not (from Tanner Welch).

Grab Bag: A Canadian judge was suspended without pay and reprimanded for wearing one of Donald Trump's "Make America Great Again" caps in his courtroom. … Gross: William Penn University puts the Nike logo on its business cards (from Jesse Gavin). … Here are this week's IndyCar liveries (from Tim Dunn). … Interesting piece on hate group logos and iconography (from Jeremy Baker). … According to this book about marketing, chicken farmers in Nakuru, Kenya, painted their chickens purple. Why? "The color purple is not appetizing to birds of prey. As a matter of fact, eagles and hawks don't know how to process purple things — they don't recognize purple as food." No comment (from Will Scheibler).