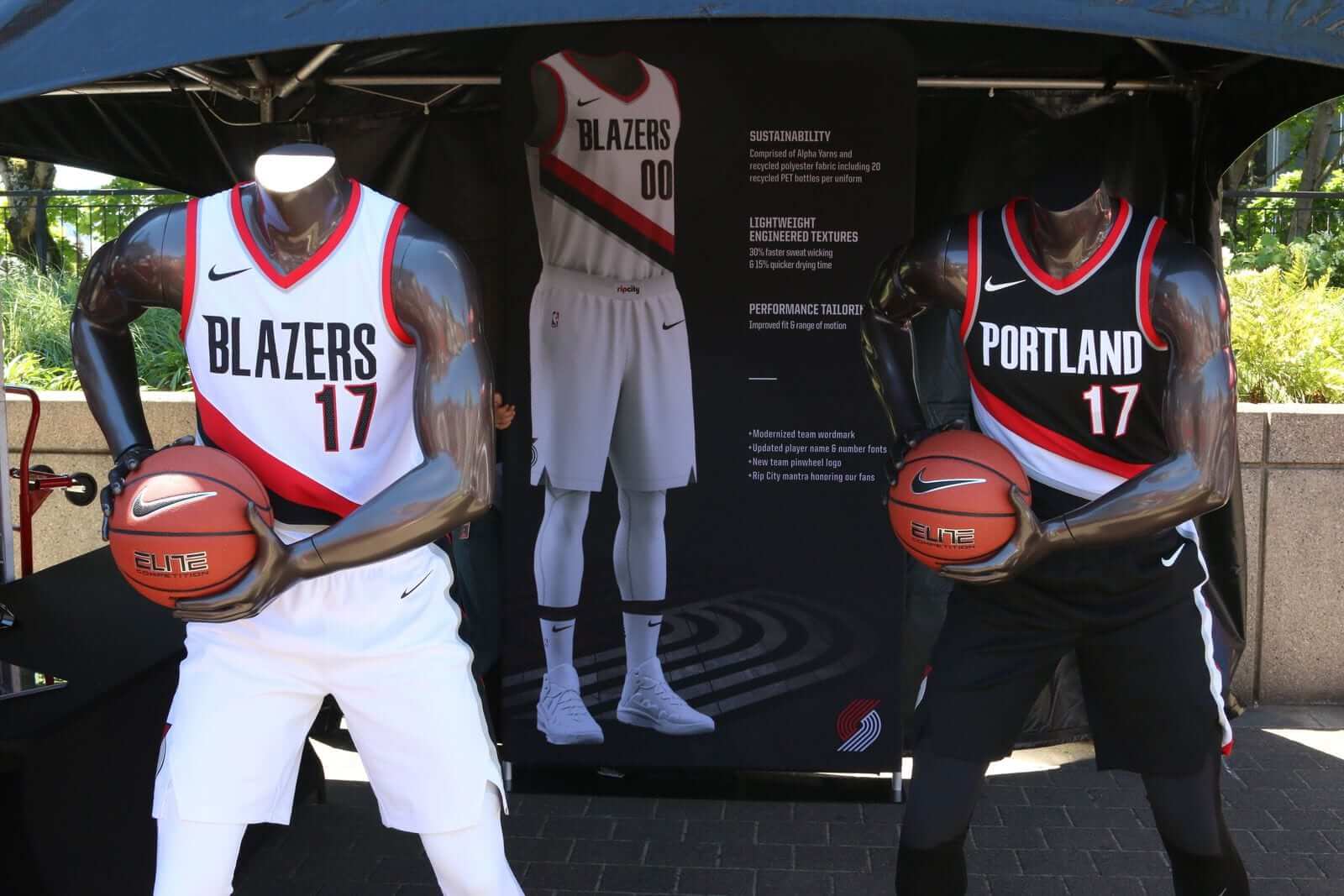 Photo by David MacKay, blazersedge.com; click to enlarge
By Paul, pinch-hitting again for Phil
Who the hell unveils a new uniform set on a Saturday afternoon? The Trail Blazers, that's who. While I was off doing, you know, Saturday stuff (more on that in a minute), they became the latest NBA team to unveil their new home and road white and colored uniforms.
If you're looking at the photo above and are thinking, "That looks a lot like their old uniforms," you're right! The changes are subtle, as you can see in these two before/after comparisons (click to enlarge):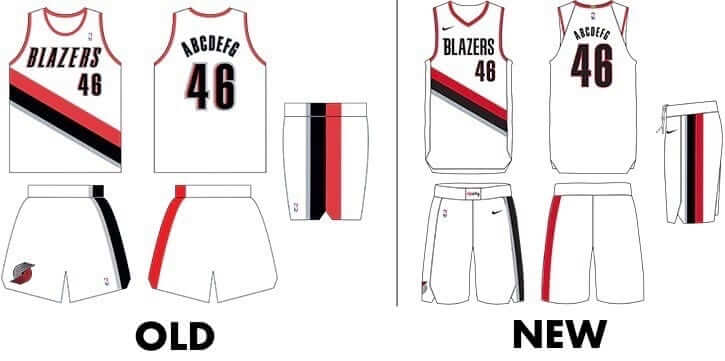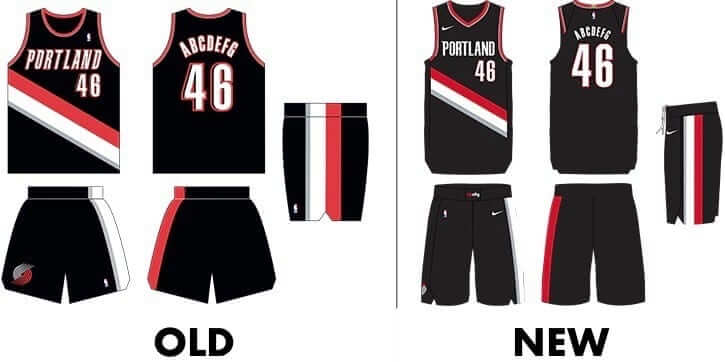 Here's a summary of the changes:
•  The chest lettering is no longer italic and is now one-color.
•  The NOB lettering is now one-color.
•  The drop-shadow has been removed from the numbers.
•  The "Rip City" logo has been added to the waistband (thereby maintaining Nike's unbroken streak of having a waistband mark for every team).
•  The pinwheel logo has been moved from the front of the shorts to the side, and the logo itself is the updated version that was released back in May.
Here's a better look at the backs of the jerseys, which I'd say is an upgrade — less busy, less choppy-looking (click to enlarge):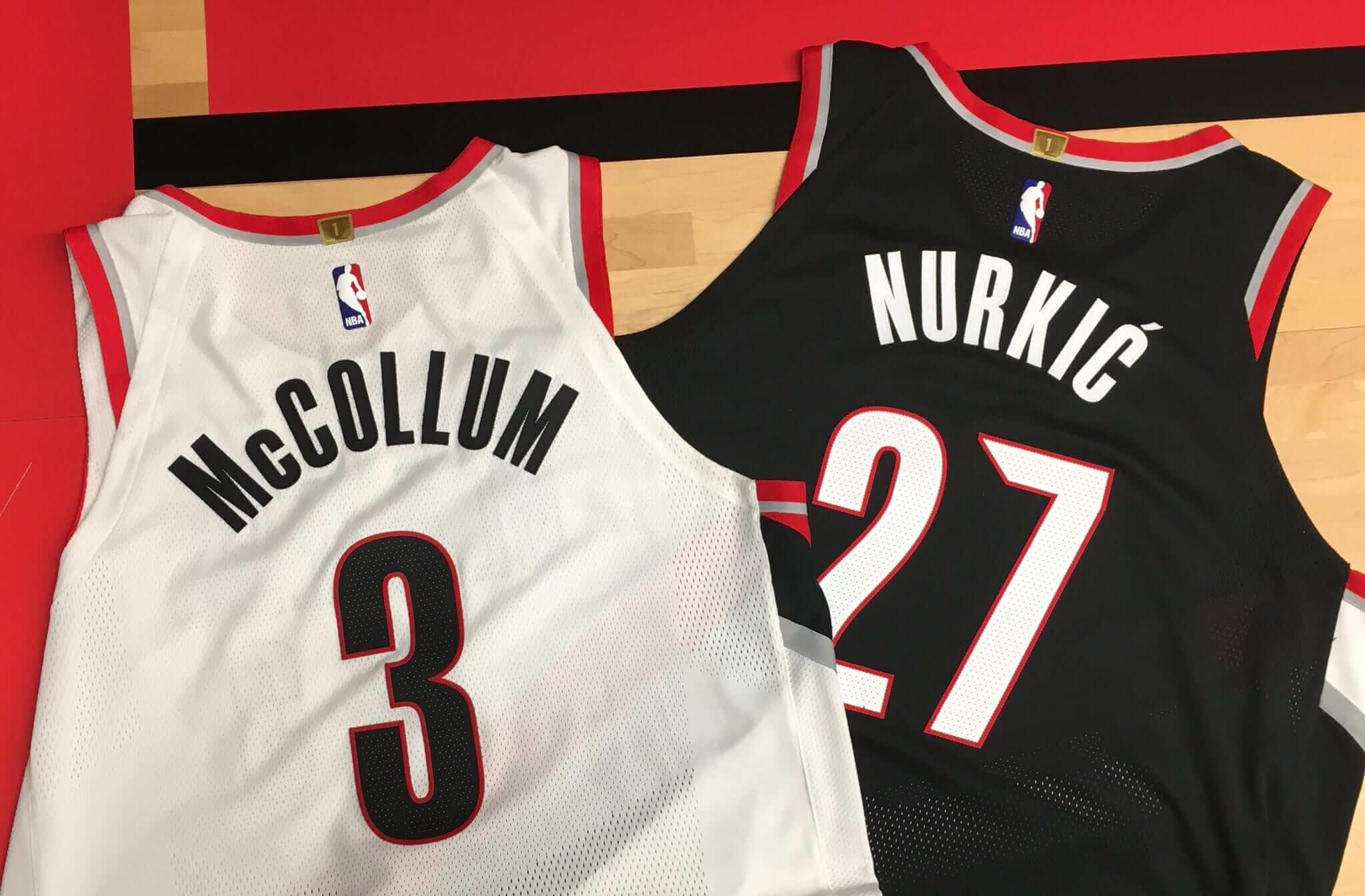 Also (and this is obviously a small thing, but what is Uni Watch about if not small things?): That accent on Jusuf Nurkić's NOB looks much better than the old version.
Also-also: The Blazers have provided our first close-up view of the NBA's updated design for the gold championship tab on the rear collar. Here's a comparison (click to enlarge):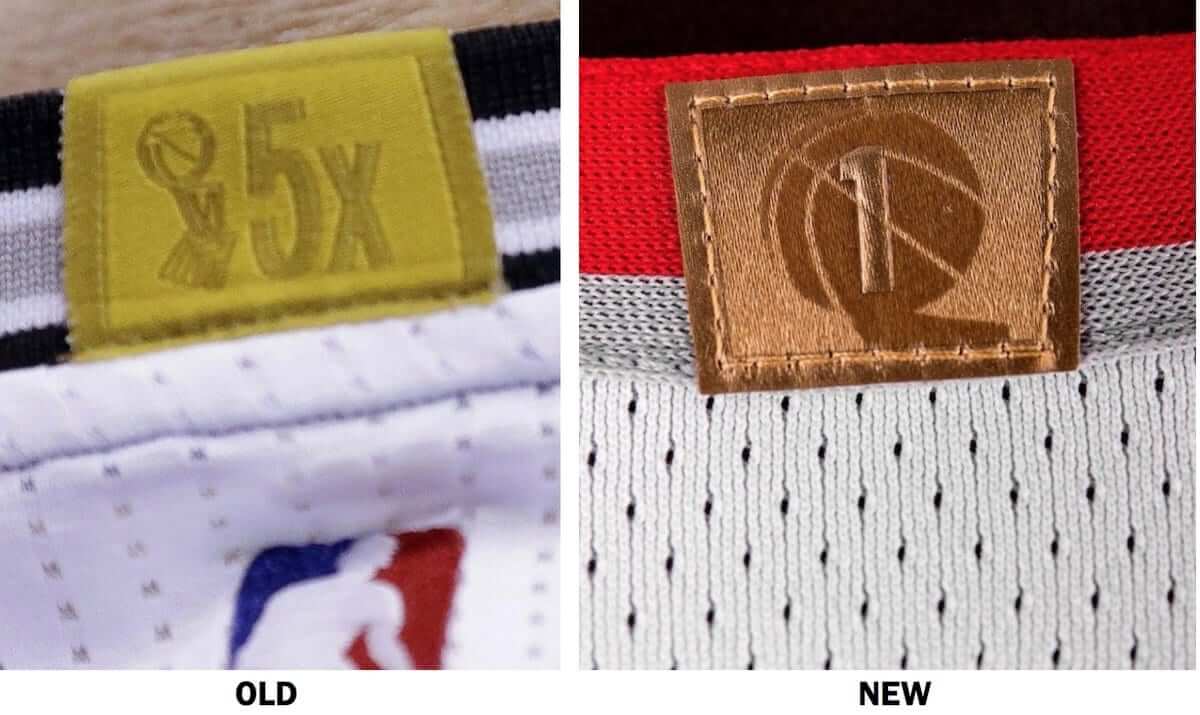 You can see additional info and photos here and here. That second link includes some interesting info about how fans wanted to keep the diagonal sash (good for them — it's a distinctive element that the Blazers totally own) and also has this:
[The uniforms] do not feature do not feature the logo of a[n advertiser]. The team remains in conversations with numerous companies and is "very optimistic" of the prospect of adding a[n advertiser] logo to their jerseys this season, as teams such as the Cavaliers and Kings have already done. The goal is to have a jersey [advertiser] in place before the start of the 2017-18 season, though it is also possible a logo will be added mid-season, or not at all in the event that a suitable partner takes longer to find.
Interesting. The big news there is that teams can add an ad patch during the season even if they begin the season ad-free. Here's hoping they never find that suitable partner. #NoUniAds
One final thought: If you go back and look at the photo at the top of the page, you'll see that the mannequins are both holding basketballs emblazoned with the Nike logo. Those basketballs will never be used in an NBA game, because the official NBA ball is made by Spalding. Just another way that Nike tries to make everything about Nike — even things that really have nothing to do with Nike.
•  •  •  •  •
Sock salute: Ivan Rodriguez will be inducted into the Baseball Hall of Fame today, and the Rangers have been saluting him for the past two games with a sleeve patch. Nothing new there — it had been announced in advance.
But here's something that hadn't been announced: For last night's game, the Rangers who chose to go high-cuffed were wearing Rodriguez-themed socks. Check it out (click to enlarge):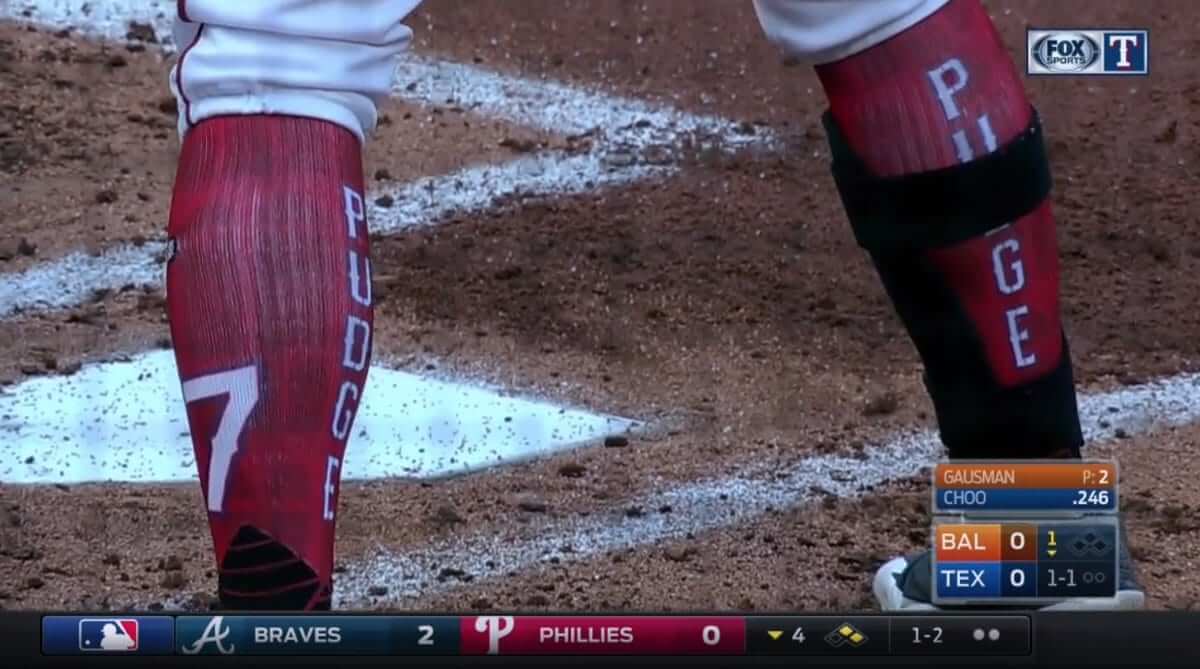 There have been hosiery-based commemorations before, like when Cardinals pitcher Jason Simontacchi wore a black "57" memorial ankle band for Darryl Kile in 2002. But to my knowledge, this is the first time MLB socks have honored a specific player in a non-memorial context. In fact, it may be a Big Four first. If anyone knows of other examples, please post them in today's comments. Thanks.
Update: Stance representative Tzvi Twersky has reminded me that quite a few NBA teams have worn player-commemorative socks in recent years. Examples include the Lakers honoring Kobe Bryant, the Pistons honoring Ben Wallace, the Suns honoring Steve Nash, and the Spurs honoring Tim Duncan.
•  •  •  •  •
Blast from the 100-year-old past: The White Sox and Cleveland wore 1917 throwbacks yesterday. The highlight, as you can see above, was that the Sox all went high-cuffed, showcasing some excellent striped hosiery. Mildly disappointing that the Sox didn't spring for throwback batting helmets, but whaddaya gonna do. Lots of additional photos here and here.
•  •  •  •  •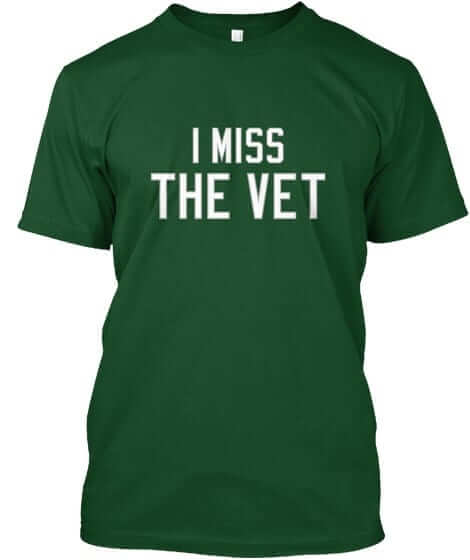 Naming Wrongs update: In case you missed it earlier this week, we have a new batch of Naming Wrongs designs (including new color options for the Vet, shown at right). Full details here, or just go straight to the Naming Wrongs shop.
•  •  •  •  •
The Ticker
By Paul

Baseball News: More minor league teams doing solar eclipse promotions on Aug. 21: the Salem-Keizer Volcanoes and Nashville Sounds (from Andrew Kling and Lee Wilds, respectively). … G.I. Joke jerseys next Wednesday for the West Virginia Black Bears (from Zach Loesl). … I didn't know that the ball used for a ceremonial first pitch actually says "ceremonial first pitch" (and neither did Chris Flinn). .. "The Cubs are currently on a three game set up in Milwaukee," says Brendan Hickey. "The Brewers have worn their retro alternates for two games in a row now. The conspiracy theorist in me has me thinking they're wearing them to help make it seem like all the Cubbie blue in the crowd is just royal blue for them. When the Cubs are in Milwaukee, there's typically a majority Cubs fans, dubbed 'Wrigley north.'" … Christmas in July jerseys last night for the Omaha Storm Chasers (from PrincessWahoo).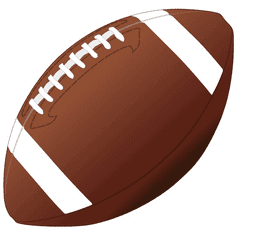 Football News: Edmonton Eskimos equipment manager Dwayne Mandrusiak has been with the team a whopping 47 years and worked his 1,000th game on Friday night. They gave him this jersey to mark the milestone (from BQG).

College Football News: Iowa State coach Matt Campbell's use of a seemingly innocuous hashtag in a recent tweet has rekindled a long-simmering feud between Iowa State and Iowa fans over the Hawkeyes' "ANF" helmet decal (from Kary Klismet). … A piece on the 73 worst college football uniforms ever? Yeah, okay (thanks, Alex). … A UCF spokesman tells me the school will have dozens of potential uniform combinations this season and plans to wear a different combo each week. He adds: "We'll have numerous different nose bumper decals. The default will be the player's area code (we did this in the USF game last year). We'll also have bumpers for military appreciation day. We'll also have bumpers that read UCFast (for offense) and UCFierce (defense)."

Hockey News: The AHL's Albany Devils have moved to Binghamton and become the Binghamton Devils. Yesterday they unveiled their new jerseys and logo set. The town's previous team, the Binghamton Senators, have moved to Belleville, Ontario.

Grab Bag: As a longtime neon sign enthusiast, I'm happy to see that the neon glow is having a restaurant revival here in NYC. … New uniforms for Ohio State women's volleyball. … So here's something completely unexpected and fascinating: Professional cooks and chefs are super-duper-picky about how they label things with painter's tape. That may not sound like an interesting topic, but trust me — it's the best link you'll click on today (from my longtime pal Liz Clayton). … Here's a new one: The logo mascot for the old Maryland Arrows lacrosse team was depicted wearing a knee brace. "Never seen that before," says Dave Holland). … New cricket uniforms for the St. Kitts & Nevis Patriots. … New wrestling singlets for UVA (from Dan Hillery).
•  •  •  •  •

What Paul did yesterday: While the Trail Blazers were unveiling their new uniforms, I was driving to the outer-Brooklyn neighborhood of Sheepshead Bay with my friends Chris, Garth, and Greg. Our destination was Clemente's Maryland Crab house, a waterside crab shack that feels like it's a million miles away from NYC, even though it's part of the city.
Good crabs, good beer, good friends — now that's the proper way to spend a summer Saturday (click to enlarge):
After reaching our shellfish threshold, we went off for a nightcap in the adjacent neighborhood of Gerritsen Beach, home to one of my favorite NYC bars: Tamaqua (which I anointed "Best Bar You Can't Get To" in last year's Village Voice "Best of New York" issue). Among its many charms, Tamaqua has a cat named Captain Jack who often patrols the parking lot. I was hoping to see him, and he did not disappoint:
And no, Captain Jack is not a one-eyed Jack. He was just squinting.
I wanted to stay longer, but I had to scurry home to cover a breaking story. (Have I mentioned that it's nuts to unveil a new uniform set on a Saturday afternoon?) Finally finished at about 11:20pm. The things I do for you people! See you back here tomorrow.