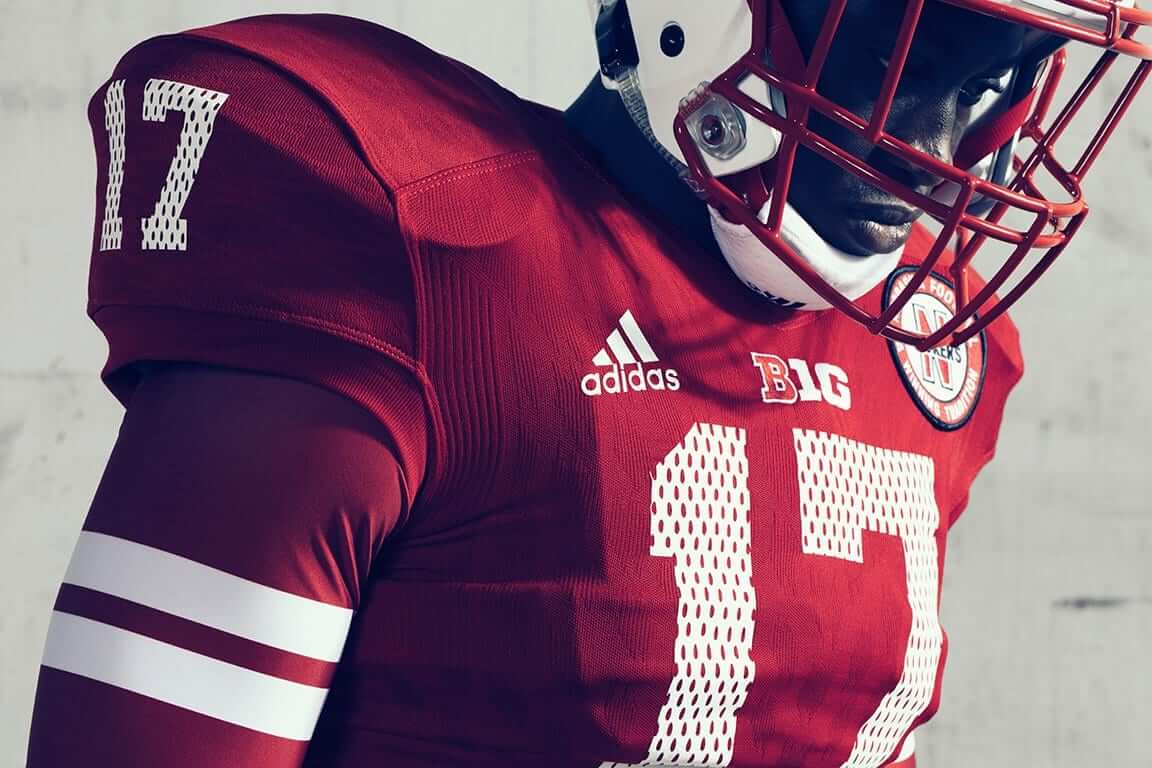 Click to enlarge
As had been expected, Nebraska unveiled a new mesh-themed throwback yesterday. The design, which will be worn on Oct. 7 against Wisconsin (aka the Red and White Bowl), is a 20th-anniversary salute to the Cornhuskers' undefeated 1997 team.
Here's a rear view (click to enlarge):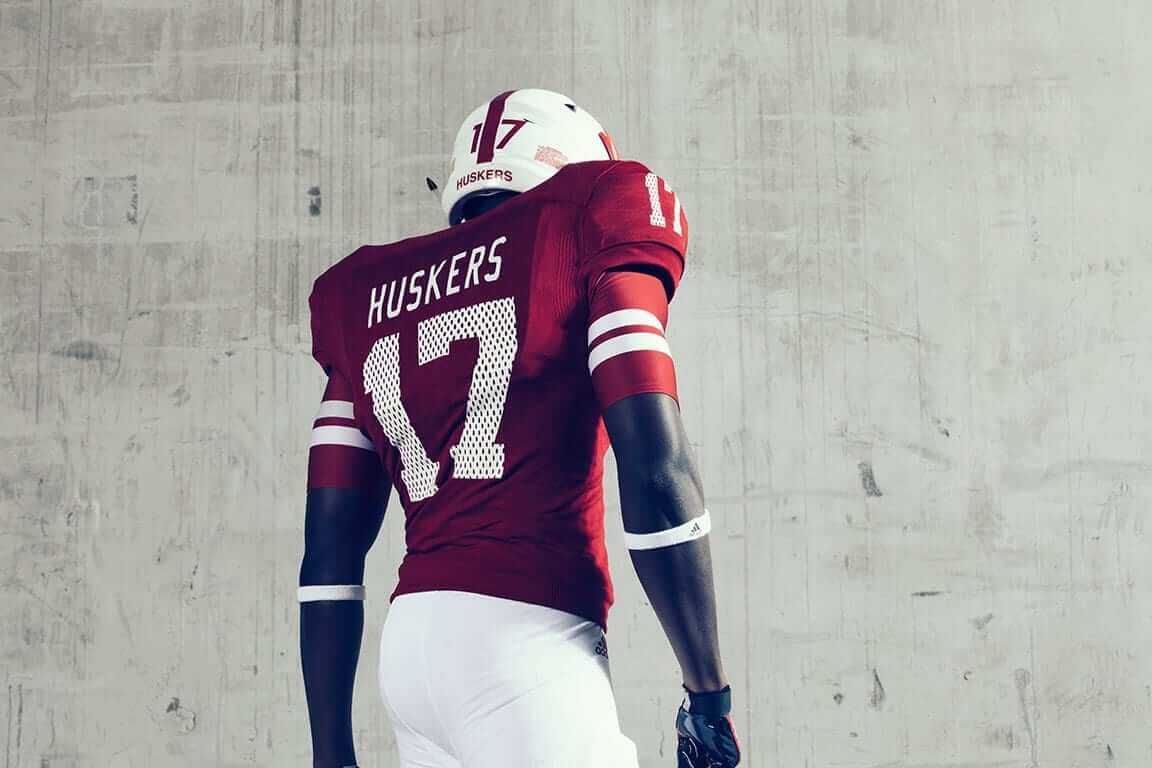 I like the idea behind the mesh pattern (it's simple and clever, right?), but there's a really basic, obvious element that they got wrong: the TV numbers. While it's true that the '97 Huskers used mesh fabric for the front and back of their jerseys, the shoulder yokes and sleeves were made from solid, non-mesh fabric. So it wouldn't make sense for the throwbacks to have mesh-patterned TV numbers — but that's what they have anyway (click to enlarge):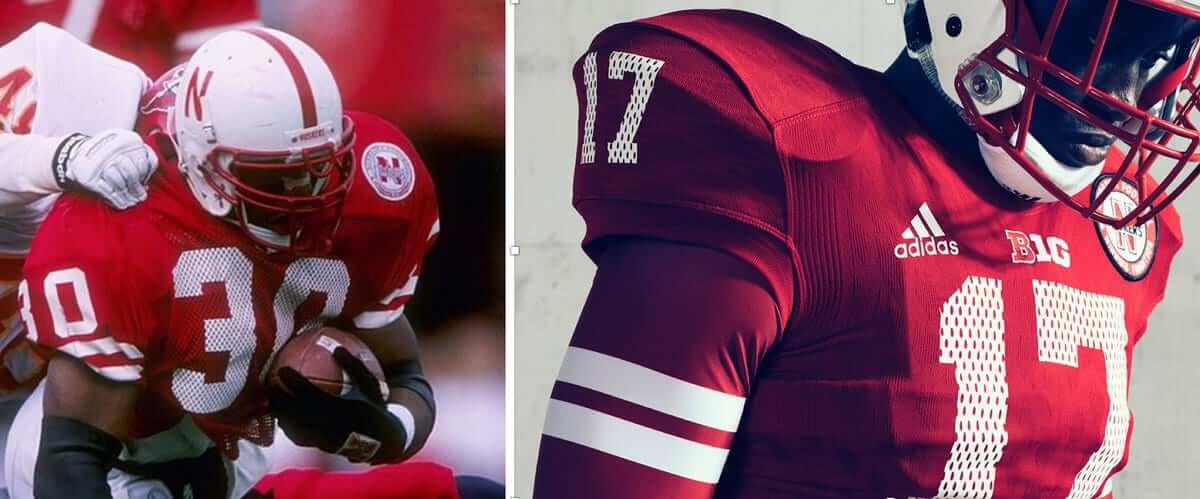 Come on, man — how could you screw that up? Even weirder, one of the photos Adidas released yesterday shows three guys wearing jersey with no TV numbers, so who knows how this is going to play out. The only thing I'm sure of is that it shouldn't be so hard to get this right.
•  •  •  •  •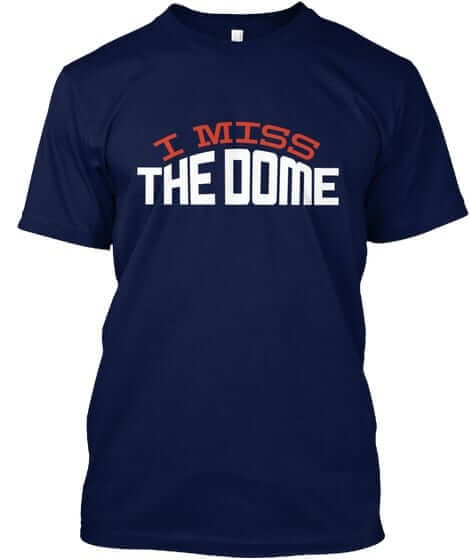 Naming Wrongs update: In case you missed it earlier this week, we have a new batch of Naming Wrongs designs. Full details here, or just go straight to the Naming Wrongs shop.
•  •  •  •  •
The Ticker
By Paul


'Skins Watch: The teams at Centerville High School in Iowa are called the Big Reds, and their baseball team uses a Native American chest logo and headdress-themed batting helmets (from Jay Wright and @tKCyclone).

Baseball News: The Mariners will wear a cap patch for Edgar Martinez's number retirement on Aug. 12. They'll also have a matching sleeve patch (from Ben Matukewicz). … Here's a weird one: As the Yankees celebrated last night's walk-off win, rookie phenom Aaron Judge had a tooth knocked out by a stray helmet (from Kary Klismet). … Jesse Gavin, covering the Iowa High School State Baseball Tournament, reports that many of the schools are wearing stirrups. Among his other observations: Carroll Kuemper — a Catholic school — has a large cross in the NOB spot; Iowa City Regina wears a comically bold jersey design; Dyersville Beckman wears a "21" sleeve patch, which references one of the team's slogans, "21 outs," which is how many outs there are in a seven-inning high school game; and Mason City has an odd stripe on the back of the jersey. It doesn't wrap around to the front. … The new minor league team in Rosemont, Ill., a Chicago suburb, will be called the Chicago Dogs (from C.D. Tatak).

NFL News: The Ravens' stadium is getting a new, larger sign (from Andrew Cosentino). … The Lions posted a Bobby Layne highlight clip yesterday. Watch closely and you'll see a Lions/Steelers game that's blue vs. black, as well as a Lions/Bears game that's blue vs. navy (good eye by Bill Schaefer). … According to this interview with the Bills' equipment manager, the team is switching to white cleats this year (from Josh Elia).

College Football News: Oregon will cut back on uniform options this season and will no longer have a different uni combo for each game. Further evidence that the whole "dress like a clown" thing only works if the team is winning (thanks, Phil). … New shoes for Florida State (from VictoryCB). … New game balls this year for Notre Dame. The old version had the leprechaun (from Warren Junium). … Looks like the NOB font from Indiana's candystripe jersey is now being used on the regular red jersey. They had previously used this font (from Ryan Cotter). … Michigan has upgraded to a new Nike template. … New midfield logo for Samford (from Robert Hayes).

Hockey News: Here's a rare mid-1960s shot of the Bruins' Murray Oliver wearing a yellow helmet (from Kevin Vautour). … Very word-heavy new look for Colorado College (from Greg Enkers). … Adidas is selling off the CCM brand (from @CaneMiami).

Soccer News: FC Viktoria Plzeň now has dugouts that look like giant beer cans. Bonus cringeworthiness points for the term "unique sponsor activation"! (From Brett Baker.)

Grab Bag: Our latest step on the road to Idiocracy: NYC subway stations may soon have corporate-sponsored advertised names. Unacceptable, disgraceful, shameful. I'll be calling my elected representatives to oppose it. … With the Trump administration reviewing the status of over two dozen national monuments, outdoor apparel manufacturers are pushing back by becoming more activism-minded. … Can tattoos affect your workout? Yes! … Interesting observation in this review of the new movie Detroit, which is opening today: "Nearly every white character with a speaking role wears a uniform of some kind." … The Indoor Football League, a struggling arena league, is down to five teams (from Brian Kerhin). … Someone out there has mocked up NASCAR cars with Uni Watch and SportsLogos.net paint jobs. … Speaking of NASCAR, one of Dale Earnhardt Jr.'s last paint schemes will include 100,000 fans' names (from Zach Loesl).
•  •  •  •  •
Weekend update: Phil has this weekend off, so I'll be back here tomorrow and Sunday. And also on Monday. And then I'm off for my annual August break from the site, so let's make these last few days good ones, yes? Yes!