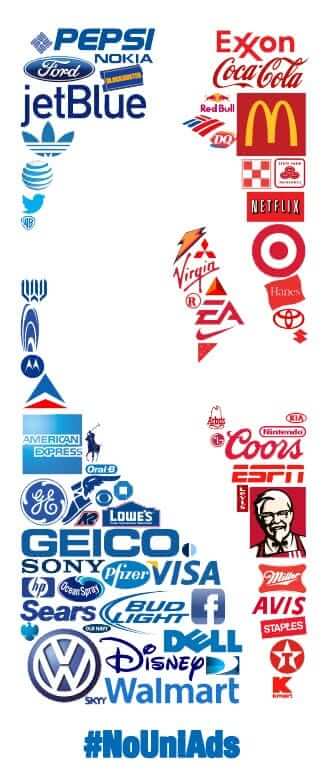 There was a bit of excitement yesterday when people (including our own Mike Chamernik) noticed that Thunder beat reporter Erik Horne had been asked on Twitter if the team would be wearing an advertising patch this year and answered, "No." That seemed to be the first confirmed case of a team in the "No ad patch" column, and several media outlets jumped on the news.
But as we all know, Twitter is a very imperfect medium for conveying information. I contacted Horne via email to learn more, and he qualified his position by saying (I'm paraphrasing here) that the team appears to be in the "No" column for now, but that doesn't mean it couldn't change.
While this isn't quite as good as a firm no, it's enough to let us know that the worst-case scenario of all 30 NBA teams wearing uniform ads this season is not a done deal. At present, only nine teams — less than one-third of the league — have announced uniform ads (and one of them, the Jazz, has partnered with a charity initiative). If the Thunder are seriously considering going ad-free, some of those other teams are probably in the same position.
The widespread assumption has been that most or all of the teams would wear the ads, and that there'd be a flurry of ad-partnership announcements as we got closer to the start of the season. And hey, maybe that will still happen.
But maybe it won't. Let's say they get, oh, four more teams on board before the season tips off in October. That would make a total of 13 — less than half the league. How would that look? Not exactly a resounding success for the uni ad program.
That scenario would also provide, on a daily basis, a stark visual contrast between the ad-free teams and the ad-clad teams. And you can bet that fans will notice that the ad-free uniforms look a lot better. If all 30 teams wear the ads, fans will roll their eyes, shake their heads, and accept it as the sad new reality. But imagine if people routinely see game matchups like the Celtics with their big honking GE patch against the ad-free Thunder — suddenly the Thunder's uniforms don't look so bad. And maybe fans of the ad-free teams start saying, "Please stay ad-free — we don't want to look like the Celtics."
Granted, this is all conjecture. But I do think it's plausible conjecture. At the very least, the news that the Thunder appear to be leaning against wearing an patch has provided a crack in the facade. It's okay to dream a little. #NoUniAds
(My continued thanks to Tim E. O'Brien, who designed the excellent #NoUniAds logo.)
•  •  •  •  •
Twilight of the Flywire: NFL teams aren't the only ones transitioning to Nike's uniform template with the embarrassing name but the vastly better-looking collar. Check out the upgrade taking place in Georgia (click to enlarge):
Sooooo much better. Here's hoping the Nikelace, which is easily the worst thing to happen to football uniforms in the past decade or so, is on the way out.
(My thanks to Andrew Wagner and Ryan Scates for this one.)
•  •  •  •  •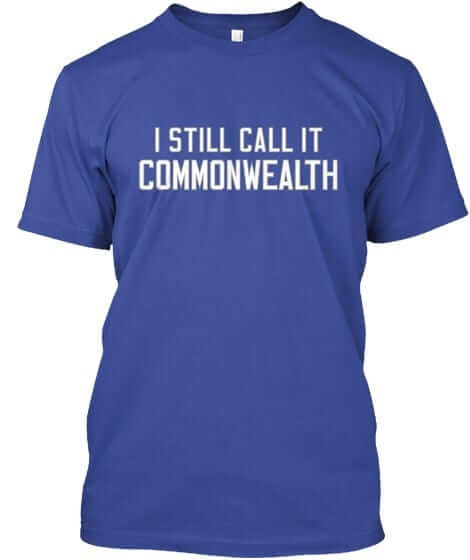 Naming Wrongs reminder: In case you missed it earlier this week, we released a slew of new Naming Wrongs shirts (including the Commonwealth design shown at right, which has been our biggest seller this week). Get the full scoop here, or just go straight to the Naming Wrongs online shop.
•  •  •  •  •
The Ticker
By Mike Chamernik

Baseball News: Rangers OF Carlos Gomez inadvertently wore teammate Nomar Mazara's jersey during pregame warmups on Tuesday (from Brinke). … Newly acquired J.D. Martinez will go FNOB, and by extension FIOB, with the Diamondbacks, even though he is the only Martinez on the team. He went FNOB with his previous team, the Tigers (from Ryan Finley). … The Yankees acquired Todd Frazier and David Robertson from the White Sox on Tuesday. Frazier will wear No. 29 instead of his usual 21, because that number is out of circulation in honor of Paul O'Neill. Robertson, a former Yankee, will wear his standard No. 30, and rookie left fielder Clint Frazier will switch to No. 77. Neil Vendetti notes that the Yankees will have No. 77 in left and, with Aaron Judge, No. 99 in right. "Coincidence that 7 is the LF designation and 9 is for RF when scoring a game? Probably," he says. … The Nationals sold the naming rights to their left field parking garage (from William Yurasko). … Nats manager Dusty Baker is still wearing a cap without a New Era logo (from David Smolowitz). … The Astros will give away classic Jeff Bagwell jerseys on Aug. 4 (from Denis Costello). … With Mike Leake, who wears No. 8, on the mound for the Cardinals last night, Mets broadcaster Gary Cohen said "The whole pitcher wearing the single-digit number thing "" it's not right!" (From Paul.) … @GridironLabs designed a creative Astros cap for a Hollywood-based men's league team. … As he does every summer, Jesse Gavin offered his observations from the Iowa state high school softball tournament. Softball unis are starting to better resemble baseball jerseys, as schools are shifting away from shorts and toward long pants. Often times, players wear different hats that don't match their teammates. One pitcher sported a seriously off-center belt buckle, and a first baseman wore a white mitt. Lastly, a few teams wore gradient helmets. … Time magazine published a graphic that showed the wrong helmet logo for the Yankees. The one they used is the jersey logo, not the helmet logo. … Mets OF Yoenis Céspedes dyed his hair blue prior to last night's game against the Cardinals. … Speaking of the Mets, they're giving away a bobblehead this Saturday that includes a strikingly phallic element.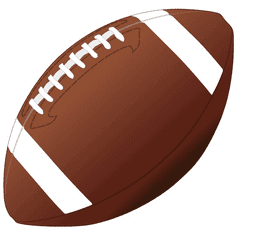 Football News: An unscientific Facebook poll found that Cleveland fans are fonder of Brownie the Elf than they are of other Browns logos (from Alex). … Four schools that share a nickname "" Clemson, Auburn, LSU, and Missouri "" will team up in an effort to save wild tiger populations across the world. … Ravens fans poked fun at a odd-looking logo that appeared on a cake. … New uniforms for Rutgers. The back of the jersey will have a little New Jersey state icon above the nameplate.

Hockey News: Here's a quick look at the new unis for the Avalanche (from John Muir). … On a related note, the Avs have worn white sleeve numbers on every one of their 14 different jerseys throughout their history (from Justin Cox). … Check out these delightful Tulsa Oilers program covers from the 1970s and '80s (from @UtahDust).

Basketball News: The Kings released a few more details about their new uniforms on their app. The way the back of the jersey cuts off the armholes is an odd touch (from Conrad Burry). … Also from Conrad: Those app shots and a trademark filing indicate that NBA has changed the champions tag on the back of the jerseys. Apparently, the number of team titles will be placed inside of the ball. The old tag looked like this. … A few disgruntled Bulls fans raised money to pay for a billboard in Chicago's West Loop that calls for the dismissal of general manager Gar Forman and executive VP John Paxson. … A blog crunched some numbers to determine the top 25 hipster NBA jerseys (from Phil). … Honus Wagner, the baseball hall of famer who starred in the early 1900s, was an early pioneer of basketball. He and his team wore uniforms with his alternative nickname, "Hans" Wagner (from Yancy Yeater).

Soccer News: This slideshow, in German, shows the 18 new kits across Bundesliga for the upcoming season (from Anthony Zydzik). … New unis for Pumas UNAM, a club in Mexico City (from Ed Å»elaski). … Since the sun was setting directly in his face during yesterday's game, Houston Dynamo goalie Tyler Deric wore a hat (from @NKroegs).

Grab Bag: Pro Stock driver Erica Enders-Stevens wears a pair of socks with a helpful tip on them (from David Firestone). … Some women golfers brushed off the negative reaction to the LPGA's strict new dress code that prohibits such things as plunging necklines, racerbacks, and short skirts (from Ken Traisman). … Uncertain what year this was from, but North Carolina's swim team once wore terrific warm-up tops. The team was once known as the Blue Dolphins (from James Gilbert). … Pascagoula, Miss., is searching for a new city logo. … Virginia Tech is letting fans vote on this season's wrestling singlet design (from @Jerseyhokie29).