Click to enlarge
Lots of NBA developments yesterday, as we finally got a look at some bona fide Nike uniforms. First, the company released a photo of a new Warriors jersey, shown above. Let's see how it compares to the old one (click to enlarge):
The most obvious change, aside from the maker's mark, is the collar. In addition, the numerals are clearly lighter/thinner, which seems like a downgrade.
Shortly after Nike posted that photo, the Kings unexpectedly revealed their new home and road white and purple uniforms, providing us with our first photos of how a jersey will look with the Nike maker's mark and a corporate advertising patch. Here are some old/new comparisons (click to enlarge):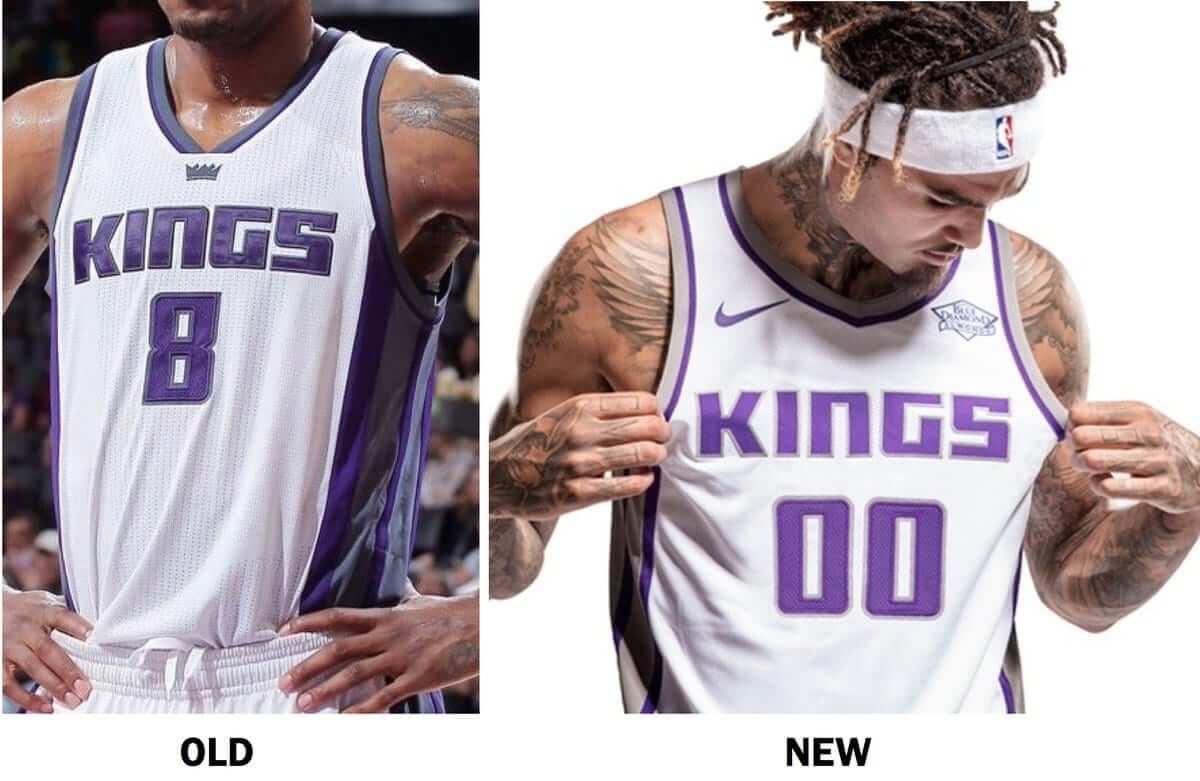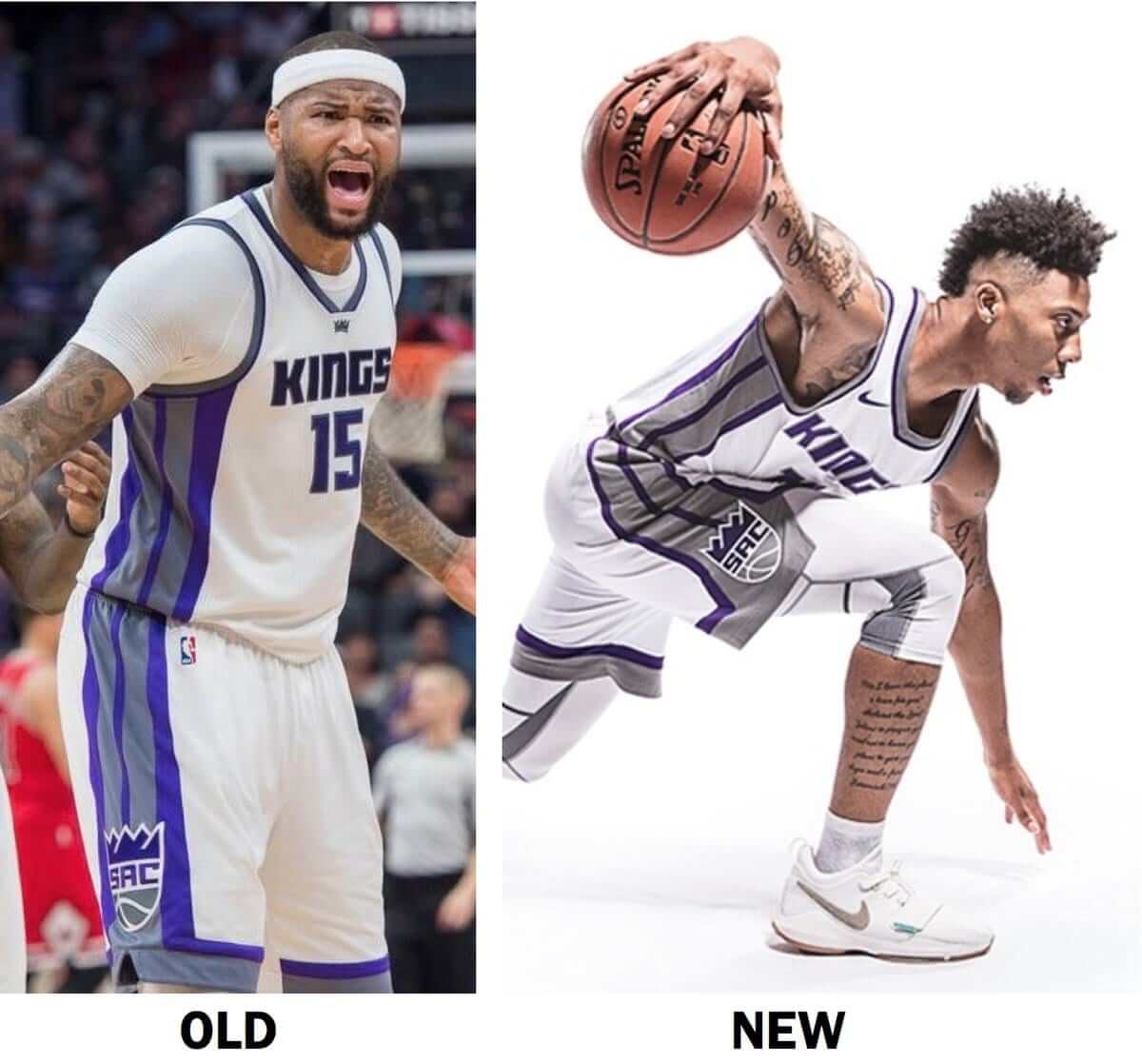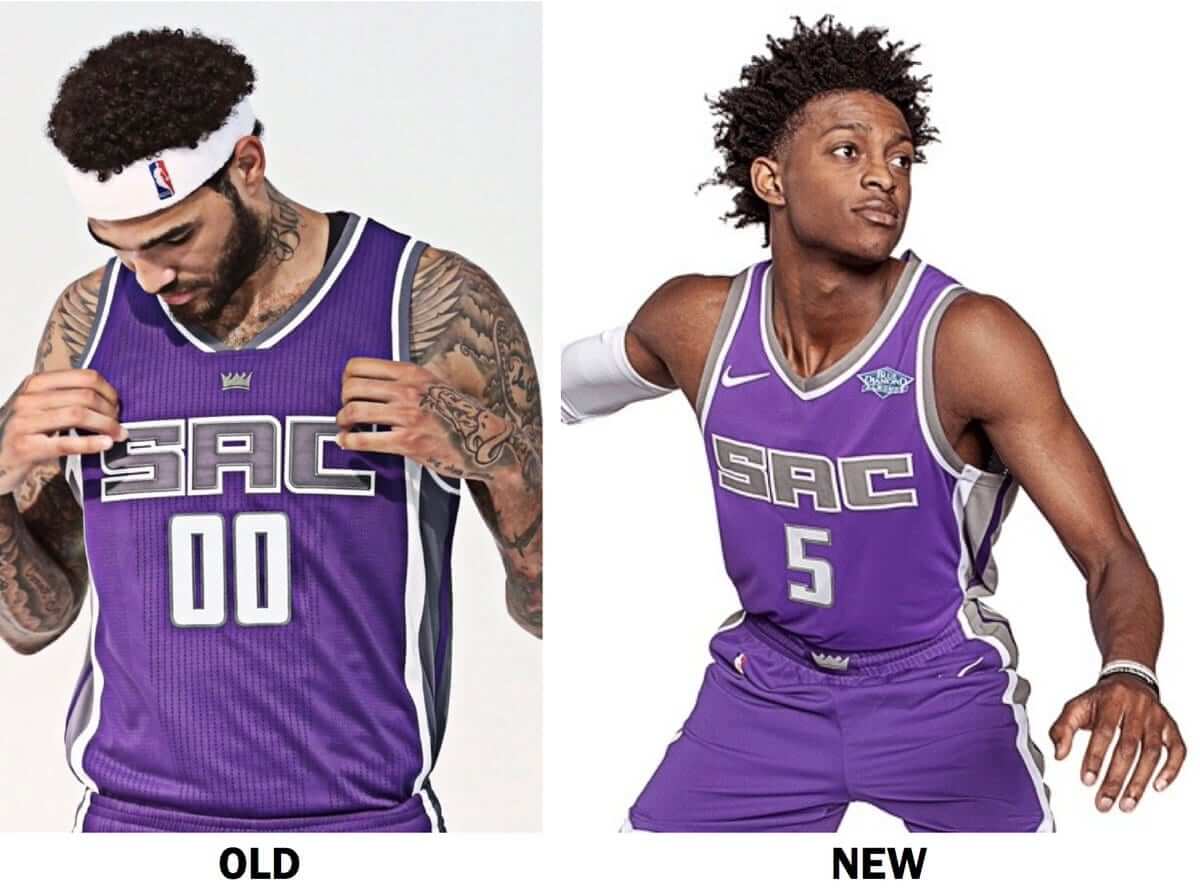 Quick notes:
•  For both uniforms, the main difference appears to be the collar.
•  Also, as we saw in those Snapchat screen grabs last Friday, the crown icon has been removed from the chest. What we didn't know then, but can now see, is that it's been moved to the waistband.
•  It looks like the piping now wraps all the way around on the inner-leg portion of the shorts, instead of being truncated.
•  Although the shades of silver and, to some extent, purple look a bit different in the old and new photos, a Kings spokesman confirmed to me yesterday that the official team colors have not changed, so it must just be the lighting.
•  In addition, the Kings hinted very strongly that they'll be keeping their black alternate and powder blue throwback.
The Warriors and Kings photos were part of a larger info dump by Nike yesterday afternoon. To get the full scoop, I strongly recommend that you start with Nike's press release and then continue with this explainer/Q&A piece that I did for ESPN. That should get you up to speed.
Go ahead and read those two pieces — I'll wait.
Okay, now that you've read them, a few quick thoughts:
1.  I'm fine with eliminating the home and road uni designations. I've always been in favor of color-vs.-color games, and the league was already moving in that direction. I'm sure there'll be a few games where someone doesn't get the memo and we end up with red vs. orange or some other insufficiently contrasting matchup, which will be good for a laugh. Overall, though, I see no problem with this move. Remember, the NFL doesn't have home or road uniforms either — it's home team's choice, which is basically what the NBA is now doing.
2.  That said: The whole thing about every team having four uniform "editions," each with a cringe-worthy name and an embarrassing explanation, is already unbearable. Can you imagine a whole season (or lots and lots of seasons) of fans actually using these marketingspeak terms? It's beyond depressing. Hmmm, maybe we should do some new Naming Wrongs shirts: "I Still Call It the Home Uni," or whatever.
3. Several people have noted that the photo of the new Warriors jersey doesn't show the stitching on the back collar where the gold championship tab would normally be. That photo notwithstanding, my understanding is that the gold tabs will still be used this season.
4. In addition to all the info in my ESPN piece, there's a new development. A reputable news outlet in Utah is reporting that the Jazz will have a gold alternate uniform at some point this season, although it may not debut until December. (Following up on something I mentioned a few days ago: Note that the headline and lede graf don't even mention the word "uniform"; they just say "jersey," as if that's the only thing that matters.)
5. This morning, as I was putting the finishing touches on today's entry, an image began circulating that appears to show James Harden in a Nike-made Rockets uniform. There's an additional shot here.
And that's all. For now.
•  •  •  •  •
For all photos in this section, click to enlarge
Mr. Met meet-up: The Tugboat Captain and I attended last night's Cards/Mets game. Incredibly enough, it was our first Mets game together, so we had to do all the obvious stuff, like posing with the original Mr. Met head at the Mets Hall of Fame (above), seeing how our feet are way smaller than Jackie Robinson's, and so on. And in a fun coincidence, it turned out that we were sitting one section over from Mets by the Numbers honcho Jon Springer.
Naturally, I made some uni-related observations. The gift shop was selling some sort of bags that where designed to look like the back of a jersey. The for some reason the one with Jacob deGrom's name and number had vertically arched NOB lettering — something the Mets have never worn at any point in their 56-season history:
Also: The first time through the batting order, the scoreboard puts up a graphic for each player that includes his signature, and I was struck by how many of the signatures included the players' uniform number. I only managed to get photos of the ones for catcher René Rivera and pitcher Rafael Montero, but there were several others:
I realize that a number-inclusive autograph isn't a new thing, but has it become a standard thing? Do most players now do it?
Thinking about this type of stuff was a good distraction from the game, which the Mets lost badly. Still, it was a gorgeous night to be out at the ballpark, especially after a frantic day of NBA coverage.
•  •  •  •  •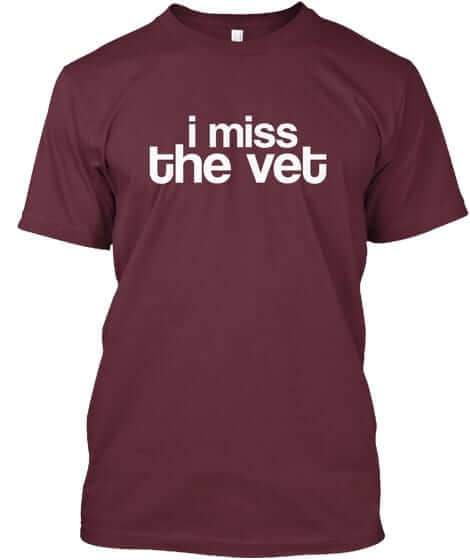 Naming Wrongs reminder: In case you missed it earlier this week, we released a slew of new Naming Wrongs shirts (including the Vet design shown at right). Get the full scoop here, or just go straight to the Naming Wrongs online shop.
•  •  •  •  •
The Ticker
By Alex Hider

Baseball News:  Astros P Dallas Keuchel recently made a rehab start with the Corpus Christi Hooks and wore his own Astros pants (from  Josh). …  Astros OF Josh Reddick was wearing  quite the outfit during a recent TV interview (from Scott Whit). … The Mets wore their blue alts at home for the first time in over a month last night against the Cardinals. They must not have known that Paul was in attendance (from James Beattie). … The Orioles are giving away a set of bottle stoppers that include figurines of their four starting infielders "" who are shown wearing four different uniforms (from Andrew Cosentino). …  For the second year in a row, the Bowie Baysox are holding a David Bowie Tribute night. They'll wear these jerseys on July 29 (from  Russell Finn). … The Hartford Yard Goats have a hockey-themed cap for sale in their team shop, which presumably went with their recent Whalers-themed jerseys (from  Okie).  … The Johnson City Cardinals will wear Volunteer orange on July 22 for Pat Summitt night (from  Daniel Patrick Owens). … Fans of old Pacific Coast League baseball will love these old photos taken in the late 1920s and early '30s (from  Mathieu Deschaine). … A Stockton Ports pitcher wore some classic-looking stirrups last night. … Bartolo Colón made his Twins debut last night and wore No. 40. That makes 10 teams that he's played for, and he's worn No. 40 for at least part of his tenure with every one of them (from Dave Feigenbaum).

NFL News:  The Texans have released their promo schedule, which indicates that they'll wear mono-blue on Oct. 15 against the Browns and red on Dec. 10 against the 49ers. They also have a "white out" scheduled for Sept. 10 against the Jaguars, so they could be wearing mono-white on that date (from  Al Gruwell). …  NM Sports took a stab at  redesigning the Eagles' identity.

College Football News: It looks like Florida is slightly altering its white pants and putting the  Gator logo on the left thigh  (from  Ryan King). …  We now have a shot of the back of the new Navy football uniform (from  Seamus McNally). … Clemson is the latest team to be using the Schutt F7 helmet, which Paul wrote about earlier this year (from Kevin Shaw). … Some behind-the-scenes action at North Carolina yesterday, as the grounds crew tweeted a photo of workers cleaning up their yard-marking stencils (from James Gilbert). …  Here's an awesome graphic that breaks down the size and shape of the video boards at Big Ten schools (from Jason Collins). … Speaking of the Big Ten, here's a ranking of the conference's football uniforms (from Mark Kunz). …  Purdue's ticketing website is currently using an old Michigan logo (from  Teddy Tran). … Maryland repurposed Cole Field House, its old basketball arena, into an indoor practice facility for the football team (from Matt Shevin). …  One newlywed couple had their cake made into an Alabama marching band drum (from  James Gilbert).

Hockey News: SB Nation thinks the NHL should follow the NBA's lead and  do away with designated home and away jerseys. They fail to mention what a nightmare it would be if teams were forced to travel on long road trips with two or three sets of different colored equipment. …  A fan's Canadian flag-inspired Leafs jersey concept was actually made into a physical sweater (from  Josh Tremblay). … There's some good stuff in this blog post about vintage hockey games and toys (from  Chris Mizzoni"). … ICYMI from the baseball section:  The Hartford Yard Goats have a hockey-themed cap for sale in their team shop, which presumably went with their recent Whalers-themed jerseys (from  Okie).

NBA News:  Reader  Benji went ahead and  fixed the Paul Pierce jersey that was the subject of yesterday's lede. Thank you! … On the other end of the spectrum, the Raptors signed C.J. Miles yesterday and welcomed him by photoshopping him into his new jersey "" and they didn't forget the ad. Sigh. (From  Patrick Lahaie").

Soccer News:  New kits for UCLA women's soccer (from  Prop). …  Polish III Liga club Stal Rzeszów has new uniforms (from  Ed Zelaski). … New kits for Club America of Liga MX in Mexico (from  Ryan Huguenel"). … Stoke City covered up its kit advertiser during a recent training match. Not sure why, but perhaps it had something to do with Bet 365 being the team's advertiser (from  Josh Coles). … The addition of new players to the U.S. Men's National Team roster has forced a reshuffling of uniform numbers for the Gold Cup (from Michael Kanady).

Grab Bag:  This is pretty great: Chicagoans famously refuse to eat ketchup on their hot dogs, so Heinz will rename ketchup "Chicago Dog Sauce" for National Hot Dog Day. The "Chicago Dog Sauce" containers also have a Chicago city flag motif (from  James Gilbert). … Titleist is suing a website that is ripping of its logo to sell shirts that read "Titties." … Dale Earnhardt Jr.'s car will have a retro paint scheme for a race later this year at Darlington Raceway (from  Brad Darby). … The Youngstown (Ohio) City School District has a new logo (from  Robert Hayes). … Adidas is now the official partner of USA Volleyball.