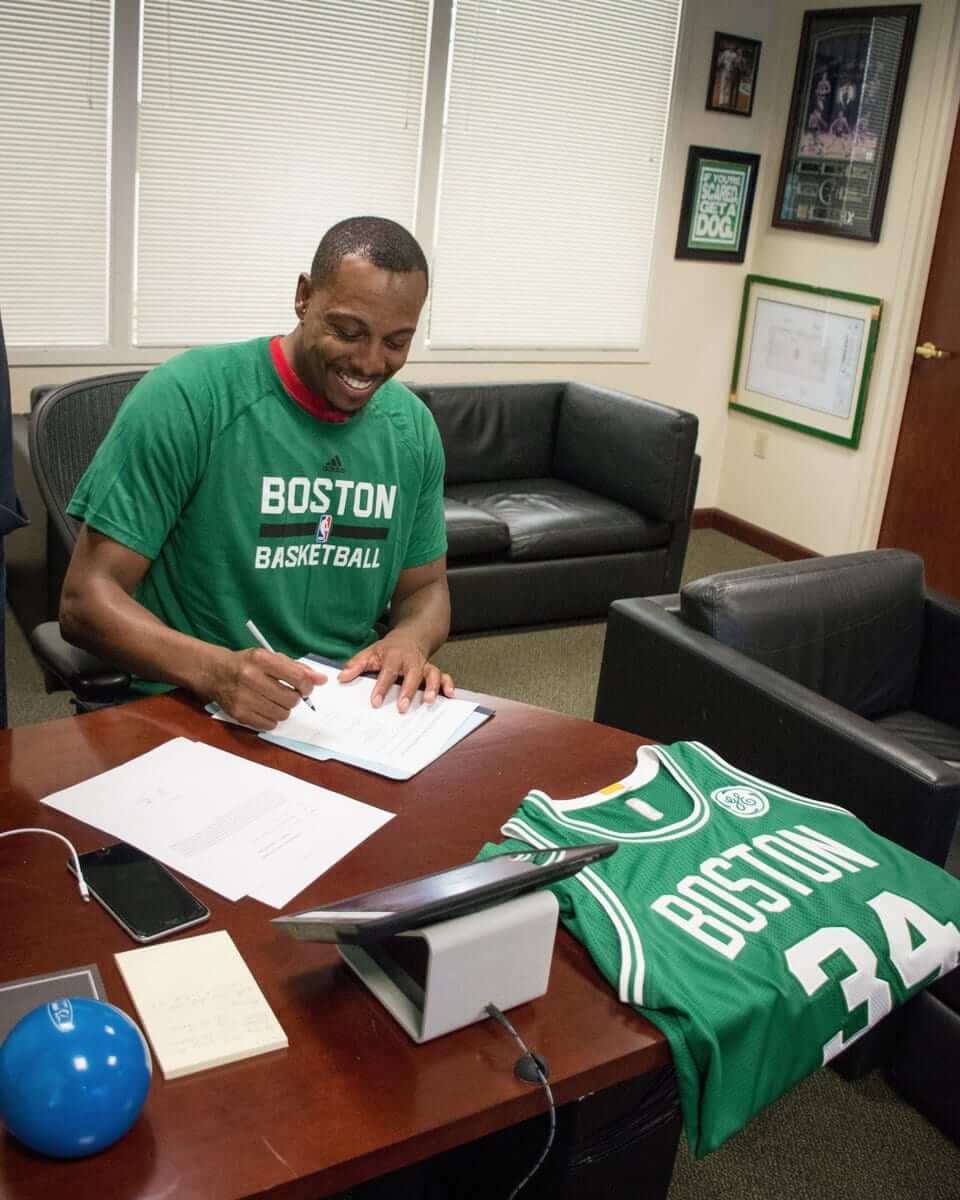 Click to enlarge
Longtime NBA star Paul Pierce signed a contract with Boston yesterday, allowing him to retire as a Celtic — a very nice sentimental gesture. And look, they staged a photo of him signing the paperwork alongside a Celtics jersey with a big, honking GE ad on it. Because when you think of Paul Pierce, you think of the Celtics and GE, not necessarily in that order. Awww, isn't that sweet?
GE paid for precisely this type of exposure, of course. And that's the problem with uniform ads: They pollute everything they touch — not just the games themselves (although that's bad enough), but also lots of ancillary events like Pierce signing his retirement contract. Disappointing.
That brings up another point: The Celtics announced that they'd be retiring Pierce's No. 34. That should be okay, because the Celtics just hang banners with their retired numbers. But some teams hang jerseys. Are there any teams that show the front of the retired jersey? Probably not — and just as well, or else they might start putting ads on those too.
Also, here's something that hadn't occurred to me until now (although it should have): Will the jersey ads appear on throwbacks? They presumably will — that's part of what the advertiser is paying for, right? If so, that's going to look sooooo awful, especially in instances when the advertiser didn't even exist during the period when the throwback was originally worn. Imagine, for example, the Nets' Infor ad patch on a Dr. J-era throwback — ugh.
Meanwhile, you may have noticed that Pierce inked his deal while wearing an Adidas-made Celtics T-shirt. That's because Adidas is still, as of today, the NBA's official outfitter. I'll be summarizing the latest info about the Nike changeover in an ESPN piece this afternoon — stay tuned.
•  •  •  •  •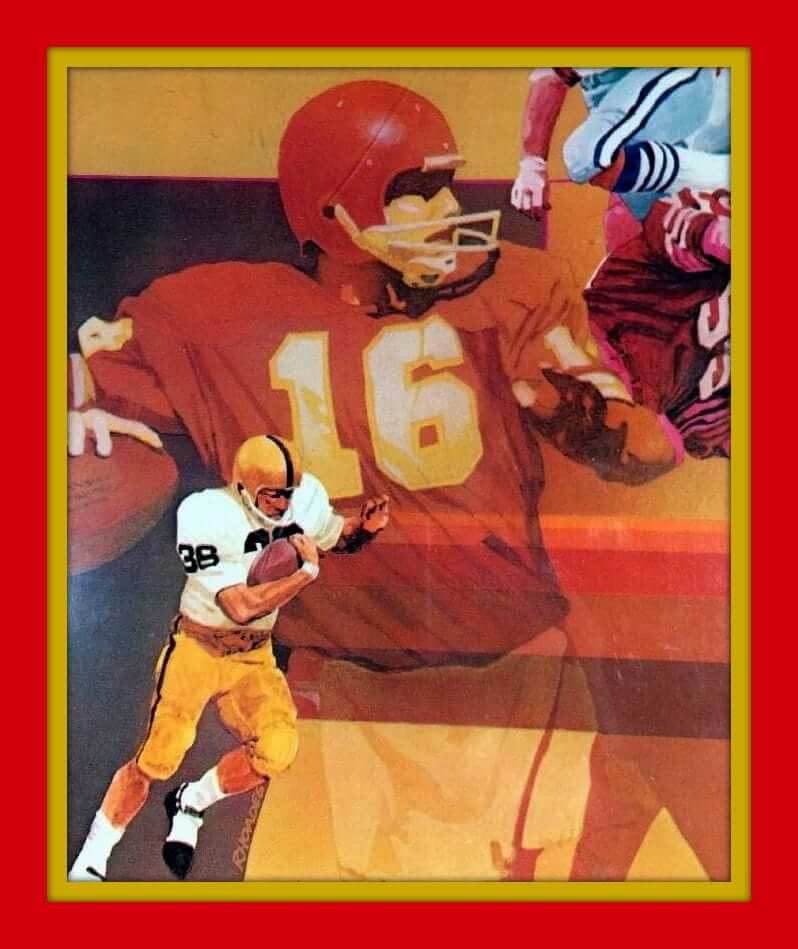 Click to enlarge
Collector's Corner
By Brinke Guthrie
Ya gotta check this one out. Behold this 1970s Mead NFL binder. The artwork is stunning. Ed Podolak, Griese, Butkus, Reeves, Dawson, Namath, and others. I had this one and always wondered why there were no helmet logos on 'em. A classic.
Now for the rest of this week picks:
•  Here's a nice-looking Eagles sweatshirt for kids, straight from the NFL Shop at Sears. But you knew that.
•  One more from the City of Brotherly Love: this nifty Eagles Technigraph plaque.
•  This 1970s vending machine header card from "Folz Vending Co." touts "All-Time Hockey Champs" like the Rangers and Bruins.
•  Another vintage 1970s NBA light switch plate for you, this time for the Golden State Warriors.
•  Another Warriors item, this time a pair of 1980s practice shorts from Champion.
•  Ah, will ya look at that old logo on this California Angels beer stein!
•  Very cool 1968 Atlanta Falcons poster by Don Weller right here.
•  Check out the logos on this 1970s NFL belt!
•  Here's an interesting item: The seller says this is the original packaging artwork for a 1960s/1970s team necklace.
•  This Bengals helmet plaque font is not even close. Not by 100 miles. So how did this one make it to production?
•  If Nick Schultz wonders where his 1970s MLB card carrying case is, he should check on eBay. (His name is on the "Property of" sticker on the front.)
•  •  •  •  •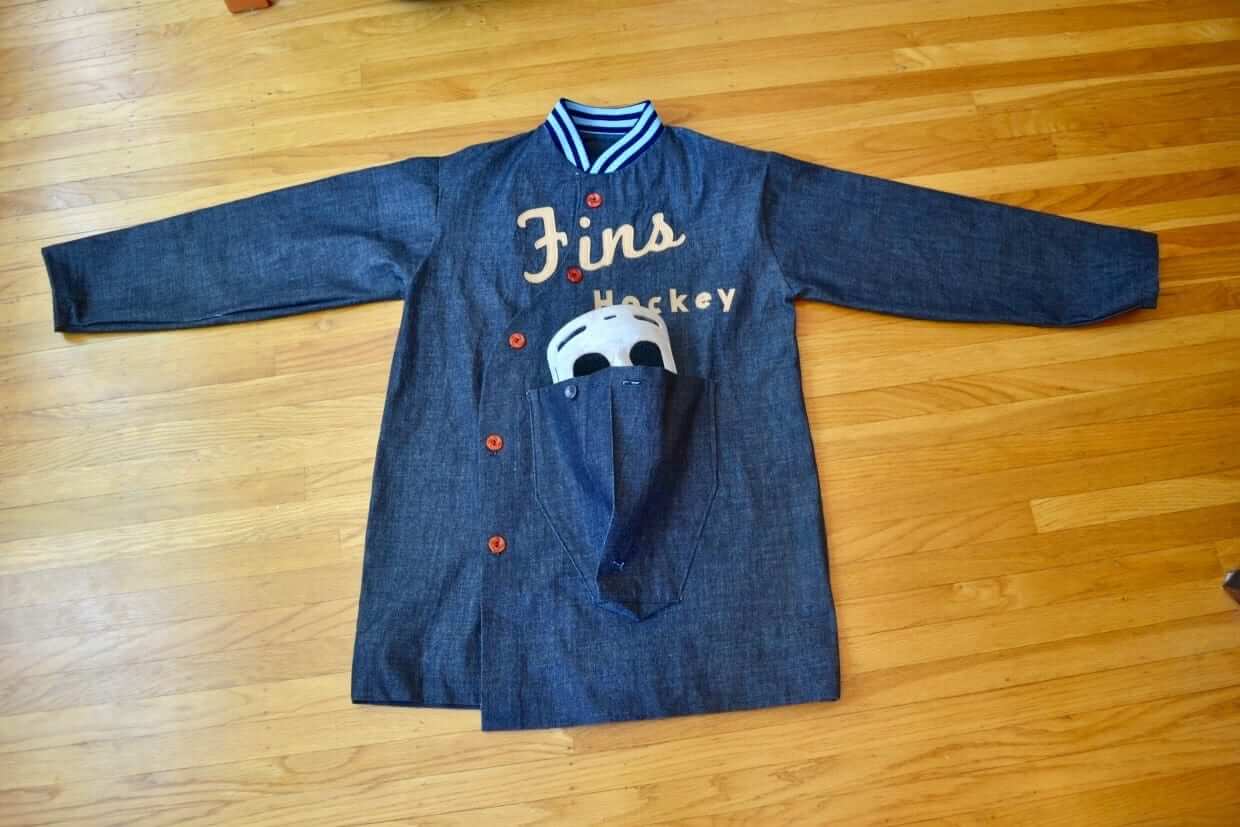 Click to enlarge
Too good for the Ticker: The pseudonymous DIY genius known as Wafflebored has done it again, this time created a hockey jacket with its own goalie mask pocket. Get the full story on this one here.
•  •  •  •  •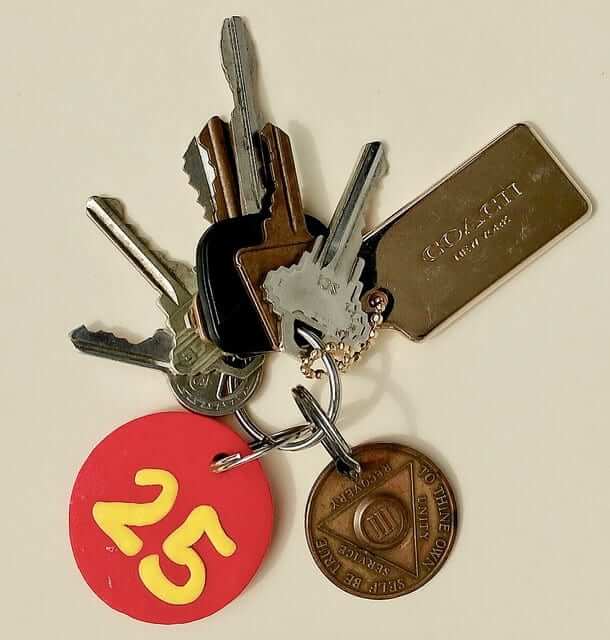 KRC update: The latest installment of Key Ring Chronicles is about a pair of sobriety tokens — a metal one with the Roman numeral III and a DIY plastic one with the number 25. Check it out here.
•  •  •  •  •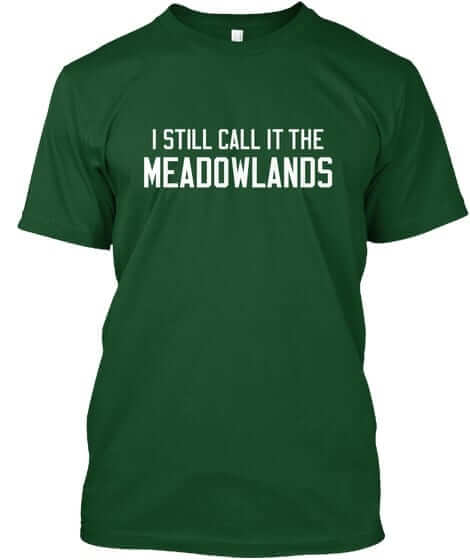 Naming Wrongs reminder: In case you missed it yesterday, we released a slew of new Naming Wrongs shirts (including the Meadowlands design shown at right). Get the full scoop here, or just go straight to the Naming Wrongs online shop.
•  •  •  •  •
The Ticker
By Mike Chamernik

Baseball News: The Dodgers have been quietly attempting to sell the naming rights to their field, although not to the stadium itself, so the resulting naming would be "[Advertiser] Field at Dodger Stadium" (from David Raglin). … Astros DH Carlos Beltran hasn't played the outfield since May, so his teammates wore black and held a funeral for his glove out in center field before last night's game. … Cardinals P Carlos Martinez is missing his top two buttons. Jonathan Karberg surmises that Velcro or hidden buttons are keeping the jersey together. … "Oven mitt" sliding gloves have become increasingly common among the game's top baserunners. The one worn by the Royals' Whit Merrifield has small metal rods to protect his left hand and prevent jammed or broken fingers (from Brad Reissig). … MLB is taking legal action against Overwatch League, an eSports league, because its logo is very similar to the MLB logo. Of course, lots of leagues have copied the MLB logo format, so it's a bit odd that this is the one time MLB decided to litigate. … MLB switched to Majestic Flex Base jerseys in 2016, but Cardinals catcher Yadier Molina still wears the full weight knit (from Bill Henderson). … The Round Rock Express will be having a Fauxback Weekend on Aug. 4-5. They'll wear this cap and the powder blue jersey shown at top-right here (from Joey Friedman). … MLB ump Dan Bellino, who was working last night's Mariners/Astros game, appeared to have a Batman T-shirt under his jersey last night (from Ian Hill). … Here's a Japanese high school catcher who wears a padded face guard in addition to his regular catcher's mask (from Jeremy Brahm).

NFL News: Outside of the Pro Football Hall of Fame in Canton, Ohio, the electric company uses a set of goal posts as a transmission tower (from James Gilbert). … The Lions will wear throwbacks on Thanksgiving, and will have grey Color Rush unis for a Saturday game — not a Thursday-night game — in December (from Mike Thompson). … Alan Sankey found a few old NFL pennants with "The" before the city name.

College & High School Football News: Not the best photo, but it looks like Navy has new uniforms. The Midshipmen ditched the gold collar, and moved the stripes from the chest to the shoulder and the TV numbers from the shoulder to the sleeve. Here's what they wore last year (from Seamus McNally). … For the Lobster Bowl, an annual high school all-star game in Maine, players wear their own helmets with additional decals of other schools participating in the game as well. Here are a few more photos (from Jacob Paulette). … USC has updated its jersey template, although their basic design is staying the same. … New uniforms for Marshall. … Here's how the new Schutt F7 helmet looks with Michigan and Miami decals.

Hockey News: The Red Wings' new arena will have a 5,100-square-foot center-hung scoreboard, the largest in the league (from Eric Romain). … A few former Gophers are not thrilled that Minnesota sold the naming rights to Mariucci Arena (from Ebin Sandler).

NBA News: A Sixers fan is selling a full-size Joel Embiid balloon figurine. … Repeated from the hockey section: The new arena for the Pistons and Red Wings will have a 5,100-square-foot center-hung scoreboard (from Eric Romain). … A Thunder beat writer said during an online chat session that the team is scrapping its orange "sunset" uni and adding two alternates.

Grab Bag: Here's the logo evolution for Johnnie Walker, the Scotch brand. … LSU's new lazy river at the school's campus pool is shaped like the school's initials. … Both the LPGA and the U.S. House of Representatives have been criticized recently for their strict dress code policies regarding women golfers and reporters, respectively (from Tom Turner).
•  •  •  •  •

What Paul did last night: I'm a big fan of the British indie band Ultimate Painting, so my friend Shane and I went to see them last night in Central Park, where they were opening for Yo La Tengo.
They were great (I'm a sucker for that whole Velvets/Luna/Feelies thing). But from an aesthetic standpoint, take a look at the video clip I shot, shown above. As you can see, guitarists James Hoare, on the left, and Jack Cooper both wear their guitars a bit high — especially Cooper. For some reason I've always found this style to look a bit pinched and uncomfortable, and last night I found that it was making me uncomfortable. I don't mean it as a criticism — obviously, they should wear their instruments however they want. But something about it felt a bit uptight, instead of free and easy.
This feeling was thrown into higher relief when Hoare and Cooper came onstage to join Yo La Tengo for the finale of YLT's set. YLT guitarist Ira Kaplan and bassist James McNew both wear their instruments pretty low-slung, and the contrast between their look and Hoare and Cooper's look was pretty funny (click to enlarge):
Anyway: Both bands were excellent (I've seen YLT dozens of times over the past 30 years and this was one of the better sets I've seen them play), the price was right (the show was part of the free Summerstage series), and there were these high school girls in front of me who were sharing what appeared to be the first joint of their lives, which was pretty hilarious. All in all, a very good night.