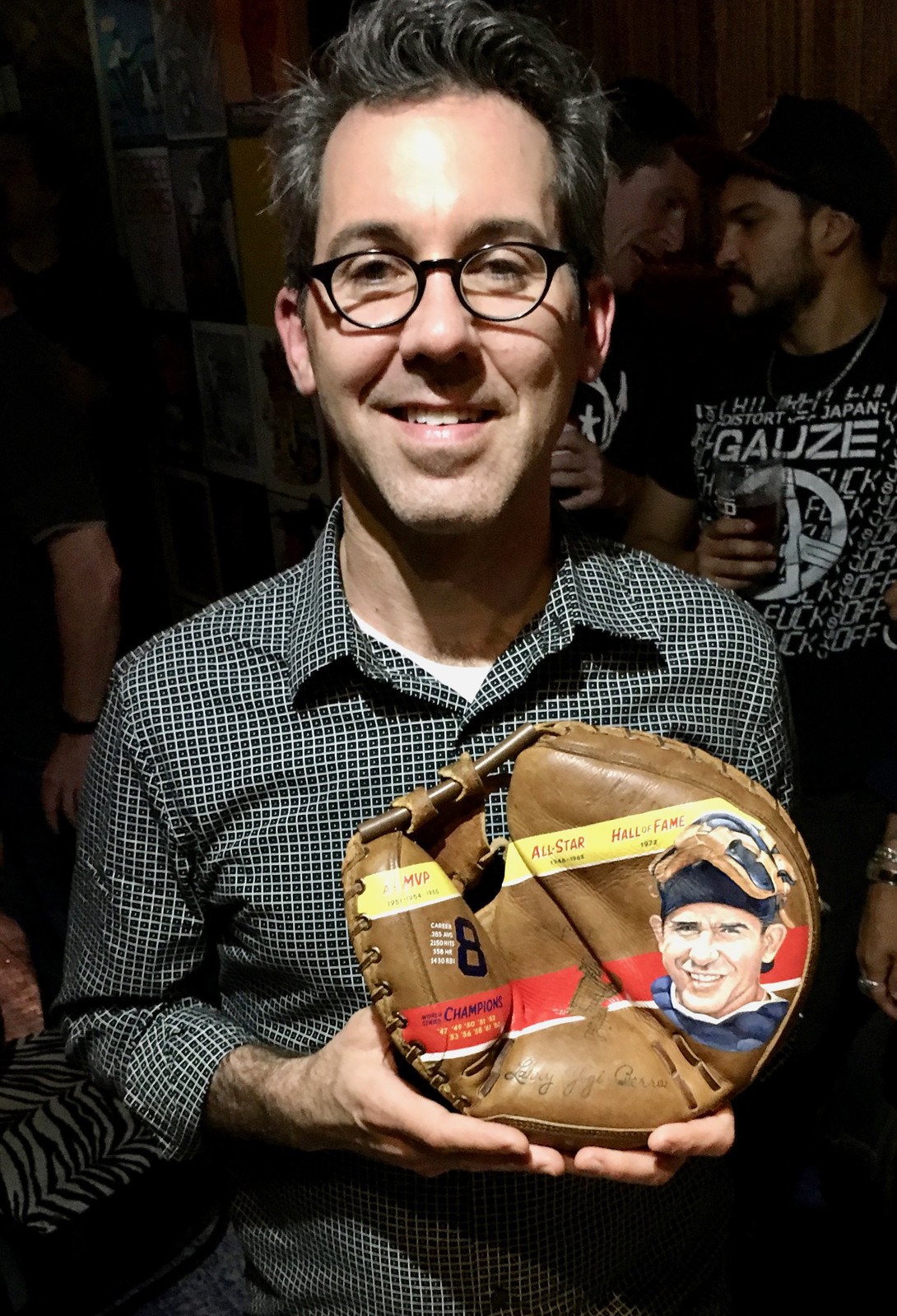 For all photos, click to enlarge
The annual SABR convention is currently underway, and this year it's in New York. I'm not attending, but lots of Uni Watch readers are (hi, Elena!), including the great Sean Kane. In case you don't recognize Sean's name, he's the guy who does awesome paintings on vintage baseball gloves. He joined me last night at Susquehanna Industrial Tool and Die Co.'s monthly show and brought along a swell Yogi Berra glove for show and tell. Here's a closer look at the glove:
How great is that? I particularly like how Sean interrupted the stripe across the center so the little illustration of the catcher was left untouched, and I continue to be amazed by his lettering, which is of near-typographic quality. Tremendous stuff.
Hanging out with Sean was the highlight of my night. But a close second was an appearance by her royal majesty Daisy the Chicken Queen (don't ask), who hopped up onstage between songs to present a birthday cake to one of the audience members:
At first I thought Daisy's jacket was just, you know, colorful. But upon closer inspection, I discovered that it was actually covered in Kwik Loks (or as they're more commonly known, bread tags):
Longtime readers may recall that I wrote a story about the eternal tug of war between Kwik Loks and twist-ties for BusinessWeek back in 2013, so I was particularly enthralled by Daisy's jacket, which she made herself. So cool!
•  •  •  •  •
ESPN reminder: In case you missed it yesterday, my latest ESPN piece features 10 things you might not know about the Astros' classic rainbow uniforms. Check it out here.
Naming Wrongs reminder: We've made adjustments to the wording of the Murph and Ted shirts, and have also added several new Rose Garden shirts (in addition to the ones we already had). Get the full scoop here, or just go straight to the Naming Wrongs shop.
•  •  •  •  •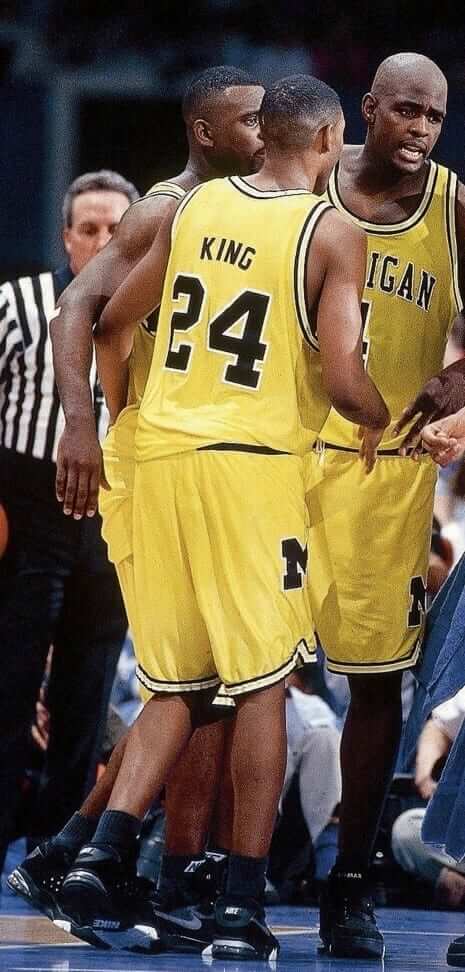 Research query: I'm trying to compile a list of players or groups of players who were uniform renegades or just eccentrics. The Fab Five and their black socks (shown at right) would be a good example. Others would include Joe Namath's white shoes, LC Greenwood's yellow shoes, Brooks Robinson's truncated helmet brim, Frank Robinson's stirrup extensions, Pedro Martinez's slit sleeves, David Price's squatchee-free cap, Manny Ramirez's baggy pants, George Hendrick's low-cuffed pants, Hunter Pence's high-cuffed pants, Ezekiel Elliott's crop-top jersey, and a lot more.
As you can see, some of these involve making modifications to the uniform, while others involve adding accessories. Some were influential and others were just limited to the one player. Some involve players that are currently active and some are from decades past. I'm interested in as many of these as we can come up with. Feel free to post them in today's comments. Thanks.
•  •  •  •  •
The Ticker
By Paul

'Skins Watch: Back in 1963-64, there was a minor league hockey team whose logo showed a savage Indian marauder. The ironic thing is that the team was called the Denver Invaders (good one from CityBuffPete). … As had been expected last week's Supreme Court decision allowing trademarks to be granted to potentially offensive terms means the 'Skins will retain their trademark rights.

Baseball News: The Yankees' roster currently includes four players named Tyler. That prompted a really fun piece by longtime Uni Watch pal Tyler Kepner. … Unusual to see a tequila sunrise motif on a road grey uni (from Stan Capp). … This is pretty awesome: The Potomac Nationals are giving away a Tommy John surgery statue thingie (from @VictoryCB). … Lederhosen-style jerseys next weekend for the Bismarck Larks (from Jordan Oster). … D-backs SS Ketel Marte came to bat yesterday with the size sticker still on his throwback batting helmet.

NFL News: Here's a really good investigative piece about that ongoing scandal involving game-used Giants gear and Eli Manning. It's long but really well-written, and it provides a good look at all the corruption in the modern memorabilia scene. Highly recommended reading (from Tommy Turner). … Check out this shot from a 1959 Cardinals/Rams preseason game. Looks like Ram No. 58 has a white outline on his numbers while his teammates do not. According to the mighty Gridiron Uniform Database, the Rams used the outlined numbers in 1957 and the 1958 preseason, but not at all in 1959. So assuming the date of the photo is accurate (always a bit of a leap with Getty photos), No. 58 was probably wearing an old jersey carried over from 1957 (good spot by Eric Bangeman).

College Football News: New uniforms for Lamar. … New uniforms for Monmouth (from Mark Mohrman). … The tequila sunrise look even extended to the Georgia Tech cheerleaders back in 1979. … In case you couldn't figure out UNLV's new logo, they've diagrammed it for you.

Hockey News: The official puck of the IIHF Inline Hockey World Championship is pretty weird-looking (from John Muir). … Speaking of the inline tourney, Slovenia appears to be wearing something akin to Cooperalls (from Bob Addison). … Whoa, check out the amazing jersey worn by the Minnesota State Mavericks in the early 1980s! (Big thanks to Paul Allan.) … New uniforms for the Knoxville Ice Bears (from Mike Campos). … Players at the Penguins' prospect camp were wearing Reebok practice jerseys yesterday. … Here's a good look at the Vegas home and road uniforms together (from Patrick Thomas).

Basketball News: The Mavericks will have a darker shade of blue this fall. … The Knicks misspelled Frank Ntilikina's NOB on his first practice jersey with the team — possibly because they reused an old Jeremy Lin jersey. … New floor in the works for the University of Jamestown (from Greg Enkers).

Grab Bag: Beginning tomorrow, hunters in Virginia will be permitted to wear blaze pink vests (from Gregory Koch). … The Team Sky cycling team is using NOBs, which is atypical for cycling (from Ted Taylor). … You can now own a mock turtleneck similar to the ones Steve Jobs wore for a mere $270 (blame Brinke). … The PGA website has a version of apparel tracking called "The Style Insider" (from Rex Henry). … I still call it the Tappan Zee.
•  •  •  •  •
The Independence Day weekend unofficially begins this afternoon for many people. If you're traveling, travel safe. And for our Canadian readers, happy Canada Day! Phil will be here tomorrow and Sunday, as usual, and I'll be back on Monday. See you then.