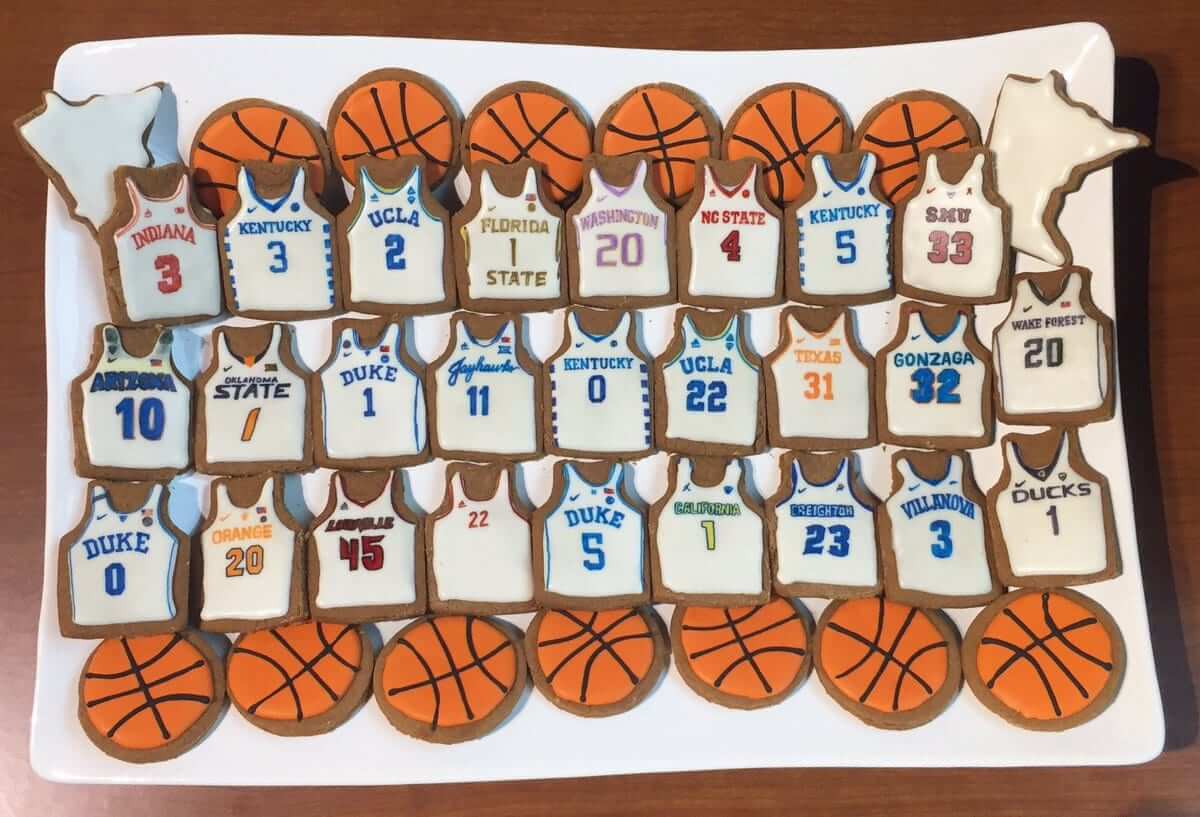 Click to enlarge
The Timberwolves have never had good uniforms, but they do have one of the best uni-related rituals in all of sports: Each year they mark the day of the NBA draft by preparing draft prospect jersey cookies. How cool is that? The maker's marks are a bit depressing, but I guess you have to give them points for accuracy.
(Big thanks to Jared Hensch for this one.)
•  •  •  •  •
Odd couple: On the left is rapper/actor Ice Cube. On the right, uniform designer/historian Todd Radom (in a photo taken recently by his daughter, Hannah Radom). My latest ESPN column, which will post today, is about how these two gents teamed up to create the uniforms and logos for BIG3, the new 3-on-3 basketball league that's debuting this Sunday. Check it out here, and then I'll have a follow-up blog piece next week with a lot of additional background info from Todd.
And speaking of ESPN stuff, in case you missed it yesterday, here's my piece on five takeaways from the NHL/Adidas unveiling.
•  •  •  •  •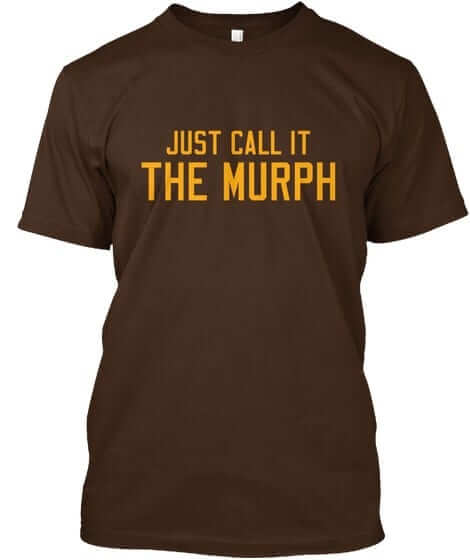 Just give me all your money already: In case you missed it yesterday, there's a lot of new Uni Watch-related merch currently available, as follows:
•  Four new Naming Wrongs designs have just launched (including the Murph design shown at right; click to enlarge). You can see all of the new designs here, you can read more about them here, and you can order them in the Naming Wrongs shop. (They're also cross-listed in the Uni Watch shop, where card-carrying Uni Watch members can get 15% off. If you don't already have the discount code, get in touch and I'll hook you up.)
•  The third batch of StripeRite socks is now available. Most of the designs from the first and second batches are available as well.
•  With Independence Day fast approaching, this would be a swell time to order the Uni Watch stars and stripes T-shirt. But in order to get the shirt in time for the holiday, you'll have to choose rush shipping, which costs an extra $7. (For those of you who ordered this shirt yesterday, I think it will arrive in time for the holiday even with normal shipping. Fingers crossed.)
Okay, end of sales pitch. My thanks, as always, for your consideration.
•  •  •  •  •
The Ticker
By Paul


'Skins Watch: In light of this week's Supreme Court decision overturning the ban on trademarks for offensive terms, which was widely viewed as a win for the 'Skins, the New York Times editorial board, which had previously opposed granting of trademark status to the 'Skins, now supports it (from Tommy Turner).

Baseball News: New bat knob decals for Twins INF Ehire Adrianza. … The Montgomery Biscuits have a new cap with a wraparound biscuit design. Not bad, but nothing can match the anthropomorphized biscuit. … Poutine-themed jerseys this Saturday for the New Hampshire Fisher Cats (from Tris Wykes). … The White Sox will retire Mark Buehrle's No. 56 on Saturday. Fans will receive a commemorative pin with this logo. … This is pretty cool: The old Hale America "Health" patch, which was worn on MLB jerseys in the early 1940s, is now being featured on a cap (from @civil_standard). … Great little video clip about the origins of the Cardinals' birds on the bat insignia. … Our own Phil Hecken is featured in this excellent podcast by the Hall of Very Good crew — don't miss.

Pro Football News: The Calgary Fire Department donated a custom-painted Calgary firefighters helmet to be awarded to the CFL's Calgary Stampeders' special teams player of the game following wins (from Wade Heidt). … The Ravens hung a motivational sign from the goalpost of their practice facility (from Andrew Cosentino). … Cris Routh spotted the Dolphins using mismatched "2" numerals for two games in 1988: against the Bucs on Oct. 30 and against the Browns on Dec. 12. In that second shot, the 7s are mismatched as well. … For reasons that aren't clear, Steelers WR Antonio Brown was spotted working out in a Panthers helmet. … The CFL's Montreal Alouettes have two interesting anniversary decals on their helmets: Canada 150th and Montreal 375th. Halftime performers last night wore jerseys with No. 375 for the Montreal anniversary. … NFL officiating note: The head linesman will now be called the down judge. The designation on the back of the jersey will be "DJ" (from Mike Wilson).

Hockey News: Here's something I hadn't remembered: At one point the Florida Panthers' gloves were supposed to have claws (from Moe Khan). … Gotta love a hockey uniform that references Naragansett beer and Jaws simultaneously (from Joel Mathwig). … The Stars will retire Jere Lehtinen's No. 26 on Nov. 24 (thanks, Mike).

NBA News: The Bucks' D-League G-League affiliate, the Wisconsin Herd, officially unveiled their logo set, although there wasn't much drama because the primary mark had already leaked a few days earlier.

Soccer News: A uni-related gaffe on Arsenal's website may have hinted at Alexis Sanchez's departure from the team (from Ted Arnold). … New road kit for Barca. … The LA Galaxy will celebrate LGBTQ Pride Night on Saturday, with rainbow-patterned warm-up tops and corner flag. … Experts have identified the worst jersey in the history of English soccer (from Matthew Solly).

Grab Bag: American Airlines is searching for a new uniform manufacturer following repeated staff complaints about their unis causing various health problems (from Dan Tarrant). … Longtime reader/contributor R. Scott Rogers put his 2017 Purp Walk sticker on his curling broom handle. … The city of Columbia, S.C., is getting ready to choose a new flag design (from @jhlichty).