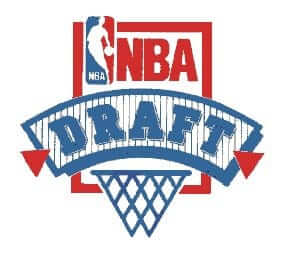 Hi there. Las Vegas was fun (more on that in a minute), but it's good to be back on terra Brooklyna. Got back to Uni Watch HQ at about 9pm. The good news is that since my body was still on Pacific Time, I was able to stay up and watch most of the Mets/Dodgers game; the bad news is that the Mets/Dodgers game wasn't worth watching, at least if you happen to be a Mets fan.
Anyway: The NBA Draft begins tonight. That has led to a bunch of questions from various readers, so let's shift into Q&A mode:
Will the NBA and Nike unveil their new uniforms at the draft?Ӭ
As far as I know, no.
So when the draftees pose for photos while holding up jerseys, they'll be using the old Adidas jerseys?
ӬӬPresumably, yes.
But I thought Nike is taking over for Adidas next season.
Yes. But next season isn't here yet. My understanding (and I'm phrasing it that way because I haven't 100% confirmed it, but I've heard it from more than one source so I'm about 98% sure that it's true) is that Adidas is outfitting the NBA Summer League, which runs through mid-July. In other words, Adidas's contract isn't quite finished yet.
So when will the Nike unveiling take place?
"¨"¨It's not clear. Several different NBA teams have said that their new unis would be revealed "later this summer," but I haven't heard anything more specific than that. And believe me, I've tried to find out, because my secret fear (or is it actually my secret hope? )is that I'll make plans for a summer vacation and then find out that I'll be away on the unveiling date. So I've made a lot of inquiries, but nobody's talking.
The NHL held their unveiling prior to their draft. Why can't the NBA do that too?
"¨"¨As I just explained, Adidas's contract isn't actually finished yet.
Then the NBA should move the draft to a later date, so it takes place after the Nike contract kicks in.Ӭ
Maybe. Or maybe a bunch of staged photo ops featuring overgrown children posing with corporate executives isn't the most important thing about the draft. Or maybe the staged photo ops will work just fine with the current jerseys instead of the Nike jerseys.
———
The draft, incidentally, will be held at the Nets' arena, just down the road from Uni Watch HQ. But I have other plans for tonight, so apologies in advance if I miss any uni-related moments.
Meanwhile, a few thoughts regarding Las Vegas:
• The heat topped out at 117 º on Tuesday, tying the city's all-time record high (and shattering my own record high). Naturally, I stayed indoors as much as possible. But I took seven cab and Lyft rides and inevitably ended up talking about the heat with most of the drivers, all of whom said, more or less, "Yeah, it's hot, but my car can handle it, and it's fine as long as the air-conditioning holds out." One guy added that he has to buy new windshield wipers pretty frequently, because the rubber dry-rots in the Vegas heat.
• My one extended period of being outdoors came on Tuesday morning, when I took a one-hour tour of the Neon Museum, which was pretty excellent. I'll share some photos with you soon. (The temperature at the time was "only" 95 º. The tour guide, who wore one of those safari caps with the flap on the back to protect his neck from the sun, insisted that we all bring a bottle of water, and they also offered us umbrellas. I declined the umbrella and had no problem with the conditions, although a few of my fellow guests peeled off and retreated to the museum lobby midway through the tour.)
•  I didn't gamble at all — in part because I had a busy itinerary and never really had any down time, in part because gambling by myself has never seemed like much fun (I'd rather be doing it with a friend or girlfriend). Also: Over the years I've found that I prefer gambling in non-Vegas settings — in Reno, say, or at Indian casinos, or at small-town "Las Vegas Night" events, or in Canada. There's something interesting about how those places try to mimic Vegas, which for some reason I find more interesting and endearing than Vegas itself.
•  I've been watching the new season of Twin Peaks, much of which takes place in Las Vegas (mostly in residential and office settings, not on the strip), and I was surprised by how much I found myself thinking about that during my time there. I asked a few locals how they felt about the show's portrayal of their city, but none of them had watched it. Usually I'm the one who hasn't watched the TV show that other people are talking about, so it was weird to be on the other end of that equation.
•  I only had one free night to make my own dinner plans, and I had really wanted to eat at Chicago Joe's, which is basically this little house. About the most un-Vegas-y setting imaginable, right? That seemed like it'd be fun and interesting. Unfortunately, they were closed on Mondays. Dang. Maybe next time.
•  •  •  •  •
More NHL stuff: As everyone continues to process all the information that was presented at Tuesday night's NHL/Adidas unveiling, here are a few follow-ups:
•  On my plane ride home yesterday, I wrote an ESPN piece with five major takeaways from the unveiling. It's up now on ESPN.
•  Golden Knights owner Bill Foley has been telling people that the team will wear gold gloves, rather than the white ones that were shown at the unveiling. A few people at the event told me that the team actually went back and forth on the glove color in the days leading up to the unveiling. They also said that gold gloves were difficult to manufacture and might not be possible, which seems odd, but I'm not in the glove making business (yet), so what do I know. For now, I'd say we should all treat the team's glove color as "to be determined."
•  Speaking of the Knights, after they chose goalie Marc-André Fleury in yesterday's expansion draft, the NHL posted a short video of Fleury wearing a Knights jersey. The weird thing is that the jersey includes the NHL centennial patch, which teams wore last season:
Fresh threads for Fleury. #VegasDraft pic.twitter.com/LoKHdpbsQu

— NHL (@NHL) June 22, 2017
That patch, wasn't included on any of the jerseys shown at Tuesday night's unveiling, but all NHL teams began wearing it midway through last season, as soon as the calendar turned to 2017, so it wouldn't be surprising to see them keep using it through Dec. 31. I've asked the league and Adidas about that and will let you know once I hear back from them.
•  Random factoid: One of the most interesting bits of information that emerged from my interviews with Adidas and NHL people came when I was talking with NHL exec Brian Jennings. I mentioned how the NHL logo at the base of the jersey collar was being changed from an embroidered patch to a Chromaflex chip. He said that when he saw the first prototype with the chip, he ran his fingers against the chip's edges and decided they were too sharp, because a player could get cut if an opposing player grabbed his jersey and pushed it up into his face. So the logo chip had to be retooled with smoother edges. What a great bit of uni minutiae!
•  •  •  •  •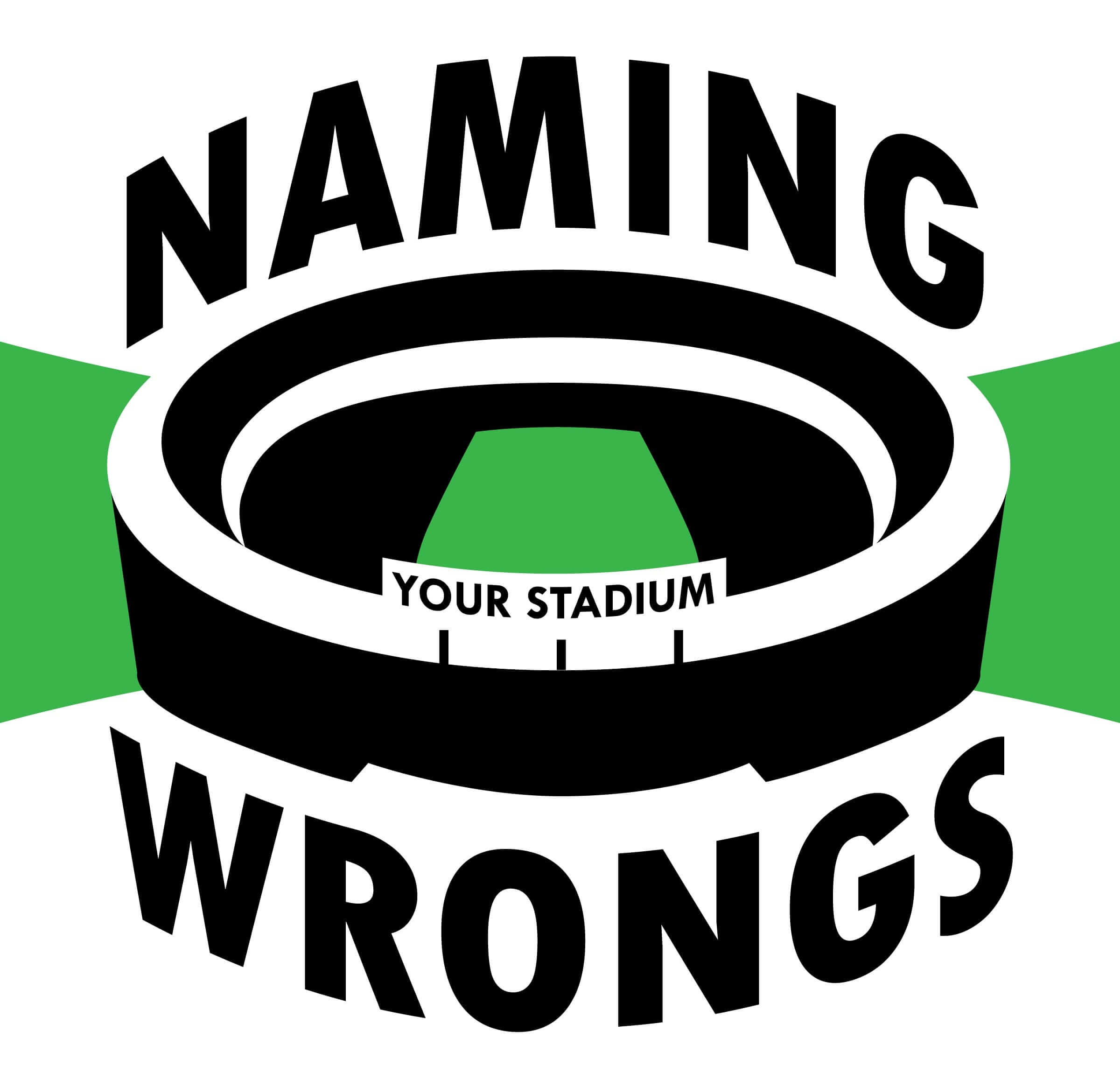 Naming Wrongs update: Scott Turner and I have been working on the next round of Naming Wrongs shirts, and I'm happy to report that four new sets of designs are now available for ordering. Let's go one at a time:
1. The Ralph. Got lots of requests for this one. (Also got requests for Rich Stadium, but we can't do that one because that's a corporate name — sorry.) We're offering four different versions, although I'm assuming the first two will be the most popular (for all of these images, you can click to enlarge):

2. The Rose Garden. Another no-brainer. We decided that this one called for something more than just typography (although we may add a straightforward typographic version if people ask for it):

3. The Murph. This was an interesting one, because Qualcomm's naming rights deal just expired last week, and there's some question regarding what the stadium's new name will be. So we're introducing a new phrase: Instead of "I Still Call It" or "I'm Calling It," this one will have "Just Call It":

4. The Ted. I received quite a few requests from Braves fans who wanted a shirt for Turner Field. "I Still Call it" obviously doesn't work here, and "I'm Calling It" didn't feel right to me either, because the new ballpark is off in the suburbs and has no connection to the Ted. So we once again went with "Just Call It." I'll be interested to hear how that works for everyone.

All of these designs are now available in the Naming Wrongs shop, and are also cross-listed in the Uni Watch shop (where card-carrying Uni Watch members can get 15% off; if you don't already have the discount code, get in touch and I'll hook you up). My thanks to everyone who submitted suggestions and ideas. We'll have more designs soon.
•  •  •  •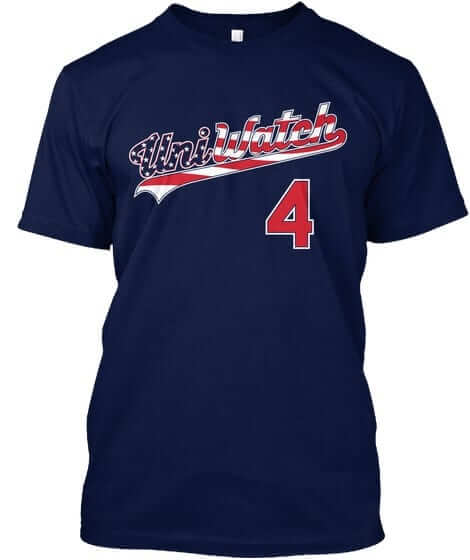 Seasonal suggestion: Independence Day is fast approaching, which means we'll be seeing lots of stars and stripes uniforms throughout the uni-verse (including in MLB, where they plan to have players wear flag-based unis for four consecutive days).
With that in mind, I humbly suggest that you consider the Uni Watch stars/stripes T-shirt for your holiday needs. It has a handsome flag-themed script on the front, and the back design allows you to tell the world what you think of "patriotic" uniforms.
The shirt is available here. My thanks, as always, for your consideration.
•  •  •  •  •
StripeRite reminder: In case you missed it yesterday, I'm extremely happy to announce that the latest batch of StripeRite socks (shown at right; click to enlarge) is now available from American Trench. I really like these designs, and I hope you will too. Supplies are limited, so move fast if you want to get in on these.
And remember, most of the designs from the first and second StripeRite batches are still available as well.
Sorry about all the sales pitches today. Just one of those things where several projects came to fruition at the same time. My thanks, yet again, for your consideration.
•  •  •  •  •
The Ticker
By Mike Chamernik

Baseball News: An opera about Negro League legend Josh Gibson, named The Summer King, recently ran at the Pittsburgh Opera. Though the story is a tragedy (Gibson suffered a brain tumor and died of a stroke at only 35), the production included lots of great old uniforms (from Ted Arnold). … The Mariners' Kyle Seager wore light blue batting gloves on Tuesday night. They were probably left over from Father's Day weekend — or, as @SpoonT12 points out, maybe they were UNC gloves, because Seager is a former Tar Heel. … Cory Fisher picked up some Michigan State stirrups from the university surplus store. … The Diamondbacks gave away team-themed car sun shades earlier this season, and they came in handy yesterday, as temps in Phoenix reached 115 º (from @ASU_Uniformity). … Royals C Salvador Perez hit a grand slam while using Tigers 1B Miguel Cabrera's bat, which was left behind in KC when the Tigers were in town (from Jason Pratt). … Speaking of the Royals, why do some players wear their sunglasses backwards on their caps? In the Royals' case, it's because their minor leaguers are taught never to cover their cap logos.

NFL News: The Broncos used to share Mile High Stadium with the Triple-A Denver Bears baseball club. For the Broncos' 1978 opener, they kept the dirt infield, but put artificial turf over the pitcher's rubber. That comes from this video clip (from Bill Kellick). … Pope Francis tried on a helmet and was given a personalized Papa Francisco jersey yesterday when Jerry Jones, Ronnie Lott, and the Pro Football Hall of Fame delegation made a visit to the Vatican (from Alex and Mary Lynn Delfino). … An October 1975 edition of the Philadelphia Daily News contains a full page on NFL uniforms. The piece includes a story on how Vince Lombardi, through force of personality, changed the Redskins' colors when he took over as coach in 1969 (from @SportsPaperInfo). … Based on metrics including attendance and amounts of social media buzz, a sports analytics professor ranked the popularity of NFL teams (from Douglas Ford). … Former Vikings coach Bud Grant required his teams to wear black shoes. That clip also includes a humorous bit with a Vikings player describing black Converse high-tops as "America's shoe."

College Football News: Illinois is getting rid of their center helmet stripe. Here's last year's helmet for comparison (from Craig Choate). … Arizona will have new uniforms next season (from Phil). … Ball State updated its helmet design (from Adam Maxwell, via Phil). … New argyle gloves for UNC (from James Gilbert). … Toledo announced a new apparel deal with Nike (from Ryan Hercik). … New orange uniforms for Sam Houston State (from Chris Mycoskie). … Remember when Tennessee wore "Smokey Grey" alternates in 2013? The Vols planned on wearing a new version for 2014, but outcry from fans pushed them to scrap the look. The never-worn 2014 unis were sent to a youth football team in Israel (from Mark Smith). … Check out the amazing jersey design worn by the officials in the 1970 Rose Bowl (from Jerry Wolper).

Hockey News: The Red Wings revealed a logo for their inaugural season at Little Ceasar's Arena. No word yet on whether it'll be worn as a jersey patch. Lots of fans on social media immediately pointed out that the swirl at the center of the design looks like the Hurricanes' primary logo. … The Blackhawks' Marian Hossa will indeed miss the 2017-18 season, and possibly beyond, due to a skin disorder exacerbated by his equipment. Hockey players have long suffered from mysterious rashes and skin outbreaks due to their pads and jerseys: The plague was known as the gunk back in the late 1970s and early 1980s. In 1988, the Oilers discovered that the formaldehyde used to prevent mildew and maintain the color of the equipment was to blame. … The Penguins will raise their Stanley Cup banner at their home opener on Oct. 4 against the Blues. … In the wake of the NHL uni unveilings, one observer picked winners and losers based on the teams' redesigns and tweaks. … The NHL draft is tomorrow, and here are the the draft caps (from Nick Lineback). … The Sabres' lace collar looks like a fish skeleton (from Ross Taylor). … The Columbus Burn, a proposed SPHL team, revealed their logo. Having a "Burn" logo in blue reminds me of those color text brain teasers. … An NHL jersey change you may have missed: The Blues' numbers have changed from yellow to white (from Dave Singleton).

NBA News: The Pacers' Lance Stephenson swung a deal with teammate Kevin Seraphin to obtain No. 1. Stephenson, who rejoined Indiana late last season, wore the digit during his first stint with the team. …The Lakers' Kareem Abdul-Jabbar stopped by the Alamo before Game 4 of the 1983 Western Conference Finals against the Spurs in San Antonio. He even signed the guest book (from Jeremy Kendrick). … No photos, but the last two paragraphs of this article indicate that a New York Nets player wore a Miami Floridians practice jersey during a 1969 ABA game after Nets management misplaced his normal uniform (from Jerry Wolper). … Pro wrestler Kassius Ohno likes to wear NBA-inspired ring gear. … The Clippers have come up with a logo variation that's even worse than their regular logo.

Soccer News: Here are the pre-match training top and the match tee for the U.S. Men's team for this summer's Gold Cup (from Conrad Burry). … New home kit for Arsenal (from an unnamed reader). … New home and away kits for Chelsea and Tottenham have leaked (from Charles George). … The NWSL will honor Tony DiCicco with a moment of silence and armbands at this weekend's games. DiCicco, who died of cancer on Monday, was the USWNT coach in 1999, when they won the World Cup. … Manchester United's new home kit has leaked (from Charles George). … New away kit for Inter (from Tim Kraus).

Grab Bag: Here are the liveries for this weekend's IndyCar race, the Kohler Grand Prix Road America (from Tim Dunn). … A scathing inspector general's report indicates that the Pentagon wasted $28 million on the wrong type of camo for uniforms for the Afghan army. Officials opted for a proprietary forest pattern, even though Afghanistan is mostly desert. You can read the full report here (from Trevor Williams and Hugh C. McBride). … This might be the most unlikely connection in the history of connections: Bob Saget and some of his fans think he looks like the Cholula hot sauce mascot. … Rather than "borrow" a pro team's logo, Weiss High School in Austin, Texas, designed its own new logo. Here's the final result (from Clint Loerwald). … A Tennessee sports fan has created a mash-up logo honoring the Titans, Grizzlies, and Predators. Scroll down through the responses to see similar designs for other cities.