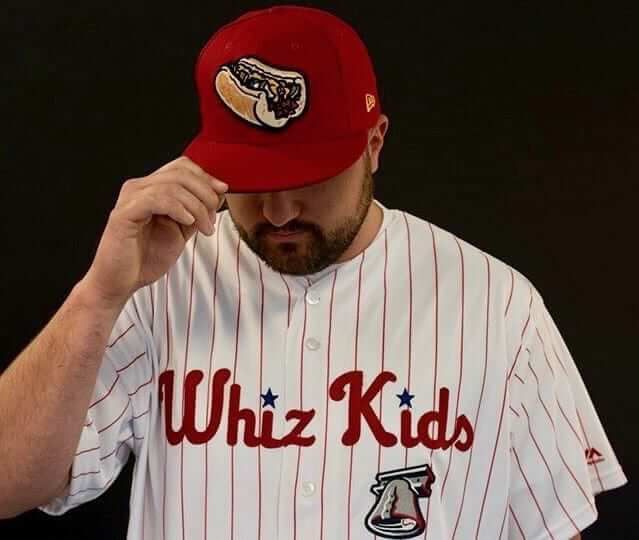 One of the most interesting uni-related developments of recent years is the trend of minor league baseball clubs taking on a new team identity, often based on a local food, for a game or two. The phenomenon began in 2015, when the Fresno Grizzlies became the Fresno Tacos for a day. The move was a hit with fans and the media (and not just in Fresno), so many teams have followed up with similar moves.
Minor league promotions, of course, are full of trends and bandwagons. But as trends go, this is a pretty good one, because each one-day makeover has involved some genuine creativity and imagination — so much better than the boilerplate uniform promotions we've seen so many times (Star Wars Night, Ninja Turtle Night, Hawaiian Shirt Night, yawn), most of which look like the teams are all ordering out of the same catalog.
Granted, some of the executions have been better than others. It's worth noting that the first Fresno Tacos promotion in 2015 was timed to coincide with the city's annual Taco Truck Throwdown event, so it resonated particularly well with the local culture. Some of the other promotions seem uninspired by comparison. Still, anything's better than another R2D2-inspired jersey.
The latest entry in this category comes from the Lehigh Valley IronPigs — the Phillies' Triple-A affiliate — who announced yesterday that they'll rename themselves as the Whiz Kids for their June 29 game against the Pawtucket Red Sox.
"Whiz Kids" is a particularly ingenious name because it (a) pays homage to the Phillies' 1950 pennant-winning squad, which was nicknamed the Whiz Kids because of the team's youth, and (b) references Cheez Whiz, a key element of Philly cheesesteaks. The resulting uniform, with a Phils-themed jersey script and a cheesesteak-emblazoned cap, is brilliant. Here are some additional shots (click to enlarge):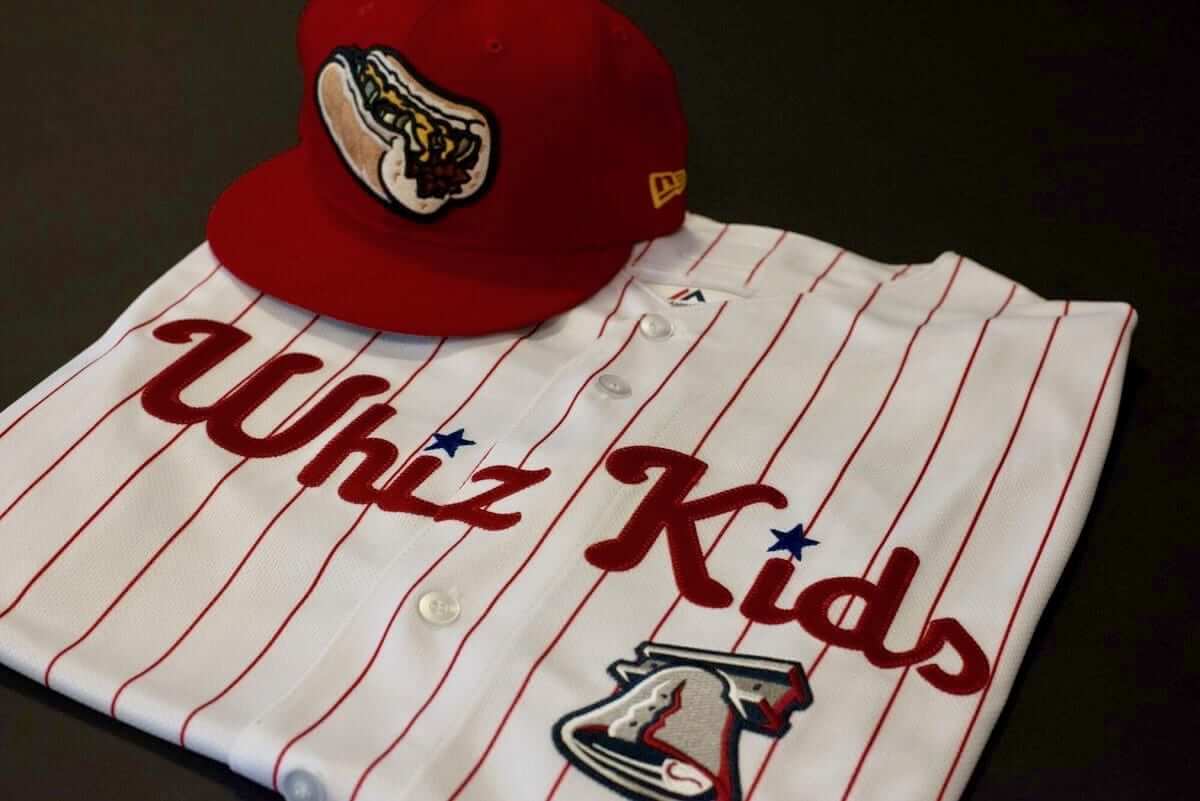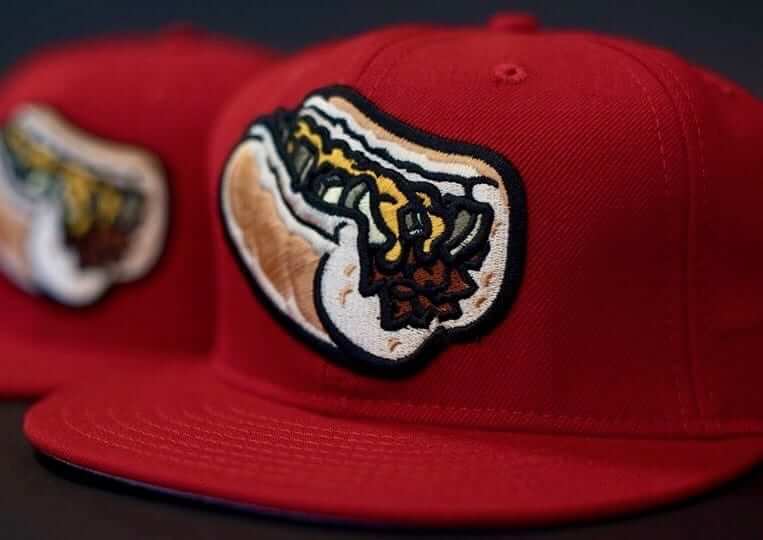 Full disclosure: When it comes to cheesesteaks, I've always been a provolone guy, not Whiz. But this promotion might just be enough to convert me. Nice job all around — kudos to all involved.
How would you all feel if top-level pro teams did this, instead of just minor league teams? What if the Phillies became the Whiz Kids for a day? What if NFL, NBA, and NHL teams got on board?
Personally, I'd be all in favor of that — at least in theory. In practice, I worry that they'd overdo it and mess it up somehow. What do you think?
Meanwhile, here's the the song that the IronPigs should play at the ballpark on the night they become the Whiz Kids. Not holding my breath, but a guy can hope:
•  •  •  •  •
NBA wrap-up: Congrats to the Warriors and their fans on last night's championship and on a near-perfect postseason run. Last night's game was uni-notable in several respects:
•  It was the final NBA game without uniform advertising, which will begin next season.
•  It was the final NBA game without a maker's mark on the uniforms, which will be added next season.
•  It was probably the final NBA game for the foreseeable future with sleeved jerseys, although we still don't know that for sure.
Lots of people have been asking me when Nike will unveil the new uniforms. I had generally assumed that it would be done either prior to or in conjunction with the NBA draft (the draftees will be posing for photos while holding up jerseys, and you don't want them holding the old Adidas product, right?). But the draft is next week and nothing's been announced, so it's pretty obvious that that's not when the uniforms will be revealed.
Moreover, although the regular season is now over, I've heard through the grapevine that the Adidas contract actually runs through the end of the NBA Summer League, which doesn't wrap until July 17. So we're probably still more than a month away from seeing the new uniforms.
•  •  •  •  •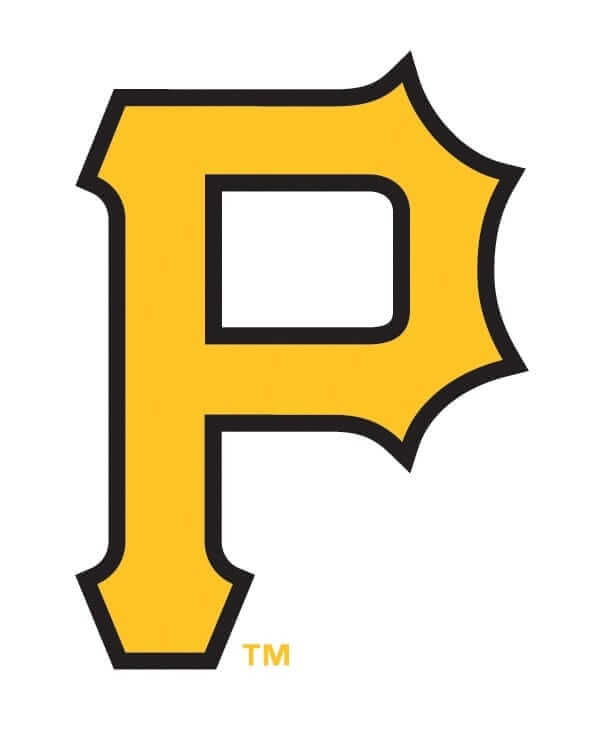 Letter imperfect: The Pirates' primary logo has never felt right to me. There are those pointy spikes (or are they spiky points?) around the bowl of the "P," but then the top-left corner is squared off. The whole thing feels out of balance, at least to me.
Is it possible that someone at MLB agrees with me? Possibly. Take a look at the Buccos' cap for next month's MLB All-Star Game (click to enlarge):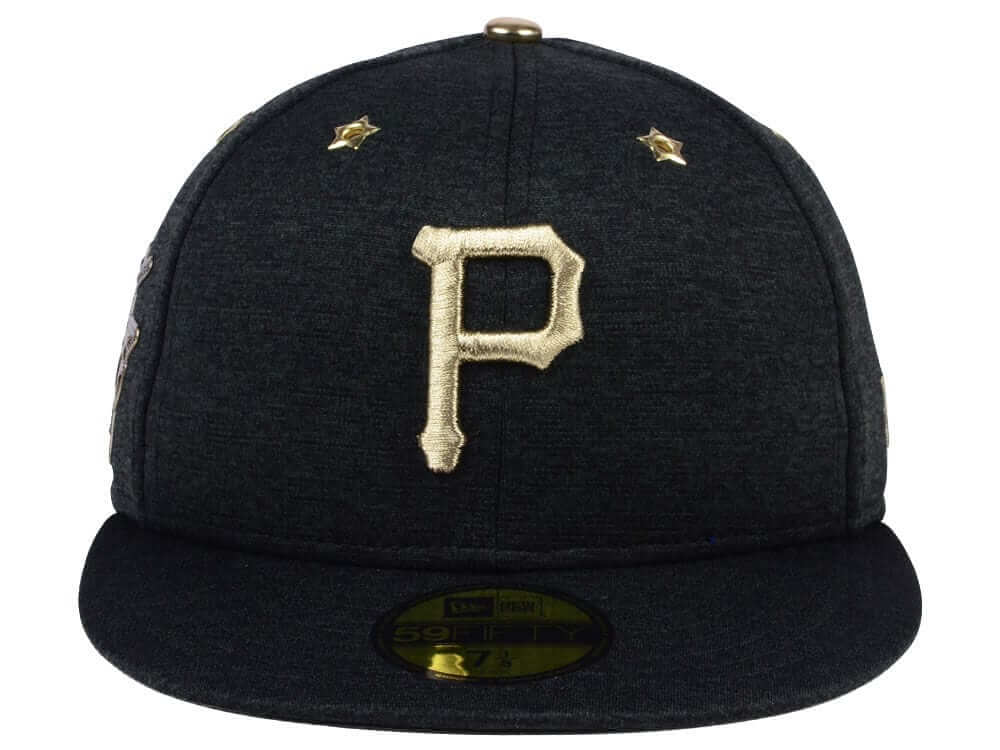 Interesting, right? Here's a side-by-side comparison of the logos on a regular Pirates cap (left) and the All-Star cap: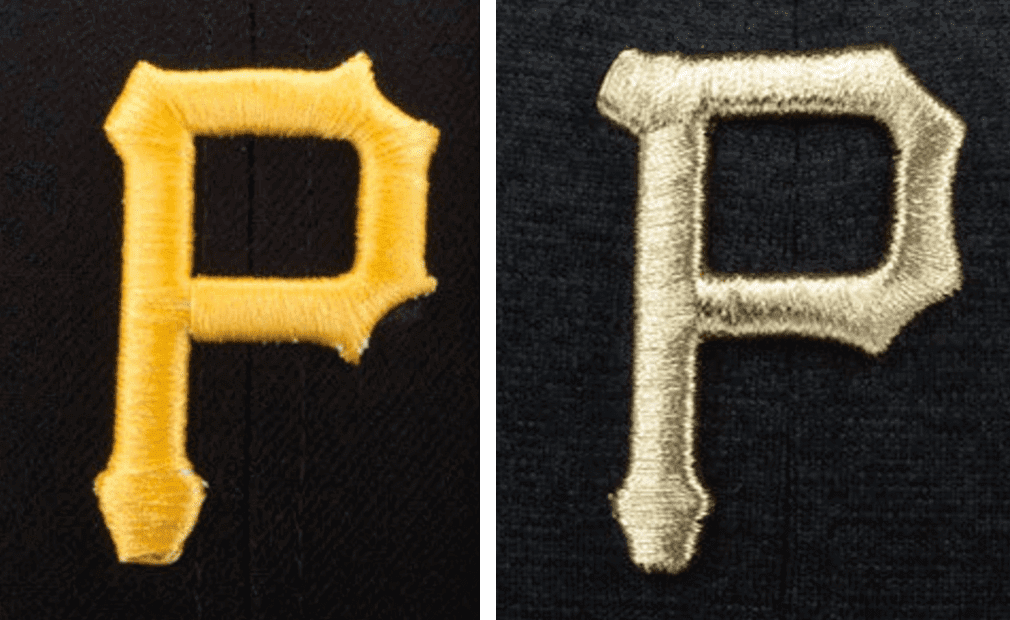 Actually, the version on the regular cap doesn't look so bad when viewed in this embroidered form, because the embroidery softens the extremes of the corner spikes. Still, I think the All-Star version looks better.
Could this be a soft launch for a logo revision? Hmmmm.
(My thanks to @AtomK13 for alerting me to the altered logo on the All-Star cap.)
•  •  •  •  •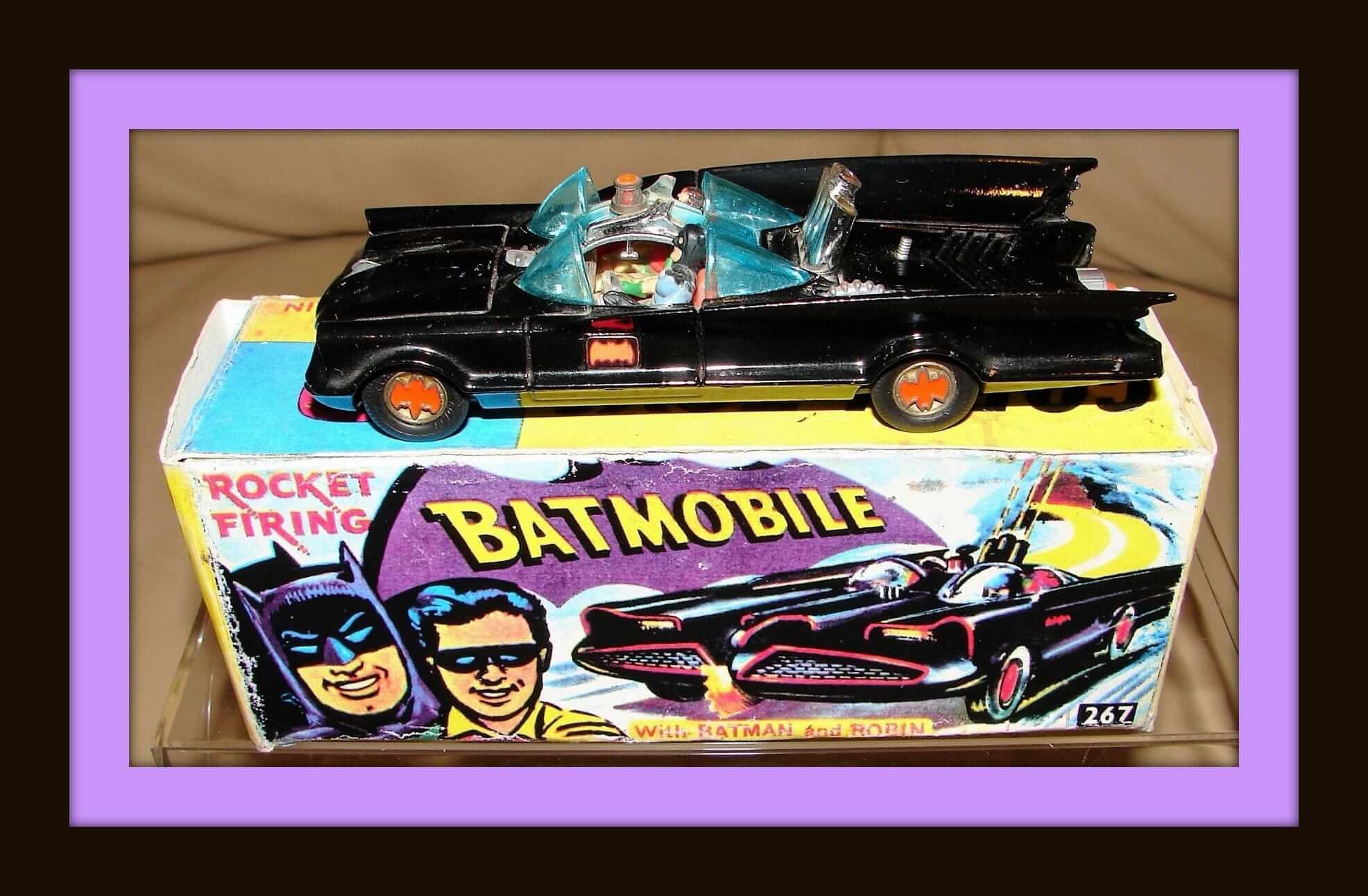 Collector's Corner
ӬBy Brinke Guthrie
Starting off this week's Collector's Corner with a tribute to Adam West. The actor, who died Friday night at the age of 88, was a big part of my growing up. Corgi released this Batmobile back in 1966, and it came with a "Batmobile Owner's Badge" to wear and missiles that would fire out of the "Triple Rocket Tubes." The front end featured a "Chain Slasher Blade," and the rear end included a "Turbine Jet Exhaust." The retail cost for this back in the day couldn't have been more than $5.99 or so; this one's close to $300. Holy Inflation, Batman! I had this one, though I was more of a 007 Aston Martin DB5 guy. RIP, Mr. West.
Now for the rest of this week's picks:
•  With the Golden State Warriors winning their second NBA title in three years last night, they'll be getting another flashy ring. In the 1970s, the team received these Bulova Accutron watches, too.
•  Now this is terrific: a 1966 Packers/Chiefs Super Bowl wall hanging. Check out all the teams! There's one helmet just marked "A." Could that mean "AFL"?
• This glossy 1960s K.C. Chiefs bobble is in perfect condition.
•  Ever seen a set of 1970s Steelers Russian nesting dolls?
• Here's a 1969 mini-poster from the inside label of a can of Hi-C, featuring Bengals quarterback Greg Cook.
•  How about the artwork on this 1960s California Angels pennant. Nice drawing of Angels Stadium and the Big A scoreboard.
•  Way back, Sunbeam bread came with NFL stickers. Which means, naturally, you needed a sticker album to keep them in.
•  The eBay seller calls this a "magnet" and "sticker," but in fact this is one of those nice 1970s enameled NFL team medallions, this time for the New York Football Giants.
•  We've seen plenty of electric football games, but this game, Pro Draft, uses football cards so you can be the GM and build your own team.
•  Check out this Philadelphia Eagles Technigraph plaque — perfect shape.
•  Our unintentional weekly series of 1970s MLB switch plates continues, this time around with the Houston Astros.
•  •  •  •  •
Membership update: Six new designs have been added to the membership card gallery (including Loren Southard's vintage Lakers treatment, shown at right). With one exception, we've finally finished all of the Purple Amnesty Day orders, and that one remaining card — Scott Wedemeyer, it's yours, and you know why it's more of a challenge — should be completed today or tomorrow. I expect the printed/laminated versions of these cards to ship out by the end of the week.
Remember, a Uni Watch membership card now entitles you to 15% off of any of the merchandise in our Teespring shop (if you're an existing member and would like to have the discount code, email me). As always, you can sign up for your own custom-designed card here, you can see all the cards we've designed so far here, and you can see how we produce the cards here.
•  •  •  •  •
The Ticker
By Mike Chamernik

Baseball News: The Cubs' Ben Zobrist usually wears long pants with team-colored shoes and accessories, but he went with a more traditional look on Sunday: black batting gloves and shoes, and stirrups. "He stroked a dinger with the look so I hope he sticks with it," says Steven Luft. … The Chiba Lotte Marines have a new mascot, a bulbous anglerfish (from Ted Arnold). … As we know, the Rays wore their 1970s-themed fauxbacks on Saturday. People who served as "Fan Hosts" at the game were given these T-shirts, which are based on Robert Crumb's "Keep on Truckin'" comic (from Jerry Kulig). … Dalton Wheat of the Single-A Greensboro Grasshoppers is hitting .350 while wearing leather work gloves, instead of regular batting gloves, at the plate. He wears the gloves, which are usually meant for welders, farmers, and the like, because they're thicker than standard batting gloves (from Jason Gray). … While the Mariners wore button-free pullovers on the road in the late 1970s and early 1980s, Willie Horton had a two-button Henley style collar (from Johnny Garfield). … Orioles OF Hyun Soo Kim has a little illustration of himself on his shin guard.

College & High School Football News: National champions Clemson visited the White House yesterday and gave President Trump a jersey. … New field design for Iowa (from Josh Claywell). … New visor for UNC coach Larry Fedora (from James Gilbert). … Speaking of UNC, the school is starting to convert a couple of sections of Kenan Stadium from aluminum benches to plastic seats, painted Carolina blue, of course. It's not clear yet if the school will replace all the seating, since that would reduce the stadium's capacity (from Dan Tarrant). … Jarod Grieco says his friend painted the midfield logo for the Oxford (N.Y.) Blackhawks, a high school team. "He calls it a perspective drawing, as he was commissioned to make it look correct from the stands." … In the mid-1960s, before switching to their familiar UA logo, Auburn had players' uni numbers on their helmets. But, it looks like the school created a prototype with a tiger logo on the sides at the time (from Clint Richardson).

Hockey News: Most NHL teams teased their new Adidas jerseys, including the new Vegas Golden Knights. All 31 teams will unveil their new jerseys on June 20 in Las Vegas. … Predators fans were famous for tossing catfish on the ice during the team's postseason run. In the wake of the Penguins winning the Cup, some Pens fans are twisting the knife by eating raw catfish (from Alex). … The Kansas City Mavericks of the ECHL are holding a design contest for a new logo (from Alex Manners).

NBA News: The Wizards' John Wall sponsors a few AAU programs in his hometown of Raleigh. The teams, both boys and girls, wear Wizards-esque unis (from Robert Anderson). … Speaking of AAU, a team in Cincinnati is named Shining Star. They have unis based off of the carpet pattern from The Shining, the legendary 1980 thriller film. In the movie, though, the carpet was red, orange, and brown (from Glenn Riley). … Here are the uniforms that the 60 teams will wear in this year's The Basketball Tournament.

College Hoops News: Instead of rings, Indiana players were awarded a clock for winning the Big 10 in 1983 (from Darrell Frazier). … In 1974, La Salle brought the wrong uniforms to the Palestra for a game against Villanova. So, the team wore Penn's white unis instead. Penn plays at the arena full-time (from Ryan Kelly).

Soccer News: New home jerseys for Sunderland AFC (from Darren Paul). … New kit fonts for Juventus, who will also wear Scudetto and Coppa Italia patches next year (from Chris Cruz). … Also from Chris: New away kit for Celtic.

Grab Bag: New logo for Amazon Prime (from Brinke). … The Summit League is holding a fan vote to determine the best uniform in the conference.