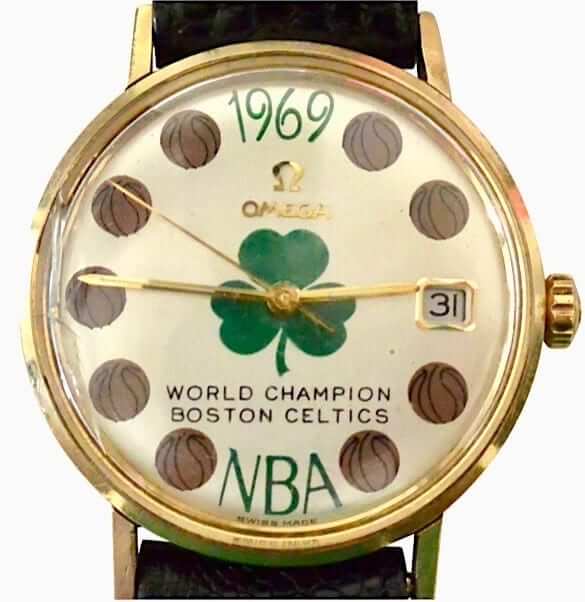 As you may have noticed in the left sidebar, our friends at Grey Flannel Auctions are running another catalog auction. Here are my picks for some of the most interesting items being offered:
•  This 1969 Celtics championship watch (shown at right; click to enlarge) is a real beauty, eh?
•  Speaking of the Celtics, I love the gold yellow-outlined lettering on the front of this beautiful Celtics warm-up top.
•  Here's another Celtics item — a 1983 Kevin McHale jersey. The interesting thing here is that they created the lowercase "c" for his McNOB by cutting an uppercase "C" and removing part of the vertical stroke.
•  Sorry to be so Celtics-centric, but just one more Boston item: this 2008 jersey, back in the days when they were using the snowflake motif on the NBA logo for games on Christmas Day.
•  This 1975-76 Nuggets jersey has something unusual: The NOB was applied on a nameplate, rather than via direct-sewn lettering — uncommon for a pro basketball jersey.
•  Whenever I see a red Sonics alternate jersey, it just doesn't compute. I'll never think of that as a Sonics color.
•  Oh baby, check out the gorgeous crest detailing on this 1955 Maple Leafs jersey.
•  Really like the lettering on these New York Giants trophy footballs. The visual style feels more like something from the 1950s or '60s, not the late 2000s.
•  Here's something interesting: a Saints tearaway jersey. According to the listing, "This is a lightweight cotton tear-away jersey which may have been worn in the preseason necessitated by the excessive heat in New Orleans." Hmmm. It also describes the numbers and NOB lettering as being "painted on." Note also that the NOB has a gap running through it. Weird.
•  Love love love the chest patch on this old Chicago Cardinals jacket.
•  Speaking of NFL jackets, check out this gorgeous Pat Patriot varsity jacket. Tasty!
•  Here's something you don't often see: a 1970s California Sun uniform from the old WFL.
•  You may have seen Ken Griffey Jr. uniforms before, but you probably haven't seen this one, which he wore for Father-Son Day in Cincinnati when he was about five years old!
•  This old Steve Carlton Phillies jersey is Exhibit A for why teams with pinstripes should never use nameplates for their NOBs. I hate how the plate disrupts the pins — grrrrr.
•  We all know that Orioles skipper Earl Weaver famously had a little cigarette pocket sewn into the inside of his jerseys. But according to this listing, Frank Robinson also had the inner cig pouch when he coached for the O's in 1979. I'd never heard that before. Sure enough, you can see the outline of the pouch on his front jersey number.
•  Oooh, look at this magnificent California Angels jacket. Love that giant state-halo logo on the back. Really miss that logo.
Want to see more? You can browse through the entire auction here.
•  •  •  •  •
Click to enlarge
Is nothing sacred? Reader John Chapman recently spotted this soda box design at a Michigan supermarket. Or at least it appears to be a soda box design. If you look closer, it turns out to be cardboard facing meant to simulate a soda box design:
There's something seriously weird about that. Like, if you're going to make a promotional sign, why not make a fancy, pro-looking sign instead of a sign that mimics a soda display? It's also pretty disappointing: Supermarket workers turned commerce into art, and now Pepsi has co-opted that art form and turned it back into commerce. Sigh.
•  •  •  •  •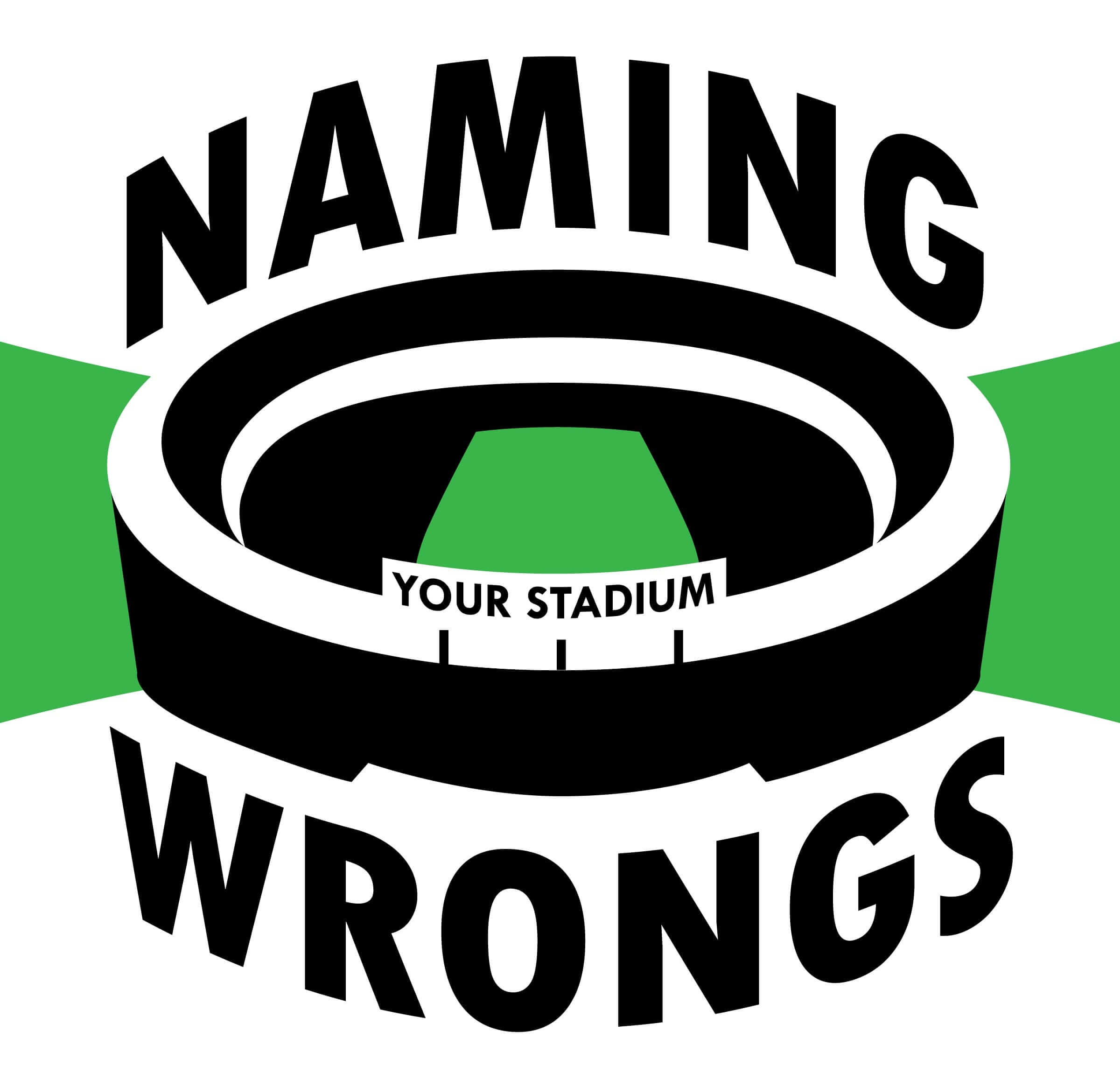 Naming Wrongs reminder: In case you missed it earlier this week, the new incarnation of Naming Wrongs — the T-shirt project that pushes back against corporate-named stadiums and arenas — is now up and running. Full details here, or you can skip the explainer and go straight to our new Naming Wrongs online shop. (Note that it runs for three pages. Some people have told me that they didn't initially notice the little "2" and "3" indicators at the bottom of the first page.)
Question Time reminder: I'm currently accepting submissions for a new round of Question Time. Details here.
•  •  •  •  •
The Ticker
By Paul

'Skins Watch: A new bill being considered in the Massachusetts state legislature would ban Native American mascots from being used by public schools (from Paul Friedmann). … The Canadian legal case seeking to prevent the Indians from using their team name and Wahoo logo in Canada, which was initially derailed last fall, is now moving forward (from Matt Bryce).

Baseball News: Faaaascinating article on how MLBers will sometimes drop their bat in a specific spot in order to interfere with possible plays at the plate (thanks, Mike). … The jersey that Giants P Hunter Strickland was wearing when he recently plunked Nats OF Bryce Harper, setting off a big brawl, was up for auction on MLB's website. Then they pulled it from the site, and now it's back but without any mention of the brawl. Weird (thanks, Brinke). … A restaurant at the Minneapolis airport features an MLB logo made from 3,000 bats (from Benji King). … Teenage Mutant Etc. jerseys this weekend for the Indianapolis Indians. … Yankees P Dellin Betances wore a Jumpman undershirt beneath his jersey last night. … Check out these old photos of A's 1B/DH Deron Johnson, submitted by Tristan Ridgeway. In the shots where he's wearing a green jersey, his NOB is arched while everyone else's is straight. And in in the white jersey photo at bottom center, his 7 has serifs while Mike Andrews's 7, at far-left of the same photo, does not. Did Johnson have his own stitcher? Also: In that same photo with the white jerseys, you can see Billy Conigliaro's "Billy C" nickNOB. Here's a better view of that. His brother Tony wore a similar nickNOB during his time with the Angels.


Pro and College Football News: The Edmonton Eskimos will retire No. 13 for one game Sunday, in honor of the late Larry Highbaugh. QB Mike Reilly, who normally wears No. 13, will wear No. 0 instead (from Moe Khan). … Was Bengals RB Archie Griffin wearing mesh pants? Sure looks that way! Brinke, who found that photo, got in touch with former Bengals LB Reggie Williams, who confirmed that the pants were indeed mesh. "They were comfortable to wear but could rip," Reggie told Brinke. I remember one game, Don Bass had his torn so bad, his butt was exposed, showing only a jock strap." … New cleats for Texas.

Hockey News: A bill is moving through the Connecticut state legislature to allow for Hartford Whalers license plates (thanks, Mike). … Love this old Bauer skates box festooned with NHL team logos. … Coolest jersey ever? Definitely in the running (from Mike Stevens). … New jerseys for the Kootenay Ice.

NBA News: The Bucks' new D-League G-League team in Oshkosh, Wis., will be called the Wisconsin Herd (from Brian Kerhin). … The Pistons are selling some merchandise with secondary logos that I don't think I've seen before (from Mike Cole). … The Pacers' and Spurs' caps for the upcoming NBA draft both provide confirmation of long-rumored secondary logos. … Faaaascinating story about NBA nets, including how they're made, how often they have to be changed, and more. Great stuff (thanks, Brinke).

Soccer News: New home kit for Everton (from Jordan Baker). … Arsenal is looking for a new shirt sponsor advertiser (from Chris Bisbee).

Grab Bag: Pro golfer Cameron Tringale will be wearing camouflage for the FedEx St. Jude Classic (from Drew Stiling). … New graphics for the pit lanes at 24 Hours of Le Mans (from @dmoon). … Sen. James Risch's shirt collar was askew while he was questioning former FBI director James Comey yesterday morning. … Meanwhile, Sen. Dianne Feinstein used the hearings to usher in the return of Seersucker Thursday. … The logo for Microsoft's new Xbox Scorpio may have leaked. … The Summit League — that's a D1 NCAA conference — is running a contest/poll to choose the league's best uniform across all sports. … A graduating high school senior in Indiana who's also a member of the Marines was not allowed to wear his Marines uniform at his graduation ceremony. The school requires graduates to wear the traditional caps and gowns. … I've always been fascinated by the different state highway sign designs. I've often seen them shown in a list format, but I think this is the first time I've seen them shown on a map (big thanks to Jay Mantis). … Justin Bieber says he'll wear pretty much any team's jersey (Brinke again). … Ever wonder why shorts cost almost the same as pants? Here's why. Also, that article quotes the head of a fashion brand called Unis. Who knew? Not me (from Tommy Turner). … Here's more info on Cal's new deal with Under Armour (thanks, Phil). … Just do it: Last month it was reported that a Nike-funded project involving elite runners was shaping up as a doping scandal. Now the other shoe has dropped.