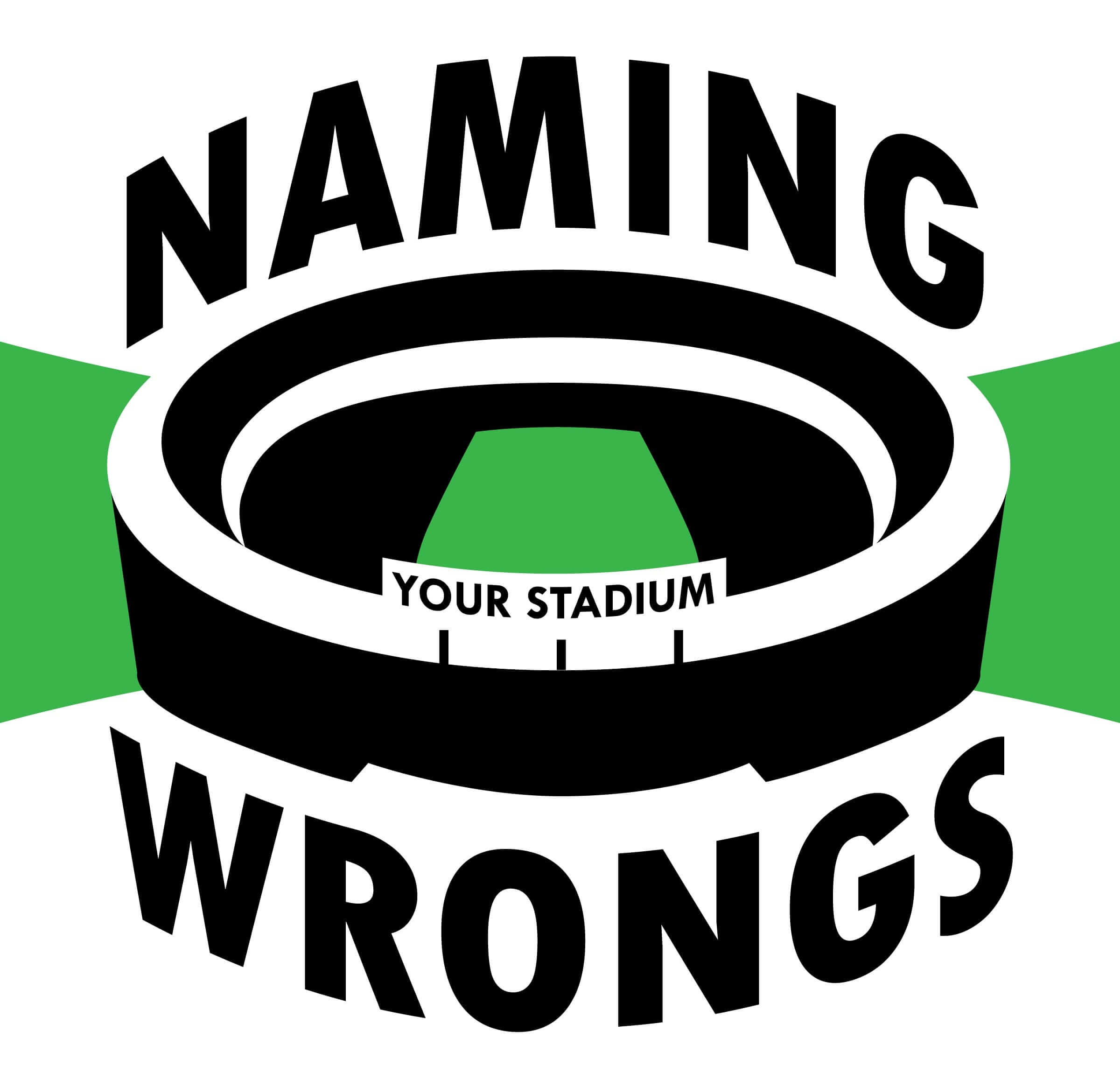 About two weeks ago I announced that I'd soon be reactivating the long-dormant Naming Wrongs T-shirt project, which is devoted to pushing back against the corporate renaming of stadiums and arenas. Today I'm happy to announce that the project has a logo and that our new Naming Wrongs shop is up and running. (Note that there are three pages' worth of listings. Some people have told me that they didn't notice the little "2" and "3" indicators at the bottom of the page at first glance.)
So what are we offering? For starters, as I promised in that earlier post, we've brought back the five original Naming Wrongs shirts, but we've tweaked the typography and added some additional color options. Here are those five designs, in each of their color renditions (for all of these, you can click to enlarge):
We also have three new designs, which I think you'll really like (at least based on the feedback and suggestions we received two weeks ago). The first one is for Skydome:

This one was a no-brainer. It was already the first item on my list when I decided to reactivate Naming Wrongs, and a slew of people requested it two weeks ago. (Some of you also asked for Toronto's familiar split/inlined lettering, but we're not using any custom or proprietary fonts for this project. Sorry.)
Next up: the ballpark called the Ballpark:

This one was a little further down on my list, but we got a lot of requests for it, so I decided to include it in the first batch of new releases.
Our third release is for Detroit's new hockey arena. For this one, I decided to go with three different designs, each of which is available in three different colors. The first one is what I call the preseason design:
I'm referring to this next one as the regular season design:

And this final version is simply called the fist, which was inspired by this sculpture in Detroit:

Not bad, right? There's something conceptually satisfying about the preseason and regular season renditions, and it was fun to experiment with a simple illustration. I'm curious to see how you folks respond.
All of these shirts are now available in our new Naming Wrongs online shop (which, again, runs several pages long). Almost all of the designs are available in short- and long-sleeved versions; the one exception is the Joe Robbie aqua design, because that color isn't available in long sleeves. No sweatshirts or hoodies yet, but I'll add them if there's demand for it. No coffee mugs or other accessories either, but those are easy enough to add, so let me know if there's any appetite for them.
All of the Naming Wrongs items are also cross-listed in the Uni Watch merch shop, which means card-carrying Uni Watch members can get a 15% discount on them (and on all the rest of the merch listed in the Uni Watch shop). If you're already a member and would like to have the discount code, shoot me a note and I'll hook you up. If you're not a member and want to become one, here's how to sign up.
We'll have more new designs soon "" stay tuned.
Major thanks to Scott M.X. Turner for executing the shirt designs, for creating the beautifully simple Naming Wrongs logo, and for dealing with my very picky art direction. My thanks also to the Rev. Vince Anderson for coming up with the whole "I'm calling it…" trope to begin with, and for his continued solidarity with Naming Wrongs.
•  •  •  •  •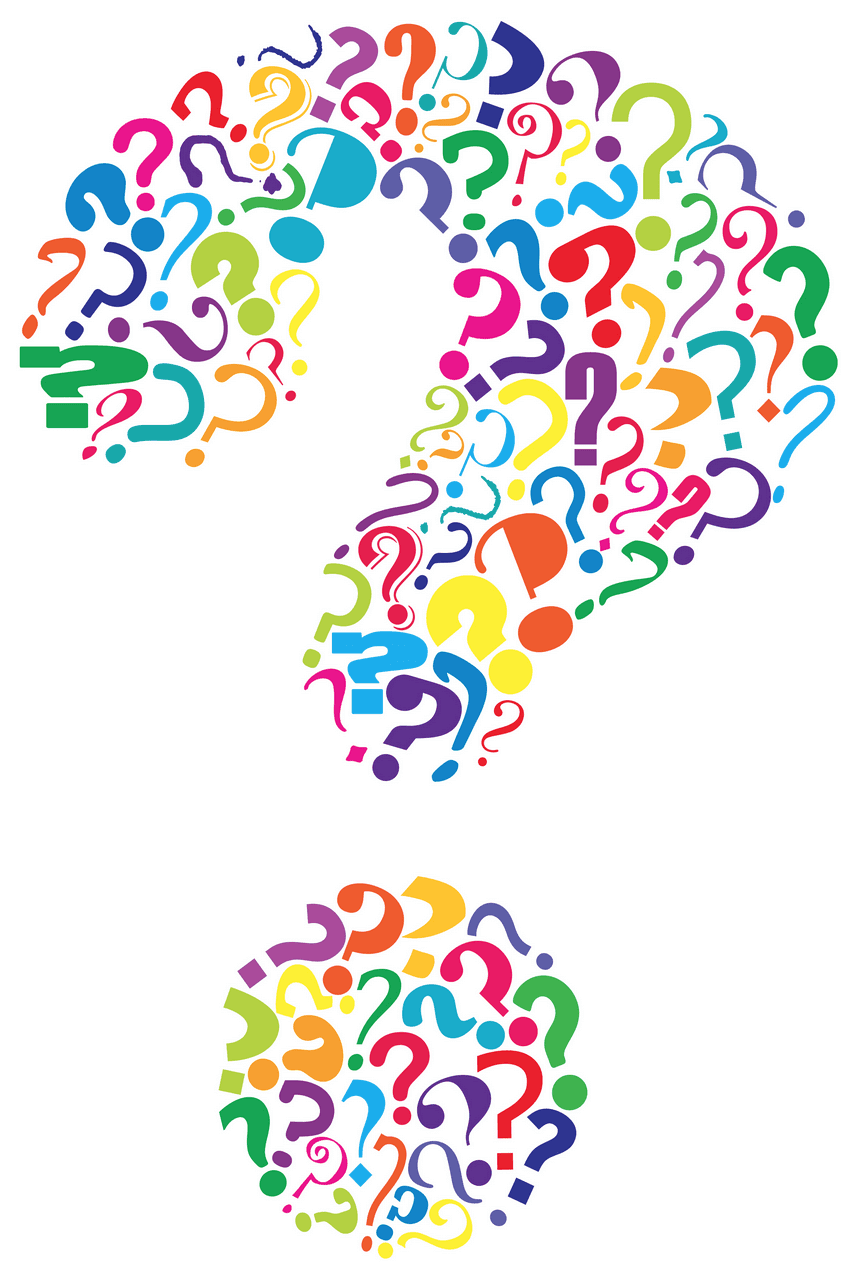 Question Time: It's been over a year since our last installment of Question Time, so l'm opening the floor for new questions. (Please note that this is not the usual Uni Watch email address.)
The ground rules are the same as we've had in the past: You can pretty much ask me anything — uni-related, sports-related, or otherwise. No question is out of bounds, although I may choose to ignore submissions that I consider to be too personal or troll-y.
I'll do my best to respond to as many of the questions as possible in an upcoming blog entry. If you want to see previous installments of Question Time, to get a feel for the things that have already been asked, they're all grouped together here.
Again, send your questions here. One question per person, please. Thanks.
•  •  •  •  •
The Ticker
By Alex Hider

Baseball News:  Scooter Gennett of the Reds made MLB history last night by hitting four homers and racking up 10 RBI against the Cardinals. Unfortunately, he did so in Cincinnati's camo alts. … Cardinals fans who responded to a Twitter poll want the team to return to wearing navy caps on the road full-time (from Mayer Weisel"). … The Phillies will wear '70s throwbacks on July 7 and 9 (from Phil). …  The Rays will revive their blue and yellow fauxbacks for the first game of a doubleheader on Saturday. That design has been worn only once before, for a road game in Chicago in 2014. The doubleheader is MLB's first scheduled twinbill since 2011 (from Mike). …  The D-Backs used last year's Padres logo on their digital lineup cards (from Josh Pearlman). … Rockies P Antonio Senzatela only wears one batting glove — and it's on his top hand, which is also his pitching hand (from Frito Boat). …  When Bobby Bragan became the president of the Texas League in 1969, he planned to have the umpires  wear turtlenecks (from  Jerry Wolper). …  You really can't avoid the New Era logo nowadays … Well, except for on Nats manger Dusty Baker's cap. A quick perusal of Getty Images shows he hasn't worn the logo on the Nats' blue cap since at least mid-April (from DG  and  David Goodfriend). … The Fresno Grizzlies Tacos will wear stars and stripes unis on July 4 (from Mike Oz). …  The New Jersey Jackals of the Can-Am league unveiled  new logos yesterday. … The Kane County Cougars are giving away bobbleheads in the likeness of Christmas Vaction's Cousin Eddie on July 14 as a "Christmas in July" promotion (from Nick Lineback). …  The Ogden Raptors of the Pioneer League — a Dodgers affiliate — have apologized for scheduling a horribly sexist promotion that prompted immediate criticism after it was announced earlier this week.

NFL News:  The Steelers have a new  advertising patch  on their practice jersey for Rivendale Farms, a local farming and food business. The ad replaces the Legendary Entertainment ad patch that the Steelers had worn on their practice jerseys for the past three years (from  Rich Donahue). … This listicle breaks down nine teams that should wear throwback unis full time (from  Phil). … The Browns gave away new football helmets to a local high school "" a school that poached the Carolina Panthers' logo (from  Tony Crespo). … The Bucs' stadium is being turned into a golf course (from Michael Stein).

Hockey News: It's official: The NHL will unveil the new Adidas uniforms — including the Vegas Golden Knights' set — in Las Vegas on June 20. [I'll be flying out to Vegas for that one. "" PL] … Here's a piece that details the  uni changes throughout the history of the Florida Panthers (from  Phil).

NBA and College Basketball News:  This post outlines  some of the changes coming when Nike begins outfitting the NBA next season, and how the new merch will roll out. Buried at the bottom of the article is the news that Nike's takeover will include socks, with players no longer wearing Stance hosiery (from Phil). … Uni Watch readers already know that former Milwaukee Buck (and current TV analyst) Marques Johnson had some pretty interesting NOBs throughout his career. Yesterday we learned that Johnson thought they were "pretty cool" (from Eric Griffith,  Reinis Lācis, and  Mike). …  New uni numbers for Duke (from  Justin Rocke).

Soccer News:  Porn site  RedTube is the kit sponsor for Washington Square FC, an amateur men's team in Massachusetts (from  Mitch). … Cambridge United, whose kit advertiser is a construction company, will wear unis that appear to be modeled after reflective vests often worn by construction workers (from  Trevor Williams). … Also from Trevor: Nagoya Grampus, a second-tier Japanese team, will have  some pretty wild  25th-anniversary kits    next season.

Grab Bag: Once a huge no-no, wearing  high black socks with shorts  is now fashion forward. … For all Auburn fans, here's a comprehensive review of Tiger unis across all sports during the 2016-17 school year (from Clint Richardson). …  Here's what Australia's national volleyball team is wearing.  Jeremy Brahm"  calls it  "Rings of Saturn over Ayer's Rock." …  Le Coq Sportif will take over as the kit supplier for the French national rugby team in 2018, replacing Adidas. … There are few things more  '80s than the dashboard of this 1987 Chevy Astrovan (from  Manzell B). … Interesting piece on the "China girls" of old film reels (from Jon Solomonson). … Here's a look at Australia's greatest One Day International cricket uniforms (from Tim Cutler).