News of the Cavaliers wearing a Goodyear advertising patch next season first began circulating back in early February. More than three months later, the team finally made it official yesterday.
I heard a lot of people saying, "Well, at least it's in a team color, and it fits into the space — not so bad." In other words: Instead of being unacceptable, wrong, and ugly, this patch is just unacceptable and wrong. Zero tolerance! #NoUniAds
The image shown above is a screen shot from a promotional video that the team released. (The ad patch looks shiny due to a special effect in the video.) As of now, that's the only view of the ad patch that we have, because, to my knowledge, no patch-clad jerseys were shown at yesterday's press conference — a very odd omission. There's also been a lot of chatter about the Cavs getting a new uniform design next season, so maybe they didn't want to showcase the outgoing design at the presser. But if that's the case, why show it in the video? Weird.
One interesting tidbit: According to this article, "Goodyear is not the official tire of the NBA (that designation belongs to Kumho), but that category was not protected in this case. Protected sponsors include broadcast partners (ESPN, ABC & Turner), Spalding (the official ball) and Tissot (the official timekeeper)." Ah, corporate theater — such drama.
The Cavs are the sixth team to announce their corporate uniform advertiser for next season. The other five are the 76ers (who'll be wearing a StubHub patch), Kings (Blue Diamond Almonds), Celtics (GE), Nets (Infor), and Jazz (Qualtrics). It remains unclear if the league's two dozen other teams are simply biding their time, or if we'll end up with a situation of some teams participating in the uni-advertising program and other teams opting out of it.
Meanwhile, my ESPN colleague Darren Rovell points out that the Goodyear name and logo have previously appeared on the uniforms of the Akron Wingfoots, a company-sponsored team dating back to 1918. Here some photos from 1937 (you can learn more about the Wingfoots here and here; click photos to slightly enlarge):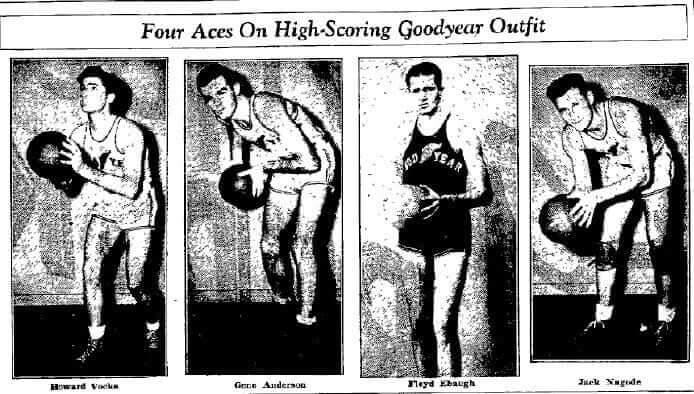 The Wingfoots backstory got reader Bryant Johnston thinking: Given the new Cavs/Goodyear partnership, could the Cavs wear a Wingfoots throwback? Maybe something like this: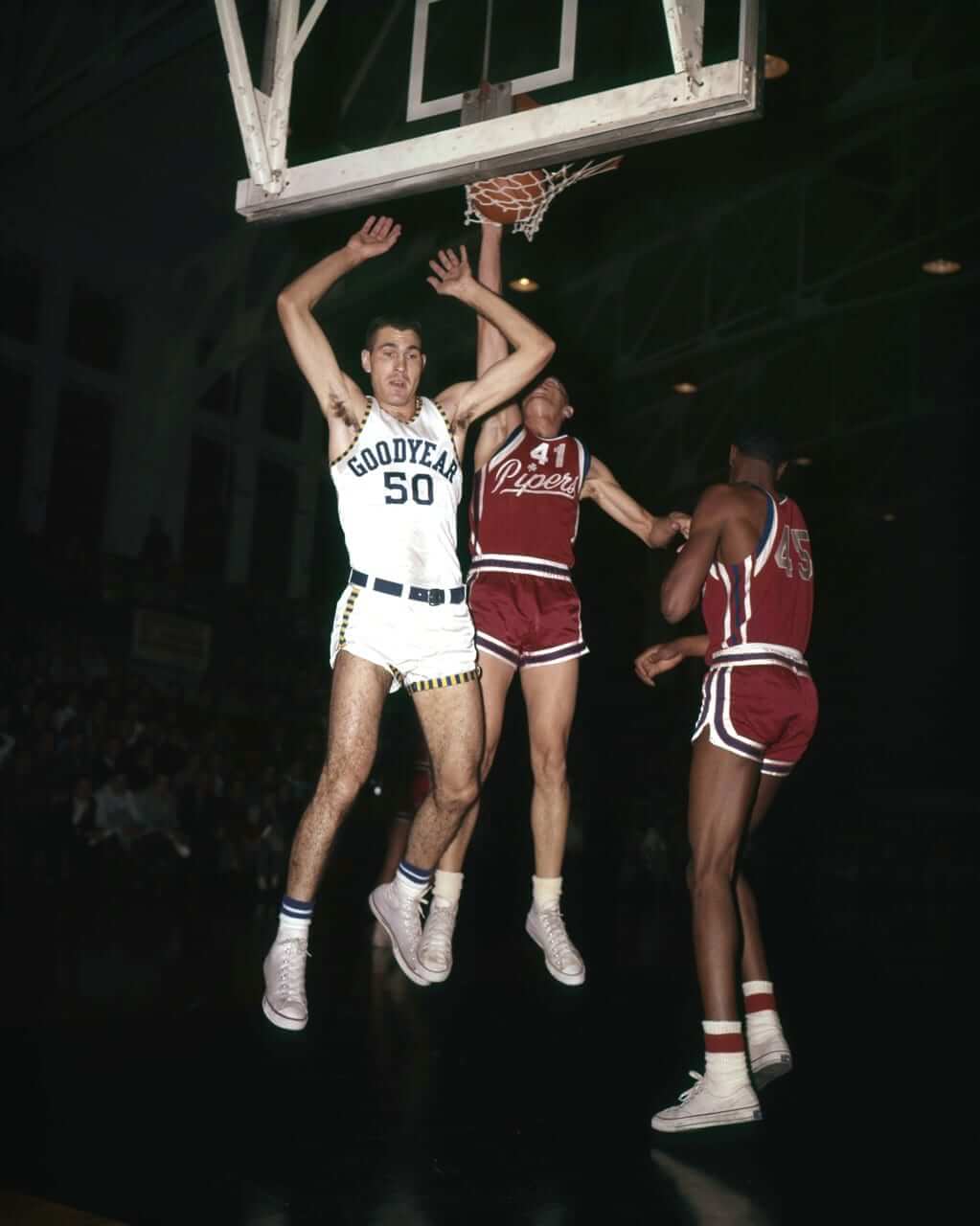 It seems unlikely — until you think about the Pacers' Hickory throwbacks, which are sorta/kinda in the same realm. Hmmmm.
One final item: As you'd expect, the Cavs are using the new advertising partnership to sell a lot of merch. I don't really care about any of that, but this photo caught my eye, if only because the red triangle in the top-left corner of the white box looks a lot like a Nabisco package.
•  •  •  •  •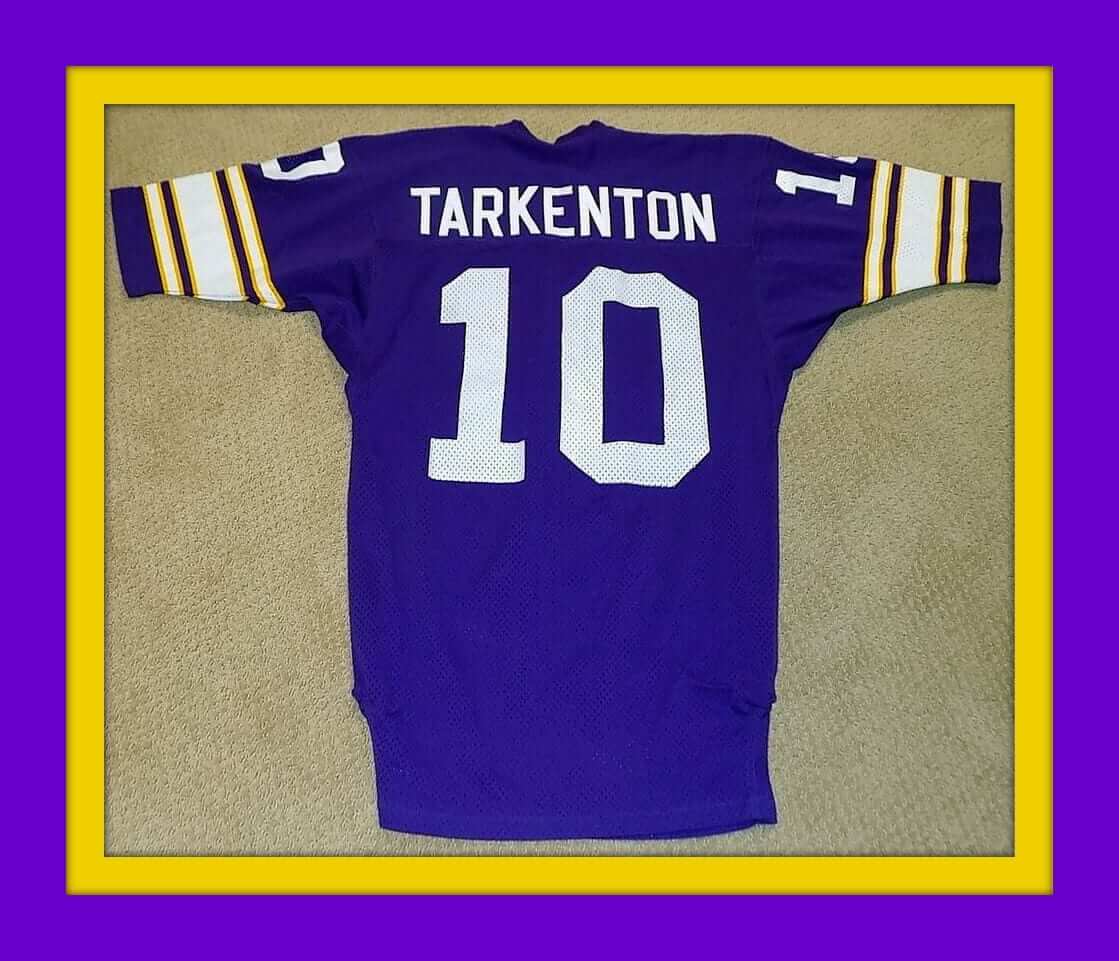 Click to enlarge
Collector's Corner
By Brinke Guthrie
Tomorrow is Purple Amnesty Day, but Collector's Corner always runs on Tuesdays, so we're taking our purple shot now with this Sand-Knit Fran Tarkenton Vikings jersey. The listing doesn't say he wore it, but he better have, considering what they're asking for it! It's not the Mary Tyler Moore design, but still.
Now for the rest of this week's picks:
•  Sticking with NFL authentics, here's a game-worn Philadelphia Eagles sideline jacket, supposedly worn by Philly punter Max Runager.
•  How about this Dallas Cowboys sideline jacket. This sure brings back the memories — saw a number of these on the sidelines while watching the Cowboys.
•  One more game-used item: this "Batman"-style Steelers jersey, a Rawlings item from the Pittsburgh Sports Shop. Worn in 1966 by Jerry Simmons, then they got rid of Jerry and gave No. 25 to Don Shy for 1967. Check out that price tag!
•  KGO Newstalk AM 810 and The San Francisco Examiner sponsored this 1970s 49ers bandana/handkerchief.
•  Check out this state of the art (well, for its time) Electronic Touchdown handheld NFL game from Mattel. As Earl Shores of the Unforgettable Buzz notes, "The 1977 Mattel Electronic Football was, at the time, the top-selling toy of all time. And once Mattel exploded the market with the game, everybody wanted in on the action. Even Tudor Games began selling their own versions of Electronic Football. And of course the Sears model, which Coleco made for Sears. These games were the beginning of Electric Football becoming 'just another toy.'"
•  Nice artwork on this 1960s Kansas City Chiefs poster.
•  Here's the lowest price I've seen in a while for a full set of 1970-1971 Chiquita NFL stickers.
•  Helmet buggy alert! Someone had a bit of trouble putting on those Detroit Lions decals.
•  The Detroit Tigers and IHOP were a great double-play combo. Says so right on this 1970 placemat.
•  Here's another placemat for the following MLB season, no restaurant branding on this one. The "1971 Baseball Guide" has stats from the 1970 season.
•  •  •  •  •
Movie contest reminder: In case you missed it over the weekend, Phil is running a new contest to create an updated design for a jersey featured in a movie. All the details are in this post.
The winning designer will get a custom-sized version of his or her jersey, produced by our friends at Garb Athletic. The deadline is this Thursday, May 18, at midnight Eastern, so get crackin'!
•  •  •  •  •
Purp Walk is almost here: Our annual Purple Amnesty Day begins tonight at midnight Eastern. There's a preview, including a look at this year's Purp Walk shirt (available for only 24 hours, no exceptions) and info on how to get a 10% discount on it, here. Come back to the site at midnight Eastern for all the the purple fun.
•  •  •  •  •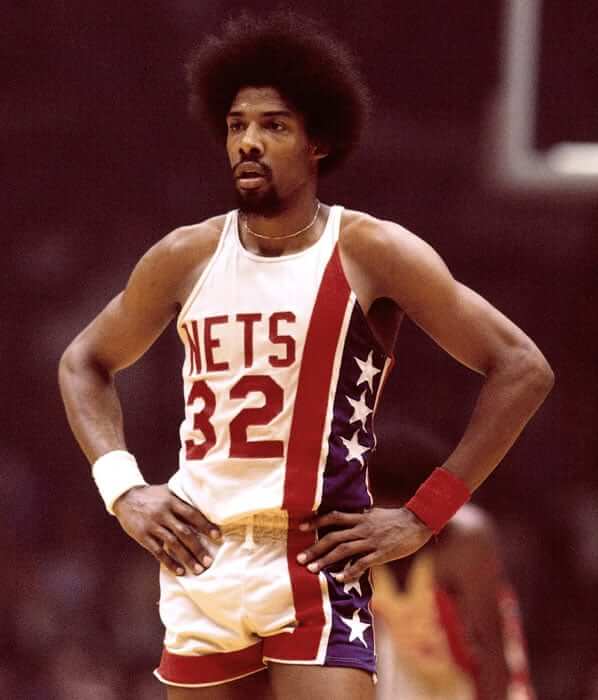 New ESPN column: ESPN is doing a bunch of NBA top-10 lists. My contribution is, of course, a list of the top 10 uniforms in NBA history. Check it out here.
•  •  •  •  •
The Ticker
By Paul, pinch-hitting today for Mike

Baseball News: The Giants and Dodgers wore red ribbons last night for Until There's a Cure, an anti-AIDS support group. The Giants have been doing this promotion annually since 1993 (from Mike Anderson and David Watterson). … Fun fact: In between Babe Ruth leaving the Yankees and his number being retired, several other Yanks wore No. 3. … That last shot also shows the Yanks wearing the McAuliffe number font, now associated with the Red Sox. Lots of teams used to wear it, including the Reds, Dodgers, A's, Angels, and Senators (see player at far left). … Pretty cool throwbacks, complete with long sleeves, for Indiana. … Rays INF Brad Miller was still using a pink bat — and some excellent stirrups — last night (from Cody the Chicken). … Bit of a uni number malfunction last night for Norfolk Tides P Tyler Wilson (from Jordan Pascale). … In yesterday's lede I mentioned that several former Yankees at Derek Jeter's number-retirement ceremony were wearing Yankee Stadium Monument Park blazers, and that former Yank Carlos Beltran brought out Jeter's blazer. What I didn't realize was that the whole idea of having Monument Park blazers came from Beltran.


Pro and College Football News: The 1984 Saints had two FNOBs: Reggie and Rodney Lewis. … Cleveland Indians manager Terry Francona has a personalized Browns jersey hanging in his office. … Little-remembered fact: Due to the 1982 players' strike, the unusual playoff format was referred to as a "Super Bowl Tournament." Further details here (from Bill Kellick). … Man, remember when we used to argue and speculate over the color of the Broncos' early-1962 helmet decal? Nowadays there are lots of photos clearly showing that it was blue. … While looking for something else, I came across this shot of several early-1970s NFL players wearing plain white uniforms with their names on the front, as part of a TV special. … Muskingum, a D3 school, is apparently going with Under Armour jerseys and Nike pants. And really, why not? The design is more important the manufacturer (from @chaser84).

NBA News: While looking for something else, I stumbled upon this old shot of a Sonics player with a blank NOB stripe. Judging by the hair, that looks like Jack Sikma. His normal number was 43, not 25, so maybe that was a blood jersey, which would explain the NNOB. … An NBA columnist says it's time for teams to stop wearing black for "funeral" games, which seems like a lengthy way of saying, "Grow up already" (from Dave Watterson). … Pretty funny observation on where the Hawks may have gotten the inspiration for their uniform fabric.

Soccer News: Lots of new kits, all courtesy of Josh Hinton: Brighton home, Legia Warsaw, Newcastle United home, Everton home, and AC Milan home. … Virginia Tech's head injury lab has been turning its attention to the issue of protective soccer headbands.

Grab Bag: With more and more children questioning their own gender identity, a top private school in London is introducing gender-neutral school uniforms. … New lacrosse helmets for Maryland and Syracuse. … Last night my friend David and I had dinner at a Chinese restaurant in downtown Brooklyn, which had an amusing soup dumpling-themed T-shirt design. … The city of Saluda, N.C., is preparing to copyright its logo. … Agricultural products made in Alaska routinely carry an "Alaska Grown" logo. But that won't be appearing on Alaska-grown marijuana. … Faaaaascinating article on how TV network logos used to be physical objects. Highly recommended. … New uniforms for the men's and women's French volleyball teams, and ditto for Italy (from Jeremy Brahm).