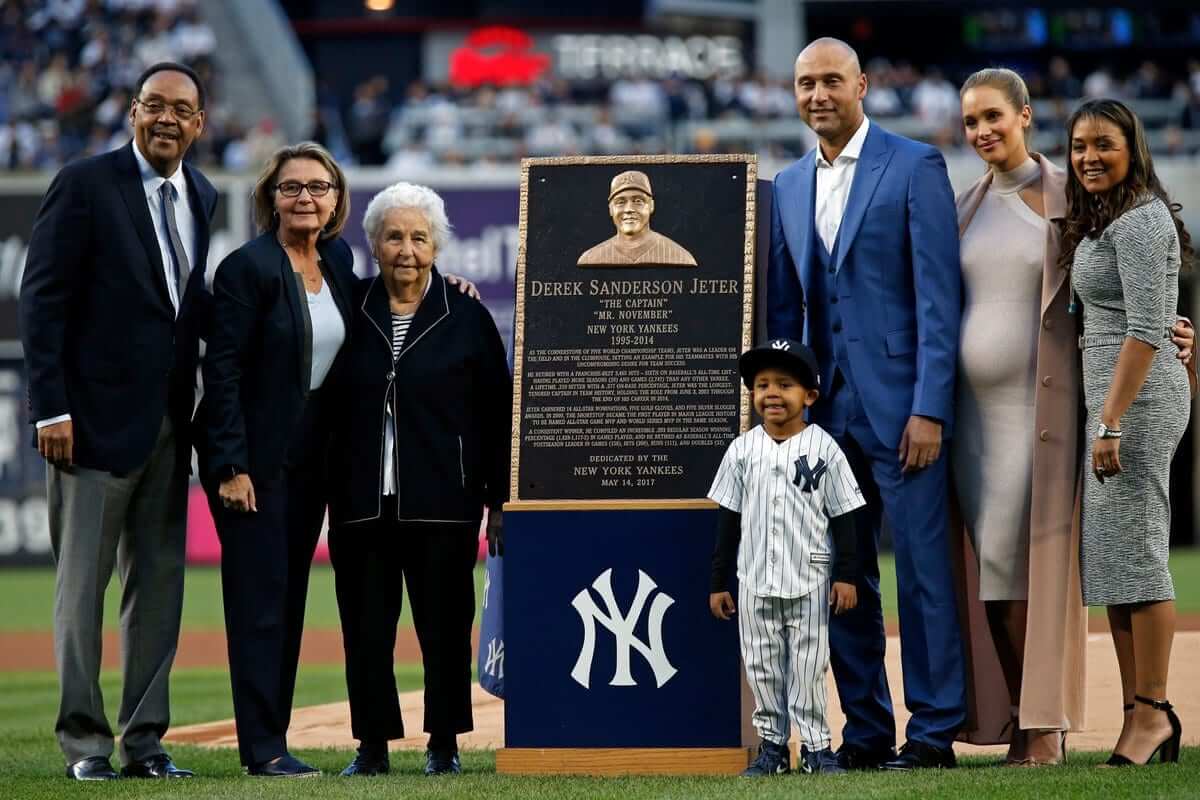 Click to enlarge
For five months now, ever since it was announced that Derek Jeter's number would be retired on Mother's Day, I've been wondering how the Yankees would handle the uniforms. Would they really wear pink instead of their usual timeless uniforms? Would they maybe wear their regular uniforms for the pregame ceremony and then switch to pink for the game? Would they skip the pink altogether and just stick with their normal uniforms?
Things were complicated by the fact that the Yanks had been rained out on Saturday, necessitating a doubleheader yesterday. Unsurprisingly, the Yanks wore pink for the opener (click to enlarge):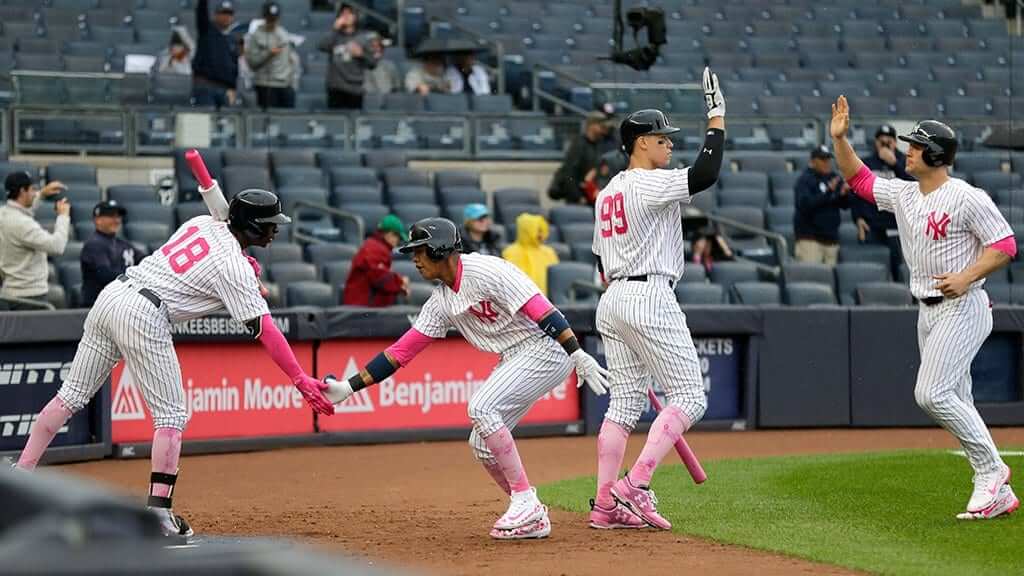 Prior to the second game, they had Jeter's number-retirement ceremony. Most of the participants wore civvies, of course. But Yankees skipper Joe Girardi was part of the proceedings, and he wore the pink cap:
In addition, several current Yankees escorted members of Jeter's family onto the field (and, in one case, brought flowers to Jeter's grandmother), and those players all wore pink:
The one exception was Yankees bench coach Rob Thomson, who apparently didn't want any part of the pink-out:
In another uni-related development, all of the pregame ceremony participants who are represented in Yankee Stadium's Monument Park wore special blazers (click to enlarge):
Jeter's own blazer was brought to him by his former teammate Carlos Beltran, who now plays for the Astros. He came out of the visitors' dugout and presented the blazer to Jeter — while wearing pink:
Honestly, I thought it all looked ridiculous. Is this really the look you want immortalized in time and replayed over and over for years to come? Then again, having the ceremony on Mother's Day was reportedly done at Jeter's request, because he's very close to his mom, so maybe he liked the idea of having the pink backdrop (although that's hard to fathom, given that he retired before the pinkwashed unis became the norm).
Meanwhile, there was one major glitch: The Yanks stenciled Jeter's number onto the grass along the two baselines. Nothing unusual about that, of course. But in a surprising lapse in judgment, they used a non-Yankees font:
Incredibly, it appears that they just used the same stencil they use for the yard markers in the Pinstripe Bowl (click to enlarge):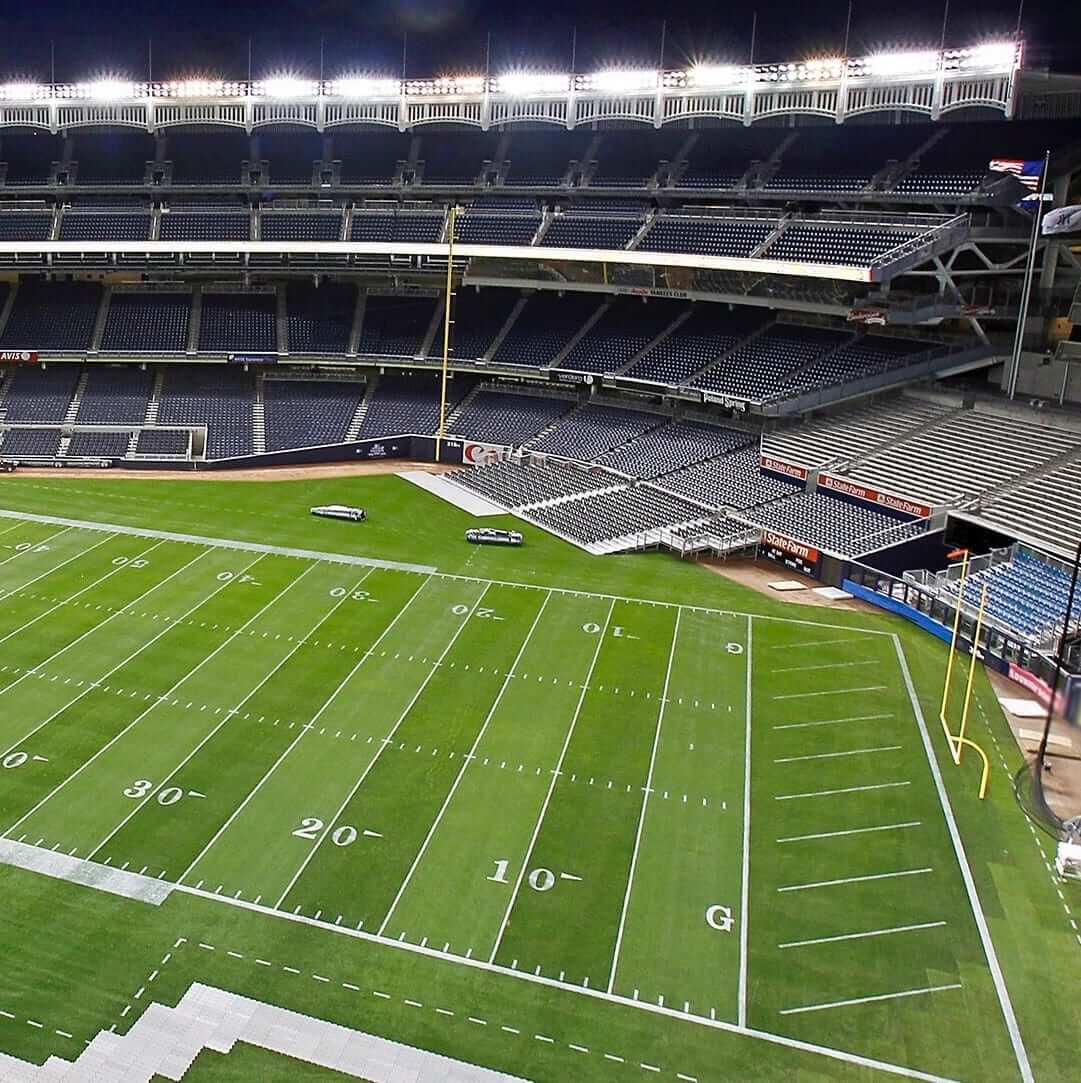 How have they handled this kind of thing in the past? They used the proper font for Mariano Rivera Day in 2013: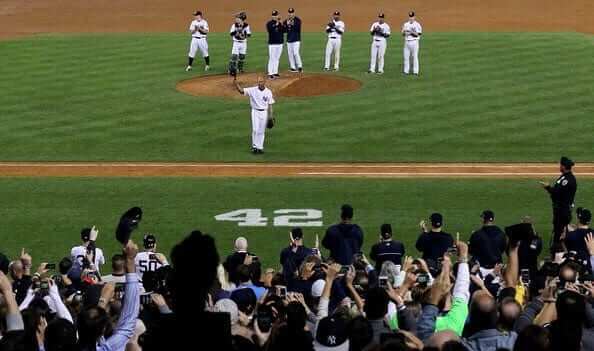 But they used the yard marker font for Jorge Posada's number retirement in 2015, so I guess you could say there's some precedent: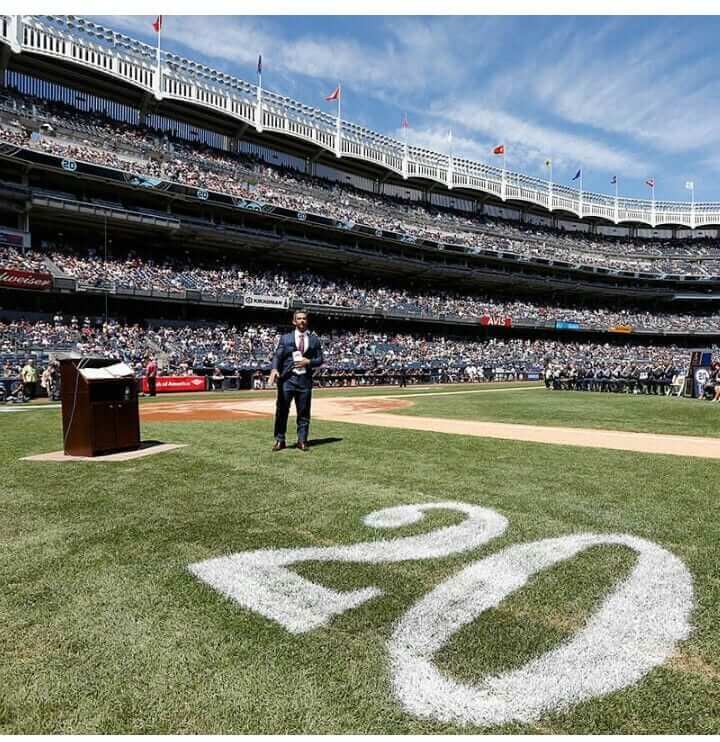 As for the game, the Yanks wore cap and jersey patches commemorating Jeter's big day:
Next up: Memorial Day. Oh boy, can't wait!
(My thanks to Isaac Benjamin, @BobbyTooSlow, @saviddachs, and @Fontophile for their contributions to the number-font discussion.)
•  •  •  •  •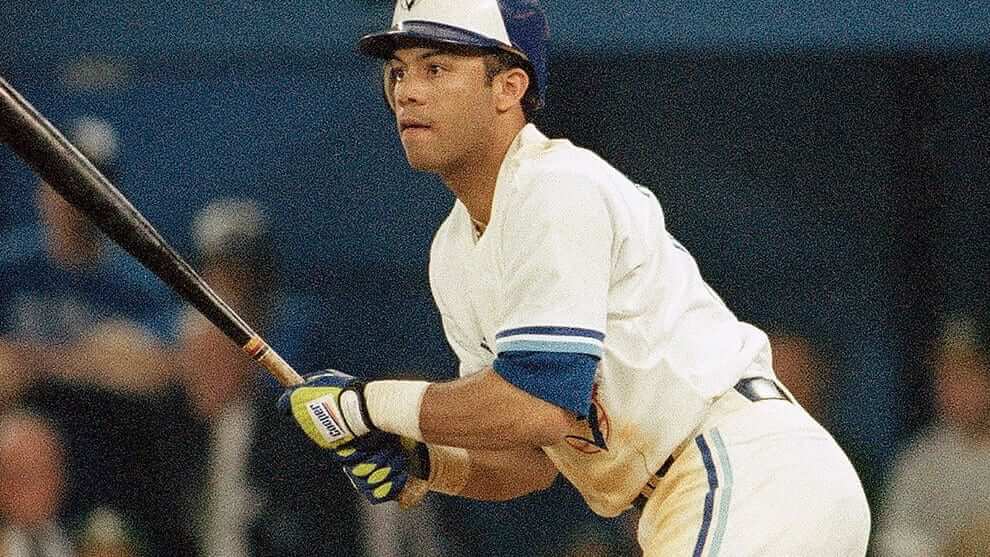 Click to enlarge
First-generation neon: Neon/fluorescent colors are all over the uni-verse these days. But when did they first appear in the Big Four leagues?
Reader John Martin has found one of the earliest examples I've ever seen (see above). That's Robbie Alomar during the 1992 ALCS, wearing neon-trimmed batting gloves. Okay, so maybe it's more lime green than true neon, but it's definitely in the same family. Anyone know of any earlier examples of neon or neon-trimmed gear?
As an aside, those batting gloves were made by Cooper, a brand I typically associate with hockey, not baseball. "It's a company I have only seldom seen used by MLB players, mainly Roger Clemens's glove during his Blue Jays stint," says John. I didn't realize Cooper made baseball gloves. But according to this Wikipedia entry, the company was "Canada's leading producer of leather baseball gloves." Interesting — I had no idea.
Update: Shortly after today's post went up, several readers pointed out that Rickey Henderson was wearing neon-toned batting gloves as early as 1989:
•  •  •  •  •
Membership update: Eight new designs have been added to the membership card gallery (including Jamie MacDonald's late-'90s Hawks treatment, shown at right, which is the latest example of how the worst uniforms make for the best membership cards). The printed and laminated versions of those cards should mail out in a day or two.
Remember, all membership cardholders are now eligible for a 15% discount on everything in our Teespring shop. (If you're a card-carrying member and want the discount code, just email me and I'll send it to you.) You can sign up for your own custom-designed membership card here, you can see all the cards we've designed so far here, and you can see how we produce the cards here.
•  •  •  •  •
Culinary Corner: It rained all day on Saturday, so the Tugboat Captain and I decided to slow-roast a big ol' pork shoulder. We had tried something similar about four months ago, and it was good, but there were a few things we felt we could improve upon, so that's what we set out to do. Here's how we did it (sorry, I didn't take photos of the early stages):
1. The night before, we went to the supermarket and got a pork shoulder that was just shy of 8 pounds. It was only $1.69 per, which means it cost 13 bucks and change — less than a good steak.
2. We took it home and brined it overnight in a mix of water, salt, sugar, rosemary, bay leaves, peppercorns, garlic, onions, and maybe one or two other things I'm forgetting.
3. The next morning, we removed the pork from the brine and patted it dry. Then we prepared a stuffing that consisted of garlic, rosemary, thyme, sage, mustard powder, smoked salt, pepper, and maybe something else, I forget. We cut a bunch of slits in the bottom and sides of the pork shoulder (but not in the skin on top) and filled them with a stuffing. Then we added salt and pepper all over the pork's exterior.
4. We set my oven as low as it would go — 250 º — put the pork in there, and let it cook for eight hours while we did other stuff around the house.
5. After eight hours, the roast's internal temperature was 162 º, and the meat yielded fairly easily when I inserted a fork and twisted it. That meant it was time to take it out of the oven. Here's how it looked (for all of these photos, you can click to enlarge):
6. We cranked up the oven to 500 º. When it was ready, we put the pork back in for 20 minutes, rotating it every 5 minutes. The idea here was to crisp up the skin, and it worked, in somewhat freakish fashion. The skin bubbled up in big crispy warts that looked like something out of science fiction (it almost looked like challah):
Along the way, we had made buttermilk biscuits (from this recipe — recommended), collard greens with a smoked turkey tail, and some gravy. The result was a very satisfying meal, and a great way to turn a rainy day into something fun and delicious:
•  •  •  •  •
Movie contest reminder: In case you missed it over the weekend, Phil is running a new contest to create an updated design for a jersey featured in a movie. All the details are in this post.
The winning designer will get a custom-sized version of his or her jersey, produced by our friends at Garb Athletic. The deadline is this Thursday, May 18, at midnight Eastern, so get crackin'!
•  •  •  •  •
Purp Walk reminder: Our annual Purple Amnesty Day is this Wednesday, May 17, and we have big plans. Get the full scoop, including a look at this year's Purp Walk shirt (available for only 24 hours, no exceptions) and info on how to get a 10% discount on it, here.
•  •  •  •  •
The Ticker
By Alex Hider

Baseball News: Indians OF Daniel Robertson became the first player in franchise history "" outside of  Ricky "Wild Thing" Vaughn "" to wear No. 99 yesterday, while wearing pink Mother's Day unis. He, along with teammate Carlos Santana, wore extremely high socks  (from  Brad Foster).  … Speaking of Mother's Day, couple of things to add from Phil's post on Sunday: The Brewers went the extra mile and wore pink logos on their batting helmets (from Tom Sauve). … The Royals usually raise a white "W" in their stadium after a win. Yesterday, it was pink (from David Westfall). … Cardinals OF  Randal Grichuk had his mother's name (Beverly) on his elbow pad this weekend (from  Tyler Mudd). … The Red Sox wore pants without piping this weekend, except for first baseman Josh Rutledge (from Kevin Vautour). … Several plate umpires wore pink masks yesterday (from Mike Anderson).  … The Dodgers wore their regular blue caps on Saturday but switched to the pink-trimmed caps yesterday. … Keon Broxton had "Angela Bell" written on his eye black this weekend (from Zachary Loesl). … In non-pink news: Contrary to popular opinion, there is one single-digit number the Yankees have not yet retired "" but no player in franchise history has ever worn it. … Max Scherzer wore teammate Gio Gonzalez's helmet yesterday (from Sean Sharkey). …  The Sugarland Skeeters and Lancaster Barnstormers of the Atlantic League went color-on-color (from Stephen Winters). …  Indiana wore pink camo uniforms for Mother's Day (from Zachary James Loesl). … Arkansas wore throwbacks unis yesterday (from  Matt Snyder). …  Scott Rogers spotted a Little Leaguer with an  upside-down 8  on his jersey.

Football News:  Twenty-five NFL teams have reportedly purchased  Vicis Zero1 helmets  for use next season. Some are calling the helmet the "safest football helmet ever," and it recently got the highest rating in an NFL safety test. If you click on that last link, you can see a short video showing how the helmet shell deforms upon impact — pretty wild stuff. Broncos WR Carlos Henderson is among the first players spotted wearing it. …  Is Illinois  removing the triple stripe  from its orange helmets?

Hockey News:  Here's a great New York Times piece about goalie masks and the artists that paint them. … Hockey teams are only supposed to have one captain apiece, but the Seattle Thunderbirds appear to have two (from Curtis Rogers).

Grab Bag:  Adidas reportedly wants to  re-negotiate its apparel contract with AC Milan due to the team's poor performance (from  Ed Zelaski). … Yale lacrosse puts  the flag of each player's home country on their helmets (from  Timmy Westside). … A recent design contest has resulted in New York City getting a new "I voted" sticker, which will make its debut this September. … New uniforms for Japanese men's volleyball (from Jeremy Brahm). … The increasingly high prices for sports collectibles are leading to a rash of thefts. … The U.S. Army's uniform board is considering bringing back the iconic "pinks and greens" uniform (from Eric Keskeys).