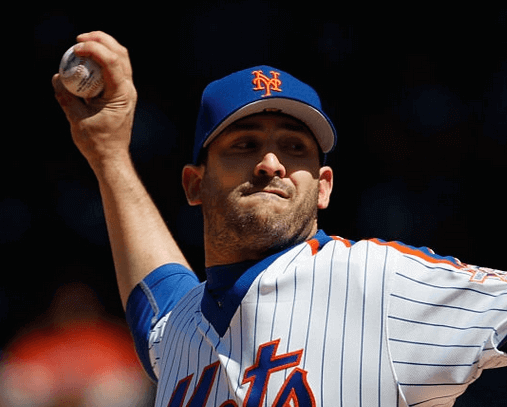 Bear with me here, because today's entry is going to take a minute to explain.
Here's the deal: MLB caps these days normally have black underbrims. But when the Mets wore their 1986 throwbacks last season, they wore throwback caps with era-appropriate blue squatchees (instead of the current orange) and grey underbrims, as shown above.
I initially thought the grey underbrims were era-appropriate. After all, one of the most famous photos from the 1986 season — Jesse Orosco's exultant pose after getting the last out of the World Series — clearly shows the underbrim being grey: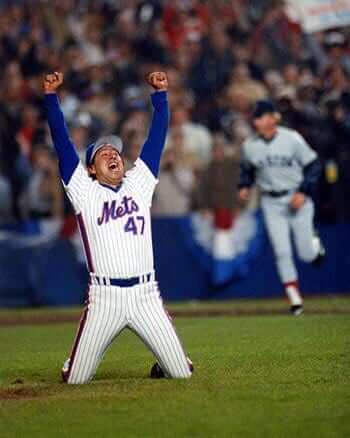 But then several readers started coming up with photos showing that the Mets actually had green underbrims during the 1986 regular season: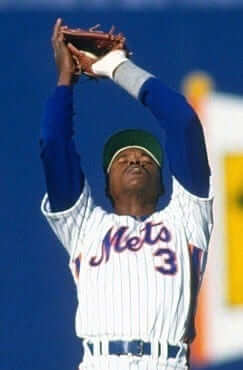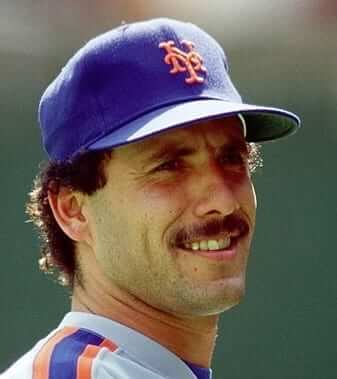 So did the Mets change caps for the playoffs, or maybe just for the World Series? This shot from the NLCS appears to show a green underbrim, so it looks like they got fresh caps, with a new underbrim color, for the World Series. For last year's throwbacks, someone decided to match the Series caps, not the regular season caps (or maybe they weren't even aware of the difference).
All of that is a long setup for an email I recently received from reader Tom Raimonde. He listened to the audio of the Mets uniform panel discussion that I recently chaired at the 2017 Queens Baseball Convention, where I briefly mentioned the 1986 underbrim color change. That prompted him to send me the following note:
I want to share my recollection with you about the change in the Mets' caps for the 1986 postseason. This info may be buried in Gary Carter's autobiography or one of the other 1986 books, but mostly this info comes from memory as a couple of buddies and I shared a season ticket package, and sometimes "inside" info came our way.

In 1986, the Mets had already decided on a uniform change for the 1987 season, which included that one-year road script, but it also included a change in the team's shade of blue. I never see that fact mentioned now, but it was made significantly lighter/brighter. The original shade of blue was the darker royal used by the Dodgers. I recall sitting at many night games at Shea before the change, thinking that they almost looked black because of the lighting. The new 1987 caps with the brighter shade of blue also had grey underbrims.

Going into the 1986 postseason, [equipment manager] Charlie Samuels decided to order fresh caps so the Mets would look crisp on the field. The caps he received were the upcoming 1987 version [with the brighter shade of blue and the grey underbrims]. I don't know if the order was specifically for the '87 caps or if that is all that was available for a late-'86 order.

One result of this is that photos from the postseason clearly show that the Mets' undersleeves didn't match the caps — the sleeves were the darker 1986 shade of blue, and the caps were the lighter 1987 shade. It's one of those things you cannot un-see once you see it!
I'd never noticed this before, so I went back and looked at a bunch of 1986 World Series photos. The problem, of course, is that most photos show batters or baserunners, and they're wearing helmets, not caps. Most of the cap-clad players shown in the photos are pitchers. Do they really show the cap/sleeve mismatch that Tom described in his email?
The answer is that some of them do and some of them don't. For example, here's a shot of Ron Darling, and then another shot with Darling and Keith Hernandez. Both shots are from Game 7 of the '86 Series, and both appear to show caps that are lighter and brighter than the sleeves, just as Tom described: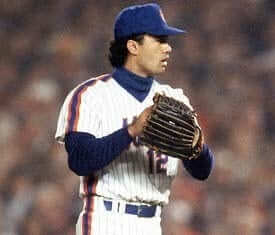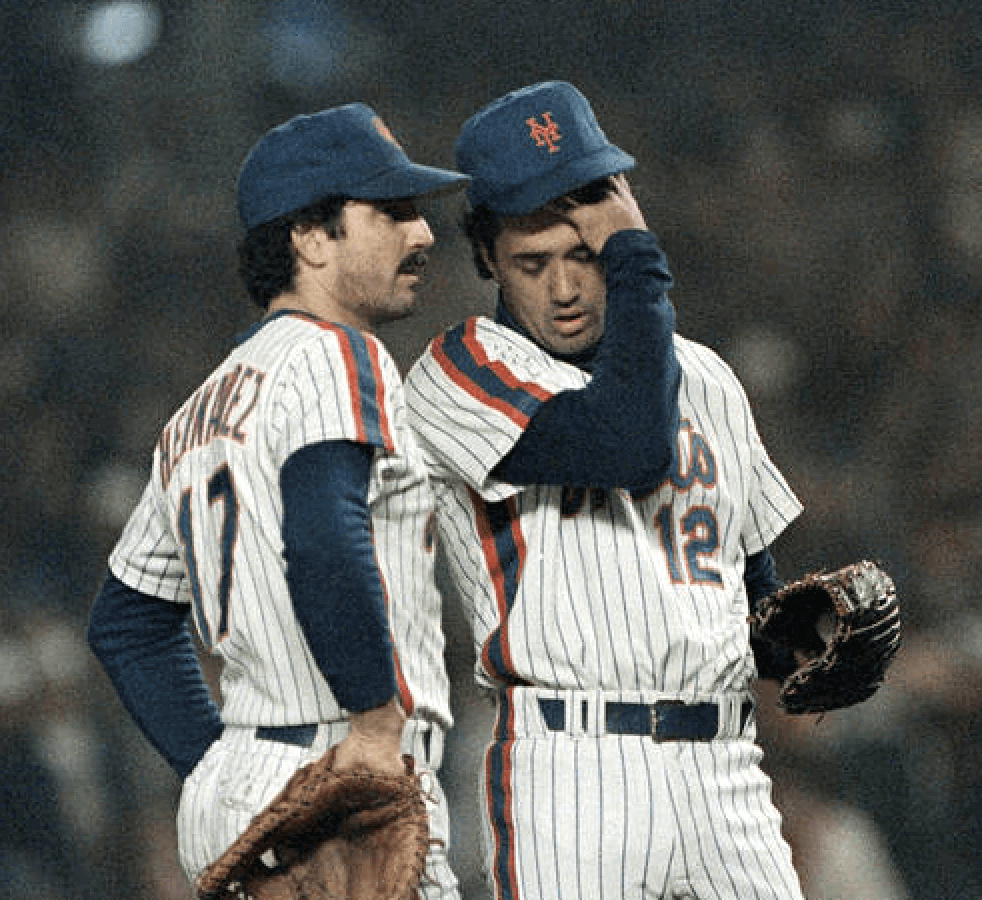 Here's another shot of Darling, this time from Game 4. Again, his cap seems lighter and brighter than his sleeves:
Similarly, manager Davey Johnson's cap also looks lighter/brighter than his sleeves in this shot of him shaking hands with Red Sox skipper John McNamara:
But there are also plenty of photos in which the cap and sleeves appear to be the same shade of blue. Here are some examples of that: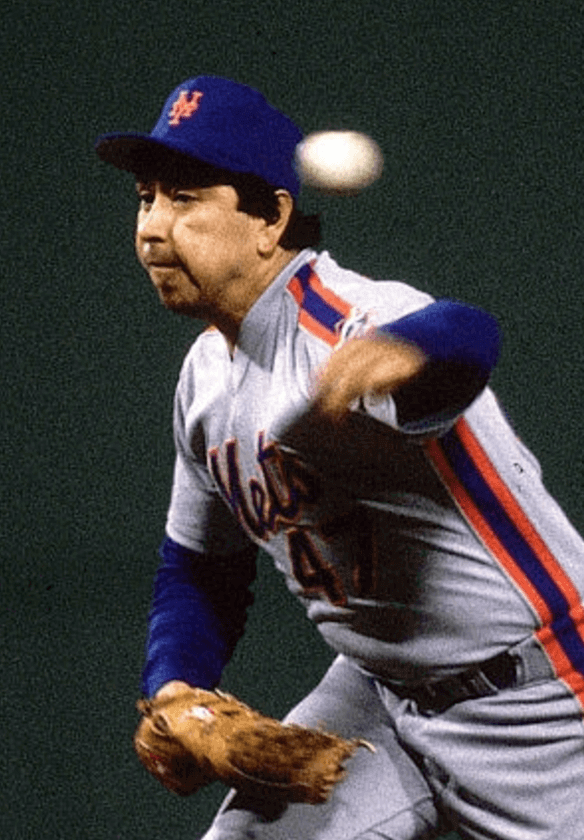 Given that these are all 30-year-old photos that were originally shot on film and then converted to digital, and given that they were also shot at night under variable lighting conditions, it's hard to say how true-to-life they are. Also, it seems to me that MLB undershirts were pretty free-form back in 1986. Some players wore team-issued base layers while others wore pretty much whatever they wanted as long as it was reasonably close to the team's official color. So that could explain some of the variations we're seeing in the photos as well.
Overall, I'm neither confirming nor disputing Tom's account. I'm mostly pointing out how hard it can sometimes be to confirm things, even with photographic evidence.
With that in mind, here's one more bit of info from Tom:
For the 1993 season (my last as a season ticket-holder), the Mets darkened the blue on the caps and uniforms slightly. I specifically remember marketing materials saying it was "one Pantone darker." Other changes that year were that the pinstripes were thinner, farther apart, and no longer a zigzag pattern, and of course the tail on the chest script.
I do remember noticing that the blue got darker in 1993, And I also knew that the pinstripes changed from zigzag to straight, but I didn't realize that the pinstripe spacing had changed. But sure enough, a comparison of jerseys from Bill Henderson's guide appears to show the wider spacing on the 1993-94 jersey style (click to enlarge):
That's it for today's installment of "Paul writes about the Mets too often." Big thanks to Tom Raimonde for sharing his recollections and making this entry possible.
•  •  •  •  •
Uniforms in ads, continued: Wednesday's post about a Viagra commercial with some very Knicks-esque uniforms prompted an anonymous reader to point me toward the Canadian Purolator oil filter ad shown above. If you watch it, you'll see that it concludes with the appearance of a hockey goalie with a "J. Gardien" NOB (French for "guardian"). Look closely, though, and it appears that the goalie's leg pads are being worn on the wrong legs!
It's the little things, right?
•  •  •  •  •
Concepts by Angus O'Keefe and Cody Whitmore; click to enlarge
ESPN reminder: My latest ESPN column takes a look at how hydro dipping could transform MLB batting helmets, with some very cool concepts on display. Check it out here.
•  •  •  •  •

Discount reminder: In case you missed it earlier this week, all Uni Watch membership cardholders are now entitled to a 15% discount on any of the merchandise listed in our Teespring store.
The discount code will be provided to new enrollees when they place their card orders. Existing enrollees can obtain the discount code by contacting me. Once I confirm that you are indeed a card-carrying Uni Watch member, I'll email the discount code to you. (If you want to include a photo or screen shot of your card, that would be helpful, but it's not required. I can look you up in my records.)
As always, you can sign up for your own custom-designed membership card here, you can see all the designs we've done so far here, and you can see how we produce the cards here.
• •  •  •  •
IMPORTANT "" Purp Walk update: Yesterday I gave some details of what we have planned for this year's Purple Amnesty Day, which is next Wednesday, May 17. If you missed that news yesterday, look here. And even if you read what I had to say yesterday, you should still check out today's link, because I now have updated info on how you can get a discount on this year's Purp Walk shirt and other important details regarding the shirt sale. Again, get the full scoop here.
•  •  •  •  •
The Ticker
By Paul

Baseball News: The Reds' relievers award a silver throwback jacket to the reliever who performs best in conditioning drills (thanks, Brinke). … Whoa, check out what WVU wore the other night — gold jerseys over blue pants, with striped stirrups to boot (from Joshua Exline). … A new minor league team in Royse City, Texas, will be called the Griffins. Here are the logos and uniforms, along with a press release (from Alan Beam, whose company did the design work). … MLB is toning down the camouflage elements for this year's Memorial Day uniforms — except for the socks. Sigh (from Brian Wulff). … If you choose the May 11 podcast in this listing and then skip ahead to the 37:30 mark, you'll hear an explanation of the New Orleans Babycakes' game-by-game uniform protocol (from Wayne Muller). … Whoa, check out this awesome photo of the Mariners bowling at Exhibition Stadium! I don't know the backstory there, but it's an awesome shot. And that apparently wasn't the only time it happened (big thanks to @SpoonT12 and @RamoneCat, respectively). … Speaking of the Mariners, their current NOB lettering routinely leads to awful-looking letterspacing issues (from Dean Richard). … 1980s throwbacks last night for the Nashville Sounds. … The Blue Jays and Mariners went blue vs. blue last night. … Half of the MLB players who currently wear No. 2 say they wear it because of Derek Jeter. … Reliever Al Alburquerque is with the Royals this year, and his NOB is still really long (from @quecmo).

NFL News: The Patriots are getting a new field surface (from Cole P). … The Rams, having already let their fans vote on one throwback date for the upcoming season, are now asking them to pick a second one. Earlier this year the Rams also let fans vote on the team's new pants striping and facemask color. Good for them for giving a say to their fan base (thanks, Phil). … The Seahawks are among the teams switching to Nike's new jersey template (from Trevor Milless). … Some uni-number switcheroos for the Patriots (from Andrew Cosentino). … With the Bills having hired Panthers defensive coordinator Sean McDermott to be their head coach, and then hiring Panthers assistant GM Brandon Beane to be their GM, the Instagram account Panthers Authority created this Bills/Panthers logo mashup (from Andrew Cosentino).

NBA News: Click at your own risk: Here are one observer's picks for the NBA's 10 best current jerseys. … NBA bow ties? Sure, why not (from Tommy Turner). … A Mormon missionary serving in West Africa stumbled across his boyhood Jazz jersey, which his mother had donated many years earlier (from Sara Schieve).

Soccer News: The Swedish team AIK, which has been with Adidas for many years, is switching to Nike (from Ed Å»elaski"). … New away kit for Indy Eleven. … New kits for the Dutch club Feyenoord (from Josh Hinton).

Grab Bag: There's a new book about the history of various types of uniforms — sports and non-sports — in Australia. … New 60th-season logo for Assiniboia Downs in Winnipeg (from Moe Khan). … For some people, the Facebook logo — just the logo — is enough to trigger nicotine-like cravings. … A teen-ager ran a half-marathon while wearing Crocs (from Mike Styczen). … The cover illustration for next week's issue of The New Yorker shows Attorney General Jeff Sessions in a police uniform and President Trump in a pilot's uniform. The illo, by Barry Blitt, is a riff on the recent incident with United Airlines passenger David Dao, with former FBI director James Comey swapped in for Dao.