The Royals held one of their Negro League throwback promotions yesterday (they do a fair amount of those, because the Negro Leagues Baseball Museum is in Kansas City), dressing up as the Kansas City Monarchs, while the visiting Indians dressed up as the Cleveland Buckeyes. Let's take a closer look, shall we?
•  As you can see in the photo above, the Royals/Monarchs had uni numbers on their upper thighs — except for Jorge Bonifacio, whose number was AWOL (for some of these photos, you can click to enlarge):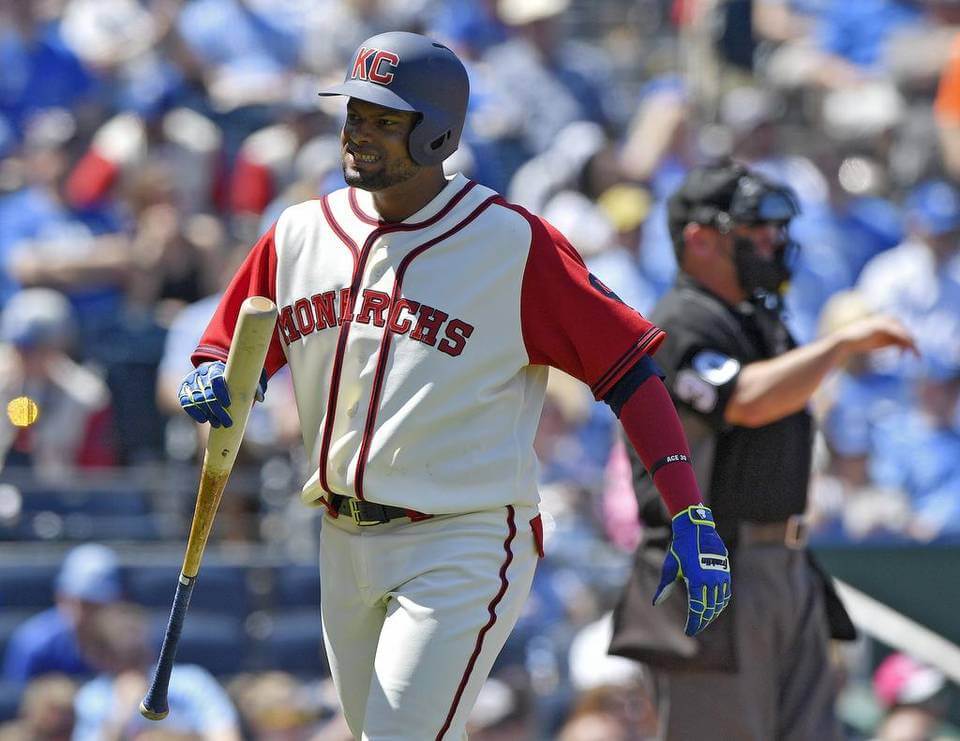 •  And as you can see in that last photo, the Royals used matte throwback helmets (the Indians just wore their regular helmets). Looks like they even got a matte faceguard for Jorge Soler: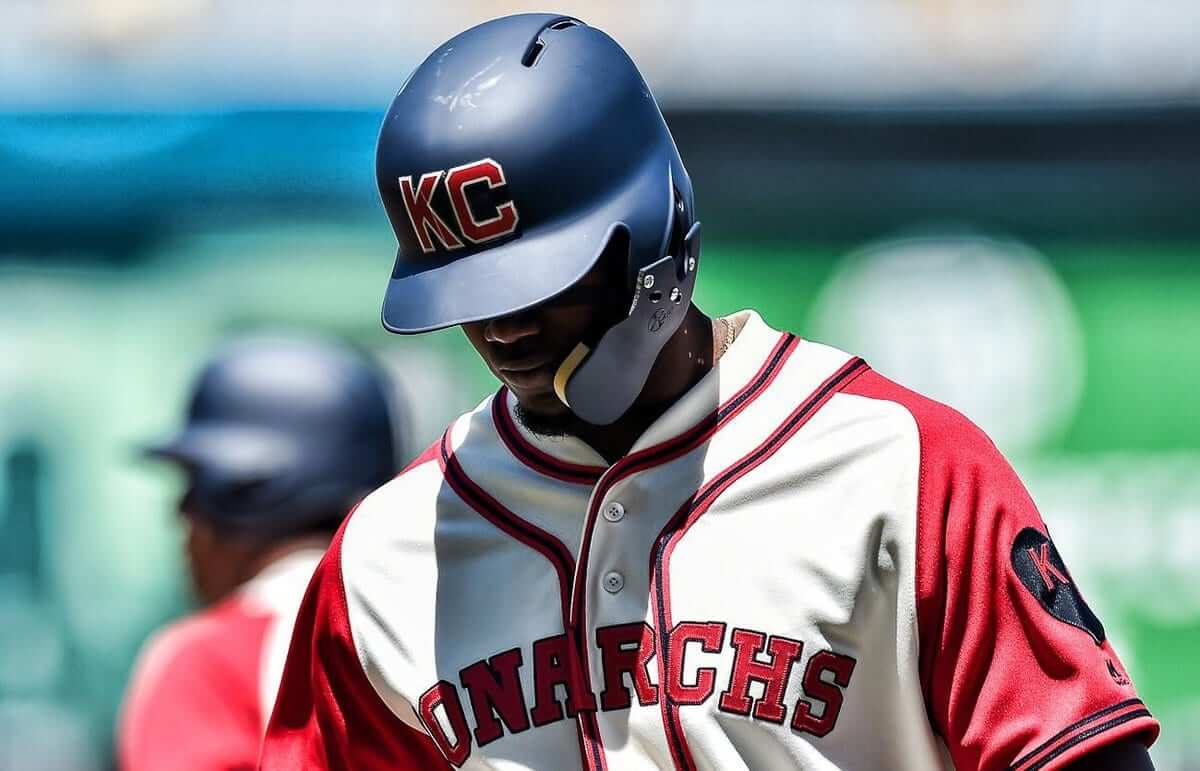 •  As usual with these sorts of games, some players went high-cuffed while others went the pajama route. And as has become the MLB norm, there was no consistency among the sock styles shown by the high-cuffers, which seems particularly disappointing in a throwback game. Look at these two Cleveland players:
• One of my favorite things about Negro League uniforms: contrast-colored flap pockets!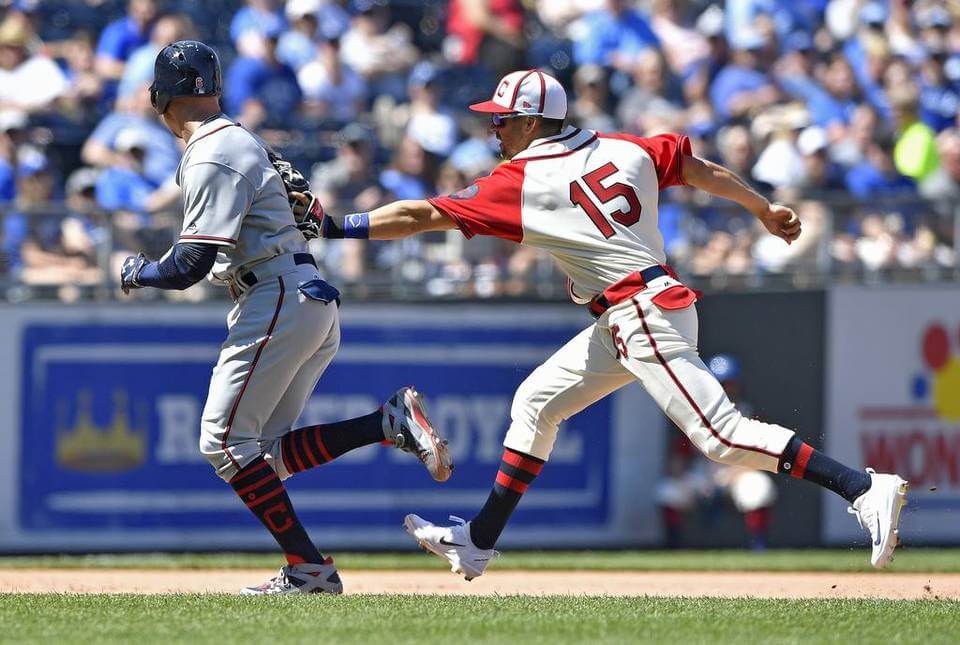 •  Both catchers wore their usual gear. That was fine for Cleveland's Yan Gomes, whose equipment pretty well matched the throwback color scheme. But it didn't work out so well for KC's Salvador Pérez: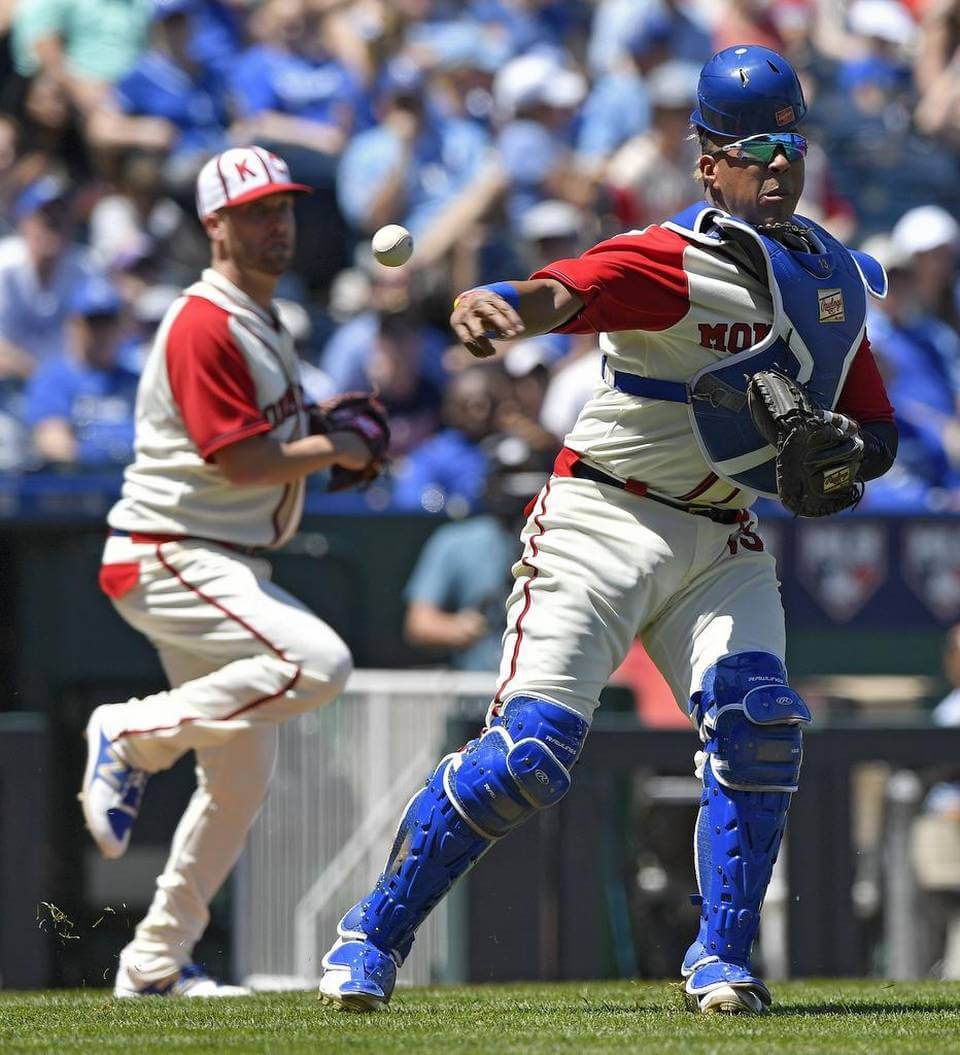 •  All of the jerseys, caps, and pants were blissfully free of the MLB logo. But there was still plenty of logo creep in the form of makers' marks, which looked particularly brutal on the KC caps: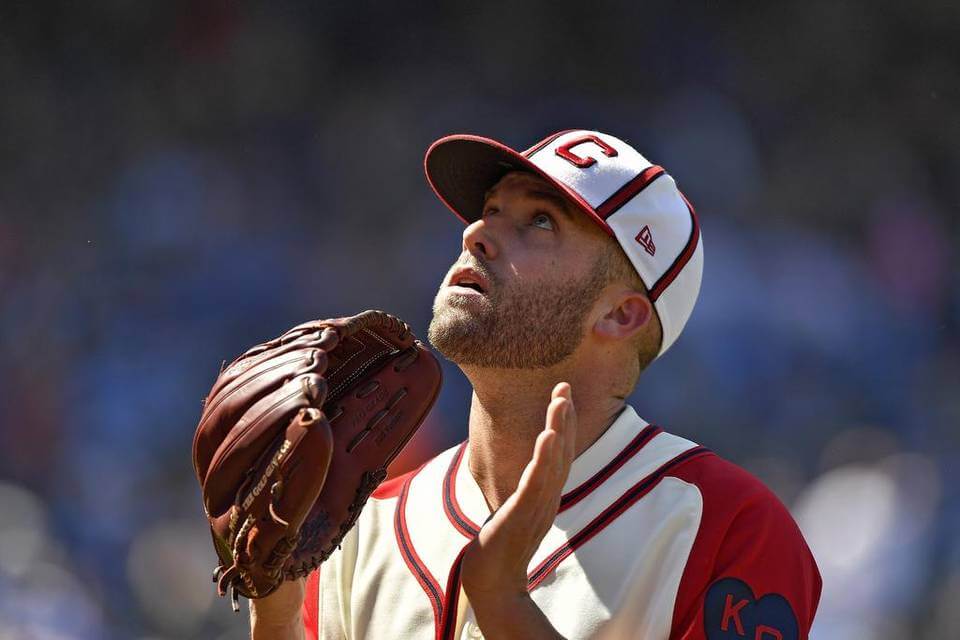 •  Just once I'd like to see a throwback game where the umpires go retro along with the players. Maybe they'll do that one day — but not yesterday:
•  The Royals' grounds crew, however, got into the sprit of the occasion: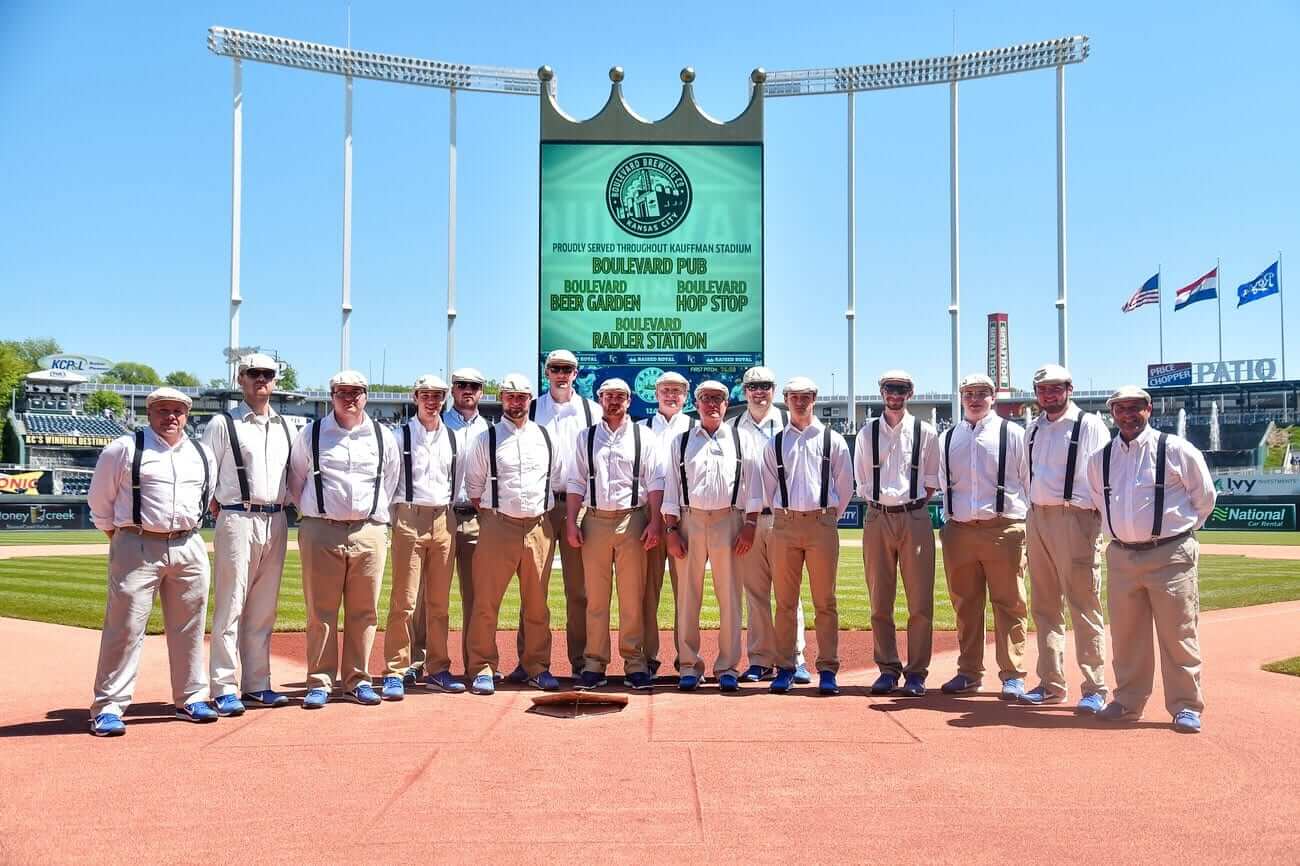 •  Lots of fans played along, because it was "Dressed to the Nines Day," with many game attendees wearing their retro-styled Sunday best (you can see a bunch of additional photos here):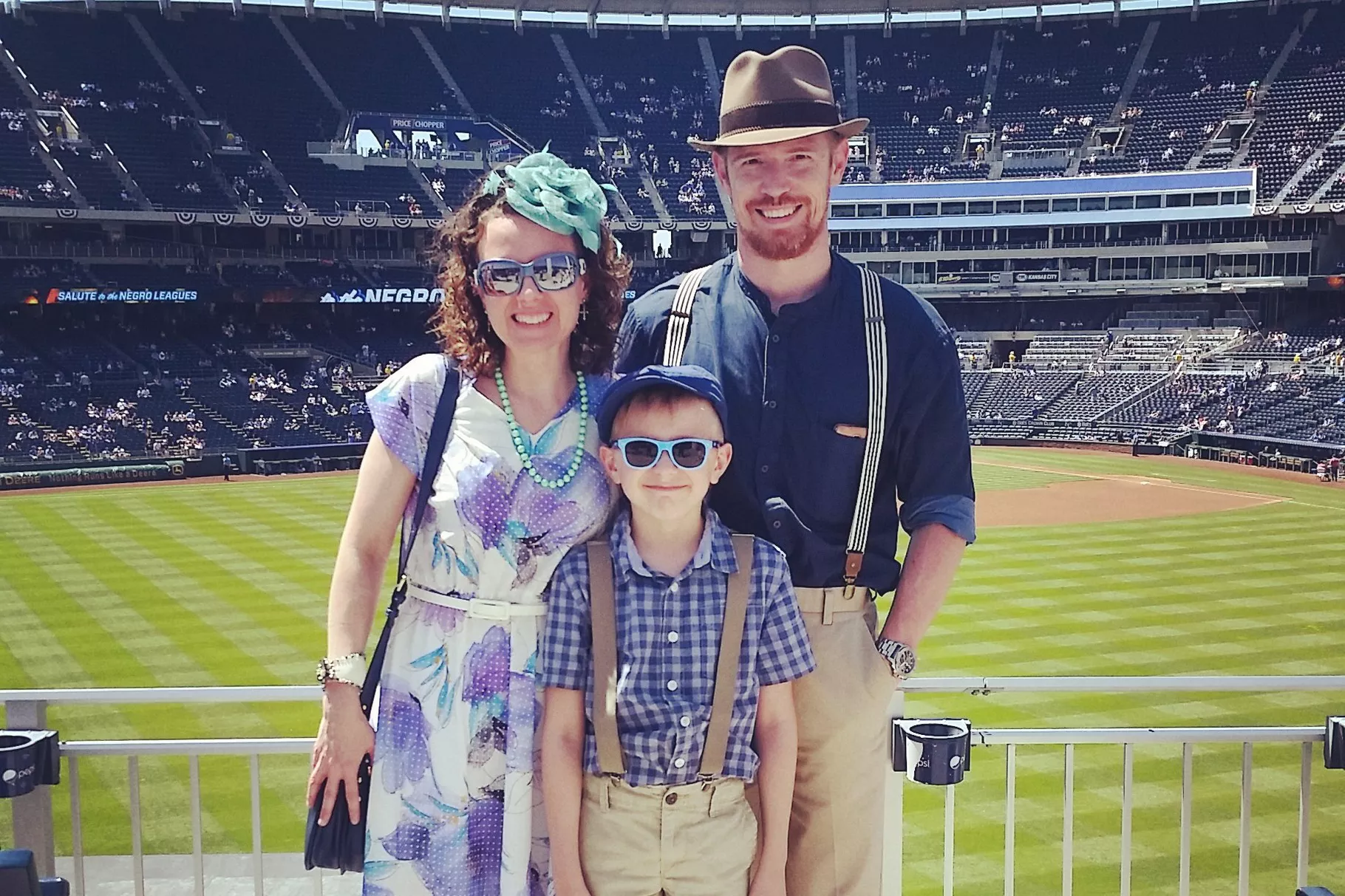 •  Here's a little detail I bet nobody else noticed (or cared about, most likely): The Monarchs' original jerseys had sun collars, which are little stand-up collar extensions that protect the lower-rear neck from the sun. You see those semi-frequently on old baseball jerseys. It looks to me like Majestic tried to simulate the sun collars by using a conventional jersey cut and then moving the headspoon piping down from the collar's edge, creating the illusion of a sun collar. To show you what I mean, here's a side-by-side comparison of a retail throwback with a genuine sun collar on the left, and then two game shots from yesterday:
•  Oh, and just to make things more interesting, some bees decided that the bunting at Kaufman Stadium was a good place to hang out yesterday:
•  •  •  •  •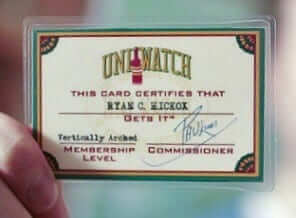 ITEM! Big membership news: People sometimes ask me, "I'm considering getting a membership card. But do I get any benefits, aside from the card itself?"
Beginning today, the answer to that question is yes. Effective immediately, all Uni Watch membership cardholders will be entitled to a 15% discount on any of the merchandise listed in our Teespring store.
The discount code will be provided to new enrollees when their cards are mailed to them. Existing enrollees can obtain the discount code by emailing me. Once I confirm that you are indeed a cardholder, I'll email the discount code to you.
As always, you can sign up for your own custom-designed membership card here, you can see all the designs we've done so far here, and you can see how we produce the cards here.
•  •  •  •  •
For all fish photos, click to enlarge
A very, uh, uniform presentation: I was walking around Harlem yesterday and passed a fish market where the whole fish were arranged in stacks. Never seen that before — it was almost like the fish were bricks, with the crushed ice serving as mortar.
For some reason I found it compelling. Maybe it was all the rows of sad fish faces, or maybe I just like seeing things presented in a neat, orderly presentation.
•  •  •  •  •
The Ticker
By Alex Hider

Baseball News:  A's P Bobby Wahl got away with wearing a cap without the New Era logo yesterday. … Cubs 2B Javier Baez was wearing teammate Addison Russell's batting gloves during last night's game (from Griffin Smith). …  Rays batboys are wearing facemasks this season (from  Martin). …  This column argues that while some of the Stance sock designs are gaudy, they could help fight pajama pants syndrome. … Nebraska wore  state-themed stars and stripes caps yesterday (from  @spomedome). … A Tennessee baseball player was present for the birth of his son last month "" in full uniform. …  Navy-on-navy matchup in NAIA between Menlo College and The Master's University.

Football News:  Here's another set of NFL  uniform power rankings (from  Phil). …  Is the "M" from Mississippi's script wordmark being treated as a logo now? It appears so from this retail shirt (from Eric Odden). …  Stanford Slifer  spotted a  Florida State-themed golf cart at the school's graduation ceremony this weekend. … Chiefs QB Len Dawson at one point had a crazy improvised facemask setup. Lots of additional facemask oddities here.

Hockey News:  Researchers at the University of Alberta have created the  world's smallest sports logo  "" or probably any logo, for that matter. It's an Edmonton Oilers logo that's 40 times smaller than the width of a human hair. …  Great feature on the company behind many  of the  free T-shirt giveaways  that take place during the playoffs in the NBA and NHL. … France G Cristobal Huet got blood on his jersey at the World Championships and had to wear a teammate's jersey in place of his own.

NBA News:  Raptors G Norman Powell isn't happy that LeBron James pulled on his jersey during Game 3 of the Toronto/Cleveland series on Friday. … ICYMI from the hockey section: Great feature on the company behind many  of the  free T-shirt giveaways  that take place during the playoffs in the NBA and NHL.

Soccer News: There was an  English Premier League patch malfunction during yesterday's Manchester United/Arsenal games yesterday (from  Mike Wice). … New kits for AFC Cleveland of the National Premier Soccer League (from  Ed Zelaski).

Grab Bag: Funny car driver John Force  tried on wrestler Ric "Nature Boy" Flair's iconic coat  (from  David Firestone). … NASCAR driver Chase Elliott will wear special racing shoes honoring the 30th anniversary of his father's record-breaking run at Talladega Superspeedway (also from  David Firestone). … A Seattle bakery is selling lots of local team-themed cookies. I love that the 'upside-down 5 in place of a 2' issue is a thing at this level," says John Kimmerlein.