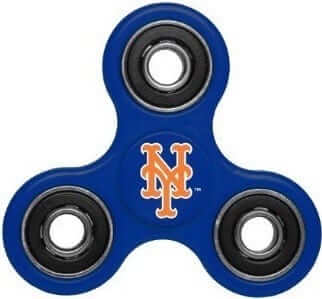 Unless you've been under a very large rock for the past month or three, you're probably aware of fidget spinners, a line of toys that were conceived as a stress-relievers for special needs kids but have exploded as the latest nationwide fad. They were actually invented 20 years ago, but the patent on them just expired and now the market is being flooded with knockoffs, resulting in a craze that's been a boon for crafters and YouTubers (including, as seen above, the large subset of YouTubers who have cats), a bane for teachers, school administrators, and cranky parents, and a merchandizing bonanza for anyone producing and/or selling the things.
And now that bonanza includes — of course — fidget spinners with officially licensed sports team logos. They've available on this site. Or, rather, they will be available. Right now they're only taking pre-orders, with the product slated to ship in late May (for the MLB and NFL designs) and mid-June (for the NBA, NHL, and NCAA). Although the listings say the designs are "subject to change," I've been told that they're basically 99.99% final.
I haven't yet played with a fidget spinner myself, but they look fun, and I can relate to the notion of obsessive behavior with small gizmos (which I guess means I have a lot in common with special needs kids and cats, both of which I pretty much knew already). Still, with fidget spinners widely available for as little as a buck apiece, do I really want to spend $10 plus shipping just to have my favorite team's logo printed in the center? Eh, probably not. They'd probably make a fun stocking stuffer, though, so I'm bookmarking the site as possible fodder for my annual holiday gift guide. Only problem is that the fad may have run its course by then.
One side note: The guy selling the team logo spinners is Phil Sklar, who happens to be the same guy behind the Bobblehead Hall of Fame (which for now is just online, although Sklar hopes to open a brick-and-mortar location in Milwaukee toward the end of this year). Can a combination bobble-fidget spinner be far behind?
•  •  •  •  •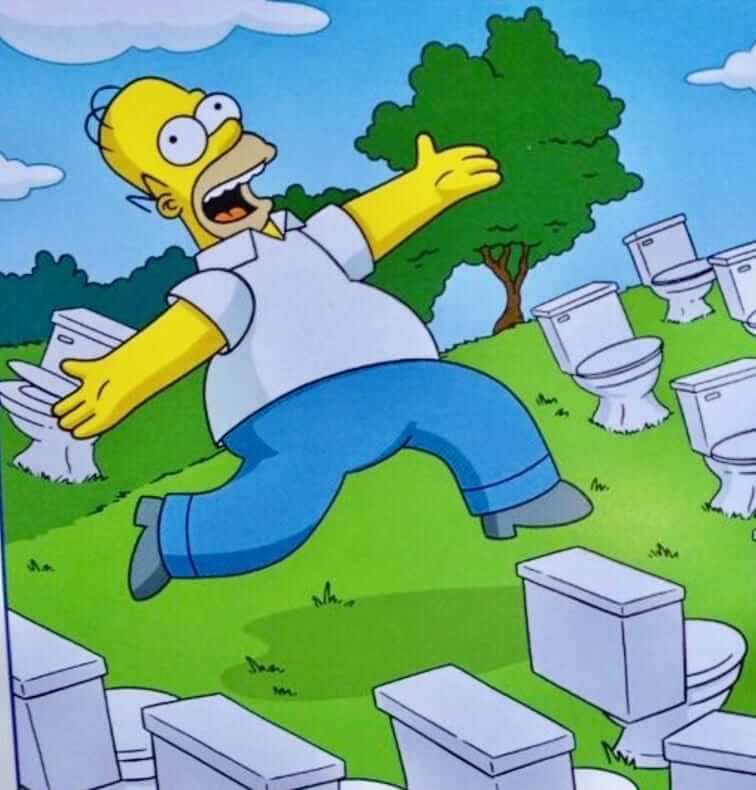 "Mmmm, Flushing Meadows": As you are no doubt aware, the Mets play in the Queens neighborhood of Flushing. So perhaps it's appropriate that there's a guy in Queens who recently went to a Mets game and flushed the ashes of his deceased friend down one of the stadium's toilets.
Yes, really. The guy's been flushing small bits of his friend's ashes down ballpark crappers — 16 of them so far — for years now. The deceased was a plumber and a big baseball fan, so it all sorta-kinda makes sense. It's a great story, entertainingly written. Highly recommended.
As longtime readers may recall, I have my own little history with the Mets' toilets. But while I did a lot of flushing in Flushing that day, I didn't send anything special down the pipes.
Would you want your ashes to get the royal flush at your favorite team's stadium? Would I? Hmmmmmm.
•  •  •  •  •
Membership update: Two new designs have been added to the membership card gallery (including David Watterson's early Miami Heat design, shown at right). I have three open slots in the current batch and plan to send this batch to the printer tomorrow. So if you sign up today, you'll get your card with very little waiting.
As always, you can sign up for your own custom-designed membership card here, you can see all the designs we've created so far here, and you can see how we produce the cards here.
•  •  •  •  •
NEXT-TO-LAST DAY for the bowling shirt tee: Tomorrow is the final day to order our latest limited-edition T-shirt in the Uni Watch Artist's Series, designed by the great Scott M.X. Turner. It's basically a T-shirt version of a classic bowling shirt, with a simple "Uni Watch" insignia faux-chain-stitched on the front-left chest and a spectacular design faux-chain-stitched on the back (for all of these images, you can click to enlarge):
The anthropomorphized magnifying glass wearing a ballcap and stirrups is completely awesome, and the design works well in a wide variety of shirt colors. Here are some of the ones we're offering (there are several more on the sales listing page):
Like all of our Artist's Series shirts, this one is a limited edition, available through 11pm Eastern tomorrow. You can order it here. My thanks, as always, for your consideration.
•  •  •  •  •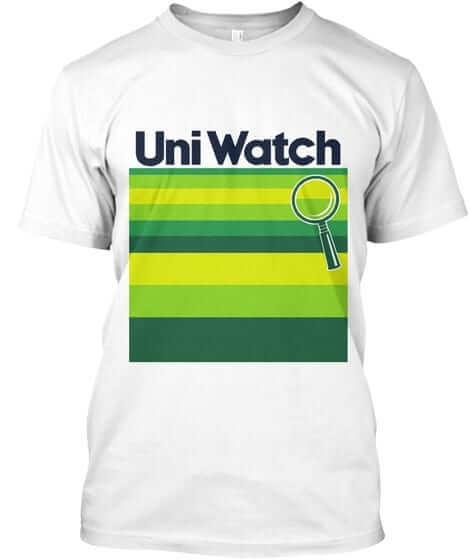 New merch store reminder: In case you missed it yesterday, we now have a bunch of T-shirts, coffee mugs, and a few other things available in a new Teespring online shop. The selection includes a bunch of new stuff and several old designs that were originally part of the 2015 and '16 T-Shirt Club lineups (like the tequila sunrise design, shown at right).
Most of the shirts are available in a variety of styles (long-sleeved, hoodies, etc.) and colors, and most of the mugs come in a wide range of colors, so don't feel constrained by the thumbnail images in the shop — click around and explore the possibilities. Thanks.
•  •  •  •  •
The Ticker
By Alex Hider

Baseball News:  The Braves will wear "Los Bravos" jerseys on Sept. 17. Further info here (from Keyvon). … Pirates P Tyler Glasnow was wearing the wrong cap during last night's game. The rest of the team was wearing the cap with the white outlined P. …  Khris Davis of the A's was wearing team-branded eye black over the weekend (from Ned Hull). …  Cardinals P Carlos Martinez won't wear  silver hair extensions  on the mound anymore (from  Mike). …Orioles OF Adam Jones had some trouble getting the donut off his bat on Monday (also from  Mike). … Rockies player Alexi Amarista has his nickname, "Little Ninja," written  on his shoes (from Joey Campbell). … Facebook often reminds its users when their favorite teams are playing. Brock Haggard  spotted one such message featuring  Ryan Howard in a Phillies jersey. Howard is now in the Braves' system. …  MLB: The Show has Mariners wearing the  wrong helmet  with their Sunday alts (from  Conway). … The Charlotte Knights wore '90s throwback jerseys last night (from Jamie Lightsey). …  The Toledo Mud Hens will celebrate Beatles Night by wearing Sgt. Pepper's-themed jerseys for on June 16 (from Chris Zadorozny). … The Portland Sea Dogs, a Red Sox affiliate, are giving away three bobbleheads that, when put together, play out the "Win, Dance, Repeat" routine of Bosox players Andrew Benintendi, Mookie Betts, and Jackie Bradley Jr. (from Shawn Humphrey). … The Texas Longhorns wore black memorial patches on their caps yesterday to honor the victims of a series of stabbings that occurred on campus on Monday (from Brett Baker). …  Johnny V.  found some MLB fashion caps in a Superman motif that were curiously labeled as part of the "Cooperstown Collection" line of throwback jerseys and caps. …  Peter Golkin swung by the Jim "Catfish" Hunter Museum in Hertford, N.C. (he says it's "worth the detour"), which includes  checks from his then-record salary  with the Yankees. … Target Field in Minnesota has a statue of Kirby Puckett. It's based on his walk-off homer in Game 6 of the 1991 World Series and shows him with an NOB. The thing is, the Twins didn't have NOBs in 1991 (from Ken Chia). … It's not clear if this photo is from a game, or spring training, or what, but check out Tim Raines, during his Expos days, in a powder blue turtleneck (from @tjcttr). … The Fresno Grizzlies' include a uniform style guide in their program (from David Taub). … The White Sox beat the Royals last night, and someone from WGN's social media team celebrated the Sox victory by posting a graphic using part of the Royals' logo. "Their graphics team does this all the time now," says Jen Hayden. "Whenever the White Sox beat a team, someone alters the opponent's logo."

NFL News:  Giants draft pick Evan Engram will wear No. 88 (from  Scott Turney). … These are the numbers that Browns draft picks will wear next season. … Titans players wore jerseys with NNOB during a caravan tour stop at Fort Campbell in Kentucky. They wore similar jerseys last year (from Eric Wright). … The Colts posted a video clip showing how their helmets — and helmets in general — have evolved over the years (from @TheWhiteSandman). … The NFL has released a new infographic ranking the best-performing helmets based on laboratory safety tests. The design is a bit odd, because the shorter horizontal bars actually indicate the best-performing helmets, which seems counterintuitive. The top-ranked helmet is the Vicis Zero1, a new model not yet worn in the league.

College Football News:  Air Force presented President Trump with  a "Sharktooth" helmet and a traditional blue jersey  at the Commander-in-Chief's Trophy ceremony at the White House yesterday. Note that the jersey is No. 1. The team had previously told President Obama that they couldn't give him a No. 1 jersey because "there's no No. 1 on the Air Force football team, because there's only one 1, and that's Air Force One [the airplane]." Over the years they gave Obama many different numbers, including 18, 19, and 23 (from  Mike Wagner). … Fixer Upper is a home improvement show that takes place in Waco, Texas. A recent episode featured the home of the Baylor's equipment manager. At one point, one of the hosts put on a helmet and shoulder pads, and even busted off the decal (from  Jonathan Safron).

NBA News:  New court design for the 76ers (from Jawnes). …  Here's  a lengthy interview with menswear designer Alexander Julian, who created the Charlotte Hornets' original uniforms in the late '80s and North Carolina's iconic argyle-trimmed unis (from  James Gilbert). … After Warriors players said Utah had no nightlife, the Jazz have responded with a new Jazz-style "Nightlife" T-shirt (with Daniel Mouritsen). … Wizards C Marcin Gortat had some trouble with one of his jersey numerals last night.

Grab Bag:  Some people think retired numbers have gotten out of hand, especially for teams like the Celtics and Yankees. Not so, says this column (from  Phil). … England's cricket teams have new kits (from Jason Reid). …  New logo for the Ohio News Media Association (from  Jim Vilk). …  Arizona State women's hockey will wear  camo jerseys for Military Apperciation night next season (from  Brad Denny).