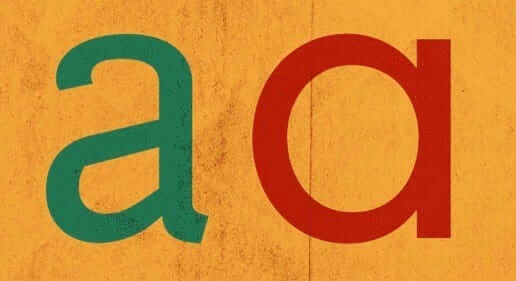 There are many letters of the alphabet that can only be written only one way. But there are others that can be rendered in multiple styles, like the lowercase "a," which comes in two different styles. Those two styles are shown at right — let's call that Style 1 (the green version) and Style 2 (the red version). Style 2 is the one that's used for the ubiquitous "@" symbol, which was used primarily in accounting and computer programming until email and social media transformed it into an internet workhorse.
Style 1 is never used for the "at" symbol. Or at least that's what I thought until yesterday, when I got a note from longtime reader Cork Gaines, who noticed something interesting about the backdrop used for NBA press conferences: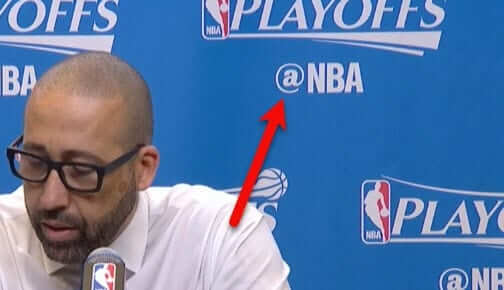 I've never seen that before. Moreover, as Cork pointed out in his email to me, it seems like you'd have to go out of your way to design it like that, right?
When I posted the backdrop photo on Twitter yesterday, I got an interesting reply from a graphic designer named Jason Murdock, who seemed to know a thing or two about the "at" symbol, so I asked him if he'd like to write something longer than 140 characters. Here's what he sent me:
Because the double-storey "a" [i.e., Style 1] is a more complex shape, it can be problematic as the basis of an at sign. It looks like the NBA designer compensated by making the surrounding curved stroke extra-thin. This works fine at the size it's being used, but in smaller text that stroke would be too light or disappear altogether. It also appears as though the designer centered the "at" sign vertically with the uppercase letters. In my opinion, the bottom of the curved stroke should really drop below the baseline slightly as a way of anchoring it visually. As it is currently, it appears to be floating.
Interesting! Anyone have any further thoughts on this?
•  •  •  •  •
Click to enlarge
Raiders redesign results: The results of my recent challenge to redesign the Raiders are now available on ESPN. Not all of the entries are as entertaining as the one submitted by Aram Gumusyan (shown above), but I think you'll enjoy the ones I've highlighted in today's column. Check it out here.
•  •  •  •  •
The Ticker
By Mike Chamernik

Baseball News: Miguel Cabrera's helmet decal is off-center. It was a bit askew over the weekend, as well (from Todd Oliver). … Mets P Robert Gsellman wore a hoodie, instead of a jacket, while running the bases last night. It's crazy that he reached base, given that he literally couldn't swing a bat last year. … Rays 2B Brad Miller had been wearing a cleated version of Paul George's signature basketball shoe (from Ryan Delgago, via Phil). … The El Paso Chihuahuas wore their Diablos throwbacks last night (from Don Patterson). … The Fresno Grizzlies gave manager Tony DeFrancesco a framed No. "1K" jersey for his 1,000th win in Triple-A (from @MiLBPromos). … New Era will sponsor NASCAR driver Austin Dillon this weekend at Bristol (from David Firestone). … A multifamily building across from Nationals Park will no longer allow residents to hang flags or banners, even sports ones, after too many tenants used them to share their political ideas (from William F. Yurasko). … Much has been written about the Cubs' championship rings, but I'm not sure if we knew this: The team awarded a total of 1,908 rings to everyone in the organization, from players to front office associates to the ballpark staff. That number refers to 1908, the year of the Cubs' previous title (from Joshua Exline). … Andy Rivkin spotted a Copa Air plane with an MLB logo at Tocumen Airport in Panama. … Sharp-looking stirrups last night for Dodgers SS Chris Taylor.

NFL News: Remember the Football as Football project, where NFL teams were re-imagined as various soccer clubs? Here are a few Sporcle quizzes where you can guess which NFL team is represented by the German, Italian, Spanish, and English club logo (from K.C. Kless).

College Football News: Washington State unveiled new uniforms. The set includes an all-crimson, all-gray, and all-white looks, along with various mixes and matches (from Colin Storm and Phil). … Ryan Keberly found an old Eastern Michigan belt buckle on eBay. "Lived in Michigan my whole life and have never heard 'East Michigan' as shorthand for EMU," he says. … North Carolina players were excited to hear that they would be receiving a pair of Jordan Retro 11s (from Phil).

NBA News: Wizards point guard John Wall has been a sneaker free agent since 2015, when he rejected a $7.5 million deal from Adidas. Wall was seeking a comparable deal to James Harden, who signed a $200 million, 13-year contract with Adidas. Wall has been wearing Nikes and Jordans this year. While looking for pics of Wall's shoes, I saw that teammate Markeiff Morris has worn Nike Air More Uptempo shoes, which Scottie Pippen wore during the mid-1990s. … The Reno Bighorns of the D-League changed their colors and logo to better match their parent club, the Kings (from Matthew Moschella). … Benet Bartell says that his local ABC affiliate has been airing some really outdated NBA logos. … Kevin Garnett is at odds with the Timberwolves organization, in part due to how the team memorialized his mentor and coach, Flip Saunders, who died in 2015. He is miffed that while high school and hockey banners hang at the Target Center, there is no banner for Flip. The rift will also reportedly delay any sort of KG jersey retirement ceremony. … New court design for the D-League's Reno Bighorns (from Tony Equiaga).

Soccer News: This Sunday, four MLS clubs will wear jerseys made from upcycled marine plastic. They will be worn in two white vs. gray matchups between the Galaxy and Sounders, and Orlando City and New York City FC. Earth Day is Saturday, and the jerseys will raise awareness about marine plastic pollution. … Manchester City is purported to have a new road jersey (from Patrick Thomas).

Grab Bag: After you celebrate Uni Watch's Purple Amnesty Day next month, you should head over to the Purple Store to really indulge (from Andrew Rader). … In case you didn't see in the baseball section, New Era will sponsor NASCAR driver Austin Dillon this weekend at Bristol (from David Firestone). … Also from David: Top Fuel dragster Shawn Langdon wore a GoPro and let viewers see what it's like to accelerate to 316 mph in less than four seconds (from David Firestone). … A Vermont community is split over a change to the high school's nickname, the Rebels. Tensions are running high, with one local resident accused of stalking the student who led the movement to change the name (from John Pritchard). … Here are the Indy Car liveries for this weekend's Honda Grand Prix of Alabama (from Tim Dunn). … The two remaining high schools in Flint, Mich., will combine their athletic programs and adopt teal and black uniforms (from Alex Dewitt).