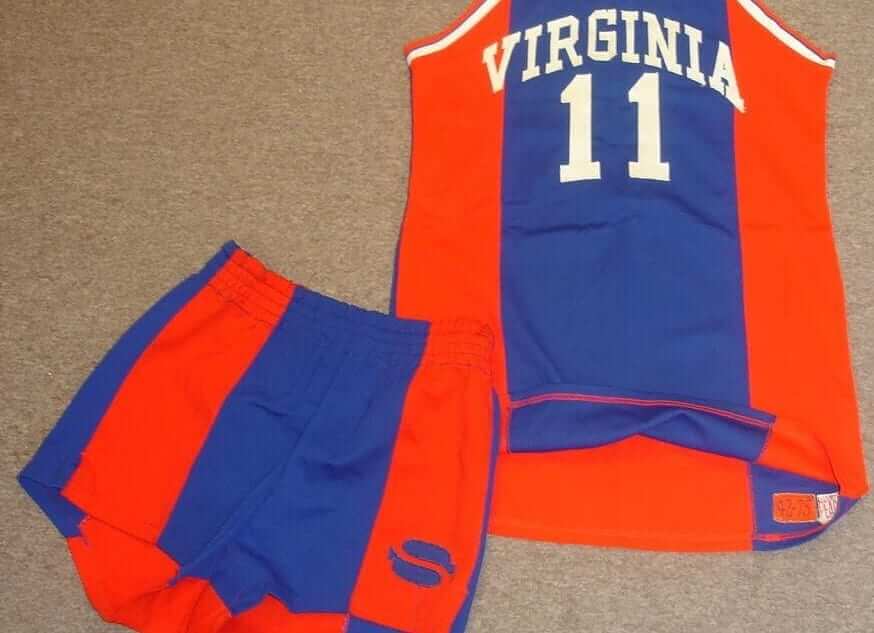 [Editor's Note: Today we have an excellent entry by our own Mike Chamernik, who's going to enlighten us on an important chapter in uniform history that has largely been forgotten. Enjoy. "" PL]
By Mike Chamernik
NBA teams are getting uniform ads next year, which is being widely heralded as a first for big-time North American sports. But that's not quite accurate. It turns out that another pro basketball team wore uniform advertising more than 40 years ago.
That team was the 1975-76 Virginia Squires of the ABA, who wore small "S" patches — the logo of Stewart Sandwich Service — on their shorts during the final ABA season.
How did this happen?
First, let's set the scene. The 1975-76 season was a struggle for the entire ABA, with each team trying to survive for a potential merger with the NBA. Baltimore, Utah, and San Diego all folded before or during the season.
Things were particularly bad for the Squires. After winning an ABA title several years earlier when the franchise was known as the Oakland Oaks, the team had become a laughingstock. They were bad on the court and unstable off of it. Virginia operated as a regional franchise, shuttling between separate home bases in Richmond, Norfolk, and Hampton, leading to small, apathetic crowds.
During that final season, the Squires dealt with injuries to all of their key players, including Willie Wise, Michael Green, and Mack Calvin. Already drained of major talent (the Squires were infamous for trading away their best players, including Rick Barry, Julius Erving, George Gervin, David Thompson, and Swen Nater), they burned through six coaches and finished 15-68.
According to Loose Balls, Terry Pluto's definitive oral history of the ABA, Squires players were never sure if they were going to get paid on time — or at all.
I managed to track down several people connected with the Squires, including "Jumbo" Jim Eakins, who played parts of seven seasons with the franchise. He was in the Philippines serving a church service mission when I contacted him, but I was able to exchange emails through his son, Jeff.
"The front office was a total mess," Jim Eakins recalled. "The door was revolving so fast that we thought that it was an electric revolving door. Front office personnel were coming and going so fast they had to wear name tags. I vaguely remember the [ad] patches but I think the feeling was, "˜Whatever we have to do to get us our paychecks.' My paycheck never bounced because I was an old veteran and I knew that on payday I had to be the first into the office to get my check, and then I raced straight to the bank with it and cashed it out. Those who slept in were the ones whose checks bounced later in the day."
The team's instability was reflected in their uniforms and visual identity. Through the 1973-74 season, they wore red, white, and blue uniforms. For the 1974-75 season, they flipped and rebranded themselves as the New Virginia Squires and adopted orange and brown as their team colors.
In early 1975, an entrepreneur named Van Cunningham became the general partner leading the team's new ownership group. Cunningham was the chairman of the board for Stewart Sandwich Service, which sold frozen sandwiches and infrared ovens directly to convenience stores, cafeterias, and bowling alleys. (More info on Stewart can be found here. The company had no connection with the Stewart's root beer restaurant chain.)
Unfortunately, Cunningham is now deceased. But I got in touch with Jack Ankerson, the Squires' GM from that year. He still lives in Norfolk and remembers the season vividly, including how the "S" patch ended up on the team's shorts.
Ankerson told me that Cunningham contacted him during the 1975 offseason with a few ideas for uniform changes. Ankerson said Cunningham was such a newbie to the game that he assumed pro basketball teams got new uniforms every year. He also thought he'd take the liberty integrating the Squires' brand with two of his other business interests.
First, Cunningham wanted to change the team's colors yet again, this time to orange and blue — which just happened to be the colors for Stewart Sandwich. They were also the colors of the New York Mets, whose top farm team was the Norfolk-based Tidewater Tides. Cunningham sat on the Tides' board of directors.
Second, Cunningham wanted the Squires to wear a small "S" patch — the Stewart Sandwiches logo — on the shorts.
Click to enlarge
An owner integrating his main business with his basketball team was fairly common back then. The Denver Rockets, a fellow ABA team, took its name and logo from owner Bill Ringsby's long-haul trucking company. The Pistons were originally named the Fort Wayne Zollner Pistons, as owner Fred Zollner ran an auto parts manufacturing business. But no owner had ever put the logo of one of his other business holdings on his team's uniform.
By advertising standards, the patches weren't very effective, because they were completely inconspicuous. Some people no doubt mistakenly thought it stood for "Squires."
"Once he put the logos together, there was never a thought about the logo," Ankerson said. "Yes, it looks like a sandwich bun, or something like that, but it was kind of like the company logo of Stewart Sandwiches. But I can assure you, nobody ever even thought about that. Nobody ever even talked about it. … It was something totally nondescript and nobody ever gave it a second thought."
And unlike today's NBA teams, which are raking in millions of dollars for the ad patches they'll be wearing, the Squires didn't make a dime from the Stewart Sandwiches ad. That's how incompetent the Squires were — they even managed to make uniform advertising unprofitable.
Although the Squires managed to finish the 1975-76 season, they missed out on reaping the benefits of the NBA merger. The Spurs, Nets, Nuggets, and Pacers all were accepted into the NBA, and the owners of the Kentucky Colonels and Spirits of St. Louis received forms of compensation for disbanding their franchises. The Squires, however, couldn't meet a $75,000 ABA league assessment fee soon after the season ended and were forced to fold.
One of the enduring legacies of the Squires and the Stewart patches was a great quip from Al Bianchi, the first of the team's six 1975-76 coaches. According to Loose Balls, after a 1-6 start resulted in Bianchi's firing, he said "I hope they sell a lot of tickets"¦ and a lot of sandwiches."
Stewart did sell a lot of sandwiches around that time. The company became franchised nationally in an era when convenience stores were largely regional. No one else was in the sandwich business. Eventually, though, convenience stores caught up and started using and developing their own equipment. With Stewart's advantage gone, the company broadened its product line and became Stewart Foods in 1992. The company declared bankruptcy a few years later. If only Stewart had been able to keep getting free advertising on the Squires' uniforms, perhaps things would have turned out differently.
•  •  •  •  •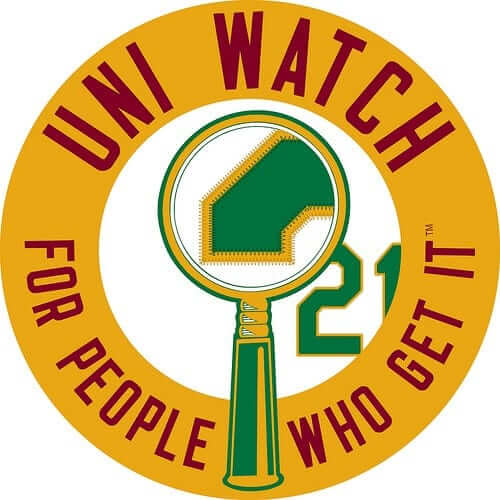 Merch reminder: In case you missed it yesterday, our classic magnifying glass logo, designed by the great Scott M.X. Turner, is now available on a variety of goods. There are two versions of the logo — one with a gold outline, as shown at right, and one with a green outline. We have shirts and related products for both versions: gold here and green here.
Meanwhile, as noted last week, the Uni Watch social media avatar (a caricature of me, designed by Larry Torrez) is also available on assorted merch.
My thanks, as always, for your consideration.
•  •  •  •  •
The Ticker
By Alex Hider

Baseball News:  Kevin Pillar of the Blue Jays wore a Raptors jersey during BP yesterday (from Mike). …  Yesterday marked the 88th anniversary of the  Yankees' first uniform numbers  (from  BSmile). … Great piece about the jersey Joe DiMaggio wore during his number  retirement ceremony in 1952 (from Jeff Ash). …  The Tacoma Rainiers will wear  jerseys with the Tacoma skyline  on May 26. The best part? They were designed by a fifth-grader! (From Phil.) …  The St. Paul Saints and the Cleburne Railroaders will play a game in August as the St. Paul Duck, Duck Gray Ducks and the Cleburne Duck Duck Goose. According to this press release, it's a tongue-in-cheek response to minor league teams rebranding for one game. … The West Virginia Power, the Pirates' Class-A affiliate, has some fauxback unis inspired by its parent club (from  Noah Kastroll). …  Willard Kovacs"  got to the bottom of the "LV" written  on St. John's caps. It's a tribute to Lou Vitale, the team's longtime groundskeeper who died before the season. … Louisville and Kentucky went color-on-color yesterday (from  @steagles1). … The Bangor High School (Mich.) baseball team wears camo T-shirts on the field (from Billy Braden). …  Payette High School and Fruitland High School softball in Oregon went black against black yesterday (from  Nik Streng). … The Cubs are asking non-players to sign an agreement giving the team the right to buy back their World Series rings for $1. The idea is to discourage people from selling their rings.

NFL News: WIth Giants QB Eli Manning recently implicated in a game-used memorabilia scam, Brandon Steiner of Steiner Sports — one of the big memorabilia houses — tried to defend his business relationship with Manning.

College Football News:  Here's yet another report that Georgia Tech is becoming increasingly frustrated with its apparel contract with Russell Athletic (from  Phil). …  Broc  points out that while Minnesota wore matte helmets during its spring game, the team wore  glossy helmets during practice.

Hockey News: Blue Jackets D  Zach Werenski's busted-up face has inspired a new T-shirt (from Jimmy Atkinson). …  A family in Scarborough, Ontario, found a  trunk full of decades-old hockey equipment  that will be donated to the Hall of Fame (from Ian Landon).

Basketball News:  ICYMI from the baseball section: Kevin Pillar of the Toronto Blue Jays wore a Raptors jersey during BP yesterday (from Mike). …  Check out  the unis Marshall wore in the early '70s. White jersey with green shorts, script font, double-decker "The Herd" "" great stuff (from  Brice Wallace). … Whoa. Who knew the Oklahoma State women used to wear tequila sunrise unis "" with sleeves! That's Dr. Linda A. Livingstone, who was just named president of Baylor (from  Leslie Blair).

Soccer News:  Man City and Chelsea went  blue-on-blue for a youth game yesterday (from  KRM). … Barron Trump is apparently an Arsenal fan, and he was spotted at the White House Easter Egg roll in a full Gunners uniform (from  Ian Landon).

Grab Bag: If you have a few minutes, I highly recommend you check out this new  web series about bad sports cards. It's pretty good. …  Many of you have probably know the iconic photo of Katherine Switzer defiantly running the Boston Marathon as the first woman to register and run the event in 1967. Switzer ran the Marathon again Monday and wore bib number 261, just as she did 50 years ago. The Marathon retired the number after she finished (from  Mike Styczen). … Speaking of the Marathon, Adidas had to issue an apology after sending finishers an email congratulating them for having "survived Boston," evoking memories  of the 2013 bombings. … Providence lacrosse wore throwbacks last night against Brown (from Joel Mathwig). … Sacred Heart and Hartford played a color-on-color lacrosse game yesterday (from Travis Holland). …  Racer Shawn Langston will debut a new dragster at an NHRA event this weekend in Houston (from  David Firestone). … In cycling, 2017 is the year of the "jerket" (from  Phil). … Whiting, Indiana "" a suburb of Chicago "" is trying to raise funds to build a "Mascot Hall of Fame" (from  Charlie Kranz).
• • • • •
Click to enlarge

What Paul did last night: It's always a bit of a drag when your president declares you to be an enemy of the people (don't you hate it when that happens?), so last night I went to NYU's school of journalism to see Prof. Jay Rosen give a presentation on the Trump administration and the press. Lots of really interesting info and analysis on what the press has and hasn't done well since Inauguration Day. I didn't agree with all of it, but it was all good food for thought, and a good reminder that I'm lucky to live in a city where I can see stuff like this.
If you're curious, the whole event is embedded below.