Click to enlarge
Teams and ballparks aren't the only things getting readied for Opening Day. During a Sunday adventure in Queens, the Tugboat Captain and I stopped in at an excellent watering hole called the Station Bar and found artist Matt Dolingo painting Mets logos on the bar's exterior windows, just in time for today's season opener. He put the skyline logo on one window, as shown above, and "NY" insignia on the other (click to enlarge):
Matt did all of this freehand, and mostly from memory (although at one point he borrowed my cell phone to get a closer look at the skyline logo). The only thing better than watching him paint was sharing a few beers with him when he took a break. Cheers, mate — hope we see you again soon.
While most MLB teams will be opening their seasons today, there were three games yesterday. Uni-notable details included the following:
•  The New Era cap logo made its shameful regular season debut — including, yes, for the Yankees.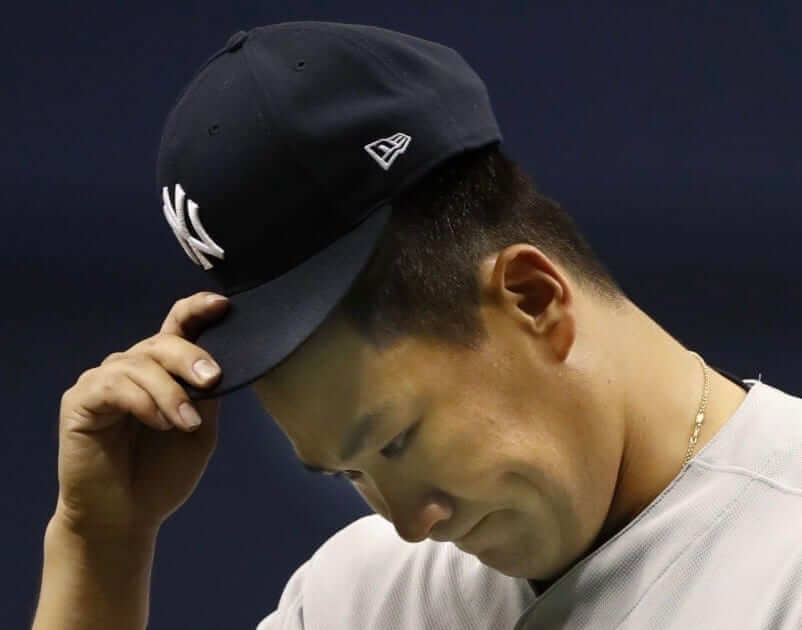 •  In the Yanks/Rays game, at least four Rays players wore white shoes, including starting pitcher Chris Archer:
• A Stance rep had recently told me that we would no longer see mismatched socks on the field this season. In other words, if two or more players on a given team went high-cuffed, they would all be wearing the same sock design. But as you can see in those last two photos, that wasn't the case for Archer and outfielder Corey Dickerson. I think that's going to be a very difficult genie to get back in the bottle.
•  Meanwhile, Rays third baseman Evan Longoria wore baby blue cleats:
Ӭ
•  I couldn't find a photo of this, but I was watching some of the Yanks/Rays game and noticed that the Rays' batboy at the Trop was wearing a facemask attached to his helmet. Not sure if this is unique to that one batboy, unique to the Trop, or a new MLB-wide thing. Will try to find out more.
•  Cardinals starter Carlos Martinez inscribed the numbers of Oscar Taveras and Yordano Ventura in the Busch Stadum mound prior to the start of last night's game against the Cubs:
•  Martinez was also one of several Cardinals who wore white shoes:
•  There had been lots of speculation about the Cubs possibly adding a "World Champions" sleeve patch (like the one included on the jersey they gave to President Obama in January), but they didn't wear one for last night's game in St. Louis. It will definitely be included on the gold-trimmed jerseys they'll be wearing for their first two home games, but it remains to be seen if they'll wear it on their standard home jerseys after that.
•  Cubs skipper Joe Maddon began the game wearing the Cubs' spring training cap — the one with the white "C" logo (he later changed to the proper cap).
@PhilHecken @UniWatch Maddon with the spring training hat on tonight?! #ThatsCub #capson pic.twitter.com/wR6kxtPi5L

— Eric Mahler (@emahler3) April 3, 2017
•  Although the Orioles and Mariners didn't play yesterday, they announced that they're the latest teams to go with matte-finish batting helmets (click to enlarge):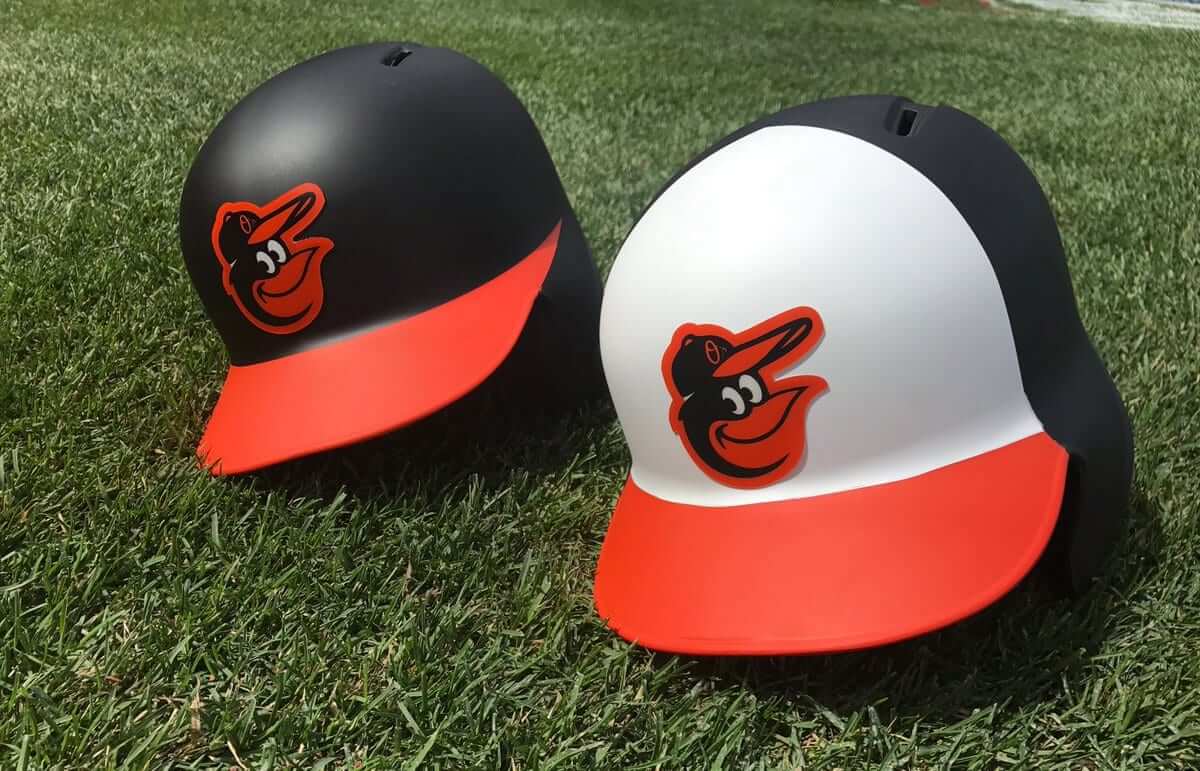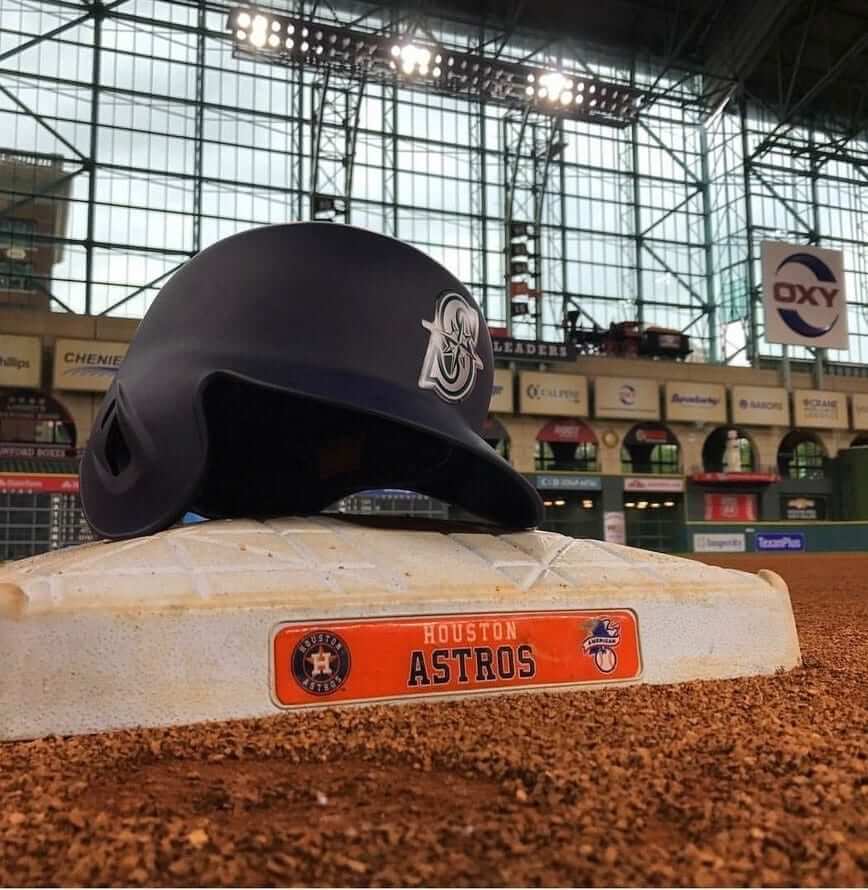 •  And the White Sox and Rangers went a step further: They're going with matte-finish helmets and 3-D logos (click to enlarge).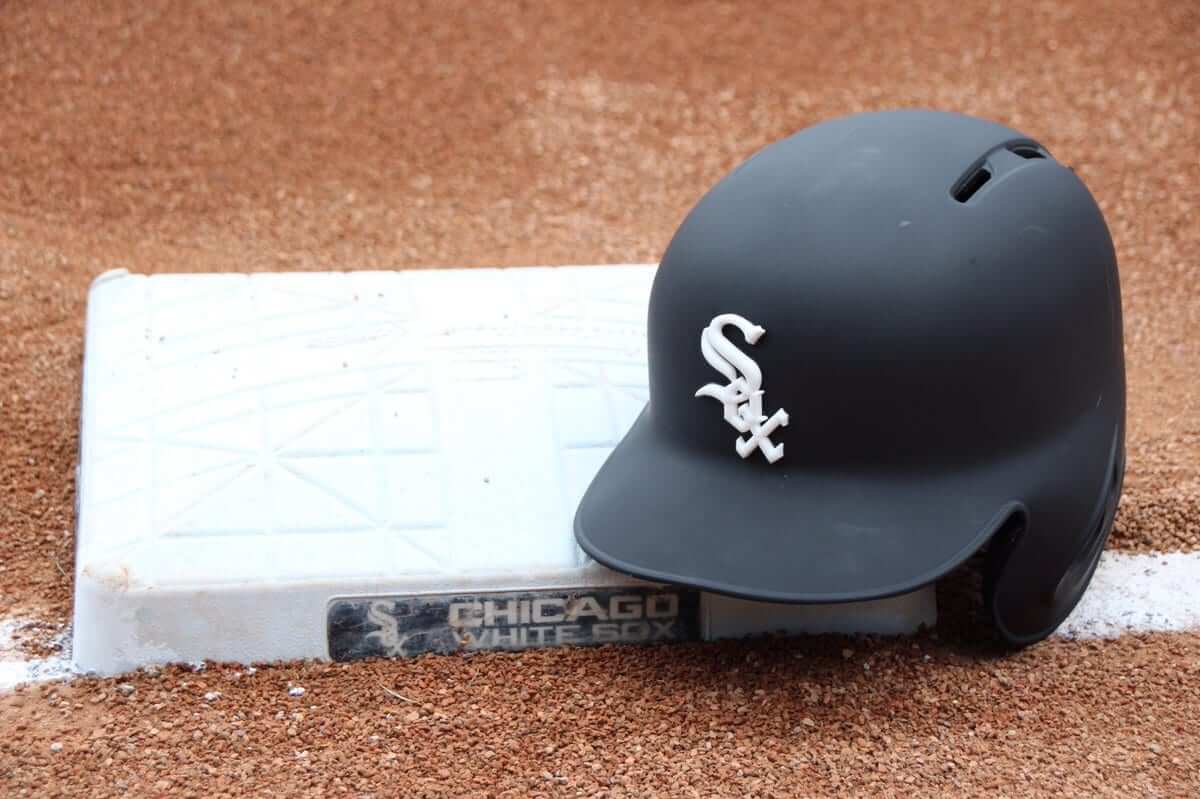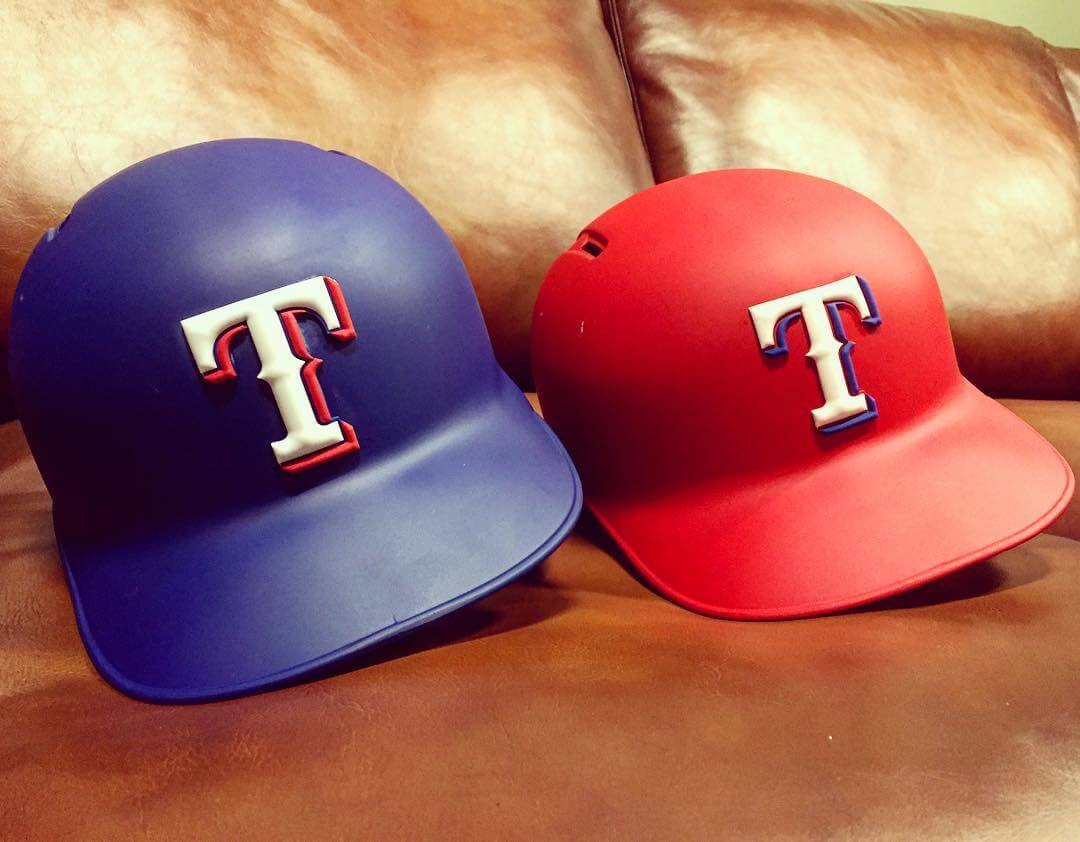 I think that's it. Whoever you're rooting for today, I hope they win (well, unless you're rooting for the Braves, who'll be facing my Mets). Play ball!
•  •  •  •  •
A treasure from the vaults: Reader Steven Stern sent along something really great yesterday: a link to a 1972 documentary about the Quebec Nordiques, featuring about 90 seconds of the team's logo and uniform designer discussing his original concepts and how he eventually modified them based on the team's feedback. The embed above should start at the appropriate juncture of the video; if it doesn't, skip ahead to the 13:10 mark.
And yes, any uni-related mention of the Nordiques has to include a reference to their 1995 phantom uniforms, which never made it onto the ice because the team moved to Colorado and became the Avalanche.
•  •  •  •  •
T-Shirt reminder: In case you missed it last week, our latest limited-edition T-shirt in the Uni Watch Artist's Series is by the great Larry Torrez (aka Eltee of DC). In the spirit of his Meatscots caricature series, he's imagined a fictitious Japanese baseball team called the Kyoto Yakitori, whose mascot is a baseball-playing samurai with a sword that serves as a baseball bat and as a yakitori chicken kebab skewer (click to enlarge):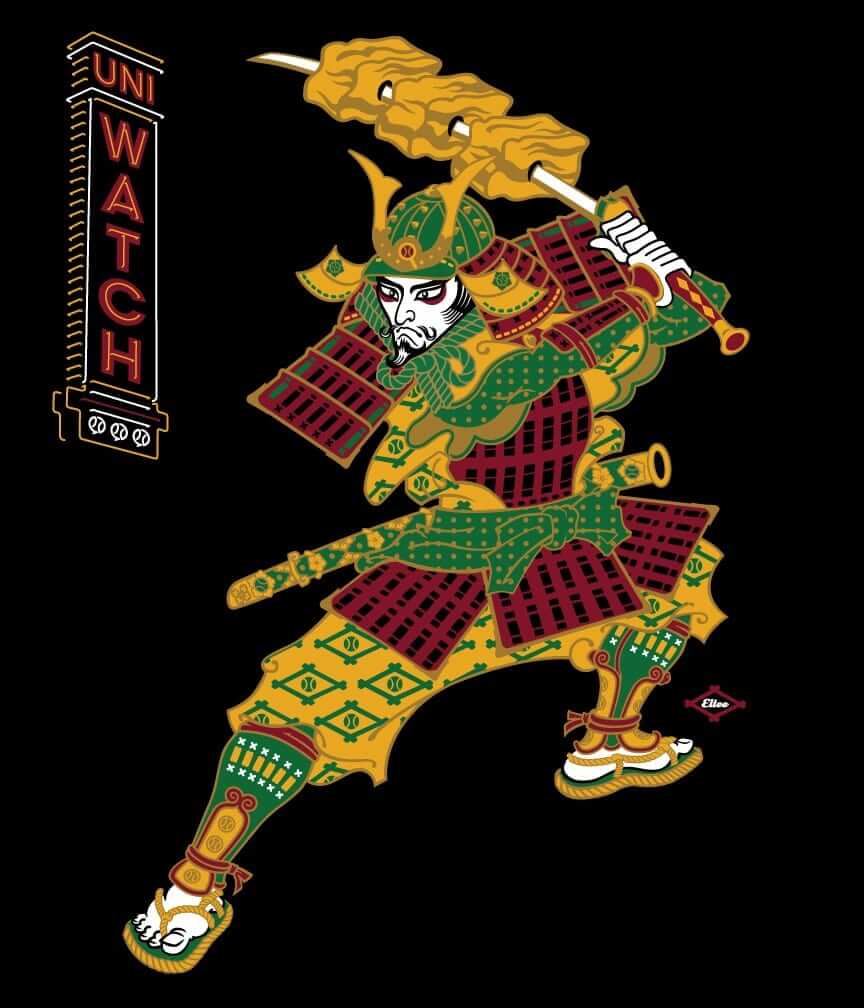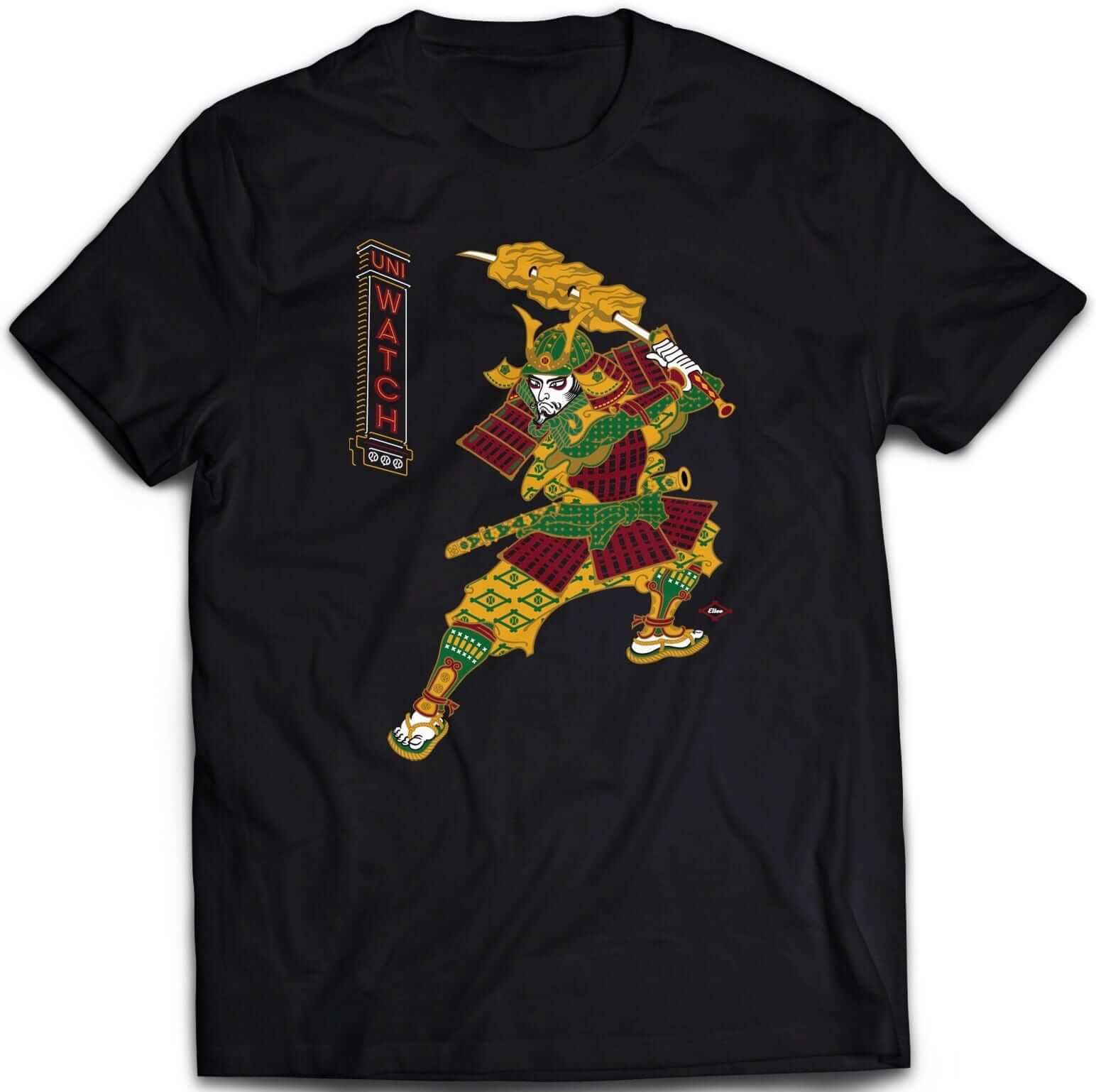 It's available in three different black short-sleeve options (two of which come in sizes up to 5XL) and one long-sleeve option (up to 5XL). plus I've also made the design available as a sticker.
Some of you have also asked why I'm okay with this design if I have issues with Native American-based sports designs. That's a perfectly valid question, and I've created a separate page to address it. Look here.
The shirt is available here through this Thursday, April 6. My thanks, as always, for your consideration.
•  •  •  •  •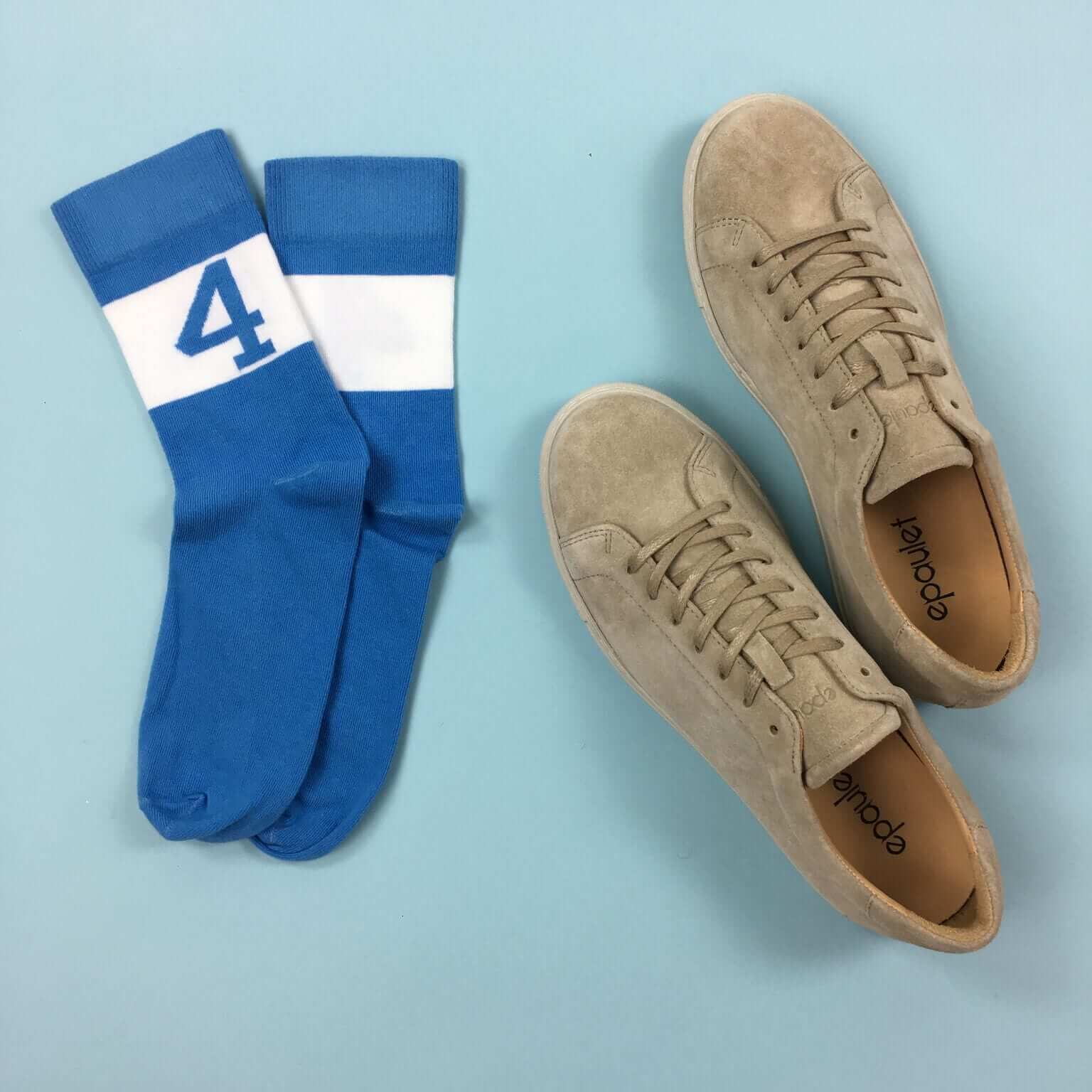 StripeRite sale: We're continuing our sale on StripeRite socks. From now through April 7, use the discount code FINALFOUR to get 10% off. This applies to any order from our first or second batch of StripeRites. Thanks for your consideration.
Contest reminder: I'm running a new ESPN design challenge to redesign the Raiders for their move to Las Vegas. Full details here.
•  •  •  •  •
The Ticker
By Alex Hider

Baseball News: Ever wonder how MLB players pick out their gloves?  This video offers  some insight (from  Dustin Semore). …  Lots of players wore special Nike "color burst" shoes made for Opening Day yesterday (from Brinke). …  The Wisconsin Timber Rattlers, a Class A affiliate of the Brewers, will wear jerseys inspired by their parent club on Sundays this season (from Scott McMichael). …  West Virginia wore  navy jerseys and pants yesterday against Oklahoma State (from  Vince Mullins). … The U. of Houston's jerseys have some strange piping near the collar. It's also strange to see a baseball team wear gray jerseys over white pants (from  Garret Heinrich). … Adam Jones of the Orioles has new custom cleats (from Andrew Cosentino). … Someone on Reddit shared photos of his vintage Mets vinyl recordings (from @_ynnhoJ).

NFL News:  Former NFLer Chad Johnson wore "Ocho Cinco" as his NOB in a game for the  Saltillo Dinos of the LFA in Mexico. Strange choice, as he changed his surname back to Johnson in 2012 and his name was previously "Ochocinco" (one word) (from Hector). … The MGM Grand Casino in Las Vegas was illuminated with a Raiders logo over the weekend.

Hockey News:  It appears that at least some  Bruins have been wearing the team's old logo (last used in 2006-07) on their breezers. See a close-up here. Note the lack of serifs  compared to the Bruins' current logo (from  James Hayes). … New mask for Rangers G Henrik Lundqvist (from The Goal Net). …  The Blues wore their throwbacks against the Predators yesterday. … The Penguins wore their Stadium Series jerseys against the Hurricanes. It was the final time they'll break them out this season. … There's a push for hockey leagues to begin requiring players wear socks reinforced with kevlar to prevent injury from skate blades (from  Cassian Wykes).

NBA News:  Gary Payton II will wear No. 0 for Milwaukee, meaning the Bucks now have No. 0 and No. 00  (Spencer Hawes) on its roster. They're at least the  fourth team to have that combo at some point this season. (from Zachary J. Loesl). …  There was a nice-looking color-on-color game between the Thunder and Hornets last night. … The Rockets and Suns also went color-on-color (from  Joe Farris).

College Hoops News:  Not often you see a double-decker NOB underneath the number. That's South Carolina's Mikiah Herbert Harrigan during the Women's National Championship (from Matt Sampson). …  Duke has sent a  cease-and-desist letter to an apparel company over a T-shirt that uses Grayson Allen's likeness. … In the notes section of this story, there's an anecdote about North Carolina coach Roy Williams banning headbands after his team lost to Gonzaga in the 2006 Preseason NIT (from  James Gilbert).

Soccer News:  An ownership group trying to bring MLS to San Diego allowed fans to select potential nicknames, and (this being the internet) "Footy McFootyface" received the most votes. As ridiculous a nickname as it as, the ownership groups promised to submit logo designs for the top 10 vote-getters "" so the group developed an actual crest (and an April Fool's video).

Grab Bag:  Nike has signed golfer Rory McIlroy to a 10-year contract extension (thanks Brinke). …  Pope Francis is visiting Egypt, and the Egyptian Catholic Church developed a logo for the occasion. … Here's the logo for the World Equestrian Games for 2018.
•  •  •  •  •

What Paul did last night two nights ago: When it comes to Planet of the Apes, I occupy a sort of middle ground between fanatic and agnostic. I've seen plenty of the movies (including most of the original ones, which came out when I was growing up, and at least one or two of the more recent ones), but I usually find the concept more engaging than the execution. Ultimately, I've come to think of PotA as a campy element of pop culture, which is why it was so easy to lampoon in that musical treatment on The Simpsons. So when I heard that an art gallery just a 10-minute walk from Uni Watch HQ had a new show that basically treats PotA as fodder for pop-cultural artwork, I had to check it out.
The show's opening reception was on Saturday night, and it was great. Lots of cool paintings, illustrations, sculptures, and more. My favorite piece was this "kinda poseable" action figure, packaged on a very realistic-looking display card, complete with an even more realistic-looking marked-down price sticker!
I took a bunch of photos, which you can see in this slideshow (if the slideshow doesn't appear for you, click here):