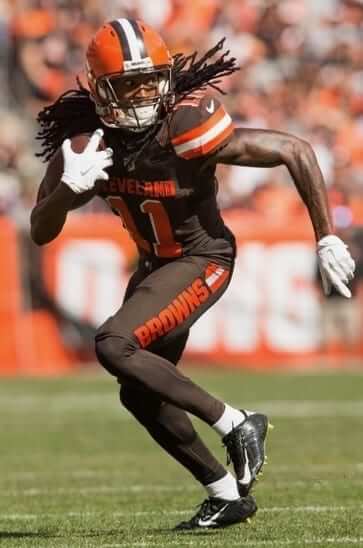 Well, that didn't take long. It's been less than two years since I attended the much-ballyhooed unveiling of the Browns' new uniform set in Cleveland, and now it turns out that team ownership is already planning on giving the team another makeover — and might even switch to a white helmet.
That was the word yesterday afternoon out of Cleveland, where longtime Browns beat reporter Tony Grossi tweeted the news that owner Dee Haslam had told him that the team could have new uniforms as soon as 2020, which is the earliest they'd be able to do so under the NFL's five-year rule.
That's not quite as immediate an about-face as the 49ers' one-day six-day helmet debacle from 1991, but it's still a stunningly fast acknowledgment that the current set is a stinker.
Grossi had more to say in this piece, which was posted last night. Here are the key bits:
Browns co-owner Dee Haslam confirmed the club is not satisfied with its uniform makeover, which was introduced for 2015, and will go through another extensive process to produce a better uniform look. The problem is they are stuck with the present colors and combinations through the 2019 season. … Haslam said in the meantime, the Browns will seek an alternative look whenever the NFL allows, such as the "color rush" program for Thursday night games. … Besides the general busy-ness in some of the nine uniform combinations presently used, Haslam admitted there is a problem with the fabric and the tightness of the jerseys that make them uncomfortable for the players. She said the Browns internally have talked about a new uniform look. "We've talked about it, but we haven't conceptualized what that might be, and we have to work with the NFL on it," Haslam said. "We're the Cleveland Browns. We stand for a certain thing. I can't imagine doing anything too crazy, can you? I can't." A source has said that the Browns are seriously looking at replacing the plain orange helmet with a plain white one. The Browns wore white helmets from their inception in 1946 through the 1950 season.
Hmmmm. That raises as many questions as it answers. Like, are the Browns' jerseys any tighter than those worn by other NFL teams? Is the fabric any different? If they didn't want to do "anything too crazy," why did they put that big, honking wordmark on the pants to begin with?
As for the idea of a white helmet, I don't see that happening, nor do I think it would be a good idea. Yes, the Browns did wear white early in their history, but there are relatively few living fans who remember that, probably even fewer who remember it fondly, and it would make the team's plain-looking headwear look even plainer.
I suppose we could do a Browns-redesign contest, but we already did that in 2013. A lot of the submissions were miles better than what the team ended up with.
Unfortunately, the five-year rule means we still have to look at the current set for at least three more seasons. Perhaps it's time to start lobbying the league to grant the Browns a waiver. Granting them a one-time exemption wouldn't just be good for the team — it'd be a flat-out public service.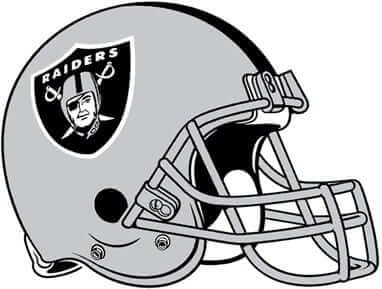 Meanwhile, as you've probably heard, the Raiders won approval yesterday for their proposed move to Las Vegas, so we're going to do a Raiders-redesign contest over on ESPN. Sure, you could argue that the Raiders' look will never change, but you can just as easily argue that they're overdue for a makeover and that a team in Las Vegas deserves to have a flashier look. In any case, I'm eager to see what people come up with. The full ground rules are available here.
•  •  •  •  •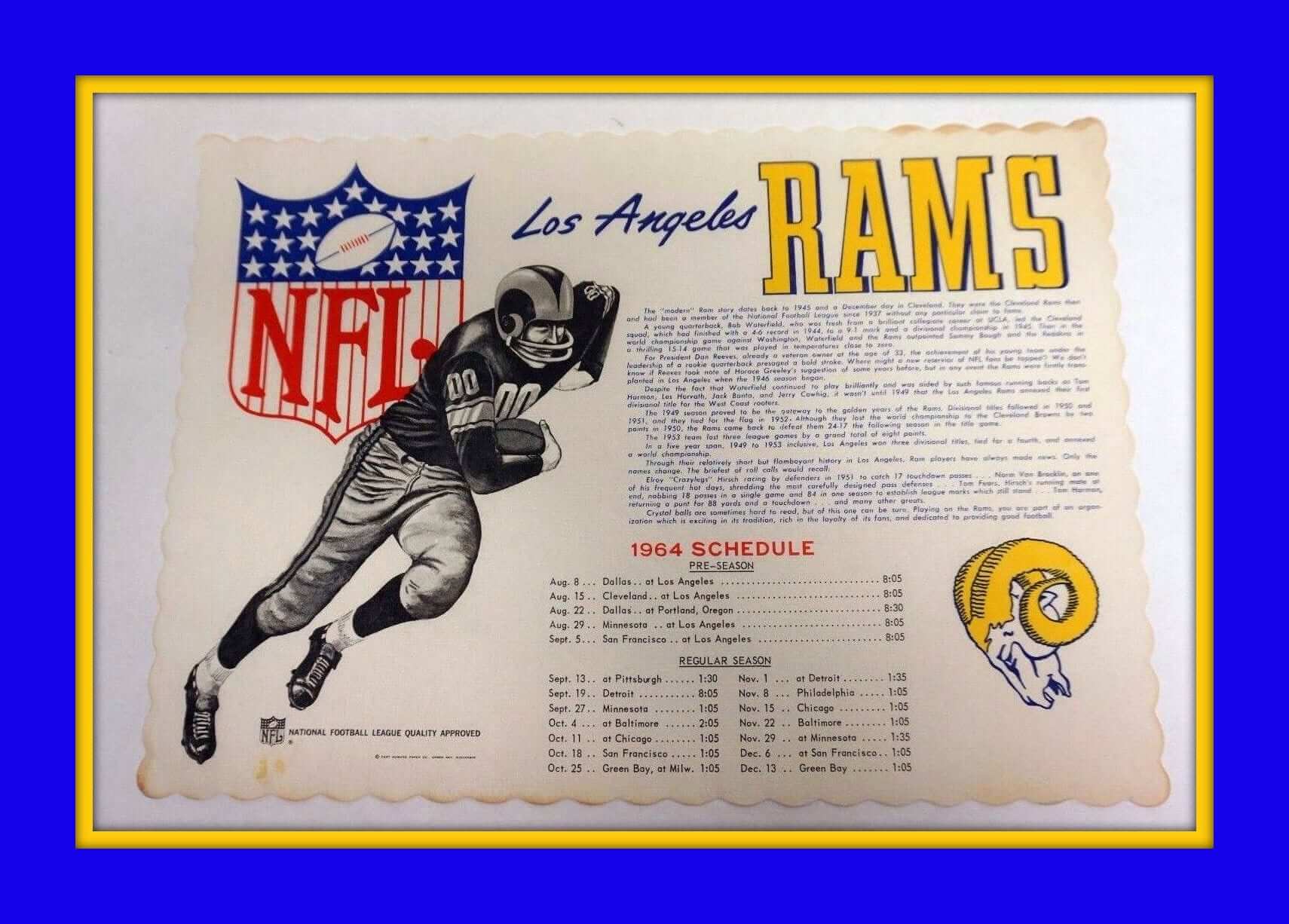 Collector's Corner
By Brinke Guthrie
Let's start off this week's edition of Collector's Corner with this placemat featuring your 1964 Los Angeles Rams. This piece seems like it would be for a restaurant, but no name is shown. In addition, the runner is depicted wearing the 1963 uniform, which had gold, (or yellow, take your pick), not the '64 uni, which is when they went to blue and white. Still a handsome collectible, though.
Now for the rest of this week's picks:
•  This Cleveland Browns helmet plaque features the phantom "CB" logo on the helmet — which, as we know, never appeared on the field.
•  Speaking of Cleveland, here's a set of 1970s-era Browns press guides. The cover art didn't exactly vary much from year to year, eh?
•  Paul might like one of these New York Football Giants helmet tape dispensers for Uni Watch HQ. (Credit where credit is due: I saw these on the @HelmetAddict Twitter account.)
•  Brooks shoes are limited to running these days, but they once dominated MLB footwear. It was the late 1970s or so, and up to that point Adidas and Puma had a foothold, so to speak, in the game. Brooks exploded out of nowhere and all of a sudden it seemed most players were wearing them. They disappeared just as quickly. The Pirates must have had a team-wide deal, from the looks of this framed ad.
•  Niners fans can keep time with this vintage 1970s watch from Lafayette. Cowboys fans, we've got one for you, too.
•  Great-looking set of vintage 1970s MLB cardboard wall posters here — 18 of them in this set.
•  Frito-Lay sponsored this 1970s Buffalo Sabres foam sabre giveaway.
•  This is an NFL-approved stadium blanket from the 1960s. Interestingly, there isn't any league branding or team logos on the blanket itself — just the shield on the zipper bag.
•  This Seattle Seahawks scarf says "76" on it, indicating their inaugural season.
•  This 1970s Baltimore Colts winter knit ski cap also comes with their 1976 season yearbook/media guide. Bert Jones on the cover!
See you next week. Send any eBay finds here, and follow me on Twitter.
•  •  •  •  •
T-Shirt launch: As I mentioned last week, our latest limited-edition T-shirt in the Uni Watch Artist's Series is by the great Larry Torrez (aka Eltee of DC). In the spirit of his Meatscots caricature series, he's imagined a fictitious Japanese baseball team called the Kyoto Yakitori, whose mascot is a baseball-playing samurai with a sword that serves as a baseball bat and as a yakitori kebab skewer (click to enlarge):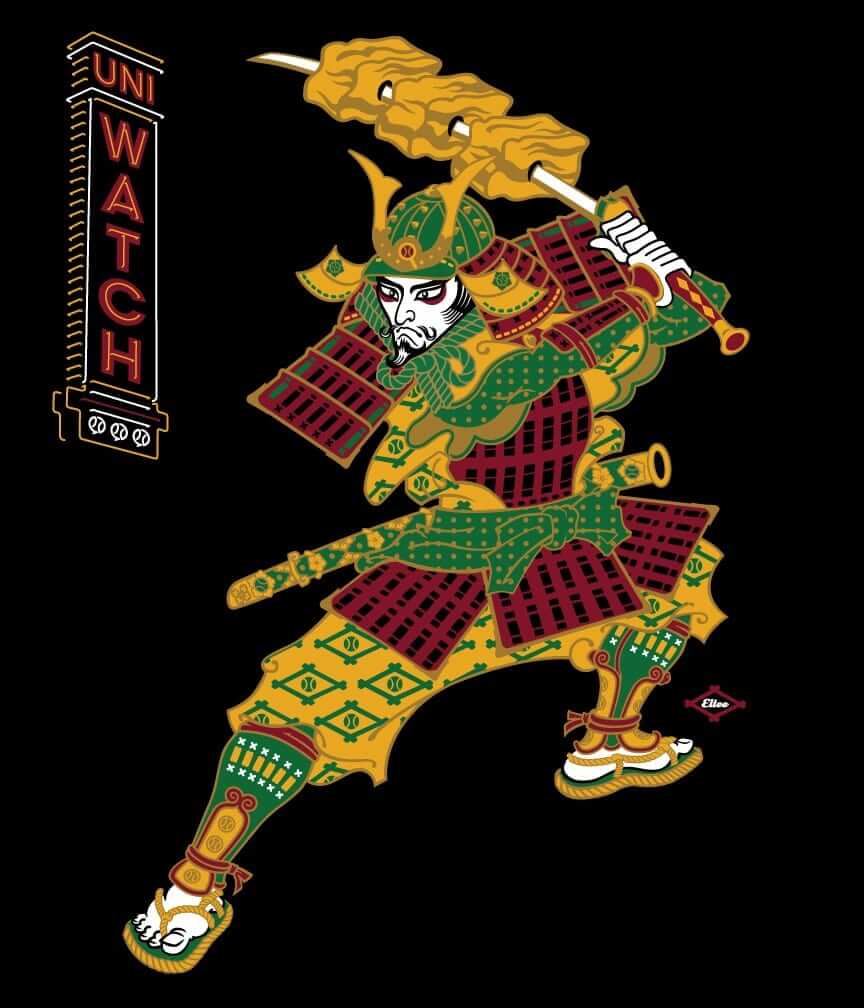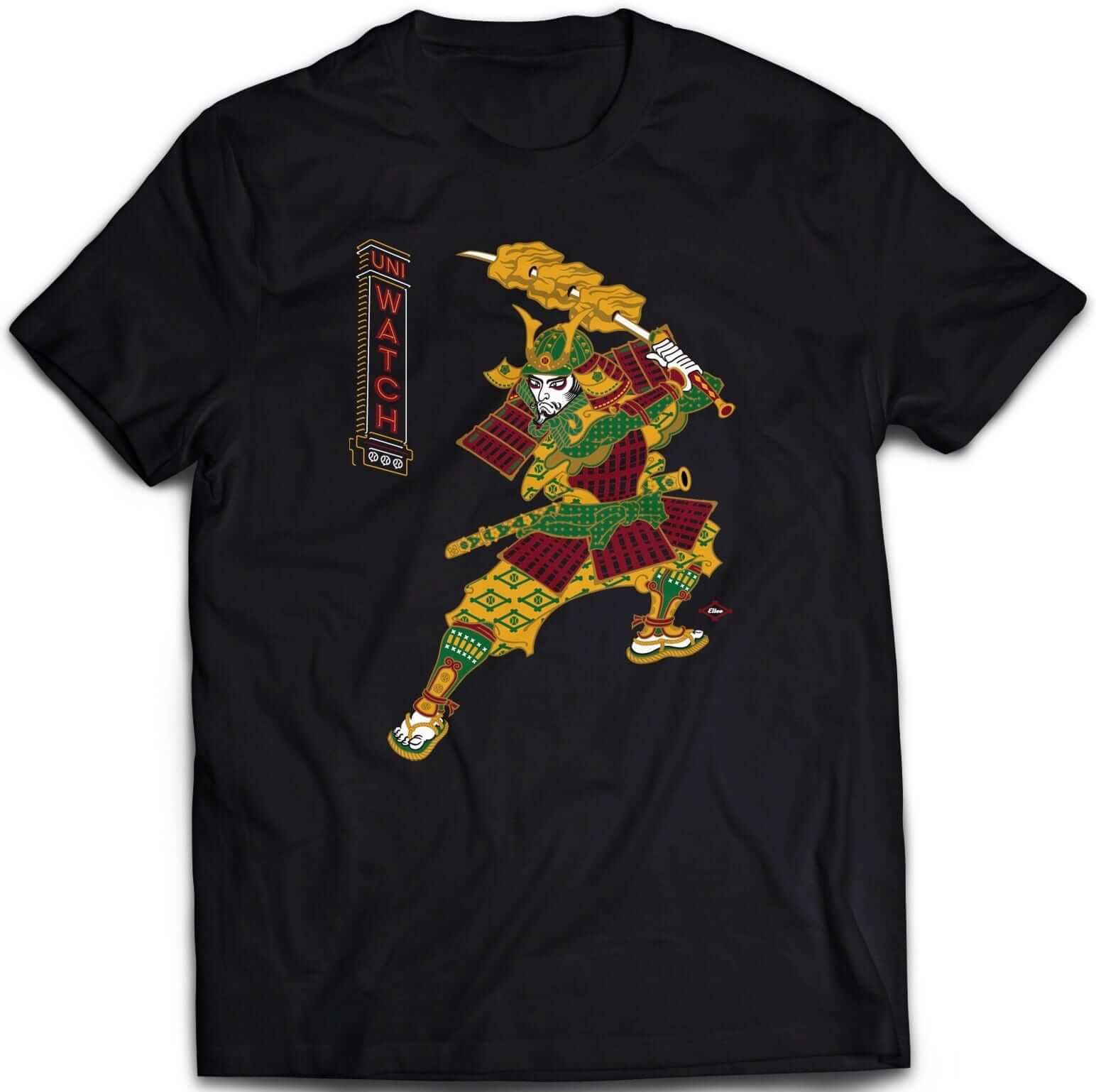 It's available in three different black short-sleeve options (two of which come in sizes up to 5XL) and one long-sleeve option (up to 5XL). Plus I've also made the design available as a sticker. Haven't done that before with any of out T-shirt designs — let's see how that goes.
Based on feedback from you folks last week, we made two adjustments to the design. First, some of you thought the samurai was supposed to be me — which, in fact, was indeed Larry's intent (although I didn't even realize that because I didn't think the face looked like me at all). I agree that there's no reason to imply that this character is me, so we've removed the glasses. Now he looks even less like me.
Second, we changed the meat on the sword, which had been red, to look more like chicken. It turns out that cubed chicken is a surprisingly difficult thing to capture visually (much more so than, say, a steak or a ham), but I think Larry did a very good job of it.
Some of you have also asked why I'm okay with this design if I have issues with Native American-based sports designs. That's a perfectly valid question, and I've created a separate page to address it. Look here.
The shirt is available here through next Thursday, April 6.
•  •  •  •  •
The Ticker
By Mike Chamernik

Baseball News: A video game leak has given us a peek at what may be this year's All-Star Game BP caps and jerseys. … The Cubs will use these World Series-stamped baseballs for the home opener and the ring ceremony games on April 10 and 12 (from Kyle Yackley). … The Akron RubberDucks will wear baby blue jerseys in June for the 60th anniversary of the West Akron Baseball League (from Eric Furniss). … This Phillies 1993 World Champions T-shirt was found for sale on a street corner in Taiwan (from Dennis Abrams). … David Murphy attended an open house at the Braves' new ballpark and snapped a bunch of photos. The park has a Braves uniform history display, an "A" logo made of bottle caps, and some cool game action paintings. … Does Rawlings make MLB jerseys, or is this some sort of mistake? Nope, the apparel maker outfits the AZL Indians of the Gulf Coast League (from Joesph Giordano). … Erik Bogh recently dug up an old Homer Hanky from the 1987 Twins season. … Just what the world needed: MLB-branded diapers. Presumably, you'd want to buy diapers with your rival's logo, right? … Kansas softball will wear digi camo jerseys on Sunday (from Bill Stevens). … The A's revealed a big new mural in downtown Oakland. … Here's your chance to help name the Binghamton Rumble Ponies' mascot.

NFL News: Here's some video of the Brooklyn Dodgers, in red, playing the Detroit Lions, in blue, in a color-vs.-color game back in 1939. Note that the officials wore all-white outfits. "The color and quality of the video are truly outstanding," says Bill Moss. … In the early 1990s, Marvel produced a football-themed comic book series called NFL SuperPro. Not surprisingly, it was pretty awful. Ray Hund found an issue at a local antique store.

Hockey News: Blues goalie Jake Allen has a new blue angels mask he'll wear on Boeing Night (from Erik Spoonmore). … A few notes from Seth Horowitz, who attended the NCAA East Hockey Regional in Providence over the weekend: The Providence Civic Center has a few displays for the Providence Reds, a minor league team from 1926 to 1977. Reds goalie Gil Mayer was the first AHL goalie to wear a mask. As for the game, Harvard's Lewis Zerter-Gossage has a 13-letter NOB with a hyphen, so his nameplate was stretched out to the shoulders. Harvard goalie Sihak Lee is Korean and has elements of both the ROK and USA flags on the backplate of his mask.

Grab Bag: The pictograms for the PyeongChang 2018 Paralympic Winter Games have been released (from JohnMark Fisher). … Fire stations in Madison, Wis., have individualized logos that reflect their communities. The station nearest to the University of Wisconsin-Madison campus has Bucky Badger in it (from @thold15). … New unis for USA field hockey (from Mark Palczewski).